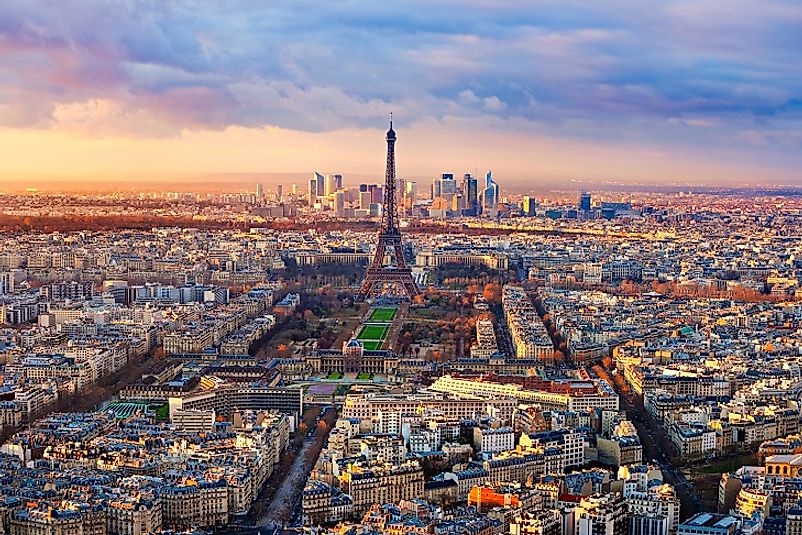 Paris
Paris has a current population of around 12,292,895 people, made up of native French, Algerians, Portuguese, Morrocans, Tunisians, and other ethnic groups and nationalities. Its ancient founders were a Celtic tribe called the Parisii. The River Siene played an important role in its development as a trading center since the 3rd Century BC. Today, its economy depends on commerce and services. Its Gross Domestic Product (GDP) accounts for 30% of the entire nations's GDP. The City of Lights had close to 22.2 million visitors in 2015 visiting its many museums, palaces, amusement parks, gardens, cathedrals, and monuments. Its also known for its high fashion couture houses, music, art, festivals, and cuisine.
Lyon
Lyon is known as the "Gastronomy Capital of France, and has a population of 2,188,759 people. Its population is made up of native French, Europeans, and Asians, with around 14% of its population having been born outside of the city. Situated in the Auvergne-Rhône-Alpes region in east-central France, it is some 292 miles from Paris. One of its major attraction is an old Lyon town complete with an old world atmosphere located in the hills of Croix-Rousse and Fourviere where silk was an important historical industry. Its GDP of 62 billion Euro makes it the second wealthiest city in France. Tourists flock to its museums, parks, gardens, monuments, and palaces.
Marseille and Aix-en-Provenc
Marseille and Aix-en-Provence, located within 19 miles of each other, have a collective population of 1,720,941 people in the metropolitan area they comprise. Greeks, Italians, Russians, Armenians, and Spaniards enjoying the modern port city of Marseille. Aix-en-Provence has a similarly international population that revels in this cosmopolitan city of sunshine. Marseille had a GDP of $60.3 billion USD in 2014 attached to its commercial port and its manufacturing and services economy. Aix-en-Provence had a GDP of 27,850 Euros as of 2012 attached to its high tech manufacturing, tourism, services, and entertainment economy. Marseille and Aix-en-Provence welcome millions of visitors annually flocking to their museums, theaters, parks, gardens, and monuments.
Toulouse
Toulouse, known as the "Pink City", is located in the Languedoc-Roussillon/Midi-Pyrénées region with a population of around 1,250,251 people. It is also the European aerospace industry center in the EU. It has a sizable Jewish and Muslim population with an international supporting cast from Italy, Algeria, and Spain, together with native French people who welcome millions of tourists yearly. It supports a manufacturing, IT, and biotech industry economy. Tourists visit its numerous UNESCO World Heritage Sites as well as its museums, cathedrals, gardens, parks, and theme parks.
(French) Greater Lille
(French) Greater Lille, formerly known primarily as a heavy industry city, has today transformed itself into a modern and clean city of 1,159,547 people in the French Flanders region near the Deule River. Its economy relies on agriculture, industry, engineering, and tertiary activities. Its people enjoy a mix of French and Flemish culture that attracts many tourists annually. Attractions such as its palaces, theaters, historic quarter, museums, and 17th Century fortress make the city an attractive destination. It is only a one-hour high-speed train ride from Paris.
Bordeaux
Bordeaux is known for its vineyards and wineries, and is a port city situated on the Garonne River in southwestern France. It has a metro population of 1,140,668 people made up of native French, Italians, Spaniards, Portuguese, Germans, and Turks. The city's economy depends on revenues from commerce and manufacturing sectors such as lasers and aeronautics. The city's GDP as of 2014 was around 32.7 billion Euros. Wine makes up some 14.5 billion Euros of its revenues annually. Tourists flock to its UNESCO World Heritage Sites and numerous theaters, monuments, historical architecture, churches, cathedrals, and museums.
Other Major French Cities
The following French cities also have sizable populations. Nice is located on the French Riviera with around 1,003,947 people. Nantes is located in western France on the Loire River with a population of some 884,275 people. (French) Greater Strasbourg is located in the Grand Est region with population of close to 764,013 people. Rennes is located in northwest France and is the capital city of Brittany with a population of around 679,866 people.
The Biggest Cities In France
| Rank | Biggest Cities in France | Urban Area Population |
| --- | --- | --- |
| 1 | Paris | 12,292,895 |
| 2 | Lyon | 2,188,759 |
| 3 | Marseille and Aix-en-Provence | 1,720,941 |
| 4 | Toulouse | 1,250,251 |
| 5 | (French) Greater Lille | 1,159,547 |
| 6 | Bordeaux | 1,140,668 |
| 7 | Nice | 1,003,947 |
| 8 | Nantes | 884,275 |
| 9 | (French) Greater Strasbourg | 764,013 |
| 10 | Rennes | 679,866 |