World Facts
The 10 Biggest Cities In Nebraska
Omaha is the most populated city in Nebraska.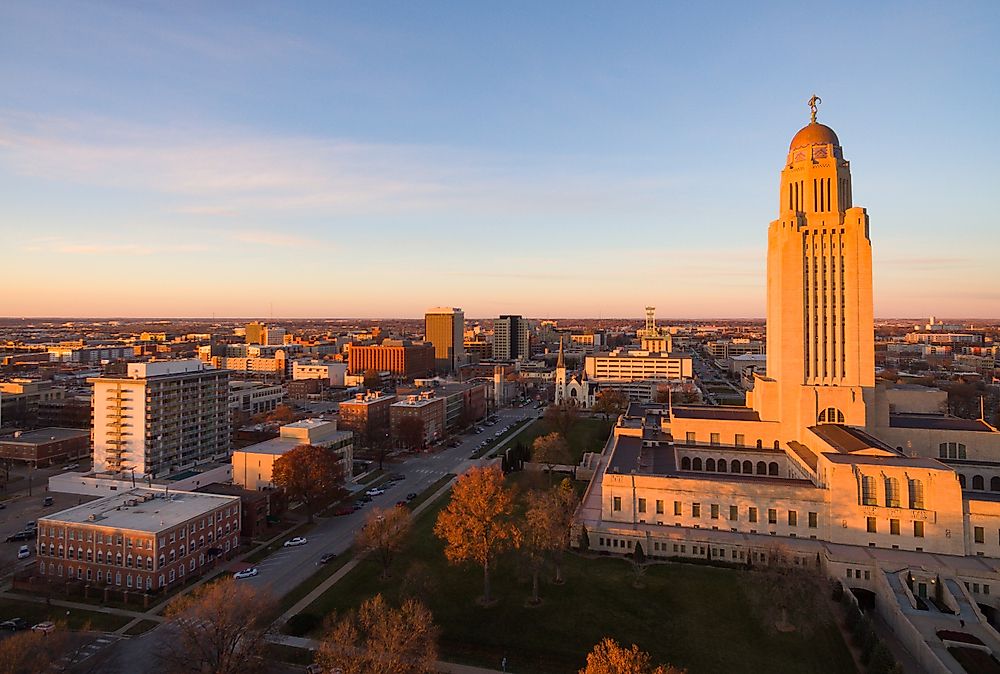 The US state of Nebraska is located in the Midwestern region of the country. The state's population was estimated to be 1,920,076 individuals in 2017 which made it the country's 37th most populous state. It is America's 16th largest state and spans an area of 200,356 square km. 89% of Nebraska's cities have less than 3,000 residents. The state also has hundreds of towns with a population below 1,000 individuals. The state has 93 counties.
The municipalities of Nebraska are divided into several classes. Those with a population of 300,000 or more are called metropolitan class city. Only Omaha qualifies for this label. Municipalities with a population ranging from 100,000 to 299,999 are called primary class cities. Again, only one city, Lincoln, is part of this class. Cities with a population ranging from 5,000 to 99,000 are called first class cities. Second class cities and villages have populations of 800 to 4,999 and 100 to 800, respectively. Nebraska has 30 first-class and 116 second-class cities. It has 382 villages.
The Five Largest Cities In Nebraska
1. Omaha
With a population of 408,958 individuals, Omaha, the county seat of Douglas County, is the most populated city in Nebraska. It is located on the Missouri River. The Omaha Metropolitan Area is the country's 59th largest metropolitan area. Omaha was founded in 1854. Today, the city houses the headquarters of four Fortune 500 and five Fortune 1000 companies. The offices of other major firms like the Gallup Organization, DLR Group, HDR, Inc., etc., are also present in this city. Omaha also receives a large number of tourists. The Henry Doorly Zoo of the city was ranked as the world's best zoo by Trip Advisor in 2014.
2. Lincoln
Lincoln is the second biggest city in Nebraska. It is home to a population of around 258,379 individuals. Lincoln is also the state capital and the county seat of Lancaster County. It is the country's 71st largest city. Lincoln's history began in 1856 as the village of Lancaster. It was renamed Lincoln in 1867 when it became the capital of the state. The city hosts the country's second tallest capitol building. The national and state governments are the city's biggest employers. The University of Nebraska is also situated in Lincoln.
3. Bellevue
With a population of 50,137 individuals, Bellevue is Nebraska's third biggest city. It is a southern suburb of Omaha and is located in Sarpy County. Settlement in the area began in the 1830s and the city was incorporated in 1855 as a town. It is the oldest continuous town in the state today.
4. Grand Island
The city of Grand Island is located in Hall County where it is the county seat. It is also the main city of the Grand Island metropolitan area. The city is home to a population of 48,520 individuals that makes it the fourth most populated city in Nebraska. Grand Island is the three-time recipient of the All-America City Award given out by the National Civic League.
5. Kearney
The fifth most populous city of Nebraska, Kearny hosts a population of 30,787 individuals. It is the county seat of the Buffalo County. It is home to the University of Nebraska at Kearney.
The 10 Biggest Cities In Nebraska
| Rank | City | Population (2010 census) | County |
| --- | --- | --- | --- |
| 1 | Omaha | 408,958 | Douglas |
| 2 | Lincoln | 258,379 | Lancaster |
| 3 | Bellevue | 50,137 | Sarpy |
| 4 | Grand Island | 48,520 | Hall |
| 5 | Kearney | 30,787 | Buffalo |
| 6 | Fremont | 26,397 | Dodge |
| 7 | Hastings | 24,907 | Adams |
| 8 | North Platte | 24,733 | Lincoln |
| 9 | Norfolk | 24,210 | Madison |
| 10 | Columbus | 22,111 | Platte |
About the Author
Oishimaya is an Indian native, currently residing in Kolkata. She has earned her Ph.D. degree and is presently engaged in full-time freelance writing and editing. She is an avid reader and travel enthusiast and is sensitively aware of her surroundings, both locally and globally. She loves mingling with people of eclectic cultures and also participates in activities concerning wildlife conservation.
This page was last updated on January 14, 2019.
Citations
Your MLA Citation
Your APA Citation
Your Chicago Citation
Your Harvard Citation
Remember to italicize the title of this article in your Harvard citation.