Safest Airlines By JACDEC Index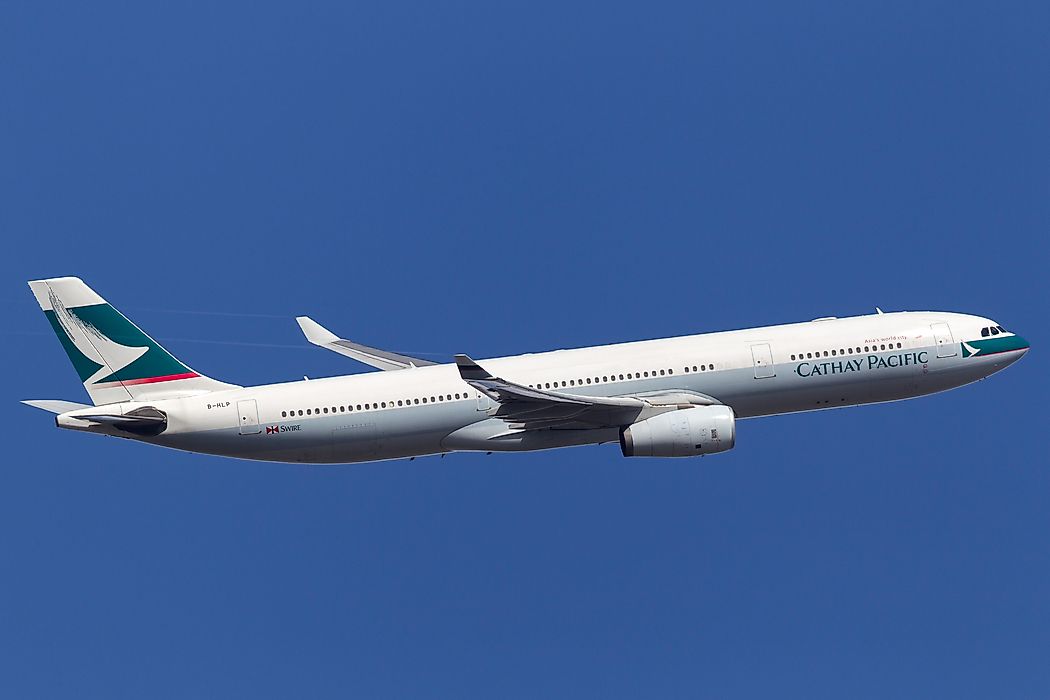 The JACDEC Safety Index has been around for 12 years now, providing an increasingly robust measure of aviation safety based on their incident database. JACDEC release the index annually.
The 2015 ranking shows an interesting leaderboard, with trends worthy of further investigation. This is not an index based on safety for 2015 in isolation, it has a history built in on a time-weighted basis, providing a long run confidence for any passenger wanting to know about the airline of their next flight. This is a great reference providing peace of mind using objective data.
Coming in at number one is Cathay Pacific Airways, the safest airline in the world as measured of JACDEC. Cathay is an example of the top twelve airlines, half are from the Asian region. Asia is a big region, however, its airlines have come a long way from being considered outside of developed world aviation safety to be among leaders of the domain. These names include Emirates and Etihad of the UAE, EVA Air of Taiwan, Hainan of China, and All Nippon Airways of Japan along with the aforementioned leader of the Index, Cathay Pacific Airways of Honk Kong.
As many talk of the Asian century, it's particularly pleasing to see strong airlines building reputations of safety. This bodes will for aviation patronage through the region, thus magnifying the region's ability to grow.
Traditionally strong airlines for safety also feature in the top listing. Air Canada, KLM of The Netherlands, Qantas of Australia, Air New Zealand, Lufthansa of Germany and British Airways all squeeze into the top 15. Interestingly, only one US airline, lesser known JetBlue Airlines is found in the top listings, with all other US airlines falling outside the top 20.
Aviation safety is an ongoing challenge however technology has improved aviation safety immensely. Especially since the mid-1990's the trend decline in deaths per year has been significant to the record low in 2013 of less than 300. 2014 spiked higher with multiple disasters of Malaysian flight 17 and Malaysian flight 370. The 761 deaths in 2014 were by no means high in history, with at least that many also perishing in 2010. In 1985, 2,335 people died in aviation accidents. Aviation safety has improved significantly since then.
Some of the advancements include Traffic Collision Avoidance Systems –TCAS- which uses radar data of other planes altitude, speed and can warn and even override a plane's altitude. Enhanced Ground Proximity Warning System – EGPWS- provides the pilot with detailed topography to avoid hazards of the terrain. Then there is technology relating to wind speeds and even wind prediction along with runway safety alerts among others.
Recently, it was revealed that money is being poured into research of pilotless technology for planes. This would be the biggest shift in aviation safety we have seen if it should come to fruition. With the US army using drones, it would seem a logical step that in time this technology could make its way to commercial airlines. The big challenge for the airlines is to win over the public to trust the safety of a plane with no pilot. Public perception of this will become increasingly important over the next 20 years.
For now, a safety index like JACDEC is showing us the shifts in aviation safety are well and truly positive for a fastest growing region in the world, Asia.
Safest Airlines By JACDEC Index
| Rank | Airline | Country | JACDEC Safety Index |
| --- | --- | --- | --- |
| 1 | Cathay Pacific Airways | China,Hong-Kong | 0,006 |
| 2 | Emirates | UAE | 0,007 |
| 3 | EVA Air | Taiwan | 0,008 |
| 4 | Air Canada | Canada | 0,010 |
| 5 | KLM | Netherlands | 0,011 |
| 6 | Air New Zealand | New Zealand | 0,011 |
| 7 | QANTAS | Australia | 0,013 |
| 8 | Hainan Airlines | China | 0,014 |
| 9 | JetBlue Airlines | USA | 0,014 |
| 10 | Etihad Airways | UAE | 0,014 |
| 11 | All Nippon Airways | Japan | 0,015 |
| 12 | Lufthansa | Germany | 0,016 |
| 13 | TAP Portugal | Portugal | 0,017 |
| 14 | British Airways | United Kingdom | 0,019 |
| 15 | Virgin Australia | Australia | 0,019 |
| 16 | Virgin Atlantic Airways | United Kingdom | 0,023 |
| 17 | Transaero Airlines | Russia | 0,024 |
| 18 | Shenzhen Airlines | China | 0,024 |
| 19 | WestJet Airlines | Canada | 0,024 |
| 20 | Air Berlin | Germany | 0,026 |
| 21 | Qatar Airways | Qatar | 0,027 |
| 22 | EasyJet | United Kingdom | 0,027 |
| 23 | Sichuan Airlines | China | 0,029 |
| 24 | Southwest Airlines | USA | 0,033 |
| 25 | Jetstar Airways | Australia | 0,033 |
| 26 | Delta Air Lines | USA | 0,037 |
| 27 | Thomson Airways | United Kingdom | 0,041 |
| 28 | Norwegian Air Shuttle | Norway | 0,043 |
| 29 | Singapore Airlines | Singapore | 0,053 |
| 30 | United Airlines | USA | 0,057 |
| 31 | Swiss | Switzerland | 0,059 |
| 32 | Ryanair | Ireland | 0,071 |
| 33 | China Eastern Airlines | China | 0,075 |
| 34 | Jet Airways | India | 0,075 |
| 35 | Aeroflot - Russian Airlines | Russia | 0,106 |
| 36 | LAN Airlines | Chile | 0,112 |
| 37 | Alitalia | Italy | 0,112 |
| 38 | Air France | France | 0,137 |
| 39 | American Airlines | USA | 0,143 |