World Facts
Most Dangerous Cities In The United States
Detroit, St. Louis, and Memphis have the highest violent crime rates in the US, with several other cities following close behind.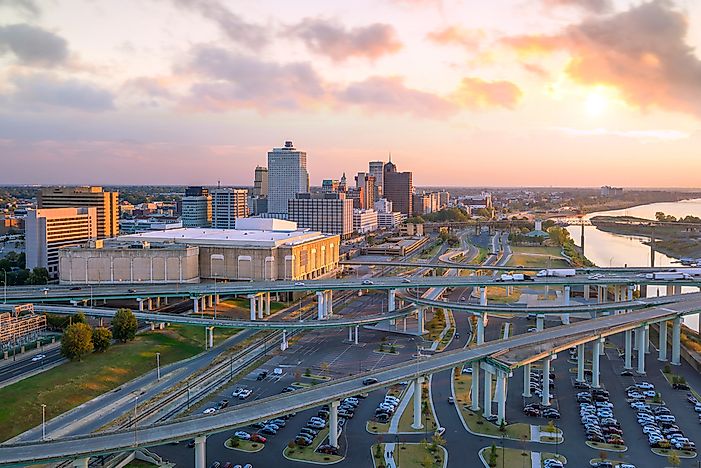 Whether people want to admit it or not, there are still quite a few cities in the United States that continue to struggle with high crime rates. Therefore, this has left them considered to be extremely dangerous to average citizens. Crime not only harms the direct victims, but the welfare of their communities as a whole, and even that of the perpetrators themselves. There are many different factors that lead to a city becoming rather dangerous to live or work in. Some of these are lack of police funding, issues with armed robberies, gang-related violence and a whole lot more. Although America is getting safer for its citizens, there are still many parts of the country in which crime is a major problem. Here's a look into some of the most dangerous cities in the United States.
US Cities the Most Dangerous to Live and Work
At first position on this list is Detroit, with a violent crime rate of 2,046.5 per 100,000 people. Some of the most prominent crimes in the city are aggravated assault, assault with a deadly weapon, rape, armed robbery, murder and non-negligent manslaughter. The number of murders and homicides in the city reached their lowest in 47 years as only 298 murders and intentional homicides were reported. However, in just the first three months of 2015, homicide rates in the city had risen by about 25% as compared to the same period in the last year.

The second most dangerous city in the US is St. Louis, with 1,913.2 violent crimes per 100,000 people. Since the 1990s, crime in this Missouri city has been steadily increasing. However, in recent years, crime does seem to be decreasing slightly. St. Louis is notable for having the highest murder rate in the country.
Number three on the list is Memphis, Tennessee, with 1,913.2 violent crimes per 100,000 people. For the past ten years or so, Memphis has been ranked among the most dangerous cities in the country. A major contributing factor to the rise of crimes in the city is a high poverty rate together with increasing unemployment.
Other Cities That Are Considered Dangerous
A few other cities that have made it to the list are Baltimore, MD with 1,780.4 crimes per 100,000 people, Cleveland, OH with 1,630.9, Milwaukee, WI with 1,533, and Oakland, CA with 1,425.7 violent crimes per 100,000 people. Although crime rates have dropped across the United States for a number of years, crime is still a real and present danger in many US cities. Hopefully, cities like Detroit and Memphis will find ways to address the underlying causes of crime in their communities, and also more effectively apprehend those who do decide to commit them in order to protect their innocent victims
US Cities With The Highest Violent Crime Rates
| Rank | City (over 250,000 people) | Violent Crimes Per 100,000 People |
| --- | --- | --- |
| 1 | Detroit, MI | 2,046.52 |
| 2 | St. Louis, MO | 1,913.15 |
| 3 | Memphis, TN | 1,819.98 |
| 4 | Baltimore, MD | 1,780.44 |
| 5 | Cleveland, OH | 1,630.91 |
| 6 | Milwaukee, WI | 1,533.01 |
| 7 | Oakland, CA | 1,425.65 |
| 8 | Stockton, CA | 1,420.80 |
| 9 | Indianapolis, IN | 1,374.39 |
| 10 | Toledo, OH | 1,192.32 |
| 11 | Anchorage, AK | 1,144.11 |
| 12 | Washington, D.C. | 1,132.02 |
| 13 | Albuquerque, NM | 1,112.08 |
| 14 | Buffalo, NY | 1,109.75 |
| 15 | Minneapolis, MN | 1,109.06 |
| 16 | Chicago, IL | 1,105.48 |
| 17 | Nashville, TN | 1,102.31 |
| 18 | Tulsa, OK | 1,095.26 |
| 19 | Lubbock, TX | 1,083.83 |
| 20 | Atlanta, GA | 1,083.63 |
| 21 | New Orleans, LA | 1,069.72 |
| 22 | Wichita, KS | 1,056.72 |
| 23 | Houston, TX | 1,026.41 |
| 24 | Philadelphia, PA | 988.91 |
| 25 | Newark, NJ | 936.93 |
| 26 | Cincinnati, OH | 910.06 |
| 27 | Miami, FL | 887.49 |
| 28 | Las Vegas, NV | 849.15 |
| 29 | Orlando, FL | 838.26 |
| 30 | Tucson, AZ | 795.45 |