World Facts
The 30 Most Dangerous Cities In The United States
Detroit, St. Louis, and Memphis have the highest violent crime rates in the US, with several other cities following close behind.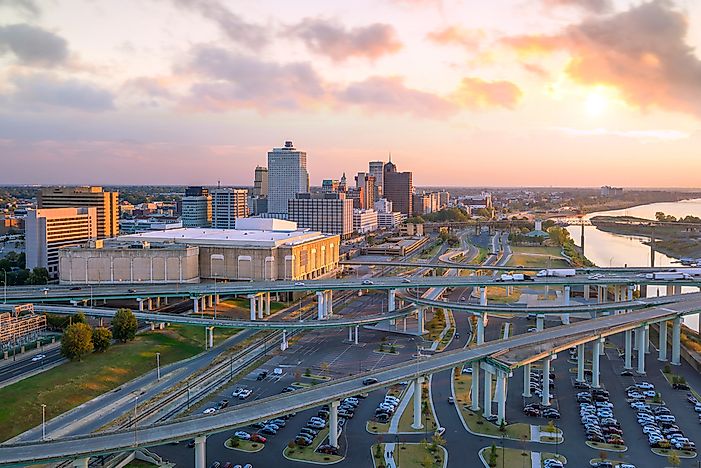 According to the FBI, violent crime rates in cities within the United States are decreasing - while the violent crime rate average for the country was around 611 per 100,000 inhabitants in 1997, today the number sits in the 300s. However, there are still some cities who have higher violent crime rates than others. Although having a higher than average violent crime rate does not necessarily make a city dangerous for its residents (nor does it mean it can't attract visitors), comparing crime rates between cities can be useful when determining what it is that generates crime in a city and what can be done to prevent it. As crime is a social problem, many of the motivations between crimes committed can include things such as lack of police funding, issues with armed robberies, gang-related violence and more. Below is a list of cities in the United States with the highest violent crime rates, which could be called the country's most dangerous. All data is from the FBI's crime report.
US Cities With the Highest Rates of Violent Crime
At first position on this list is Detroit, Michigan, with a violent crime rate of 2,046.5 per 100,000 people. Some of the most prominent crimes in the city are aggravated assault, assault with a deadly weapon, rape, armed robbery, murder and non-negligent manslaughter. It is important to note that crime in Detroit, in general, has been decreasing over recent years. The number of murders and homicides in the city reached their lowest in 47 years as only 298 murders and intentional homicides were reported. However, in the first three months of 2015, homicide rates in the city had risen by about 25% as compared to the same period in the last year. This contributed to the city's position as the US city with the highest crime rate.
St. Louis, Missouri, has the second highest violent crime rate in the United States with 1,913.2 violent crimes per 100,000 people. Since the 1990s, crime in this Missouri city has been steadily increasing. However, in recent years, crime does seem to be decreasing slightly. St. Louis is notable for having the highest murder rate in the country.
Number three on the list is Memphis, Tennessee, with 1,913.2 violent crimes per 100,000 people. For the past ten years or so, Memphis has been ranked among the most dangerous cities in the country. It has been theorized that a major contributing factor to the rise of crimes in the city is a high poverty rate together with increasing unemployment.
Other Cities That Make the List of the Most Dangerous Cities in the United States
A few other cities that have made it to the list are Baltimore, MD with 1,780.4 crimes per 100,000 people, Cleveland, OH with 1,630.9, Milwaukee, WI with 1,533, and Oakland, CA with 1,425.7 violent crimes per 100,000 people. Although crime rates have dropped across the United States for a number of years, crime is still a real and present danger in many US cities. Hopefully, cities like Detroit and Memphis will find ways to address the underlying causes of crime in their communities, and also more effectively apprehend those who do decide to commit them in order to protect their innocent victims
US Cities With The Highest Violent Crime Rates
| Rank | City (over 250,000 people) | Violent Crimes Per 100,000 People |
| --- | --- | --- |
| 1 | Detroit, MI | 2,046.52 |
| 2 | St. Louis, MO | 1,913.15 |
| 3 | Memphis, TN | 1,819.98 |
| 4 | Baltimore, MD | 1,780.44 |
| 5 | Cleveland, OH | 1,630.91 |
| 6 | Milwaukee, WI | 1,533.01 |
| 7 | Oakland, CA | 1,425.65 |
| 8 | Stockton, CA | 1,420.80 |
| 9 | Indianapolis, IN | 1,374.39 |
| 10 | Toledo, OH | 1,192.32 |
| 11 | Anchorage, AK | 1,144.11 |
| 12 | Washington, D.C. | 1,132.02 |
| 13 | Albuquerque, NM | 1,112.08 |
| 14 | Buffalo, NY | 1,109.75 |
| 15 | Minneapolis, MN | 1,109.06 |
| 16 | Chicago, IL | 1,105.48 |
| 17 | Nashville, TN | 1,102.31 |
| 18 | Tulsa, OK | 1,095.26 |
| 19 | Lubbock, TX | 1,083.83 |
| 20 | Atlanta, GA | 1,083.63 |
| 21 | New Orleans, LA | 1,069.72 |
| 22 | Wichita, KS | 1,056.72 |
| 23 | Houston, TX | 1,026.41 |
| 24 | Philadelphia, PA | 988.91 |
| 25 | Newark, NJ | 936.93 |
| 26 | Cincinnati, OH | 910.06 |
| 27 | Miami, FL | 887.49 |
| 28 | Las Vegas, NV | 849.15 |
| 29 | Orlando, FL | 838.26 |
| 30 | Tucson, AZ | 795.45 |