World Facts
The 10 Biggest Cities In Louisiana
New Orleans is the most populated city in the US state of Louisiana.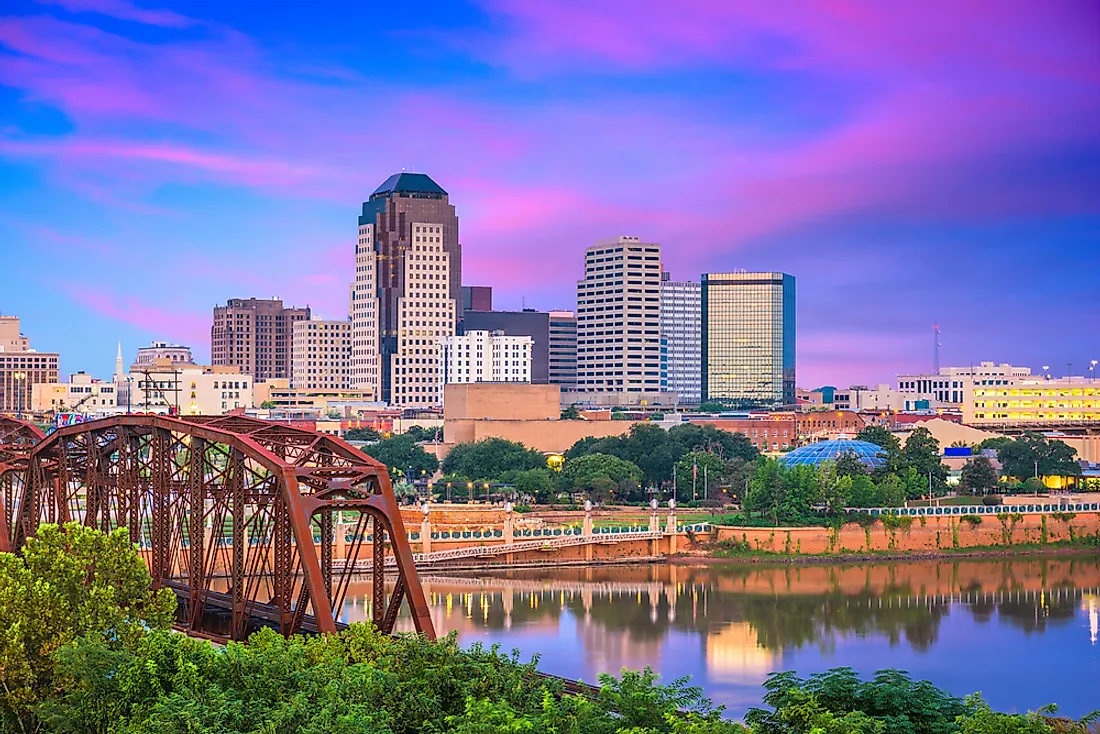 The State of Louisiana
The US state of Louisiana is located in the southern part of the country. With an area of 111,897 square km and a population of approximately 4,533,479, Louisiana ranks as the country's 33rd largest state in terms of area and the 25th most populous. The state is subdivided into 64 parishes, which are similar to counties, and contains 308 incorporated municipalities. Of these municipalities, 304 are villages, towns, or cities. The remaining four are consolidated city-parishes. Although the municipalities encompass a combined area that makes up only 7.9% of the state's total land area, they contain 45.3% of the state's population.
Municipalities in Louisiana are classified according to population. Those with a population of less than 1,000 are classified as villages, those with a population greater than 1,000 and less than 5,000 people are classified as towns, while cities are municipalities with a minimum population of 5,000.
The Five Most Populated Cities in Louisiana
New Orleans
With a population of 391,495, New Orleans is Louisiana's most populous city. It is located in the southeastern region of the state, along the banks of the Mississippi River. Classified as a consolidated city-parish, the city of New Orleans and Orleans Parish have merged, have the same powers and responsibilties of both a city and a county, and share the same boundaries. New Orleans was founded by French colonists 1718, and has grown to become an important port city and one of the country's major hubs of commerce and trade. The city is famous for its Creole cuisine, distinct music scene, and its many festivals, such as Mardi Gras.
Baton Rouge
Baton Rouge is Louisiana's second biggest city, with a population of 227,715. The city is located on the eastern bank of the Mississippi River and serves as the parish seat of East Baton Rouge Parish. Founded by French colonists in 1721 as a military post, the city now serves as the state capital of Louisiana. Baton Rouge is a major industrial center in the American South, and is home to Louisiana State University. It also has a thriving research and development industry, as well as a growing technology industry.
Shreveport
With a population of 194,920, Shreveport is Louisiana's third most populous city. It is the country's 126th largest city by population and serves as the parish seat of Caddo Parish. Shreveport is separated from Bossier City by the Red River, and both cities form part of the Shreveport-Bossier City metropolitan area. The city was founded by the Shreve Town Company in 1836, and became a major hub of the oil industry during the 20th century. However, after a loss of jobs in the oil industry, Shreveport suffered a period of population decline and other issues such as increased rates of crime and violence. Today, the city's economy has stabilized once again, and has largely transitioned into a service economy.
Lafayette
The city of Lafayette has a population of 127,626, which ranks as Louisiana's fourth biggest city. It is located in the southwestern part of the state, along the Vermilion River, and serves as the parish seat of Lafayette Parish.
Lake Charles
With a population of 76,848, Lake Charles is Louisiana's fifth largest city. As the name suggests, the city is located on Lake Charles, within Calcasieu Parish. The city is also near the Calcasieu River and Prien Lake. Founded in 1861, Lake Charles has grown to become a major industrial, academic, and cultural hub in Louisiana's southwest region.
The Smallest Municipality in Louisiana
New Orleans is the largest municipality in Louisiana in terms of both population and land area (438.8 square km). In contrast, Mound is the state's smallest municipality by population, and Napoleonville is the smallest by area. Mound has a population of only 19 residents and Napoleonville covers an area of only 0.44 square km.
What Is The Biggest City In Louisiana?
With a population of 391,495, New Orleans is Louisiana's most populous city. It is located in the southeastern region of the state, along the banks of the Mississippi River.
The 10 Biggest Cities in Louisiana by Population
| Rank | City | Parish | Population |
| --- | --- | --- | --- |
| 1 | New Orleans | Orleans | 391,495 |
| 2 | Baton Rouge | East Baton Rouge | 227,715 |
| 3 | Shreveport | Caddo | 194,920 |
| 4 | Lafayette | Lafayette | 127,626 |
| 5 | Lake Charles | Calcasieu | 76,848 |
| 6 | Bossier City | Bossier | 68,485 |
| 7 | Kenner | Jefferson | 67,089 |
| 8 | Monroe | Ouachita | 49,297 |
| 9 | Alexandria | Rapides | 47,832 |
| 10 | Houma | Terrebonne | 34,024 |
About the Author
Oishimaya is an Indian native, currently residing in Kolkata. She has earned her Ph.D. degree and is presently engaged in full-time freelance writing and editing. She is an avid reader and travel enthusiast and is sensitively aware of her surroundings, both locally and globally. She loves mingling with people of eclectic cultures and also participates in activities concerning wildlife conservation.
This page was last updated on January 14, 2019.
Citations
Your MLA Citation
Your APA Citation
Your Chicago Citation
Your Harvard Citation
Remember to italicize the title of this article in your Harvard citation.