List of Landlocked Countries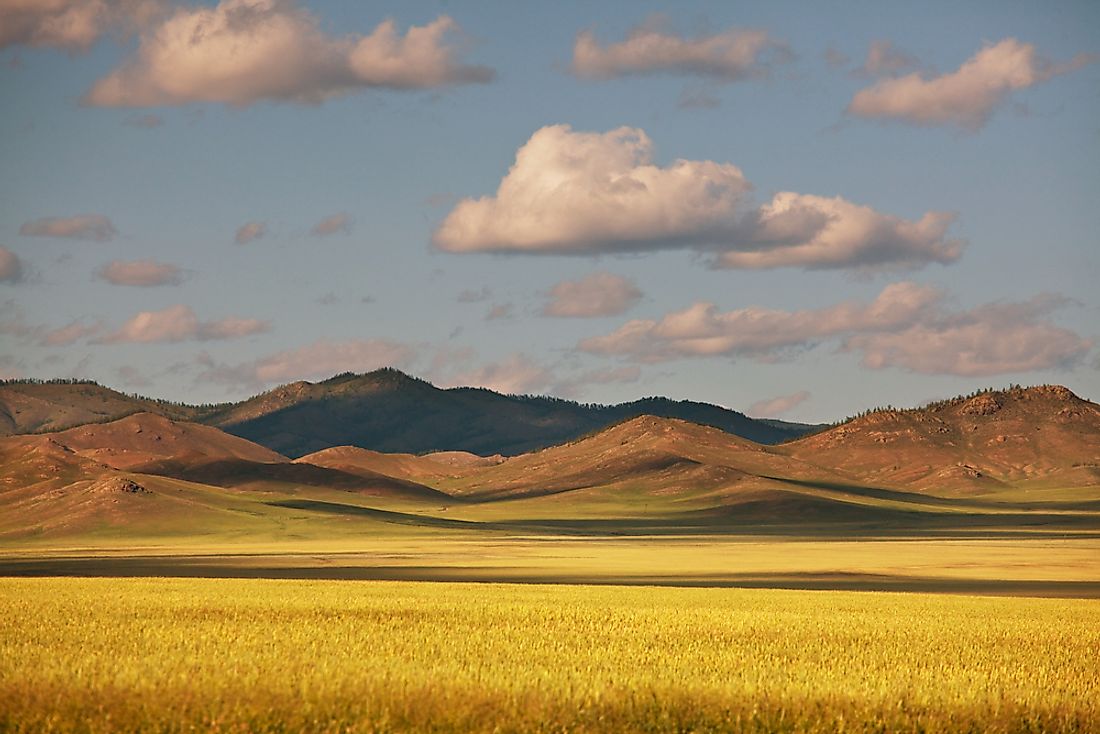 Landlocked countries are independent nations that are entirely surrounded by land or whose shorelines are on closed seas. Currently, there are 49 landlocked countries on the planet. Some landlocked states like Austria, Luxembourg, Liechtenstein, and Switzerland are quite wealthy while most of them are grouped as LLDCs (Landlocked-Developing Countries).
Largest Landlocked Countries
Kazakhstan is the world's ninth-largest state and the largest landlocked country by area which occupies an area of about 1,052,100 sq miles. Kazakhstan is surrounded by Uzbekistan, China, Kyrgyzstan, Turkmenistan, Russia and the Caspian Sea. Kazakhstan generates over 60% of Central Asia's GDP through its gas and oil sector and its vast mineral resources. Kazakhstan has a population of about 18 million and one of the lowest population densities on earth.
Mongolia is the second-largest landlocked state and world's eighteenth biggest. It is the world's biggest landlocked state that's doesn't border a closed sea. Mongolia is a landlocked Asian state that is surrounded by China and Russia. Mongolia is the most sparsely populated country on the planet with a population of about 3 million. Over 45% of the Mongolians live in Ulaanbaatar, the Mongolian capital city. Ulaanbaatar is ranked among the coldest capital cities on the planet together with Nur-Sultan, Ottawa, and Moscow. Mongolia has little arable land since a huge percentage of its territory is occupied by Gobi Desert and grassy steppe.
Chad is the largest landlocked state in Africa. It occupies an area of about 495,000 sq miles. Chad is surrounded by Niger, Cameroon, Sudan, Libya, Nigeria, and the Central African Republic. Chad has an estimated population of about 13.67 million. Chad is home to more than 200 linguistic and ethnic groups with their official languages being French and Arabic.
How Do Landlocked States Access the Sea?
Most landlocked states have agreements on free transportation of their goods through the neighboring countries like the Versailles Treaty. The Versailles Treaty required Germany to lease a part of the Stettin and Hamburg ports for 99 years to Czechoslovakia. The Versailles Treaty allowed Czechoslovakia sea-trade through Oder and Elbe rivers. Hamburg's port continued the agreement even after Poland took over Stettin port after the Second World War. Countries like Slovakia, Serbia, Moldova, Hungary, and Austria can access the Black Sea through the Danube. The TIR Treaty made it possible for landlocked states to transport their sealed goods on without custom charges and checks, particularly in Europe.
List of Landlocked Countries
| Rank | Landlocked Countries |
| --- | --- |
| 1 | Afghanistan |
| 2 | Andorra |
| 3 | Armenia |
| 4 | Artsakh* |
| 5 | Austria |
| 6 | Azerbaijan |
| 7 | Belarus |
| 8 | Bhutan |
| 9 | Bolivia |
| 10 | Botswana |
| 11 | Burkina Faso |
| 12 | Burundi |
| 13 | Central African Republic |
| 14 | Chad |
| 15 | Czechia (Czech Republic) |
| 16 | Eswatini (Swaziland) |
| 17 | Ethiopia |
| 18 | Hungary |
| 19 | Kazakhstan |
| 20 | Kosovo |
| 21 | Kyrgyzstan |
| 22 | Laos |
| 23 | Lesotho |
| 24 | Liechtenstein |
| 25 | Luxembourg |
| 26 | Malawi |
| 27 | Mali |
| 28 | Moldova |
| 29 | Mongolia |
| 30 | Nepal |
| 31 | Niger |
| 32 | North Macedonia |
| 33 | Paraguay |
| 34 | Rwanda |
| 35 | San Marino |
| 36 | Serbia |
| 37 | Slovakia |
| 38 | South Ossetia* |
| 39 | South Sudan |
| 40 | Switzerland |
| 41 | Tajikistan |
| 42 | Transnistria |
| 43 | Turkmenistan |
| 44 | Uganda |
| 45 | Uzbekistan |
| 46 | Vatican City |
| 47 | West Bank* |
| 48 | Zambia |
| 49 | Zimbabwe |