Society
Countries With the Most Undocumented Births
Only 1 in 16 births in Malawi are officially registered and documented with the proper authorities.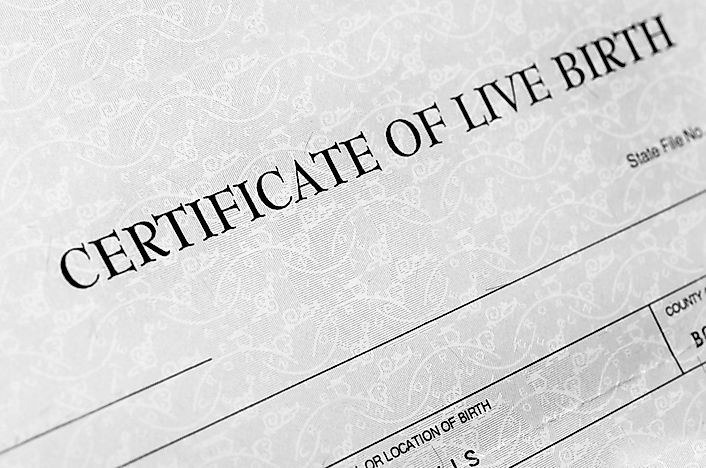 Child registration and documentation is crucial in any society. Children who are not registered are likely to be locked out of the society, denied official identification documents when they grow up, and their nationality might not be established. Birth registration is the official documentation or registration of a child's birth by the state to recognize their existence. While birth registration is a mandatory requirement by most countries in the world, there are some countries where registration of birth is significantly low compared to the actual births. Some of the countries where births are least likely to be registered and officially documented are:
Malawi
In Malawi, birth registration is voluntary, and there is no legislation regulating child birth registration. The current birth recordings in Malawi are very low, and this has prompted the National Registration Bureau to conduct a mass registration of children. Only one out of 16 children are registered by the relevant child registration authority in Malawi representing only 6% of total registration. Low child registration is as a result of most births taking place away from health facilities, lack of adequate staff to register children and lack of awareness on the importance of child registration. Lack of child registration in Malawi has significantly contributed to child labor, increased child trafficking, and low access to social services.
Zambia
Zambia is one of the leading countries in Africa where most births are not registered. The authorities have records of only 11% of the births in the country out of the population of 14.5 million people. Low birth registration has been attributed to the centralized registration office in Zambia making it difficult for most of the people to access registration offices. The government has not also highlighted the importance of birth registration neither has it attached priority to birth registration. Lack of birth registration has made it difficult for the authorities to prove whether a defiled child is a minor or not. Lack of birth registration has also contributed to early marriages in Zambia
Chad
After decades of civil war and conflict Chad is slowly building up. Children and women were the most affected during the war. The mortality rate has been unusually high with a significantly low birth and death registration. The authorities in Chad register only 12% of the total births in the country. The low registration rate is attributed to lack of proper legislation and adequate registration facilities. Because of low registration, the government is not able to properly provide social services for its citizens.
Tanzania
Despite the government effort, birth registration is still a challenge in Tanzania. Only 15% of Tanzanians are registered with only 3% of the rural children registered. The low birth registration has been attributed to home birth, some areas are remote, and lack of adequate information. Lack of birth registration has made it difficult for most of the people to access passport, bank accounts, and joining institutions of higher learning
Conclusion
Key challenges facing birth registration in most countries include home birth, centralization of registration centers, and lack of adequate information on the importance of birth registration. Some of the countries with low birth recordings include countries like DRC, Liberia, Nigeria, Uganda, Yemen, and Zimbabwe have made it mandatory for parents to register every live birth to boost birth registration
Countries Where Births Are Least Likely To Be Registered And Officially Documented
| Rank | Country | % of Births Officially Registered With Authorities |
| --- | --- | --- |
| 1 | Malawi | 6% |
| 2 | Zambia | 11% |
| 3 | Chad | 12% |
| 4 | Tanzania | 15% |
| 5 | Guinea-Bissau | 24% |
| 6 | DR Congo | 25% |
| 7 | Liberia | 25% |
| 8 | Nigeria | 30% |
| 9 | Uganda | 30% |
| 10 | Yemen | 31% |
| 11 | Zimbabwe | 32% |
| 12 | Pakistan | 34% |
| 13 | Afghanistan | 37% |
| 14 | Bangladesh | 37% |
| 15 | Vanuatu | 43% |
This page was last updated on August 15, 2018.
Citations
Your MLA Citation
Your APA Citation
Your Chicago Citation
Your Harvard Citation
Remember to italicize the title of this article in your Harvard citation.