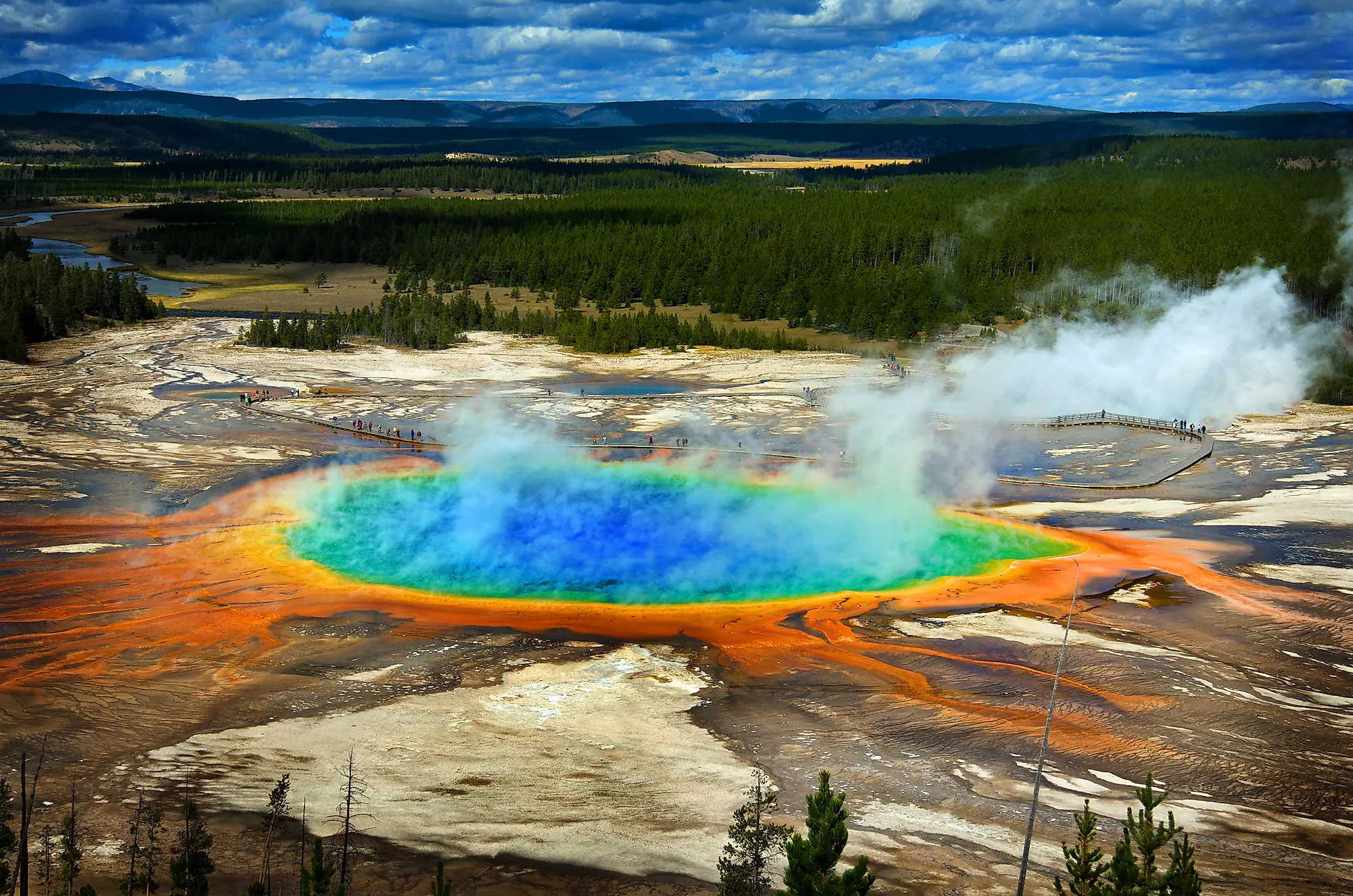 12 Oldest National Parks in The United States
Just over 150 years ago, the United States set the stage for the now robust national park scene. These federally protected landscapes strike an important balance between conservation and public access. Today, there are over 60 national parks throughout the country, including scores of other government-managed natural spaces. To kick things off, the following is a list of the first 12 in reverse chronological order.
12. Denali National Park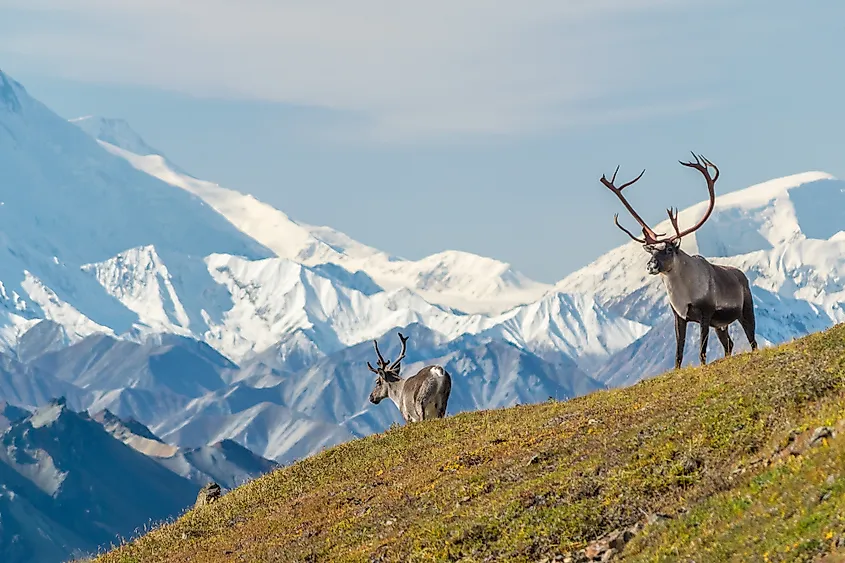 Denali National Park was established on February 26, 1917, originally as Mount McKinley National Park. In 2016, the name was changed, not only for the park but also for the park's centerpiece mountain (and North America's tallest), to reflect the original indigenous designation. Denali constitutes 6 million acres of undisturbed wilderness in South-Central Alaska. There is but one road that traverses the vast boundary, meaning that the best way to experience Denali and its intense solitude is on foot. There are both marked trails and established off-trail routes to choose from.
11. Lassen Volcanic National Park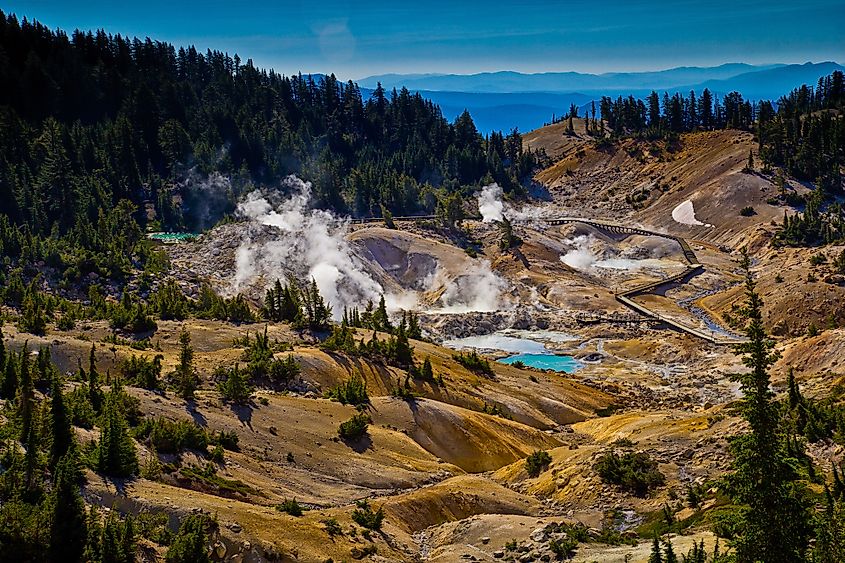 Lassen Volcanic National Park was formed on August 9, 1916, while Lassen Peak was still in the midst of its three-year eruption (now dormant). As the name suggests, this Northeastern California park is all about highlighting the jagged volcanic peaks and active hydrothermal features, including hot springs, mud pots, and those stinky yet intriguing sulfur vents. Despite the hints at a very lively underbelly, the park exhibits a rather pleasant exterior that is particularly well-suited for hiking and paddling. 
10.  Hawai'i Volcanoes National Park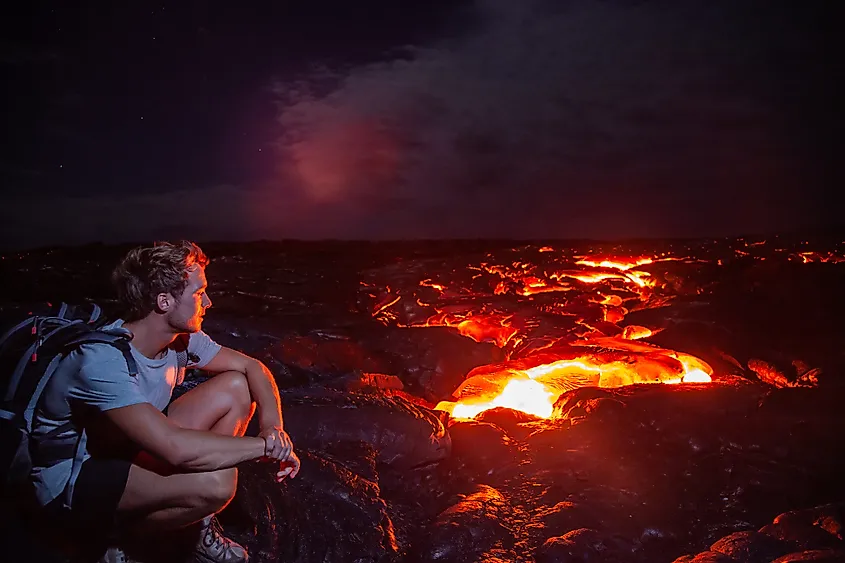 This Hawaiian national park was established on August 1, 1916, on the island of Hawaii. Hawai'i Volcanoes is an International Biosphere Reserve, as well as a UNESCO World Heritage Site, owing to the fact that it houses two of the world's most active volcanoes: Kīlauea (which is also considered one of the most dangerous in the United States) and Mauna Loa.
9. Rocky Mountain National Park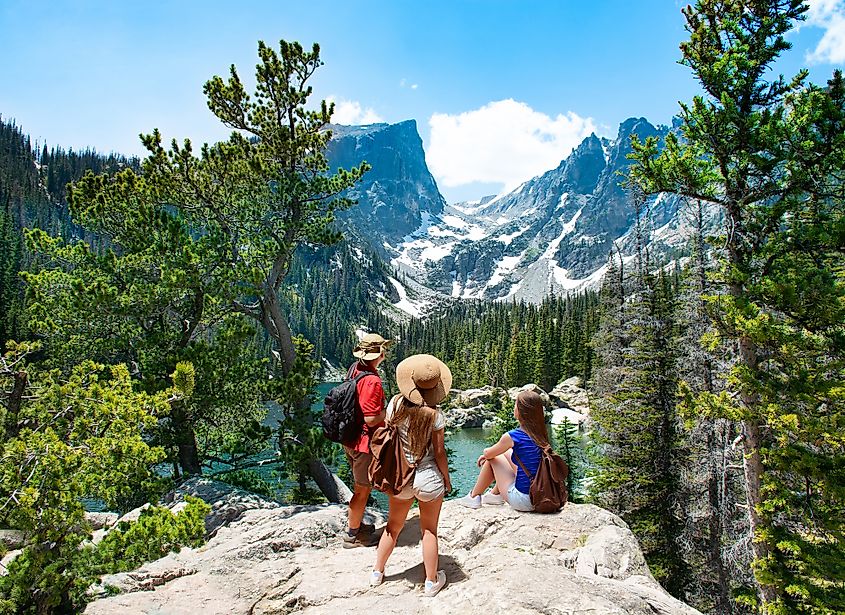 Founded on January 26, 1915, in the Northcentral part of Colorado, is the grandiose Rocky Mountain National Park. As the name suggests, this place is all about highlighting the wonder of the Rockies. Complementing the beauty of the bulky peaks are lush alpine meadows and dazzling glacial lakes. Plus, the big land features come hand-in-hand with big land mammals, including a herd of about 600 to 800 elk, which make their home here in the winter, approximately 350 bighorn sheep, a healthy population of mule deer, and the occasional moose. Fitness buffs can explore the park and spot some of these animals via a network of hiking trails totaling 350 miles in length. Hiking off-the-beaten-path can also be a good way to escape the summer crowds. In 2021, Rocky Mountain National Park welcomed over 4.3 million visitors, most of whom came between May and October.
8. Glacier National Park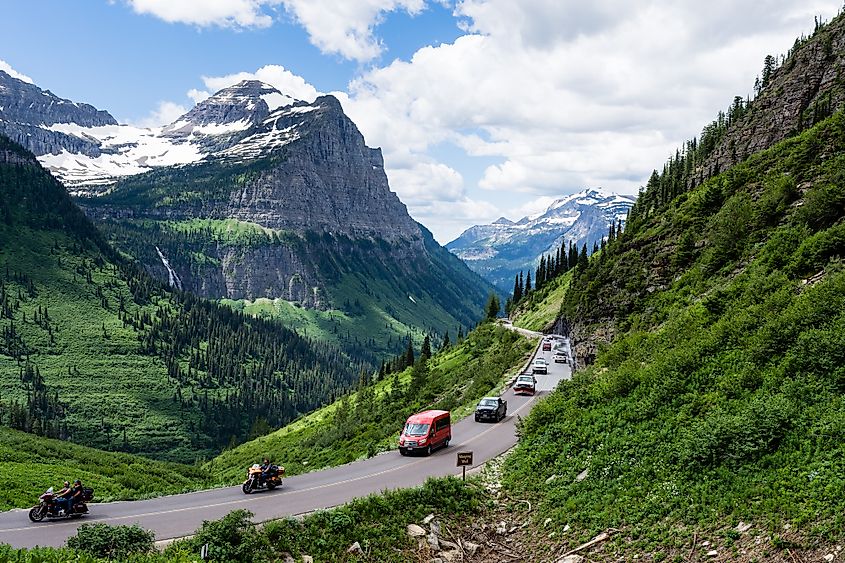 Located in Northwestern Montana, Glacier National Park is another celebration of the Rocky Mountains. Since it was established on May 11, 1910, Glacier has exploded in popularity. During the summer season (May to September), roughly 3 million people come to appreciate the highlight reel (such as Logan Pass, Avalanche Creek, Hidden Lake Trail, etc.) An acceptance of the inevitable crowds is a must if visiting during this time. That being said, Glacier National Park has over 700 miles of trails and limited road access throughout its 1 million acres, so hikers have the opportunity to escape into the unspoiled backcountry, which includes over 200 glacial lakes, endless mountain/glacier views, and the stunning waterfalls that they create.
7. Mesa Verde National Park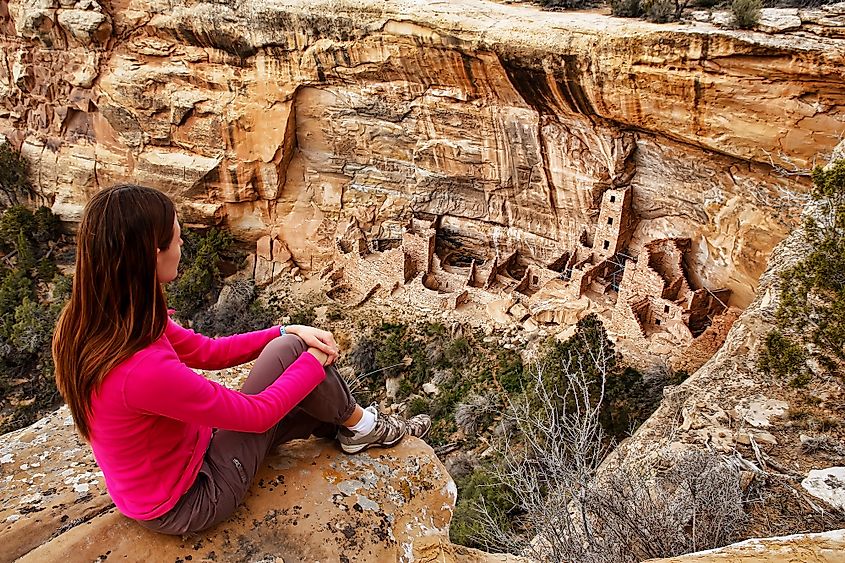 Mesa Verde National Park was created on June 29, 1906, and has since become a UNESCO World Heritage Site. This park protects the ancient structures and cultural heritage of the Ancestral Pueblo (Anasazi) people. For over 700 years (roughly between 550 to 1300), this indigenous group built their homes throughout the cliffs and plateaus of Mesa Verde in modern-day Southwest Colorado. About 600 cliff dwellings and another 4,100 archaeological sites have been uncovered throughout the area, with new discoveries still occurring regularly. Self-guided and guided tours are available to explore these fascinating pueblos and to learn about the history and ancestry of the Anasazi, as well as the backstory of the modern Pueblo people.
6. Wind Cave National Park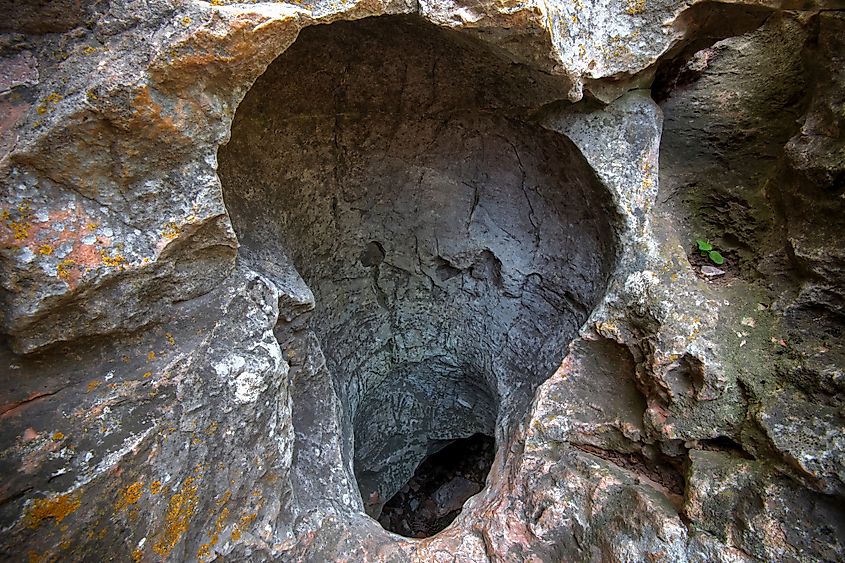 South Dakotans (and visitors from all over), have been blessed with Wind Cave National Park since January 9, 1903. The world-renowned cave structure is as large as it is intricate. There are currently in excess of 150 miles of explored passages, making Wind Cave the third longest cave in the country and the sixth-longest in the world. The cramped, dark quarters inside are wonderfully contrasted by the park's undulating grasslands outside. There, bison, elk, and other prairie mammals roam in healthy numbers.
5. Crater Lake National Park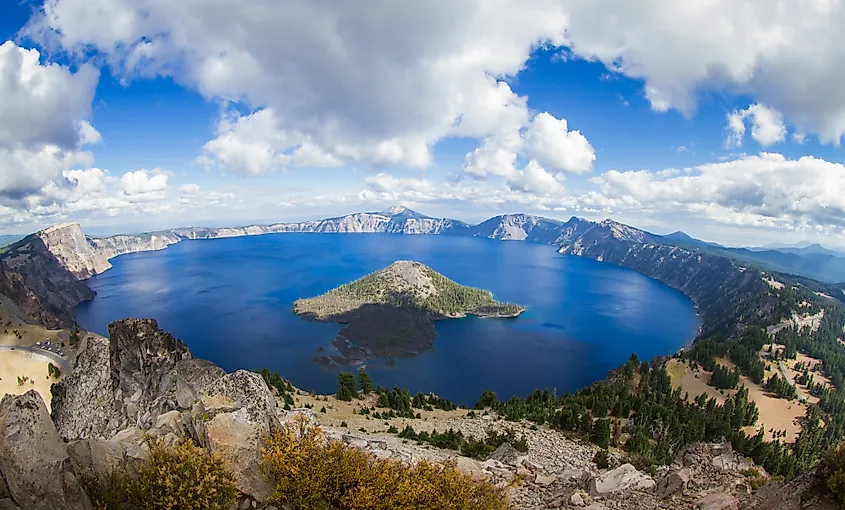 Crater Lake National Park was formed on May 22, 1902. However, the crater itself was formed some 7,700 years ago when a volcanic eruption led to the collapse of the mountain and the eventual creation of the deepest lake in the United States. To drink in the views, visitors to this Southern Oregon park get to venture high into the Cascade Mountain Range. Because of the setting, Crater Lake is solely fed by rain and snowmelt, making the waters exceptionally clean and the emotional atmosphere just as refreshing.
4. Mount Rainier National Park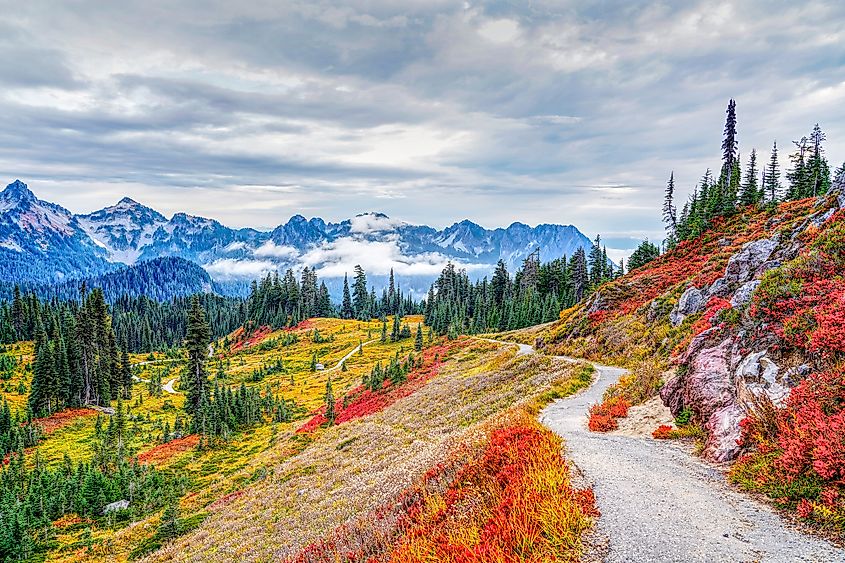 Established at the turn of the century (March 2, 1899), Mount Rainier National protects the stalwart stratovolcano, after which it is named. This 14,410-foot marvel has been active for the last half-million to one million years, oscillating between periods of high and low-volume eruptions. It is estimated that in the past, lava flows probably spewed 1,000 feet into the air above the already sizable summit. Nowadays, Mount Rainier cloaks itself in more glaciers than any other peak in the contiguous United States. Circumnavigating this capricious giant is the Wonderland Trail, a stupendous but challenging 93-mile trek that gains 22,000 feet in cumulative elevation.
3. Yosemite National Park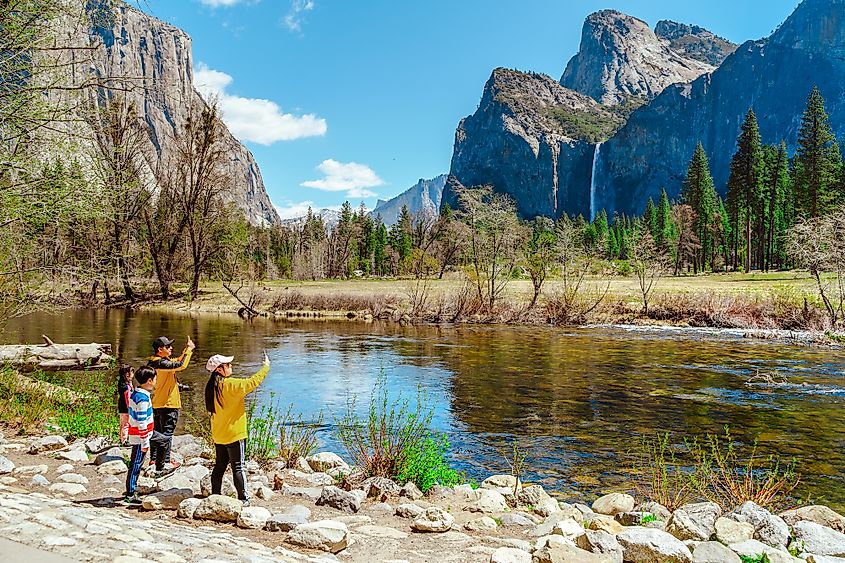 On October 1, 1890, Yosemite National Park was brought to life to encapsulate one of the most striking valleys and recognizable landscapes in the world. In this Central California park, the 4,000-foot-deep glacially-carved phenomenon showcases iconic features such as El Capitan, a massive and sheer granite face that beckons the world's best rock-climbers. Half Dome is another impressive face for big-wall climbers, as well as an awe-inspiring, sweat-inducing hike up its backside. And there are loads of impressive waterfalls, such as Yosemite Falls, flowing over the steep cliffs and adding that pleasing auditory ambiance. Over 4 million visitors roll through Yosemite National Park each year to catch a glimpse of Yosemite's magnificence and to frolic throughout this natural playground.
2. Sequoia & Kings Canyon National Park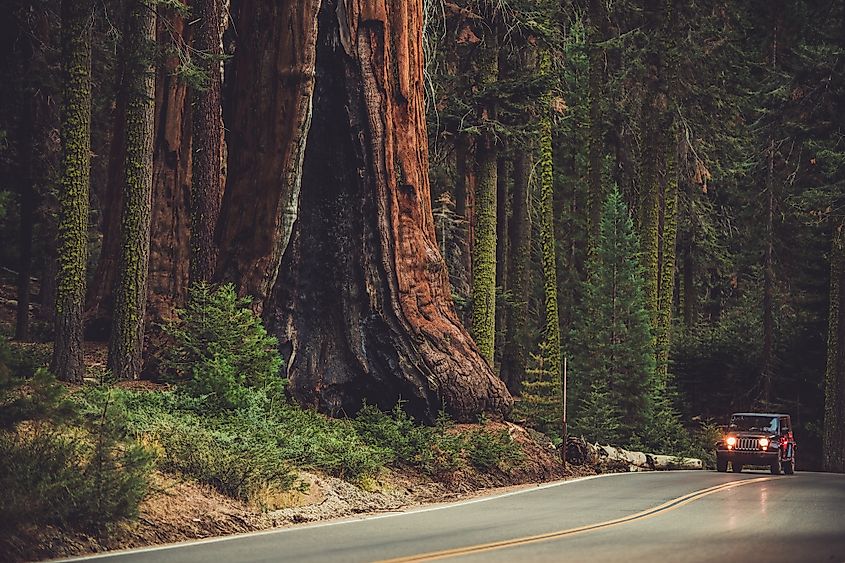 The country's second national park was established on September 25, 1890, to protect the various giants throughout the land. Here, also in Central California, the peaks of the Sierra Nevada, canyons/caverns, and of course, the ancient sequoias compete for one's attention. The sequoia groves, in particular, are a feature unique to this area. These massive trees grow only on the Western slopes of this mountain range and only at an elevation of between 4,000 to 8,000 feet. There are about 40 different groves to visit throughout the combined parks. Some offer road access, while others require a demanding hike.
1. Yellowstone National Park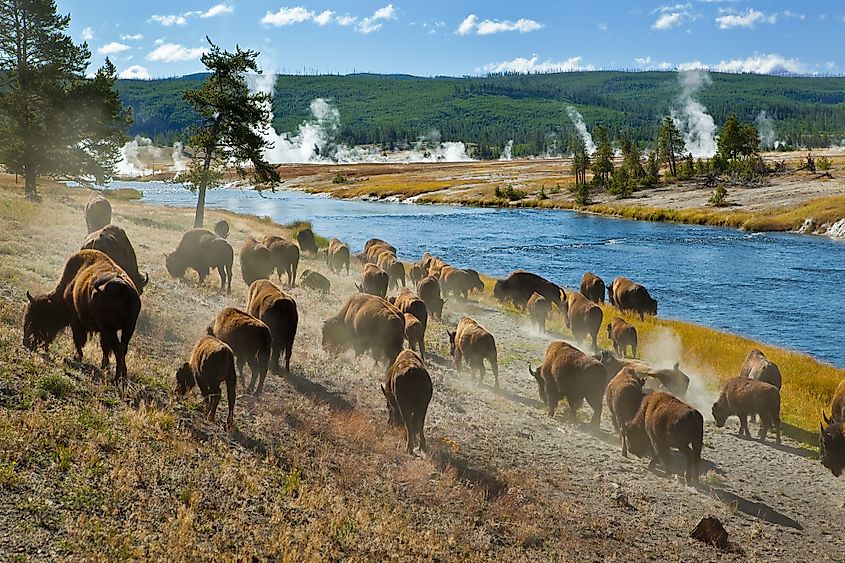 Yellowstone is not only the oldest national park in the United States but also in the world. Founded on March 1, 1872, this historic initiative continues to ensure the protection of 2.2 million acres across parts of Wyoming, Idaho, and of course, Montana. Within this boundary, the approximately 4 million annual visitors can find nearly 500 geysers (i.e., nearly half of the planet's active geysers) and other geothermal features, including the famous and dependable Old Faithful and the highly photogenic Grand Prismatic Spring. Such a large, intact ecosystem also provides a haven and dependable viewing opportunities for legendary mountain mammals such as bears, bison, elk, and even wolves. 
These 13 national parks paved the road (or marked the trail) for the continued preservation of the American landscape over the last century and a half. They have no doubt served to conserve their own wilderness but also that of the hundreds of parks that followed their contagious example.
25 Oldest National Parks In The United States
| Rank | Name | Location | Date established as park |
| --- | --- | --- | --- |
| 1 | Yellowstone | | March 1, 1872 |
| 2 | Sequoia | | September 25, 1890 |
| 3 | Yosemite | | October 1, 1890 |
| 4 | Mount Rainier | | March 2, 1899 |
| 5 | Crater Lake | | May 22, 1902 |
| 6 | Wind Cave | | January 9, 1903 |
| 7 | Mesa Verde  | Colorado | June 29, 1906 |
| 8 | Glacier | Montana | May 11, 1910 |
| 9 | Rocky Mountain | Colorado | January 26, 1915 |
| 10 | Hawaiʻi Volcanoes | Hawaii | August 1, 1916 |
| 11 | Lassen Volcanic | California | August 9, 1916 |
| 12 | Denali | Alaska | February 26, 1917 |
| 13 | Acadia | Maine | February 26, 1919 |
| 14 | Grand Canyon | Arizona | February 26, 1919 |
| 15 | Zion | | November 19, 1919 |
| 16 | Hot Springs | Arkansas | March 4, 1921 |
| 17 | Bryce Canyon | Utah | February 25, 1928 |
| 18 | Grand Teton | | February 26, 1929 |
| 19 | Carlsbad Caverns | New Mexico | May 14, 1930 |
| 20 | Everglades | Florida | May 30, 1934 |
| 21 | Great Smoky Mountains | North Carolina, Tennessee | June 15, 1934 |
| 22 | Shenandoah | Virginia | December 26, 1935 |
| 23 | Olympic | Washington | June 29, 1938 |
| 24 | Kings Canyon | California | March 4, 1940 |
| 25 | Isel Royale | Michigan | April 3, 1940 |