The National Parks in the US are indisputably some of Earth's most naturally beautiful places. While each national park is home to a much more pleasing landscape than what most Americans are faced with on a day-to-day basis, not all national parks were created equal, and locations like Logan Pass stand out from the rest. Found within the world-renowned Glacier National Park, Logan Pass is one of the most breathtaking hiking paths in the United States. The trail snakes in between the towering behemoths of Reynolds and Clements Mountain. Offering some of the most surreal views in North America, if you want to see the great Continental Divide in person, then Logan Pass is the best place to do so. 
Geography Of Logan Pass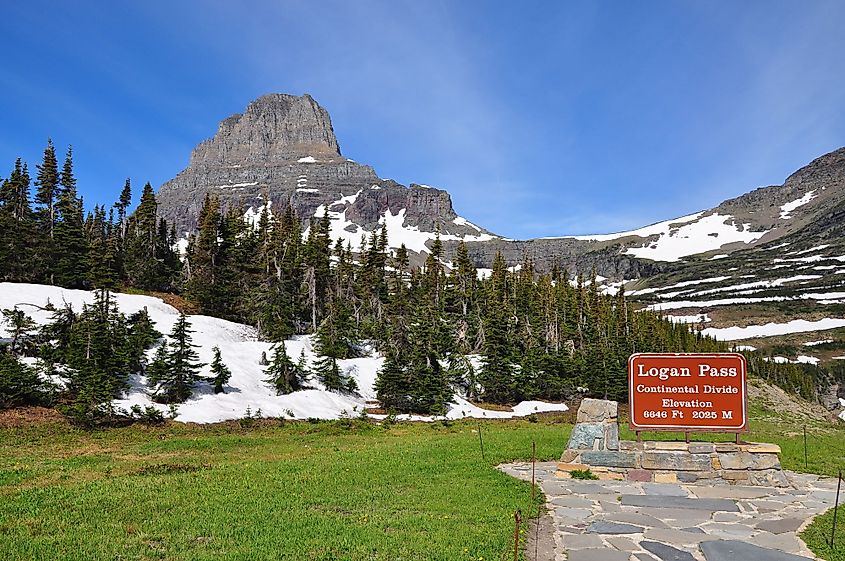 Placed at an elevation of 2,026 m, Logan Pass is the highest point in the Going-to-the-Sun Road in Montana's Glacier National Park. This scenic mountain road in the Rocky Mountains connects St. Mary - the park's eastern entrance, about 18 miles away from the Pass, with Lake McDonald which sits at the park's western entrance. Surrounded by steep hills and open fields, the amount of foliage and vegetation in Logan Pass is sparse but impactful. A spattering of pine trees and colorful field flowers provides a great touch to the otherwise barren terrain. Several small creeks and streams are also a common sight here. The area also features many beautiful lakes such as Lake McDonald, Hidden Lake, Avalanche Lake, etc. The Logan Pass has been named after Major William R. Logan, who served as the first superintendent of the Glacier National Park. 
Climate Of Logan Pass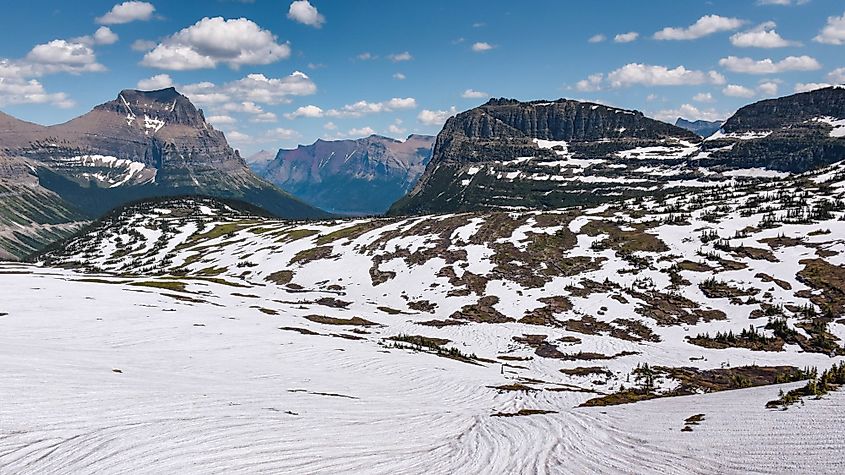 It should be not too surprising to learn that the climate of Logan Pass is not exactly a tropical paradise. Montana is well-known for its harsh winters and cool summers; and Logan Pass is no different. The Logan Pass area can quickly turn cold even in the summer months thanks to frequent cloudy skies as well as strong and powerful winds that tear through the area. Snow and heavy rain are also common too. Some parts of Logan Pass become almost impassible in winter due to deep snow drifts. An area known as Big Drift situated just east of the Logan Pass receives more than 30 m of snowfall. No matter the time of the year it is ideal to dress in layers. This will give you the best chance to be comfortable no matter what the great outdoors throws at you.
Wildlife In Logan Pass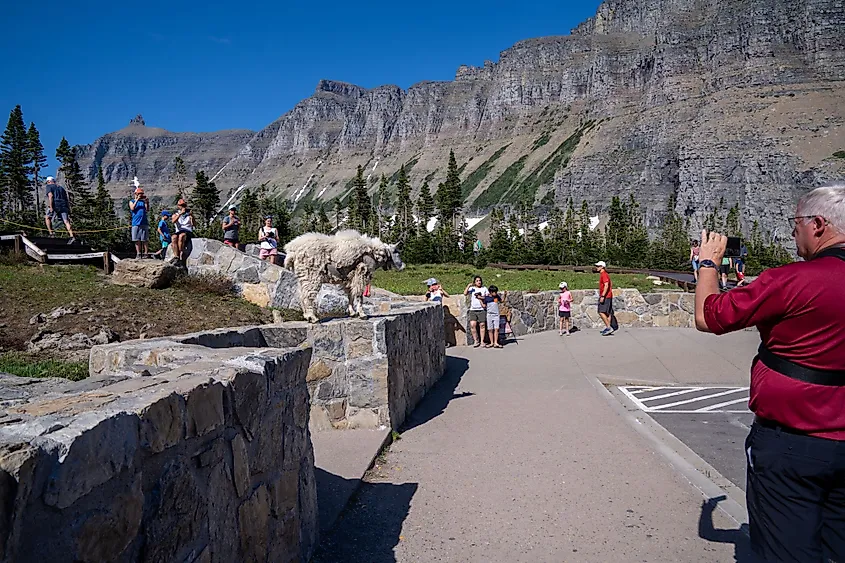 Despite the rugged terrain, there are plenty of wild animals in and around Logan Pass. Visitors are often treated to sights of mountain goats and bighorn sheep scaling the treacherous rock faces or grazing in the peaceful meadows in the nearby valleys. Many of the mountain goats and bighorn sheep have become accustomed to seeing and interacting with humans. It is not out of the ordinary for them to get within a few feet of park visitors. While this might be an exciting experience for most it is strongly advised to not touch or feed these animals no matter how friendly and tame they might appear. The odd grizzly bear might wander into the area as well but they usually keep to themselves and do not get too close to humans. Regardless it is always best to go with a group of people and to always be watchful of dangerous animals. 
Tourism In Logan Pass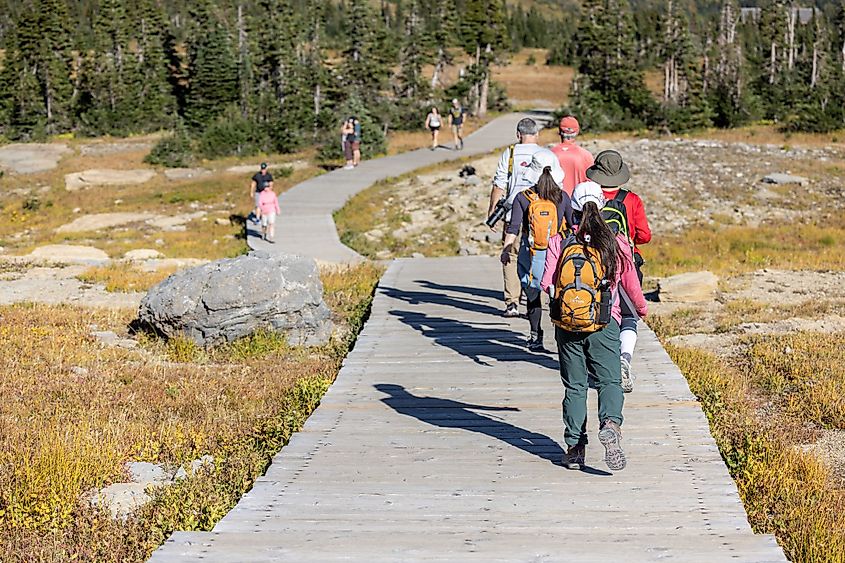 Logan Pass is one of the most popular destinations in an already busy and most visited national park. This has led to an issue of overcrowding and congestion for many years. The busiest times at Logan Pass are during the spring and summer months between 8 am and 4:30 pm. If you feel as though crowds will detract you from your experience, the colder months are a great option. However, this will most likely mean you will be facing tough weather conditions. Heavy rainfall and snow can make the trails hard to traverse and are not recommended for the faint of heart. Parking for personal vehicles can be found at the base of the trail and nearby areas. There is also the option of taking tour buses that both the park and third-party businesses provide.
Logan Pass is a must-see for any outdoor lover. Pristine lakes, gargantuan mountains, and grazing wildlife are all in plentiful supply. Taking the journey is a great trip for lone travelers and families alike. Just make sure that you bring plenty of water and snacks for the trip ahead. The trail can be quite physically demanding. But the sweaty shirt and pounding heart is just a small price to pay for some of the most awe-inspiring views and scenery in the world.