Louisiana Geography
Sea level salt marsh stretches along much of Louisiana's constantly-changing Gulf of Mexico coastline, and inland for up to 25 miles in some spots. From there the land gently rises into a wide coastal plain (or prairies) with a few rolling hills to the east and west.

From central Louisiana to its northern border with Arkansas, the landscape of Louisiana elevates very slowly to its highest point (Driskill Mountain) standing at a mere 535 feet above sea level.

The Mississippi River Delta is literally covered by silt deposited by the Mississippi River as it slows down and enters the Gulf of Mexico. This process continually and slowly extends Louisiana's land further into the Gulf. Subsequently, the salt marshes created provide a fertile breeding area for crab, fish and shrimp.

In addition to the massive Mississippi River system, other rivers of note include the Atchafalaya, Ouachita, Pearl, Red and Sabine. Lakes of size include the Charles, Grand, Pontchartrain, Sabine and White, and the Toledo Bend Reservoir.

For a detailed look at the topography of Louisiana, view this Topography map!


Louisiana Photographs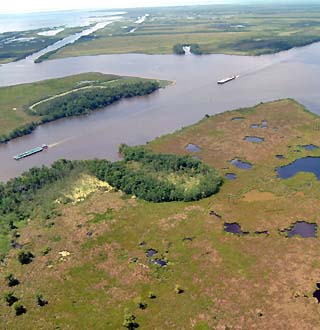 Intracoastal Waterway, Lousiana
Louisiana Cities, Counties & Area Codes
This page was last updated on April 7, 2017.