Palestine (or Palestinian Territories)
A wide variety of geographic definitions of Palestine have been used over the centuries, and those definitions have always been emotionally and politically contentious.

On November 15th, 1988, the Palestinian National Council declared independence from the State of Israel.
Currently the "State of Palestine" is officially recognized by the United Nations as a Non-Member Observer State, a status granted on November 29. 2012. The only other geographic entity currently holding this status is the Holy See (Vatican), while Switzerland held the status until 2002.
As of August 2014, 134 nations have officially recognized Palestine as a sovereign state following the Palestinian declaration of independence. Notably, of the G-20 nations,only Argentina, Brazil, China, India, Indonesia, Saudi Arabia, South Africa, and Turkey recognize the declaration of independence. Of the G-8 nations, only Russia officially defines Palestine as a sovereign state.
Many of the historical issues concerning Israelis and Palestinians involve geography and maps. In recent years the fragmented Palestinian Territories are generally located within the Gaza Strip, East Jerusalem and the West Bank.
GENERAL INTEREST:

NATIONAL SYMBOLS:

Bird: Palestine Sunbird
Tree: Olive
Palestinian Flag: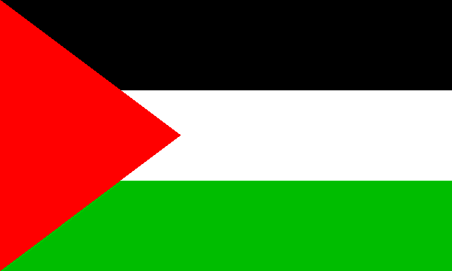 This page was last updated on November 29, 2017.