13 Ideal Destinations For A 3-Day Weekend In Pennsylvania
Pennsylvania, the Keystone State, offers a diverse range of destinations for a weekend getaway. With scenic landscapes, charming small towns, and bustling cities, Pennsylvania has something to offer every traveler. Here are thirteen ideal destinations for a 3-day weekend in Pennsylvania, each with must-visit shops and stops.
Pennsylvania has everything from the Poconos' scenic beauty to Gettysburg's historical significance, from Pittsburgh's cultural attractions to Philadelphia's urban charm. Don't miss out on the antique shops in Jim Thorpe and the Laurel Caverns Geological Park in Uniontown. Pennsylvania's endless opportunities for adventure and relaxation make it the perfect weekend destination.
Philadelphia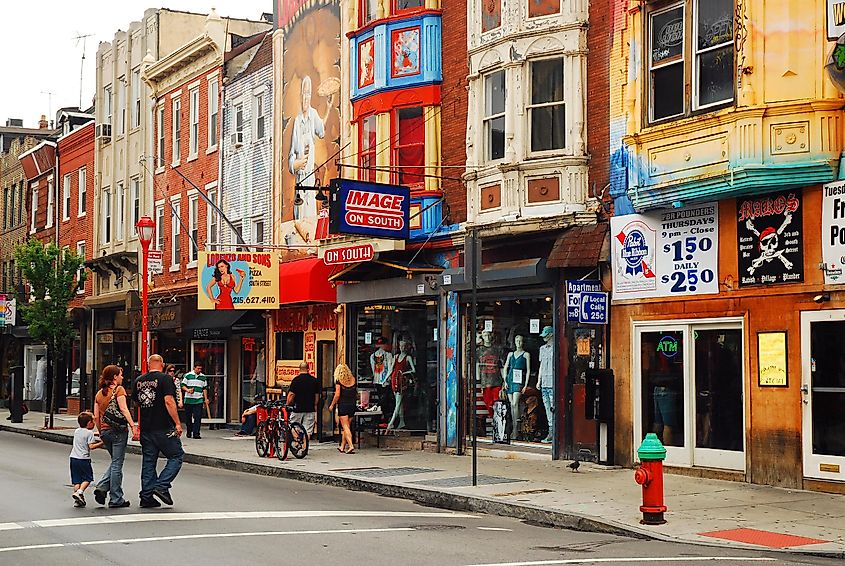 A world-renowned city, Philadelphia is an excellent destination for visitors exploring history, arts, and culture. The city offers an array of world-famous attractions, such as the Liberty Bell and Independence Hall, and fantastic shopping and dining experiences.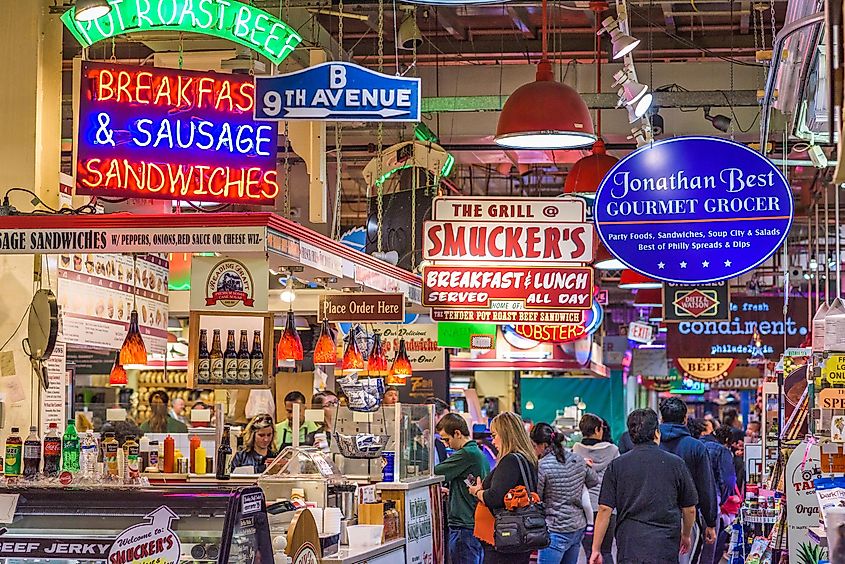 Reading Terminal Market is a must-visit when. This market which has been operating for over 125 years, is a foodie's paradise. It has fresh produce, meats, seafood, baked goods, and specialty international food. The market is open daily and is located in Center City. There is also a beautiful public park for park lovers. Nightlife lovers aren't exempted as South Street is the place to go for anything trendy, unique high-end and vintage shopping, tasty eats, and, of course, the famous cheesesteak!
Gettysburg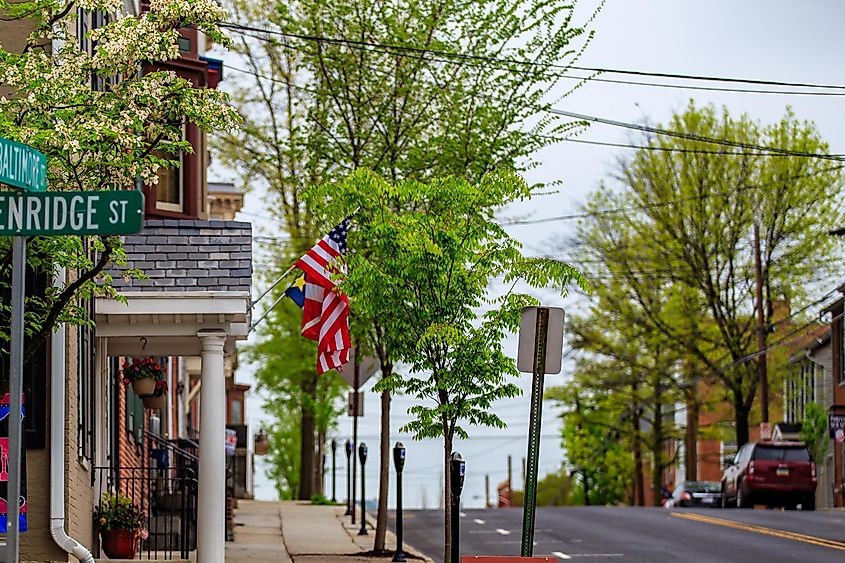 A small town in Pennsylvania, Gettysburg is famous for its pivotal role in the American Civil War. The town offers various attractions, making it an ideal place for history enthusiasts. A must-visit stop is the Gettysburg National Military Park, a significant site that preserves the history of the Battle of Gettysburg. Here, visitors can explore the battlefield, witness the re-enactment of historical events, and visit the museum. Another stop that history lovers should not miss is the David Wills House, where Lincoln refined the Gettysburg Address.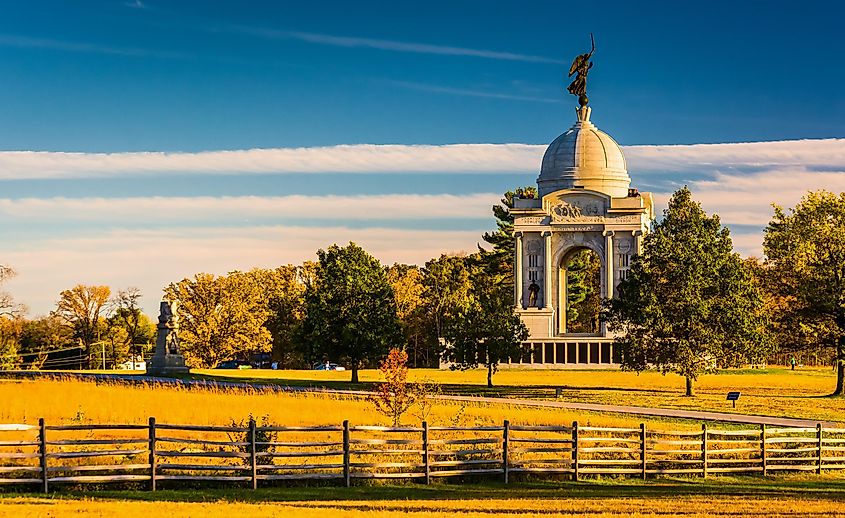 Aside from history-related sites, Gettysburg also offers excellent shopping and dining experiences. A must-shop place is the Outlet Shoppes at Gettysburg, which boasts over 70 stores ranging from fashion to home decor. Similarly, Lincoln Square, located at the heart of downtown Gettysburg offers unique shopping options for visitors ranging from antiques to handmade items. For those who want to rest and have a bite to eat after their historical immersion, a stop at the Dobbin House Tavern is recommended. This 18th-century restaurant offers a colonial ambiance and a unique menu that will delight guests.
Pittsburgh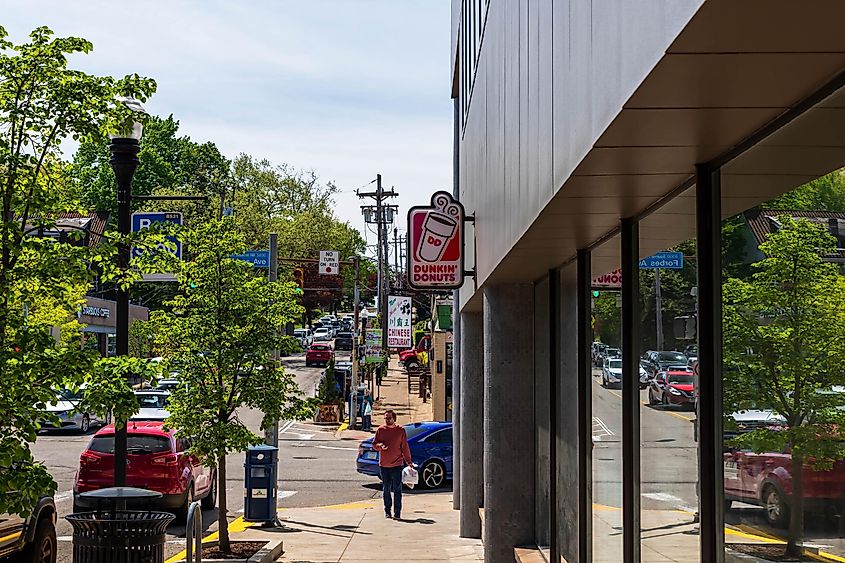 Pittsburgh is a vibrant city in Pennsylvania that offers visitors diverse activities and attractions. It is also the second-largest city in Pennsylvania. One must-visit stop in Pittsburgh is the Andy Warhol Museum, a multi-floor museum dedicated to the life and work of the iconic artist. Another stop that history enthusiasts will appreciate is the Heinz History Center, which chronicles the history of Pittsburgh, from early native settlements to present-day events.
Aside from history and art-related sites, Pittsburgh offers great shopping and dining experiences. Shoppers may enjoy the Strip District, an open-air market offering a wide array of specialty shops and international food options. Furthermore, Squirrel Hill and Shadyside neighborhoods offer visitors trendy boutiques, bookstores, and antique shops.
Hershey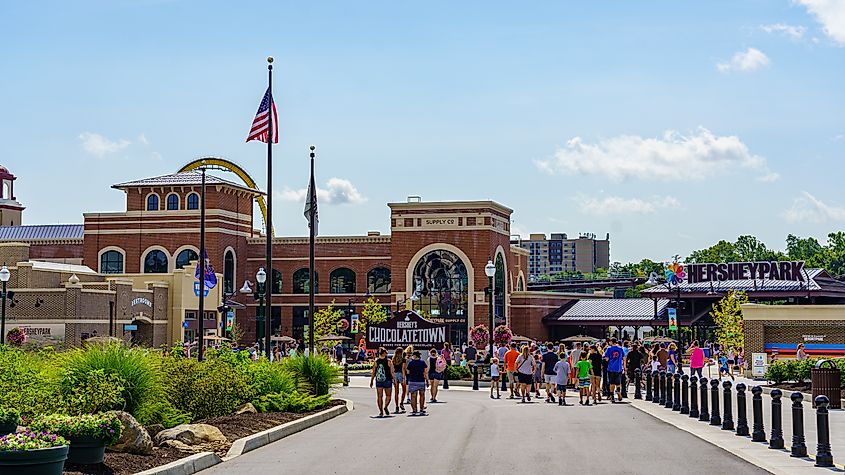 Hershey, Pennsylvania, is a sweet destination for anyone with a sweet tooth. The small town is known for its chocolate factory, Hershey's chocolate world, and Hersheypark, an amusement park with plenty of family-friendly rides. But there's more to do in Hershey than just sample the chocolate. Visitors can explore the Hershey Gardens, which boasts more than 23 acres of botanical bliss, or check out the AACA Museum, which showcases a collection of antique and classic American cars. The Tanger Outlets at Hershey is a must-visit spot for those looking to shop, offering a wide range of designer brands at affordable prices. Don't forget to stop by Hershey's Chocolate World retail store to stock up on all your favorite chocolate treats.
New Hope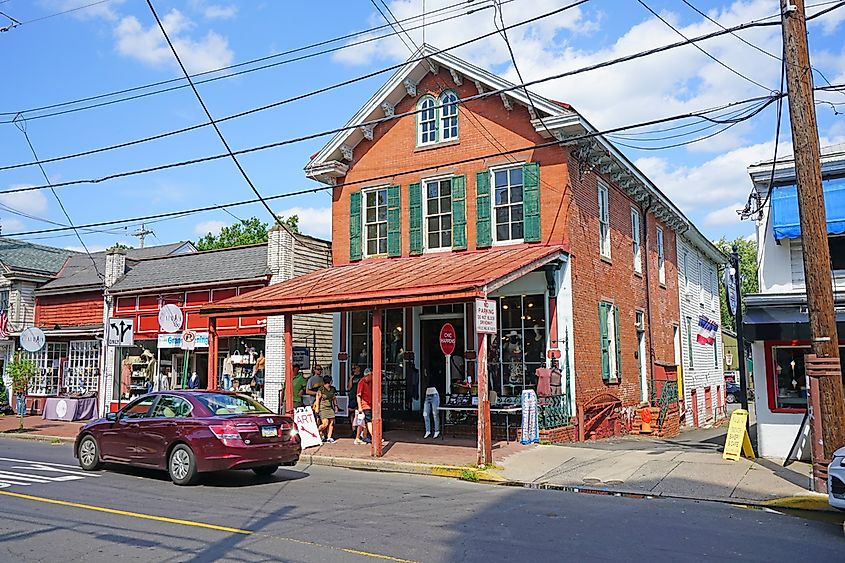 A charming town nestled along the banks of the Delaware River, New Hope, Pennsylvania, makes an excellent destination for a three-day weekend. It's a place where old-world charm and modern amenities coexist, and there's no shortage of things to see and do. If you plan to visit New Hope, Peddler's Village is a must-see destination with 70 shops and restaurants in a charming, European-style village. The New Hope & Ivyland Railroad lets you ride aboard a vintage steam locomotive and enjoy the scenic Delaware River Valley.
Another essential stop is Rice's Flea Market, where you can browse over 400 vendors selling antiques, crafts, and other wares at one of the oldest flea markets operating in the country. Nature lovers can appreciate the Bowman's Hill Wildflower Preserve, complete with hiking opportunities across 134 acres of preserved woodlands and meadows filled with blooming wildflowers and native plants. Whether you're looking for outdoor adventure, shopping, dining, or cultural experiences, there's something for everyone in New Hope, Pennsylvania.
Lake Wallenpaupack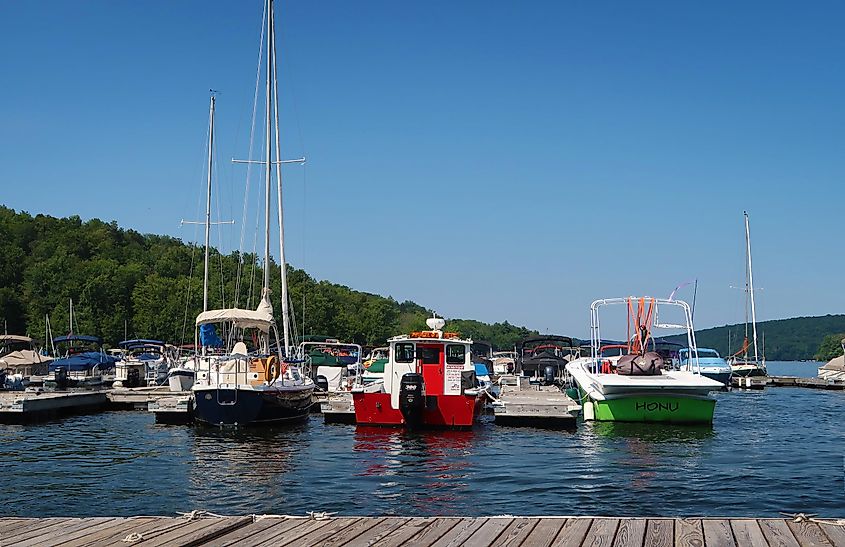 Lake Wallenpaupack in Pennsylvania is a popular destination for outdoor enthusiasts and nature lovers. The area boasts natural beauty and plenty of opportunities for water-based activities such as fishing, boating, and swimming. The Hawley Silk Mill is a historic silk mill that has been stunningly repurposed with boutique shops, a fitness center, and a market. For a calm afternoon, the Wallenpaupack Brewing Company is a hot spot that features local ingredients and a rotating draft list.
Other must-sees include House of Candles, a charming family-owned candle shop with a vast selection of candles, soaps, and lotions. To close it out with nature, visit Promised Land State Park. It's a massive state park featuring over 3,000 acres of pristine wilderness, hiking trails, and picnic areas. These are just a handful of the many things to see and do while visiting Lake Wallenpaupack, Pennsylvania, whether you're looking for outdoor adventure or quaint shopping destinations.
Erie
The fourth largest city in the state, Erie, Pennsylvania, is a hub of culture and commerce. It is located on the shores of Lake Erie, giving it both scenic beauty and access to countless outdoor activities. Along with its natural wonders, there are also many must-shop and stop places that visitors to the city should experience. Some essentials include the  Erie Farmers Market, an excellent option for fresh produce and locally made products. The Presque Isle State Park boasts gorgeous beaches, hiking trails, and water sports. At the same time, the Erie Canal Museum explores the history and significance of the Erie Canal, a significant part of the city's history. These are just a few attractions visitors to Erie should check out. Whether you're interested in shopping or sightseeing, this bustling city has plenty of options.
Jim Thorpe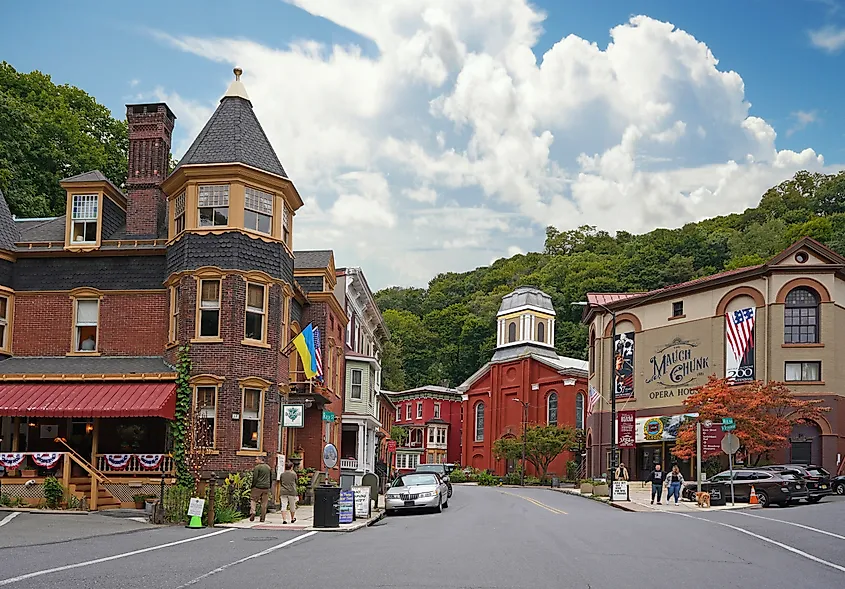 Jim Thorpe, Pennsylvania, nestled in the Pocono Mountains, is a charming town named after the famous Native American athlete. Visitors can expect to find a variety of unique shops and attractions that make this town a must-visit destination. You can visit the Asa Packer Mansion and tour this stunning historic mansion to learn about one of America's wealthiest families. Other impressive features include The Old Jail Museum, where you can step back and experience what life was like in a 19th-century prison. The Mauch Chunk Opera House hosts performances at this beautifully restored 1800s opera house. For a bit of a thrill, Adventures in Paradise offers a thrilling whitewater rafting excursion on the Lehigh River. These are just a few of the many attractions and activities Jim Thorpe has to offer. The town's charming architecture, scenic beauty, and friendly locals make it hard to resist.
Lancaster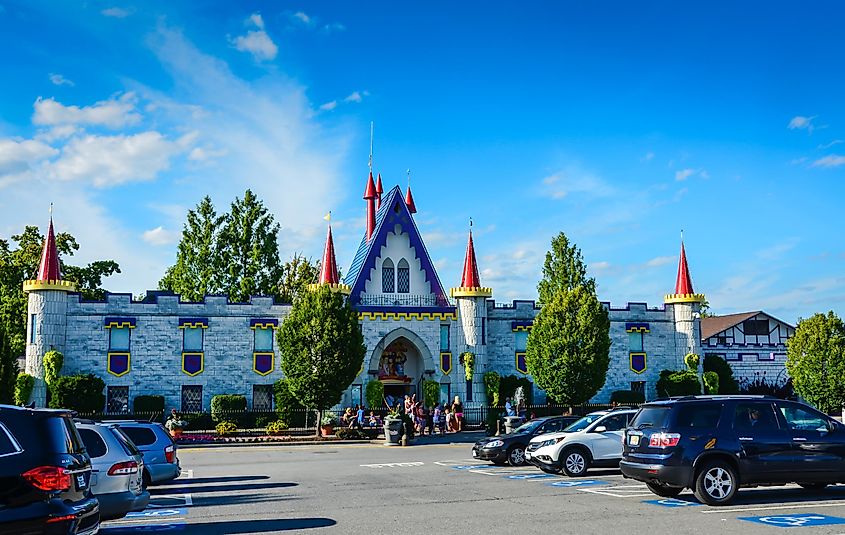 Lancaster, Pennsylvania, also known as Pennsylvania Dutch Country, is a beautiful historical city that attracts visitors worldwide. From quaint shops to delicious food, there are so many must-stop places for visitors to check out. Central Market, an indoor spot, is a must-visit to sample Amish and Mennonite delicacies. Dutch Wonderland is a family-friendly amusement park with rides and attractions for all ages. Other options include The Amish Farm and House, where you can tour a historic house that provides insight into the Amish way of life. These are just a few of Lancaster's many attractions and activities. And no visit would be complete without indulging in some famous Pennsylvania Dutch cuisines, of which plenty of local options exist.
Valley Forge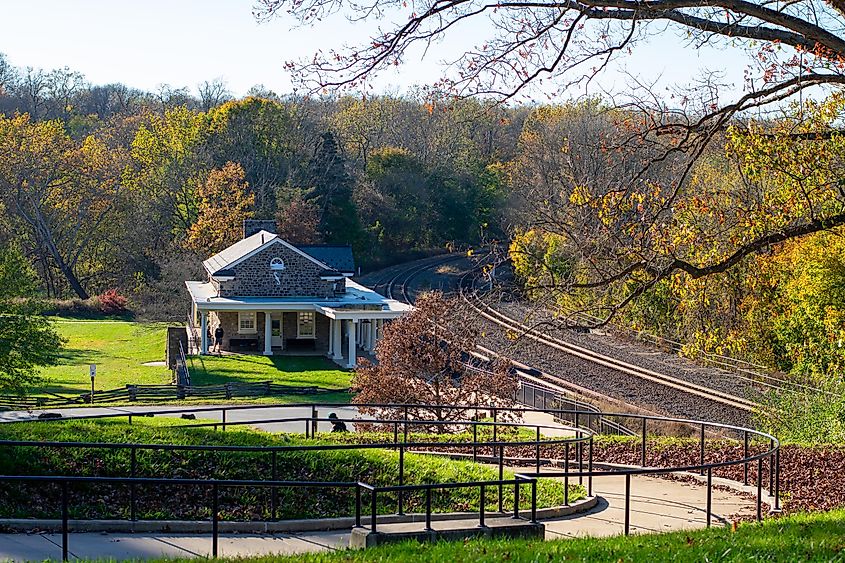 Valley Forge in Pennsylvania is a must-visit destination for history buffs and nature lovers. Located just outside of Philadelphia, it's a popular spot for visitors to explore the country's past and enjoy the great outdoors. Start at Valley Forge National Historical Park and explore the park and learn about the history of the American Revolution. The park's 3,500 acres include monuments, memorials, and hiking trails. For a more urban take, hit the King of Prussia Mall, one of the largest malls in the United States. It features over 450 stores, including high-end luxury brands. Whether interested in history, shopping, or outdoor activities, Valley Forge has something for everyone. With its stunning natural beauty and rich historical significance, it's no wonder it's considered one of the top destinations in Pennsylvania.
York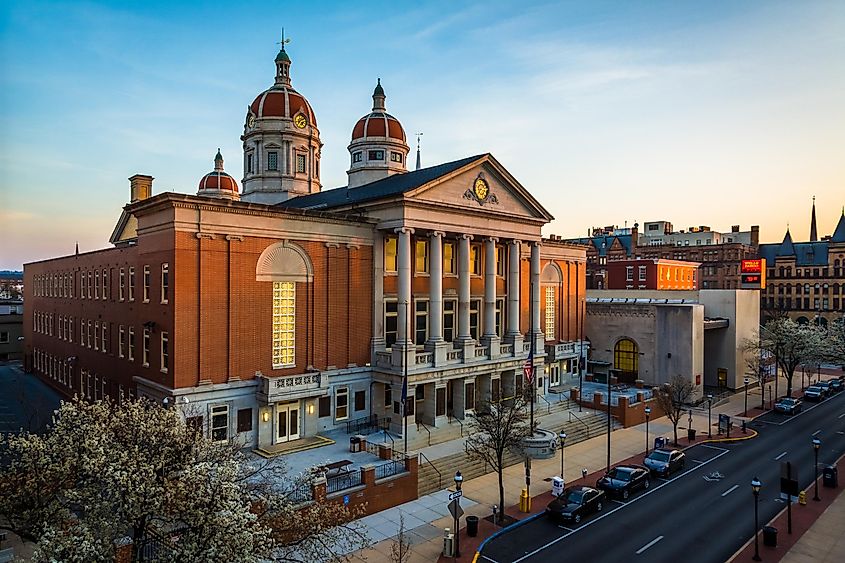 York, Pennsylvania, is a hidden gem in Central Pennsylvania that boasts a rich history and charm. Visitors can spend their time exploring museums, hiking trails, and historical sites, but there's plenty of shopping. Central Market York, the country's oldest continuously operating farmers' market, offers fresh produce, baked goods, and handmade crafts. York Emporium is a book-lovers oasis with over 250,000 books, comics, and records.
Another exciting event is York Boutique Week, held twice a year. It offers shopping deals and discounts from local boutiques and shops. You can find unique gifts, clothing, and jewelry along Beaver Street at the Shops on Beaver Street, a quaint cobblestone street lined with shops and cafes. For a taste of history, visitors can check out the Harley-Davidson Factory, which offers guided tours that showcase the plant's history and manufacturing process. This spot has everything from history and nature to shopping and dining. It's the perfect destination for a day trip or a weekend getaway.
Scranton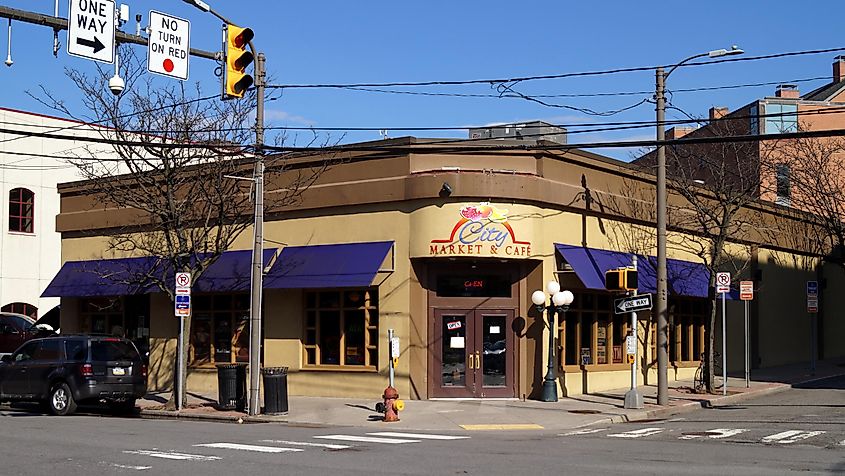 Scranton, Pennsylvania, is a historic city in the state's northeastern region. It is best known as the setting of the popular TV show "The Office," but it has much more to offer than just that. Visitors can travel to The Marketplace at Steamtown, with over 80 stores ranging from big-box retailers to various unique boutiques and shops. The Lackawanna County Coal Mine Tour provides access to abandoned coal mines that have been turned into a museum to learn about the town's coal mining history.
Other activities include the Electric City Aquarium & Reptile Den, the underwater world, and seeing all kinds of aquatic creatures, including sharks, fish, and turtles. The Bog is right in the heart of downtown Scranton and is a local gem in the form of a quirky boutique that sells everything from vintage clothing to handmade jewelry. To taste Scranton's best, visitors can see La Festa Italiana, which celebrates the city's Italian heritage and features Italian food, music, and traditions.
Bethlehem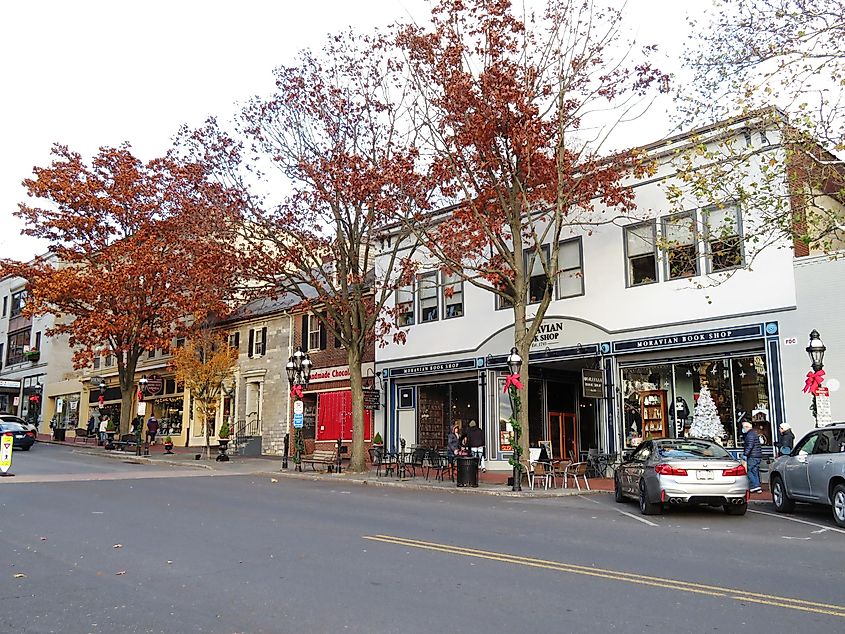 Bethlehem, Pennsylvania, is a historic town that offers visitors a chance to explore its rich heritage. Located approximately an hour north of Philadelphia, Bethlehem is known for its charming downtown area, antique shops, and local boutiques. Visitors to Bethlehem should not miss out on the Bethlehem Steel Stacks or the Historic Bethlehem Museum and Sites.
Additionally, the town offers unique shopping experiences, such as the Moravian Book Shop, the oldest continuously operating bookstore in the United States, and the C.T. Kitchens at the Historic Bethlehem Visitor Center, where visitors can purchase items made by local artisans. With its rich history and unique shopping experiences, Bethlehem is a must-visit destination for those looking for a weekend getaway.
Final Notes
Pennsylvania has much to offer for those looking for a quick weekend getaway. From natural wonders to historic landmarks and bustling cities, the Keystone State has something for everyone. Each of these thirteen destinations offers unique experiences and must-visit shops and stops. Whether you're looking to shop for antiques, delve into the state's rich history, or indulge in Hershey's chocolate, Pennsylvania's got you covered. So if you've been looking for reasons to go solo or with some company, pack your bags, grab your map, and prepare for an exciting and fulfilling three days in Pennsylvania.