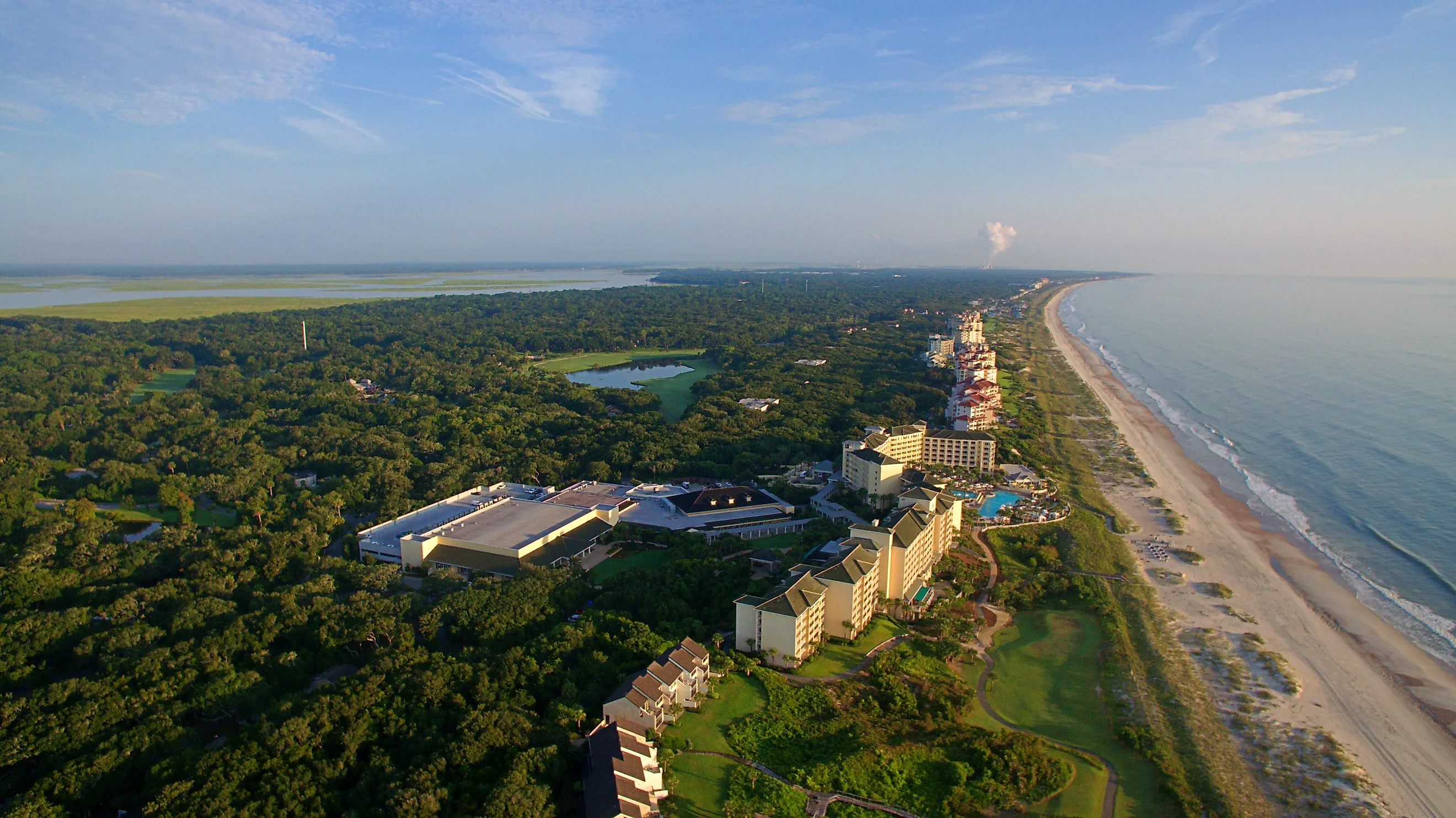 12 Top Places To Visit In Florida In The Fall
In Florida, the Sunshine State, you don't have to wait until next summer to hit the beach scene, including some of the country's most glorious samples. From the pristine stretches of sand without crowds to the serene parks abounding, Florida is hands down the best place in the country to escape the dreary falltime of the city. Home to plentiful historic waterfront towns and nature parks, you can enjoy the sun, sand, and surf with comfortable modern accommodations at discounted rates for a staycation.
The Everglades National Park, with a whole natural world to discover, is stunningly beautiful. The science one, honed by Cape Canaveral, as well as the entertainment industry drivers of Orlando's Disney and Universal will leave you star struck. Autumn is the best season to explore the Sunshine State in the warm sun with a cool twist on a fun and memorable family vacation.
Amelia Island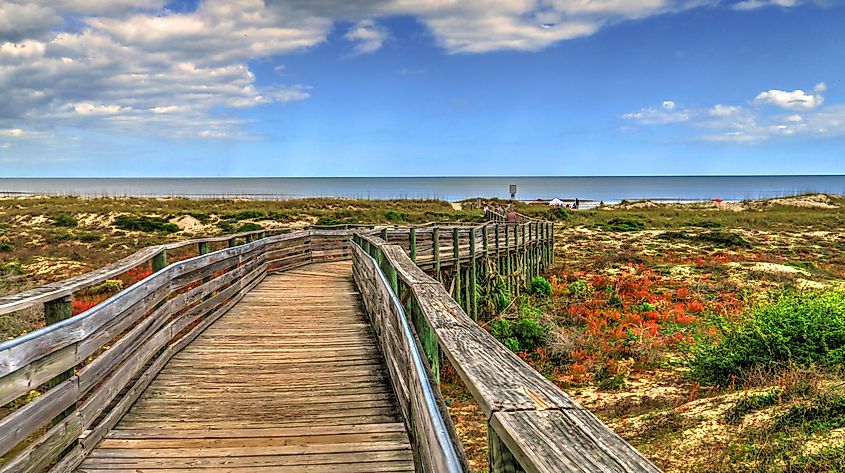 This historic beach town from 1562, one of the oldest places in Florida, offers a cozy falltime getaway in the state with a remote vibe. Enjoy scenic history on display from Spanish, French, British, and American cultures in between golf courses and beaches with fantastic ocean views. Near the northeastern border of Florida and Georgia, Amelia Island is easily accessible to exchange the rainy city hustle for warm days, cool nights, and a slower local lifestyle, just 30 miles north of Jacksonville.
With the vast Atlantic coastline, natural beauty abounds for scenic horseback riding on the beach, paddle boarding, or lounging with the views of dolphins at play. From serene marshes to the Main Beach Park and sand dunes, you can finally make your way over to the boardwalk at sunset, watch the beach sports, or stop for a bite at a waterfront restaurant dotting the coast. The historic district, with its palatable local quirkiness and moss-draped oaks, offers ghost tours, art galleries, independent boutiques, and the oldest operating saloon in Florida. 
Cape Canaveral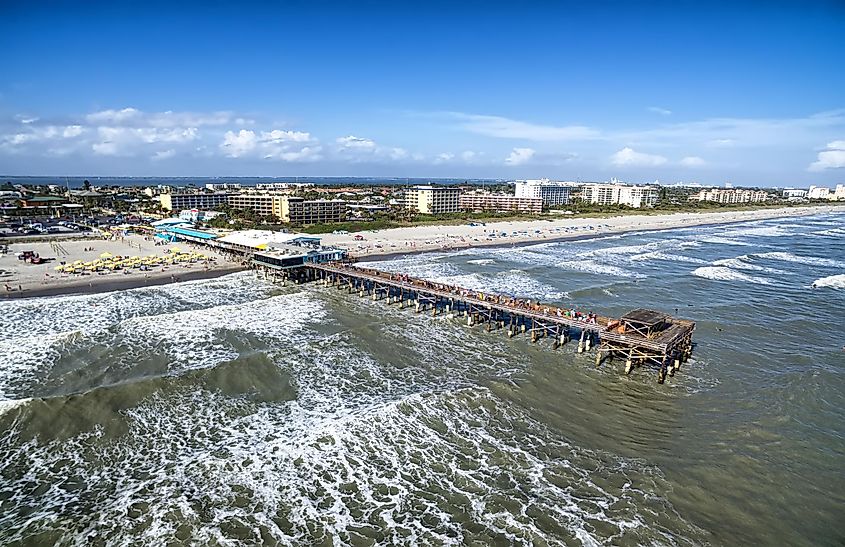 Cape Canaveral, a worldwide destination, is a must-experience at least once in a lifetime. This city along the aptly named Space Coast shows another side of Florida for an atypical fall vacation in the Sunshine State. From NASA fans to celestial enthusiasts, the fun and frivolous environment with science discoveries and interesting sights at the Kennedy Space Center will leave even the little ones star-struck. You can even stay luxuriously at the Radisson Resort at the Port for only $118 per night or choose the Condo in Cape Canaveral for $273 per group of five friends—a real steal!
Without the summer crowds, you can enjoy unobscribed views of the Rocket Garden and scientists at work and maybe catch a live rocket launch! There isn't a better time to visit with a schedule available online, including meetings with astronauts this fall! The beaches and scenic state parks offer Florida's best nature under the sunshine, while restaurants will not have you waiting in line for a seat with the best water views over fresh seafood. Visit the funky Exploration Tower with seven stories of history about this cool city, and stock up at local fish spots for the short drive back home.
Clearwater Beach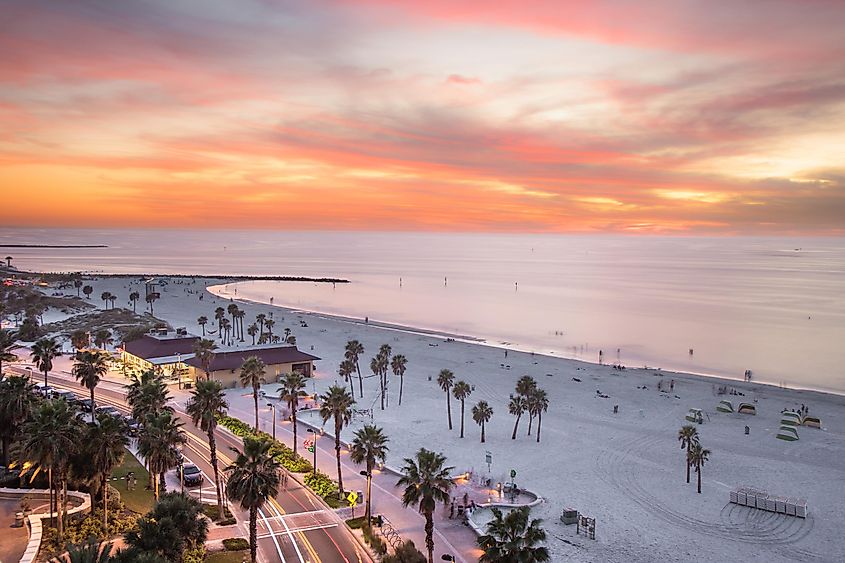 With its most famous and popular stretch of sand, Clearwater Beach is one of the country's top beach towns. Named for the clarity of its waters lapping onto the powdery white sands, there is never a wrong time to practice your paddle boarding, kayaking, parasailing, or even swimming skills. Clearwater Beach also boasts a great coastal promenade with a lively atmosphere under Florida's sun and views of the calm, turquoise surf. From strolls to running, cycling, and rollerblading, with restaurants, bars, and cafes all along the promenade, you can spend the whole getaway at the waterfront and never get bored.
The family-friendly town is home to the famous Clearwater Marine Aquarium and hosts some of the most popular events of the year in the fall, like the Seafood Festival, the Clearwater Jazz Holiday, and the Clearwater Offshore Nationals for appropriate fans! There's never a dull moment at Pier 60, with spectacular views by day turning into an entertainment scene by night with artisans and street performers to excite the whole family!
Hutchinson Island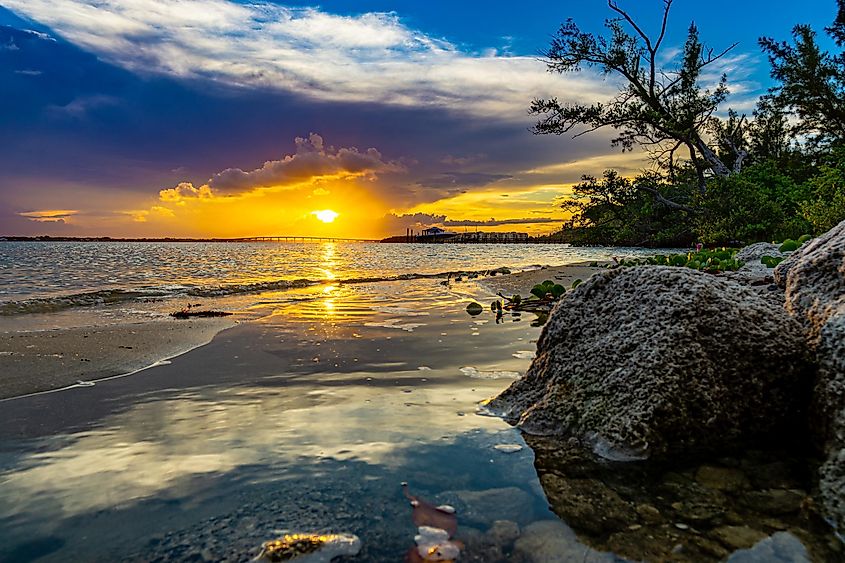 There really isn't a more ideal getaway to happily waste days under the sun than this picturesque beach town on an idyllic island, just off the coast of Martin County. The real gem of the state, Hutchinson Island, boasts a tropical atmosphere and 20 pristine miles of beaches as a favorite escape among Miamians in southern Florida. With more than enough room along the wide-open white sand beaches with adorable seafood shacks without line-ups, you can enjoy serene nature trails with bird-watching opportunities through preserves with unobscured views.
From relaxing outdoor activities to the uncrowded beaches, Jensen Beach Park is family-ready for a staycation when you choose a condo in Stuart for only $210 per night for a group of four. With something unique for everyone and many sharable experiences along the picnic area with a concession stand and swimming in the lifeguarded waters, these memories will last a lifetime. For different vibes and cool sights, visit Blind Creek Beach, Bathtub Beach, and Gilbert's Bar House of Refuge.
Key West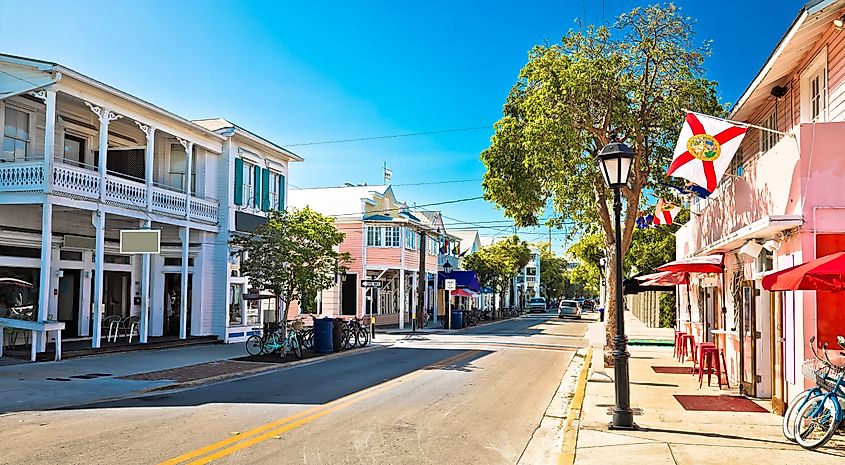 While others stuff their faces with pumpkin pie, you can enjoy a zesty key lime slice, which might as well be a nickname for this charming town in the Florida Keys. If chilling under sunny skies with a tropical drink in hand sounds too good to be true, Key West, a lively beach town throughout the year, has more than enough room in the fall to douse you with a dose of reality. From indulging in fresh seafood eats to strolling through the picturesque streets for the best staycation of your life, its Instagram-worthy sights and cute cafes will quickly fill your cameras with selfies.
The slightly cooler weather in October and November won't make you break in sweat on your midday perusal along the colorful cottages and pastel-painted beach houses, including Ernest Hemingway's historic home on the way to Duval Street with rowdy bars for warm fall evenings. From paddling through the glittering waters to fishing from the shore or off a boat and al fresco picnics in the evening against the sunset, you will be the envy of your friends back home who are tucked inside from the wind.
Mount Dora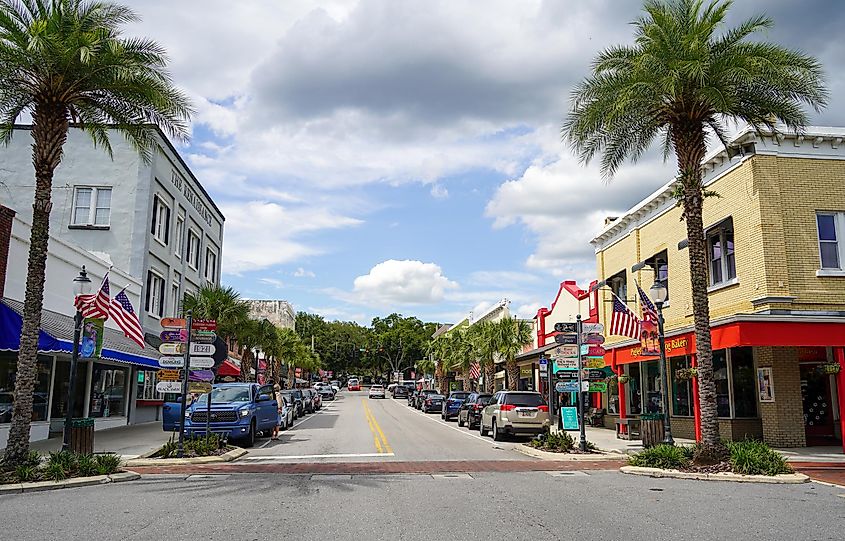 Mount Dora, a charming lakefront town with two lovely lakes, is a cozy falltime getaway to the sprawling, rolling hills of Central Florida. With a historically preserved downtown since the 19th century as the commercial hub, the longtime regional destination for tourism and business is a joy to the eye on a stroll with clapboard houses and a distinct old Florida vibe. Lined by antiquing storefronts and terraced cafes, the historic district is a great place to spend a sunny day with a stop for a bite or a cup of coffee to people-watch amid timeless charms that make you relax to the slower local pace. You can learn about history and culture at the Mount Dora History Museum and the Modernism Museum.
Lake Dora is never out of style, with calm waters for scenic strolls along the banks, peaceful picnics at Palm Island Park, and fishing excursions. The lovely fall time that only slightly touches the trees brings about the Mount Dora Craft Fair in October, which livens up the downtown with artisans and exhibitors offering their best in a wholesome, family-friendly atmosphere over live music and food. The readily available historic inns and bed and breakfasts make it easy to call Mount Dora home away from home and browse your heart out through valuable collectibles at Renninger's Antique Center and Farmer's Flea Market. From gourmet dinners to sunset watching over the lake, you can keep the good times rolling with a glass of vino at The Cellar Door winery.
Navarre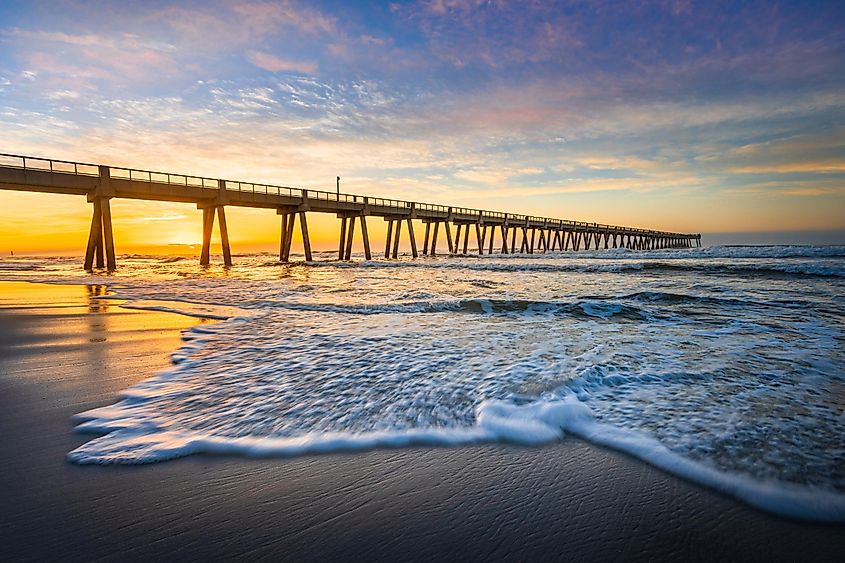 It doesn't get much more relaxing than Navarre, a small town with a peace-emanating name and one of the state's most beautiful beaches, between the Gulf Islands National Seashore and Navarre Beach Marine Park. With exciting fall activities under blue skies and crisp air in the pleasant 70s Fahrenheit, you can bond with animals during the Halloween-themed month of October at the Navarre Beach Sea Turtle Conservation Center or along the trick-or-treating trail at Gulf Breeze Zoo.
Navarre is a popular summertime escape, emptying by October and November along Florida's Panhandle at the far northwestern tip of the state, just east of Pensacola. The 12 miles of pristine and tranquil shoreline offer solitude and simplicity over 12 white-sanded miles in the fall. Relaxation is the name of the game here under the sun with emerald waters, while crossing the Navarre Bridge is like transcending paradise. From lounging and beach strolls to serene fishing from the scenic Navarre Beach Fishing Pier, the nearby Blackwater River State Forest is great for easy hikes and pedaling.
Orlando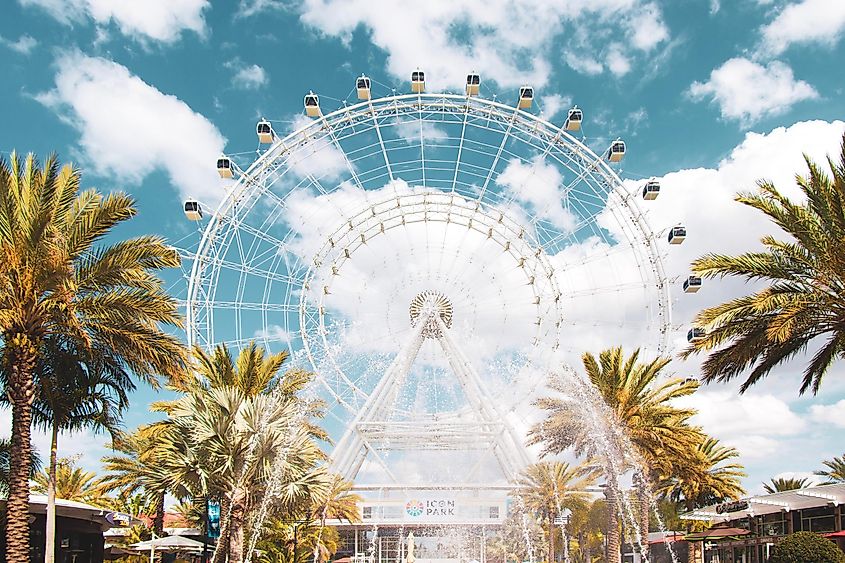 This entertainment hub in southern Florida is not nearly as busy during the fall season, when you actually have some room to breathe, with all the same attractions, including city parks, Universal Studios, and Disney World. With lower traffic and tourist crowds, you can get the feel of Orlando's real spirit and authenticity while shopping, on park strolls, or enjoying the world-famous attractions, with lineups more bearable without the heat. With cheaper hotel rates at this time, it is also easier to obtain advanced dining reservations because, let's be real, there is really no "off season" at the Disney scene.
The lowest chance of rain coincides with the favorite Halloween celebration in October, when the park is turned into a scare-fest with roaming actors around the many exciting attractions like Volcano Bay. The Wizarding World of Harry Potter feels particularly atmospheric in the fall season, and you can even buy a themed house scarf and a hot Butterbeer. Stop by the Epcot International Food and Wine Festival, a cultural celebration with 30 unique global marketplaces for themed dishes, fine wine, and beer, or Universal's Halloween Horror Nights, a thrilling array of scary haunted houses, scare zones, and live shows, while the little ones get Mickey's Not So Scary Halloween Party.
Sanibel Island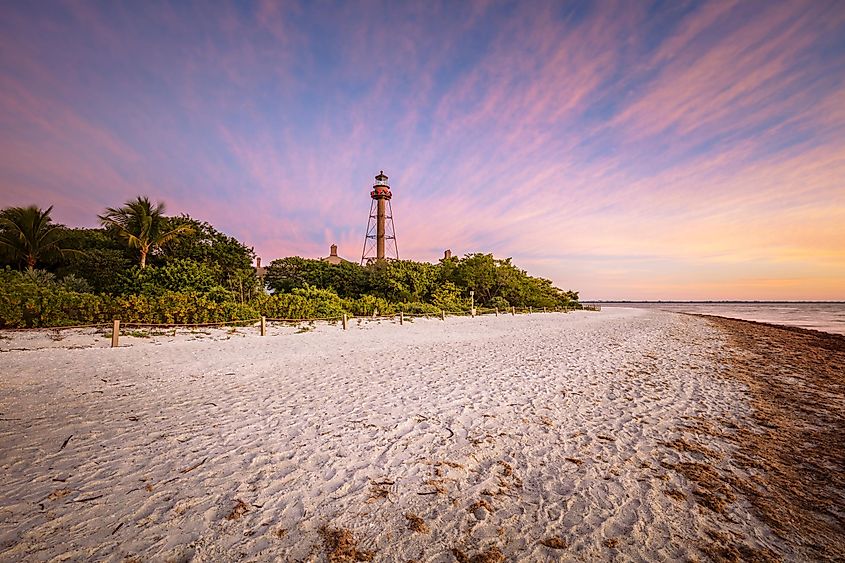 Despite a rather remote island feel, summertime in Sanibel can get busy along the beaches, with easy access from Fort Myers. Under the unchanged weather, Falltime is just right here to scavenge along the sandy and pristine 15-mile shoreline with the most unique shells washed up by the unique ocean currents around the island. You can enjoy a real staycation away from the city with private charter boats, waterfront dining on local seafood cuisine, and countless family-friendly B&Bs or boutique hotels with the best views at cheaper rates.
Sanibel's renowned J.N. "Ding" Darling National Wildlife Refuge hosts an annual October event called "Ding" Darling Days, promoting refugees in the state with free-themed days. With a family fun day, an art day, and free visits to the refuge, you can explore the whole 5,200-acre refuge through eco-activities like bird watching, kayaking, and paddleboard adventures that will get you in the habit of seeking more outdoors upon return. You can also lounge along the beaches with some real envious views from your real estate beach piece to send friends back home.
St. Petersburg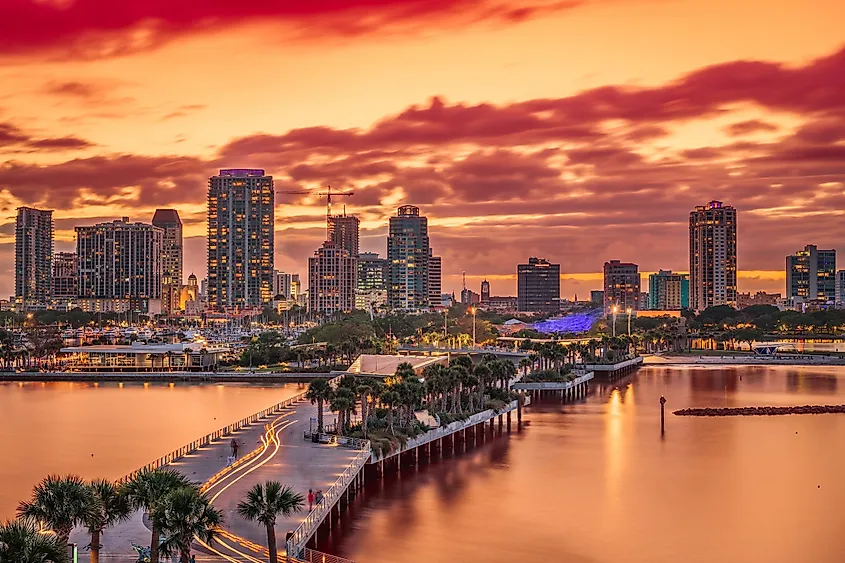 St. Petersburg, a must-visit city at least once in your life, is everything you could dream of from an oversea-inspired escape, with an epic mix of arts and culture against stunning backdrops right in your own backyard. From the historic Downton Abbey to the great beaches, the seaside city attracts falltime holiday-makers sans the typical summertime heat and crowds along Florida's coastline, about four hours north of Miami. 
With many top-notch art museums, the Dali Museum offers the largest collection of the surrealist's work outside of Spain. From unique and delicious food spots to seven different art districts overlooking Tampa Bay, the cooler weather will have you roaming for days, so grab a famed Cuban sandwich at Bodega on Central and end the day just over half an hour north at Florida's oldest microbrewery, in Dunedin! For a budget staycation full of experiences and beach strolls, you and five others can stay at a condo in Madeira Beach for just $258 per night!
The Everglades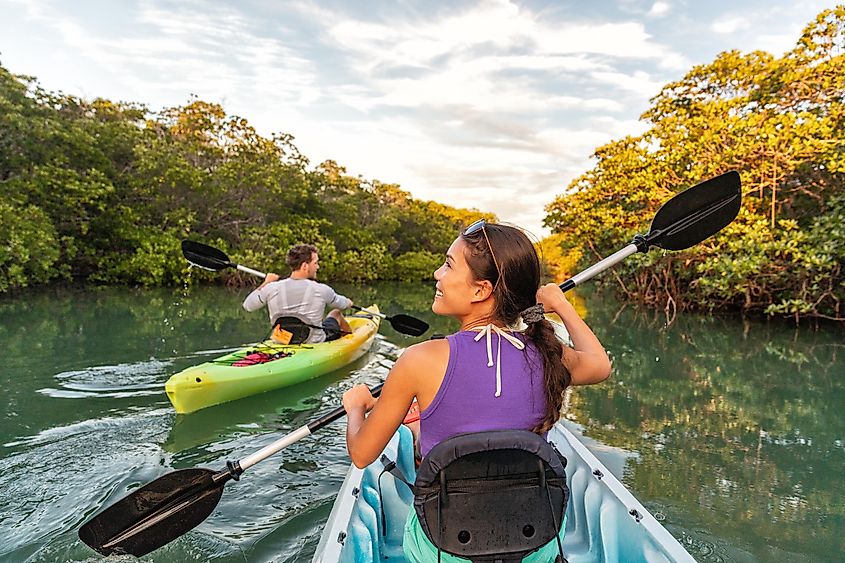 The Everglades National Park offers one of the most diverse ecosystems in the world for explorers to discover, including rare and endangered species, during a pleasant falltime visit. This vast, 1.5 million-acre "moving wetland" is spliced by excellent hiking trails for all levels with exciting wildlife and devoted attention from the park rangers, sans the summertime humidity.
From boat and airboat rides, valley tram tours, and anger-guided canoe tours to kayaking in the Ten Thousand Islands area, it is a real pristine adventureland! You will encounter resident animals like manatees, the elusive Florida panther, and the American alligator, who enjoy sunbathing along the shores in the fall. Journeying under the canopies feels like the early days when explorers ventured into the unknown, while the long pants and sleeved clothing against bug bites and scratches don't seem so terrible in the fall.
Winter Park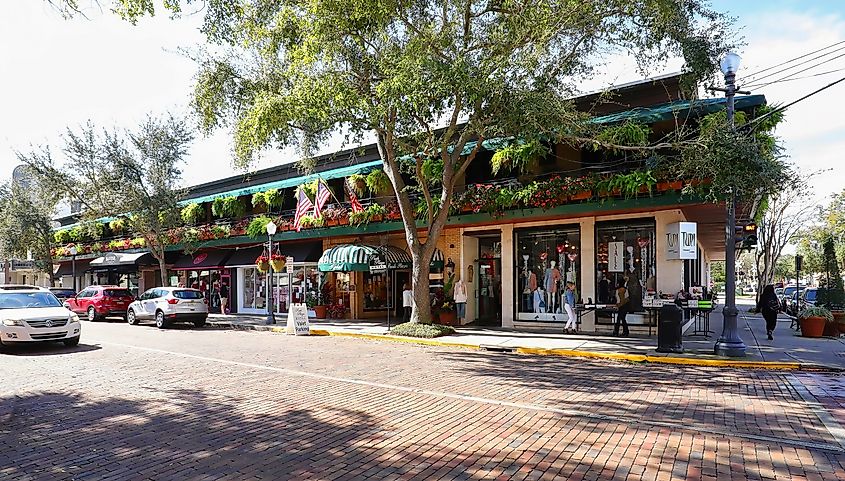 This small town in Orange County, with just over 28,000 souls, is unmissable when it comes to celebrating the fall season in the Sunshine State with some of Florida's top attractions. The Autumn Festival delights art and culture fans year after year with works by over 100 state-wide artists over a free weekend event in October. With a family-friendly atmosphere, it decks out the streets with art, through downtown, Central Park, and along Park Avenue, with live music, incredible food, and workshops for kids.
The former winter resort, just north of Orlando, is an inspired city of creative young people, including Rollins College graduates, which operates the Charles Hosmer Morse Museum of Natural Art. With over 70 parks in and around town, you can enjoy shaded strolls and hiking without breaking sweat. The lively falltime atmosphere is infectious without being overcrowded, with just the right amount of people interaction and natural beauty abounding on a memorable staycation in Central Florida with discounted fall rates and the Orlando scene just minutes away.
From refreshing nature hikes with less humidity and people to the fun-filled season of festivals, November also marks the beginning of the manatee season. With each place unique and frivolous in its offerings, you can be sure that you are having the grandest time at Halloween events along the beaches and scenic island cottage-lined streets while your friends are hiding from the cold back home.
With the experiences on this list readily available in your own backyard, you can forego the expensive flights and avoid overpacking for the weather. These 12 must-experience destinations are all places you must visit at least once in your life in the Sunshine State, so make it this fall!