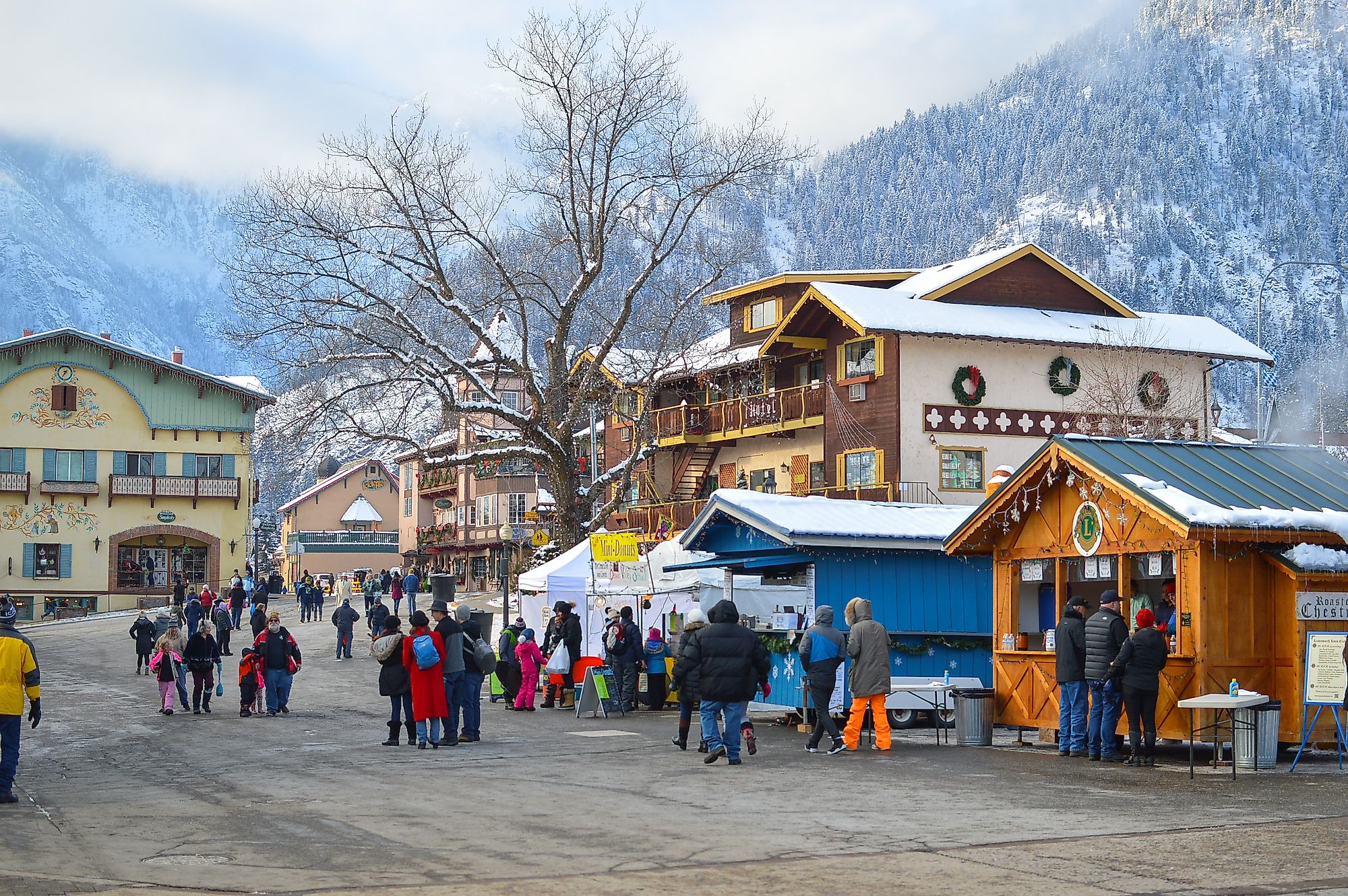 10 Most Charming Mountain Towns In America
Mountain towns have a charm and appeal unlike anywhere else. Usually quaint and full of character, they offer some of the best mountain views, skiing, hiking, and outdoor experiences around. Many American mountain towns are also well known for their award winning food and drink options. Legendary breweries, luxury resorts, and rustic log cabins give each town its own unique appeal. This list explores 10 of the most Charming Mountain Towns In America.
Aspen, Colorado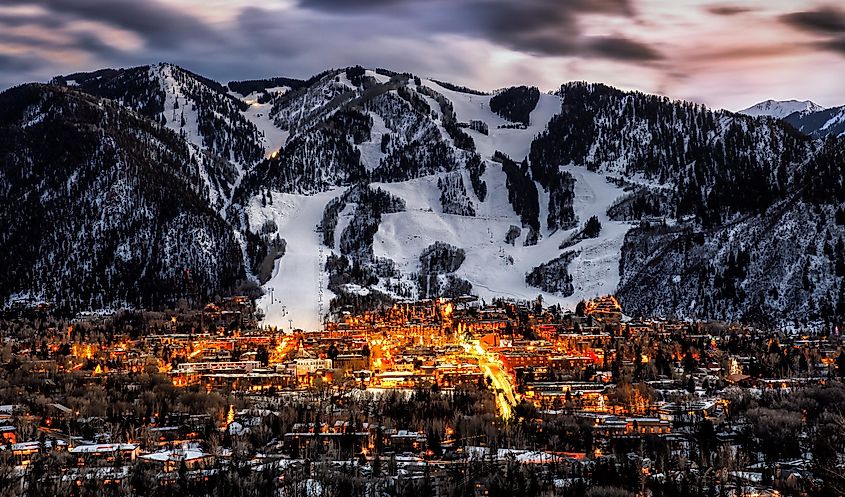 When you think of mountain towns, one of the first that comes to mind is Aspen, Colorado. Aspen is located in the Rocky Mountains, North America's most impressive mountain range. Because of this, it has some of the best skiing in the country on Aspen Mountain, and the town has a variety of ski resorts. Aspen has also become well known for being a town of luxury. High-end accommodations and gourmet food options are everywhere in this small town, and events such as the Aspen Music Festival and Aspen Food and Wine Classic are hosted here annually. Visitors can enjoy the stunning wilderness of White River National Forest and mountain ranges, then relax at one of the many award winning restaurants. 
Park City, Utah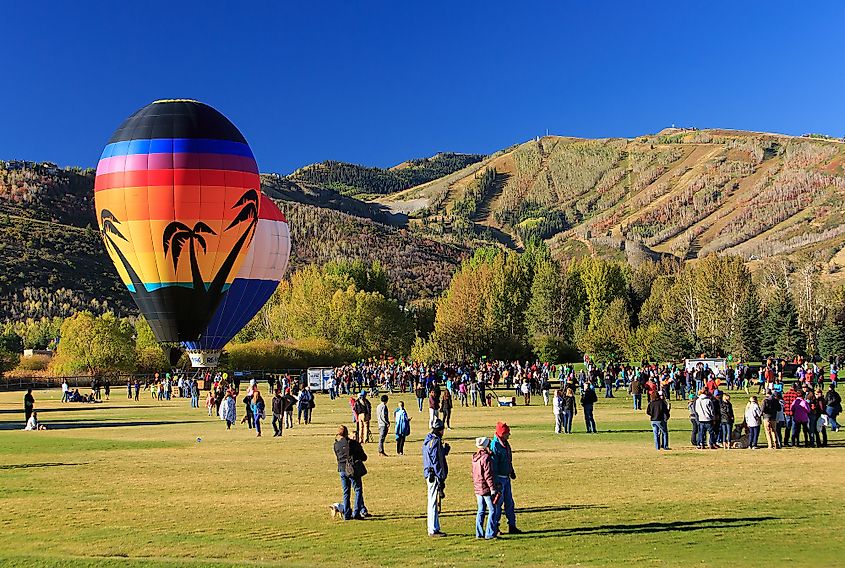 Park City is a beautiful example of one of America's quaint mountain towns. The town is hugged by the impressive snow capped Wasatch Mountain Range, for a picture perfect view from just about anywhere in town. The town itself sprung up in the 19th century silver mining boom that hit Utah and the surrounding area. Brightly painted buildings line the town streets and Main street for a friendly, inviting atmosphere. As a mountain town, it is best known for its skiing, and both Deer Valley Resort and Park City Mountain Resort lie on the edge of town. Additionally, visitors can check out Utah Olympic Park which was part of the 202 Winter Olympic Games. Aside from impressive skiing conditions, the town is also a great location for snowshoeing and snowmobiling, as well as hiking, fishing, rafting and horse riding in the warmer months.
Lake Placid, New York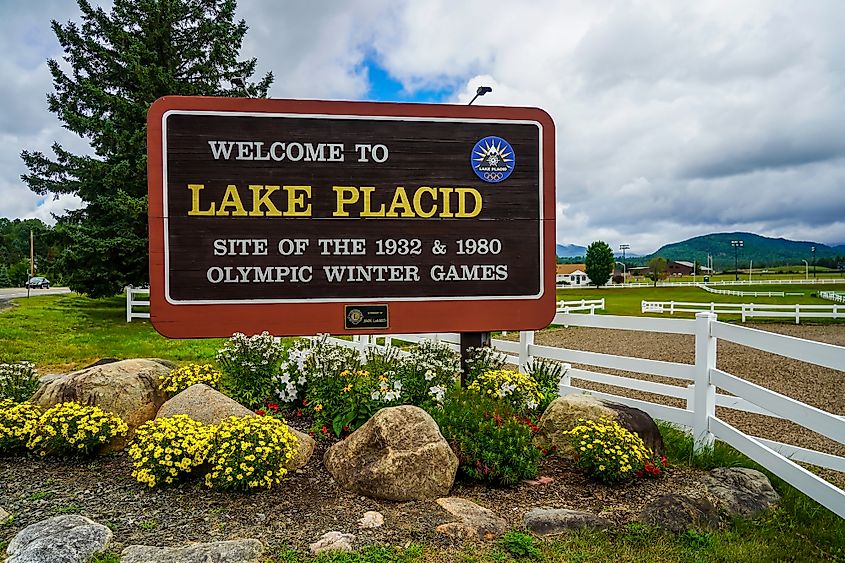 Lake Placid is well known as a popular ski destination. This small village is extremely beautiful, as it sits on the edge of the lake, and features the Adirondack Mountains on its other side. The town is a great place for those interested in outdoor activities, and in fact it also hosted the 1932 and 1980 Winter Olympics. Skiing, snowboarding, bobsledding and snowshoeing are popular in the winter, while summer months bring hikers to the shoreline trail of  Mirror Lake, and whitewater rafters to North River. Biking, fishing and sailing are also popular activities in Lake Placid. For those less-athletically inclined, Gondola rides and a scenic railway are a great way to get around. After a long day of exploring, the town has a wonderful bustling centre and nightlife to enjoy.
Asheville, North Carolina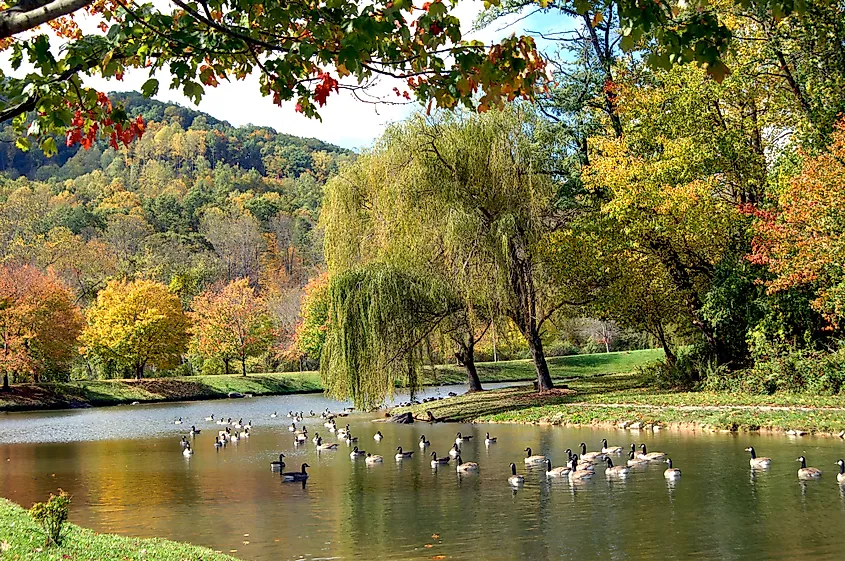 Asheville is a mountain town of the Blue Ridge Mountains, in North Carolina. The misty majestic mountains form a beautiful backdrop to this lively and eccentric town that is known for its prominent art scene. Asheville has a strong Downtown Art District filled with galleries and museums. This charming mountain town mixes Modern art and culture with historic architecture, as well as outdoor activities and impressive hiking trails for nature and exercise enthusiasts. 
Taos, New Mexico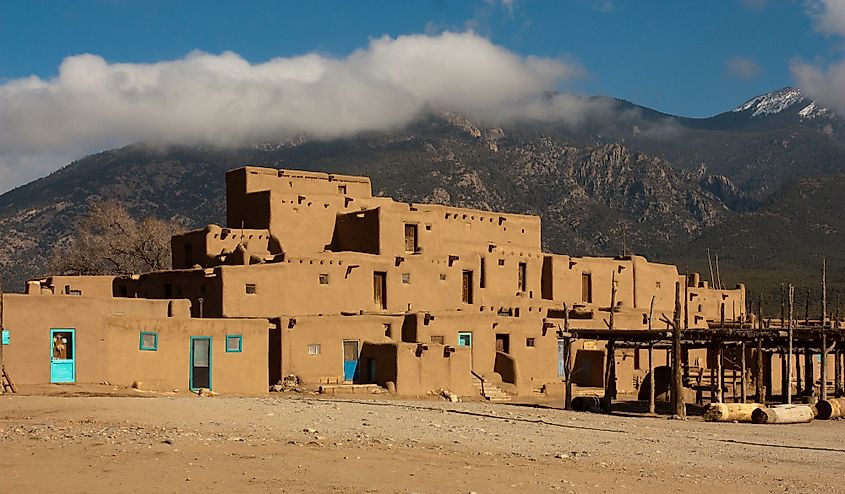 The Sangre de Cristo Mountains are the mountains in question for the mountain town of Taos, New Mexico. This unique mountain town has a wide variety of activities for visitors to enjoy. Classic skiing, snowboarding, and winter activities are popular, while warmer months bring hikers and rafters. Taos also offers llama rides and trails, as well as hot air balloon rides for something extra special. Both the Black Rock Hot Springs and Manby Hot Springs are also nearby for anyone looking to enjoy some relaxing spa time. Taos is also well known for its pueblo houses, which are a designated UNESCO World Heritage Site and a National Historic Landmark. These distinct red buildings are at the heart of Taos' culture and history.
Jackson, Wyoming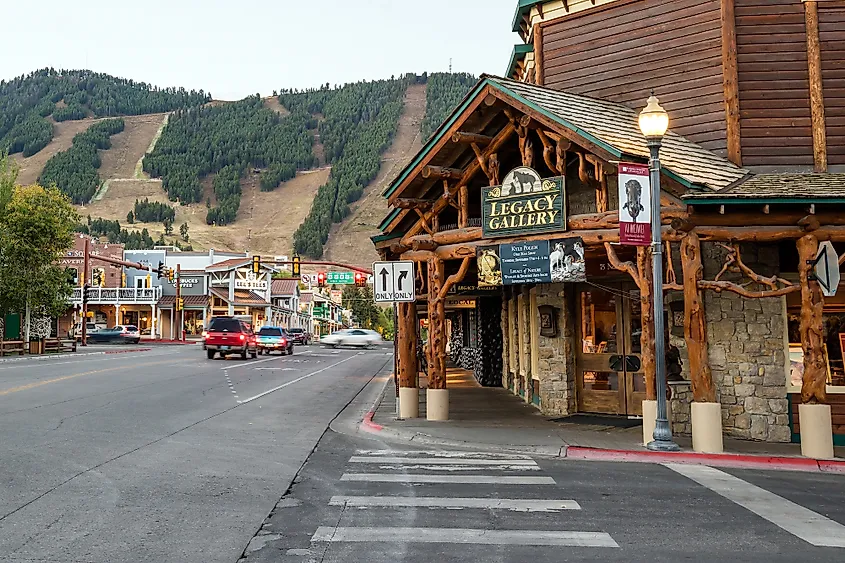 The town of Jackson is surrounded by mountains and national park land, making it a lush and impressive destination. This mountain town is tucked away amidst a sea of natural green country, and is very popular with outdoor enthusiasts for that reason. Jackson Hole Mountain Resort, Snow King Mountain Resort and Grand Targhee Resort are the places to be for skiers, while summer brings visitors seeking day trips to the Grand Teton National Park and Yellowstone National Park. A beautiful example of Wyoming's wide beautiful landscape, Jackson is worth a visit.
Burlington, Vermont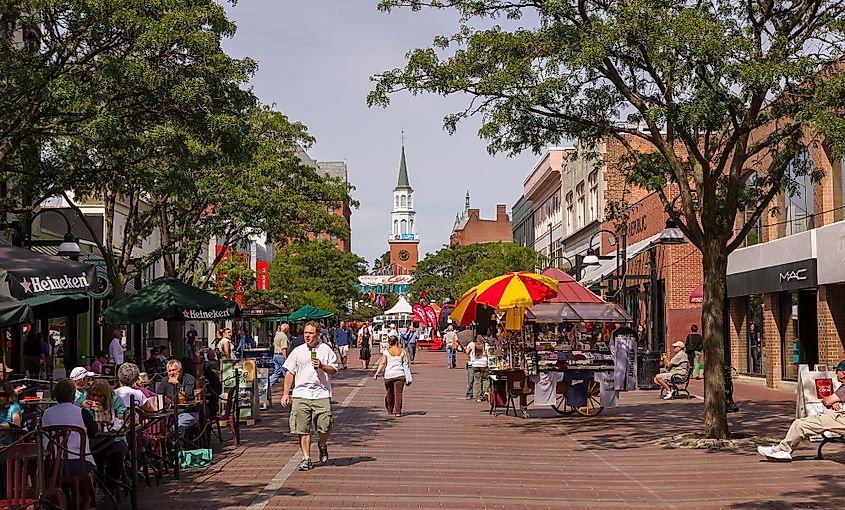 Burlington is the biggest city in the Green Mountain State, and has a bit of all of the best aspects of Vermont.  It sits along the edge of Lake Champlain, for an added level of picture perfect beauty. Like most mountain towns, skiing is popular, and there are actually six different ski resorts in Burlington. Additionally, farming is abundant in the area, and Burlington is full of various farm-to-table style restaurants, and fresh food at the Church Street Marketplace. The very first Ben and Jerry's ice cream shop can also be found in town for a sweet treat. Along with local food, Burlington has an abundance of breweries. Burlington Brew Tours are popular, and famed brewers such as Zero Gravity Craft Brewery, Foam Brewers and Switchback Brewery are just some of the beer options in town.
Bend, Oregon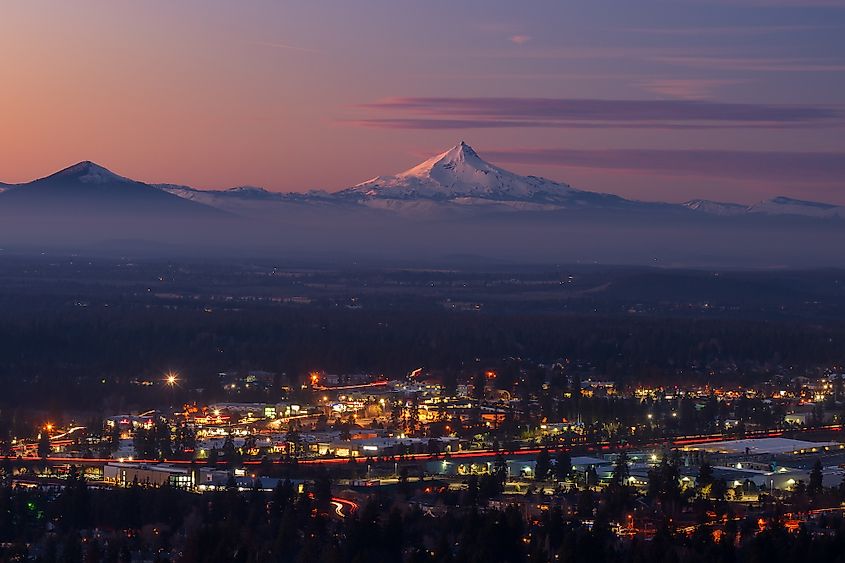 The mountain town of Bend, Oregon is framed by  Mount Bachelor. Bend is home to everything that makes Oregon, Oregon. Not only does it have the beautiful Todd Lake in Deschutes National Forest, but visitors can also enjoy waterfalls, buttes, caves, badlands and even volcanoes. It is a nature lover's dream, with a wide range of landscapes and terrains to explore. Bend is also home to Deschutes Brewery, which sparked a beer revolution in the town, which is now a beer lover's paradise. In addition to having exceptional drinking options, good food is easily found here, with a wide variety of impressive restaurants and eateries. 
Leavenworth, Washington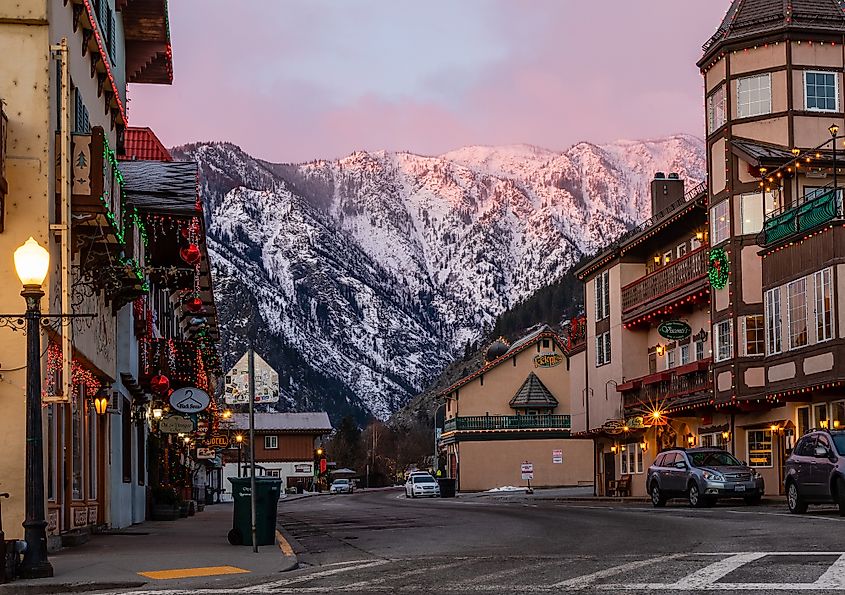 Leavenworth sits at the base of the Cascade Mountains, and is a remote and charming small mountain town. The village has an extremely Germanic style to it, and with the snowy mountain range as a backdrop, it has a distinct Bavarian aura. Skiing, hiking, and rock climbing are the most popular attractions here, though impressive beer and wine options are also plentiful. The town is especially popular during Christmas, when it transforms into a North-Pole style village, complete with reindeer petting. 
Homer, Alaska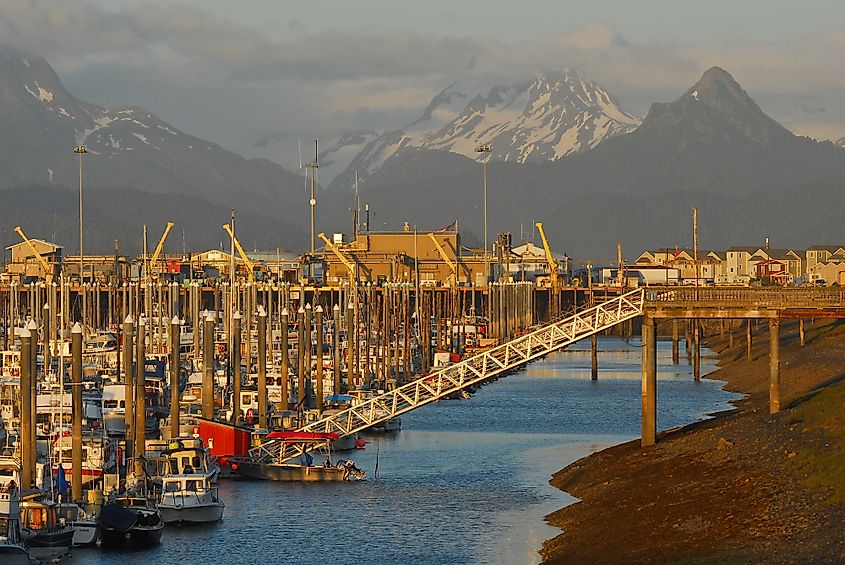 Though Alaska isn't always top of people's tourist destination lists, due primarily to its remote location, the town of Homer is a perfect example of a quaint mountain town. It sits below the enormous Kenai Mountains and looks out over the Kachemak Bay for a view that is stunning. Snowy mountains and icy landscapes are made all the more majestic by the abundant wildlife here, from whales to sea otters to caribou. The area is also known for being one of the best Halibut fishing areas, and the fish could not be fresher.  Homer Brewing Co. and the Salty Dog Saloon are famous drinking spots to chat with locals after a day exploring the great outdoors. 
Whether you are a skier, a beer drinker, a mountain climber, or someone who just loves to soak up the culture and atmosphere of a new place, mountain towns are a great way to get to know an area. Most offer a variety of outdoor activities alongside local food and drink that really is something to write home about. No matter the state, no matter the mountain range, these quaint towns offer a unique look into small town life, in the shadow of a big and beautiful natural world.