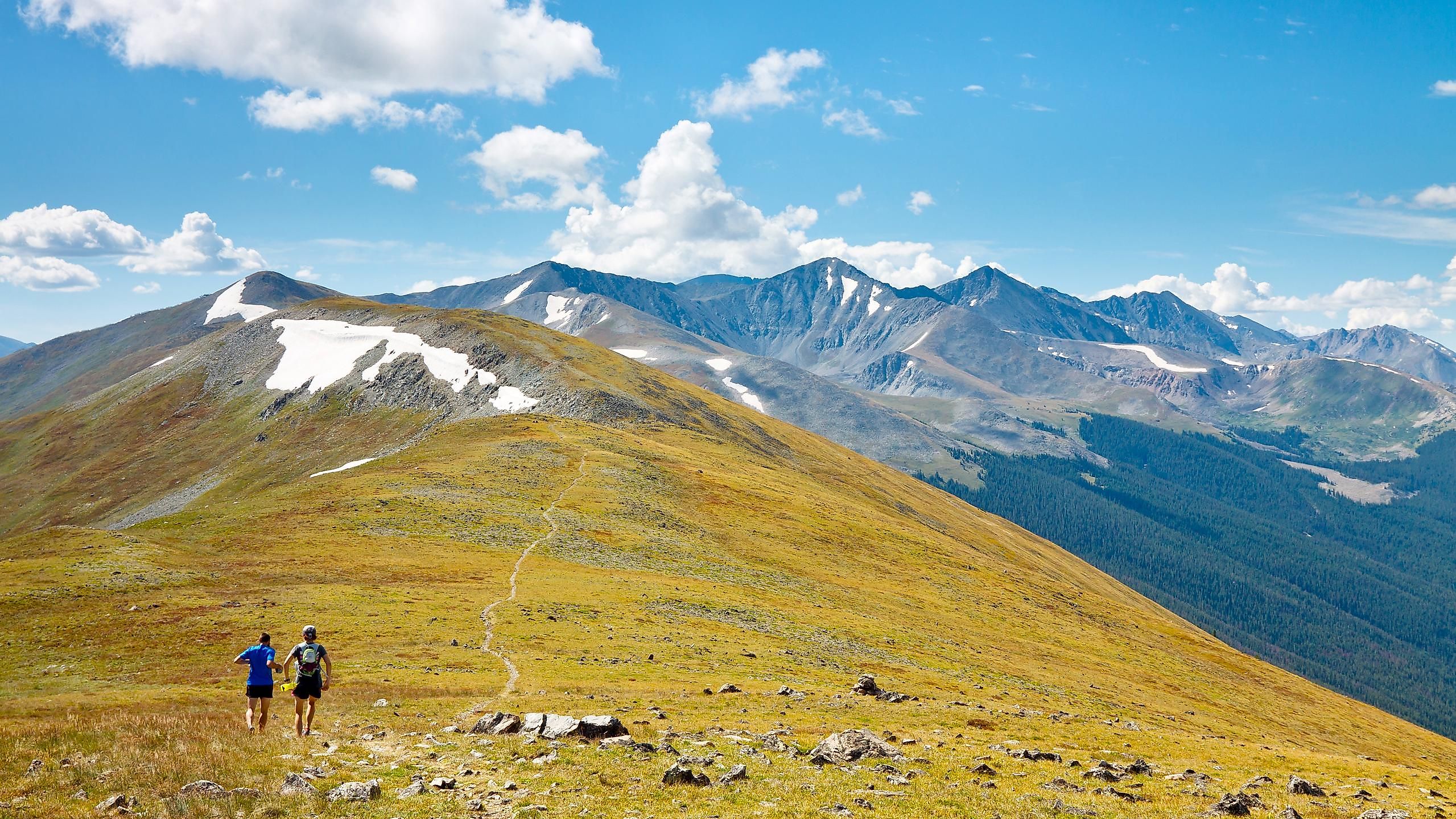 11 Best Hikes In The Rockies
The Rocky Mountains make up the world-famous geographical spine of West-Central North America. They rise in Northern New Mexico and dominate the skyline of Colorado, Northeastern Utah, Western Wyoming and Montana, Northeastern Idaho, and the border of the Western Canadian provinces, Alberta and British Columbia. Their old, bold, and often cold masses call out to intrepid backcountry fanatics in search of a worthy challenge and top-tier scenery. But with the help of mountain roads and other modest infrastructure, the natural-high-inducing wonder of these ancient tectonic thrusts can be enjoyed by everyone. This list of best hikes aims to address varying skill levels and pulls from fairly dispersed trails across the long boundary. Let's start the adventure in the North and work our way (generally) South. 
Castle Mountain Via Rockbound Lake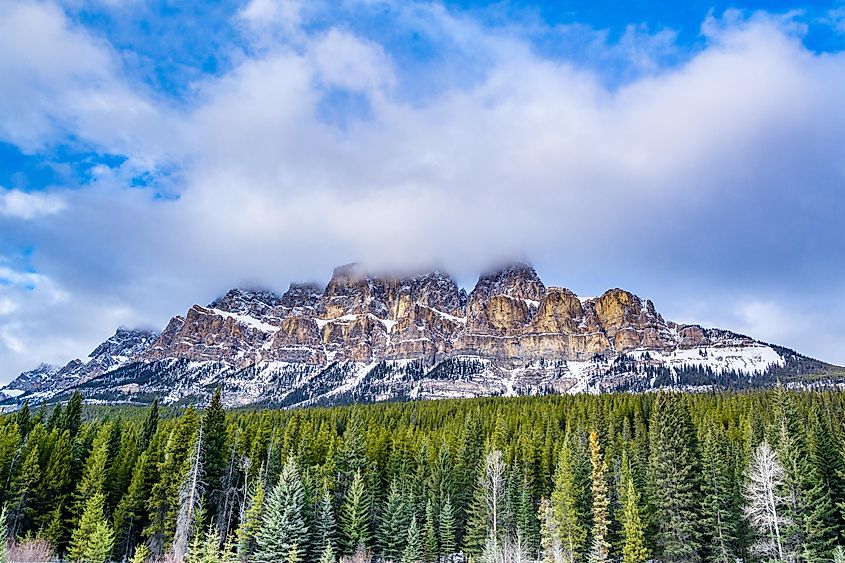 Alberta's Banff National Park is Canada's oldest and most popular national park (welcoming over 4 million visitors each year). It is, therefore, a must-see on any Rocky Mountain itinerary, but it also requires a bit of strategy to escape the crowds without sacrificing the intense beauty. As a long-time local, I, therefore, suggest that seasoned hikers try the full-day trudge up Castle Mountain. While there is a more direct approach up this highly-recognizable, Trans-Canada Highway-adjacent peak, the long forested trail that leads past both Tower and Rockbound Lake diversifies the experience. AllTrails says this one is 16.4 miles, but with over 5,100 feet of climbing, it will feel much longer. Plus, with lunch breaks by the lake(s) and endless options to explore the unmarked terrain atop the flat backside of the mountain (which tends to remain blanketed in snow late into the summer), plan to start early and be gone all day. 
Skyline Trail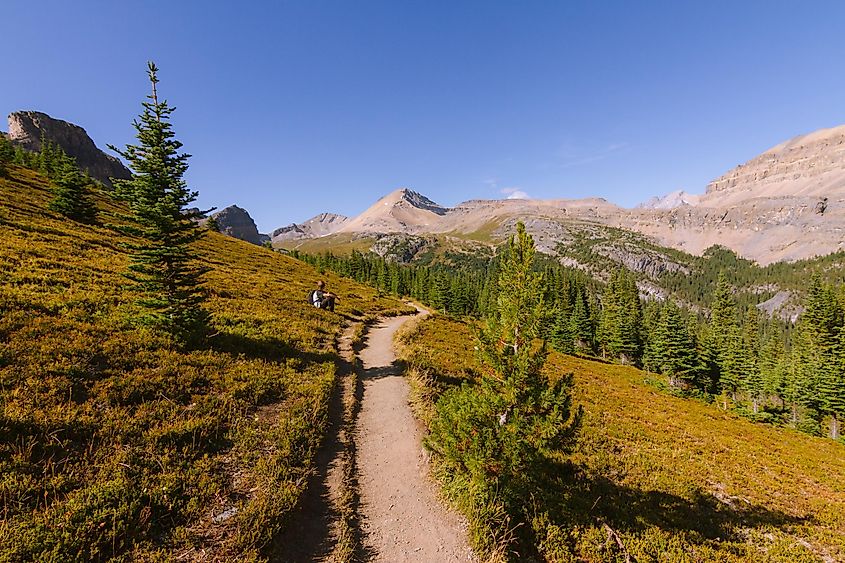 About 190 miles Northwest of Banff, Jasper National Park (also in Alberta) delivers all of the stunning scenery but a little over half the crowds. For a thorough traverse of this list's Northernmost section of the Rockies, check out the 27-mile (one-way) local favorite, Skyline Trail. As the name suggests, a significant portion of the journey is above the treeline, ensuring a steady stream of inspiring views. Most hikers choose the Northbound approach and complete the trek in two or three days, but the six well-spaced campgrounds allow for a slower approach (just make sure to reserve sites well in advance). On any given fair-weather day between early July and early October (i.e., the brief window in which the route is generally free of snow), there will also be fast-packers and trail runners zipping by on a single-day push. 
The Rockwall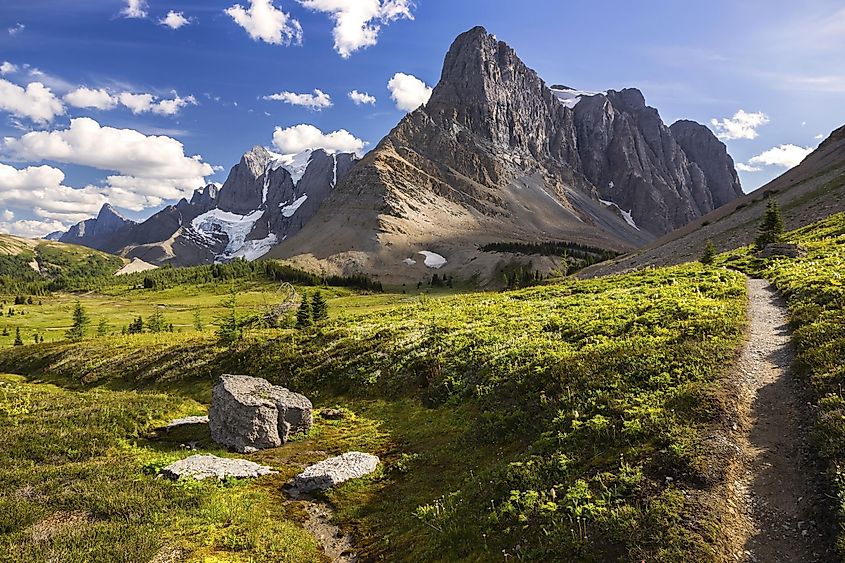 A little ways past Castle Junction and just dipping into the Westernmost province of British Columbia (not including the Yukon territory), the famous Rockwall awaits. This 34-mile, quad-zapping, mind-blowing, point-to-point trail traverses an absolutely stunning portion of Kootenay National Park. The titular attraction is the sheer limestone cliff dominating the landscape for miles. But with nearly 9,000 feet of elevation gain over four mountain passes, these views (like so many in the Rockies) have to be earned in sweat. Backpackers typically complete the adventure in three to five days, with a preference for the Northbound direction. But once again, expect to see a few zealous trail runners going for it all at once (including yours truly). The trail starts and finishes on Highway 93 (one of the prettiest mountain drives in the country, in my opinion) but about eight miles apart – meaning pre-planned transportation, hitchhiking, or additional roadside hiking will be required at either the start or finish. 
Continental Divide Trail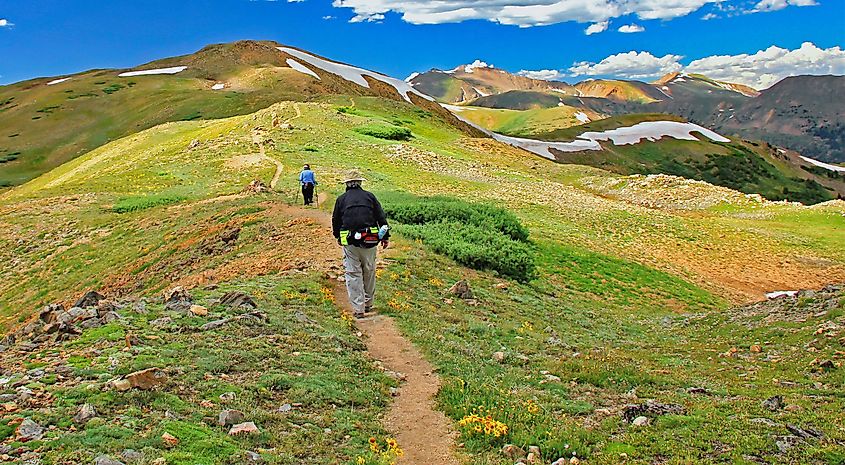 The most thorough Rocky Mountain hike in America easily goes to the Continental Divide National Scenic Trail. This 3,100-mile, country-spanning (North-South) mega trek covers the Southern Rockies of New Mexico and Colorado (including a large portion of the Colorado Trail), the Middle Rockies of Wyoming, and ends in the Northern Rockies of Montana and Idaho. Though it rivals (or surpasses) the West's Pacific Crest Trail and East's Appalachian Trail in grandeur and natural beauty, this Centralized route receives nowhere near the same recognition. Also, because this is the highest and most remote of the ten National Scenic Trails, the CDT is particularly challenging and sees a completion rate of only about one-third of annual thru-hike attempts. 
Logan Pass Hikes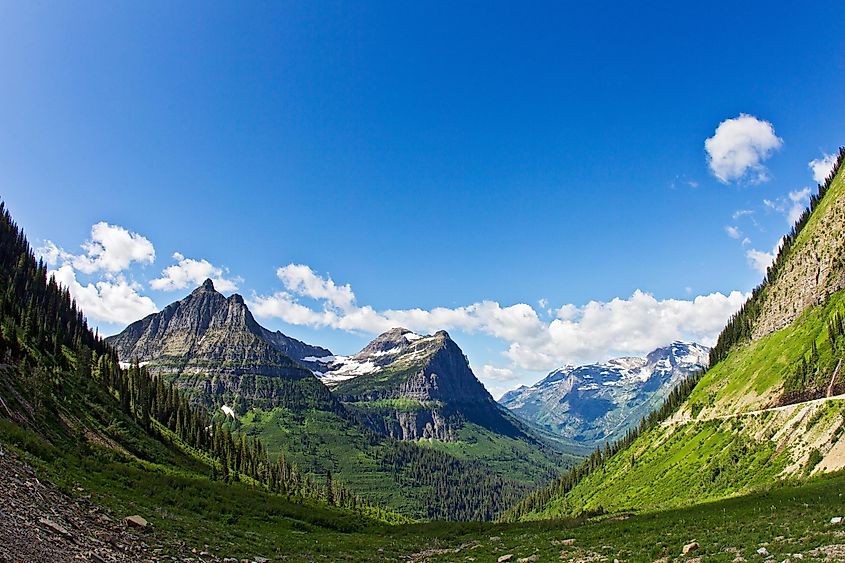 The Going-to-the-Sun Road in Montana's Glacier National Park is one of the most scenic drives in the Rockies. And to up the ante even further, the most popular and photogenic stop on this 50-mile highway, Logan Pass, kicks off several spectacular hikes. Casual tourists can stroll the alpine meadow boardwalk from the Logan Pass Visitor Center; those in search of a moderate challenge can take the five-and-a-half-mile (round-trip), out-and-back Hidden Lake Trail to the pretty alpine lake of the same name, and for an immersive, bird's-eye-view of the action, try the out-and-back Highline Trail, which begins on the opposite side of the Going-to-the-Sun Road and features a number of satisfying turn-around points (depending on your mileage preference), or a free shuttle ride back if you can make it all the way to "The Loop."
Sky Rim Loop Trail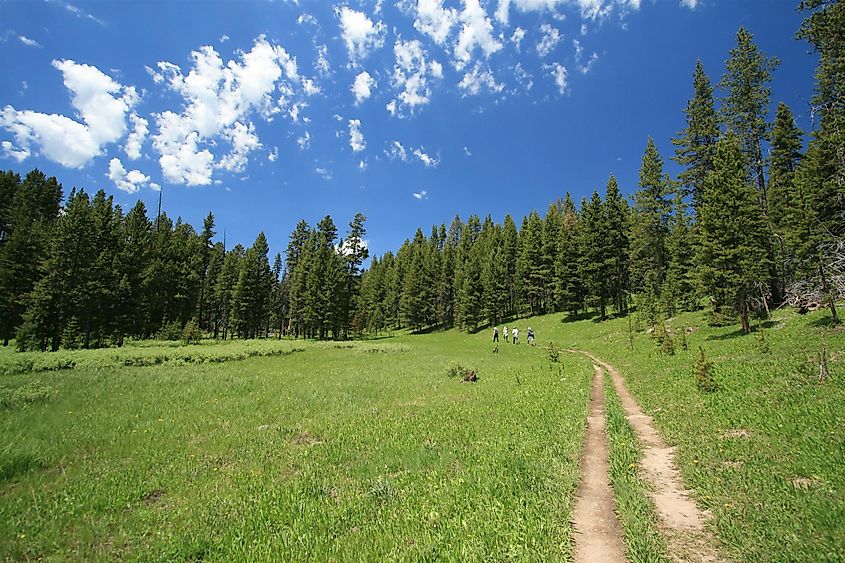 Another required highlight of any Rocky Mountain overview is Yellowstone National Park. But while the photo-hungry crowds flock to the geothermal attractions, stoic hikers can make for the Montana portion, in the extreme Northwest corner of the park, to take on the Sky Rim Loop Trail. This 19.4-mile, top-rated circuit takes the transportation logistics out of the equation and lets the hiker concentrate on the steady climb up to Big Horn Peak (like many big treks in the Rockies, this one is strenuous but non-technical), as well as the exceptional views. Sky Rim is rich in ridgelines, wildlife (yes, this is bear country), verdant meadows, and wildflowers but sees only a modest amount of human traffic. 
Teton Crest Trail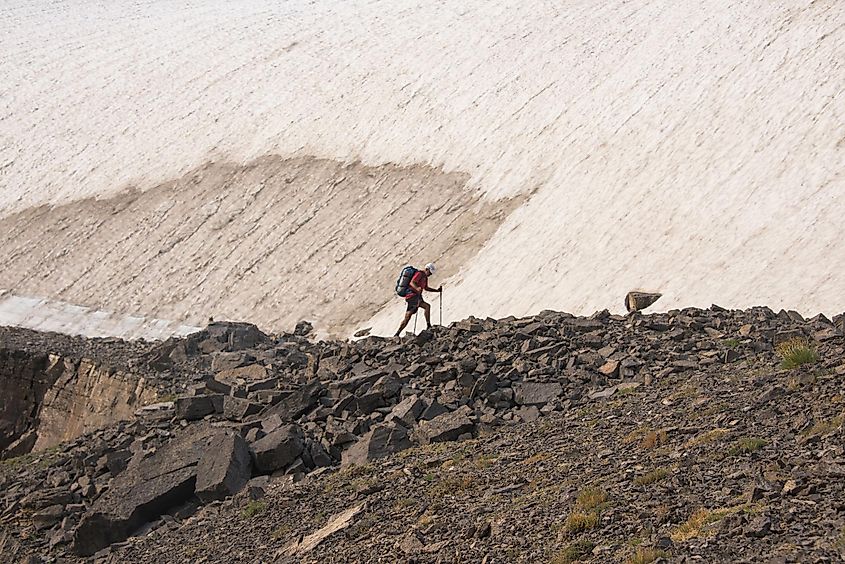 The Teton Crest Trail winds its way through another wild chunk of Northwestern Wyoming. This 41-mile, point-to-point backpacking trip jams in plenty of breathtaking views as it traverses parts of the Jedediah Smith Wilderness Area, Bridger-Teton and Caribou-Targhee National Forests, and Grand Teton National Park (with the Northern terminus sitting next to the idyllic Jenny Lake). Wildlife is another big draw, as this backcountry region is chock full of quintessential Rocky Mountain mammals, such as elk, deer, bighorn sheep, moose, black and grizzly bears, mountain lions, and wolves (with the gentle omnivores being much more common than the intimidating predators). This three to five-day hilly hike is extra-demanding, given that the average base elevation is north of 8,000 feet above sea level. 
Alpine Ridge Trail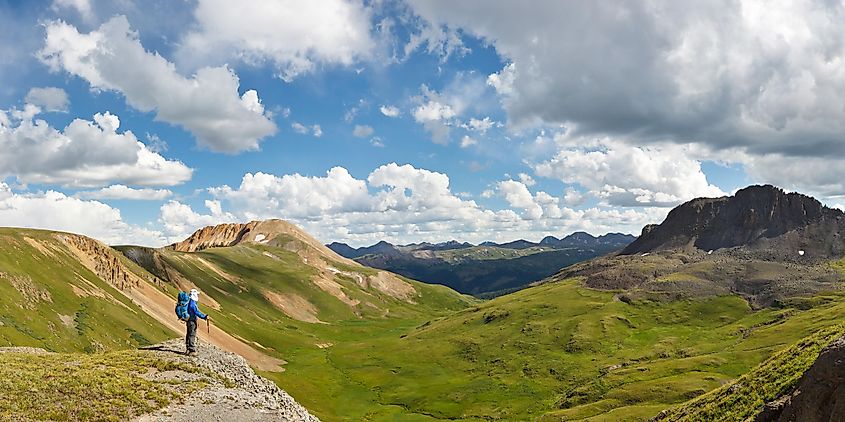 Any discussion of Rocky Mountain hikes, of course, must include some of the trails in Colorado's eponymous national park. The nice thing about the Alpine Ridge Trail is that it can be done by just about anyone, with minimal planning and commitment, but still delivers outstanding views. This journey begins with a drive up Trail Ridge Road to the Alpine Visitor Center, which sits at an altitude of 11,796 feet above sea level. From there, follow the clear and well-trodden asphalt path for a third of a mile (so 0.6-miles round-trip) up another 162 feet in elevation to further boost the views of the Never Summer Mountains and maybe even the plains of Wyoming (on a clear day), plus the wildflowers and alpine tundra in the immediate vicinity. Though the specs sound easy, the rarefied air will surely make this a slow-going affair.  
Ute Trails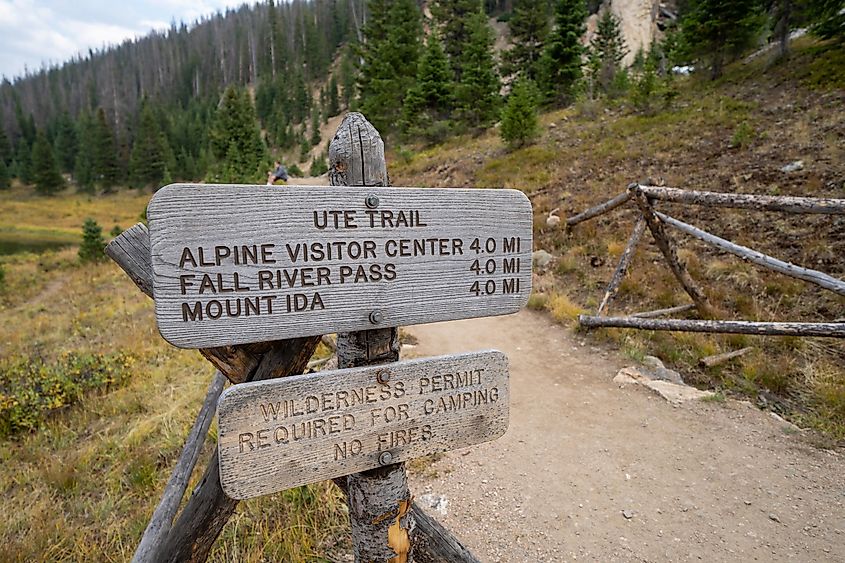 Also, from the Alpine Visitor Center/Fall River Pass in Rocky Mountain National Park, the 4.1-mile (one-way) Ute Trail West links up with the Poudre Lake-adjacent Milner Pass, which also connects with Trail Ridge Road. This pleasant dirt path can therefore be walked in either direction or both – though starting from Alpine Creek and arranging to shuttle back ensures a near-continuous, altitude-mediating descent. Alternatively, the main Ute Trailhead picks up 7 miles East of the Alpine Center (off Trail Ridge Road), and this time offers a 4-mile (total round-trip), reasonably-flat, open-sky stroll to Tombstone Ridge. Both hikes are great for drinking in the colossal Colorado Rockies and walking in the steps of the Ute and Arapaho Indians who used these footpaths to commute between seasonal hunting grounds. 
High And Star Dunes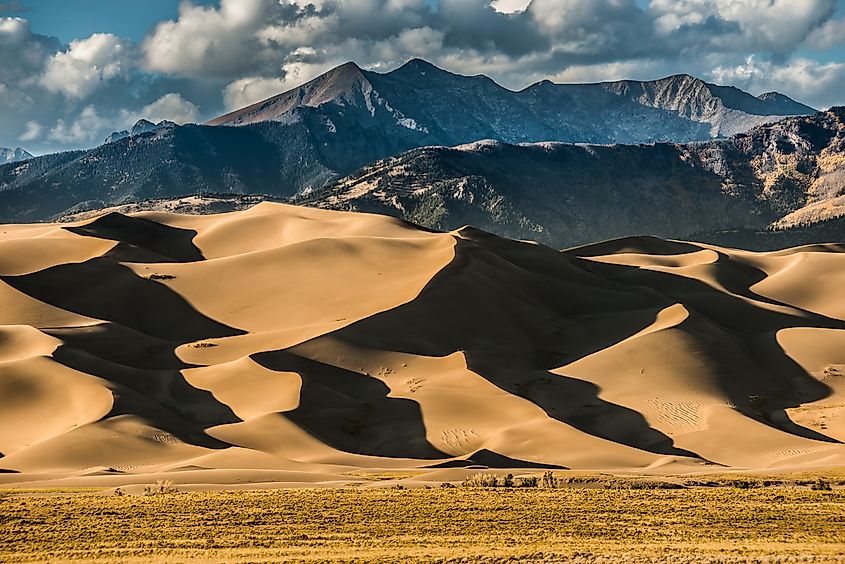 Not all Rocky Mountain hikes have to be rocky. The grind-up High Dune in Colorado's Great Sand Dunes National Park is an unexpected but standout feature beside the Southern section of this great range. Because of the ever-changing nature of these sandy behemoths, there is no set trail up High Dune, but rather an obvious, open-concept beeline for the summit. Expect to cover about three round-trip miles and rise 600 feet above the other-worldly terrain. To extend the novel workout, and to get another round of that exhilarating descent, consider adding on the even taller (741 feet) Star Dune or tackling this 7.3-mile/1,000-foot gain hike on its own later during a weekend trip. 
Wheeler Peak Via Williams Lake Trail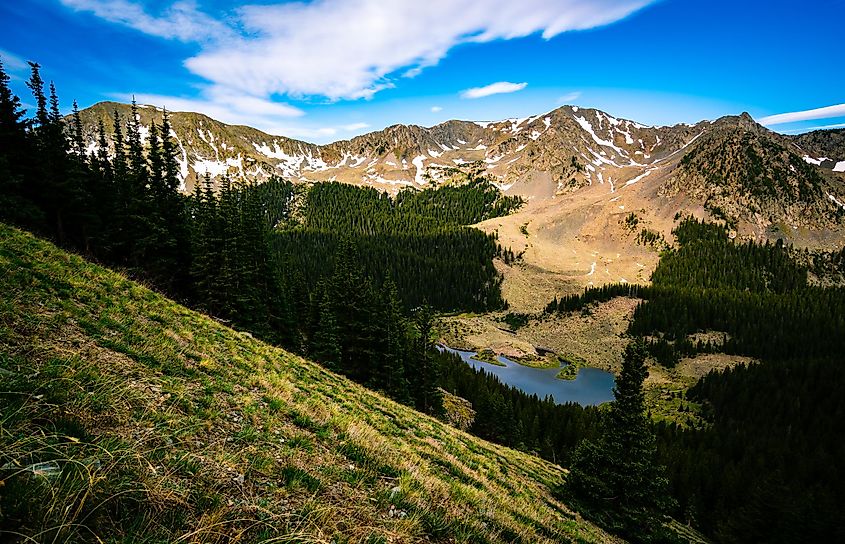 Let's end our exploration of the Rocky Mountains in their Southern terminus: the Sangre De Cristo Range of Northern New Mexico. Some of the most satisfying day hikes involve simply bagging a peak. And since Wheeler Peak is the highest in the state (13,161 feet), it is the clear go-to. This 8.7-mile (round-trip) trail begins at the Taos Ski Village and gains nearly 3,000 feet as it works its way up craggy, sun-soaked slopes that are complimented by bright blue skies and red/yellow wildflowers. Williams Lake is a sight for sore eyes and a welcomed wash station for sweaty feet, about two-thirds of the way up or upon a relaxed return. 
There are countless types of trails to hike in the Rocky Mountains. This lumbering range puts up multi-day (or even multi-month) expeditions for the keenest of backpackers but also features short, easy, paved or boardwalked routes that treat motorists to the stretch-break of a lifetime. There are panoramic summits to attempt, coniferous forests to explore, alpine lakes to appreciate, and all kinds of flora and fauna to investigate (or safely observe from afar). The Rockies leave an indelible impression upon anyone and everyone who sets foot in their presence. So lace up your best hikers and get going!