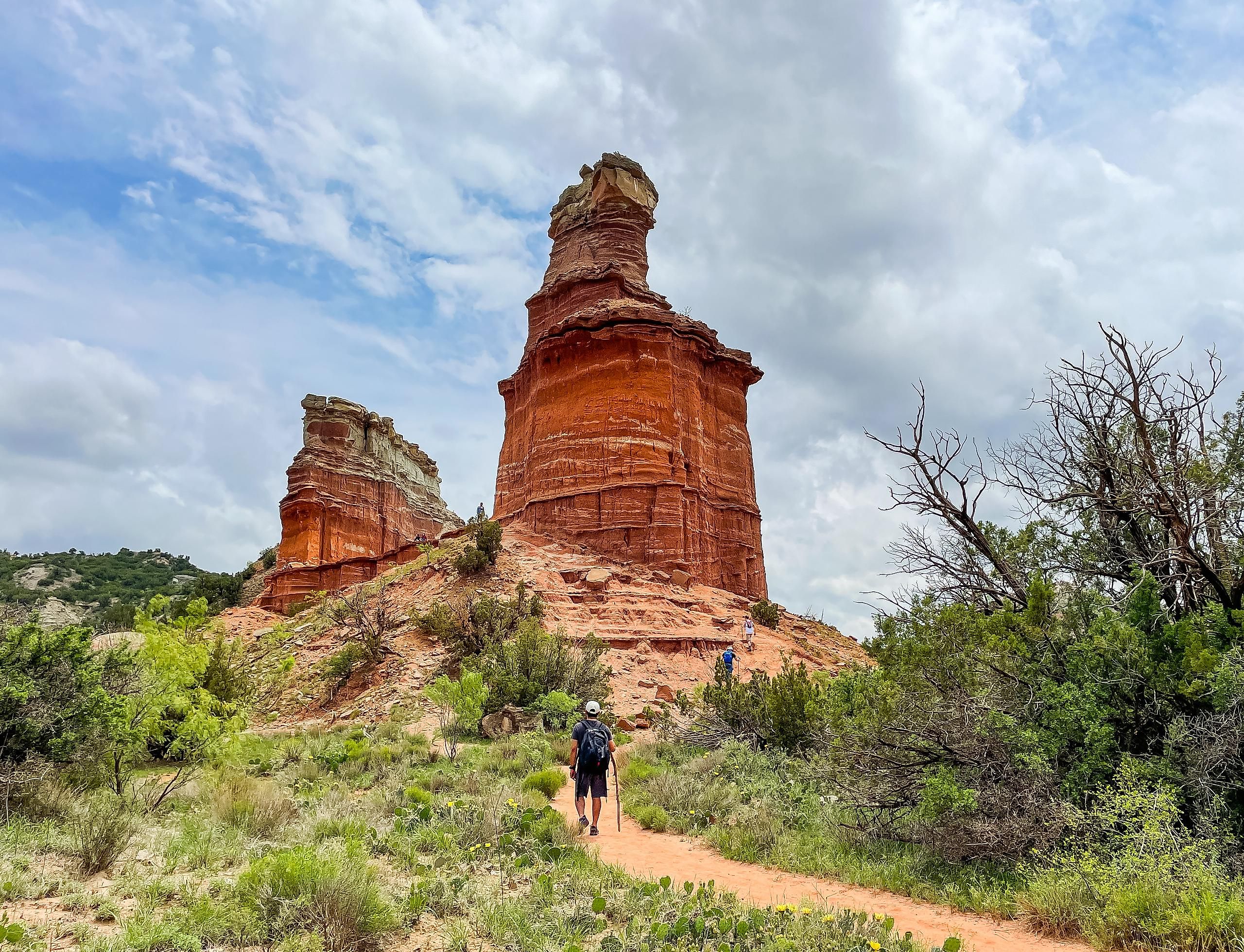 They say everything is bigger in Texas, and these 11 big hikes with even bigger views will not disappoint! Sharing a border with Mexico and four other ecologically diverse US states (Oklahoma, Arkansas, Louisiana, and New Mexico), it's not surprising that the ecoregions of Texas vary so widely. Encompassing forest, prairie, desert, wetland, and coastline, hikers of all persuasions will find their dream trail. Whether gazing over a vista of the Chihuahuan Desert, watching migratory birds make their journey along the Gulf Coast, or observing ancient rock paintings along the US and Mexico border, each Texas hiking experience is uniquely spectacular.
South Rim Trail, Big Bend National Park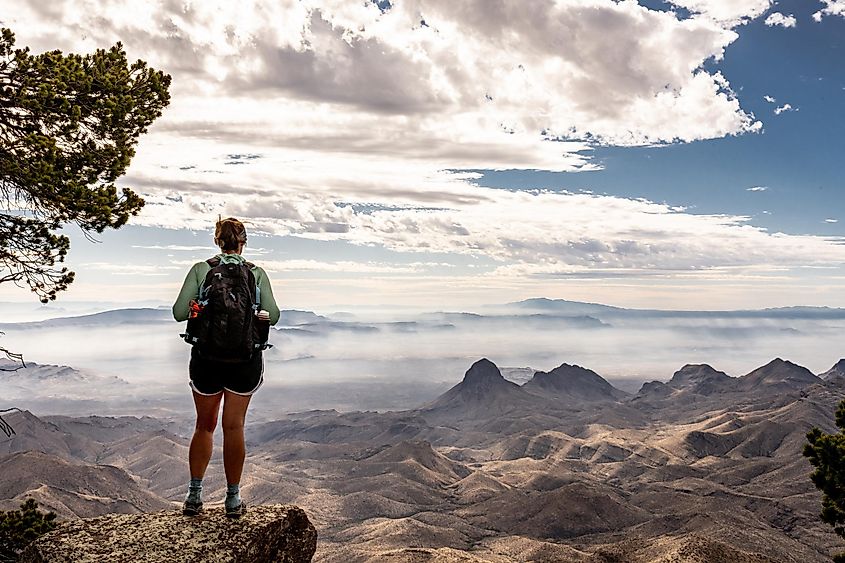 Where the Rio Grande bends and forms the border between Texas and Mexico, you'll find a stunning desert park with higher biodiversity than any other park in the US! A nature lovers' paradise, Big Bend National Park is home to thousands of plant species, hundreds of bird, mammal, reptile, amphibian, and fish species, and over 3000 insect species. A hike along the south rim trail will provide ample opportunity to spot the plethora of wildlife, but the views at the top will truly blow your mind. With the 2,000 ft elevation gain on your hike up, the dramatic cliff edge at the summit will treat you to a panoramic view of the surrounding mountains, canyons, and deserts, including those across the border in Mexico!
Palmetto State Park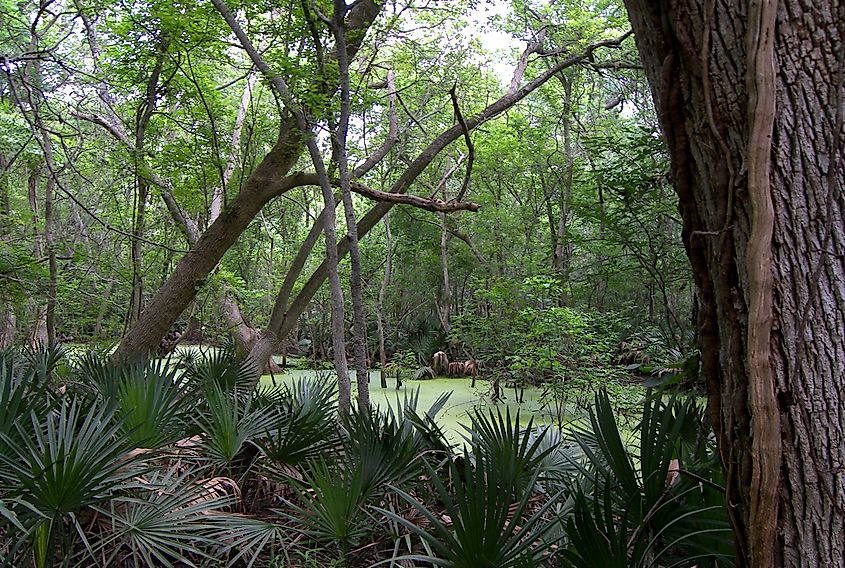 When you arrive at Palmetto State Park, you might believe you've stepped into the Jurrasic age, with the lush greenery, swampy water, and humid air reminiscent of some primordial time. Located in East Texas, near San Antonio, this park looks less like the desert and plains the Lonestar state is known for, bearing a closer resemblance to Louisiana, its swampy neighbor to the east. Named for its abundance of Dwarf Palmetto (a small palm species), this tropical paradise is the perfect place for a leisurely stroll. With eight trails ranging from 15 minutes to 1.5 hours, you can cobble together a hike that suits your schedule, and take your time looking for the unique animals that call this park home. Keep your eyes peeled for the quirky armadillos and regal Crested Caracaras, among many other species.   
LBJ Grasslands Red Trail, Lyndon B. Johnson National Grasslands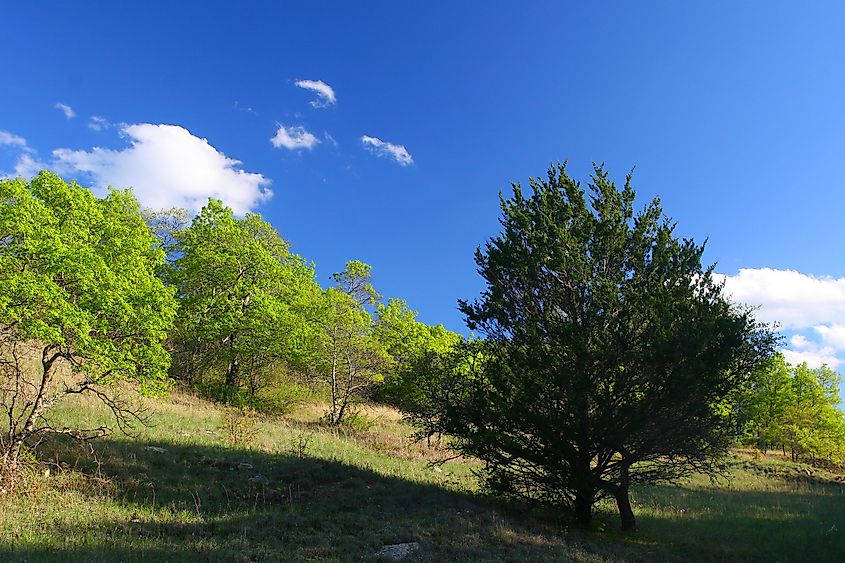 When you imagine a quintessential Texas landscape, the wide-open grasslands are likely front of mind, and hiking in this park will give you a whole new appreciation for this under-appreciated ecosystem. Found in the Northeast part of the state just an hour north of Fort Worth, Lyndon B. Johnson (LBJ) National Grasslands is one of only 20 national grasslands in the US, protecting many imperiled grassland species. With over 20,000 acres of protected land and 75 miles of (mostly flat) multipurpose trails, you can wander to your heart's delight, along with the resident wildlife, horses, and cattle. The LBJ Grasslands Red Trail, an 8-mile loop trail, gives you opportunities to walk through the heart of the grasslands on foot, trot through on horseback, or climb atop the rolling hills for a wider view. While herds of bison and antelope no longer roam freely here, white-tailed deer, foxes, quail, and many other grassland species still call this place home.
Fate Bell Pictograph Walking Tour, Seminole Canyon State Park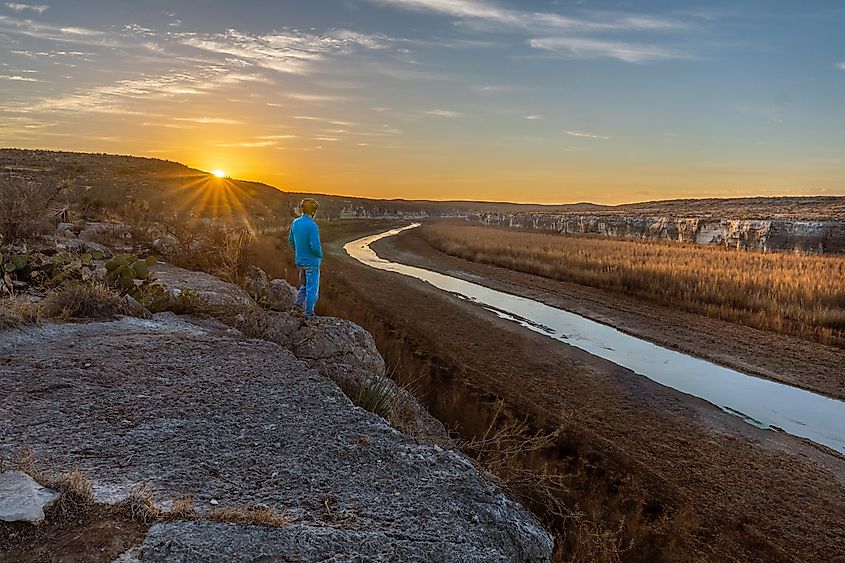 A hike in Seminole Canyon State Park will truly put time in perspective. The 100 million-year-old rocks are continually being uncovered and transformed to this day by erosion, and the visible layers of rock tell the story of the landscape through the ages. Clearly, this region was inspiring to previous inhabitants as well, because this site features some of North America's largest and oldest pictographs! Take the popular one-hour guided hike to visit the Fate Bell and Fate Bell Annex pictograph sites. For those eager for a more exclusive and remote adventure, hike further and higher on the guided eight-hour Presa Canyon Tour to pictograph sites that are normally closed to the public. 
Lighthouse Trail, Palo Duro Canyon State Park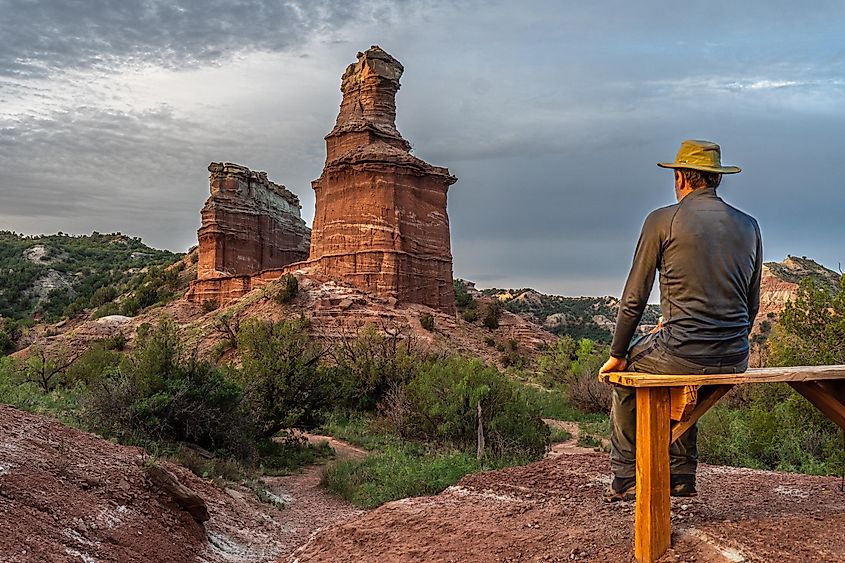 Known as the "Grand Canyon of Texas", this little oasis in the Texas panhandle has big expectations to live up to. But with multicolored layers of rock plummeting down hundreds of feet, a meandering canyon stretching for hundreds of miles, and an abundance of desert flora and fauna, Palo Duro Canyon State Park does not disappoint. The park is home to plenty of incredible trails, but the Lighthouse Trail is particularly iconic with its lighthouse-shaped rock formation rising dramatically in a valley surrounded by red, pink, and orange cliffs. Pack lots of water, and head out early in the morning for the best experience of this rugged desert park.
Padre Island National Seashore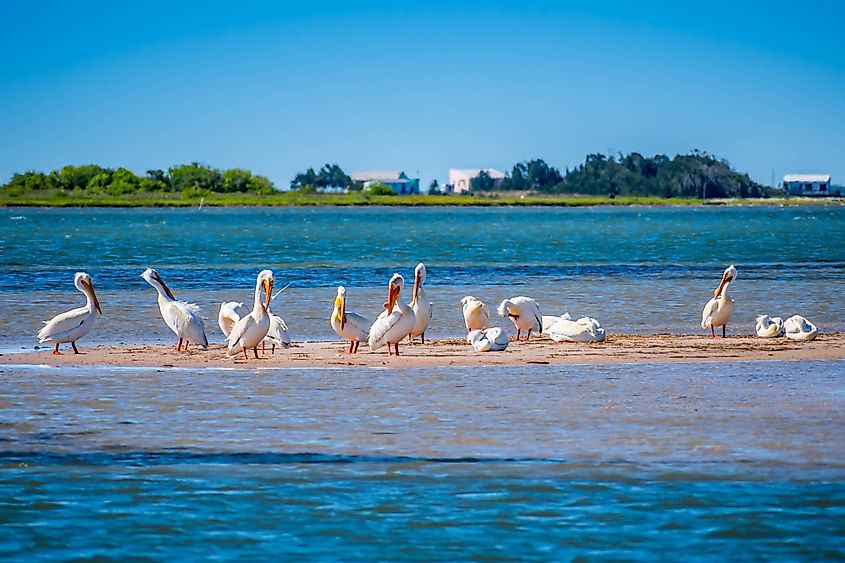 More of a walk than a hike, this destination should still be top of your list if you want to experience the diverse landscapes and wildlife that Texas has to offer. So trade your hiking boots for sandals and head to Padre Island National Seashore. Located on a narrow island in the Gulf of Mexico off of Texas' southern coast, Padre Island National Seashore is a unique example of a barrier island (an island parallel to the mainland) that creates protected areas where saline wetlands may develop. Walk alongside the Laguna Madre on the west shore to see the creatures that make their home in this super saline (saltier than the ocean!) water, or do some beachcombing along the sandy dunes. Lucky beach walkers will be privy to sightings of sea turtles and dolphins, who visit the bay frequently!
Guadalupe Peak, Guadalupe Mountains National Park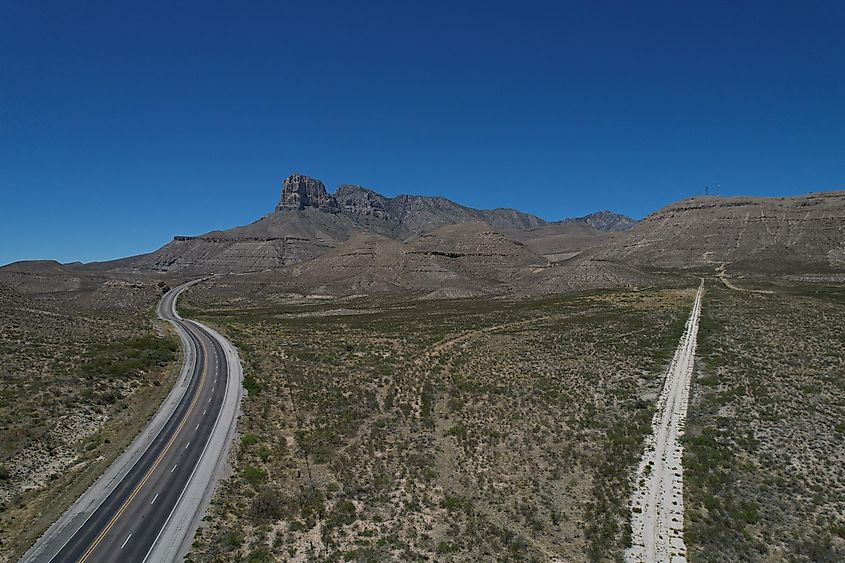 Hike to the "top of Texas" on Guadalupe Peak, the highest point in the state at 8,751 feet! This difficult trek is not for the faint of heart, taking you up 3,000 feet of elevation gain over 6-8 hours, but the views from the top are well worth the effort. Standing on a majestic mountain spire, you will be overlooking a vast and striking landscape of the surrounding desert and mountains. After a long and difficult hike, you may want to take advantage of the backcountry camping offered at the summit (just don't forget to get your backcountry camping permit!). After a night under the stars, you can wake up early to experience the sunrise from the top of Texas.
Lonestar Trail, Sam Houston National Forest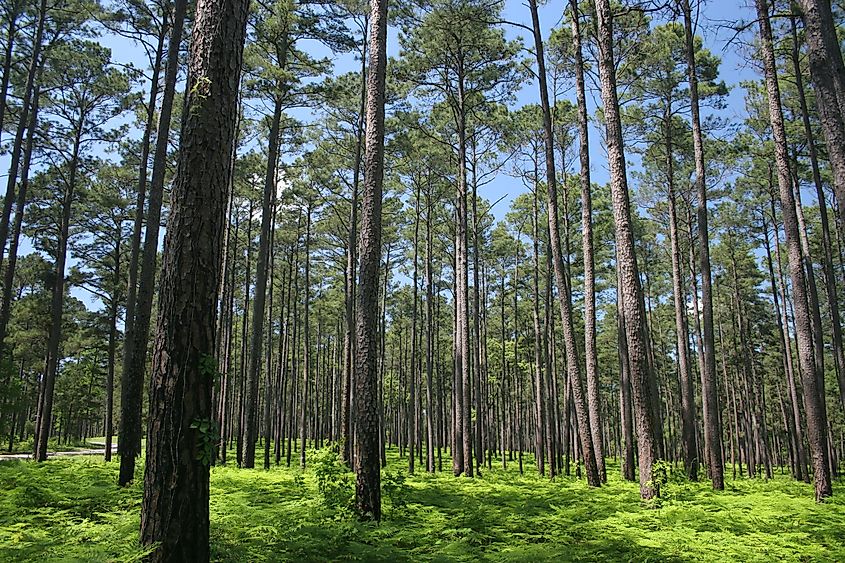 Thru-hikers will be thrilled to hear that Texas has a long-distance trail suitable for their adventures: the Lonestar Trail in Sam Houston National Forest. This 130-mile point-to-point trail in East Texas will take you through forests, swamps, and rural areas, alongside lakes and rivers, exhibiting that understated East Texas charm. Botany enthusiasts will rejoice at the diversity of plant and tree species along the trail, with the species composition slowly changing as you head east from the town of Richards, pass through just south of Huntsville, and end up just north of North Cleveland. This meditative hike provides plenty of forest bathing, solitude, and wildlife viewing opportunities. 
Great Escape Trail, Muleshoe Bend Recreation Area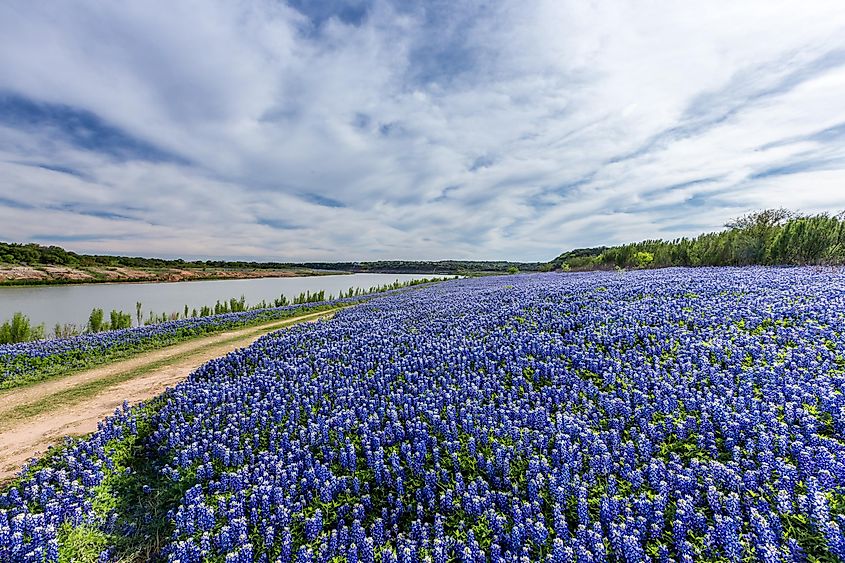 If you're in the Austin area in spring and looking to get away from the city bustle, it's only a quick hour's trip down to Muleshoe Bend for some downtime in an alluring Texas landscape. Located along a Muleshoe-shaped bend in the Colorado River, this lush oasis is a prime spot to see breathtaking spring wildflower blooms. With 540 acres of trails and camping, this recreation area provides a haven for hikers, bikers, and picnic connoisseurs alike. The Great Escape Trail will take you around the entire park, where you'll walk amongst the oaks and through the open meadows, and be blown away by veritable seas of bluebonnets.
Gorman Falls Trail, Colorado Bend State Park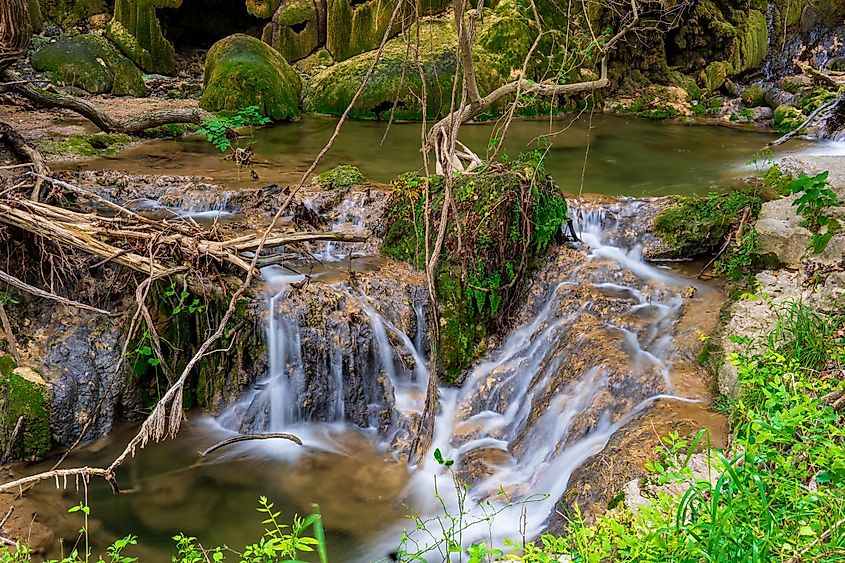 Texas is not all deserts and prairies, and Gorman Falls is a stunning example of the other unique ecosystems the Lonestar state has to offer. Located a couple of hours northwest of Austin, Colorado Bend State Park contains an extensive network of water features such as rivers, creeks, springs, and falls. A great example of karst topography, this park encompasses fascinating features like sinkholes and underground caves. Gorman Falls is a 3.8-mile out-and-back trail that takes you through gorgeous forests and moss-covered rocks to your destination at the falls themselves. These unique "living waterfalls" get bigger over time, as the carbon dioxide-rich water continuously deposits minerals onto the rockface. Over millions of years, the falls have widened to 650 feet wide and 60 feet thick!
East Trail, Lost Maples State Natural Area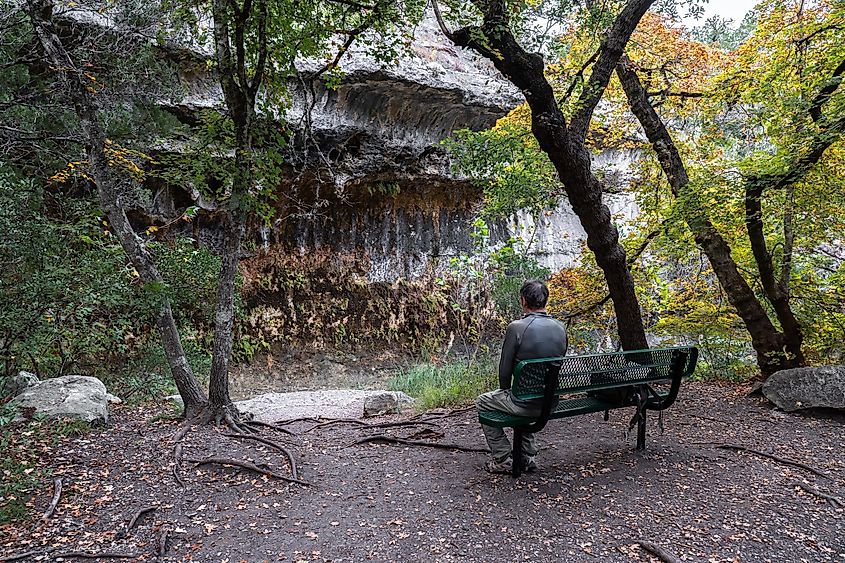 If fall is your season, don't fret, Texas does indeed have four seasons. Grab your pumpkin-spiced beverage and head over to Lost Maples State Natural Area, where you will be awed by an autumn wonderland of vibrant multicolored maples, oaks, cypress, and sycamore trees. Located 70 miles northwest of San Antonio, this natural area protects the Edwards Plateau and encompasses savannah, open forests, and caves that provide important habitat for many species, making for great wildlife viewing. In fact, the Edwards Plateau is home to some of the largest bat colonies in the world! There are several trails in Lost Maples, but the East Trail is 3 miles of particularly spectacular scenery from spring-fed rivers, to sheer rock faces, and views of the surrounding hill country. 
Takeaway
Whether your ideal hike takes place in the wind-blown Great Plains, atop a massive desert mountain, through a wooded savannah, or across the sandy oceanside dunes, Texas will deliver the hike you've been waiting for! One list simply cannot describe all of the astounding hiking locations the state has to offer, but these 11 hikes will give you some great ideas of where to start your Texas adventures. So go big or go home!