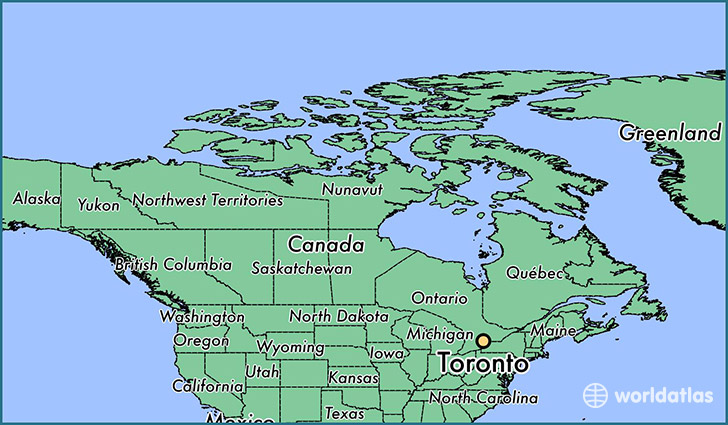 Toronto is a city found in Ontario, Canada. It is located 43.70 latitude and -79.42 longitude and it is situated at elevation 175 meters above sea level.
Toronto has a population of 2,600,000 making it the biggest city in Ontario. It operates on the EDT time zone.
Quick facts
| | |
| --- | --- |
| Country | Canada |
| Province | Ontario |
| Population | 2,600,000 |
| Elevation | 175 m over sea level |
| Time Zone | EDT |
| Longitude | -79.416300 |
| Latitude | 43.700110 |

Toronto, the provincial capital of Ontario, is an attractive, cosmopolitan city located on the northwestern shore of Lake Ontario. It is the largest city in Canada. and a major cultural and economical center of English-speaking Canada.
Toronto is one of the most diverse cities in the world, with approximately half its population born outside Canada. Toronto is considered a global city and is home to seven professional sport teams.

Enjoying four distinct seasons with warm summers and very cold winters, Toronto boasts an immensely rich cultural life, and has the third largest English-speaking theatre district in the the world, after New York and London.
With a multitude of attractions, low crime rates, a clean environment and a high standard of living, Toronto is a favorite destination for visiting and living!

One quarter of Canada's population lives within a 160 km (99 miles) radius of Toronto.
There are 100 + languages spoken throughout this Canadian city.
Some of today's biggest comedian stars come from Toronto, including Mike Myers, Eugene Levy, and Jim Carrey.

Take a look at these great things to do on your Canada vacation:
CN Tower
An architectural wonder, the famous CN Tower is one of Toronto's top attractions. The tallest freestanding structure in the world, this slender tower has elevators that rise 1,815 ft in the air, offering breathtaking views. At the Look Out and Glass Floor levels, are a unique nightclub and revolving 360 degrees restaurant. Above the Look Out level is the world's highest observation gallery - the Skypod - 1,466 ft. above ground. From the Skypod, on a clear day, it is possible to see the beautiful vistas of Niagara Falls and Lake Simcoe.
Toronto Eaton Centre
Welcome to Toronto's top tourist attraction! The largest shopping mall in Eastern Canada, this complex enjoys about one million visitors per week.

One of the most prominent sights in the shopping mall is group of fiberglass Canada Geese hanging from the ceiling. This sculpture, called Flight Stop, was designed by artist Michael Snow.

Located in the heart of the city, the mall houses more than 230 retail shops, restaurants and services. With a rich history and a focal point of downtown Toronto, the Centre is an attraction not to be missed.


Canada's Wonderland
A world of fun and adventures awaits at an Ontario attraction for the whole family! Canada's Wonderland is a 300 acre park featuring more than 200 attractions, including 65 rides, a water park, a play area for the little ones and live shows.

Check out the Paramount Hollywood Spectacular, a jaw dropping live show, The Fly, a roller coaster designed to make every seat feel as if it's in the front car, the Sledge Hammer or the Cliffhanger; the Splash Works water park offers some 16 water rides and a huge wave pool, while Hanna-Barbera characters stroll around the park.
Maps
This page was last updated on October 2, 2015.