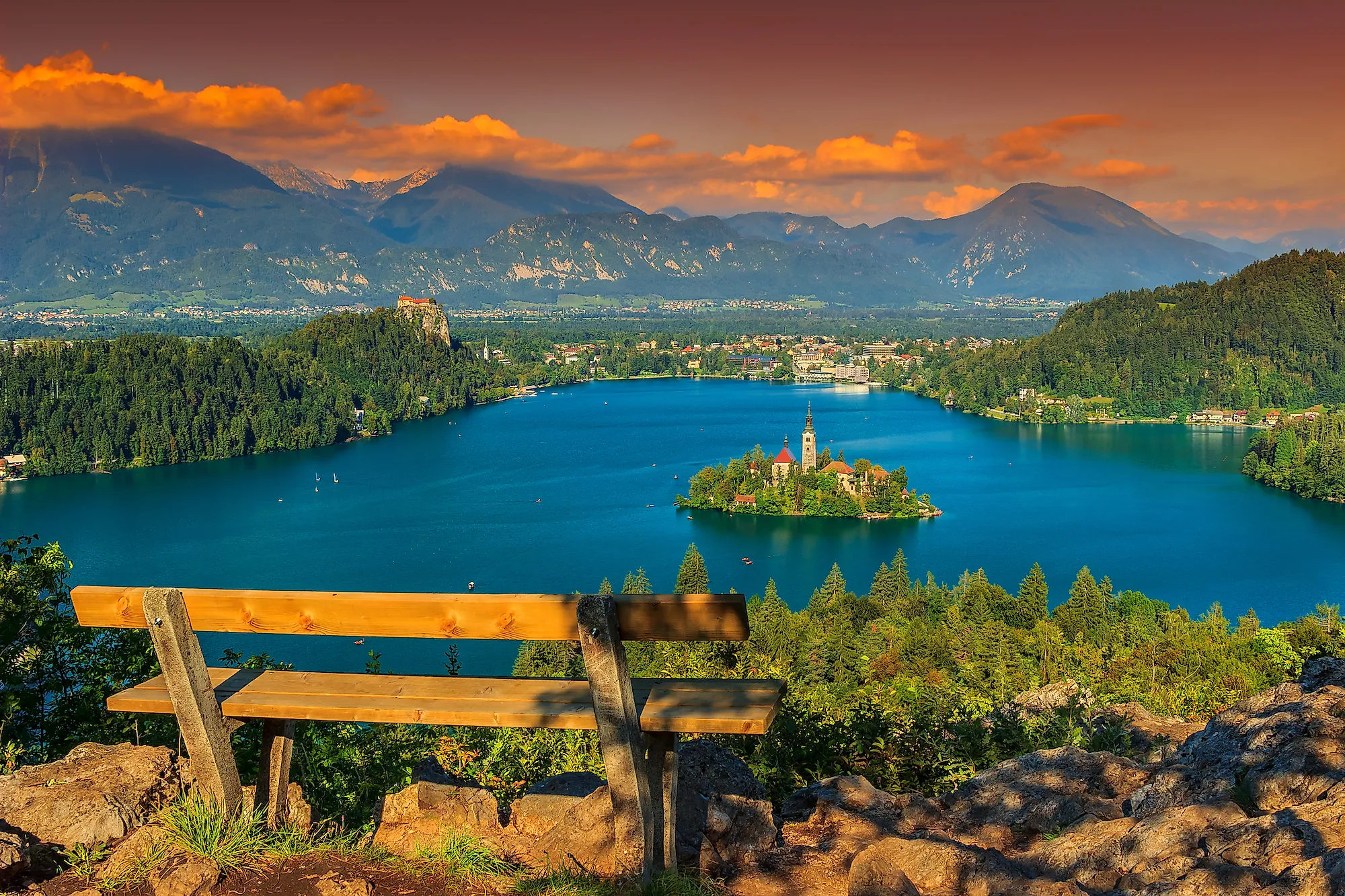 15 Most Beautiful Lakes In The World
In nearly every country, and every continent around the world, lakes or larger bodies of water occur. Whether fresh water, saline, glacial or volcanic lakes provide important ecosystems for a variety of plants and animals around the world. They can be found in high altitudes, or sunk within caves, and in nearly all types of landscapes. No matter where on Earth they occur, one thing is certain- lakes can be some of the most stunning natural occurrences. Here we've compiled a list of 15 of the most beautiful lakes in the World.
Crater Lake, United States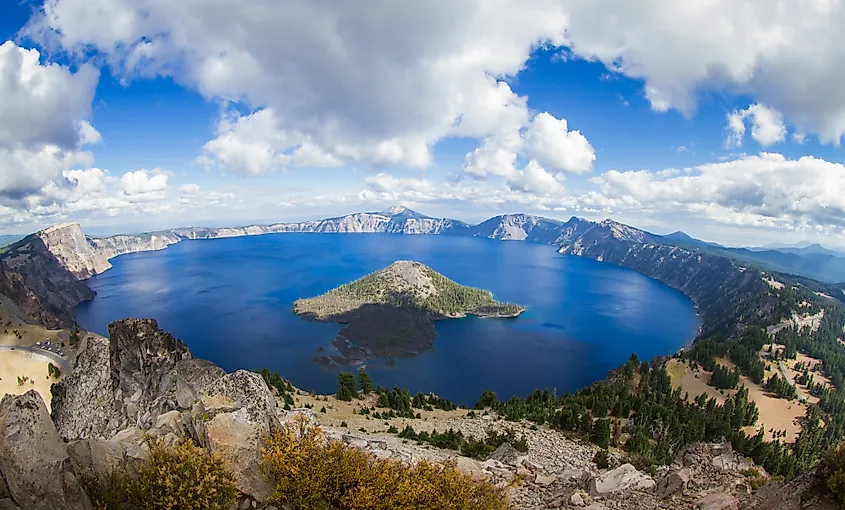 The state of Oregon, in the United States of America, is home to Crater Lake. This small - 50 square kilometer - sized lake is known for being exceptionally clear, and having a deep, rich blue hue. The crater itself was caused by a volcanic eruption some 7000 years ago which caused a mountain peak to collapse, leaving a crater-shaped bowl. Over time, the bowl filled with water and formed what is now Crater Lake. Today, the lake crater is surrounded by the Cascade Mountain Range, making for a beautiful background for this strikingly blue lake.
Lake Naivasha, Kenya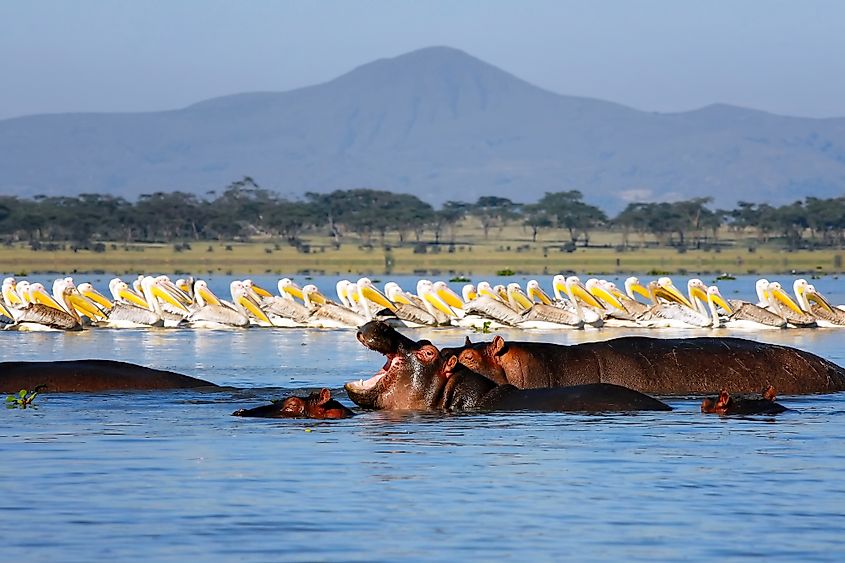 Lake Naivasha lies in the Great Rift Valley, in the country of Kenya. This wide and expansive lake is a beautiful addition to the Kenyan landscape, and offers a reprieve for those weaning to get away from the hustle and bustle of the city. The lake is also well known for being home to a large variety of wildlife, from various species of wish, to giraffes and zebras stopping by for a water break.
Lake Titicaca, Peru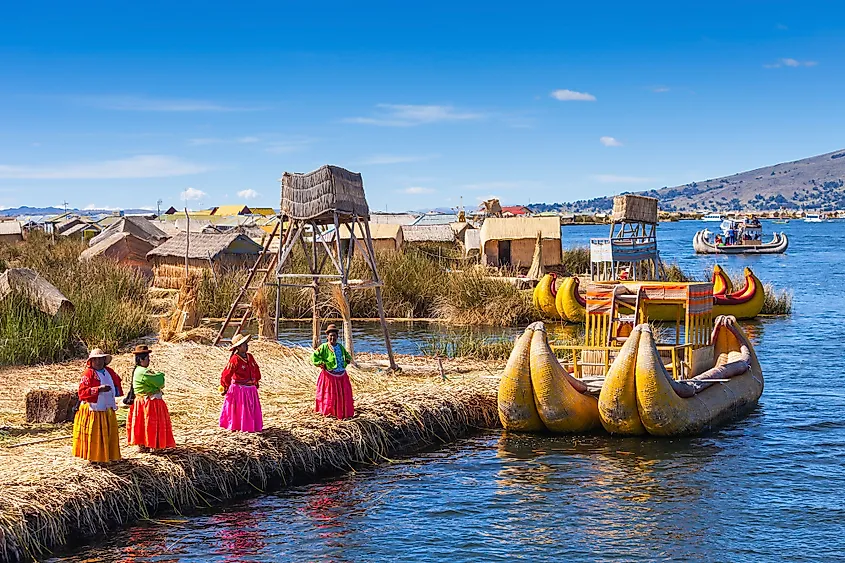 Lake Titicaca is a freshwater lake which borders both Bolivia and Peru, and is located in the Andes mountains. The location and elevation of this lake -  3,812 m - make for a stunning view. It is also the largest lake in South America, and one that is steeped in Ancient Peruvian and Bolivian history. Visitors come to experience the lake in all its beauty, as well as the depth of history found in ancient ruins and Mayan culture which still remain here.
Loktak Lake, India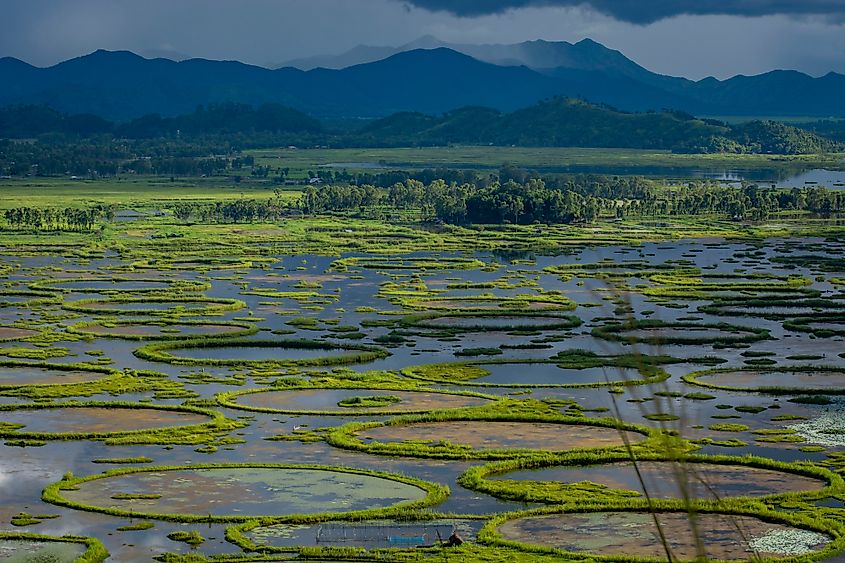 Loktak Lake is located in Manipur, India, and is the largest freshwater lake in northeastern India. This picturesque lake is important for a more unique reason, though. Within the lake itself, roughly two thirds of the surface area is actually island masses, which create a dramatic maze-like appearance. These islands are also unique, as they are not stationary, but rather can shift and move with seasonal water fluctuation because they consist of spongy moss type vegetation and soil, which bind together in island-like formations. Only 20% of these masses are above water, with the remaining 80% lying below the lake surface, much as an iceberg would. This special phenomenon makes for both a stunning visual, but  truly unusual ecosystem within Loktak Lake.
Lake Como, Italy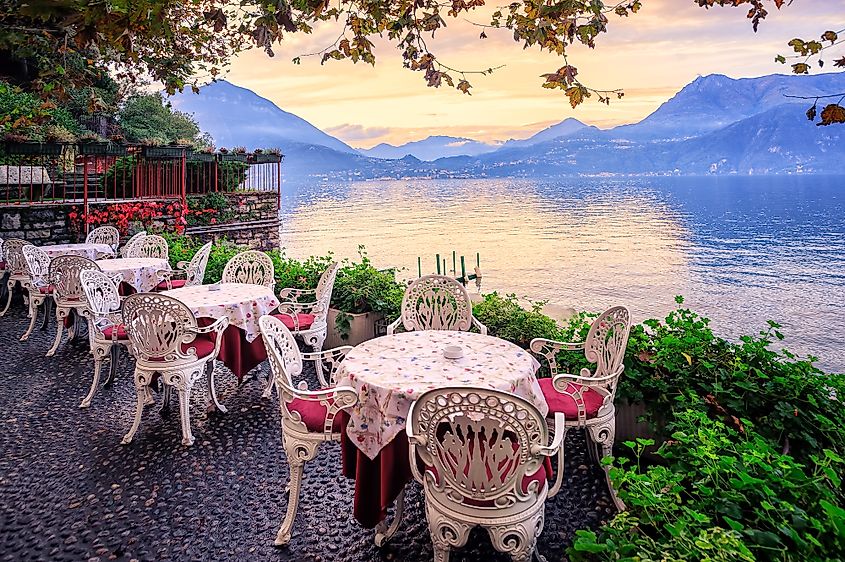 Lake Como is located in the Lombardy region of northern Italy. It is the third largest lake in Italy with a surface area of 146 square kilometers. The lake itself is nestled against the iconic foothills of the Alps, at 198 meters elevation, making for a very scenic view. Lake Como is also interesting as it consists of three branches, or arms, which create a Y shape. It is popular as a tourist attraction for its stunning views and the presence of bright colourful villas and upscale resorts which line the shoreline.
Lake Lucerne, Switzerland
Lake Lucerne is located in central Switzerland. What makes this lake so unique, and beautiful, is its shape. The lake has four main arms, as well as several bends and twists, and is situated between towering limestone mountains such as Pilatus and Rigi. The beauty of this lake makes it a popular destination for travel, and many hotels and resorts can be found in the area. Similarly, boat tours of the lake are common, as well as water transportation across the many arms of the lake. For visitors wishing to stay on land, road and railways offer a full route around the entirety of the lake, enabling visitors to take in all angles of the lake's wonder.
Lake Mansarovar, Tibet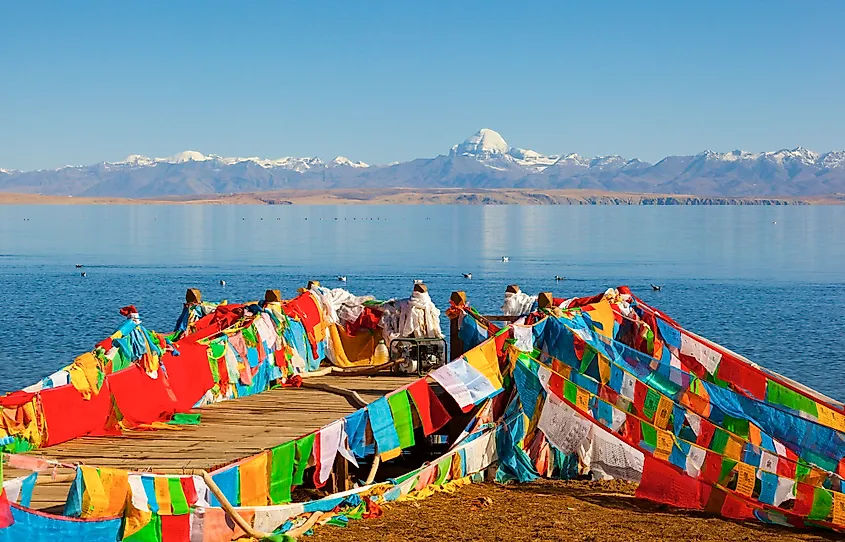 Lake Mansarovar is another high altitude freshwater lake, this time located in Tibet. The lake is roughly circular, with an area of 88 kilometers, at a height of 4,590 meters above sea level. The deep blue lake is very wide and flat, sitting among grasslands. Beyond the lake lies the snow peakexd Mount Naimona'nyi, which provides a distinct backdrop to the lake. The combination of open fields, and towering mountains makes Lake Mansarovar a site to be seen. The lake is held sacred by Hindus and Buddhists and hence, is also a place of pilgrimage for followers of both these religions.
Moraine Lake, Canada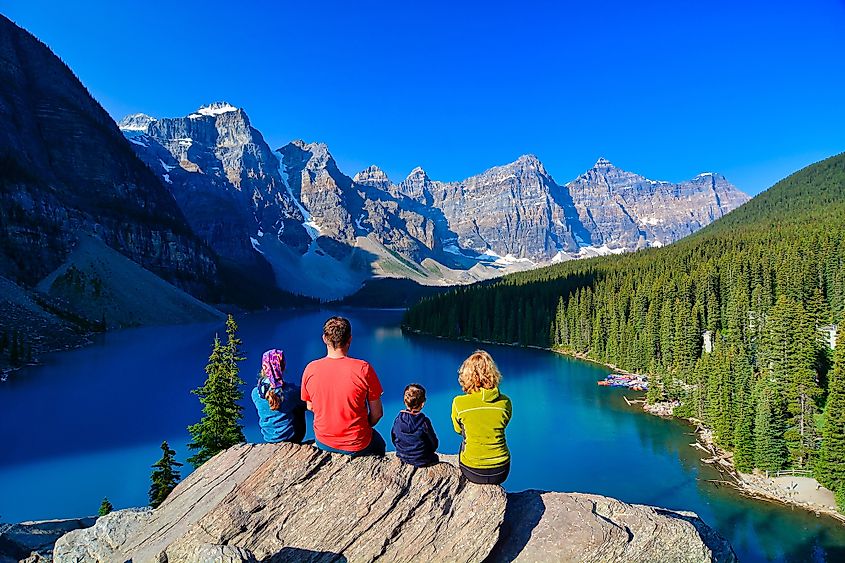 Banff National Park, in the province of Alberta, Canada, has some of the most stunning landscapes in the country. Moraine Lake, which resides within the park, is no exception. Like most lakes in the area, Moraine is a glacial lake, meaning it has a crystalline turquoise colour to it. The colour is remarkable, and stands out bright against the rugged landscape. The lake itself sits within the Valley of the Ten Peaks. These mountains, as well as the pine and coniferous forests that surround the lake edges make for a picture-perfect lake image.
Lake Thale Noi, Thailand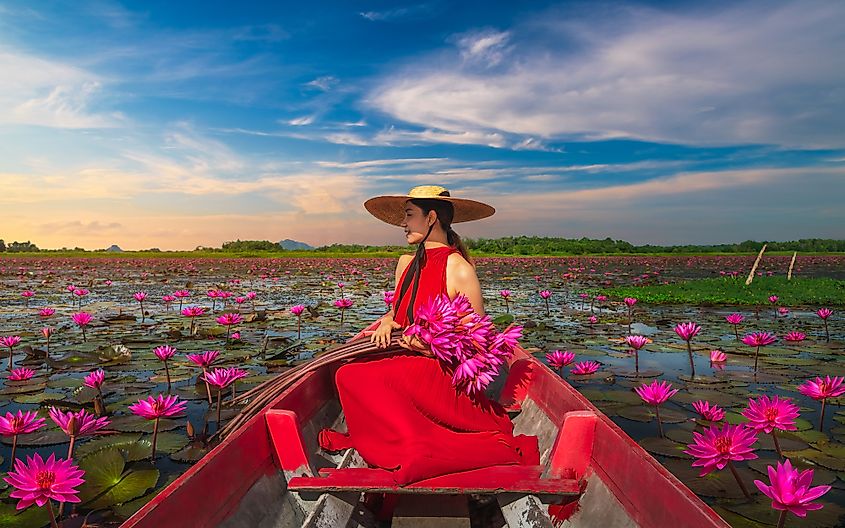 Lake Thale Noi is a freshwater lake in the  Phatthalung province of southern Thailand. It has an area of 460 square kilometers, all of which is protected by a non-hunting law. It was the first non-hunting area declared in Thailand, and is significant for its abundance of wildlife, specifically waterfowl. The wetland nature of the lake means it is rich in plant life, and makes a perfect home for resident and migrating water birds. Similarly, many of these floating plants have bright beautiful flowers covering the surface, making Thale Noi one of the prettiest lakes in the world.
Lake Pichola, India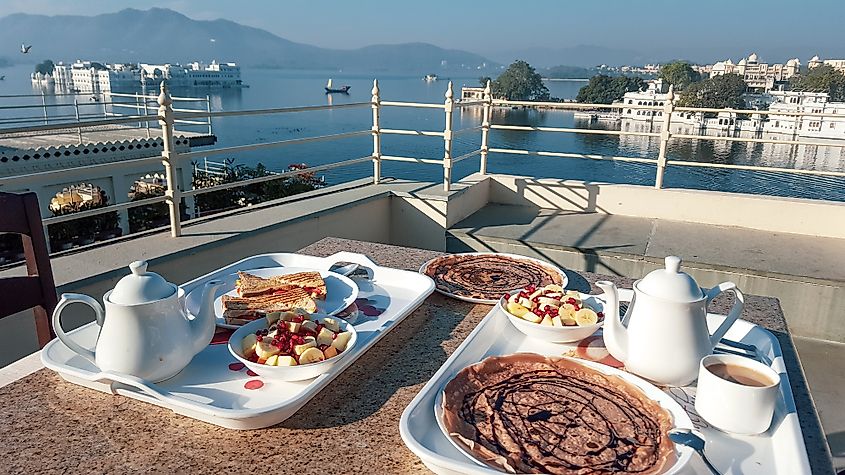 Lake Pichola is located in Udaipur city, in Rajasthan, India and is actually an artificial freshwater lake built in 1362. It has an area of only 6.7 square kilometers, and was intended as a source of clean drinking water and irrigation for the nearby city. The lake has four islands, Jag Niwas, Jag Mandir, Mohan Mandir, and Arsi Vilas. A palace located on Jag Mandir, sometimes called the Lake Garden Palace, provides an impressive landmark that heightens the beauty of the lake. Another palace, the Lake Palace, located on Jag Niwas island serves as a luxury hotel famous across the world for its beauty. Scenes from the James Bond film Octopussy were shot here.
Lake Tahoe, United States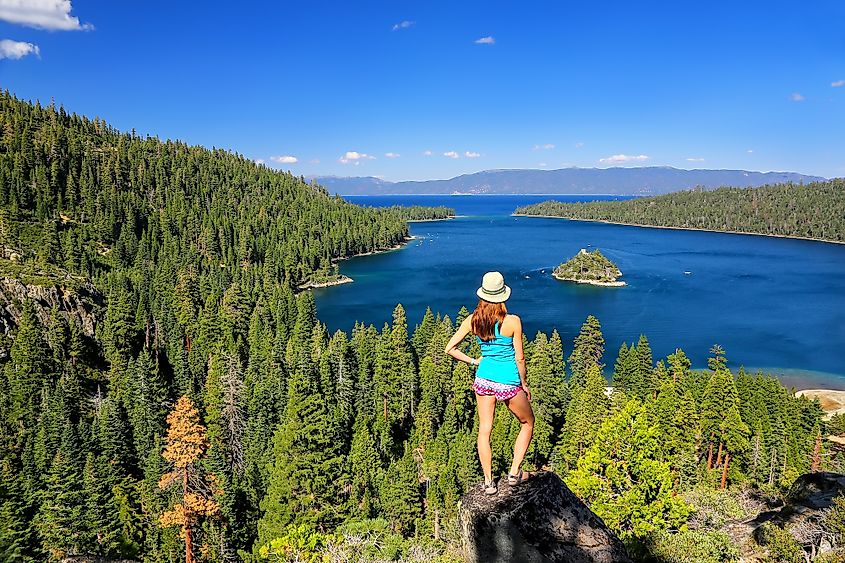 This lake is located in the Sierra Nevada Valley, and borders both Nevada and California. It is a popular tourist destination year round, as it features both beautiful beaches and ski chalets.  The lake is rimmed by rocky terrain and tall forest trees for a picturesque view any nature enthusiast will love.
Laguna Colorada, Bolivia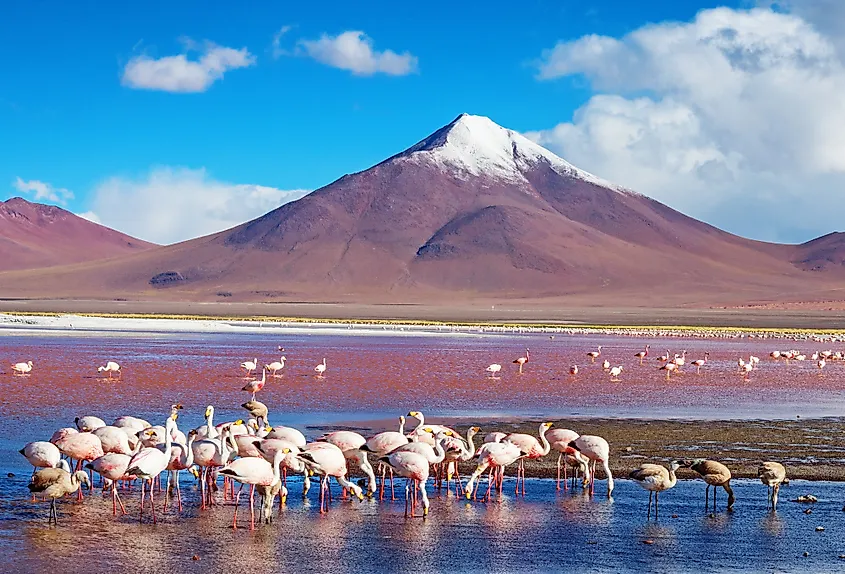 Laguna Colorada, also known as the Red Lagoon is a salt lake located in Bolivia. This shallow lake is in the altiplano, and is part of the Eduardo Avaroa Andean Fauna National Reserve. Though it only measures about a meter deep, it has an area of about 60 square kilometers, and is remarkable for its colour, not its size. The lake has a remarkable red-rust colour, and features white borax island deposits which give the area an other-worldly feel. The colour is thought to be due to minerals and algae in the lake, which provided this amazingly beautiful natural phenomenon.
Lake Bled, Slovenia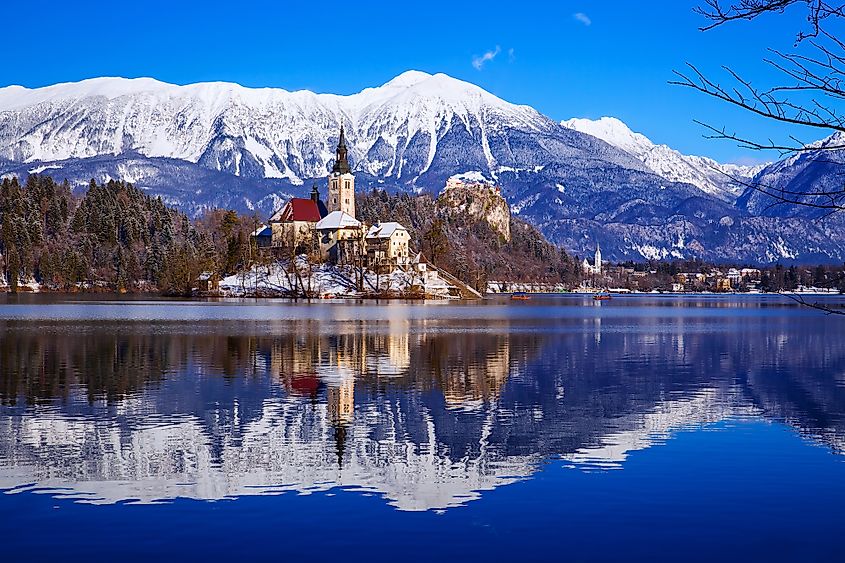 Slovenia is also home to one of the most beautiful lakes in Lake Bled. This small lake is well loved by nationals and tourists alike, for its quaint and post-card-like appearance. The deep blue lake sits below the Julian Alps and is surrounded by lush vegetation. The lake is also the home of the only natural island in Slovenia, holding a 17th century church of the Assumption of Mary.
Attabad Lake, Pakistan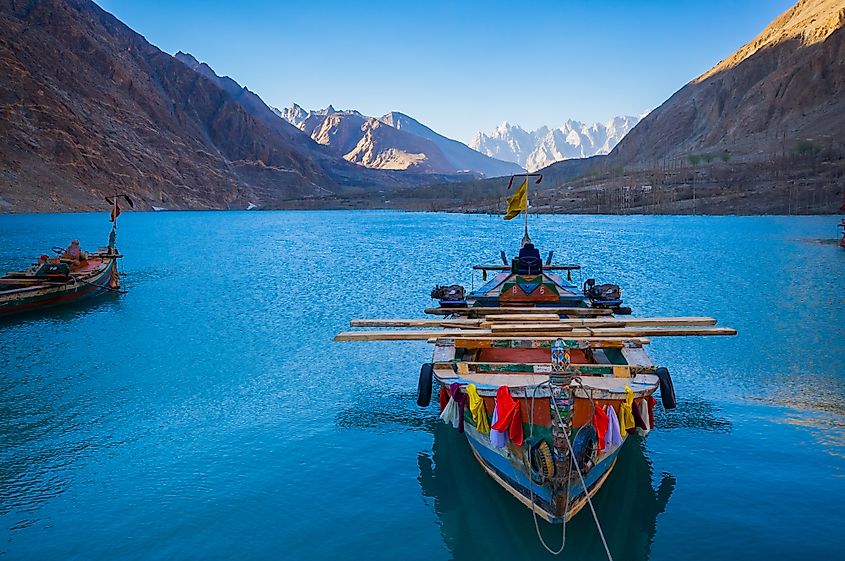 Attabad Lake is located in the Gojal region of the Hunza Valley in Pakistan. It is best known for its deep clear blue colour as well as the nearby mountain range. The lake has only existed since 2010, when a landslide broke away part of the valley, forming a natural dam in the river. The result was the stunning Attabad Lake which has become a tourist destination.
Lake Baikal, Russia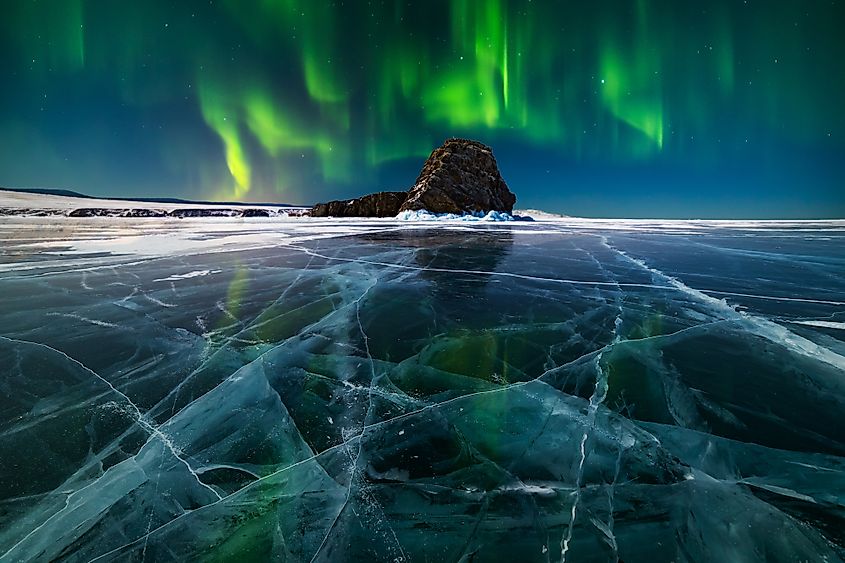 Last on the list is Lake Baikal, the deepest lake in the world. The lake is also massive in area, covering 31,722 square kilometers of the mountainous Russian area of Siberia. Not only is this lake impressive for its size, volume and depth - being the largest in all three categories - but it also makes an impressive sight. In the cold winter months the lake freezes, forming a beautiful ice layer around the rocky outcroppings. The ice is usually very clear, with trapped circular bubbles in the ice layers, or frozen cracks deep below. Both of these provide wondrous examples of the beauty of nature.