Laguna Colorada, literally meaning colour lagoon, is located in Bolivia. It is an extremely shallow salt lake, that is best known for its distinct reddish pink colouration. The lake sits at an elevation of 14,000 feet, and is in the southwest portion of Bolivia's altiplano plateau, which is part of the Andes Mountains.
Lake Composition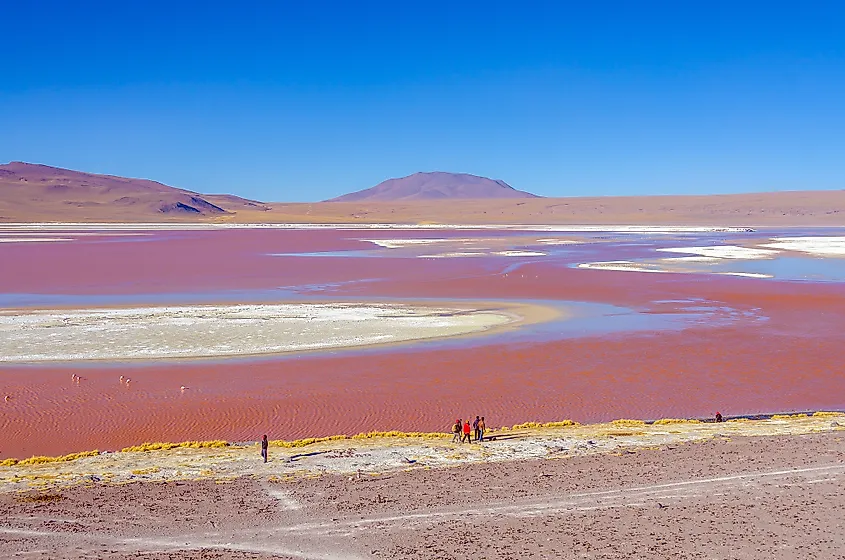 The lake is distinct due to its colour, which gives rise to its nickname as 'Red Lagoon'. What causes the red tint to the waters are algae and minerals, which produce a blood-like color rather than the traditional blue hues. The size of the lake is vast, taking up some 15,000 acres in area, however it is very shallow, and has a depth of only about a meter. The composition of the lake is also very saline, or salty, and in fact large deposits of borax can be seen as small white islands which dot the surface of the lake.
Landscape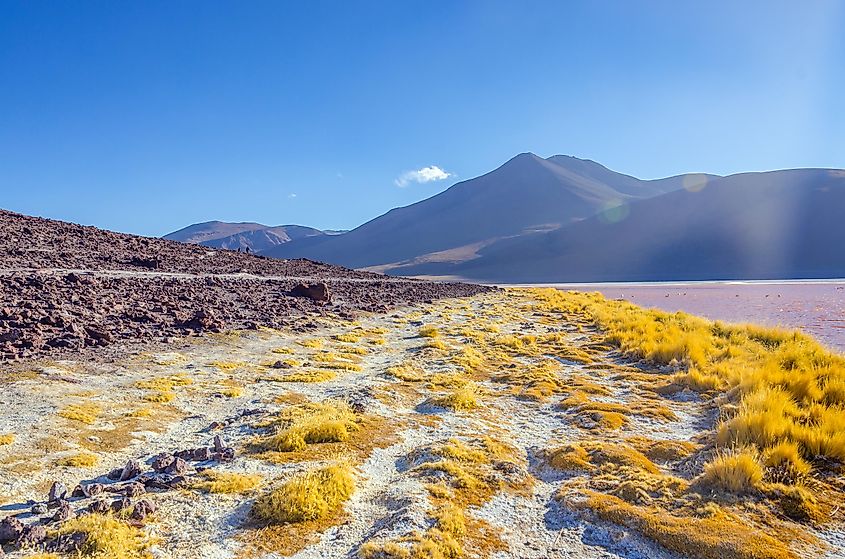 The lake itself is very flat and wide, and sits in an expansive plateau. Much of the landscape that surrounds the lake is also flat desert which is high in salt. Salt deposits and salt flats are common among the altiplato, creating large white salt deposits throughout the landscape and the lake itself. The climate in the region fluctuates between day and night due to the desert nature of the area. It can drop below freezing when there is no sun, but warms in the summer days, causing a moderate change in temperature. The lake is also part of the Eduardo Avaroa Andean Fauna National Reserve, which serves to protect the lake's natural beauty and wildlife. Additionally, as of 1990, it is also part of the Ramsar Wetland of International Importance.
Wildlife
Since the lake is very shallow, it is not filled with an abundance of wildlife, however what is there is very important, and works together in its own balanced ecosystem. The rust-like lake waters are rich with plankton, which are tiny water-dwelling crustaceans. These plankton are favoured by several bird species in the area, especially Flamingos.
The most common type of flamingo in Laguna Colorada is the James flamingo, which is an endangered species. This type of flamingo is native to the Altiplano area, and favours the plankton-heavy water of Laguna Colorada. Other animals which can be found in the area around the lake include llamas, alpacas, Andean foxes, cats and pumas, all of which live in the Andes region.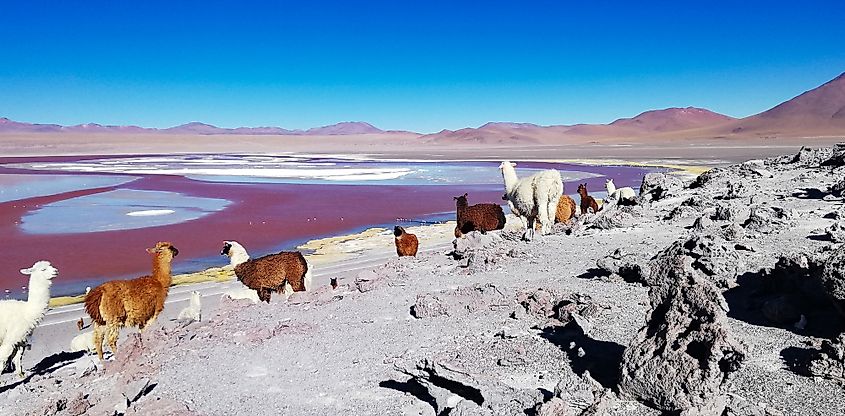 The stunning views and other-worldly red colouration of Laguna Colorada make it one of those bucket-list destinations you have to see in person to truly appreciate. From the wide open Altiplano views, to the flocks on flocks of flamingos, it is a stunning feast of the eyes.