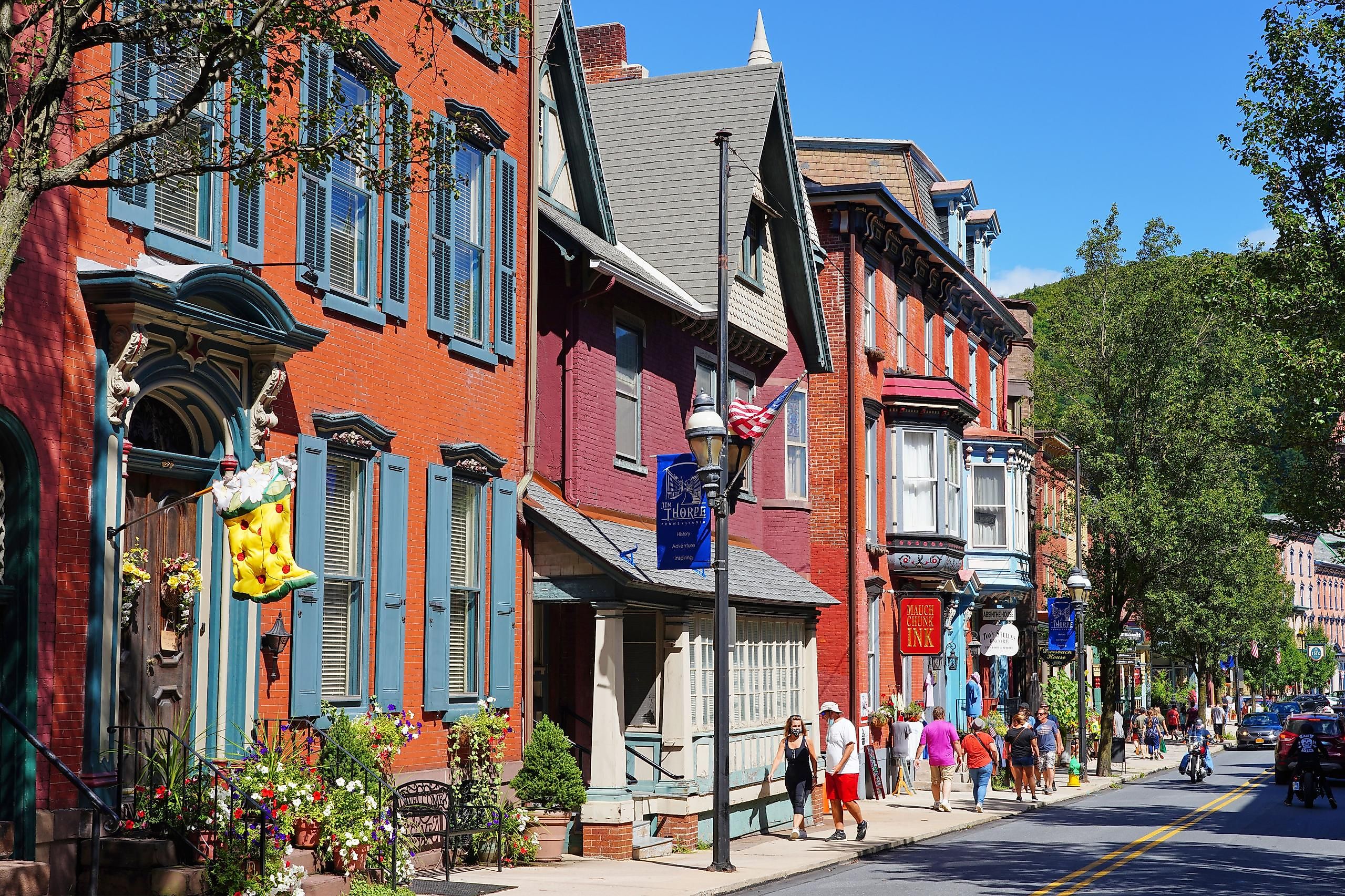 These Small Towns in Pennsylvania Come Alive in Summer
We cannot ignore the opportunities for adventure that big cities and sprawling metropoles offer. The theme parks. The museums. The movie theaters. And of course, the shopping malls. Yet one can be sated with all these, and crave something different. Enough elbow room, perhaps. A slow pace to life—and to life's many nerve-wracking cares. And most of all, a closer connection to nature — and to its scenes and sounds. For those who find the charm of small towns irresistible, Pennsylvania boasts an impressive number, many of which come dramatically alive in summer.
Jim Thorpe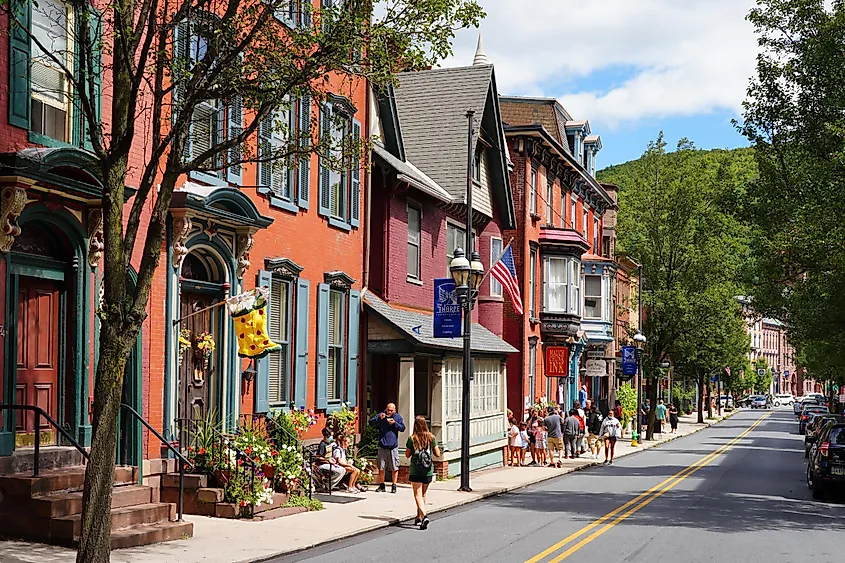 Known across the nation for its scintillating architecture, Jim Thorpe is a Pennsylvania charmer that will highly reward a summer adventurer.  The town, named for world-famous Native American athlete Jim Thorpe, is curled up on the 109-mile Lehigh River, in a valley of the Pocono Mountains, about one and a half hours from the "City of Brotherly Love," as Philadelphia is known. Home to about 4,600 residents, what makes Jim Thorpe come alive in summer is the chance for whitewater rafting at the picturesque Lehigh River Gorge, the prospect of exploring the Pocono Mountains by way of a bike rental from Pocono Biking, and the thrill of hiking the miles of scenic trails at Lehigh Gorge State Park. Of course, among several heart-thumping adventures.
Mt. Gretna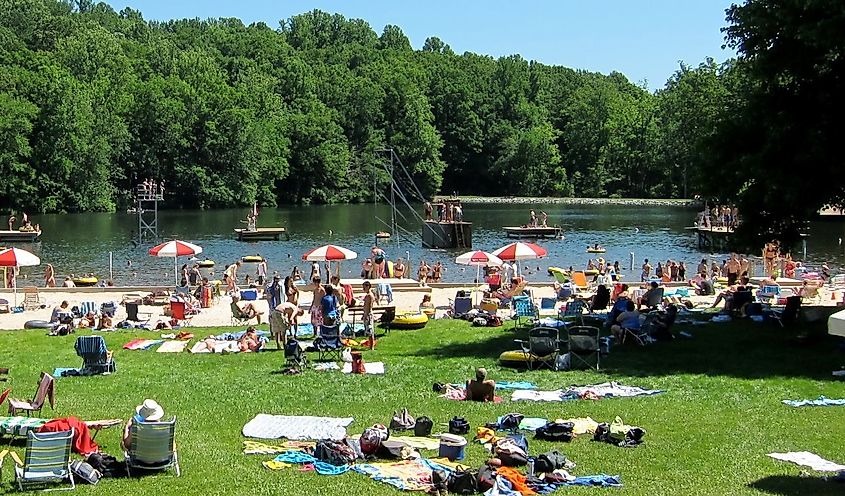 Conveniently located right off the Turnpike, Mt. Gretna is a petite Pennsylvania allurer that one can pass in a blip. Part town; part village, Mt. Gretna occupies an area of just about 124 acres. While a summer adventurer will enjoy sampling the mouthwatering chocolate-covered strawberry martinis and lobster Colorados from such famous spots as Mount Gretna Hideaway,  whose quaint and cozy ambience is a delicacy by itself, the town's summer highlight is Mount Gretna Lake and Beach. Here is where summer crowds enjoy taking a refreshing plunge in the lake's clear waters, sinking their ankles in the warm, clean sand, and just enjoying the enthusiastic smiles the warmest season of the year often comes with. Still not water-sated? Try the adjacent Conewago Lake.
Eagles Mere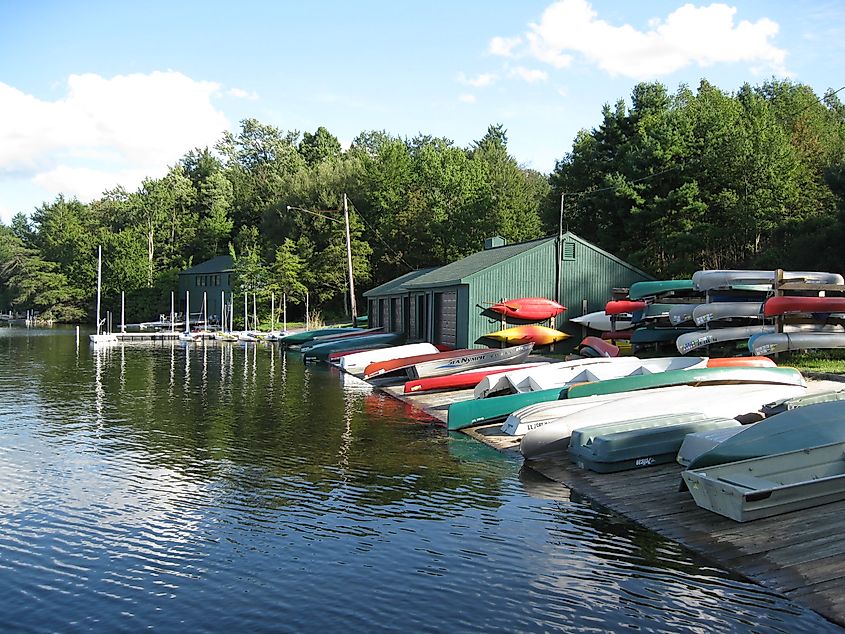 While time may have forgotten the town of Eagles Mere, you will not forget this Pennsylvania stunner. Secreted in the mountainous region of northeastern Pennsylvania, this under-the-radar town is a summer adventurer pleasure spot worth checking out. Only a mere 120 people live in this speck of a town. Yet in summer, the town can host well over 3,000 fun-seeking adventurers. While Toboggan Slide attracts hordes of winter crowds in this classy village, during summer, the star of the show is Eagles Mere Lake. This time, Eagles Mere Lake plays host to what is called Water Carnival, a popular fun-filled event that has seen more than 100 summers. If hunting for even more fun on the water — and more seclusion, check out Hunters Lake, located an easy 5 miles away.
Wellsboro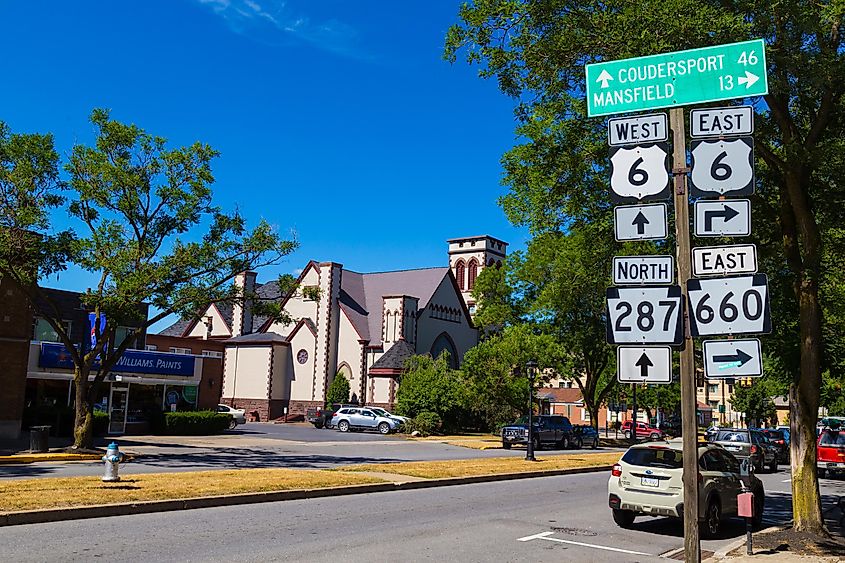 Home to about 3,400 residents, Wellsboro is another Pennsylvania small town that roars to life in summer. Nestled along scenic Route 6 in north-central Pennsylvania, Wellsboro summer vacation credentials is well established. The geographical landmark that defines the area around which Wellsboro is located is Pine Creek Gorge, tellingly referred to as "the Grand Canyon of Pennsylvania,"— and one of the 7 Natural Wonders In Pennsylvania.  Aside from Pine Creek Gorge, a geographical wonder than spans 300,000 acres of forestland, other Wellsboro's summer appeals include Hills Creek Lake, an oasis of quiet encircled by the 407-acre Hills Creek State Park. The park boasts miles of scenic hiking trails that open out to heart-ravishing vistas on every side. Other close-to-town summer adventure options include Hamilton Lake, Nessmuk Lake, and Woodland Park.
Somerset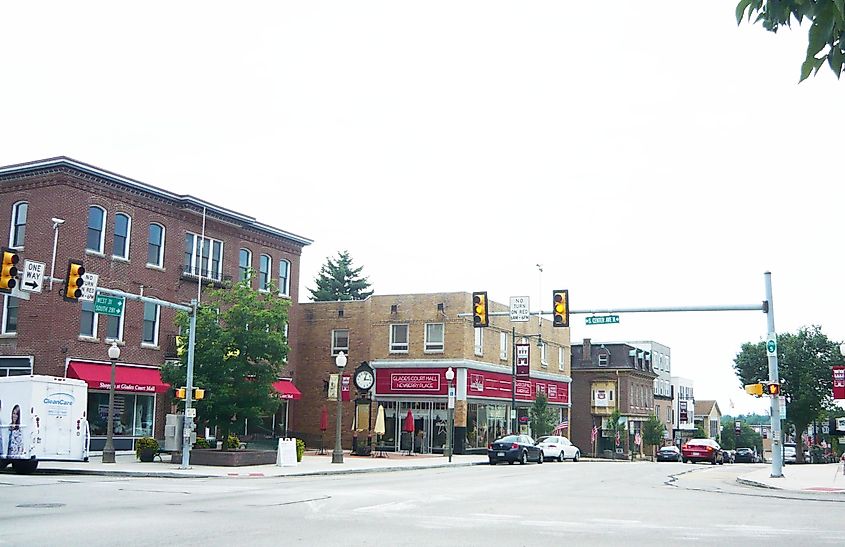 Named for a county in England, Somerset—and the area around it— was the scene of Whiskey Rebellion, a violent protest against tax on whiskey that took place between 1791 and 1794. Historians consider this civilian insurrection as the first test of federal authority in the United States, then a nascent republic. Today, summer crowds enjoy strolling through the Uptown Somerset historic district and taking in its charming architectural landscape. There are many beautiful red-brick buildings here— many of which have seen more than a hundred summers. If tagging a furry friend along, you will want to check out Jager and Friends Dog Park, one of the most well-thought-out dog parks in this part of Pennsylvania. As for outdoor enthusiasts, Kooser State Park might be small in size, yet a gorgeous lake, a trout run, and a heart-ravishing backdrop, make it a must-do.
Renovo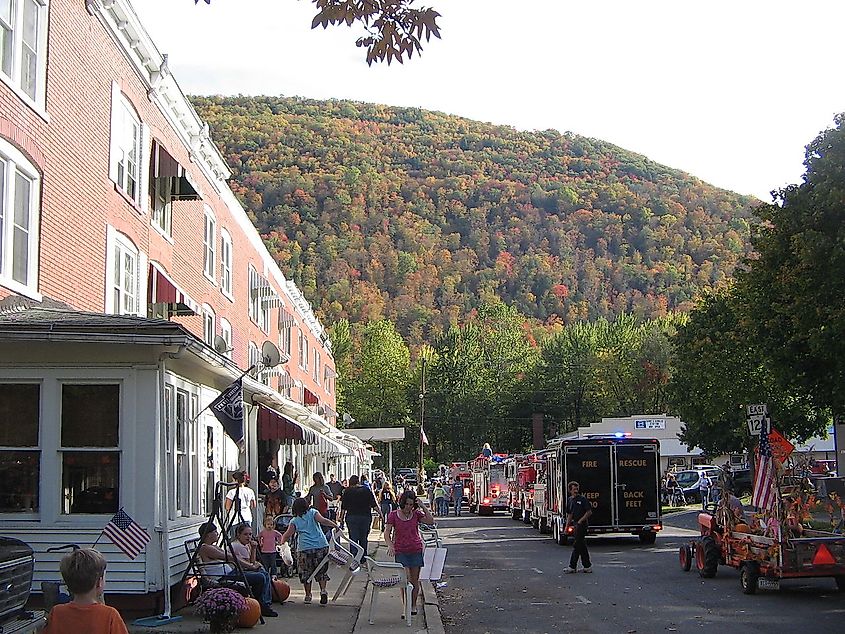 Renovo is curled up along the Susquehanna River in an area whose heart-melting beauty features majestic mountain grandeur. Home to only about 1,000 residents, this Pennsylvania gem is known to spring to life when summer comes knocking. This should be expected. Renovo lies in the precincts of Pennsylvania's Bucktail State Park Natural Area, a piece of quiet natural drama that summer visitors flock to — for its gasp-inducing views and outdoor fun. This area, because of its impossibly steep mountains, is sometimes referred to as the Bucktail Canyon. Then again, Hyner View State Park, conveniently located six miles away, will take one through steep, twisting roads, eventually opening up to views that are insanely ethereal. 
New Hope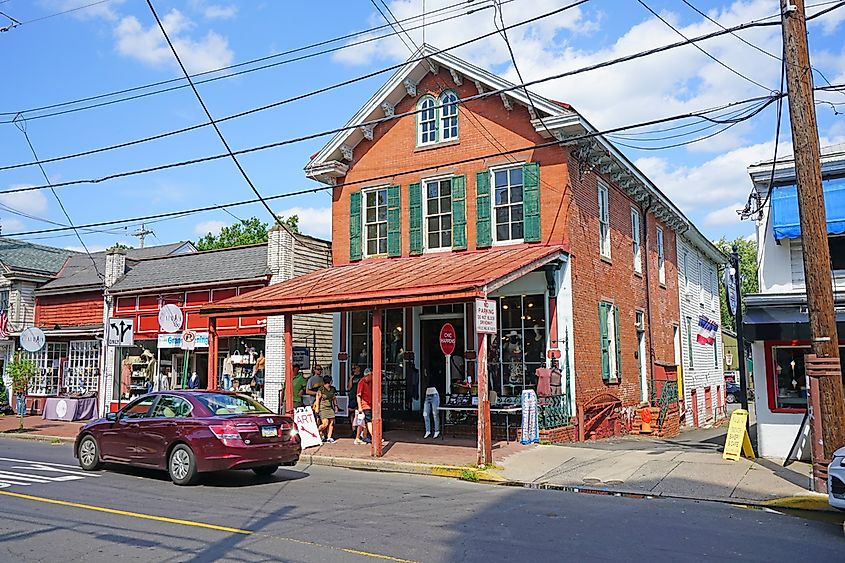 While only 2,600 residents call this summer attraction home, many more troop to its precincts because of its charming beauty and the opportunities people get for outdoor fun. And since it lies directly adjacent to the longest undammed U.S. river east of the Mississippi River, summer crowds look forward to enjoying pleasurable walks along the picturesque towpath in Delaware Canal State Park. Then again, this scenic trail, approximately 59 miles in length, is right next to Main Street, hence the easy-to-access shopping and dining options make it even more tempting. Plus, for those who enjoy the bashful smile of wildflowers, Bowman's Hill Wildflower Preserve, while subdued in winter, will come alive in spring and summer—and will put an impressive color show that will be enticingly heart-ravishing. That is not to mention the ponds that spring to life— with frogs, turtles and dragonflies, especially during the warmer months. 
Ridgway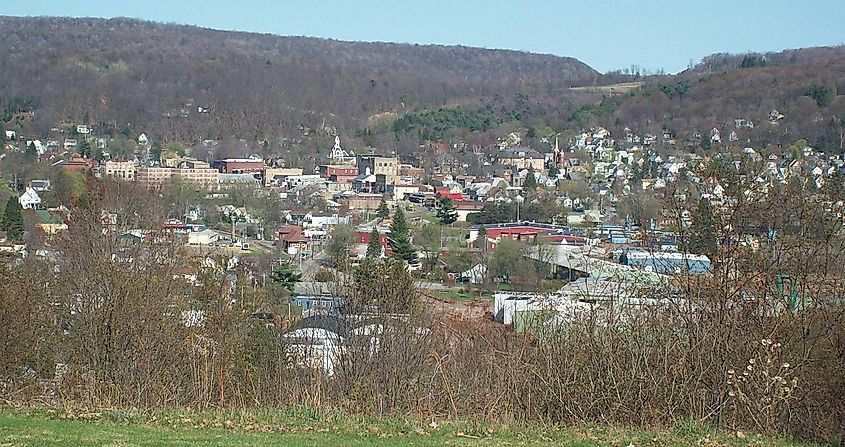 Tucked away at the eastern edge of the Allegheny National Forest, Ridgway is another Pennsylvania town that is a hot cake with summer adventurers. Home to just about 3,900 residents, this town will strike a chord with just about any type of vacationer; whether one is an art lover, a history buff, or an outdoor enthusisast. History buffs will enjoy strawling on a stretch of downtown evocatively called "Millionaires Row"— an appellation that speaks to the town's Gilded Age, when Ridgeway boasted the highest per capita income in Pennsylvania. While much has since changed, with time and tide stealing an ounce of its past lustre, first-time visitors will still marvel at the town's gorgeous architectural landscape — while sampling the impressive art and dining scene.
Zelienople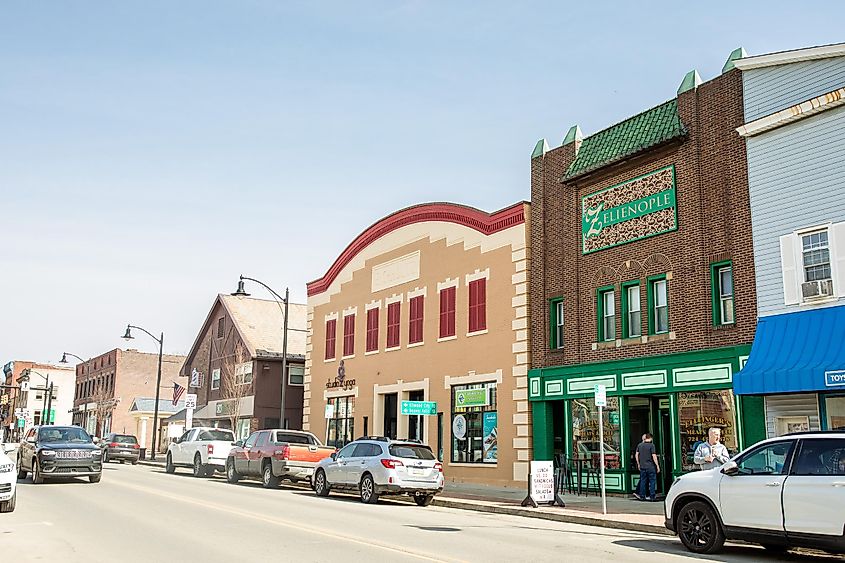 Those who have visited Zelienople will agree that if the word "quaint'" means anything, Zelienople it is. While hard to pronounce, this Pennsylvania stunner is not hard to fall in love with. Secreted on the south bank of Connoquenessing Creek, a quick 28 miles from Pittsburgh, Zelienople makes for an easy-to-access summer hideaway. First-time visitors often enjoy strolling through the retro main street, in a town whose slogan is "a modern place with old-fashioned grace." Often shortened as "Zeli," this town boasts a downtown that features an impressive art scene, trendy boutiques and a pretty decent culinary scene. In summer, the beautiful Strand Theater becomes a sought-after spot—and a place one should not miss, especially if watching a good movie is on the menu. 
The Takeaway
While we all love our cities and our metropoles, even if it is a love-hate relationship, there is something about small towns that make them irresistible vacation hot spots. Most of them are simple and authentic; quaint and quiet; charming and cheap. Fortunately, Pennsylvania boasts a fair number, some of which dramatically come alive in summer. From Jim Thorpe to Zelienople, Mt. Gretna to Ridgeway, Pennsylvania's small towns are vibrant summer hot spots worth lacing up for.