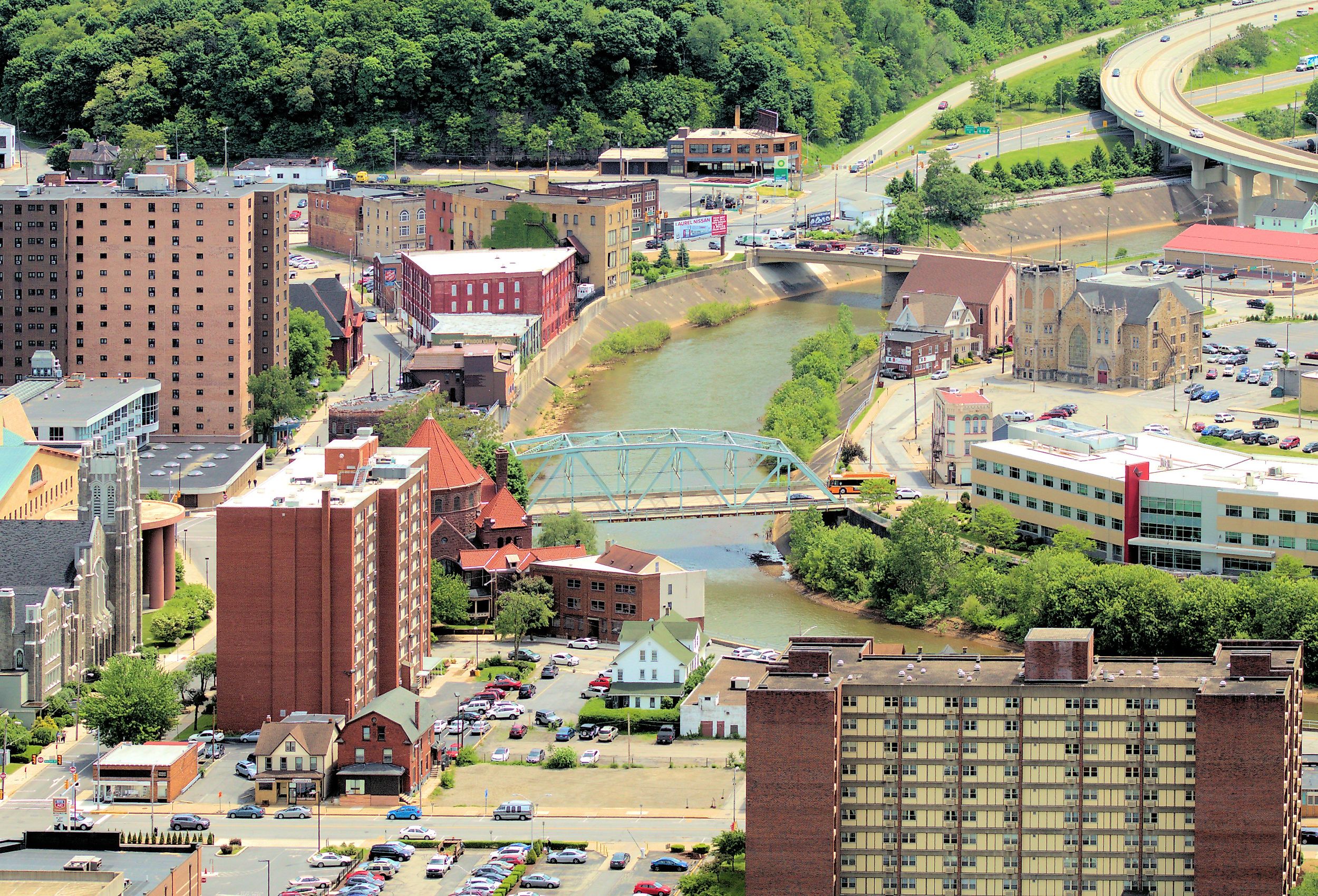 The 11 Most Picturesque Small Towns in Pennsylvania
One of America's most fascinating and historically important States, the Commonwealth of Pennsylvania is full of great cultural allure and stunning natural beauty. Admitted to the Union in 1787, the picturesque towns of Pennsylvania all have rich histories and unique stories to tell, all while surrounded by beautiful nature. For the history lover, the outdoors enthusiast, and anyone with an interest in Americana, then a visit to this State's towns will be an excursion well worth remembering, giving weight to Pennsylvania's nickname as the "Keystone State."
Williamsport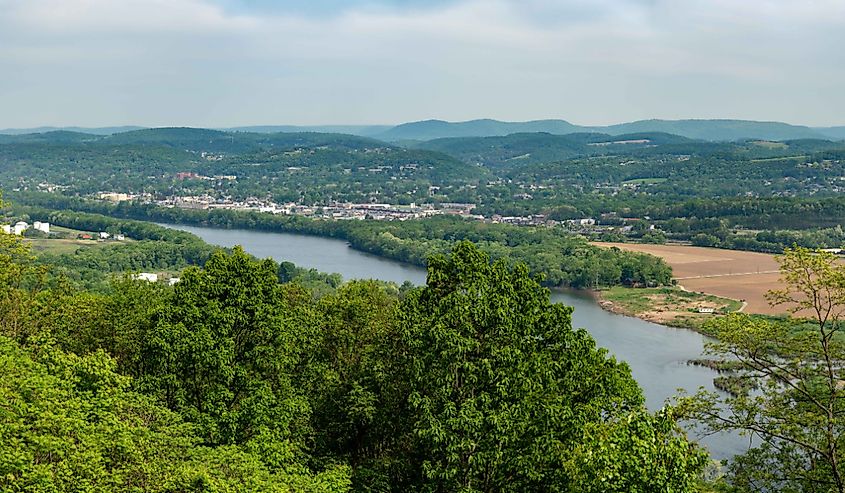 With a modest population of 27,754, the town of Williamsport is one of Central Pennsylvania's most important centers. The seat of Lycoming County, Williamsport, founded in 1769, sits on a branch of the Susquehanna River. Today this modern town is a bustling hub of finance, higher education, and the arts, filled with a charming historic atmosphere. Take in an assortment of wonderful 18th and 19th-century style homes and buildings, small cafes, local museums, and plenty of friendly hospitality. At the Millionaire's Row Historic District, more than 250 separate buildings form part of the National Register of Historic Places. Meanwhile, outdoor lovers will love the time spent near the river, and opportunities for hiking, jogging, cycling, and boating in this wonderful Pennsylvania metropolis.
Bethlehem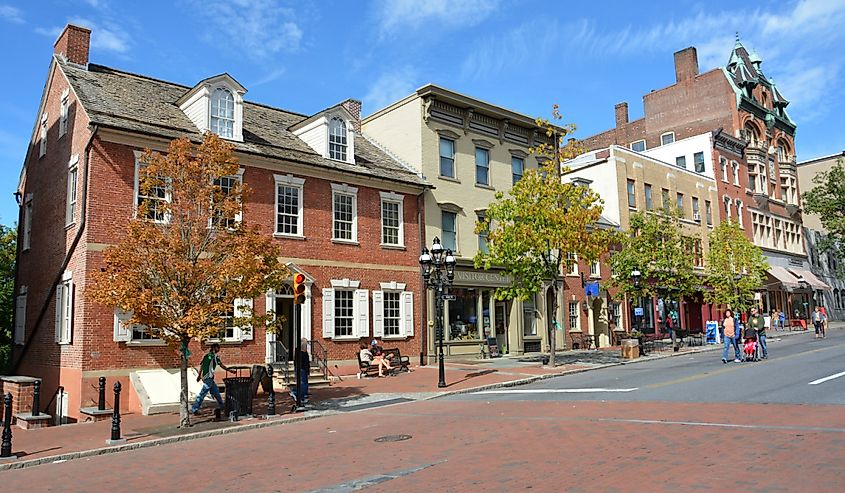 Known as "Christmas City USA," the town of Bethlehem, named for the Biblical locale, is one of the most charming and festive seasonal places to visit in all of Pennsylvania. Situated along the Lehigh River, during the Christmas season thousands of lights, decorations, trees, and other themed dressings all fill the town. With its historic cobblestone streets, horse carriage rides, 19th-century lampposts, and tasty Christmas markets, spending the holidays in Bethlehem is always a most memorable and special experience. Beyond its yuletide connections, Bethlehem is also a beautiful spot to explore throughout the year. There are plenty of historic landmarks, fascinating museums, and picturesque park areas that make this town a delight no matter when one decides to visit.
Easton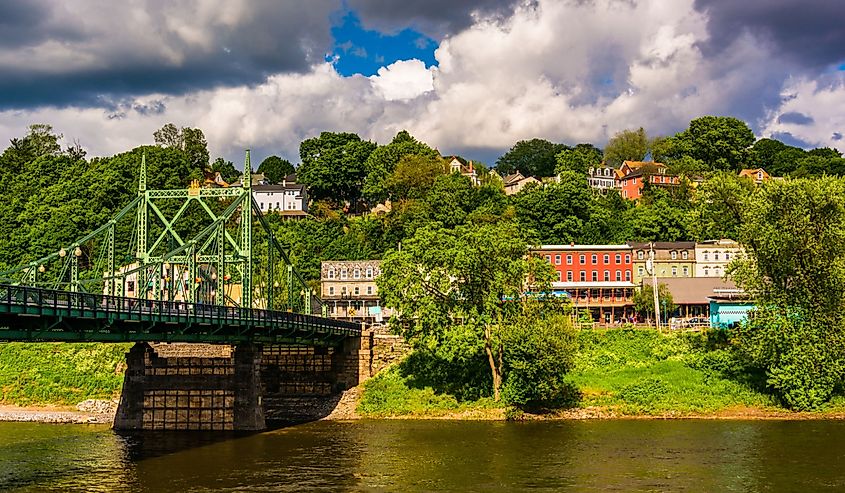 The seat of Northampton County, Easton lies at the confluence of the Delaware and Lehigh Rivers and was first settled by colonists back in 1739! A wonderful place for a weekend escape, visitors to Easton can enjoy loads of historic intrigue and charming picturesque beauty. Stop by the historic Centre Square, the town's main attraction where the famed Easton Farmers Market was once held, and where you can observe emotional monuments to veterans killed in the war. As for the Farmers Market, you can still enjoy the modern-day version alongside the rivers from early spring to winter, for a most special and picturesque outing. In addition, a ride on the famed mule-drawn canal boat is a must whenever in Easton, while an afternoon at the National Canal Museum is an informative and interactive excursion fun for the whole family.
Swarthmore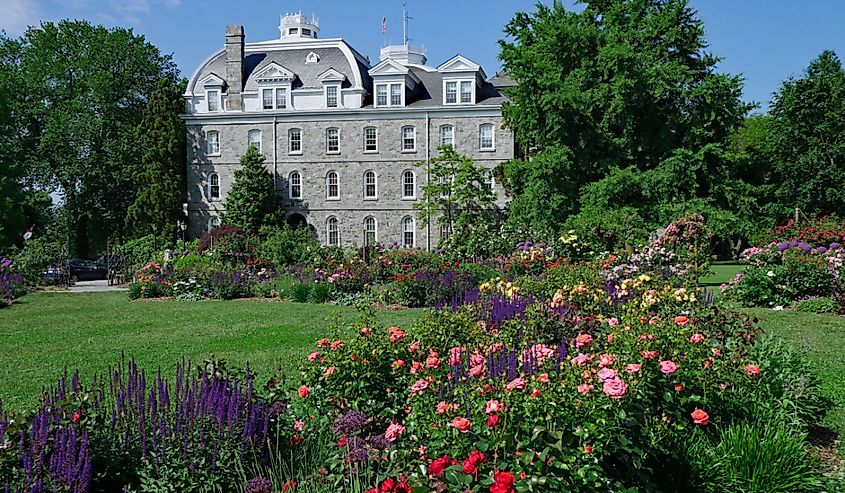 Swarthmore is a small college town home to a population of just over 6,000 residents. Site of the same named College (1864), this charming and beautiful locale is a great place for a day trip or a weekend excursion. Near the banks of the Delaware River, tourists can enjoy a calming and relaxing time on the waterfront where stunning views of pristine nature are always close by. Meanwhile back in town visits to the charming downtown area and its assortment of tasty restaurants, boutique shops, and alluring markets are always popular, while a stop at the Scott Arboretum is a treat in itself. Here an impressive collection of over 4,000 plant types make for a most memorable day trip. With Swarthmore's vicinity to cities like Philadelphia and Wilmington, close access to a major urban center has never been easier.
Indiana
The seat of Indiana County, this same-named town with approximately 14,000 inhabitants was first founded back in 1805. Today this charming place labels itself as the "Christmas Tree Capital of the World" due to its many local tree farms. During the Yuletide season visitors and locals alike can enjoy the unique experience of choosing, cutting, and hauling their own Christmas tree. Home to the campus of Indiana University of Pennsylvania (1875), Indiana also has plenty of charming attractions in its downtown area.
Here you can enjoy great local restaurants, unique shops, and typical small-town charm. In addition, a visit to the Jimmy Stewart Museum, in honor of the great American actor and Indiana's native son, is a fascinating place to spend an afternoon. Here insightful looks into the actor's life and the growth of the Hollywood film industry make this a must-stop for any film lover!
Lawrenceville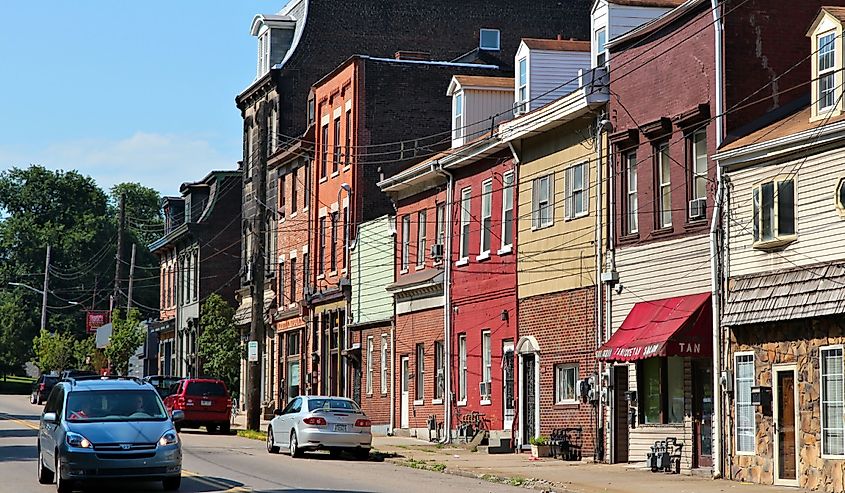 Just some five miles from Pittsburgh's city center, the small neighborhood of Lawrenceville traces its modern history to 1793. Today with a population of just under 700 permanent residents, the town is a suburb of Pittsburgh but offers plenty of natural beauty and historic intrigue to warrant a visit. Check out the picturesque residential neighborhoods, drive along Butler Street, and take a casual stroll past the many boutique shops, restaurants, and local galleries. In addition excursions to the beautiful Arsenal Park, the Stephen Foster House, and the historic Allegheny Cemetery are great ways to find tranquility and history together.
Mars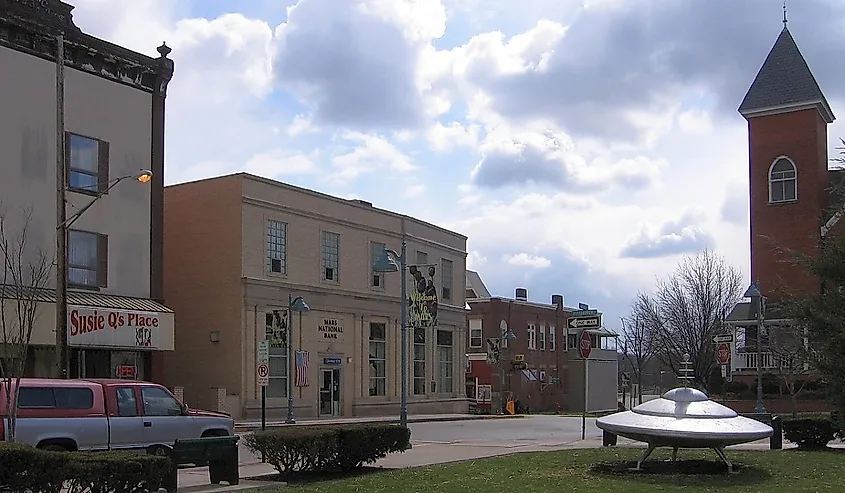 The town of Mars is about 25 miles north of Pittsburgh and was formally established back in the 1880s, though the origin of its planetary name remains unclear. This town of just under 1,500 residents prides itself as an "out of this world" destination, where the locals call themselves Martians. With a number of themed restaurants, shops, and other decorative statues and landmarks, including the famed Flying Saucer, spending time in Mars is always a fun excursion. In addition, visitors can participate in the annual Mars New Year festivities, when the Red Planet completes its rotation around the Sun. With souvenirs galore, there is never a shortage of unique items and memories to be had when in this extra-terrestrial Pennsylvania locale.
Wellsboro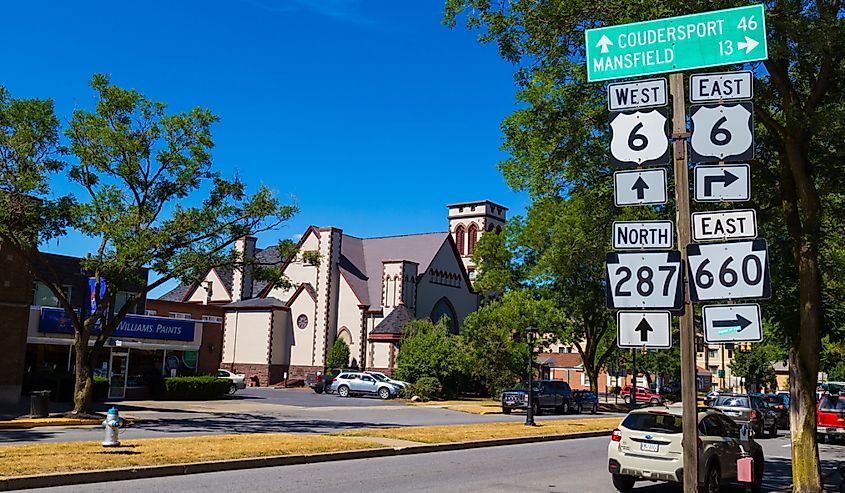 Wellsboro, the seat of Tioga County and incorporated in 1830, maintains a most modest modern population of just under 3,500 inhabitants. Today this historic character is still on display, and visitors will appreciate the number of gas-powered streetlights that continue to populate Main Street. In addition, a number of lovely storefronts, boutiques, and local restaurants all fill in the landscape where Victorian-style architecture features prominently. Meanwhile, at the nearby Pine Creek Gorge, stunning valley views and wondrous forested surroundings make this a must-visit destination. Enjoy biking, hiking, and walking trails, while great views of wildlife round out this natural wonderland.
Bloomsburg
Established in 1797, the college town of Bloomsburg is a beautiful place to spend a weekend where small-town charm, natural beauty, and history all come together. Situated along the Susquehanna River and home to the campus of the Bloomsburg University of Pennsylvania (1839), a lively and welcoming atmosphere awaits all who live and visit here. With an alluring downtown full of galleries, local restaurants, shopping outlets, performance spaces, and parks, Bloomsburg is a comfortable place to explore. With the beautiful river easily accessible, spending time along the water by jogging, biking, and swimming makes a trip to Bloomsburg a perfect place for all ages.
Johnstown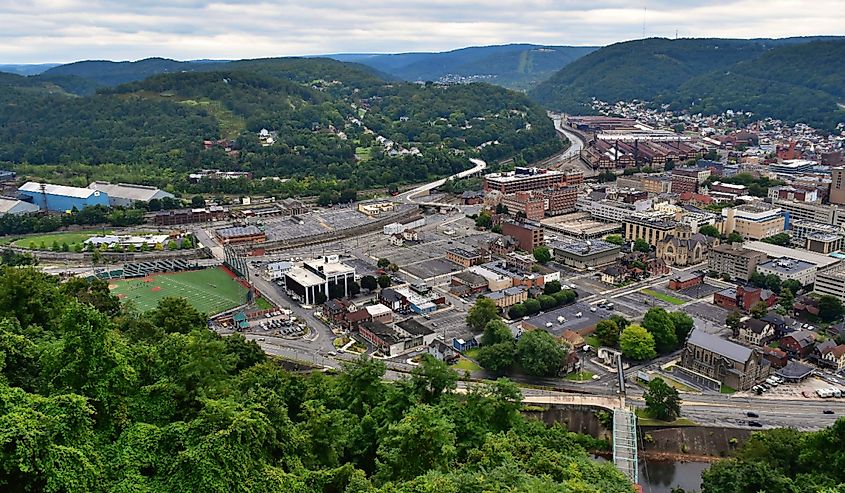 Located about 70 miles from Pittsburgh, Johnstown was founded back in 1800 and is now home to a population of just over 18,000 residents. Known for its rich history and its vibrant arts community, this town is a great place to visit for solo tourists and families alike. Spend time at the nearby Southern Alleghenies Museum of Art, take in a concert from the Johnstown Symphony Orchestra, or enjoy the annual Folk Festival. Here international food, music, dancing, and more are celebrated in a unique and interactive experience. Meanwhile, an afternoon at the Johnstown Flood Museum is a fascinating place to learn more about the devastating 1889 flood and the historic growth of the town and region.
Lititz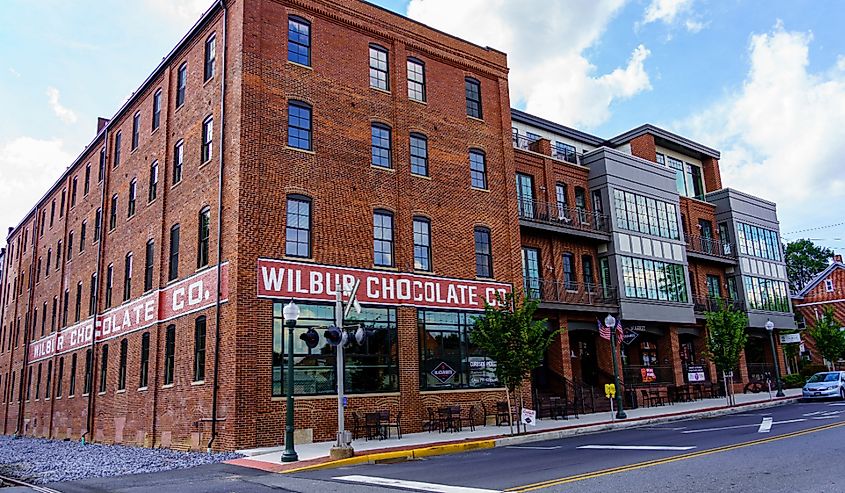 One of Pennsylvania's oldest settlements, the town of Lititz can trace its history to the year 1710. Today this historic town of just under 10,000 residents is a great place to explore America's Colonial past and get acquainted with genuine small-town charm. Home to several preserved 18th and 19th-century buildings and landmarks, including the Sturgis Pretzel House (1861), Lititz gives its visitors authentic encounters with the early United States. In addition, you can enjoy many entertaining festivals throughout the year including the Fire and Ice Festival and the Summer Art Show, bringing together the best of local talent. With its charming local restaurants, cute boutique shops, and welcoming hospitality, even a brief stopover in Lititz will create positive memories for any traveler.
Known as the "Keystone State," Pennsylvania is a land rich in natural beauty and historic significance. Within its picturesque towns, visitors of all ages can enjoy first-hand encounters with stunning natural wonders, fascinating tales of history, and loads of charm only smaller towns can offer. While major cities like Philadelphia and Pittsburgh continue to attract their rightful share of tourism, an excursion to Pennsylvania's small towns provides all the intrigue, fun, and beauty intrinsic to America.