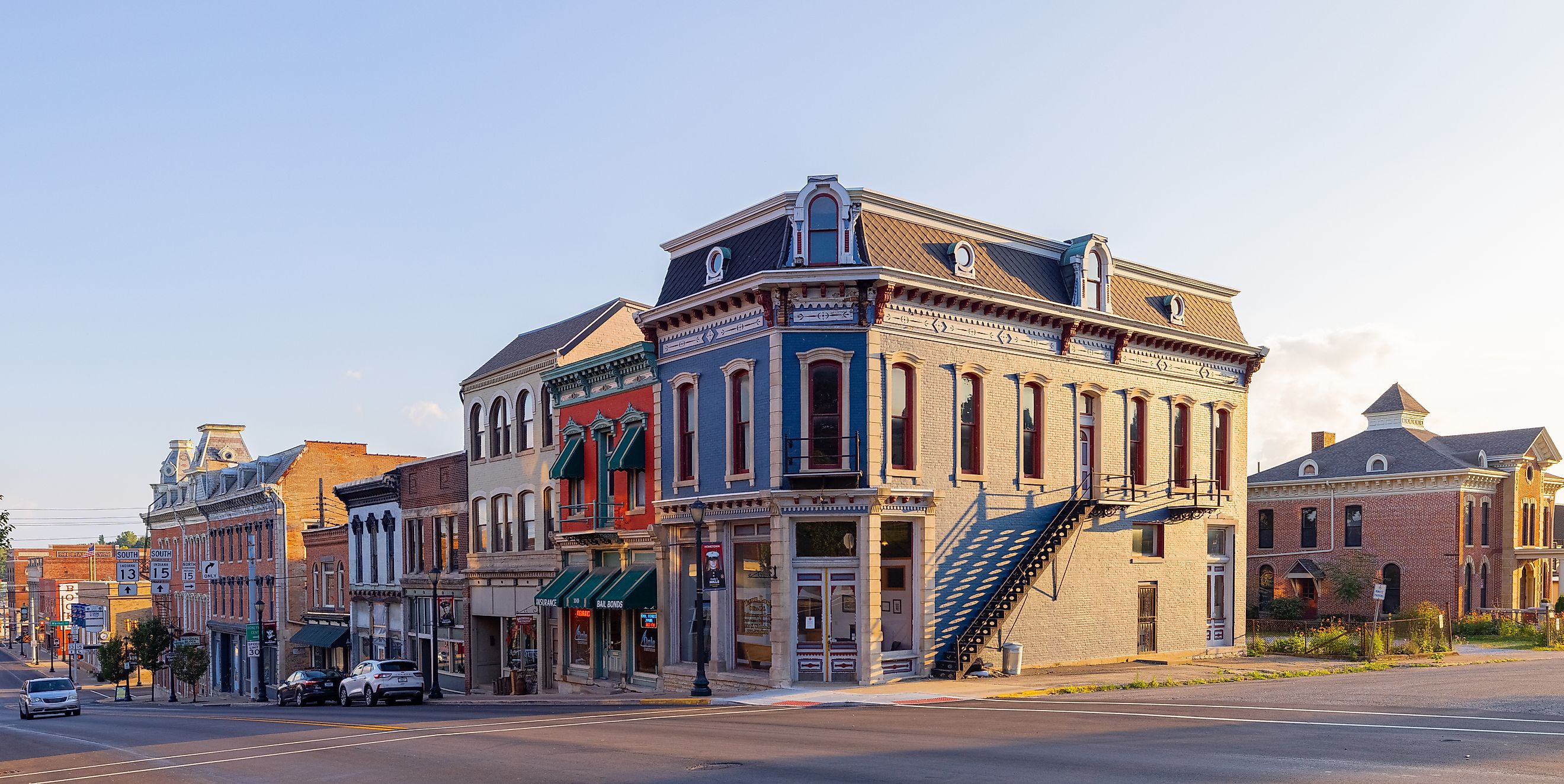 These 8 Towns in Indiana Have The Best Main Streets
Main Streets are one of the most active places in a small town that have been functioning as a critical element in American culture for several decades. Whenever you think of these beautiful main streets in the various small towns of the US, images of tree-lined streets filled with local boutiques, cozy eateries, and cultural places first come to your mind. The following article discusses some of Hoosier State's classic small towns whose vibrant main streets feature an eclectic mixture of historical buildings and modern amenities, attracting thousands of tourists from all over the globe to this magnificent state in the American Midwest.  
Hobart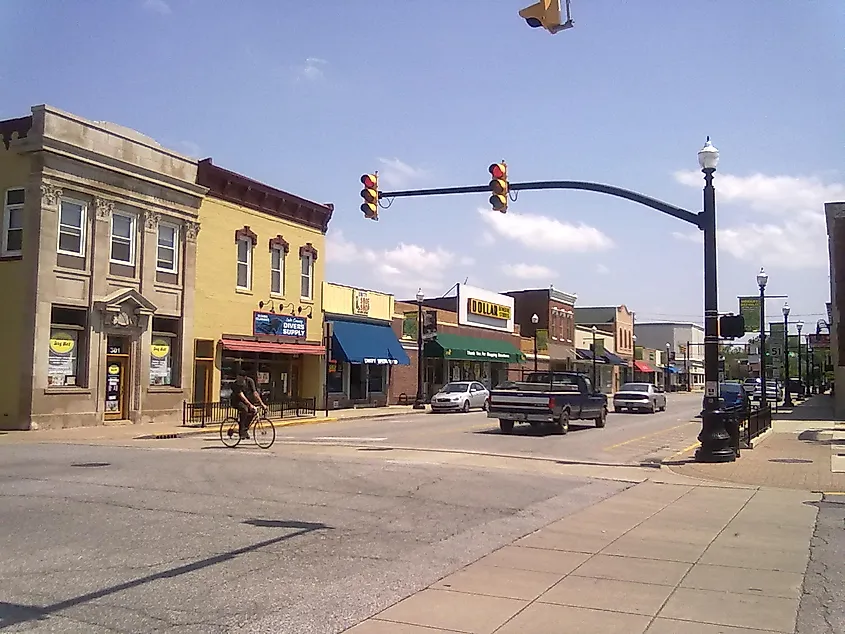 Located about 31 miles southeast of Chicago, this charming town is known for its rich history and culture. Initially platted in 1849 by George Earle - an English immigrant, the town was named after his brother Frederick Hobart Earle, who remained in England. George Earle is also credited for constructing a dam on the Deep River to power sawmills, and the millpond created by the dam's construction was named Lake George. The Hobart Commercial District features several notable buildings like the Verplank Building, Fiester Building, Art Theater, Hobart Post Office, etc. The historic Art Theater hosts many special events all through the year. Lake George is a popular site for boating, fishing, and relaxing by the shores. The lake hosts the annual lakefront in August and the yearly Clocktower Model Boat Race in September. In addition, Hobart has several beautiful restaurants where one can savor various Mexican and Italian cuisines.
Albion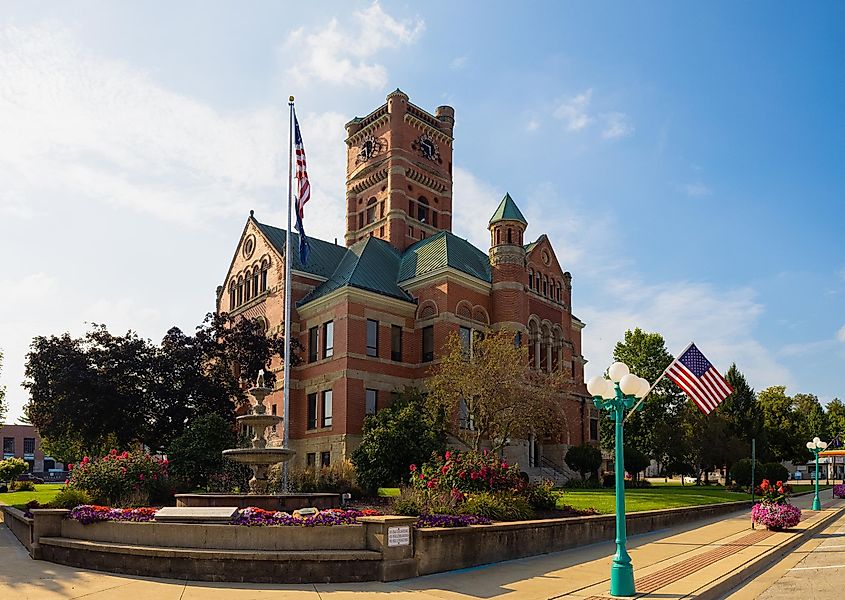 Named after the village of Albion in New York, this beautiful small town forms a part of the Albion and Jefferson townships of Indiana's Noble County. The Albino Courthouse Square Historic District comprises several notable historical buildings, such as the Noble County Courthouse, Albion Town Hall, Noble County Sheriff's House and Jail, St. Mark's Lutheran Church, etc. The S.T.A.R team works tirelessly to maintain the viability and attractiveness of the downtown. At present, the team has added murals on the sides of the buildings and is curating a number of events and festivals for residents and tourists alike.
Franklin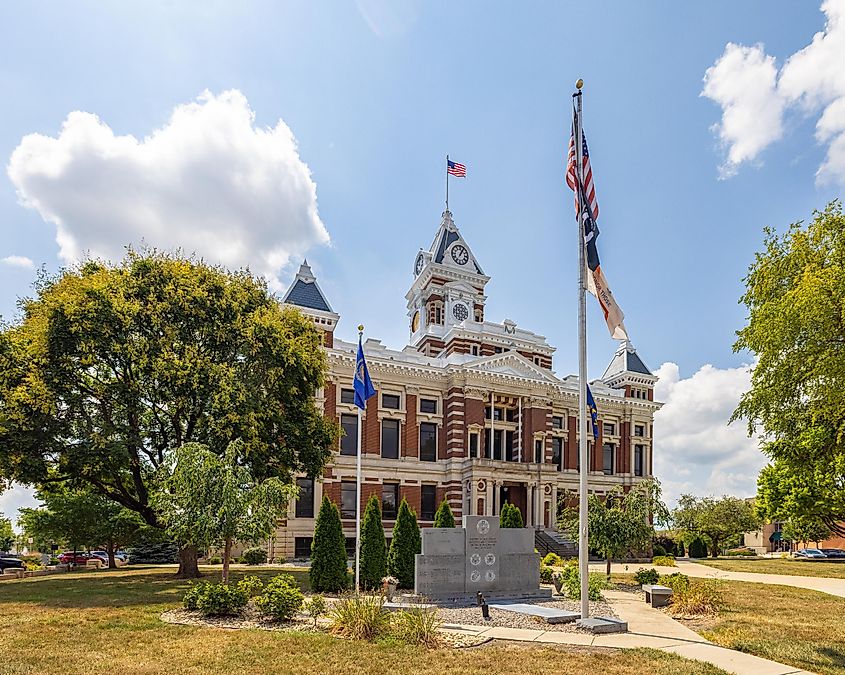 Placed just 20 miles south of Indianapolis and 90 miles north of Louisville, the college town of Franklin is a unique blend of traditions and innovations. Filled with well-maintained old brick homes, landmark Victorian mansions, quaint street shops, and restaurants, Franklin's downtown is indeed one of the special places in Central Indiana. Some of these historical buildings include the Johnson County Courthouse Square, Bethel African Methodist Episcopal Church, Johnson County Museum of History, etc. Several miles of walking trails that link major areas are well-maintained by the Franklin Parks and Recreation Department. Moreover, Franklin College, which attracts thousands of students annually every fall, also hosts many art and athletic events for the residents to participate in, ushering in a vibrant energy for the downtown community.
Wabash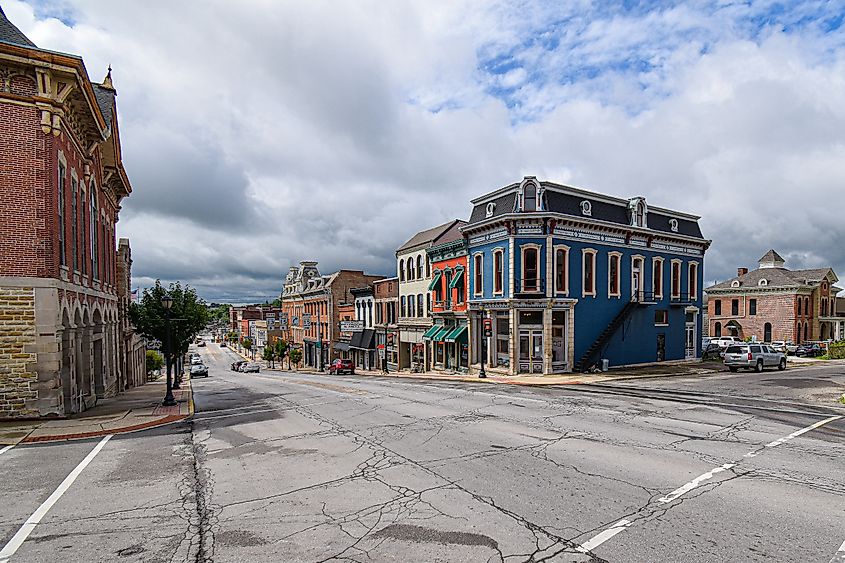 This charming town is located approximately 45 miles west-southwest of Fort Wayne, along the Wabash River in the Noble Township of northeastern Indiana's Wabash County. Platted by Col. Hugh Hanna and Col. David Burr in 1834, the town's name has been derived from the native Irenwa term, which means "water over white stones." Wabash is home to many architecturally unique historic buildings like Eagles Theatre, Wabash County Courthouse, Wabash County Historical Museum, Solomon Wilson Building, Honeywell Memorial Community Center, Paradise Spring Treaty Grounds, and Historical Park, etc. Moreover, there are several retail stores, Charley Creek Inn Boutique Hotel, and recreational areas along the Salamonie and Mississinewa Lakes where one can enjoy fishing, boating, camping, and outdoor sports.
Madison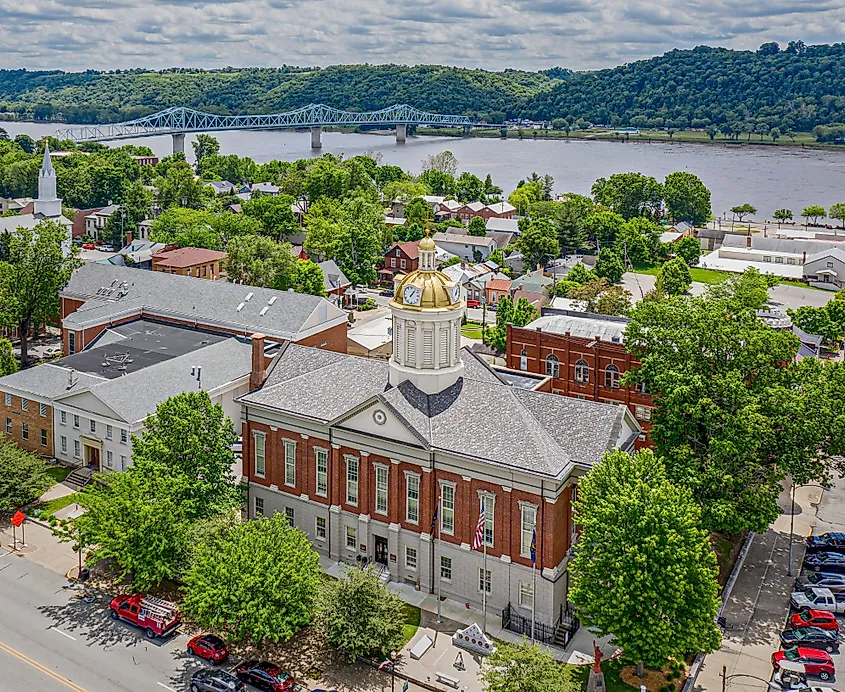 Scenically placed along the northern banks of the Ohio River, the county seat of Indiana's Jefferson County is an ideal destination for an adventurous excursion or a relaxing weekend trip. A significant portion of Madison's downtown area has been designated as a National Historic Landmark District, featuring numerous historical buildings, each with unique architectural styles. Some of these well-known historical buildings include Jefferson County Jail, Charles L. Shrewsbury House, Lanier Mansion, Crawford-Whitehead-Ross House, etc. In addition, public parks, cozy cafes, retail stores, and annual festivals like the Chautauqua Festival of Art and the Madison Regatta attract a lot of visitors.
Corydon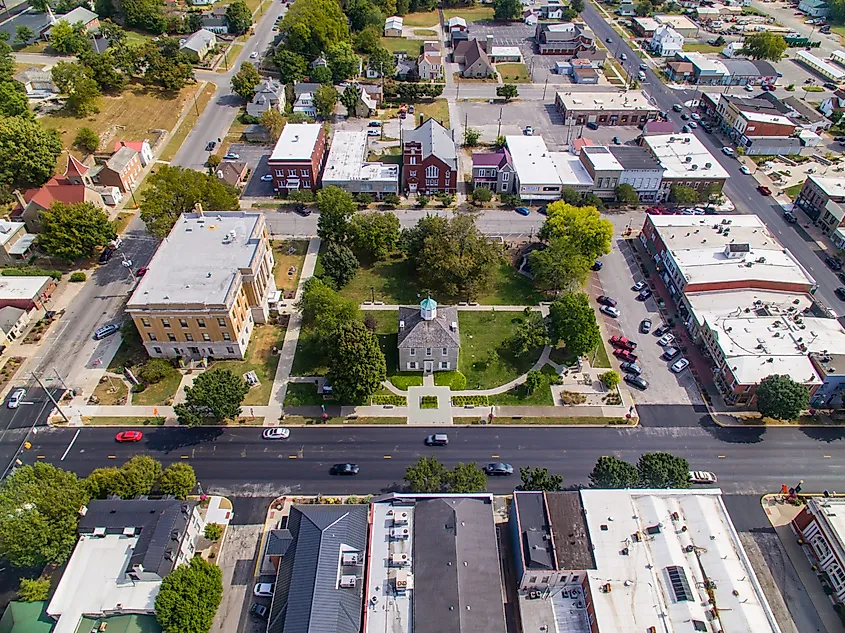 The former capital of the Indiana Territory, this small town located in the state's extreme southern part is full of historical charm. A portion of its downtown area has been listed in the National Register of Historic Places as the Corydon Historic District, which contains a number of historical structures as well as many commercial and residential buildings, including the Old Capitol Building, Governor Hendrick's Headquarters, Kintner-McGrain House, Constitution Elm Memorial, Old Treasury Building, etc. Moreover, Corydon also served as the site of Indiana's sole formal pitched battle during the American Civil War. Nevertheless, all these historical sites and events have made Corydon a prominent tourist destination in southern Indiana. Visitors are also drawn to the many events held in the town, including the Harrison County Fair, Halloween Parade, and bluegrass music performances.  
Angola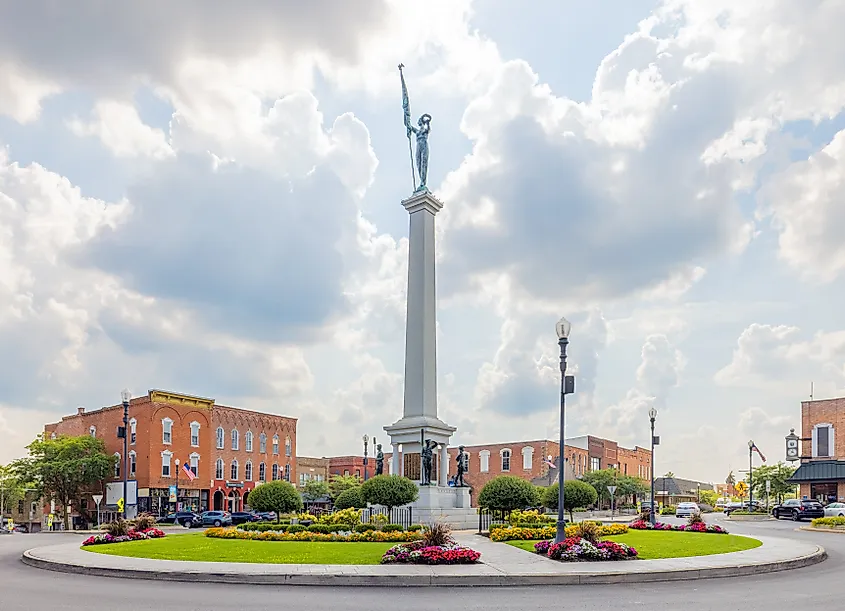 Named after the village of Angola in New York, this beautiful town forms a part of the Pleasant Township of Indiana's Steuben County. The most well-known landmark in the town is downtown Angola's traffic circle, nicknamed "The Mound," which features a central Monument dedicated to those who served in the American Civil War. The Angola Commercial Historic District contains a number of notable historical buildings, including the Steuben County Courthouse, Angola City Hall, Steuben County Jail, First Congregational United Church of Christ, Angola Masonic Building, etc. In addition, tourists can also browse through the several shopping and dining spaces, take part in annual events, and visit state parks for spending quality time.
Aurora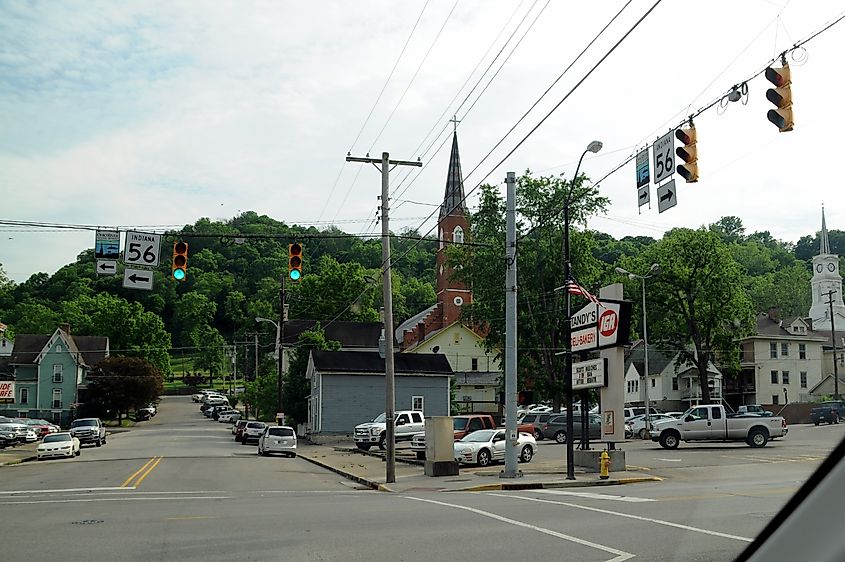 Named after 'Aurora' – the Goddess of Dawn in Roman mythology, this historic river town along the Ohio River and the North Hogan Creek is located approximately 35 miles west of Cincinnati, in the Center Township of Indiana's Dearborn County. Platted in 1819 by Jesse Holman – a native attorney and statesman, and formally incorporated in 1848, Aurora is well-known for its historic downtown area and the embellished Hillforest mansion, which served as the residence of the noted industrialist and financier Thomas Gaff. In addition to the Hillforest Mansion, other notable historic buildings in downtown Aurora include Aurora City Hall, First Evangelical United Church of Christ, Aurora Methodist Episcopal Church, Leive, Parks and Stapp Opera House, etc.
The town's captivating Main Street, which features these well-preserved historical buildings with various architectural styles, attracts hordes of history and architecture enthusiasts from all over the globe. Moreover, on Aurora's Main Street, one can also find several restaurants and small breweries to spend some relaxing time and gorge on lip-smacking dishes. 
Indiana is home to a number of small towns, but these eight towns have the most beautiful main streets that attract residents and tourists alike. With several historical structures, art galleries, shopping stores, dine-in restaurants, and unique annual events, these main streets have something for everyone. So, whether you are searching for a place In Indiana to enjoy a relaxing and fulfilling vacation, remember to include these small towns in your itineraries.