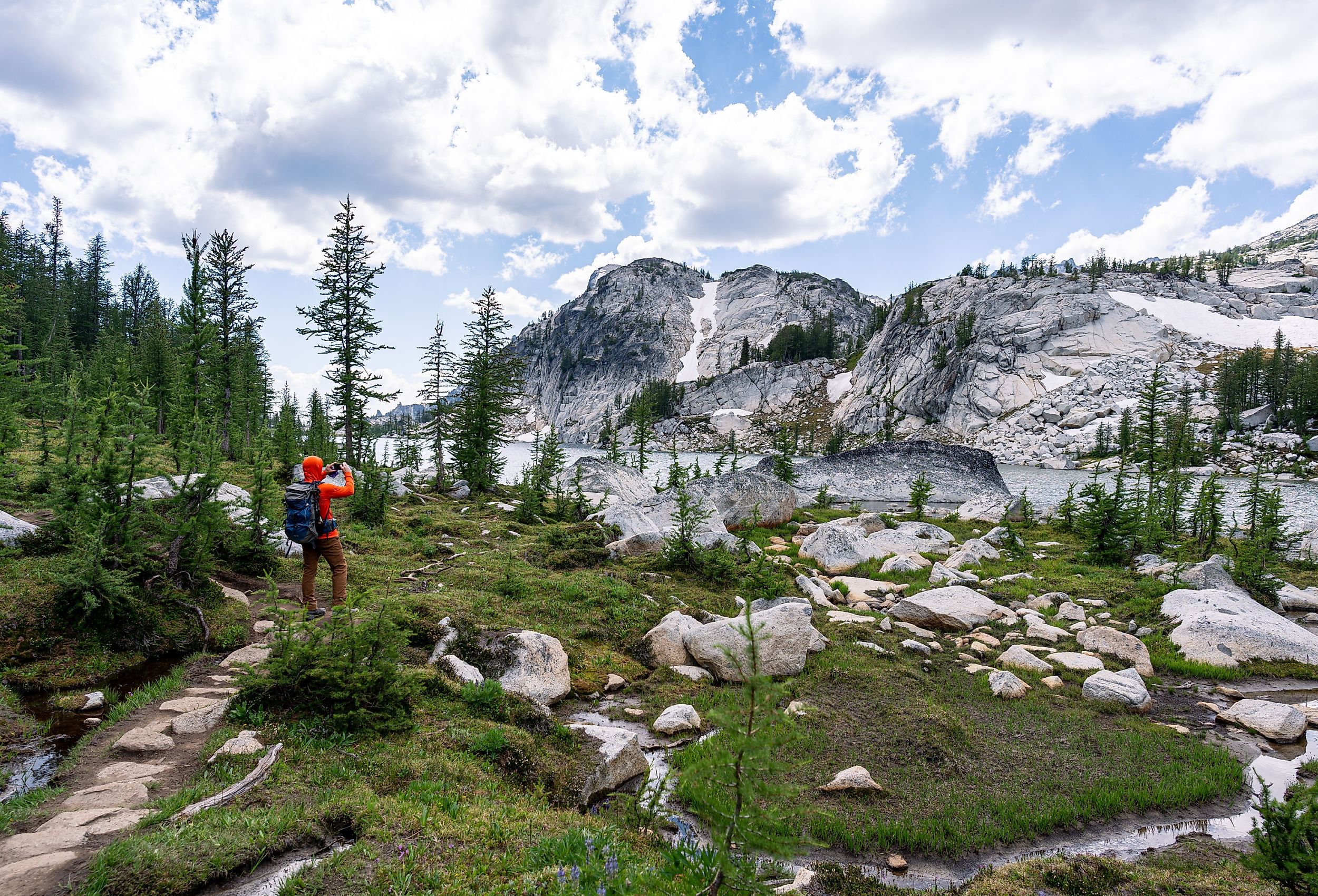 The Best Small Towns in Washington To Chill Out
Washington is famous for its majestic natural beauty and tucked within its varied terrains are some of the finest small towns to get away from the city's bustle. If in search of a peaceful hideaway surrounded by delightful lakes, rivers, mountains, and state parks, look no further than these eight small towns. In Leavenworth, tourists can enjoy the beguiling Bavarian village aura amidst the backdrop of the Cascade Mountains. Poulsbo, known as "Little Norway," flaunts a picturesque waterfront, while Sultan provides access to the spectacular Cascade Mountains. Each town possesses its own unique appeal and natural marvels to investigate. Travelers can take on this voyage and delve into what sets these small towns apart, making them the ideal places in Washington to relax.
Leavenworth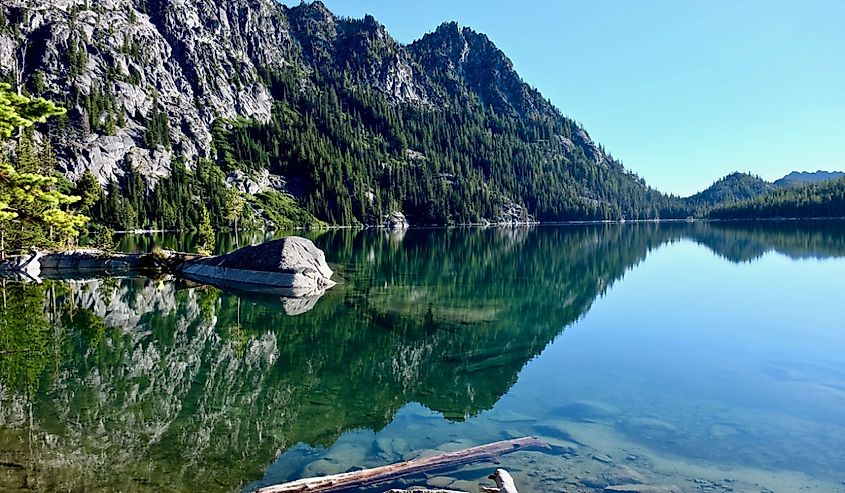 Leavenworth is a diminutive town that exudes an unmistakable Bavarian allure amidst the majestic Cascade Mountains. Reformed into a Bavarian village in the 1960s, Leavenworth captivates visitors with its Alps-influenced architecture, vivid storefronts, and traditional galas. Ambling through the town's streets, visitors might feel as though they have teleported to a quaint European village! The adjoining natural loveliness adds to its attraction, with the Wenatchee River winding close and snow-capped summits as a backdrop. One of the highlights of Leavenworth is the lovely Lake Wenatchee State Park, proffering opportunities for swimming, boating, hiking, and camping. The park's sandy beach and tranquil waters create a flawless milieu for restfulness and family enjoyment. For nature fans, neighboring actions include whitewater rafting, skiing, and snowboarding. Imbibe oneself in Leavenworth's unique blending of Bavarian civilization and amazing natural surroundings. From the sweet shops and appealing cafes to the scenic loveliness that encompasses the town, Leavenworth is a small-town gem worth investigating.
Friday Harbor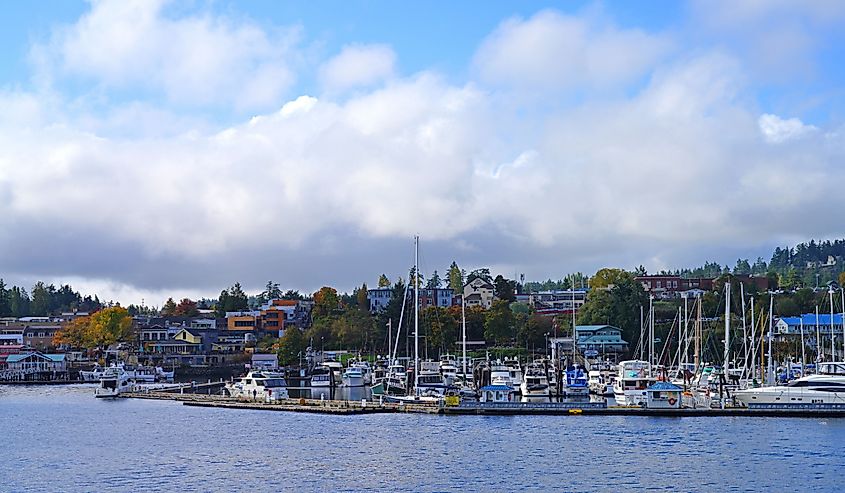 Friday Harbor, located among the picturesque San Juan Islands, is an oasis of serenity and natural beauty. Accessible by ferry, this small village offers a refuge from the mainland's hectic atmosphere. Surrounded by the glimmering waters of the Salish Sea, Friday Harbor boasts spellbinding coastal scenery and a vibrant aquatic system. One of the town's foremost attractions is Lime Kiln Point State Park, nicknamed the Whale Watch Park. This park affords a prime spot to behold the astounding spectacle of orcas moving through the waters. It is a rare opportunity to observe these regal animals in their native environment. Apart from whale watching, Friday Harbor offers an array of outdoor pursuits such as kayaking, cruising, and angling. The town itself houses delightful shops, art galleries, and waterfront eateries that serve delectable seafood dishes. Whether seeking seclusion on sandy beaches, would like to investigate the abundant marine life, or relax in the island's tranquil atmosphere, Friday Harbor is a delightful destination to unwind and disconnect.
Langley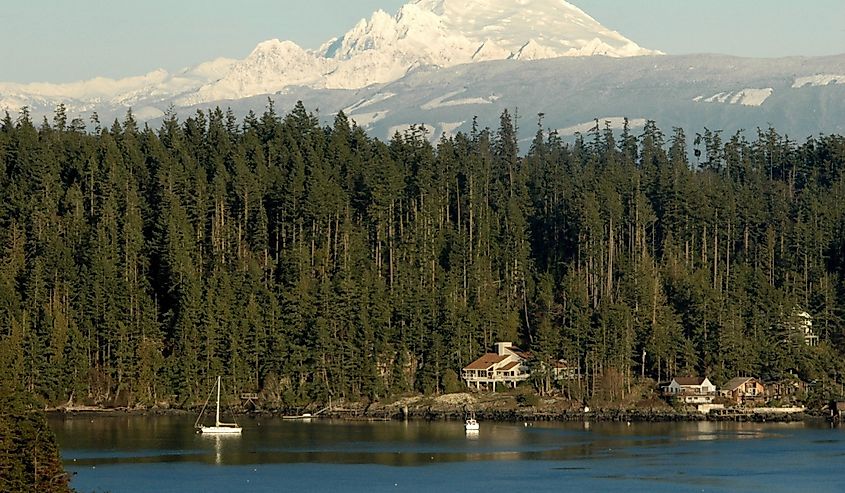 Settled on the southern extremity of Whidbey Island, Langley allures sightseers with its coastal grace and artistic ambiance. This small municipality presents spectacular vistas of Puget Sound and the snow-capped Olympic Mountains. Meandering through Langley's central district uncovers a thriving creative realm, with many galleries, workshops, and stores exhibiting local talent. Art admirers can savor pottery, pictures, sculptures, and other singular inventions. The village's energetic art scene also sponsors periodic occurrences and festivals that extol imagination. In terms of natural loveliness, Langley does not disappoint. Indulge in a tranquil stroll along Seawall Park, where walkers can revel in sweeping views of the Sound and recognize fauna like seals and eagles. For a more daring experience, commence a whale-watching expedition to behold orcas, humpback whales, and other aquatic creatures. Langley's blend of artistic panache, awe-inspiring coastal landscapes, and a vibrant local atmosphere make it an ideal small town to recline and relax in.
Port Townsend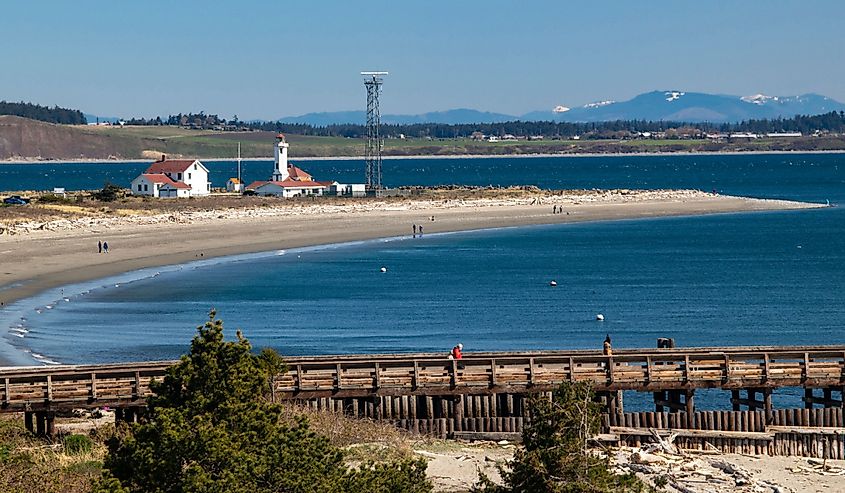 Perched on the northeastern corner of the Olympic Peninsula, the charming city of Port Townsend is famous for its intact 19th-century dwellings and its lively cultural atmosphere. A peaceful amble through the core of the town will reveal plenty of art galleries, flea markets, and restaurants. The affluent nautical antiquity of this village shows in the many dockyards and the boisterous Port Townsend Wooden Boat Festival. Nature lovers will welcome the proximity of the state parks and wild reserves. Fort Worden State Park, with its sandy beaches, wooded walking trails, and sweeping views of the Strait of Juan de Fuca, furnishes a profusion of outdoor adventures. The park also shelters the Port Townsend Marine Science Center, where people can get knowledge of the marine surroundings. Whether discovering the town's old construction, submerging oneself in its animated art area, or venturing into the wilderness, Port Townsend offers an amalgamation of cultural activities and natural magnificence.
Poulsbo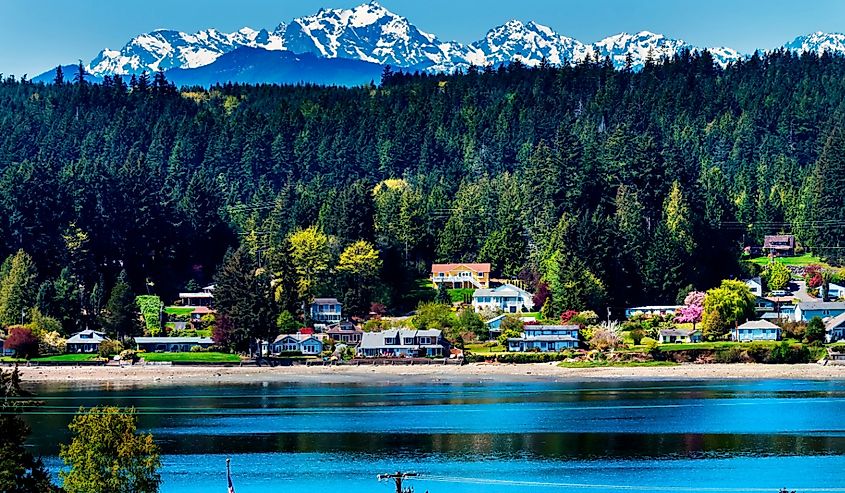 Dubbed "Little Norway," Poulsbo is a tiny hamlet situated on the Kitsap Peninsula, a brief ferry trip away from Seattle. The town's Scandinavian roots are unmistakable in its architecture, customs, and inviting climate. Exploring Poulsbo's downtown, delightful storefronts are waiting for travelers, dainty boutiques, and Norwegian-inspired patisseries. The waterside promenade offers absorbing perspectives of Liberty Bay and the nearby mountains. One of Poulsbo's remarkable attractions is the Poulsbo Marine Science Center, where visitors of any age can study the region's marine life through interactive showcases and educational activities. For outdoorsmen, nearby Olympic National Park awaits its various terrains, including old-growth forests, jagged coastlines, and lofty mountains. Whether strolling through the town's Scandinavian-themed lanes, trying out traditional pastries, or adventuring outdoors, Poulsbo has a special combination of cultural heritage and natural beauty sure to please.
Sultan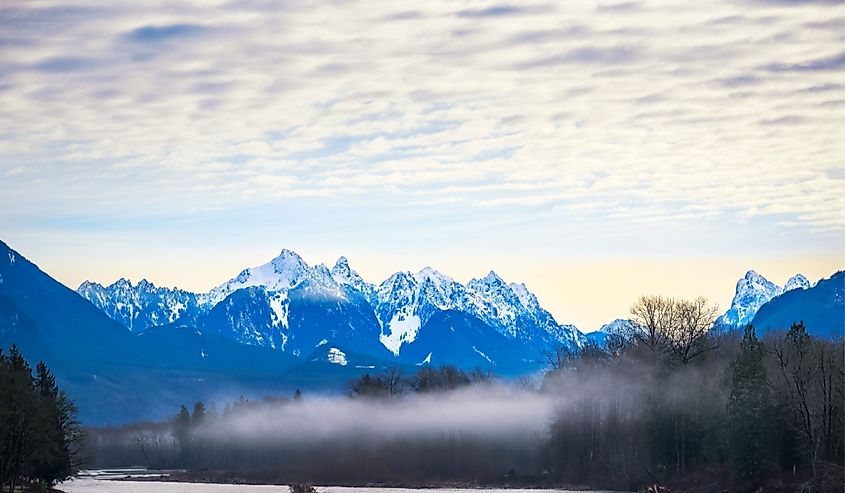 Ensconced in the Skykomish River Valley, Sultan acts as an access point to the gorgeous Cascade Mountains. This diminutive town has many verdant woodlands around, pristine waterways, and formidable peaks, proffering connoisseurs of nature an optimal sanctuary. Sultan is an adventurer's heaven, furnishing admission to a myriad of leisure activities. The proximate Wallace Falls State Park exhibits glorious cascades, picturesque footpaths, and chances for hiking, angling, and picnicking. The Sultan River Canyon Trail is another favorite, presenting breathtaking sights as it meanders through the river canyon. For those in search of an intense episode, white-water rafting on the Skykomish River is a daring try. Besides its wonder of Nature, Sultan's tight-knit community and village atmosphere fashion a hospitable milieu for visitors. Investigate native shops, partake in cozy restaurants, and savor the town's accommodating hospitality. Whether embarking on outdoor exploits or searching for a serene sabbatical, Sultan offers a tranquil refuge in nature's arms.
Hockinson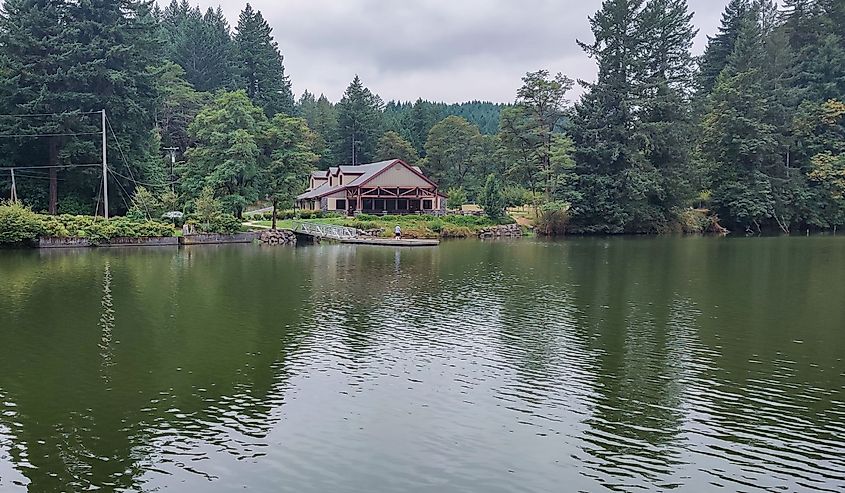 Hockinson, situated in Clark County, presents a serene escape from the tranquil countryside of Washington. This modest hamlet is famous for its picturesque panoramas, meandering hills, and an aura of peace that floats in the air. Nature aficionados will find comfort in the nearby Lacamas Lake Regional Park, which provides chances for hiking, fishing, and sailing. The park's spectacular lake, surrounded by exuberant forests, is a concealed jewel ideal for a day of repose. Hockinson also is the site of many equestrian centers, making it an ideal destination for horse devotees. Saddle up and discover the scenic pathways that loop through the countryside, proffering spectacular views along the way. The town's tight-knit people add to its attractiveness, with regional events and farmers' markets showcasing the region's rural legacy. For a tranquil escape into nature's embrace, Hockinson provides an impeccable small-town vacation.
Allyn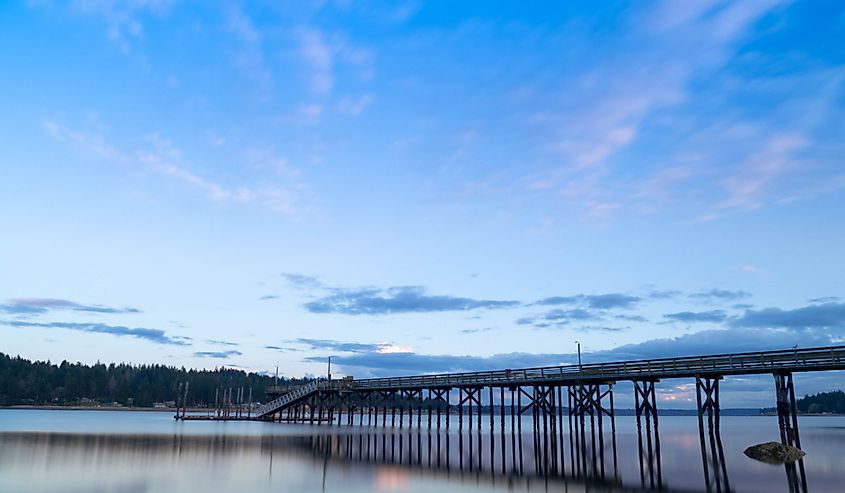 Poised on the picturesque Kitsap Peninsula, Allyn is a small community that entices voyagers to unwind and revel in its waterfront gorgeousness and outdoor activities. Perched along the edges of Case Inlet and encircled by thick forests, Allyn proffers a tranquil refuge from the boisterous city life. Water fanatics will appreciate the town's best spot for sailing, angling, and crabbing. With easy access to the waters of Puget Sound, Allyn is an Eden for those seeking aquatic escapades. The close-by Twanoh State Park is a verdant refuge, boasting an immaculate beach, plush hiking pavements, and breathtaking perspectives of the Olympic Mountains. Whether enjoying a picnic on the littoral, traversing the park's tracks, or watching wildlife, Twanoh State Park offers a serene backdrop.. Allyn's tight-knit society and little town appeal supplement its attraction. Go to the local shops and eateries, and experience the friendly hospitality of the dwellers.
Conclusion
Washington is home to several remarkable small towns excellent for a calming vacation, each providing its distinct mix of picturesque views, cultural profundity, and outdoor fun. Leavenworth hypnotizes with its German beguilement and spectacular mountain vistas, while Friday Harbor entices holidaymakers to submerge themselves in isle stillness and ocean happiness. Langley beguiles with its creative vibes and seafront places, while Port Townsend flaunts its Victorian port ancestry and lively arts scene. If searching after an escapade in the hills, quietness next to the water, or cultural encounters in lovely village centers, these eight small towns in Washington give the ideal opportunity to rest and restore. Pick one of these small towns and enjoy their natural splendors before moving onto the next one!