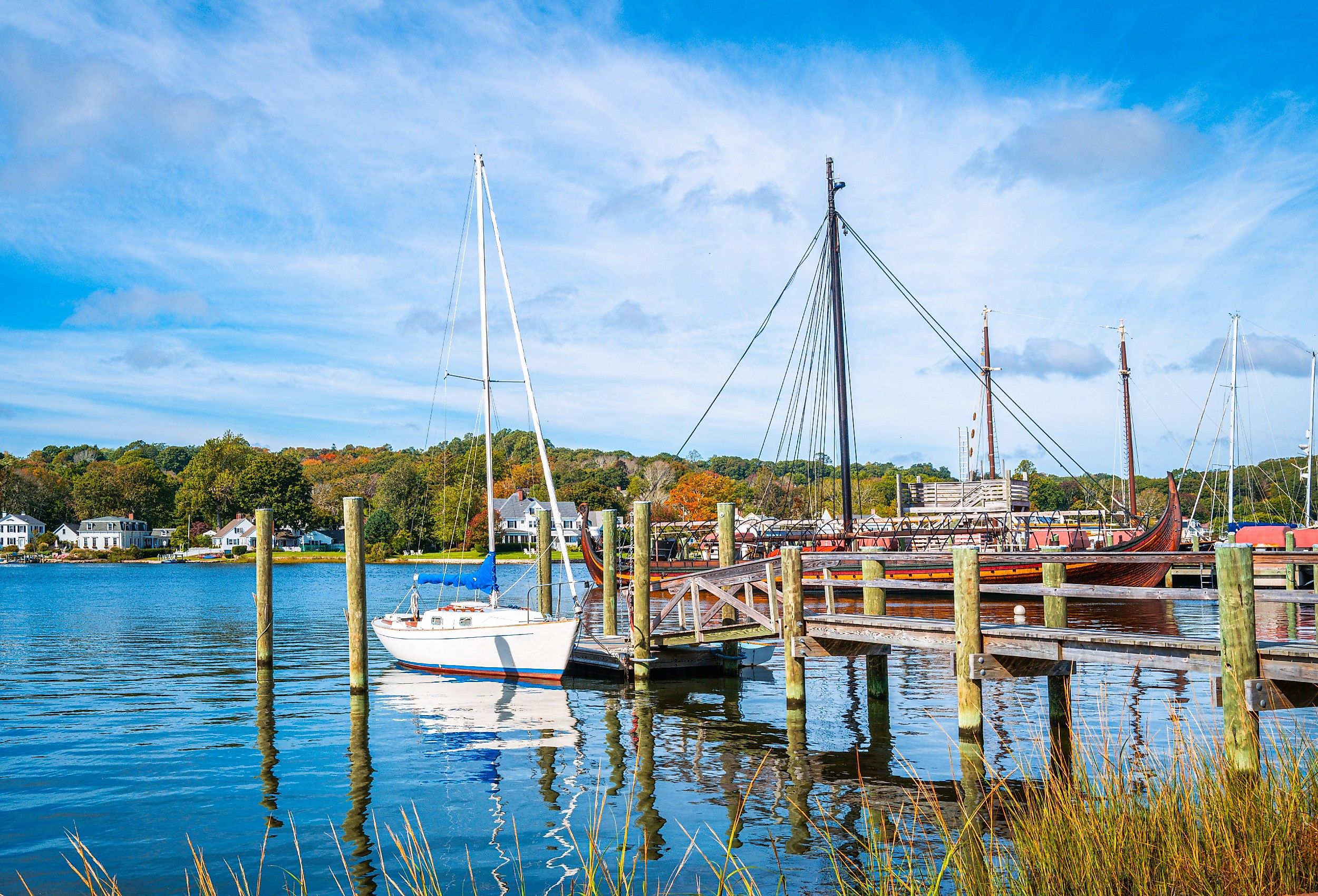 The Best Small Towns In Connecticut To Chill Out
Located at the southern end of America's New England region, Connecticut is filled with amazing sights and attractions. With more than 3.5 million residents and more coming each year, the state is home to amazing communities all over.  Apart from this, Connecticut is filled with natural beauty ranging from stunning autumn scenery to massive rolling hills that give the entire state a peaceful vibe. To top it off, the food is amazing, making it an ideal spot for any vacation. That being said, Connecticut is also home to many hidden gems in the form of small towns perfect for chilling out.
Mystic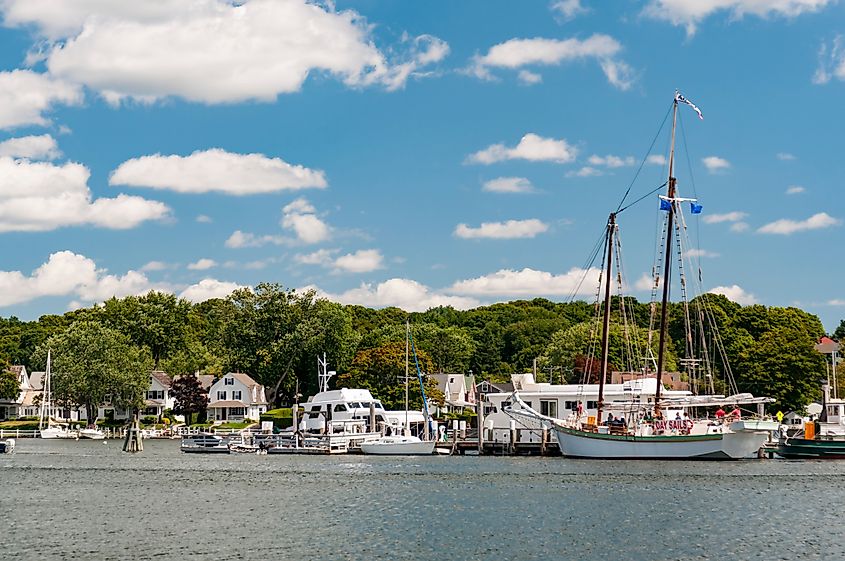 Starting off the list with a bang, Mystic is one of the most beautiful small towns in Connecticut. The town is located in New London County and houses a quaint population of 4,200. However, what makes Mystic special is its beautiful history coupled with natural beauty. This is because the town was once the state's most important seaport with hundreds of ships built there. To this end, there is ample maritime history present no matter where you go. One of the most prominent locations to take in this part of the town is the famous Mystic Seaport Museum. This is one of the country's best maritime museums, housing more than 60 historic buildings and dozens of exhibits. The site is also home to many sailing ships and boats from the 19th century! Taking a different approach to history, Mystic is also home to the Mystic Museum of Art. This museum was built in 1913 and offers a unique take on famous artists presenting 200+ works of local art!
After indulging in Mystic's iconic history, it is time to move to Mystic's present beauty. Situated along Connecticut's southern coast, the town is full of aquatic attractions and things to do. Animal lovers will want to visit the Mystic Aquarium, which is home to some of the best marine exhibits in the country. Visitors can interact with and watch beluga whales, sea lions, coral reefs, sharks, and more! For a more first-hand experience with the water, take a walk to DuBois Beach. This beach is nearby and has some of the most stellar oceanic views in the region. It is also home to gazebos, jetties, and more for a fun day out with friends or family. After spending the day in the sun, cap it off with some shopping at the Olde Mistick Village. This unique shopping mall offers an old-timed setting with amazing food, drinks, and stores. Grab a bite, buy a souvenir, and end the trip to Mystic right!
New Canaan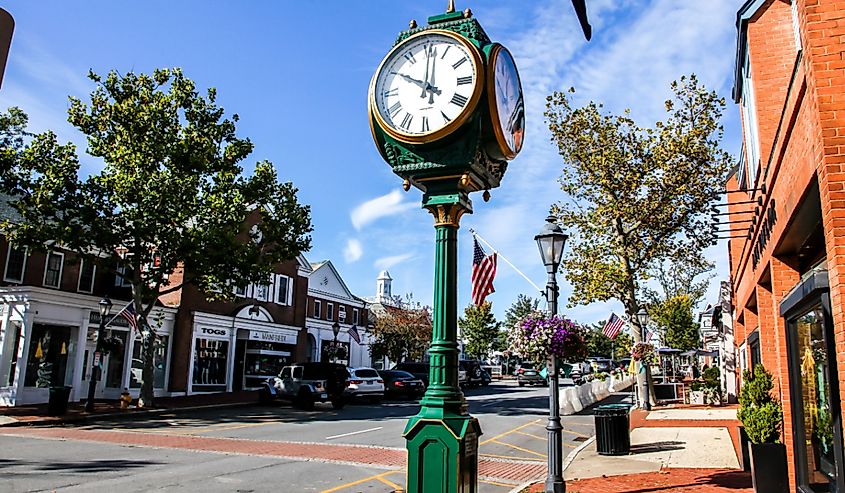 Nestled along the western border of Connecticut, New Canaan is a lovely town home to 20,000 people. The town is known for having a peaceful vibe, making it an ideal getaway from urban hustle and bustle. One of the best places to take in this atmosphere is at the Mead Memorial Park. This park houses a plethora of recreational activities ranging from tennis to ice skating and much more. It is the ideal area to relax with friends and family and have a good time. That being said, while the town may be peaceful, it also features some artistic sights. One such attraction is the Glass House Museum. This simple house is built almost entirely of glass, and offers some interesting takes on art, architecture, and space. If wanting to purchase some art, head to the Sorelle Gallery Fine Arts which both showcases and sells fine pieces of art!
After taking in the town's artistic beauty, it is time to check out the town's beautiful natural sights. With an area of more than 22 sq. miles (57 sq. km.), New Canaan is filled with loads of amazing parks and reserves. The Silvermine-Fowler Preserve, Waveny Park, and Colhoun Preserve are just some of the amazing spots nearby. The Silvermine-Fowler Preserve, for example, is flush with many scenic trails that lead throughout different areas of the town. Similarly, Waveny Park provides visitors with acres of beautiful fields, ponds, and more for an enjoyable time in the sun. Nature enthusiasts are bound to enjoy New Canaan for both adventure and chill time! 
Kent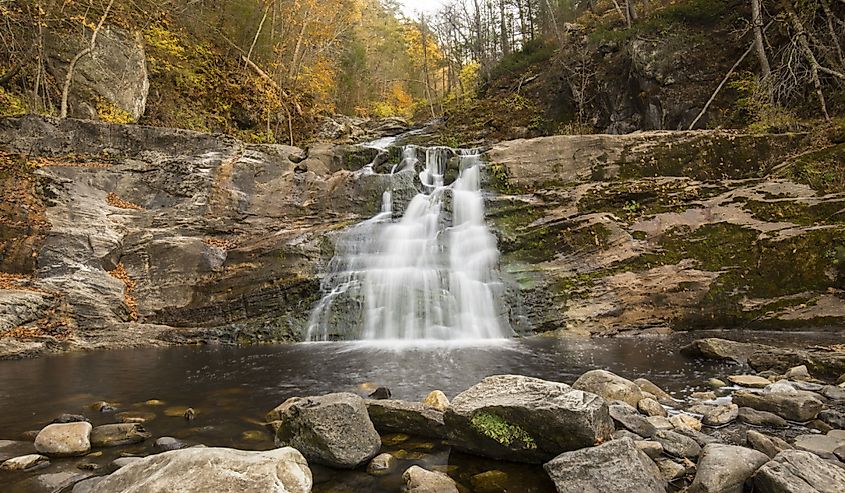 For visitors wanting to enjoy Connecticut's natural beauty and outdoor activities, Kent is one of the best towns to visit. Nestled along the New York border, this town is home to 3,000 people and is filled with greenery, wildlife, and charm. One of the most beautiful sights in particular is Kent Falls State Park. Home to 300+ acres of preserved land, this park's prime attraction is a cascading waterfall that runs for nearly a quarter mile! The park is also filled with trails; tourists can follow the waterfall and take in one of the most scenic walks in the state. For a more active experience, check out the Macedonia Brook State Park. This park has an area of 2,300 acres which is filled with forests, mountains, streams, and more. Testament to this, it offers many recreational options such as fishing, picnicking, skiing, and more! Enjoy the great outdoors in quaint Kent!
Apart from natural sights, Kent's 50 sq. mile (129 sq. km.) area is also rich with history and culture. Incorporated in 1739, the town is filled with buildings from the time period. The Kent Historical Society is a great place to witness this as it is home to many exhibits and furnishings such as the Seven Hearths home. This home was originally built in 1751 making it nearly three centuries old! To learn about the town's development, check out the Connecticut Antique Machinery Association. This museum preserves incredible machinery that is hundreds of years old and tells the story of the region's development. After taking in these amazing sights and their story, stop by Kent Falls Brewing and end the day with a famous local beer.
Monroe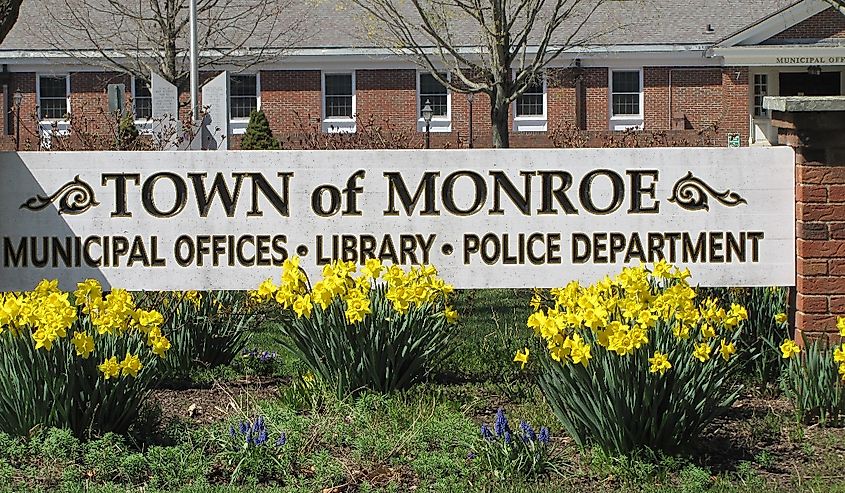 Home to 19,000 people, Monroe is a charming small town in Fairfield County, Connecticut. The town is famous for its rich history, natural beauty, and spooky sights! Monroe is home to some scary attractions ideal for any fans of horror. Two of the most prominent places to freak you out are the famous Warren's Occult Museum and the Stepney Cemetery. The Warren's Occult Museum was developed by ghost hunters Edward and Lorraine Warren, on whom "The Conjuring" movie is based. These famous demonologists developed a large ghost-hunting group and housed many spooky artifacts in this museum. To this end, tourists can find everything from cursed dolls to Ouija boards here, making it perfect for any horror enthusiast. For a more sober experience, Stepney Cemetery is a large cemetery home to more than 1,400 bodies. The cemetery has been around since the 1700s and is known for its unique history and eerie vibe.
If horror is not of interest, there is no need to worry as Monroe has plenty more to offer. With an area of 26 sq. mi. (68 sq. km.) the town has an abundance of natural sights which are famous in the state. Webb Mountain State Park is a prime example, boasting 135 acres of pristine land. The park houses many hiking trails, forests, and more for a great time in the outdoors. Located nearby is the Webb Mountain Discovery Zone which offers a learning experience in the natural sights. Visitors will see many kids learning about wildlife, plants, nature, and more. If looking to find some waterside view to enjoy, take a trip to the Great Hollow Lake. This 16-acre lake is home to shallow water, perfect for swimming, fishing, and relaxing. All in all, no matter what interests visitors, there is something for all in Monroe, making it ideal locale to chill out.
Madison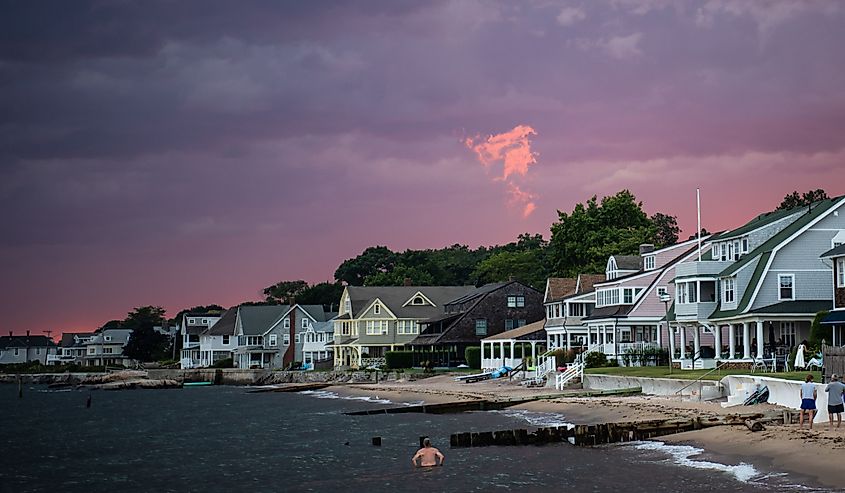 Madison is a waterside town located on Connecticut's Long Island Sound shoreline. The town is home to approximately 17,700 people and offers a relaxing, small-town vibe that is sure to charm. This is because the town is known for its beautiful downtown area filled with lovely streets, gift stores, cafes, restaurants, and beyond. Take a stroll down these alleys and take in the New England-style buildings on both sides! Moreover, with fresh seafood prepared straight from the ocean, delicacies such as clams and lobster are plentiful in Madison. For some highly recommended seafood in the area, check out Lenny & Joe's Fish Tale, a large restaurant offering some of the best seafood in New England.
After having spent the day perusing the streets, set some time aside to take in Madison's natural scenery. The town has a wide range of pristine beaches which are perfect for visiting with friends and family. For example, the Hammonasset Beach State Park is a stunning recreational area with two miles of beachfront. Here, visitors can enjoy swimming, hiking, fishing, and more for an evening in the sun! Similarly, the Shoreline Greenway Trail is another popular attraction as this biking and walking trail runs through the city. It is about a mile in length and travelers can spot many birds, scenic landscapes, and more!
Washington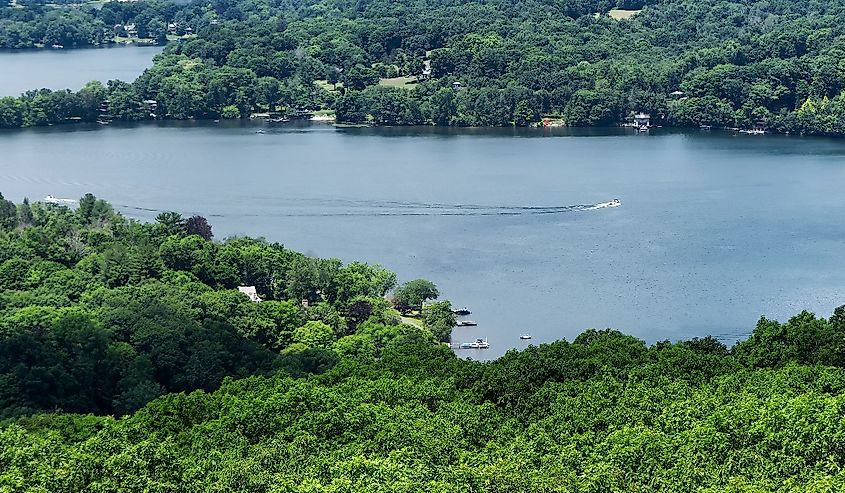 Sharing its name with America's capital city, Washington, Connecticut is a laid-back town in Litchfield County. Home to less than 4,000 people, this town is known for its picturesque views, historic buildings, and cultural significance. When it comes to the town's natural surroundings, Lake Waramaug is a premier place to visit. This lake is encompassed by a state park and offers opportunities for swimming, fishing, and boating. Moreover, with 77 sites and RV capabilities, it is the perfect place for a weekend outdoors. Apart from the lake, Washington is also located along the Shepaug River, which offers some lovely sights and walking trails for the perfect day out.
Washington is also filled with amazing historic sites and posesses a rich past. Incorporated in 1779, the town has been through various notable events which are visible today through museums, houses, and more. For a comprehensive experience, visit the Washington Green Historic District. This area is located around the Congregational Church and showcases dozens of buildings with Georgian, Greek Revival, and Italianate architectural styles. Most of these buildings are from the 18th and 19th centuries, offering a blast from the past in the middle of town. Similarly, visitors can check out other areas such as the Sunny Ridge Historic District and New Preston Hill Historic District to take in Washington's unique charm.
Essex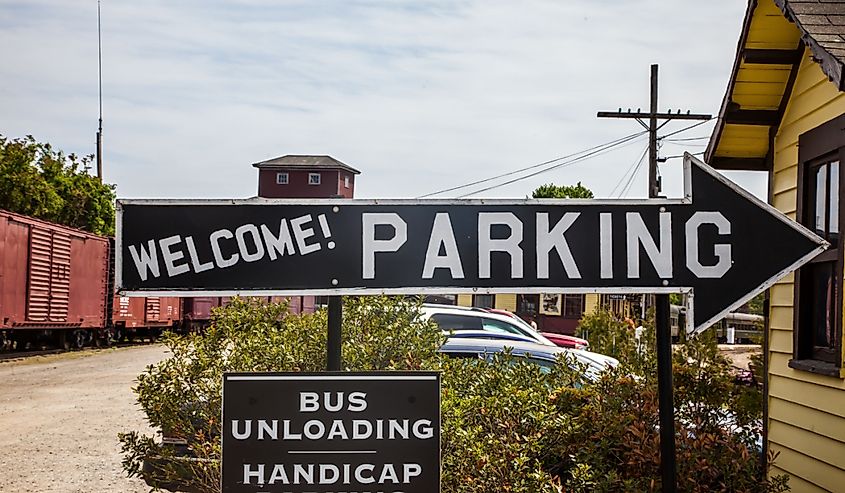 Nestled along the Connecticut River, Essex is the perfect embodiment of Connecticut charm. The town is home to 6,700 and offers beautiful sights complete with amazing stories. Specifically, thanks to its waterside location, the river plays a major role in Essex's sites and attractions. While trails and the pier are obvious destinations, the town is also home to some unique sites, such as the Connecticut River Museum. This is the perfect spot for any maritime enthusiast as this museum showcases a plethora of artifacts from the local maritime history. This includes everything from a steamboat to navigation equipment and much more! Alternatively, if tourists are simply wanting to relax on the coast, visit the Thatch Bed Marsh Wildlife Area. This area offers some scenic views of the river and is located on an island just off Essex's coast.
While scenic views are omnipresent in Essex, the true charm of the town is in its amazing attractions. Specifically, the town's premier tourist destination is the Essex Steam Train & Riverboat. This train runs on the historic Connecticut Vallet Railroad and has been operational for more than 50 years. It offers iconic trips combining a steam train and riverboat to take customers through some of the most scenic routes in the region. If wanting to delve deeper into the local history, check out Pratt House, a 17th-century home that offers unique tours showcasing the site's history. When it comes to unique attractions, Essex is sure to be a relaxing destination in Connecticut.
East Lyme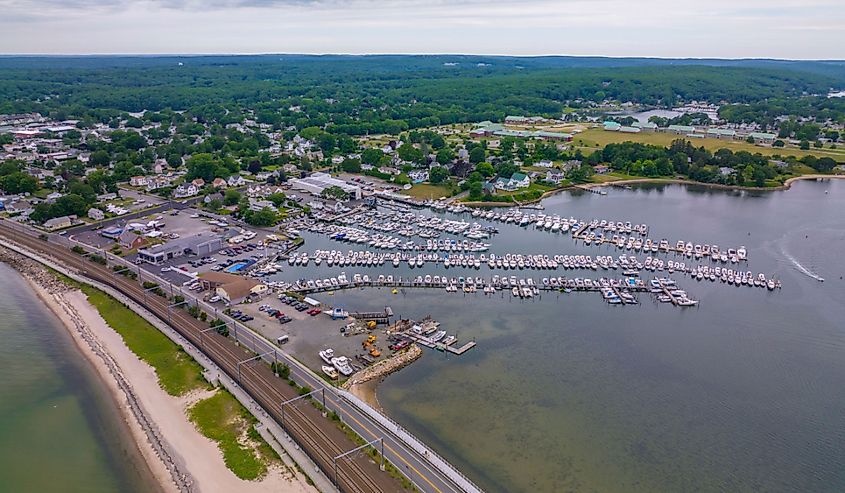 While it may be last on the list, East Lyme is one of the most charming towns in Connecticut. This is because the town is home to an abundance of natural sights, coupled with some amazing shopping and eating areas for the perfect seaside resort. East Lyme itself is located along the southern coast of Connecticut and houses a population of nearly 19,000. The town is divided into two villages, Flanders and Niantic, out of which Niantic is a great tourist spot flush with lovely beaches. Here, visitors can spend their day at the Niantic Bay Boardwalk which is nestled along a sandy beach and filled with breathtaking sights. Walk a bit further to Rocky Neck State Park, a beautiful area that is home to walking trails, fishing areas, swimming opportunities, and much more.
That being said, with an area of 12 sq. miles (31 sq. km.) there is a lot more to see in East Lyme. For example, after spending a day in the sun, walk into town and be met with a wide range of funky and interesting shops. For example, the Book Barn is an amazing second-hand bookstore offering more than 350,000 books. Book enthusiasts will not want to miss this stop. On the other hand, if visiting with kids, check out the Children's Museum of Southeastern Connecticut. This museum has a wide range of activities such as the Magnet Wall, Train Table, etc. which are sure to be a hit with the kiddos! For a fun time in the sun with some funky attractions, East Lyme is the place to be!
Conclusion
Whether travelers are looking for a historic setting to indulge in Connecticut's past, or a scenic town with beautiful beaches and ample trails, the state has it all. Choose one or all of these towns and visitors will find that it is easy to chill out in Connecticut. From horror excursions in Monroe to the peaceful nature setting of Kent, authentic experiences await all! If looking for a quick trip to recharge and chill, these small towns in Connecticut are certain to deliver.