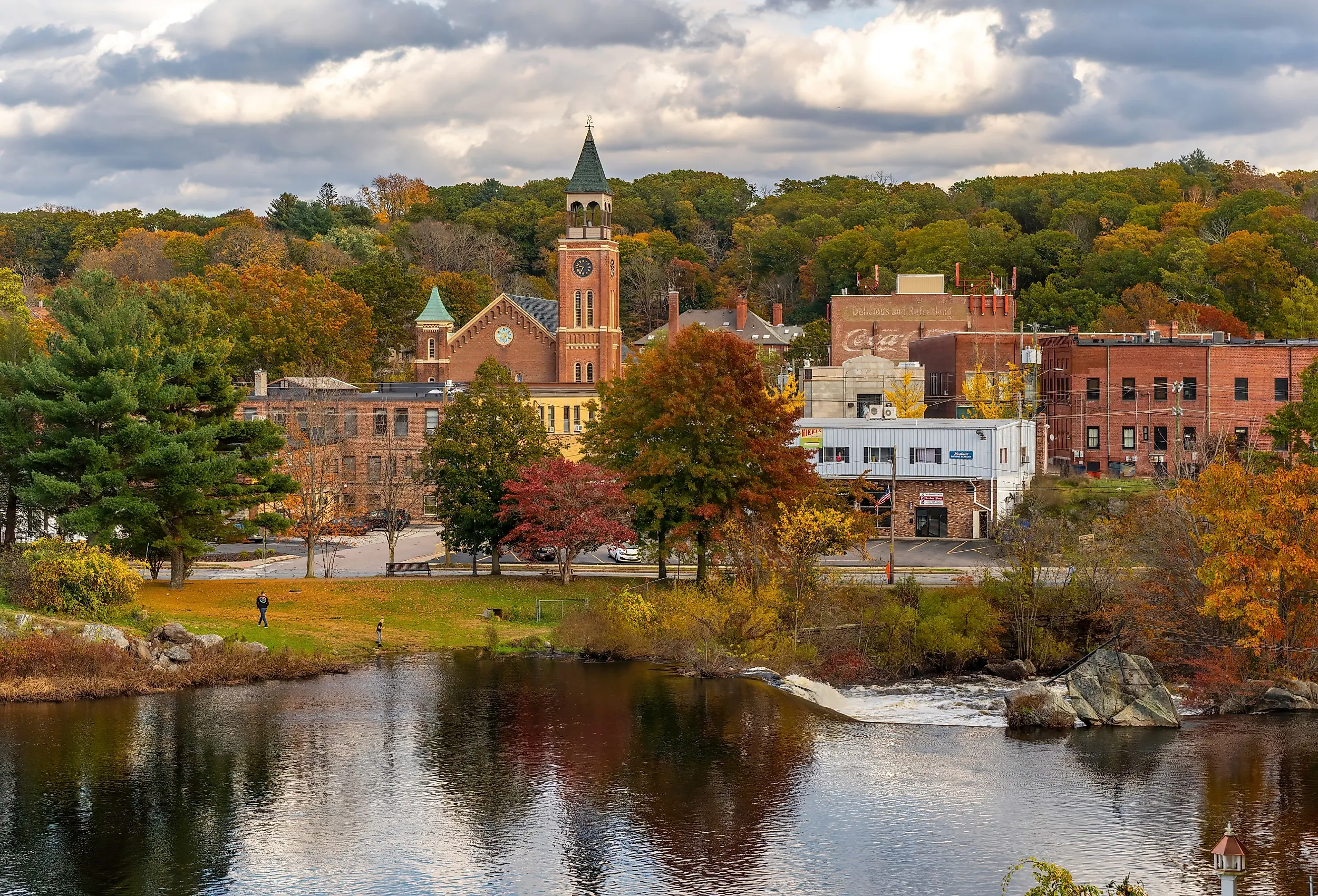 11 Most Underrated Towns In Connecticut
People might think that the New England state of Connecticut has little to offer beyond its historical significance because of its diminutive size. With New York to the west, New Jersey nearby, and the Long Island Sound on its southern end, it can seem overlooked by comparison. However, this is not the case once a curious tourist has taken the time to visit "the Constitution State."
Many cities and towns have plenty to enrich the lives of everyone who ventures in for a visit. From the capital city of Hartford to the Connecticut River that bisects the state, Connecticut seeks to draw a sense of wonder and unique attention to itself and its citizens. With 169 cities and towns, plus plenty of villages, it might be time to give this former-colonial state a closer look.
Putnam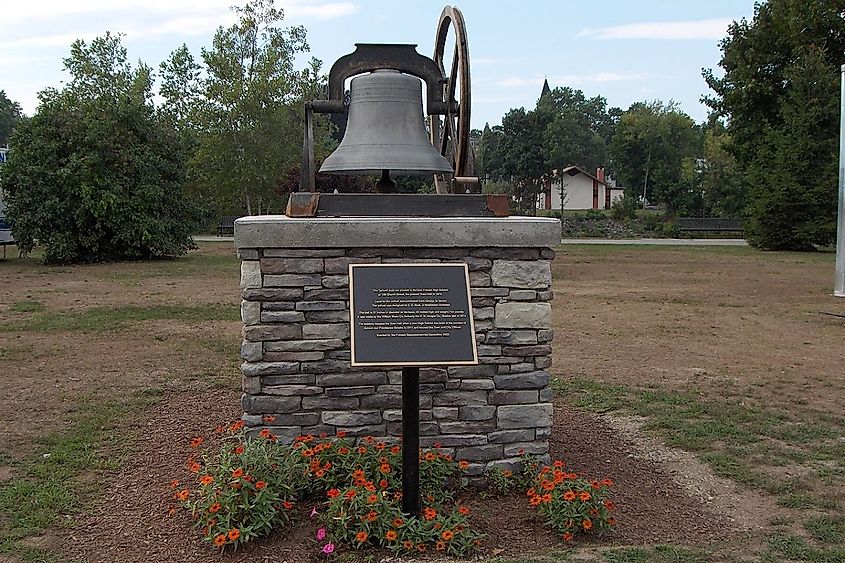 This Quinebaug riverfront town is not only a great spot for canoers and kayakers but delights water sports enthusiasts year-round. Boating, fishing, and even sunbathing on the river bank beaches are popular during the summer months, attracting plenty of traffic from surrounding areas to these pristine shores. However, summer is not the only time for outdoor activities in Putnam.
In the winter months, citizens come out in force for cold weather events like the Putnam 5k, a charity race that culminates in corned beef sandwiches, and, for those of legal age, a complimentary craft beer at the Courthouse Bar &Grill. Then in spring, witness the St. Patrick's Day parade. From museums and delicious eateries to the 4-story antique store, Putnam is glad to welcome all comers.
Chaplin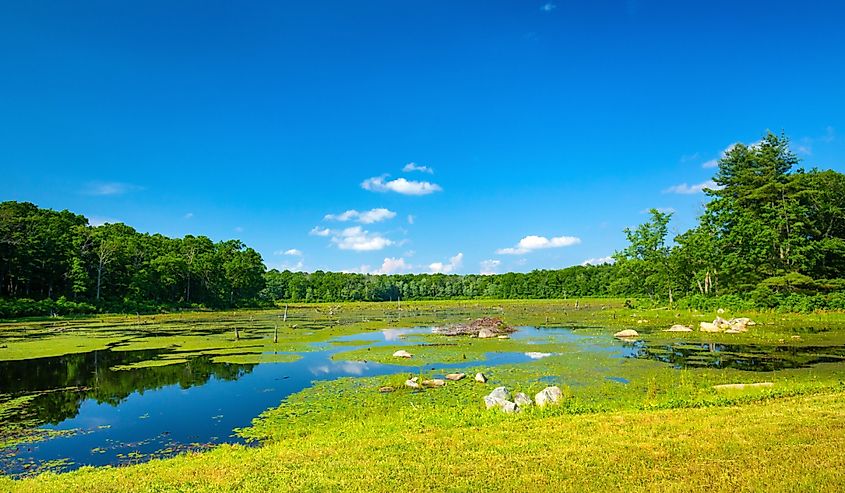 Nestled between Hartford, and Providence, off Hwy 6, Chaplin is unique because, while it is one of the few towns established on land that had no previous settlement, it has undergone no significant changes since its incorporation in 1822. That does not mean that the town hasn't grown. However, with the population hovering around 2,000 dedicated citizens, Chaplin is not in any rush to grow too big too fast.
For anyone who loves to fish but hates the crowds at the more popular fishing locations, paradise lies at the banks of the Natchaug River, one of the least fished places in the state that is always heavily stocked. In many cases, it is illegal to cut down your own Christmas tree. However, at Harmony Farm, bring a saw and make a memory as you pick your tree and cut it down yourself. And to enjoy real, maple syrup, head to the Bats of Bedlam Syrup Farm.
Simsbury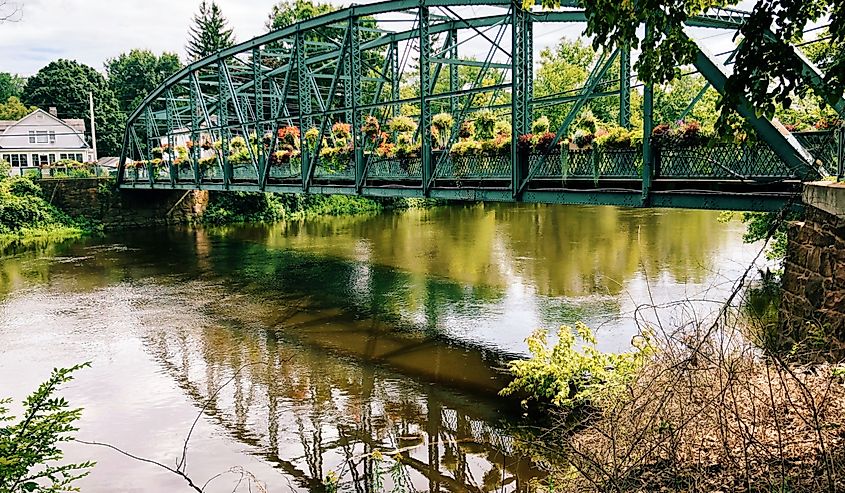 Beauty comes alive in this adorable and picturesque town only half an hour outside the capital city. Springtime explodes with color as flowers in every imaginable variety and every inch of the town bloom at once. This even includes the Old Drake Hill Flower Bridge, a walking path overlook that has been a point of community pride for as long as anyone can remember.
However, if you want something a little darker, a little spookier, adventurous visitors enjoy a meal at Abagail's Grill, a haunting spot where ghosts make a reservation from time to time. Art also has a huge place in the hearts of Simsbury residents, evident in the Simsbury Art Trail, where 37 life-sized sculptures show real-life tasks cast in stunning bronze.
Sharon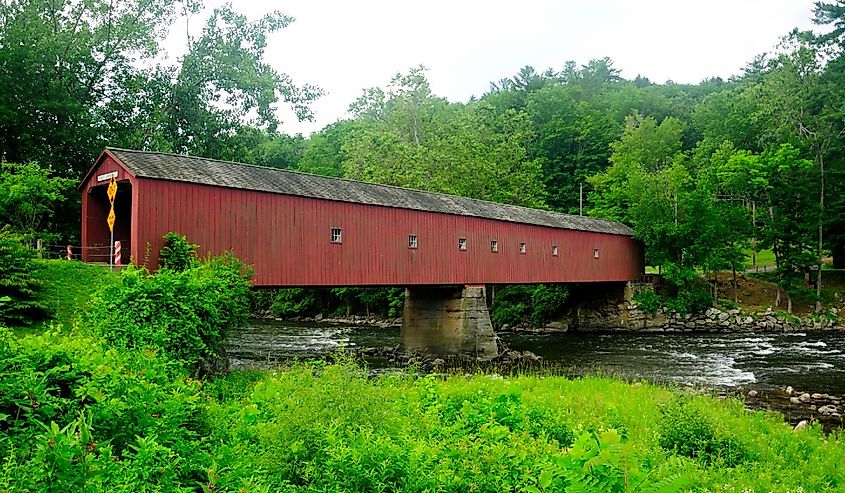 On the border of New York in the northwest portion of Connecticut, the hamlet of Sharon and its 2,680 residents welcome you to experience the simpler side of life. From farms that double as art galleries and even an authentic covered bridge, there is much to see and even more to do. Visitors often begin their tour with a stop at the famous Sharon Playhouse.
Enjoy sun and exercise at Housatonic State Park on the shores of the Housatonic River, a terrific spot for camping, swimming, and fishing. Bird enthusiasts will love the Sharon Audubon Center, an entirely enclosed museum complete with a myriad of live birds to capture your wonder. For families and those with a sweet tooth for fresh-grown sugary delights, go pick fruit at the Ellsworth Hill Orchard and Berry Farm.
East Hampton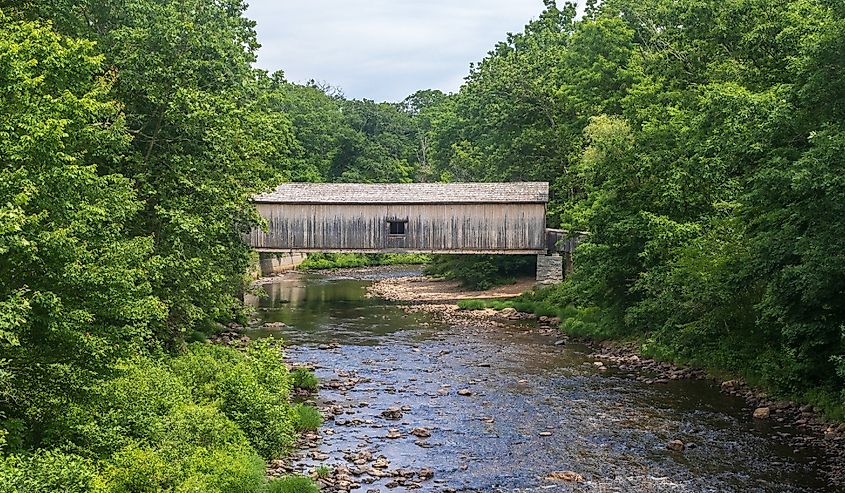 Famous for the fabrication of bells of all sizes and uses (even bells for toys), East Hampton was a principal export of bells in the 19th century. To this day, bells are still manufactured in the town.
East Hampton has many historically recognized landmarks that are always of interest to visitors, but the most popular is Comstock's Bridge, the last original covered bridge on the east side of the state and spans the Salmon River. It is part of the vast state forests surrounding Lake Pocotopaug, one of Connecticut's largest inland water bodies.
Stonington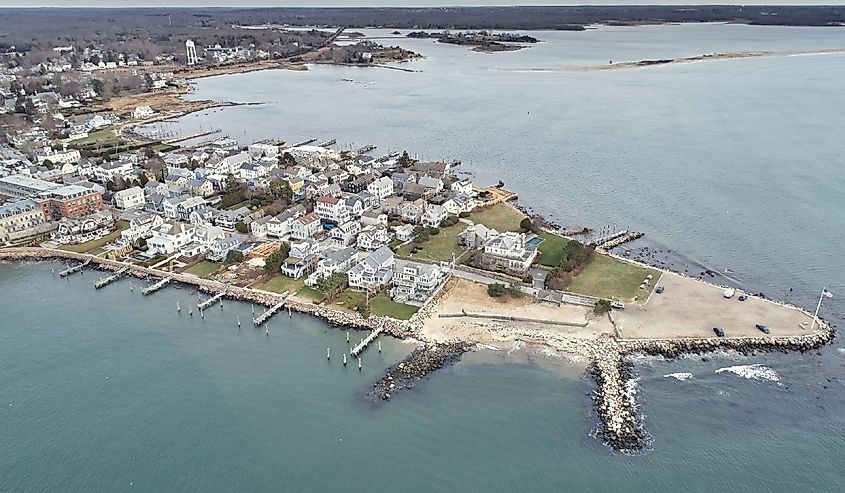 The last coastal town before crossing into Rhode Island, much of Stonington's tourism and charm comes from its proximity to the Atlantic and the Long Island Sound. There is plenty to do in the downtown area and surrounding farms and vineyards love to greet new visitors. In addition, the historic Mystic Pizza House, had plenty of notoriety before the movie was filmed in the nearby town of Mystic.
No coastal town can be complete without a proper lighthouse, and at the Old Lighthouse Museum, the nature, and history of these important beacons are spelled out in an engaging way, educating all who enter. If the sea is calling, Harbor Cruises are running through the warmer months, as well as Wednesday sailboat races, and trips to DuBois Beach are always a treat.
North Canaan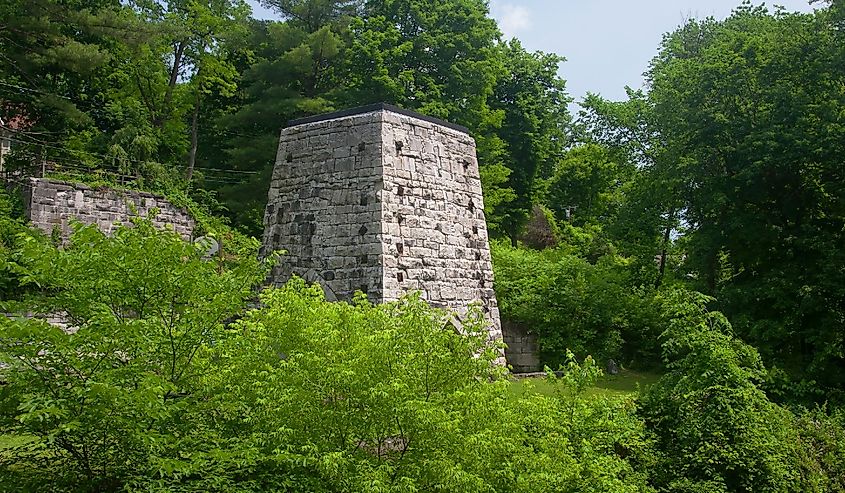 There are few obsessions more powerful than the love of trains. And while North Canaan no longer makes train parts anymore, the Beckley Furnace Industrial Monument speaks to the forging of iron for train wheels through the better part of the 19th century. Today, it stands very much as it did, preserved, and local historians delight in telling stories about the hallowed days when fires made this important rail car component.
Those who love to tip back a cold brew or sip a nice glass of wine will love establishments like the Land of Nod Winery, Great Falls Brewing Company, and for food and craft beer, the Depot Brew Pub. After, walk off the grub and suds in Campbell Falls State Park, a picturesque nature preserve and home to waterfalls that add romance to any stroll.
Kent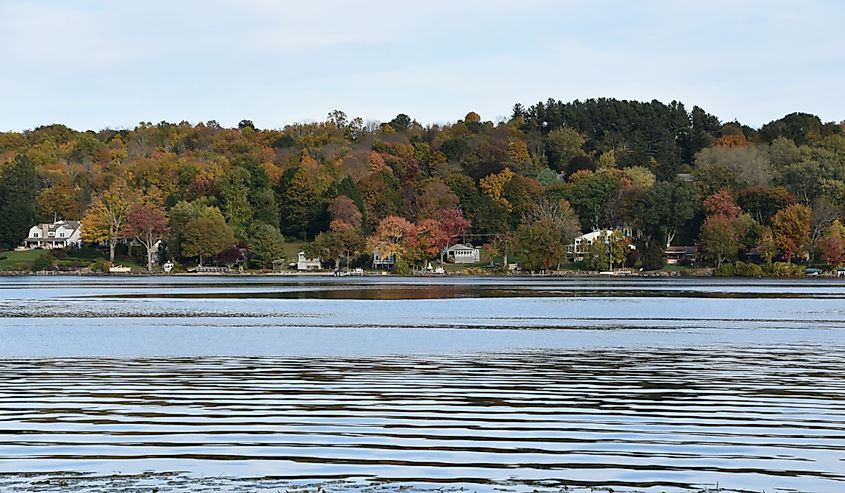 It is time to lace up those hiking boots, fill up your water bottle, and get the camera ready because the outdoors awaits in Kent. A town in the "Secret Corner," Kent is best known for the spectacular array of colors as the leaves change during the fall. Witness the beauty as you hike the waterfall staircase trail up to Kent Falls and do not forget to snap a few shots for your social feeds.
Readers will delight in the House of Books, a charming bookshop on Main Street and home to a treasure trove of literature across every conceivable genre. The industrial age gave us machines that changed the face of our nation and you can see a few marvels of that era at the Connecticut Antique Machinery Association. Then, take a bike tour to Kent Falls Brewing. There is plenty for the entire family to stay entertained no matter what time of year.
Guilford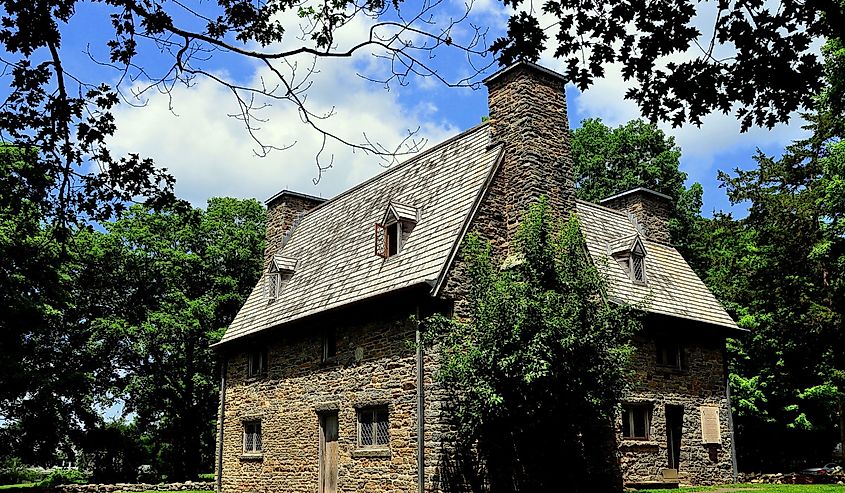 There are many types of seats in restaurants, but have you ever sat on a tree stump? At The Place, you will as you feast on Lobster caught just off the shores of this lovely coastal town on the Long Island Sound. Book a table as your premier spot to view the Fourth of July Fireworks or watch the fishing boats bring in their daily catch.
Boating is a huge part of many local attractions, but that does not cover all the fun and charming aspects of Guilford by a long shot. You can walk the Guilford Green and pop into shops and restaurants, take in an art museum or historical tour, or take a hike through one of the multitudes of parks and wetlands surrounding the town.
Pomfret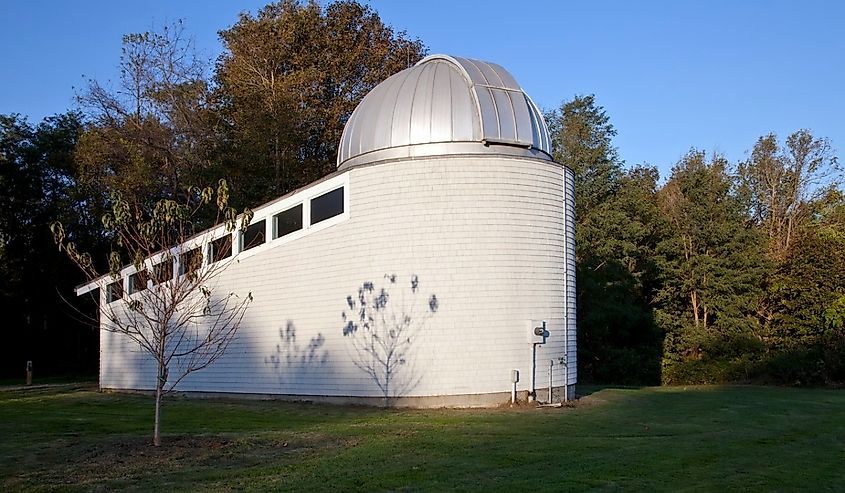 A rural environment and historic charm are painstakingly maintained in the middle of the Last Green Valley. One of the oldest incorporated towns in the state, history, tradition, and preserving the scenery is a huge deal to every citizen, with the town government vehement about keeping with the rustic aesthetic.
Even so, it is not a town lost in time. Visitors all year delight in not only the view but an eclectic collection of shops and eateries that have a very loyal following. The winery and distillery run their tours through most of the year to meet the constant demand. With winding country roads, stone walls, and lovely views, coupled with nearby casinos, and theaters, everyone will enjoy the trip.
Chester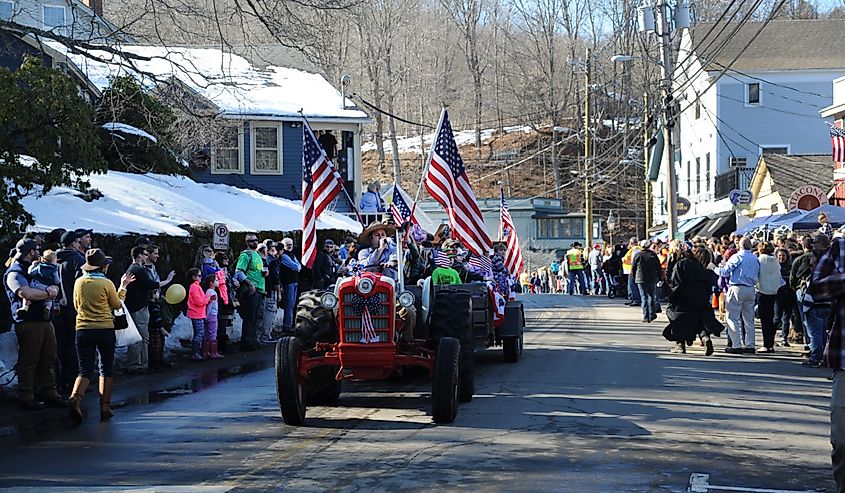 The citizens of Chester dance to the beat of their own drums. They are wild and wonderful, artistic and fresh, and are a big point of pride. The town has plenty of museums, theaters, and music venues. However, what really grabs visitors is the unique collection of boutique stores and, a scene that will make foodies pay special attention.
No trip is complete without the odd souvenir, and nothing sounds stranger than buying alpaca goods, but once your fingers feel that softness, you will never want to touch sheep wool again. Get yours, and learn a thing or two, at the Chakana Sky Alpaca farm. End the day with a sunset trip across the Connecticut River on the Selden III near the Gillette Castle State Park.
Big things can come in small packages and Connecticut demonstrates that in all the best ways. Skip New York, New Jersey, and even Massachusetts. Connecticut will capture you in a way that only it can, sharing its wealth of history, offering its vast topography for exploration, and even enticing you into an adventure or romantic trip that you might not have considered before.