On a national scale, the Sunshine State ranks high in terms of attractions and weather. Experts agree that retiring in one of the small towns is a smart move in Florida, which placed a close second in 2021 according to Bankrate's list of the best states to retire. Retirees receive a high quality of life with decent healthcare resources and no state income tax. The state also ranks highly in racial diversity and the LGBTQ population.
Florida is teeming with a happy active-adult community that is staying healthy along the beaches and willing to share them with more senior friends. Although the costs of retiring are rising across the nation, the Sunshine State remains one of the more affordable places to endeavor to live out your golden years' dreams, where small towns will meet all your amenities and service demands.
Gulf Breeze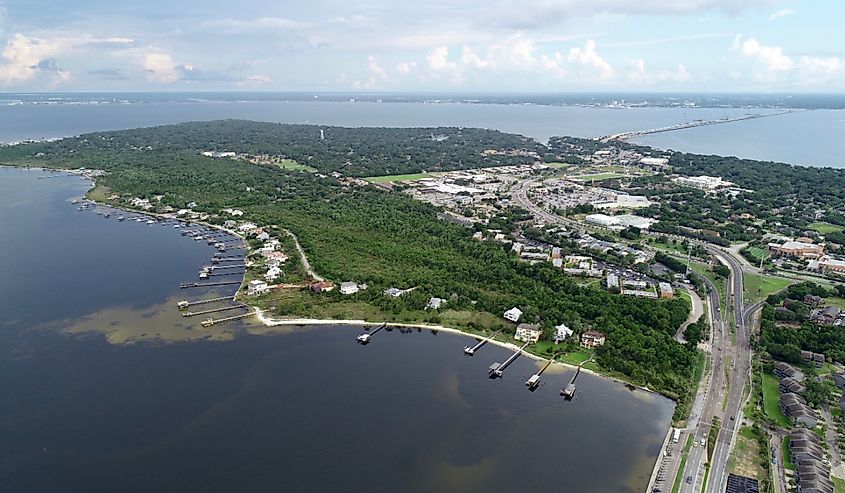 With a population of 7,000, Gulf Breeze is a popular place to retire, where 25% of residents are over the age of 65. The town has a humid subtropical climate with little weather variation and 63 inches of annual rainfall. The median home value of $436,900 is worth the easy access to various medical facilities across the bridge in Pensacola and in nearby Milton. There is also great public transit around town and the surrounding areas, as well as scrollable streets for daily venturing. Enjoy a small-town atmosphere with a detached feel while being a hand's reach away from all the attractions, dining scenes, entertainment, and cultural activities in Pensacola.
This western Florida Panhandle town, hemmed in by water on three sides and the Naval Live Oaks Preserve on the east side, is set idyllically along the end of the Fairpoint Peninsula. Gulf Breeze is a tax-friendly community with a lower crime rate than the national average, a public library, and the Gulf Breeze Zoo with over 1,000 animals. It is also close to Santa Rosa Sound via the Pensacola Bay Bridge. Seek the feel of old Florida along the white sand beaches and azure waters at the preserve, along the Gulf Islands National Seashore, and on Pensacola Beach across the water.
Key West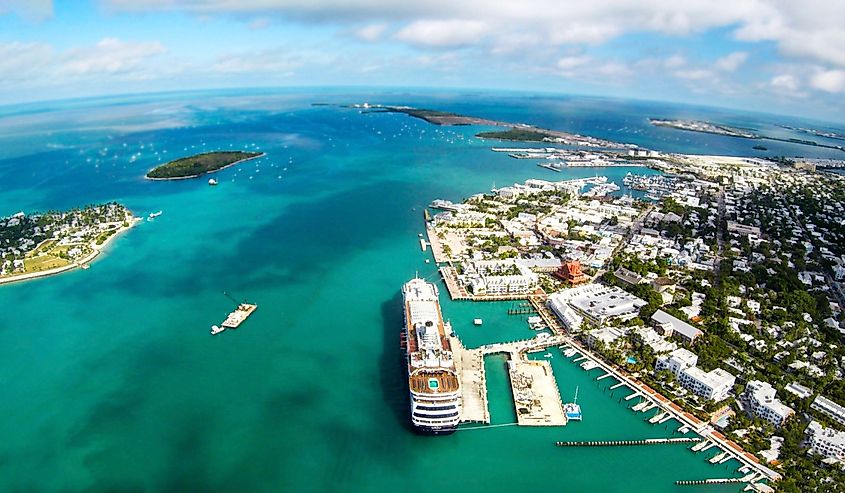 Key West is part of the small coral island chain, just southwest of the Florida peninsula. The small, lively town feels heavenly-remote, along with its pleasant climate, beaches galore, and other retiree-friendly features. With only 26,000 residents, Key West offers fine dining restaurants, banks, grocery stores, and top-rated medical facilities, like the 24-hour hospital of the Lower Keys Medical Center right in Key West. Despite a high cost of living and a median home value of $728,500, you will live in a crime-free community that was home to people like Harry Truman, John James Audubon, Tennessee Williams, and Ernest Hemingway.
Key West captivates retirees as a dream destination for the golden years. Affluent residents enjoy prime beach access and a laid-back lifestyle in a casual yet lively atmosphere. Take strolls along Duval Street with its restaurants, shops, bars, and cafes or through the Old Town to celebrate the sunset in the most fantastic setting. Live modestly in a condo or apartment over a private home or gated community, and ride bikes around like locals do to stay healthy. The tropical weather is behind all your pursuits, including warm year-round temperatures, humid and hot summers, and just as warm a community of residents around you.
Lakewood Ranch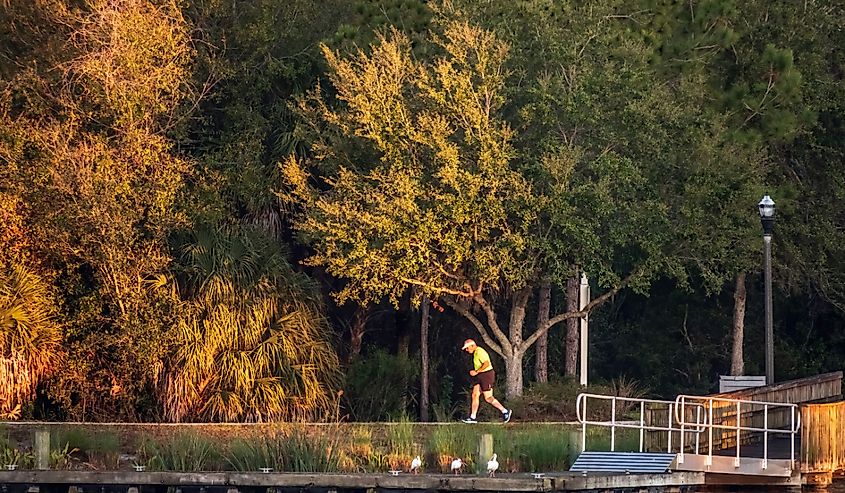 Over the past few years, Lakewood Ranch has been growing in demand among retirees, and named one of the hottest places to retire in 2023. The small town of around 35,000 residents, 30% of which are in the 65+ bracket, along the envied central west coast, is near the big cities of Sarasota and Bradenton, both home to beautiful, vast beaches. Buy a home at the median home value of $474,600 and invite friends over. Choose from a variety of 55+ neighborhoods, such as Cresswind at Lakewood Ranch and Del Webb at Lakewood Ranch.
The mixed-age neighborhoods offer the ideal downtown experience along Main Street, where you will find an eclectic collection of boutiques and eateries. You can also enjoy modern entertainment venues like the beloved Lakewood Ranch Cinemas, regular concerts, and festivals throughout the year taking place on Main. Choose the perfectly integrated apartments right on the water at Waterside Place for views from your window. The multi-generational community is a beloved place to retire, with its lively, small-town appeal and low cost of living amid all the modernity.
Naples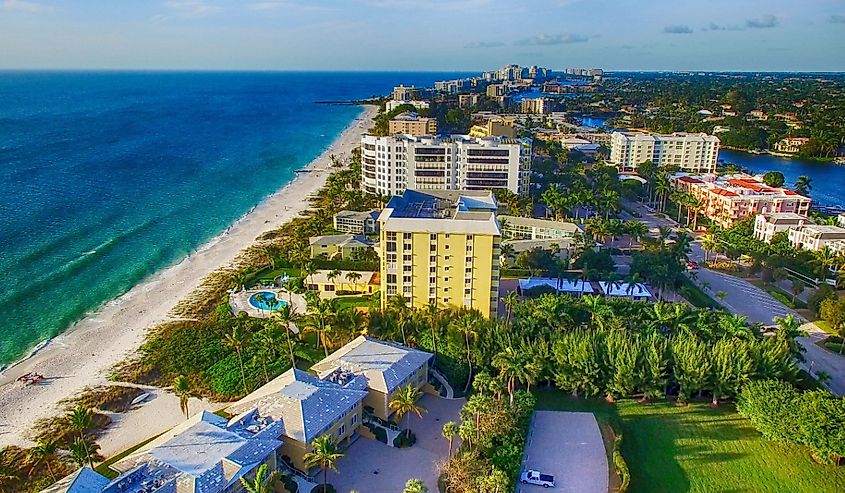 The southern waterfront city of Naples is a desirable place in the US to retire because of its historical center, architectural wonders, lively vibe, and attractions for all ages. Join one happy, go-lucky small community of just 19,000 people, with over 50% of the population 65+. You will have great access to superb medical care, foodie heaven downtown, and activities like golf, fishing, and kayaking in the mangroves. You can spend days exploring the Old Town of Naples and never get tired of the scenic sights. Get all the sun, sand, and sea you desire at the beach and head shopping along Fifth Avenue, Third Street South, and the Trail of Treasures, an area with vintage finds. Hit the renowned Naples Zoo with your grandkids or head on a getaway to the Everglades.
Naples brings together the best of everything Florida has, like shopping, recreation, and beautiful beaches, all enveloped in small-town charm. There is the historic downtown Naples, high-end shops and boutiques, and littering of championship-level golf courses all along the Gulf Coast that boast some of the nation's most stunning beaches. With so many things in one small place, it is no surprise that the once-affordable homeownership rate is slowly climbing. The "Naples Valencia Trails" is a magnificent 42,000-square-foot clubhouse that offers resort-like living with daily events, clubs, and entertainment, as well as a pool and restaurant. Catch a show at the social hall or enjoy the community's iconic trails for a relaxing stroll or jog.
Ocala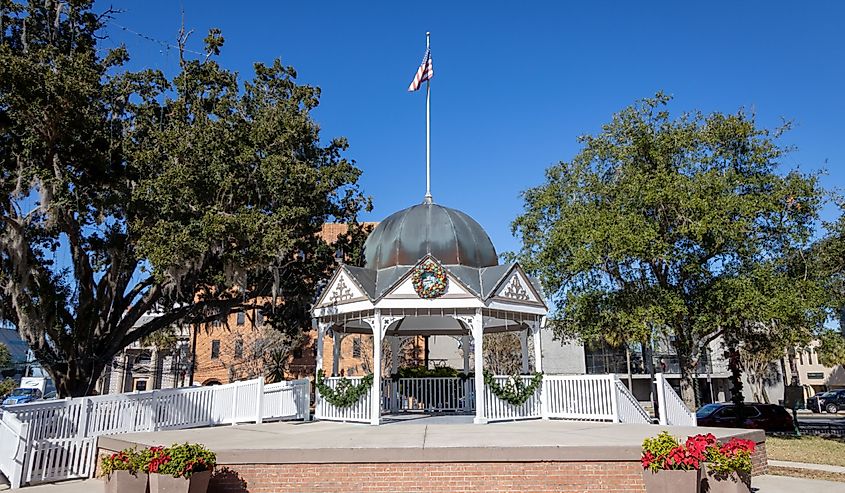 The smaller town, in 2020 recently ranked 6th among the nation's 10 best places to retire, according to a US News & World Report. Ocala scored highest for housing affordability and had a high healthcare score. The unique and quickly growing town today, with new attractive services and amenities geared to all, remains a highly desirable destination for the best gold years. Ocala is popular among retirees for its history, horses, and culture, amid some of the nation's most beautiful landscapes. Enjoy a vibrant downtown scene with shops and restaurants on a morning coffee run, mingle and people watch, and spend the evening in good company.
Ocala is a wonderful place to retire, where you will never run out of things to do and have a choice of affordable housing or a handful of 55+ communities to retire in. You can also partake in various clubs, like the Ocala Palms Golf & Country Club, leagues, and hobbies. The On Top of the World community has great leisure amenities like cultural venues, golf courses, sports courts, swimming pools, a fitness center, a health club, and a spa. Choose Del Webb Stone Creek, a highly ranked, low-cost community that offers many great amenities, including golf courses.
St. Augustine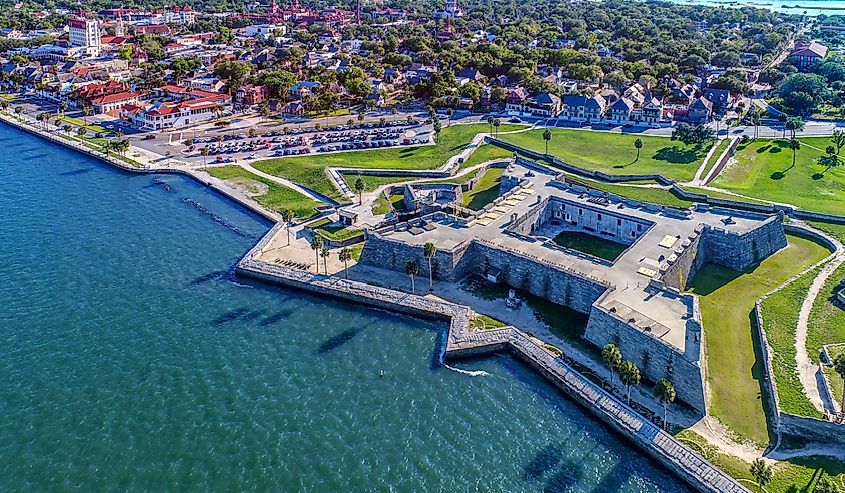 St. Augustine is the deeply historic and endlessly romantic "Oldest City" in the nation. This small city is a highly sought-after retirement destination and perfect for history and architecture fans. With a population of almost 15,000 residents living along the east coast, you will have uncrowded views from the renowned waterfront, the best beach strolls, unique culture along the streets, and even an entertainment scene. It is also only 40 miles south of Jacksonville and 60 miles north of Daytona Beach.
The vast array and variety of shopping and unique eats for all styles will keep you engaged. The city knows how to take care of its 65+ crowd, making up 26% of the population, with new things always popping up. Choose from wonderful retirement communities like the gated St. Augustine Parkland Preserve at World Golf Village for the active adults or the Reverie at Trailmark, a 55+ community in-between St. John's River and the Atlantic Ocean. The first is revered for an amenity center with a pool and the lifestyle director, who helps neighbors meet and stay active.
Venice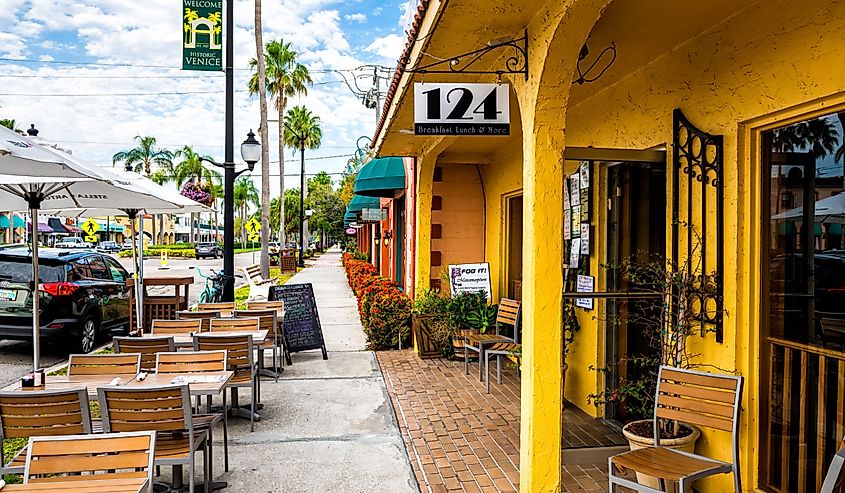 One of the nation's most picturesque and romantic towns is also among the top for the best retirement lifestyle with over 60% of the population in the 65+ bracket. Venice offers a high quality of life and various, affordable healthcare options. There is also entertainment for all tastes and ages and outdoor activities like kayaking and paddleboarding along the Intracoastal Waterway through the heart of the city. With a population of around 26,000, you can enjoy all services wrapped in a small town atmosphere and sun, sea, and sand along the beaches with no crowds. This coastal town with all the perks of a major city amid a laid-back, beachy vibe is a dream destination for a peaceful retirement.
Buy your own place at the median home value of $290,600 and feel safe with minimal crime to enjoy daily strolls alone or with friends. Enjoy the beaches and find parks every few blocks, where only the quiet swooshing of palm trees and the chirping of birds will disturb your tranquility. Downtown Venice is replete with local establishments and fine dining venues where you can enjoy live music and idyllic sunset views. You can also take up golf or tennis, or take a day trip to nearby cities like Sarasota, Manasota Key, and Nokomis Beach for more entertainment.
Vero Beach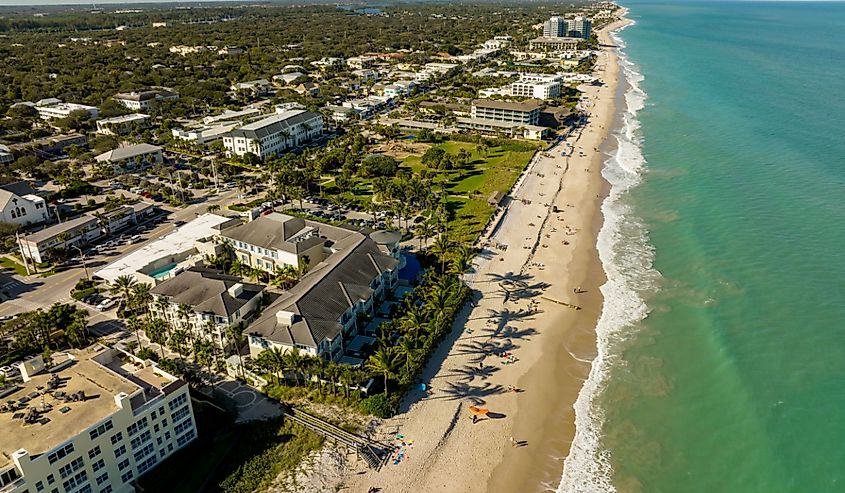 The peaceful, quiet, and always sunny town of Vero Beach is your dream retirement destination, especially if you are into WWII history. Buy your own place at affordable housing costs with an average home value of $287,500 and enjoy the slower pace of life among the friendly locals. Enjoy pursuits like two shopping malls and a historic section in downtown that served as a US Naval Station. Lead a stress-free life along the gorgeous beaches, where you can relax daily by the ocean. The small beach town in Southeast Florida, between Melbourne and Port St. Lucie, has a lot of coastal activities to stay active or enjoy watching others while sunbathing.
There is surfing, swimming, fishing, boating, and snorkeling that attract tourists, along with Disney's Vero Beach Resort, a major employer in the area. Vero Beach is not a tourist trap but a community-centric town with many planned vacation and retirement communities that offer private beaches, pools, restaurants, tennis, golf, and social events. Downtown Vero is full of boutique shopping and dining options, breweries, and local favorites like The Tides, The Citrus Grillhouse, and The Lemon Tree. You will also have access to two hospitals in the event of need.
Winter Park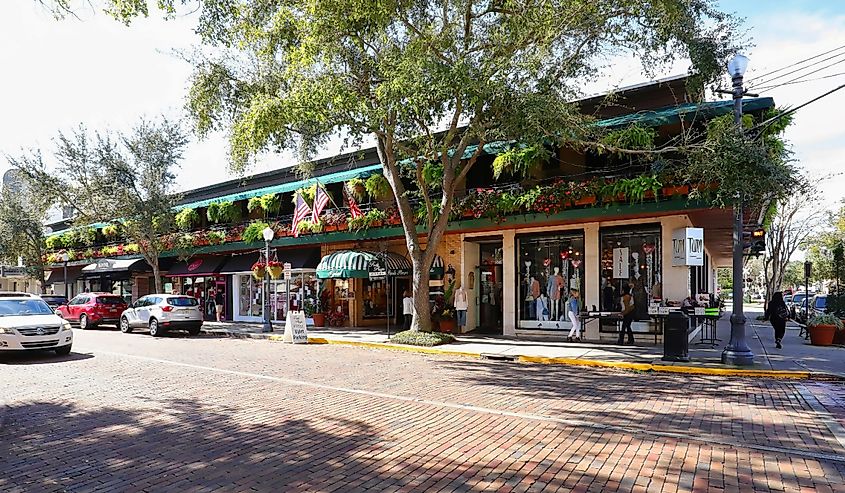 The small city in central Florida that is Orlando's suburb is a great place to retire with excellent health care, ranking ninth according to WalletHub. Winter Park is less than 30 miles from Disney World for a unique outing to reminisce on your childhood or when the grandkids finally get to visit you and Mickey Mouse together. Winter Park is a great landlocked place to retire on a budget, with small-town charm, brick streets, and oak trees for atmospheric strolls.
You will not even miss the beach with a gorgeous chain of lakes at your fingertips. Winter Park is a quiet city known for its worth in the booming culinary and arts scene, with notable favorites like concerts and shows at the Dr. Phillips Center for the Performing Arts. Catch a classic movie at the Enzian Theater with your sweetheart or friend, and dine al fresco at sunset on Park Avenue. Enjoy open-air cafes in the morning for a coffee over a newspaper while watching locals grab a drink before work.
Florida ranked first in 2022 according to Bankrate's culture and diversity ranking, with a high share of residents over 65, racial diversity, and different ethnicities. The Sunshine State's pleasant winter weather continues to draw retirees from big cities and small towns for all budgets and preferences of "lively." Choose to retire along any coast, and you will live vacation-style golden years with prime access to the beaches and healthcare facilities.
If you are tired of the long winters and enjoy the beach in your daily pursuits, you can stay active through swimming and keep your mind healthy through relaxation. These small towns all offer a variety of lifestyles, as well as the typical Florida weather and friendly residents. Retire in your own place on a budget or choose community-style living with clubs and hobbies to enjoy with your friends and neighbors.