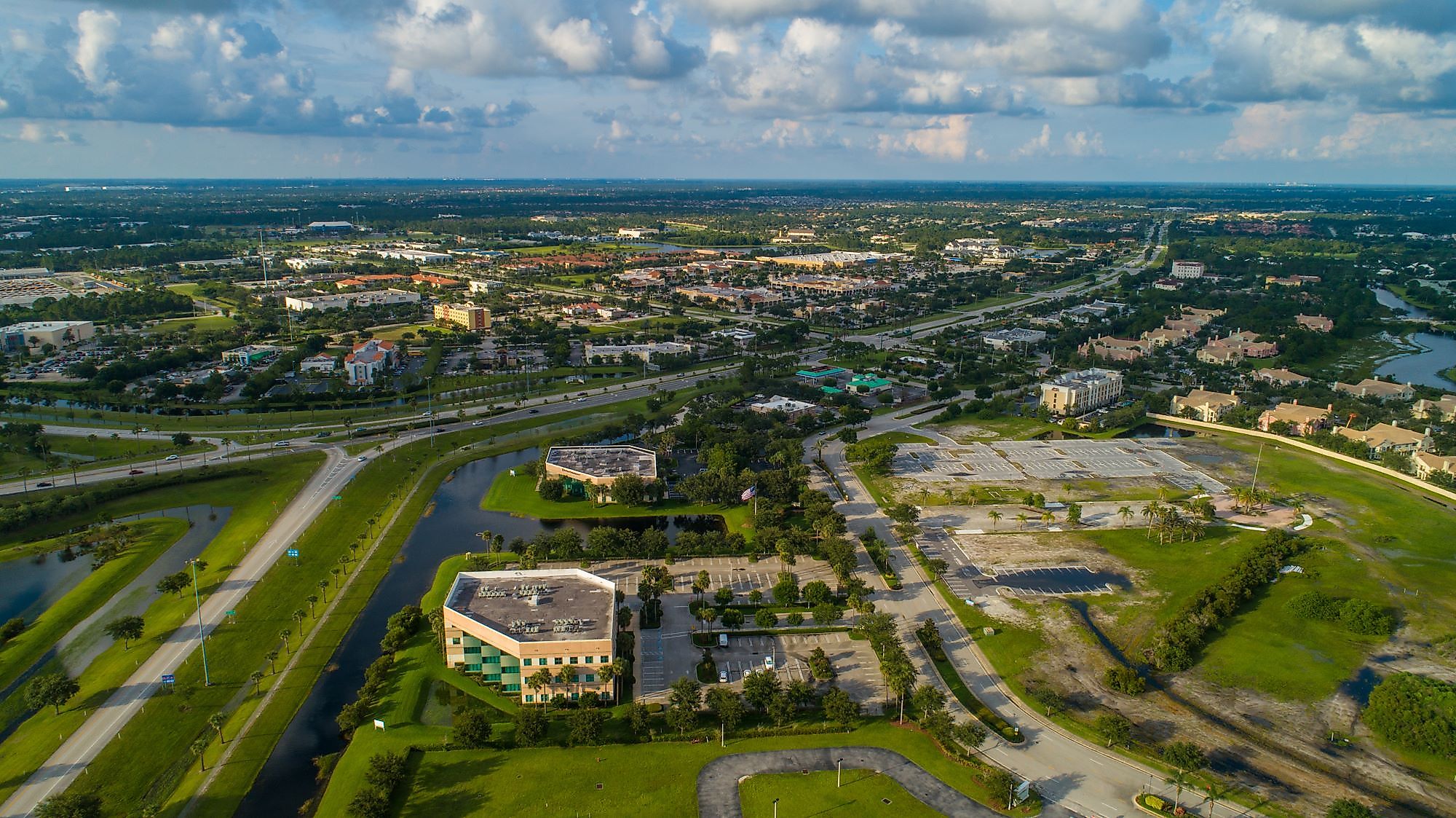 Nestled along the Treasure Coast, Port St. Lucie is the seventh-largest city situated in St. Lucie County in the southern portion of Florida, United States. On a national scale, Port St. Lucie is the 112th largest city by the populace. It is one of the Sunshine State's most beautiful destinations, with the Port St. Lucie Botanical Gardens welcoming hoards of hummingbirds and butterflies. Local and tourists are magnetized to the Riverwalk, a boardwalk that twists through gnarly mangroves. But, perhaps the most prominent attraction is spotting one of the resident manatees that seek refuge at the North Folk St. Lucie Aquatic Center, surrounded by river otters and even gators. With proximity to Miami and Orlando, Port St. Lucie serves as a reprieve from the hectic city life and offers locals and visitors a tease of a tranquil oceanfront paradise.
Geography And Climate Of Port St. Lucie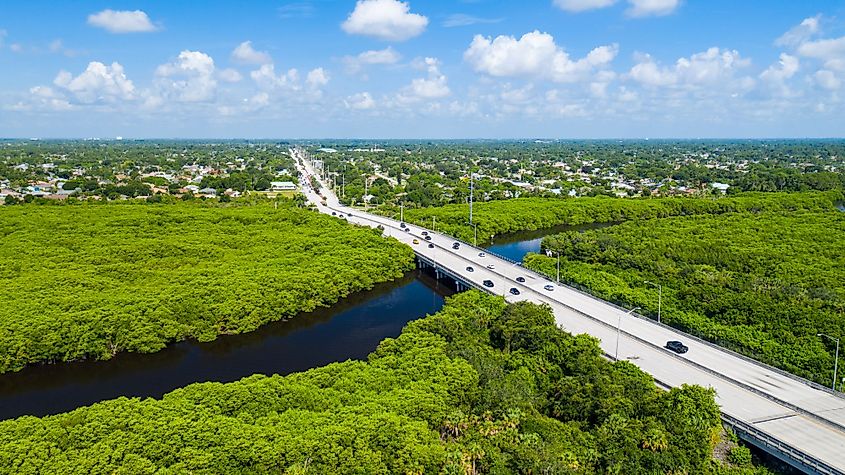 Port St. Lucie houses the 35-mile-long inland estuary of the St. Lucie River that joins the Atlantic Ocean. Being about 182km north of Miami and 201km southeast of Orlando, Port St. Lucie serves as the halfway point for visitors who intend to visit these beloved Florida destinations. This reasonable proximity makes for endless day trip options. Some options are the NASA Launching Facility, about 115 miles north; Walt Disney World Resorts, about 120 miles northwest; Tampa, Florida, 150 miles west-northwest; Fort Lauderdale, about 90 miles south; and Everglades National Park, about 140 miles south-southwest. Port St. Lucie covers a total area of 198.6 sq. km, of which 195.6 sq. km is occupied by land and 3.0 sq. km is covered by water. 
According to the Köppen Climate Classification, Port St. Lucie has a humid subtropical climate. It experiences hot and wet summers and short and comfortable winters. Throughout the year, there is a median-recorded temperature of 74.2 °F. July is the warmest month, which sees a high of 89.9 °F, and January is the coldest month with a low of 52.6°. Of the 131.8 days that produce precipitation, there is an annual rainfall of 58.3 inches. On average, 238 days comprise an annual IV index of 6.7. 
An Overview Of Severe Weather Events In Port St. Lucie
Florida often faces severe weather events and is prone to hurricanes that occur from June to November. Although Port St. Lucie is fortunate enough not to have been hit by life-altering categories four and five hurricanes, it has been directly hit by categories two and three. On September 4, 2004, Port St. Lucie was hit head-on by Hurricane Frances (category two), and then just three weeks later, on September 26, 2004, Hurricane Jeanne (category three). Port St. Lucie took another direct hit with Hurricane Wilma on October 24, 2005, the same year as Hurricane Katrina.
History Of Port St. Lucie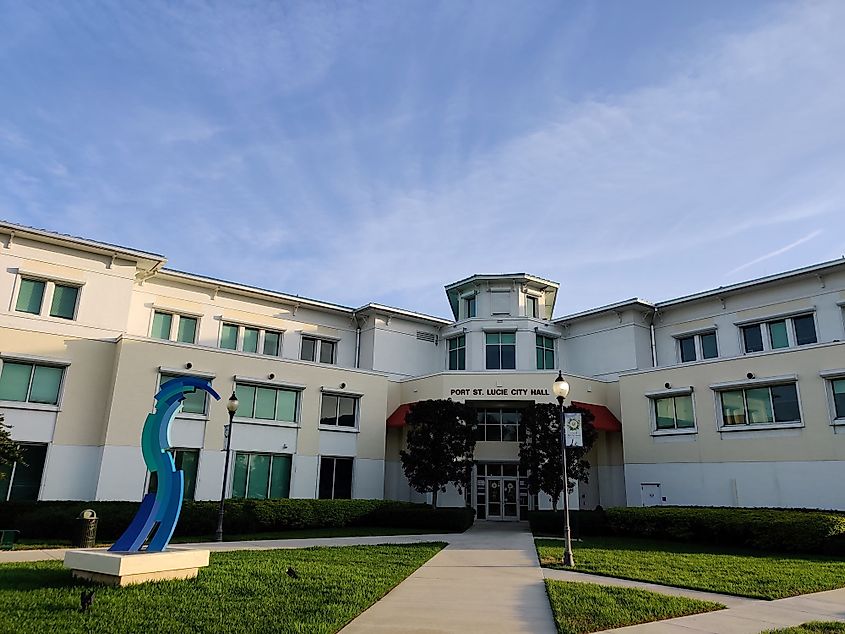 The name Port. St. Lucie was met with confusion before being settled. St. Lucie was a name of an establishment near Jupiter Inlet that was founded on St. Lucia's Day. Somewhere along the line, the name of St. Lucie was confused with St. Lucie Village, a town north of present-day Port St. Lucie. Pioneers settled on the land along the St. Lucie River to establish the community of Spruce Bluffs, which contained a cemetery, pineapple plantation, post office, and sawmill. By the 1950s, development remained slow for soon-to-be Port St. Lucie. Land south of White clay was purchased and included a fishing camp and a few businesses near US Route 1.
In 1958, 40,000 acres along the North Fork of the St. Lucie River were purchased with a budget of $5. However, adding a bridge on the St. Lucie River in 1959 allowed direct access to the community. On April 27, 1961, Port St. Lucie was incorporated as a city with 250 homes. A population boom occurred in the 1990s, with the St. Lucie West area being developed for residential and multipurpose entertainment purposes. The boom continued into the mid-2000s, with another 18,000 homes built. But at the head of the financial crisis of 2008, the population witnessed a decline, with an unsurmountable number of foreclosures and Port St. Lucie's unemployment rate dipping below 10%. 
The Population And Economy Of Port St. Lucie
As per the latest US Census, Port St. Lucie had a population of 212,901 residents. Expanding over 198.6 sq. km, there is a population density of 663.45 people per sq. km. Port St. Lucie has a median household income of $74,355, while 9.28% of the population lives below the poverty line. As for the cultural or racial background: 71.56% were identified as White, 17.66 were African American, 5.23% were of two races or more, 2.92% were of another race, 2.30% were Asian, 0.31% were Native American, 0.03% were Native Hawaiian or Pacific Islander.
The unemployment rate of Port St. Lucie is 3.1% as of July 2022. Of the 205,000 people employed, 30,959 worked in healthcare and social assistance, 28,444 worked in retail trade, and 18,801 worked in construction. The top-earning jobs are utilities which made $79,524; mining, quarrying, and oil and gas extraction made $75,425; and public administration made $55,130.
Attractions In And Around Port St. Lucie
Port St. Lucie Botanical Gardens
The community's jewel, Port St. Lucie Botanical Gardens, is a must-see for everyone. Come and get lost in many themed gardens, including a butterfly garden, bamboo garden, rose garden, and orchid garden, to name a few. Searching for a quiet spot for a moment of contemplation, take a look at the secret garden. Meander around the grounds, have a look at the native palms along the walkways, and more. 
PGA Golf Club At PGA Golf Village Resort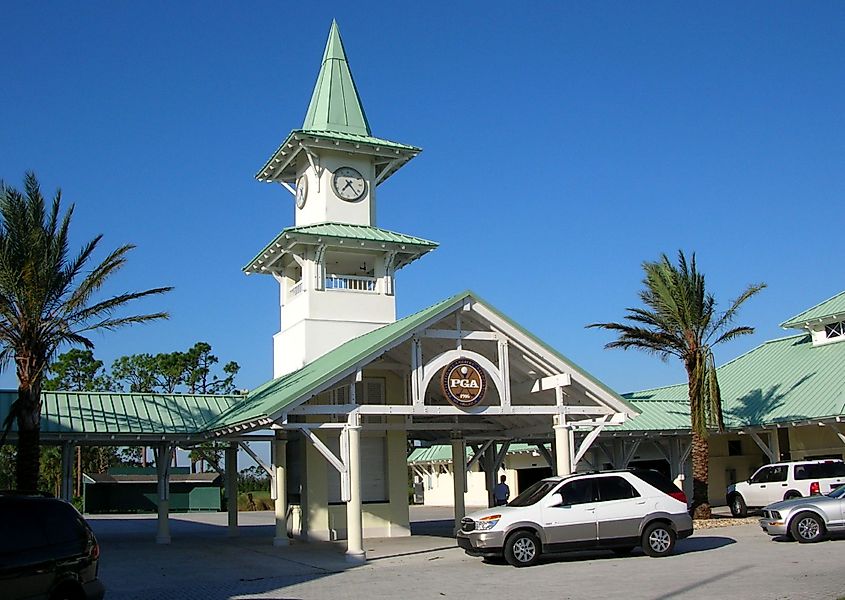 Although it is easy to get lost in the natural beauty of Port St. Lucie, a little-known secret is the PGA golf course. The PGA Golf Club offers 54 holes on the most prestigious greens. Access is available to the public as well as club members. There are also golf instructors on sight to ensure a fun day of teeing on the green.
Port St. Lucie is one of the Sunshine State's most beautiful cities. One must take a cruise around quirky Nettles Island or enjoy the flora at the Riverwalk or the Botanical Gardens. One should also spend an afternoon with the kids at Sailfish Splash Waterpark or take shelter from a sudden torrential rainfall at the Elliott Museum. There is plenty to do for all preferences in Port St. Lucie, Florida!