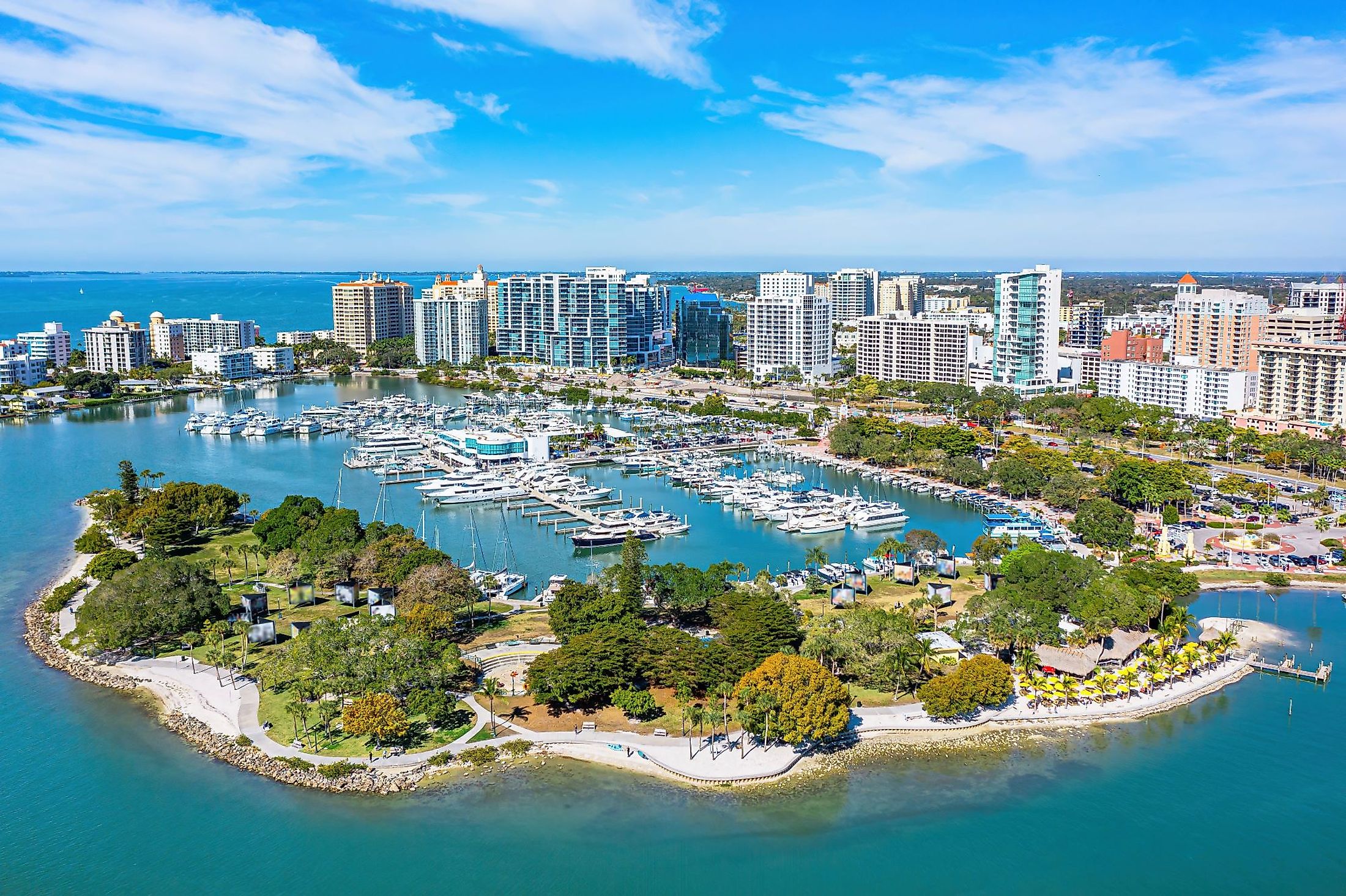 Sarasota is a world-class community and a popular tourist destination noted for its beachy atmosphere, charm, vibrant arts scene, and diversity. The sidewalks of the town, as well as the variety of companies available, make your day safe, healthy, and convenient. Sarasota is a community with various outdoor activities both on the sea and on land, with downtown serving as its dynamic heartbeat. Residents and visitors both enjoy fishing, swimming, paddling, and sailing, while interior attractions include museums, galleries, and concerts, as well as the opera. There is certainly something for everyone in the city of Sarasota.  
Geography And Climate Of Sarasota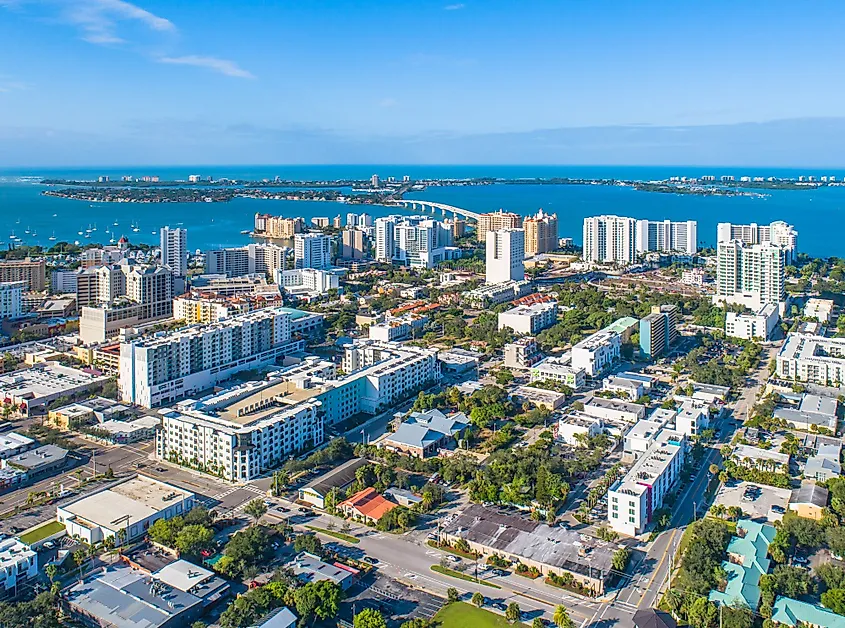 Sarasota city is the County seat for Sarasota County, situated on the southwestern coast of the US state of Florida. The city stands at an elevation of 7 meters above sea level and is bordered by Tampa Bay from the north and Fort Myers from the south. Sarasota covers a total area of 62.38 sq. km, divided into 38.07 sq. km of land and 24.31 sq. km of water. Sarasota Bay and numerous barrier islands, known as keys or coral islands, between the bay and the Gulf of Mexico are its current recognized boundaries. These keys that separate Sarasota Bay from the Mexico Gulf includes Lido Key and Siesta Key, which are famed internationally for the beauty of their beaches. Today, Sarasota's boundaries encompass Lido Key, St. Armands Key, Otter Key, Coon Key, Bird Key, and sections of Siesta Key.
According to the Köppen climate classification, Sarasota experiences a humid subtropical climate with hot, humid summers and cold to mild winters, and evenly distributed precipitation throughout the year. The average annual temperature is 22.8°C, with August and January recording the highest (28°C) and lowest (16.4°C) average temperatures, respectively. On average, Sarasota gets 1513.8mm of precipitation each year, with June, July, August, and September reporting the highest number. The day duration varies along the year, where the longest day is recorded on June 21 (13 hours, 52 minutes), and the shortest day is recorded on December 21 (10 hours, 25 minutes). The sky is mostly cloudy between June and October. The rest of the year is mostly clear. The average annual relative humidity is around 74%, with a wind speed of 11km/h.
Brief History Of Sarasota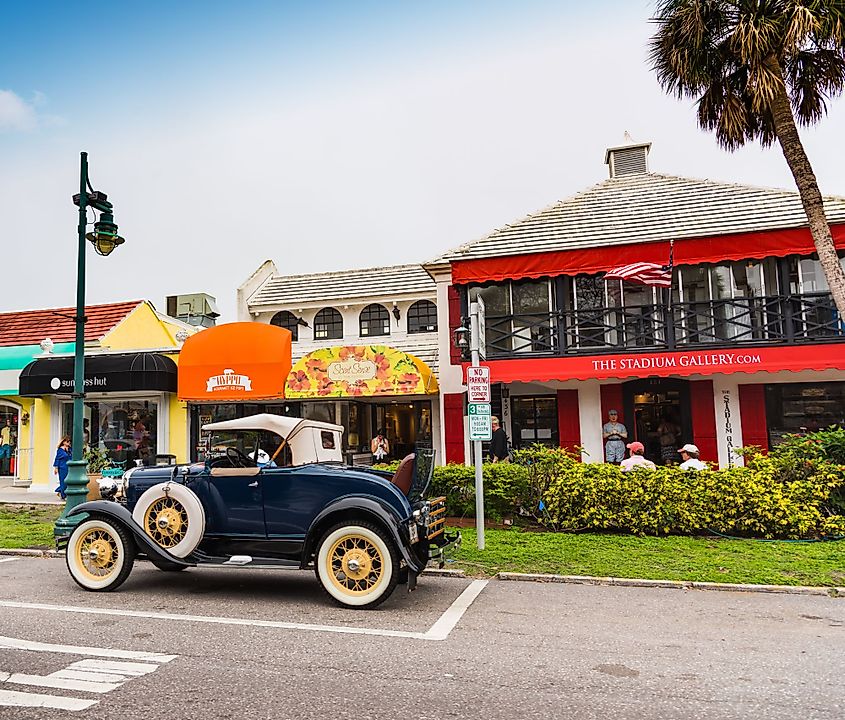 Sarasota, like many other parts of Florida, was initially settled by Native Americans around 10,000 years ago. The Spanish were the first Europeans to explore the region, landing at Charlotte Harbor to the south in 1513. The bay of Sarasota is huge and protected from the Gulf of Mexico by barrier islands. In the years leading up to Florida's declaration as a US state, the bay became a summer destination for fishing and commerce by Americans and Cubans. By the 1840s, a large number of white settlers had moved into the region. On old Spanish maps, the region was known as Zara Zote, and immigrants began calling it Sara Sota. William Whitaker is said to have been the first permanent resident in what ultimately became the City of Sarasota. He traded fish and reared cattle. His family endured numerous trials of pioneer life. Sarasota was founded in the early 1900s. Owen Burns was an early developer who constructed several buildings, residences, roads, and bridges. Although circus owner John Ringling was one of his early backers, Burns went bankrupt during the Great Depression, which halted the 1920s Florida property boom. Soon later, Ringling also went bankrupt. Mrs. Bertha Palmer was a contemporary of Burns who had a significant effect on Sarasota. She married Chicago billionaire Potter Palmer, and when he died in 1902, she inherited his firm. Bertha was a good entrepreneur. She fell in love with Sarasota's warm winter environment and purchased more than 80,000 acres of land there in 1910. In 1914, she purchased additional 19,000 acres in the Temple Terrace region east of Tampa. Palmer also aided tourism by inviting individuals in her economic network to spend their winter vacations in Sarasota. John and Mable Ringling, as well as John's brother Charles, were among them. Sarasota was chosen as the winter home of the Ringling Brothers, Barnum & Bailey Circus. In 1925, John and Mable erected their beautiful estate, Ca d'Zan (House of John), which is now a National Register of Historic Places art museum. Both Ringlings were involved in the creation of Sarasota as well as the community's cultural concerns.
The Population And Economy Of Sarasota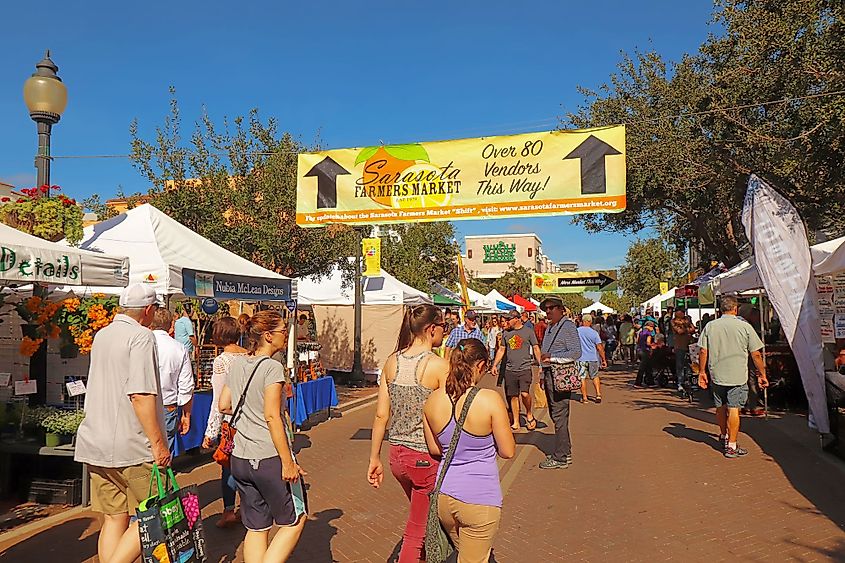 As per the latest US Census, Sarasota has a population of 54,842 residents. The racial makeup of the city is 77.7% white (Hispanic/Latino and non-Hispanic/Latino) and 15.2% African-American or Black. The rest are distributed among Asians, Native Americans, and other races. English is spoken by 80.1% of the population. The rest speak Spanish (13.7%), Indo-European languages (4.3%), Asian and Pacific Islander languages (1.4%), and other foreign languages (0.6%). Only 45% of the population in Sarasota are naturalized US citizens. And veterans make up 8.2% of Sarasota's population, of which 90% are males, and 10% are females. As per the same 2020 Census, 51.6% of the population are employed, with a poverty rate of 15.6%. The homeownership rate in Sarasota is 58%, where the median gross rent cost is $1177 per month, with a median household income of $56,093.
Attractions In Sarasota
Sarasota's Theaters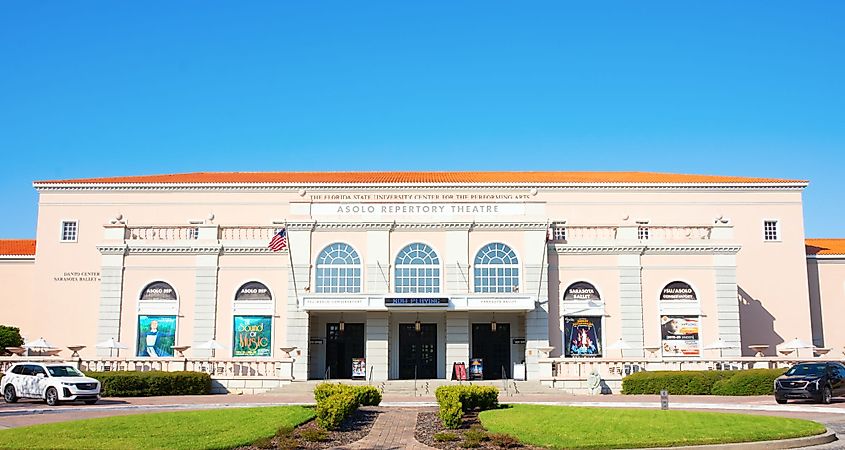 These include Florida Studio Theater, Van Wezel Performing Arts Hall, Asolo Repertory Theatre, and Sarasota Opera House. Florida Studio Theatre offers intimate and engaging venues for high-quality, professional acts and schooling. Van Wezel Performing Arts Hall showcases traveling musical acts and Broadway resurrections. Asolo Repertory Theatre is Florida's largest Equity theatre and Repertory Theatre. The Sarasota Orchestra is the city's longest continuously operating orchestra, performing in an elegant art deco opera theatre in downtown Sarasota.
John and Mable Ringling Museum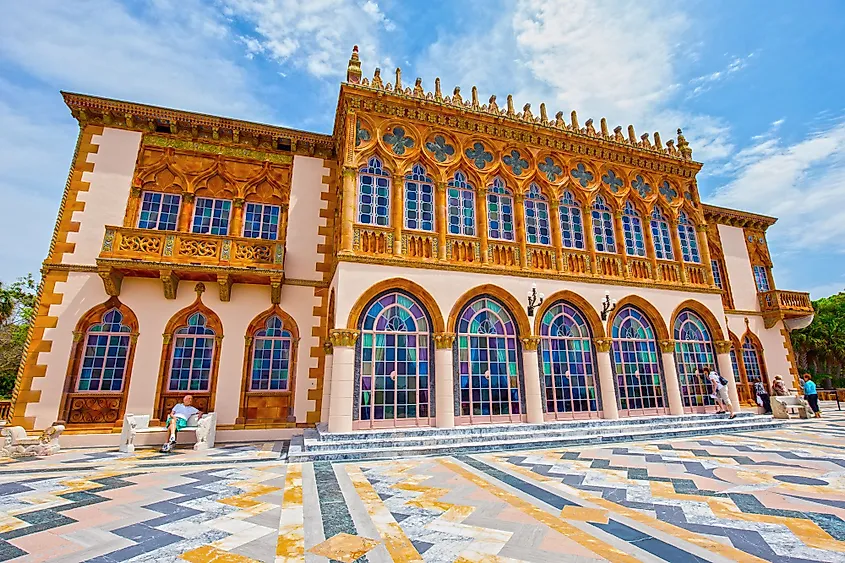 This museum is the official state art museum of Florida. The museum's art collection now includes about 10,000 artifacts from ancient to modern times and from all over the world, including paintings, sculptures, drawings, prints, photographs, and decorative arts.
Siesta Key Beach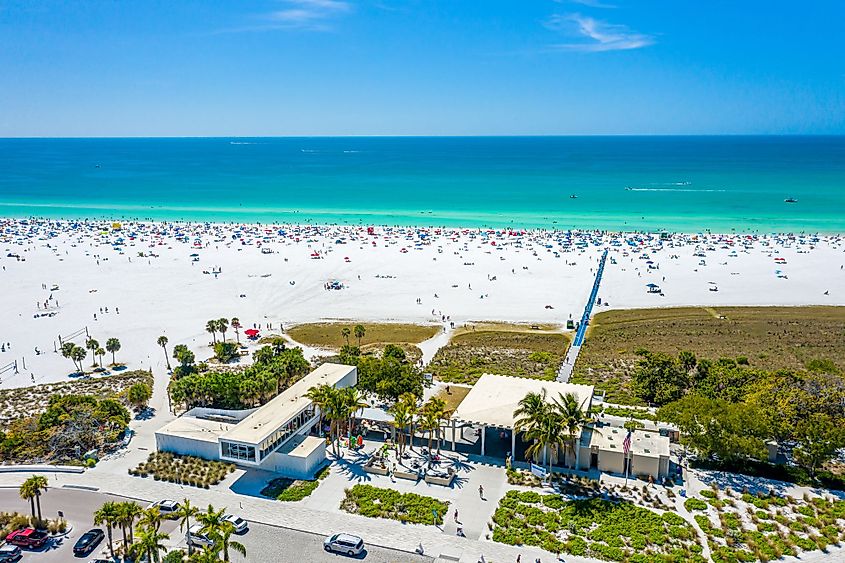 Siesta Beach is on Siesta Key in the United States state of Florida. Unlike other beaches, which are formed mainly of crushed coral, Siesta Beach's sand is 99 percent quartz, most of which comes from the Appalachian Mountains.
Ca' d'Zan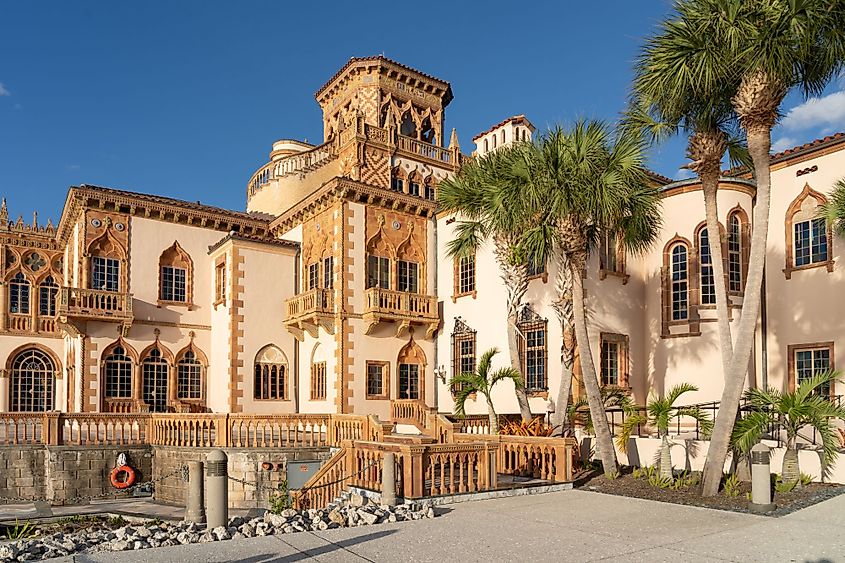 Ca' d'Zan ("House of John" in Venetian) is a Mediterranean-style home in Sarasota next to Sarasota Bay. Ca' d'Zan was erected in the mid-1920s as the winter home of John Ringling, an American circus magnate, entrepreneur, art collector, and his wife, Mable Burton Ringling. Ca' d'Zan has been regarded as an architectural masterpiece since its completion in 1926.
Sarasota Jungle Gardens
Sarasota Jungle Gardens has been a tourist attraction in Sarasota, Florida, since 1939. The gardens include nearly ten acres of botanical plants as well as bird and animal shows. It is available to the public for a per-use ticket charge, and yearly membership passes for those who plan on visiting consistently.