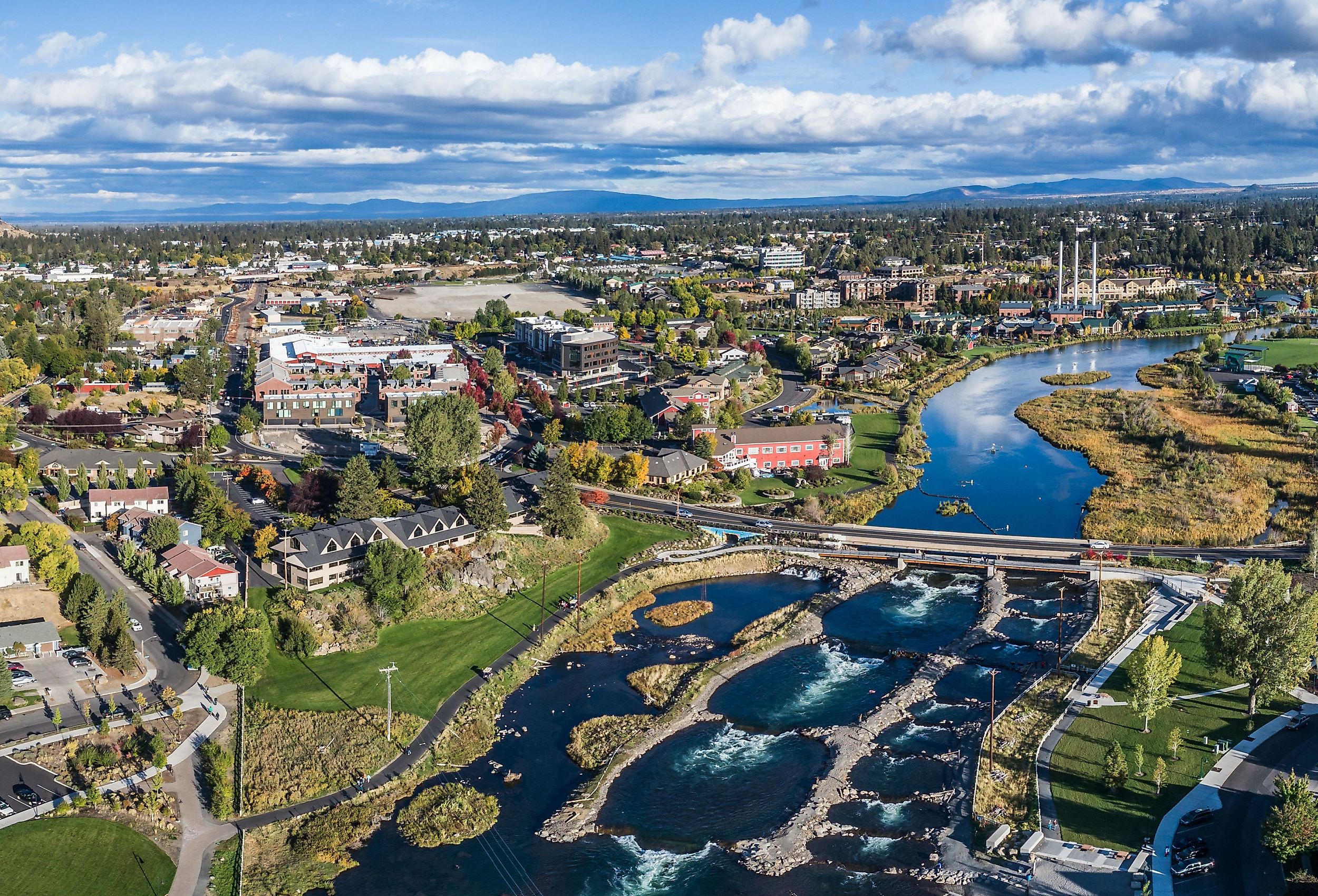 The 15 Most Beautiful Towns in America
Filled with wondrous towns, America is rich in both natural and developed beauty. Across this enormous and eclectic land, there are special places nestled between mountains, tucked within enchanting forests, or surrounded by enthralling waters. These scenic towns are also steeped in stimulating histories, and full of modern character quirks.
Gatlinburg, Tennessee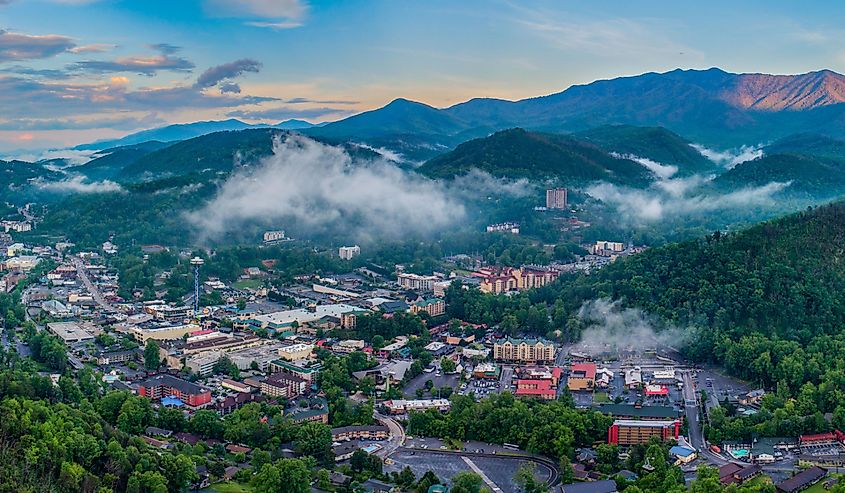 Gatlinburg rests in the Great Smoky Mountains and acts as the perfect gateway to America's most visited national park. Explore the trails, or get a birds-eye-view of the landscape (verdant in the summer, pure white in the winter, and a colorful tapestry in the fall) by heading up the Gatlinburg Space Needle, or riding the Ober Gatlinburg Aerial Tramway to a breathtaking summit. Within the cute confines of the town, explore the artisanal creations of the Great Smoky Arts and Crafts Community by walking the 8-mile loop of shops, studios, galleries, and eateries known as Gatlinburg's Historic Arts and Crafts Trail.
South Haven, Michigan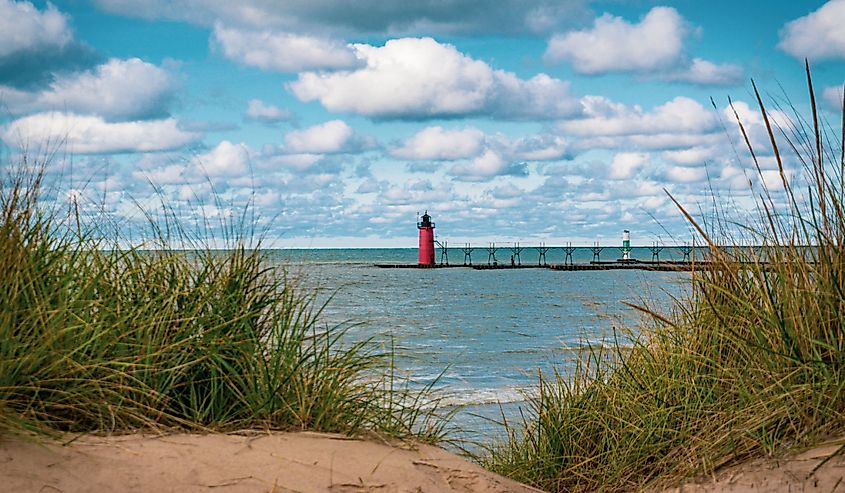 This southwestern Michigan beach town more than holds its own against a slew of other Lake Michigan gems. First and foremost, South Haven has an excellent waterfront, with long sandy stretches sub-divided by the South Haven Pier, which itself is complete with a postcard-perfect, bright red lighthouse. Aside from the scenic shoreline, South Haven also has a well-stocked, pedestrian-friendly downtown core, and a wealth of nearby inland lakes and nature trails to explore.
Cloudcroft, New Mexico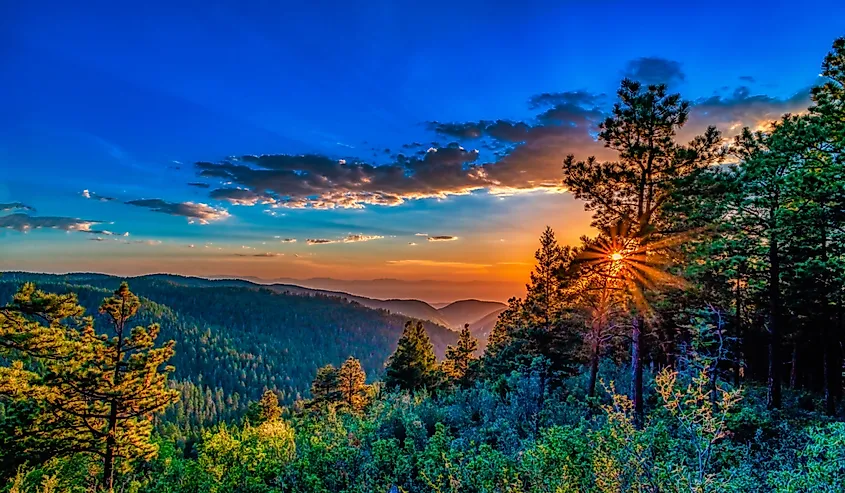 Situated high in the mountains of south-central New Mexico (at 8,676 feet above sea level), and within the protected wilderness of Lincoln National Forest, the old pioneer village/train depot of Cloudcroft is one of the most spectacular and underrated places in New Mexico. During the summer, visitors will enjoy the respite offered by the cool alpine air, opening the door to all kinds of activities, such as golfing, hiking, biking, hunting, camping, bird watching, and horseback riding, as well as more leisure-based indulgences such as casual shopping. In the wintertime, the nearby slopes, cross-country skiing trails, and charming town rink keep the spirits as high as the terrain. At any time of the year, be sure to include a side trip to White Sands National Park, 35 miles west of town.
Homer, Alaska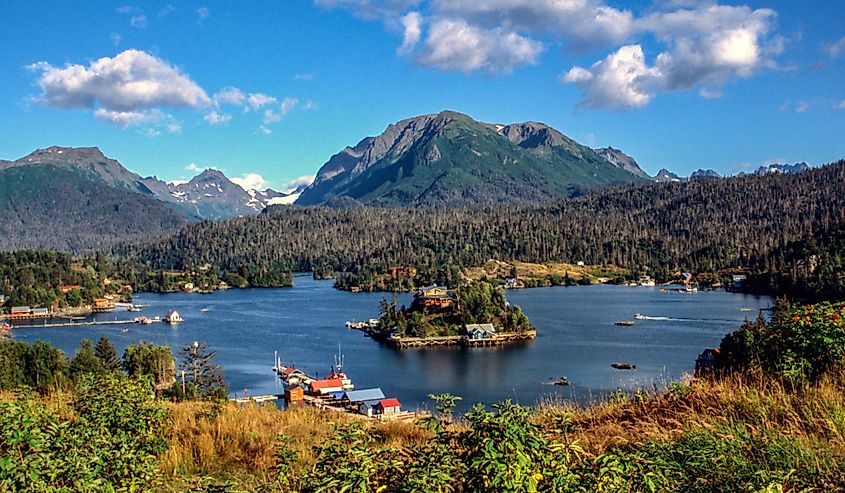 This slice of rugged Alaskan paradise combines all the key components of an iconic state. The small town of Homer is on the northern side of Kachemak Bay, looking out upon the splendor of the Kenai Mountains and Kachemak Bay State Park and Wilderness. Visitors can enjoy the sights, sounds, and culinary indulgences (Homer is the "Halibut Fishing Capital of the World") of the community, camp on the Homer Spit (a 4.5-mile-long sliver of land that stretches well into the cool, blue bay), or adventure deeper into the surrounding wilderness. A guaranteed life-long memory is to hop on a floatplane tour across Cook Inlet to Katmai National Park or Lake Clark National Park to watch healthy populations of hefty Alaskan brown bears in their gorgeous natural habitat.
Moab, Utah
With a population of just over 5,000 people, Moab marries a quaint interior with an endless, stunning exterior. This resort town is close to the preternatural formations in Arches National Park, and the mind-melting chasms of both Canyonlands National Park and Dead Horse Point State Park. The top-tier scenery brings year-round tourism to Moab, which has helped shape an inviting and walkable downtown core filled with artisanal shops, microbreweries, galleries, and more. Depending on the time of year, there are also multiple art and music festivals to consider synchronizing your trip with.
Bend, Oregon
In Oregon's High Desert, the small city of Bend just sneaks into the northern edge of the Great Basin's boundary. The innate beauty of the bygone logging town has helped morph it into an outdoor lover's paradise. Though surrounded by the lush forests of the Pacific Northwest, Bend also enjoys around 300 sunny days per year, thanks to its unique geographical location. Former host of the Mountain Running National Championships, and named "America's Best Trail Running Town" by Outside magazine, Bend has made excellent use of its 51-mile local trail network, in conjunction with scores of multi-use paths that span throughout the outskirts. Though Bend is booming, it still maintains its chilled-out charm.
Key West, Florida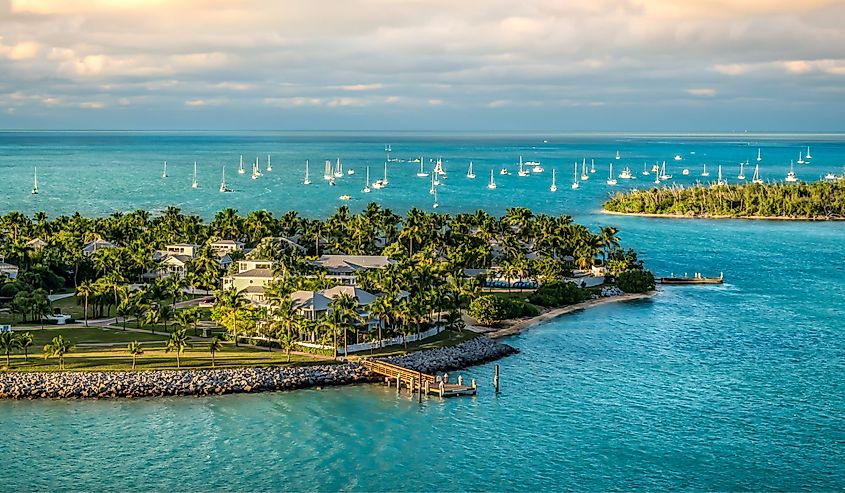 At the bottom of Highway US-1 is America's southernmost city. Key West has an enticing location, far off the coast of mainland Florida and well on its way to Cuba. The deep blue sea surrounding this tropical island invites one to swim with dolphins, rent a boat or paddle a kayak, suit up in diving gear, or simply strap on a snorkel. However, if you prefer to stay dry, kick back on the beaches, relax by the pool, post up on the colorful and inviting Duval Street, or stroll through the Key West Historic District (the Old Town), for a glimpse into the past. For a scenic side trip, pop on over to the historic Fort Jefferson and Dry Tortugas National Park.
Skaneateles, New York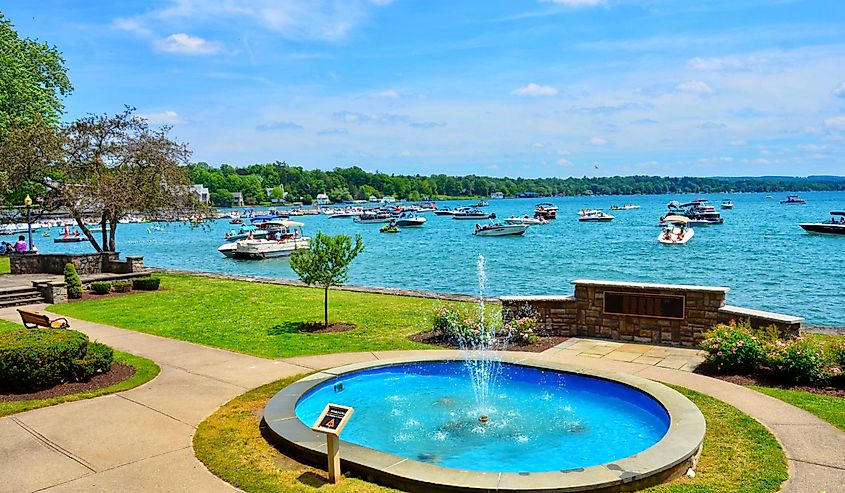 This Onondaga County hamlet sits at the top of Skaneateles Lake, one of the eleven Finger Lakes, and is one of the crown jewels of this jaw-dropping region. The upscale town offers a relaxing, waterfront atmosphere where you can unwind for a couple of nights in a quaint B&B or old-fashioned Inn, and enjoy the rocking chair pace of life for a while. Skaneateles is also a great spot to appreciate history. Many of the homes throughout town are centuries old and were an integral part of The Underground Railroad.
Brevard, North Carolina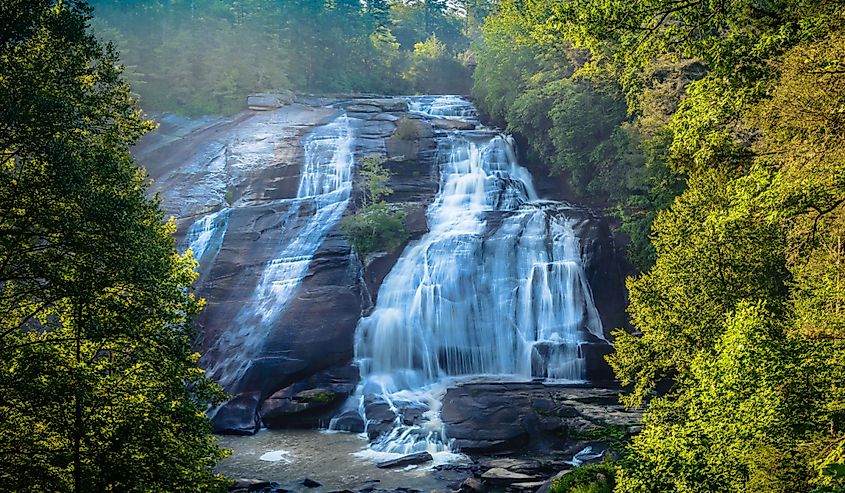 Known as "North Carolina's Land of Waterfalls," the small city of Brevard, in Transylvania County is one of the most beautiful towns in the US. Just outside of town, within the lush surrounding forests, there are 250 waterfalls (North America's largest concentration). You can utilize the brilliant network of hiking, mountain biking, and equestrian trails to find as many of these refreshing beauties as you can. Afterward, settle into the state's expected blend of craft beer, live music, and a solid dose of outdoor events, such as rotating markets, block parties, and festivals. Brevard might even be ready to give nearby Asheville a run for its money.
Leadville, Colorado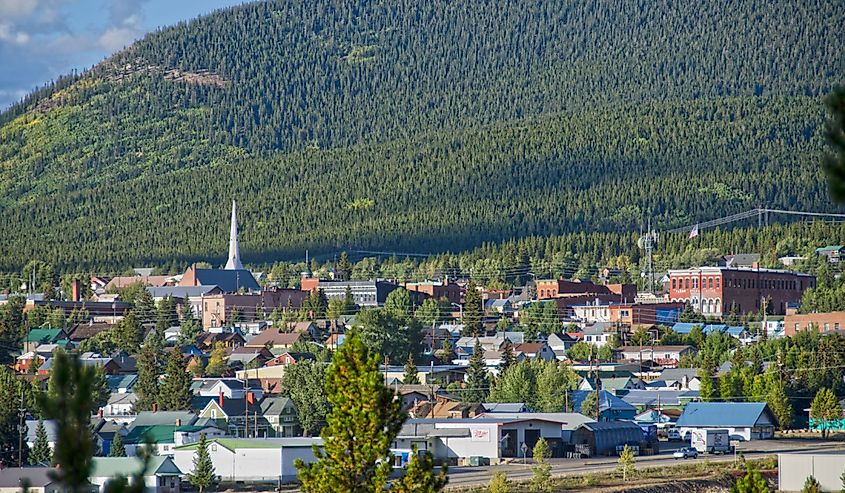 This Victorian-era gold and silver mining town of Leadville sits at 10,152 feet above sea level, the highest incorporated city in North America. During its prime, Leadville exhibited all the glamor of a quintessential Wild West saloon town. However, after the mines closed, the scrappy residents had to reinvent themselves in order to keep the community afloat. Utilizing its stunning location between the Mosquito and Sawatch Mountain Ranges (with two of Colorado's highest peaks: Mount Elbert and Mount Massive standing guard), Leadville has transformed into an outdoor recreation and adventure-race tourist town. The Leadville Race Series now keeps this place bustling year-round with an endless combination of running and mountain biking events that display the natural allure of the area, as well as the magic of community and willpower.
St. Charles/Geneva, Illinois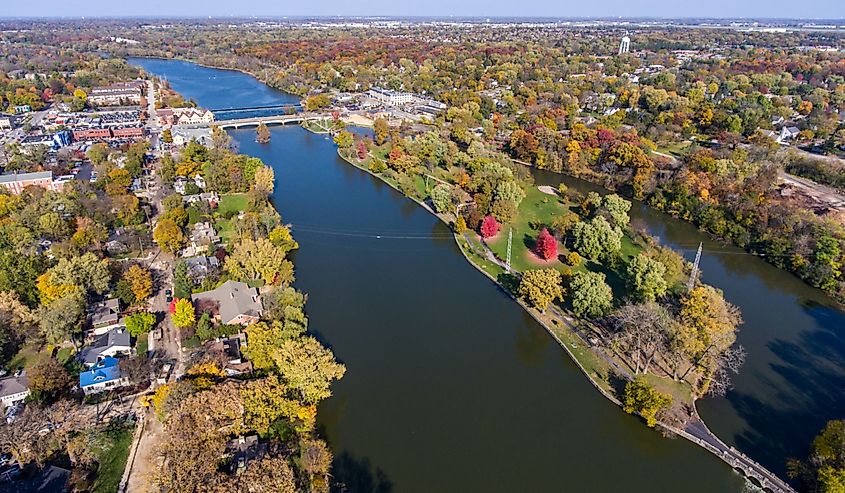 Just 40 miles west of downtown Chicago, and even closer to the international hub of O'Hare Airport, are the sister communities of St. Charles and Geneva, Illinois. Both are on the Fox River and offer a soothing setting with some light social activities peppered in. The area is rich in boutique shops, vintage hotels, identity-driven restaurants and cafes, dog-friendly parks, riverside walking paths, and chipper residents. This tri-city area (which also includes Batavia, a little further South down the river) exudes plenty of small-town goodness while still being within shouting distance of one of the great American cities.
Forks/La Push, Washington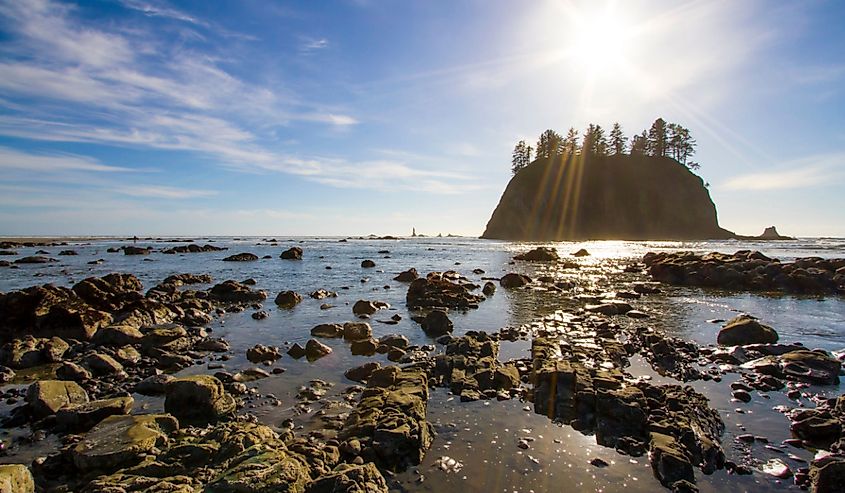 Forks, Washington is on the serene Olympic Peninsula, between the raw Pacific Ocean beaches and the bold Olympic Mountains (which includes Mount Olympus, the 7,980-foot focal point of Olympic National Park). Those equipped with waterproof clothing will enjoy a perpetually pleasant pitter-patter pattern on their hoods as they explore the rainiest town in the contiguous United States (receiving about 120 inches annually). These whimsical conditions inspired the setting for the best-selling series Twilight, which certain tourists get an extra kick out of. Otherwise, visitors often use this spot to leap-frog into Olympic National Park and the Hoh Rainforest (to the east), explore the unspoiled coastline of La Push (to the west), and appreciate the intertwining layers of Native American art and culture.
Sedona, Arizona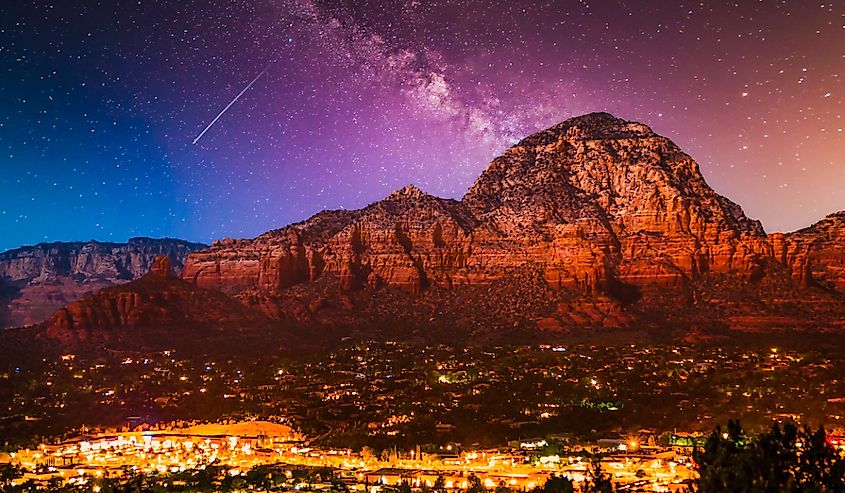 South of Flagstaff is the cherished and ubiquitous red rock landscape of Sedona, Arizona. This spot has a thriving arts scene (there are over 80 galleries scattered about), its emphasis on new-age spiritualism (including some quirky "vortex" tourism), a vibrant health and wellness scene, and oodles of scenic outdoor activities. The adjacent 1.856-million-acre Coconino National Forest, plus four wilderness areas and two state parks in the surrounding area, provide ample playgrounds for keen explorers.
Haleiwa, Hawaii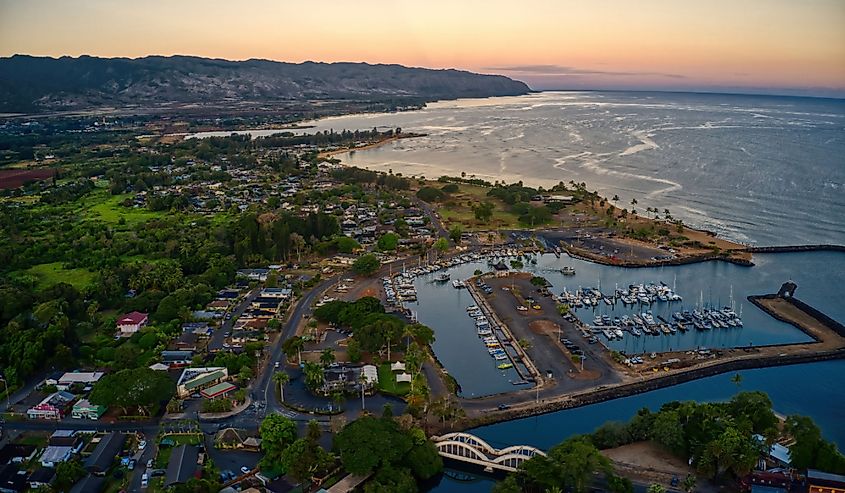 Haleiwa pronounced hah-lay-EE-wah, meaning "house of the frigate bird", offers stunning beaches and is one of the surfing capitals of the world. Located on the Northern Coast of the island of Oahu, Hawaii, the shores of Haleiwa can see swells between two to 40 feet! However, it is not all about the high-octane thrills; this place preserves a timeless feel that earned it the status of Historic, Cultural, and Scenic District by the state. Similar to many quintessential Hawaiian hangouts, Haleiwa makes for a chill spot to drink in the spectacular sunsets.
Bozeman, Montana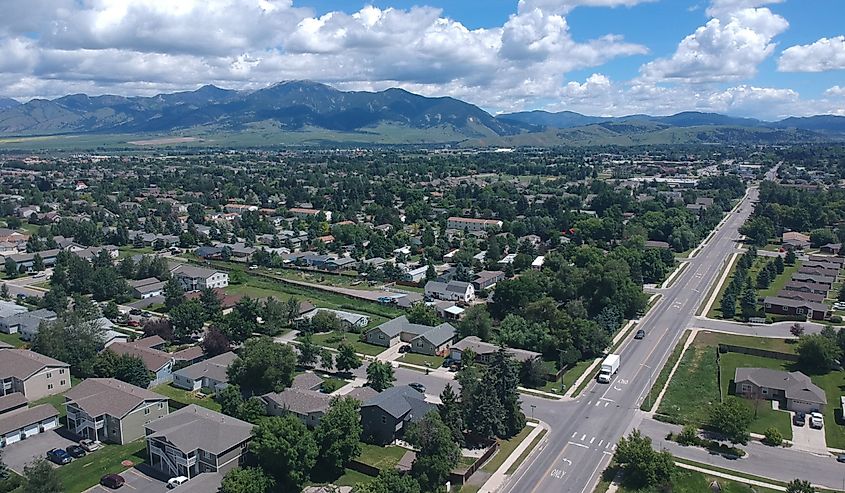 This walkable mountain town in southern Montana makes for a laid-back place to take in the Rocky Mountain scenery, absorb a blend of cowboy and indigenous culture, and establish a base camp for loads of stunning outdoor adventures. Around Bozeman, visitors can try their hand at backpacking, camping, hunting, fishing, rock climbing, and every kind of cycling. Leisure enthusiasts might prefer attending one of Bozeman's festivals, street markets, and rodeos, or setting up shop and enjoying the fresh air on one of the many friendly patios.
Beauty comes in many forms from natural wonders to historic charm. However, no matter what your preferences are, whether you have a propensity for deserts or lakes, mountains or canyons, old saloons, or fancy restaurants, it is safe to say that these fifteen towns are universally alluring.