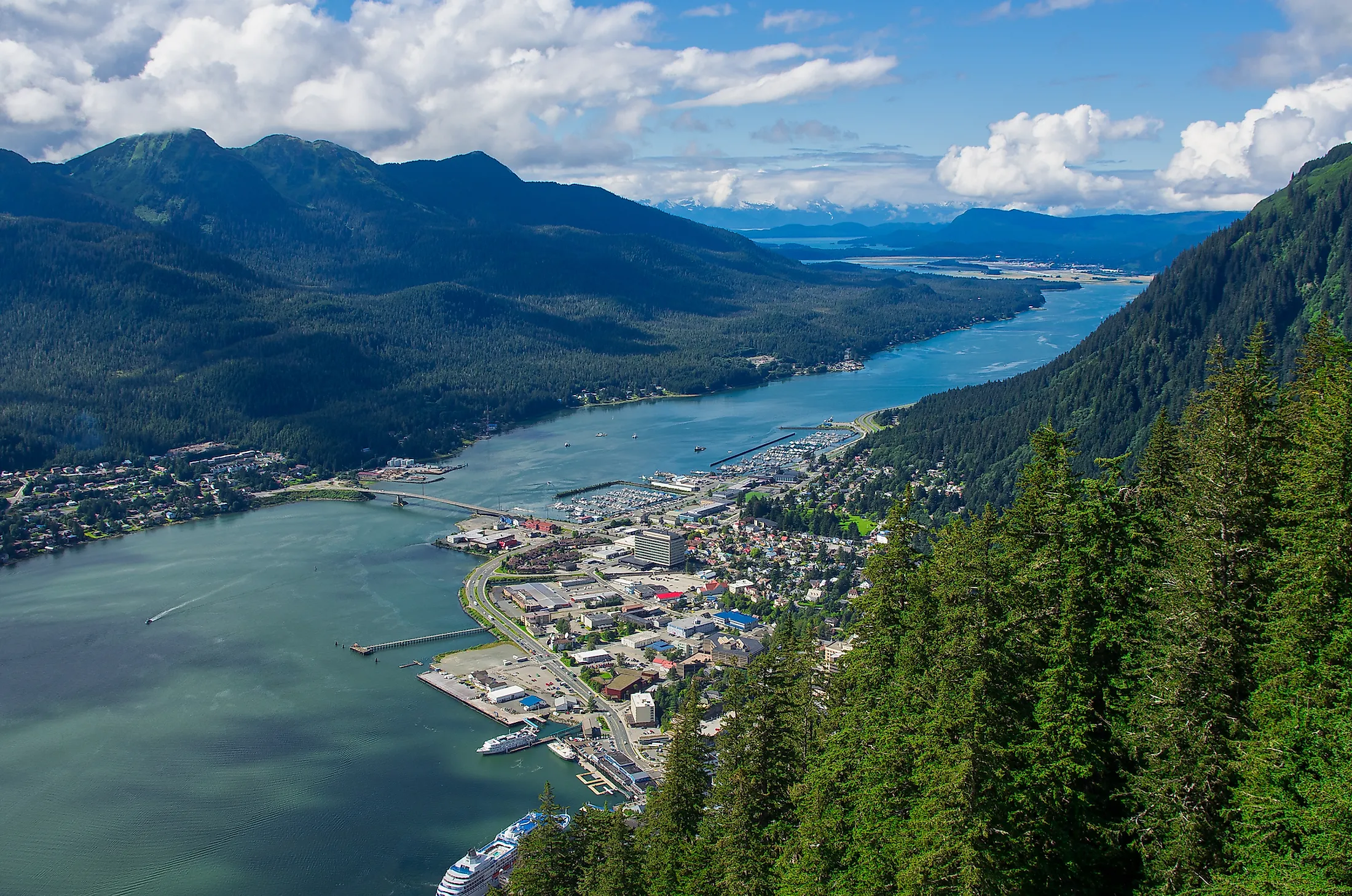 10 Largest Cities In Alaska
Alaska, America's largest state by area, is the country's third-least populous one. It occupies an area (665,384 square miles) larger than the combined areas of the next three largest states (Texas, California, and Montana) and hosts a population of only 733,391. Alaska is the least densely inhabited state in the Union, with only 1.2 persons per square mile on average, with its population exhibiting a decreasing trend. The severe weather conditions, geographic limitations, high cost of living, scarcity of employment opportunities, and lack of infrastructure account for the state's low population. Below is a list of the ten biggest cities in Alaska:
1. Anchorage - 291,131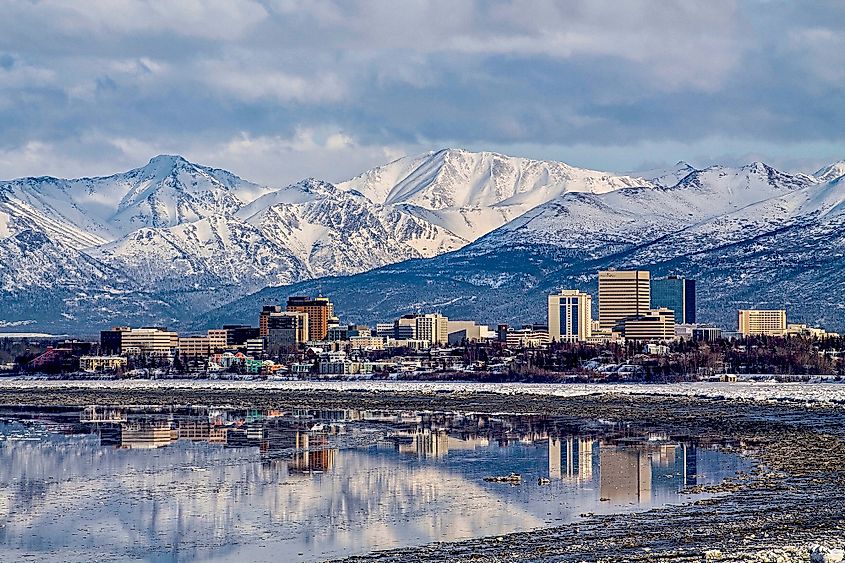 The popular tourist city of Anchorage is located on the Cook Inlet in southern Alaska, covering an area of 1944 square miles. Anchorage is known for its rich art and music scene. Pristine nature surrounds this city which also serves as the gateway to spectacular wilderness destinations. Anchorage's residents enjoy a high living standard and the absence of income and sales tax. The population density here is only 171 people per sq. mile. The city is also home to the Alaska Native Heritage Center, which introduces visitors to the rich indigenous heritage of the state. 
2. Fairbanks - 32,711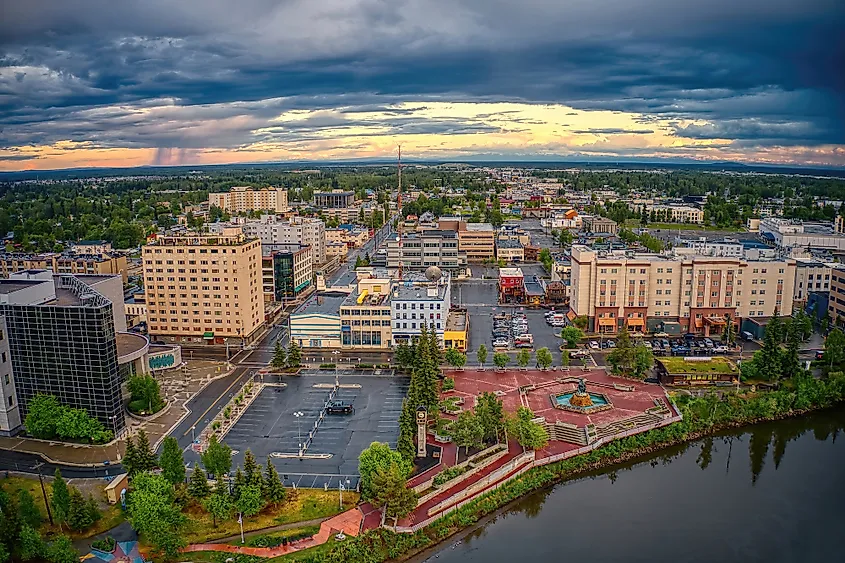 Fairbanks, often known as the "Golden Heart City," is home to a diverse population, a prosperous economy, and a wealth of history. It has a total area of over 33 square miles and a population density of 1,030 persons per square mile. Fairbanks is one of Alaska's top year-round vacation spots. Visitors to Fairbanks will never run out of things to do, whether they come for the long, warm summer days or to see the stunning northern lights that paint the night sky during the Aurora Season in Winter. Fairbanks enjoys 70 continuous days of daylight from mid-May to mid-July! Fairbanks also serves as the gateway to Denali National Park & Preserve, the Interior, and the Arctic.
3. Juneau - 32,451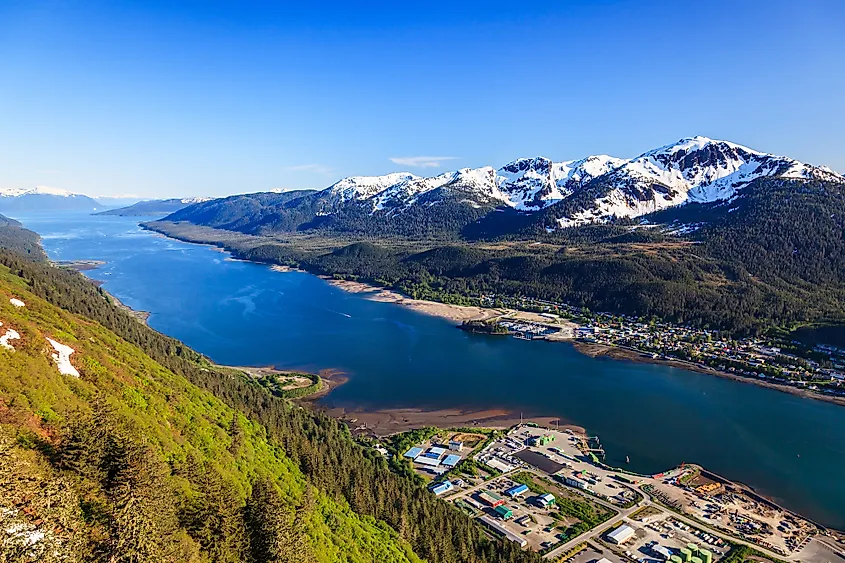 Located on the Gastineau Channel and the Alaskan panhandle, Juneau is one of Alaska's most famous cities, known for its breathtaking surrounding vistas. Covering an area of 3255 square miles, Juneau offers a never-ending supply of attractions, from sparkling beaches to lofty mountains. It is also one of the least densely populated settlements in the state, with only around 12 persons per square mile. Juneau is a great whale-watching destination. In the summer months, the population of Juneau swells due to the influx of workers employed in the seasonal tourism (especially the cruise ship) industry. Winter also opens up winter sports opportunities like skiing in the nearby mountains. 
4. Knik-Fairview - 20,171 
Surrounded by pristine nature, Knik Fairview is a great place to build a home in Alaska. This settlement covers over 84 square miles, including a high school, a golf course, a museum, and a supermarket. It hosts around 242 persons per square mile, with the residents appreciating the quiet, small-town atmosphere and recreational opportunities that Knik-Fairview offers.
5. Badger - 18,941
Badger is famous as the location of Fort Wainwright, a Fairbanks Army and National Guard station. According to the military, the site supports about 7,000 soldiers, 6,500 family members, 2,400 contractors, civilian employees, and 7,800 veterans and retirees. The settlement covers an area of 67 square miles with 289 inhabitants per square mile. 
6. College - 11,006
Located adjacent to Fairbanks and often considered a part of it, College is a census-designated place with an area of about 19 square miles and a population density of 588 persons per square mile. College is known for its quiet suburban atmosphere and top-graded academic institutions. The University of Alaska Fairbanks, located in College, provides emergency medical care, fire protection, and ambulance service. The University of Alaska Fairbanks Police Department and Alaska State Troopers work together to provide police protection in the region. College also hosts several beautiful parks that offer much-needed recreation to its residents. 
7. Meadow Lakes - 9,523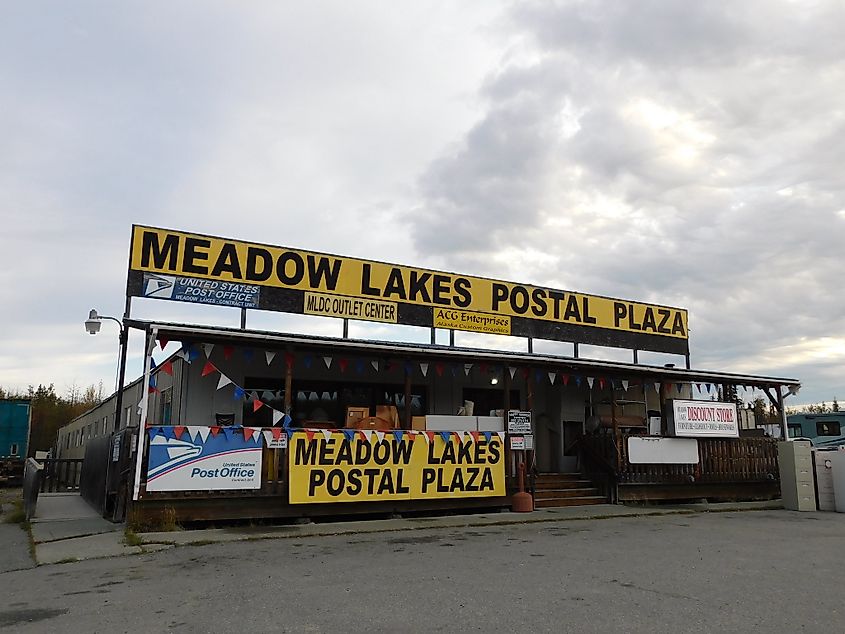 Meadow Lakes is a scenic settlement surrounded by majestic mountains, a haven for outdoor enthusiasts. Part of the Matanuska-Susitna Borough, this place occupies 79 square miles with 126 inhabitants per square mile. Camping, canoeing, fishing, and hiking are available for residents and visitors of Meadow Lakes. Snow machining, dog sledding, and skiing are all also accessible in winter. The settlement also serves as the gateway to several state parks and leisure destinations. 
8. Wasilla - 9,298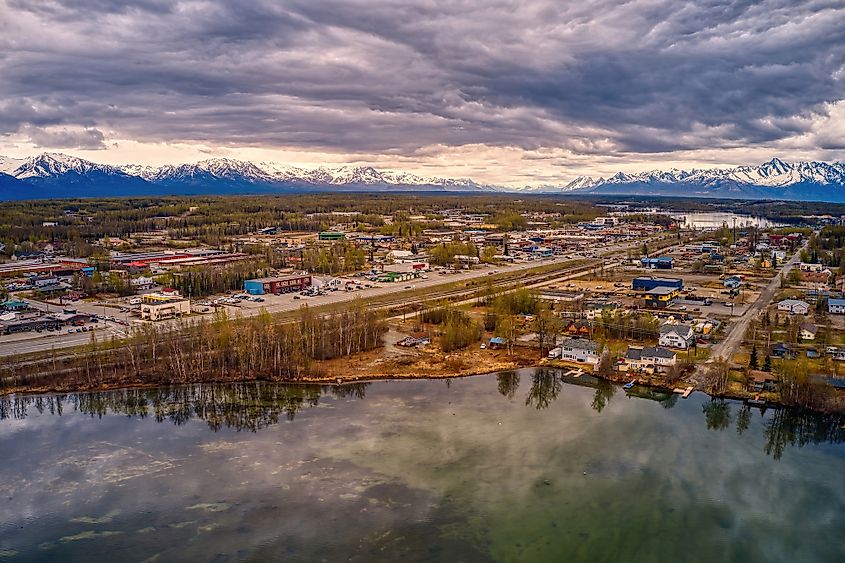 The city of Wasilla was initially the meeting point of the Old Carle Wagon Road and the Alaska Railroad, nestled between Wasilla Lake and Lake Lucille. It has now developed into a thriving agricultural town. Wasilla has a total area of over 13 square miles and a population density of 750 inhabitants per square mile. The sixth-largest city in Alaska, it is a thriving community with much to see and do. It serves as the headquarters of the renowned Iditarod Sled Dog Race and is the busy center of the Mat-Su Valley. Despite being one of Alaska's fastest-growing regions, it has a small-town atmosphere. This tiny place offers some of the greatest hiking, fishing, and camping opportunities in Alaska. Wasilla is known for its beautiful outdoors and vibrant arts and cultural scene. 
9. Tanaina - 8,941
Part of the Matanuska-Susitna Borough, Tanaina, is a small settlement of only about 31 square miles but with a relatively high population density of 295 inhabitants per square mile. Residents of Tanaina enjoy a rural lifestyle, and the majority own their houses. There are several parks and coffee shops in Tanaina. Its public schools score above average and are generally good.
10. Kalifornsky - 8,615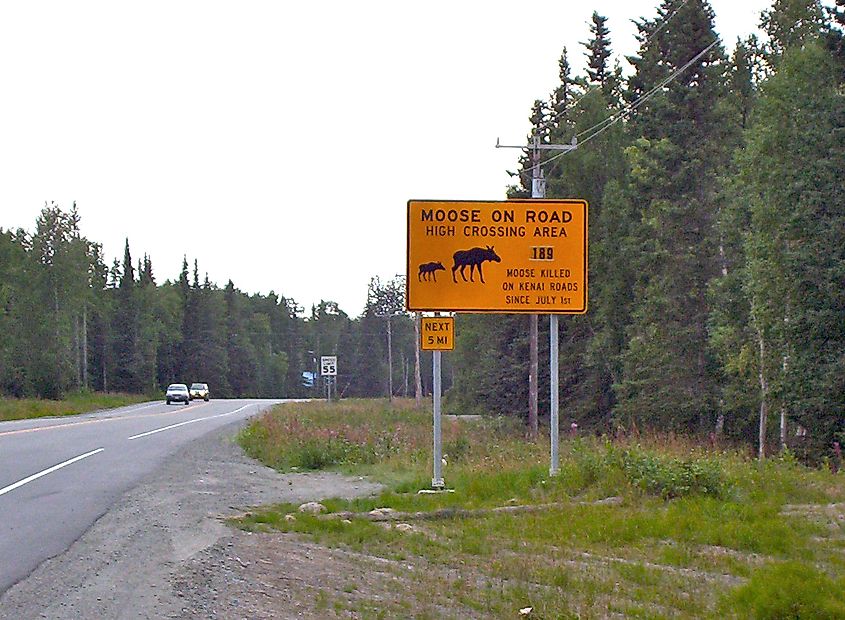 Kalifornsky is a small settlement spread across 70 square miles with a population density of 125 people per square mile. The city is home to several parks that serve as recreational venues for the residents. The processing of oil and gas, logging, commercial and sport fishing, government, retail companies, and tourism are among the biggest employers in Kalifornsky.
Alaska is a remarkable place. Despite its harsh weather and terrain that limit its population, the state attracts visitors from far and wide. Pristine nature surrounds its beautiful cities and towns with a plethora of outdoor activities on offer for all who visit them. 
30 Biggest Cities In Alaska
| Rank | Name | Population  |
| --- | --- | --- |
| 1 | Anchorage | 291,131 |
| 2 | Fairbanks | 32,711 |
| 3 | Juneau | 32,451 |
| 4 | Knik-Fairview | 20,171 |
| 5 | Badger | 18,941 |
| 6 | College | 11,006 |
| 7 | Meadow Lakes | 9,523 |
| 8 | Wasilla | 9,298 |
| 9 | Tanaina | 8,941 |
| 10 | Kalifornsky | 8,615 |
| 11 | Sitka | 8,374 |
| 12 | Ketchikan | 8,220 |
| 13 | Kenai | 7,488 |
| 14 | Steele Creek | 6,393 |
| 15 | Bethel | 6,373 |
| 16 | Chena Ridge | 6,059 |
| 17 | Sterling | 5,978 |
| 18 | Palmer | 5,878 |
| 19 | Gateway | 5,788 |
| 20 | Homer | 5,626 |
| 21 | Kodiak | 5,471 |
| 22 | Fishhook | 5,122 |
| 23 | Farmers Loop | 4,674 |
| 24 | Nikiski | 4,448 |
| 25 | Soldotna | 4,378 |
| 26 | Unalaska | 4,230 |
| 27 | Valdez | 3,987 |
| 28 | Big Lake | 3,929 |
| 29 | Nome | 3,719 |
| 30 | Butte | 3,657 |