Highest Peaks In Colorado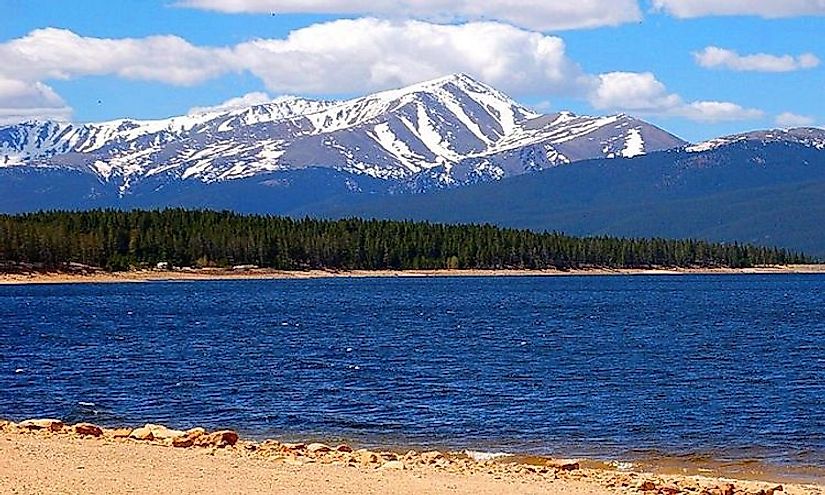 Colorado is the highest state in the US in terms of mean elevation, which is 6,800 feet above sea level. The state also has a diverse topography. It has tall, jagged mountain peaks, vast stretches of plains, deserts, mesas, and canyons. The state hosts about 550 mountain peaks with the elevation exceeding 4,000 meters. Colorado is also the only US state where the elevation of the entire landscape of the state is above 1,000 meters. The highest summit in the state is Mount Elbert (14,440 feet), and lowest point is 3,317 feet located in the Yuma County's eastern boundary.
Highest Peaks In Colorado
Colorado is renowned for its "Fourteeners," the 58 mountain peaks that exceed 14,000 feet. It also has around 100 peaks that exceed 10,000 feet.
Mount Elbert which is the tallest peak in Colorado is also one of the most isolated peaks in the Sawatch Range. The next highest in the Rockies are Mount Massive and Mount Harvard, with La Plata Peak, Mount Antero, Mount Princeton, and Mount Yale being the other notable peaks of this range. Mount Blanca is the highest peak in the Sangre de Cristo Range which also has Crestone Peak. Grays Peak is the tallest in Front Range which also has Mount Evans, Longs Peak, and Pikes Peak. Elk Mountains' highest peak is Castle Peak, then come Maroon Peak, and Capitol Peak. Mount Lincoln in Mosquito Range, Mount Sneffels in Sneffels Range and Mount Wilson in San Miguel Mountains make up the rest of the highest twenty peaks in Colorado.
Flora And Fauna Of The Highest Peaks In Colorado
There are three types of ecosystems in the Rocky mountains, montane, sub-alpine, and alpine depending on the elevation. Adding to the rich variety of habitats are rivers and streams in each ecosystem. So these mountains have 900 plants, 281 birds and 60 mammal species.
On the drier and southern slopes are found ponderosa pine, and on the moist northern slopes are douglas fir, lodge pine and ponderosa, in the montane section at lower elevations up to 9500 feet. In the sub-alpine areas between 9,500 to 11,000 feet are found engelmann spruce and subalpine fir. In areas disturbed by fire are lodgepole pine, and by wind are found limber pine. These two areas also have a rich diversity of flowering herbs. Above 11,000 feet is the tree-less alpine region with cold and harsh climatic conditions, made worse by hurricane winds. Only moss-like ground clumps of alpine avens survive here.
In the Rockies elk, moose, beavers, and mule deer are abundant. So are a variety of small mammals like yellow-bellied marmot, golden-mantled ground-squirrel, Wyoming ground squirrel, Colorado chipmunk and chickaree, especially along trails and in picnic areas. The common and large predators are black bears, coyotes, mountain lions, and bob cats. Broadtailed and rufus hummingbirds, osprey and mountain bluebird, are the common birds.
Tourism And Mountain Climbing
Some of the most beautiful and spectacular peaks in Rockies are on this list, and are an attraction for adventure sports and photography enthusiasts. Climbing has been a major sport since the 1800s, and includes climbing rocks, big wall, snow and ice, bouldering and mountaineering. Climbs can be easy and last less than a day, or last many days, which given violent weather, avalanches and waterfalls,
are not for the faint-hearted. Hiking and biking trails, fishing, backpacking, swimming, and saddle rides are other possibilities and the peaks are a popular summer destination. In winter, sports like snow-shoeing, cross-country skiing, snow-mobiling, ice fishing and winter camping draw national and international tourists.
Peaks like Elbert can be reached only by climbing, and by staying at two base camps. Maroon Peak can be accessed in winter only by snow-mobiling and skiing. Pikes Peak boosts of a highway and a cog railway all the way up to the peak. Mount Evans is one of the few places at its height with a paved road. However, the road is closed in winter. While Mount Sneffels is elusive with no roads to it, and hiking is the only way to reach it. Facilities for staying are different reflecting the accessibility of each peak.
History Of Climbing The Highest Peaks In Colorado
The Ute tribes were the first to venture into the Rockies in summer for hunting. They are considered the first tourists here as they had no permanent quarters in these mountains and lived in tepees. Among the settlers, Rufus Sage was one of the first explorers to describe the wonders of the Rockies. Since then it has always been a tourist attraction. John Wesley Powell in 1868 was the first man, and Anna Dickinson in 1873 was the first woman to climb Longs Peak. In the same year, Isabella Bird from the Royal Geographic Society climbed Estes Peak.
Highest Peaks In Colorado
| Rank | | Mountain Range | Elevation (in feet) |
| --- | --- | --- | --- |
| 1 | Mount Elbert | Sawatch Range | 14,440 |
| 2 | Mount Massive | Sawatch Range | 14,428 |
| 3 | Mount Harvard | Sawatch Range | 14,421 |
| 4 | Blanca Peak | Sangre de Cristo Mountains | 14,351 |
| 5 | La Plata Peak | Sawatch Range | 14,343 |
| 6 | Uncompahgre Peak | San Juan Mountains | 14,321 |
| 7 | Crestone Peak | Sangre de Cristo Range | 14,300 |
| 8 | Mount Lincoln | Mosquito Range | 14,293 |
| 9 | Castle Peak | Elk Mountains | 14,279 |
| 10 | Grays Peak | Front Range | 14,278 |
| 11 | Mount Antero | Sawatch Range | 14,276 |
| 12 | Mount Evans | Front Range | 14,271 |
| 13 | Longs Peak | Front Range | 14,259 |
| 14 | Mount Wilson | San Miguel Mountains | 14,252 |
| 15 | Mount Princeton | Sawatch Range | 14,204 |
| 16 | Mount Yale | Sawatch Range | 14,200 |
| 17 | Maroon Peak | Elk Mountains | 14,163 |
| 18 | Mount Sneffels | Sneffels Range | 14,158 |
| 19 | Capitol Peak | Elk Mountains | 14,137 |
| 20 | Pikes Peak | Front Range | 14,115 |