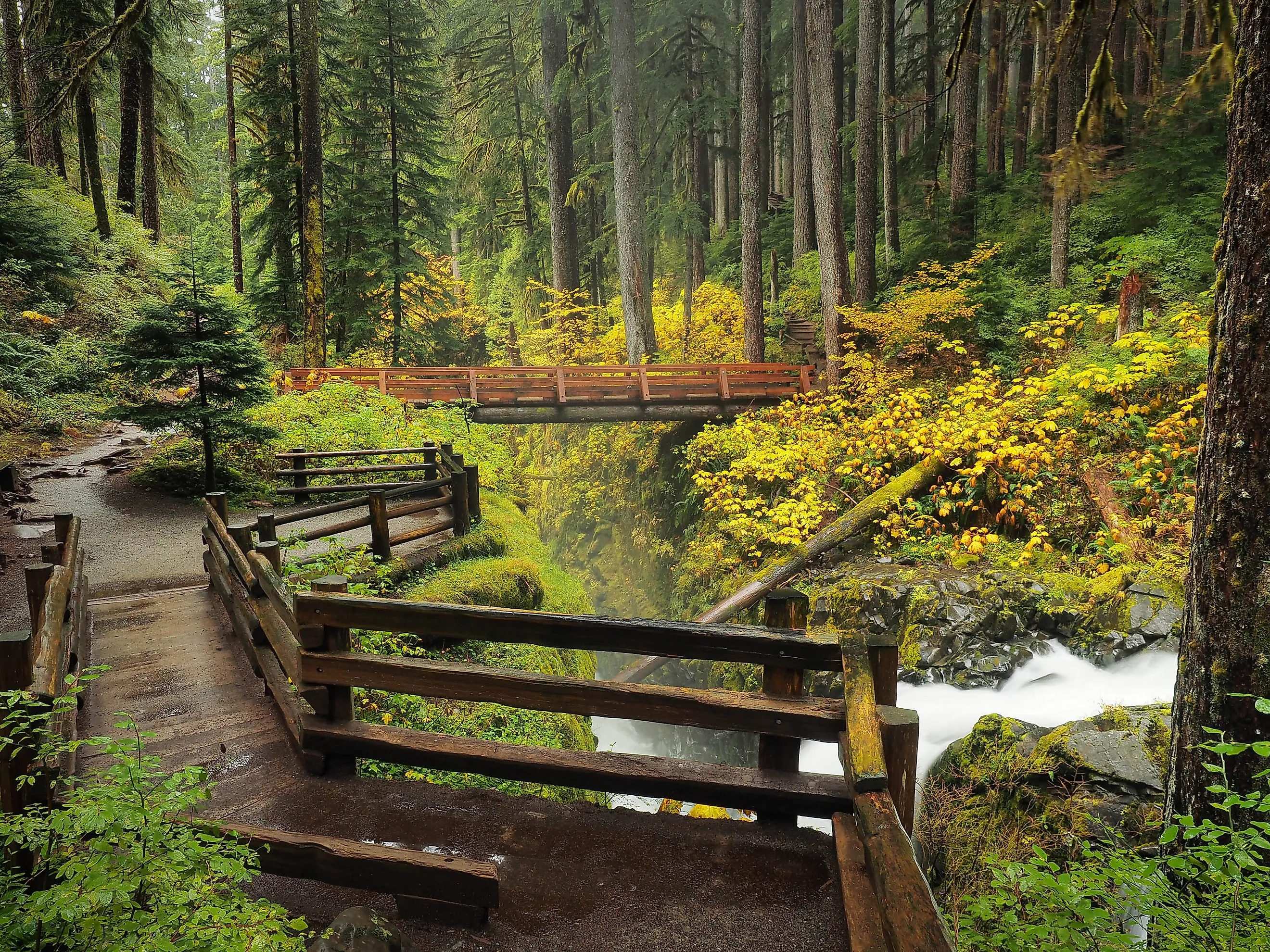 The Most Beautiful Rainforests In The United States
The massive landmass of the United States presents some of the most extreme climates and terrains. Aside from awe-inspiring barren polar landscapes, blazing deserts, and lava-spewing volcanoes, a handful of beautiful rainforests are also sprinkled throughout the territory of this country. These four natural wonders offer massively different perspectives on U.S. ecosystems and human management. With two in Alaska and two farther south in Washington and Puerto Rico, these magical rainforests possess unique personalities that can only be understood by exploring and learning about them.
Tongass National Forest, Alaska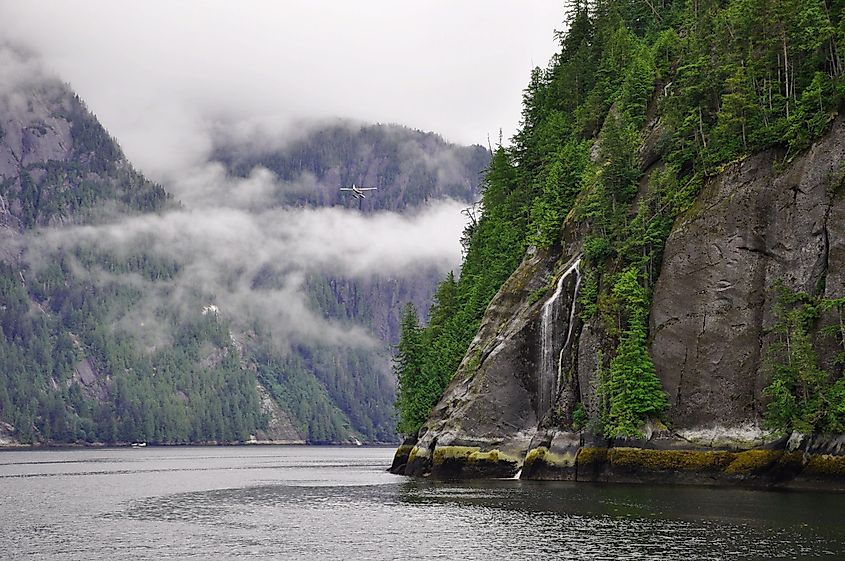 In the southeast corner of Alaska, the Tongass National Forest swallows up an astonishing 16.7 million acres. First established in 1907 by a proclamation directly from Theodore Roosevelt, Tongass exists because of a joint decree to combine two forests: the Alexander Archipelago Forest Reserve and Tongass. An indigenous group fought for their right to remain on the land, the Tlingit and Haida tribes, and were able to claim it due to their "exclusive use and occupancy of that territory." Fascinatingly, the United States was forced to pay the group $7.5 million after essentially seizing it from their ownership. Moreover, the area was heavily logged in the 1950s by two companies, the Ketchikan Pulp Company and the Alaska Pulp Company. Their attempt to monopolize timber sales was successful, albeit challenged in 1976. Legislation in 2003 guaranteed that timber sales could not be made in a way as to 'undercut' the average value.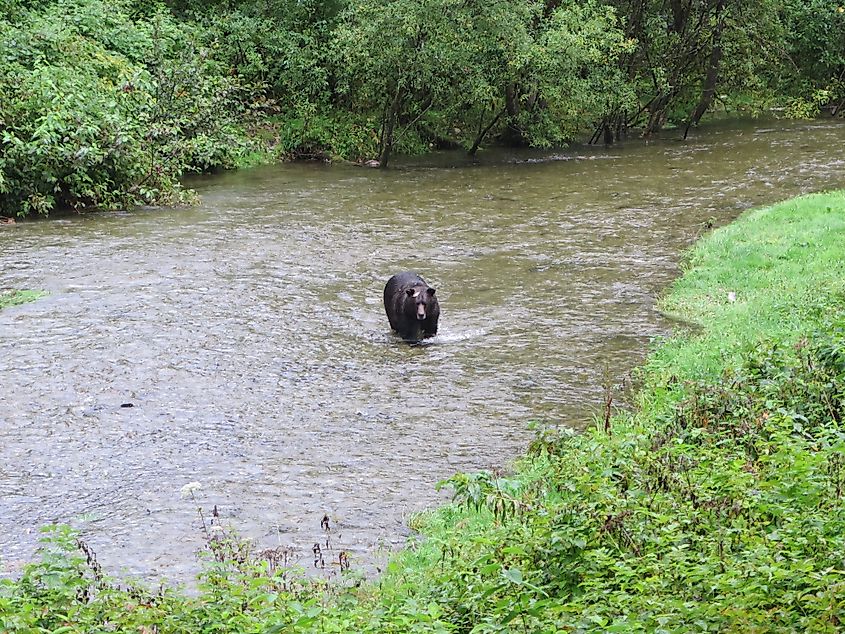 Today, this massive rainforest experiences 110 inches of annual rainfall, depending on where measurements are taken. Over 70 thousand inhabitants call this region home, and tourism plays a significant part in bolstering the local economy. Millions of acres are protected from human development, and Tongass contains 19 designated wilderness areas, outnumbering the number of protected areas in the rest of the United States' reserves. Cruise ships frequently stop through the Tongass forest, where guests enjoy marine tours, go hiking, camp, spot bears and salmon leaping in waterfalls, and relax in the occasional hot springs. Limestone caves are also hidden throughout the rainforest, allowing spelunkers the right to brag about exploring caverns that human eyes have never seen.
Hoh Rainforest, Washington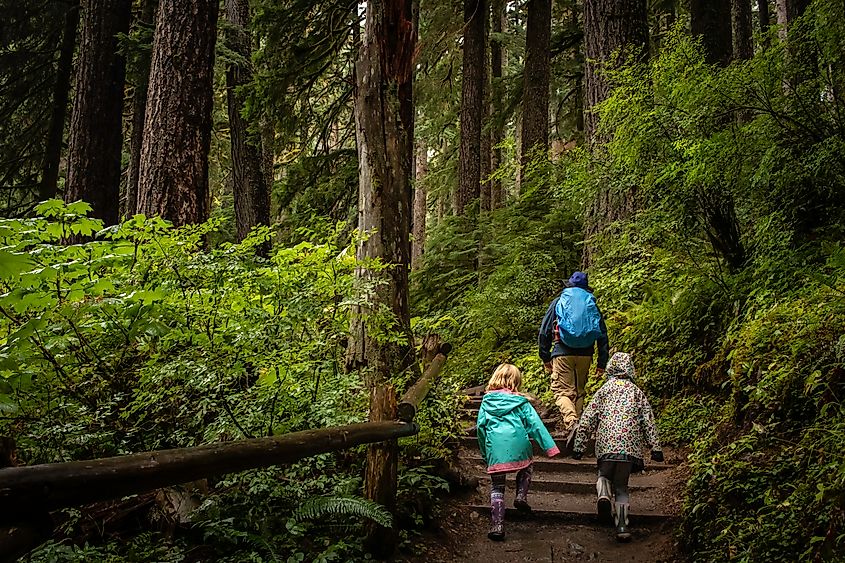 A little farther south, rainforest enthusiasts will stumble across the Hoh Rainforest located on the Olympic Peninsula in Washington state. Glaciers played a part in creating this rainforest, which spans approximately 24 miles around the Hoh River. An incredibly humid region, the Hoh Rainforest is fed by 100 inches of rain annually, which helps it maintain cool and warm seasonal temperatures. In January, for instance, it rarely dips below freezing, and in summer, the average temperature hovers around 65°F. Plenty of tree species can be found here, such as the Sitka Spruce and western hemlock, and they can grow to astounding sizes. However, the western red cedar, black cottonwood, and bigleaf maple are also popular sights for tree enthusiasts in the forest.
Moreover, plenty of nearby beaches sit on the coast, gazing at gorgeous islands separated from the mainland during long periods of erosion. Ridges and waterfalls account for the top spots where visitors aim to take snapshots, but never forget to bring waterproof raingear. Sightings of cougars and black bears are always possible, and self-education about the best way to retreat from an agitated animal is encouraged. The visitor center contains priceless information about safety and the best-rated trails to take during a trip. The monarch tree is worth a gander as well, it used to be one of the largest Sitka trees on the planet, but a storm finally ended her reign. A moss-covered phone booth is also a unique sight, a perfect spot for a quirky selfie.
Chugach National Forest, Alaska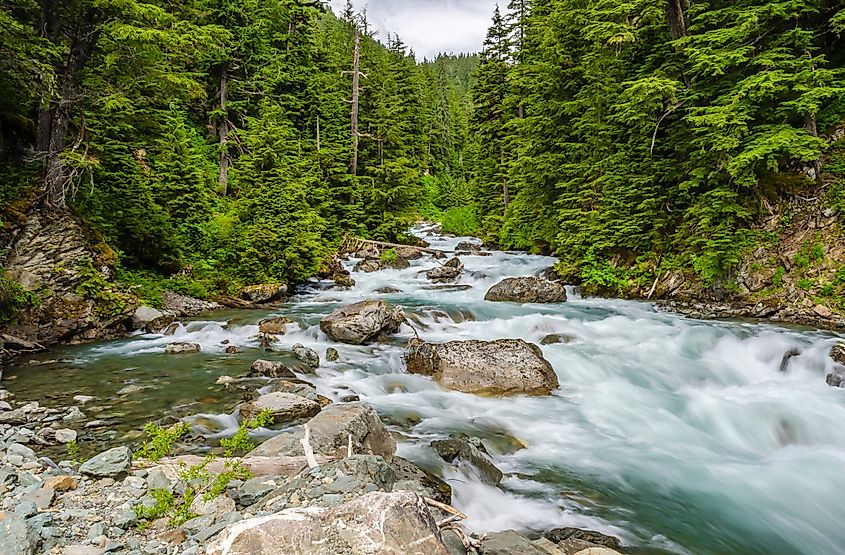 Carved out by mammoth glaciers, some of which expanded between 1303 and 1850 during the little ice age, Chugach National Forest is a stunning combination of mountain, lake, and forest. Early human settlers like the Alutiiq saw the region's value and made their homes there thousands of years ago. Europeans and fur traders occupied Chugach in the 1700s. The United States' 1867 acquisition of Alaska saw the emigration of Russian trappers, and a gold rush occurred here shortly after. Thankfully, the rainforest has been sheltered from excessive development since 1892. This protection extends over 6.9 million acres today, which host endless miles of jaw-dropping shorelines alongside significant flora and fauna populations.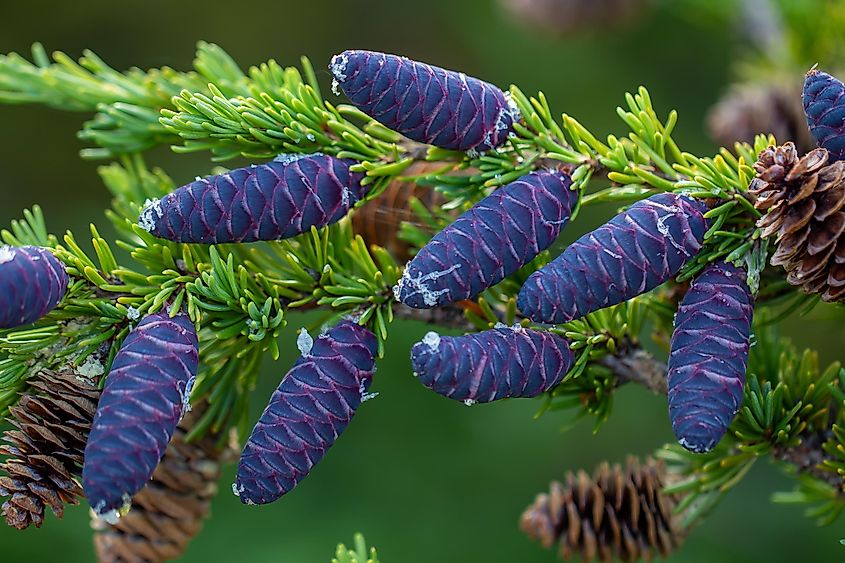 The nearest supervisor's office is in Anchorage; however, rangers can be contacted in nearby Girdwood, Seward, and Cordova. The zone these officials watch over is considered a temperate rainforest, with 167 inches of yearly rainfall. Eighty inches of snowfall occur in colder months, and that melting water source plays a key role in the climate during warmer seasons. For Alaska, these temperatures range between 17°F to 63°F, which is surprisingly more comfortable than what these northern provinces are known for. That said, Chugach has abundant wildlife like Dall sheep, bears, Humpback whales, moose, and timber wolves. The success of these animal populations is partly due to meager amounts of human activity, where only 2% of the area is used for logging. Mining and tourism create the bulk of the region's income instead.
El Yunque National Forest, Puerto Rico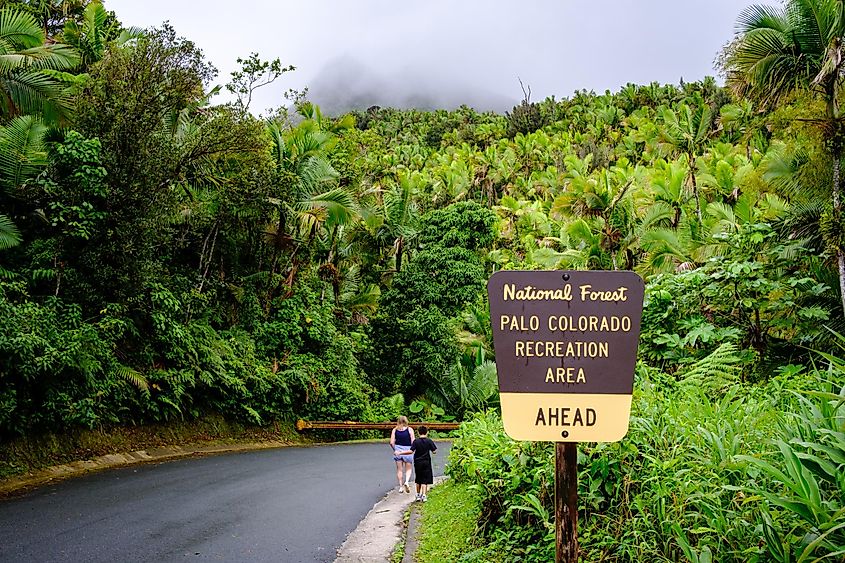 This breathtaking place is situated in Puerto Rico, a commonwealth/unincorporated territory of the United States. Attempts to grant Puerto Rico statehood are underway, but until then, the El Yunque National Forest will remain under federal administration. Part of that governance includes the protection of zones that possess Taino petroglyphs, each of which highlights El Yunque as an ancient sacred land, home to the gods. The Forest occupies nearly 44 square miles on the Sierra de Luquillo mountains, where breathtaking views are as common as the rainfall. Naturally, this area of vibrant life is a habitat to many native Caribbean species, such as unique frogs like the coqui, as well as Puerto Rican parrots. Visitors are encouraged to watch out for boas, although they are typically passive unless provoked.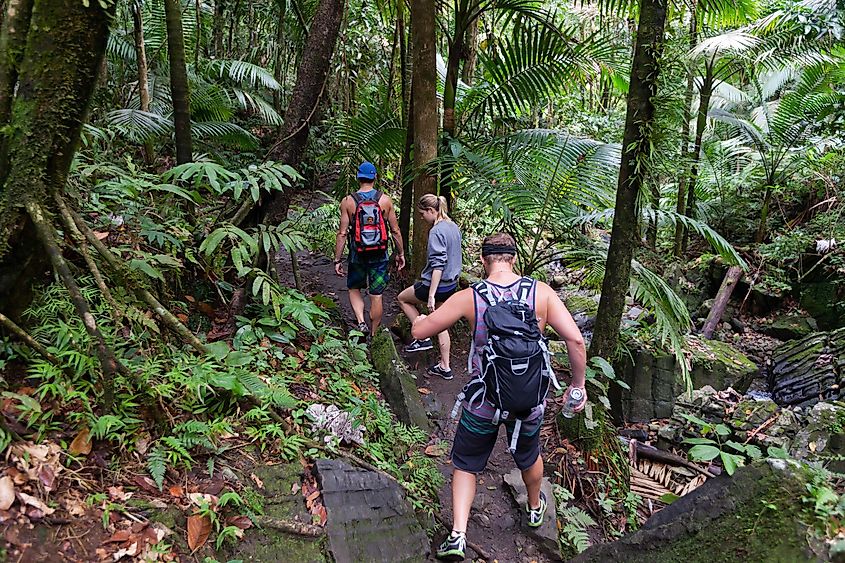 Hiking trails coat this unique plot of Earth, offering varying levels of difficulty to outdoor enthusiasts. These trails are designed to weave through four separate biomes, exposing travelers to new sights, scents, and sounds. Along the way, swimming pools underneath waterfalls are frequently stumbled upon, such as the Juan Diego area or La Mina Falls. Occasional flooding forces officials to tape some areas off depending on the season and the risk. As a rainforest, it should be no surprise that over 100 billion gallons of water hit the ground every year due to 200 inches of annual rainfall. The thick jungles, unique foliage, and frequent vistas encourage tourists not just to return but to bring friends alongside them. After all, "happiness is most real when shared." 
Although typical conceptualizations of rainforests revolve around tropic jungles like El Yunque, precipitation is the only metric needed to designate a forested area as such. Therefore, people are often surprised to learn that the notoriously frigid Alaska possesses several. Moreover, Washington State has a rainforest, whereas the typical jungles of Florida do not. This shows that the Earth still has surprises in store for those who look, in the form of magic tucked away in unexpected places.