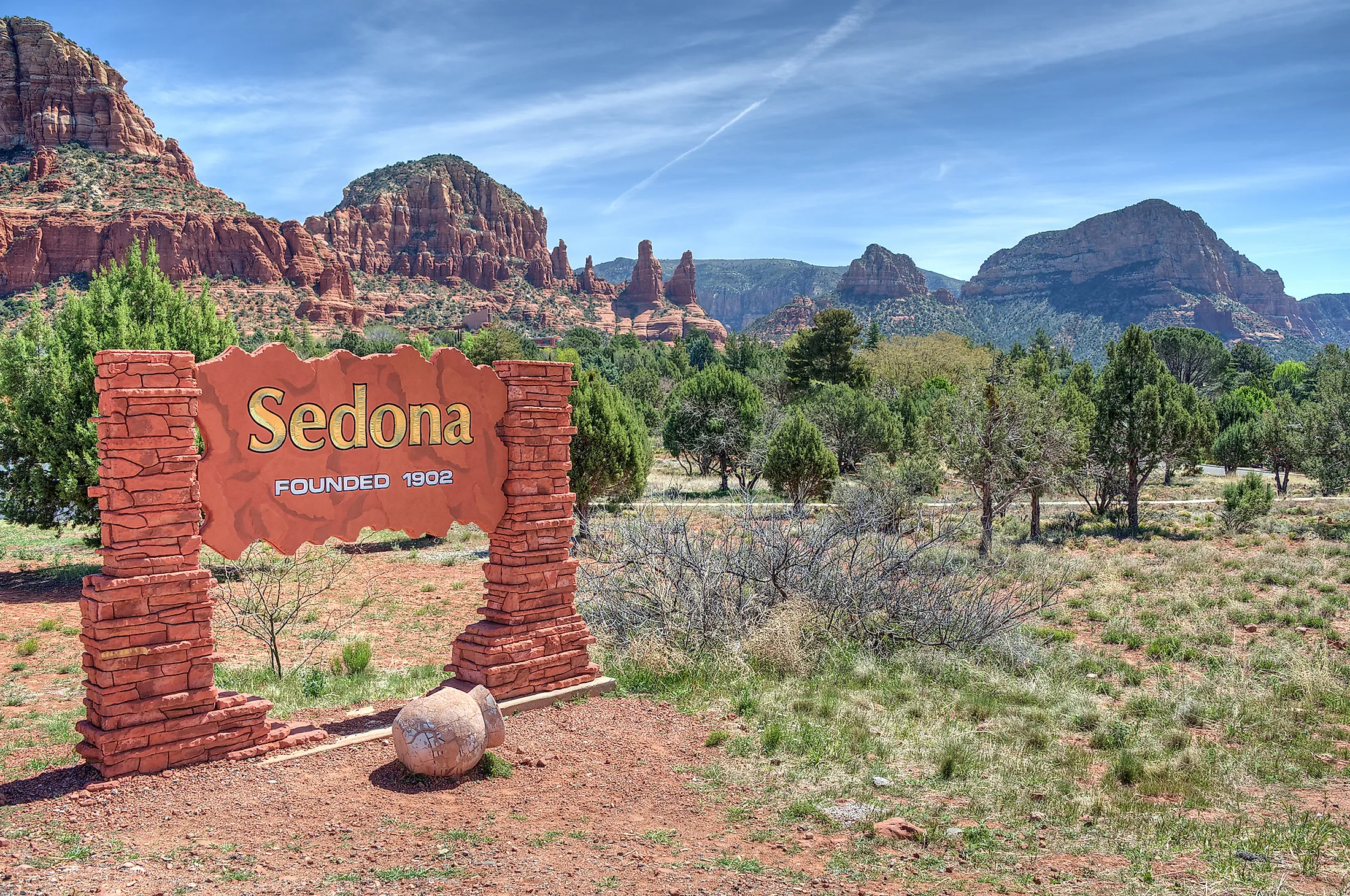 The Northern Arizona region of Sedona is often called 'Red Rock Country' due to the huge red sandstone monoliths: Cathedral, Coffeepot and Thunder Mountain which surround the city. The area is rich in Native American history and artifacts and beckons to outdoor adventurers from around the world.
Sedona has become a well-known spiritual center in recent decades. One of its greatest draws is the famed Sedona Vortexes, "hot spots" of spiritual energy renowned for healing and power enhancement. A community of artists, outdoorsmen, and metaphysical philosophers make their living from the steady stream of Sedona visitors from all over the world.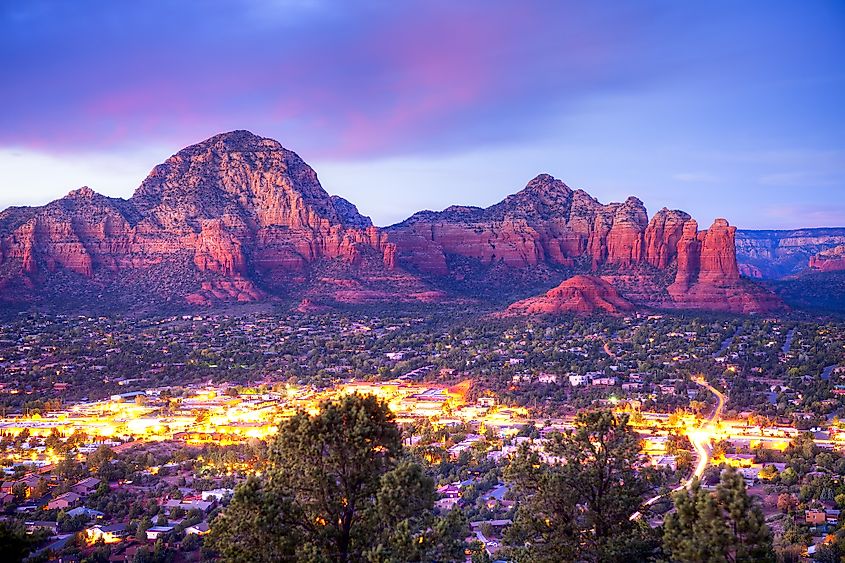 Sedona was the place to be for the 1987 'Harmonic Convergence' of universal forces. Many new age adherents believed a space ship would lift out of Bell Rock (a Sedona Vortex spot) and were bilked out of $150 for a ticket to the event! This city of high artistic sensibilities is the only place in the world where McDonald's arches are turquoise. Sedona, with its imposing southwest landscape is a popular setting for filming many western films. In 1945, a frontier town was built near Coffee Pot Rock for the John Wayne classic "Angel and the Badman."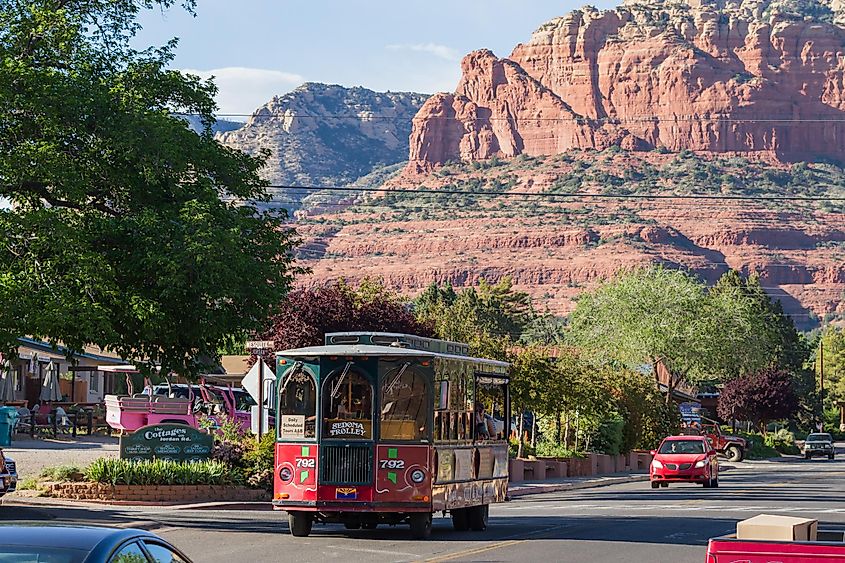 Attractions In Sedona
This desert city is famed for its shopping, especially the Tlaquepaque Arts & Crafts Village built to resemble a rural Mexican village. Plenty of hiking and biking tours are available in the area, and the Grand Canyon is located a little farther to the North. Meditation centers, psychic healers and posh resorts all do a brisk business in Sedona.
Sedona Vortex Tours
Whether passing through or spending a two-week retreat at one of Sedona's health spas, a tour of the region's energy vortexes is a must for any open-minded seeker. Tours are conducted by spiritually experienced guides to locations famed for their positive energy fields. Guests can arrange for personal days of discovery and special ceremonies at the vortex locations. Even for the less spiritually inclined, the Sedona Vortex sites are areas of breathtaking natural beauty and power.
Sedona Jeep Tours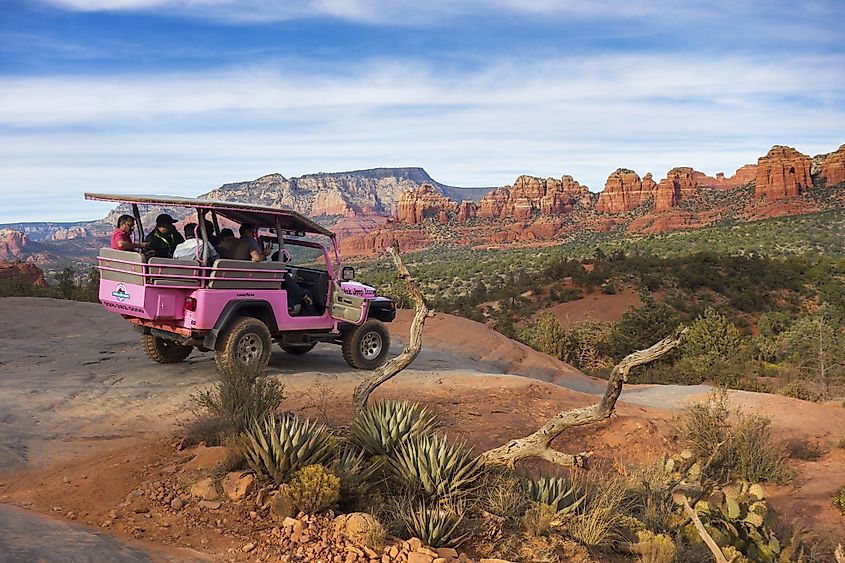 The Sedona region is the outdoor adventurer's paradise and a number of companies offer jeep and hummer tours for both the adrenaline lover and the more relaxed Arizona traveler. Some tour groups offer combo tours with horseback or helicopter rides added to the journey. Both on and off road Sedona jeep tours are available of the red rock monuments, Oak Creek Canyon and hundreds of acres of rugged western terrain.
Out of Africa Wildlife Park
The Out of Africa Wildlife Park combines thrilling animal acts, educational shows, a zoo and wildlife preserve to make this a great Sedona family attraction. Tigers play and splash in a 50 foot pool with their handlers; kids can help hold giant 10 foot pythons, or enjoy the Serengeti photo safari with giraffes, ostriches and wildebeest.