The 10 Most Picturesque Small Towns In Alabama
Featuring sandy Gulf beaches to the south, tree-covered mountains to the north, and a gently rolling countryside in the middle, Alabama offers up more than its share of small towns that are as easy on the eyes as they are charming. These quaint towns also make the perfect backdrop for vacation pictures or scenic strolls, whether you are browsing boutiques, and vintage stores, or having lunch or dinner at a local cafe. No matter whether you are passionate about history or outdoor activities float your boat, you will find what makes you happy in Alabama's ten most picturesque small towns.
Fairhope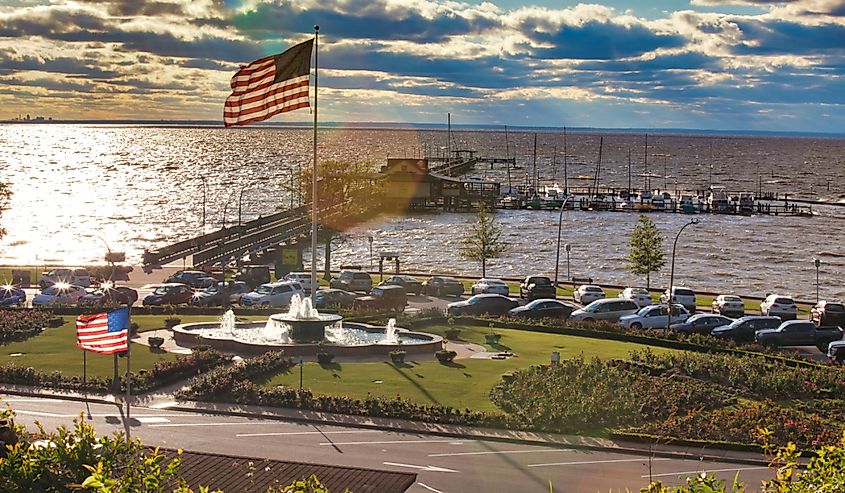 Situated on the eastern shoreline of scenic Mobile Bay, Fairhope combines the perfect mix of small-town charm and big-city elegance. Although this Gulf Coast town does not feature any white, sandy beaches, it offers up plenty of scenic water views, whether you are taking a walk through a park or enjoying dinner on the dock of a local restaurant.
If you want to immerse yourself in nature while taking in some of Fairhope's beauty, stroll through one of the town's diverse parks, or take a canoe out on the Bartram Canoe Trail, which traverses cypress swamps and marshes filled with wildlife. You can also visit the Mobile-Tensaw Delta, which is about 17 miles north of the town. Art lovers will enjoy checking out one of the galleries in Fairhope's bustling downtown. The town's Eastern Shore Arts Center is also a must-see for artists and anyone who needs a little creative inspiration.
Monroeville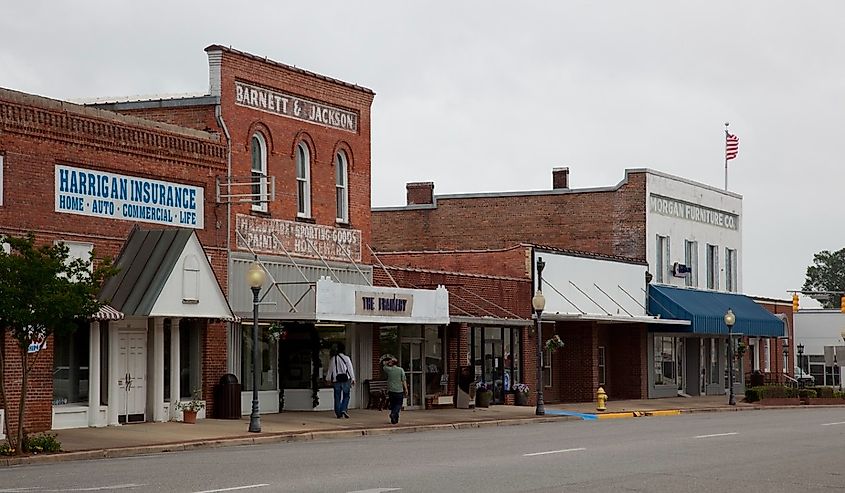 The county seat of Monroe County, Monroeville is also known as the "Literary Capital of Alabama." Many famous authors, such as Nelle Harper Lee, Truman Capote, Cynthia Tucker, and Mike Childress have called this quaint town "home," cementing its spot in literary history.
Located in the southwest area of the state, this small town boasts a bustling downtown filled with historic buildings, including the courthouse, featured in To Kill a Mockingbird. Another picturesque must-see destination is the town's Whitley Lee Park, which treats outdoor lovers to a lake and hiking trails. History buffs will also love the Truman Capote Historical Marker, which features the brick remains of the famous author's home, as well as a grassy yard and information about the writer's life. The Monroe County Museum is another place for history lovers to spend a few hours. 
Mentone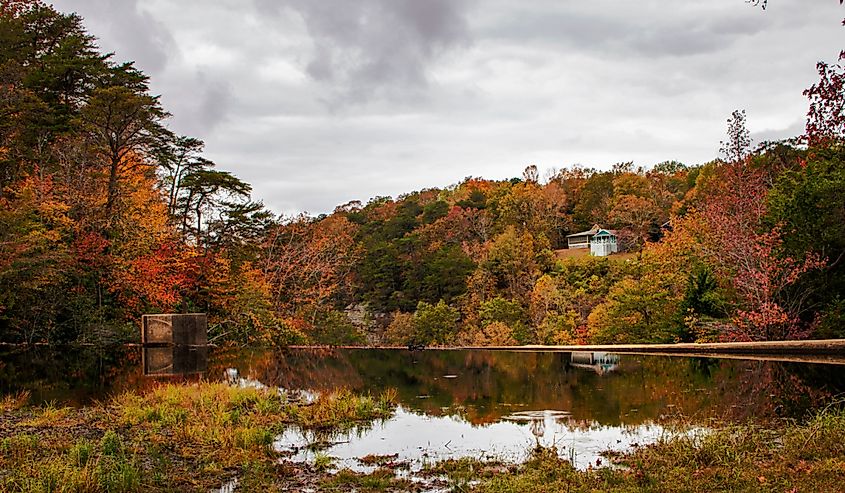 Home to around 300 residents, the small town of Mentone, perched atop Lookout Mountain near the Georgia border, provides visitors with a scenic view of the valley below. This quaint, mountain village is also home to DeSoto Falls, a 104-foot waterfall, which is a cool respite in the middle of a hot southern summer.
Although Mentone is full of small-town charm, it is next to Interstate 59, making it easy to access.  No matter what type of accommodation you want, such as a charming bed-and-breakfast inn or a more rustic cabin, you will have no problem finding it in this charming southern town. During the winter, adventure lovers can hit the slopes and take in the snowy vistas at the town's Cloudmont Ski and Golf Resort. In the warmer months, golfers are welcome to hone their skills on the resort's scenic golf course.
Guntersville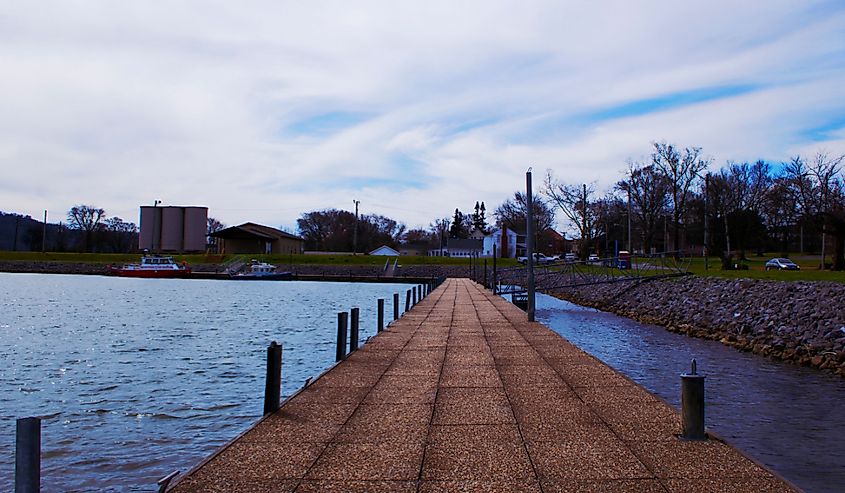 If you find yourself in northern Alabama, spend a day or two in the picturesque small town of Guntersville. Situated in the state's Mountain-Lakes Region, the town is home to the vast Lake Guntersville. Featuring almost 1,000 miles of shoreline, the lake offers locals and visitors the chance to swim, boat, or fish while taking in the area's natural beauty.
The small town is also known for its rich Civil War and Native American history, so take some time to explore the local museums and historic sites as well. The Whole Backstage, the town's regional theater, is in a nationally-registered historic building. Another way to experience the town's natural beauty is on one of its several walking trails, or explore them via a bicycle if that is more your style.
Fort Payne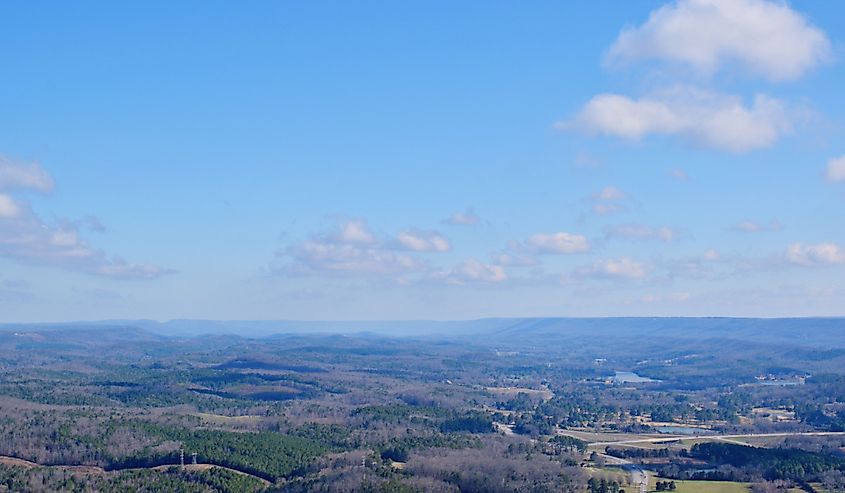 Also located in Alabama's mountainous northern region not far from Mentone, Fort Payne treats nature lovers to scenic views from the top of Lookout Mountian, as well as all of the beauty of the Appalachian foothills. Take a picturesque drive up Lookout Mountain, and stop to explore Little River Canyon, known for its sweeping vistas. If you want some exercise, take a hike in the town's DeSoto State Park, which features the scenic Azalea Trail.
View a beautiful natural waterfall or take a walk across the quaint pedestrian bridge in the nearby stunning High Falls Park. On a sunny day, have a picnic in the Little River Canyon Natural Preserve, which offers several scenic overlooks.
Magnolia Springs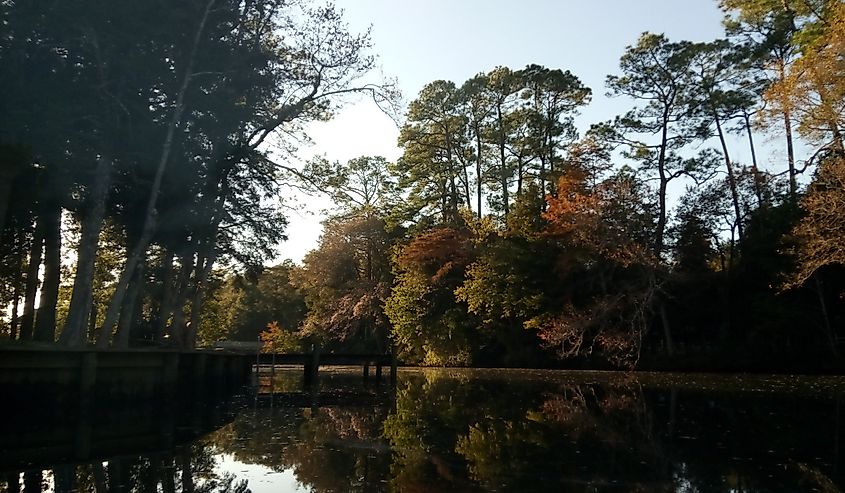 Located within Alabama's Daphne-Fairhope-Foley metropolitan area, Magnolia Springs offers an abundance of small-town charm while being within close driving distance of bigger cities. Situated on the Magnolia River, quaint Magnolia Springs began as a settlement via a Spanish land grant in the 1800s. Rich in history and local character, this small town features the United State's only river mail delivery route. 
Enjoy some fresh Gulf seafood at one of the town's mom-and-pop eateries, or wander through nearby Gulf State Park, which features a mix of marshes and hardwood swamps. Take in the natural beauty at Bon Secour National Wildlife Refuge if you are an animal lover.
Tuscumbia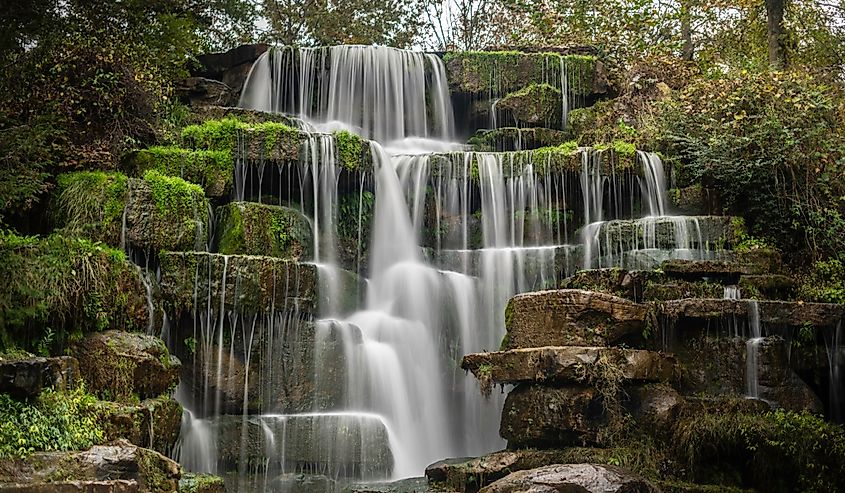 Dating back to 1820, the small town of Tuscumbia is brimming with natural attractions and local history. Situated in the northwest corner of Alabama, Tuscumbia is within easy driving distance of several of the state's larger cities, such as Huntsville.
Explore the area's musical history by checking out the Florence Veterans' Park Singing River Sculpture Garden, which is home to 25-to-30-foot tall musical-themed sculptures overlooking the Tennesee River. Spend a few hours at the town's Alabama Music Hall of Fame, which showcases native Alabama singers representing various musical genres. Have a scenic picnic lunch at the town's Spring Park, which is in the heart of downtown. 
Mooresville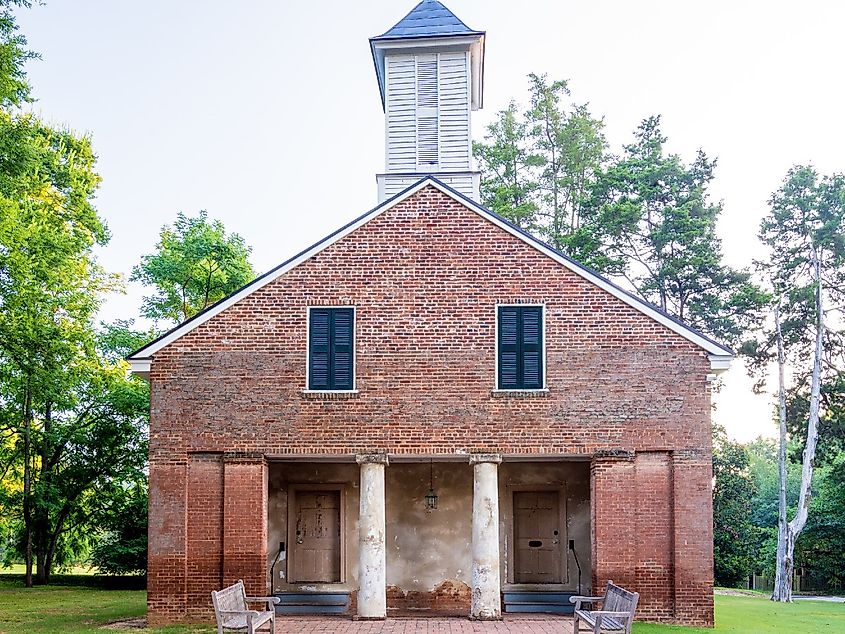 Located in the north-central region of Alabama, only 20 miles from Huntsville, Mooresville sits on Limestone Bay, close to the Tennessee River. Featuring a population of around 50, Mooresville makes up for its lack of residents with an abundance of history and charm. The tiny town is jam-packed with historic buildings and natural beauty. Check out the Brick Church, built in 1839 which features a classic Greek Revival architectural style. The town's post office, founded in 1840, is the oldest continuously operated post office in the state.
Orange Beach
If basking in balmy ocean breezes is more your vacation style, give Orange Beach a visit. Situated directly on the Gulf of Mexico, this small oceanside town is home to an abundance and natural and historical attractions.
Take advantage of the town's Gulf Coast location by spending a day relaxing at a local beach, which features a white sand coastline and sparkling turquoise water. For the more adventurous, explore the water via a sea kayak or fishing charter boat. Surround yourself with natural beauty on the Hugh S. Branyon Backcountry Trails, which winds through six different ecosystems. Look out for wild boar, otters, and alligators as you hike.
Eufaula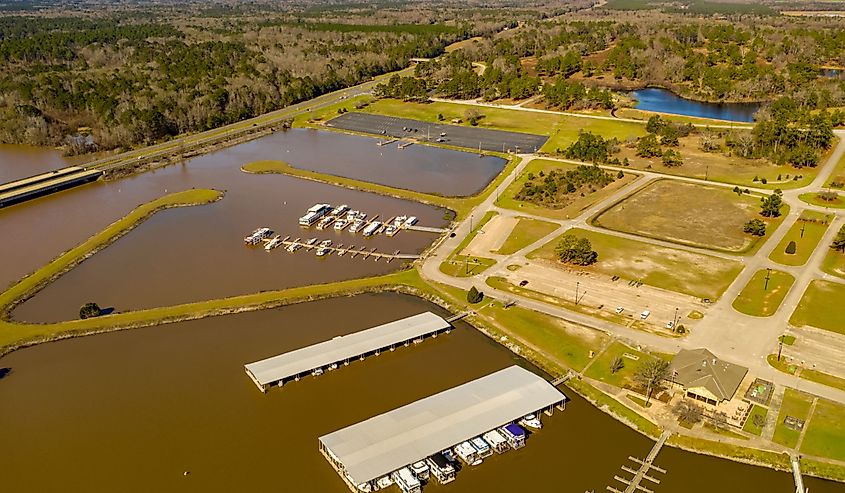 With a population of about 13,000, the town of Eufaula boasts the title of the "Big Bass Capital in the World." Positioned on the Chattahoochee River, this small town is overflowing with natural Alabama beauty.
Nature enthusiasts will not want to miss the Eufaula National Wildlife Refuge, which features 11,000 acres of wetlands that you can explore. The refuge is home to 40 animal species and 300 bird species. You can also explore the banks of the Chattahoochee River and the scenic Lake Eufaula. Local historic sites include the Seth Lore and Irwinton Historic District, where you can view homes featuring eye-catching Gothic Revival and Victorian Architecture styles.
The next time you are driving through Alabama, whether you call the state home or are passing through on your way to another destination, consider visiting one of these picturesque small towns. While each one of them is scenic due to their unique geography or history, they are also rich in culture, outdoor recreation and wildlife, and opportunities for adventure. Take some time to explore the towns, stopping to experience a local boutique, eatery, or historic attraction.