Santa Monica is a small seaside city on the west side of Los Angeles County in the US State of California. The city is home to a mix of residential areas, business districts, and recreational activities in a landscape of outstanding natural beauty. Santa Monica is considered one of the most beautiful places in Southern California. Until recently, it was ranked among America's top 10 most livable cities, featuring three miles of Pacific beaches and the Santa Monica Pier. 
Geography And Climate Of Santa Monica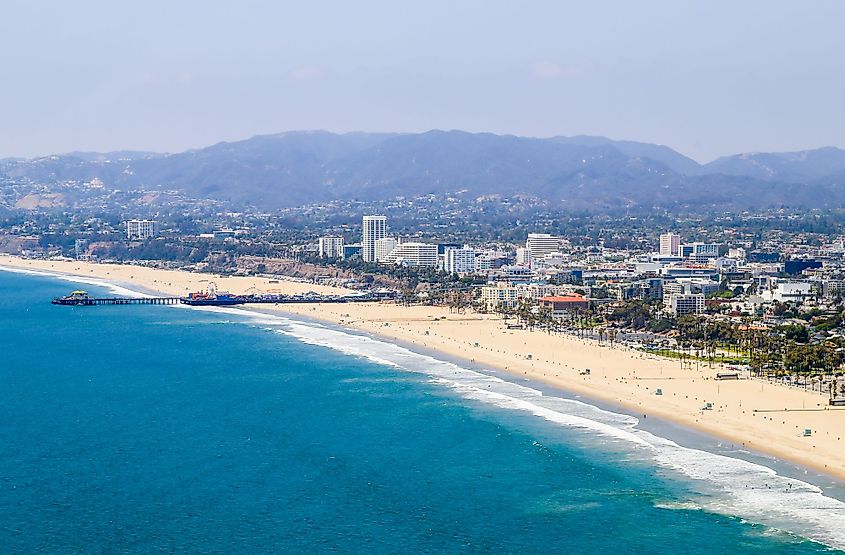 Santa Monica is built on a significant incline that slopes toward Ocean Avenue and the south. It is located on Santa Monica Bay and is surrounded on five sides by diverse Los Angeles neighborhoods: Pacific Palisades to the north, Brentwood to the northeast, West Los Angeles to the east, Mar Vista to the southeast, and Venice to the south. Santa Monica covers a total area of 41.43 sq. km, of which 21.80 sq. km is occupied by land, and 19.64 sq. km is covered by water. Santa Monica is situated about 3970 km from New York City, 2230 km from Houston, 8 km from Los Angeles, 2825 km from Chicago, 3874 km from Philadelphia, and 2021 km from Dallas. Ideally, the City of Santa Monica is known for its Mountains that rise above Los Angeles, broaden to meet the arc of Santa Monica Bay, to reach their highest points facing the open ocean. These famous mountains, formed by the collision and movement of Earth's crustal plates, are home to some of the most distinctive and uncommon natural features and ecosystems in the United States. With its stunning and diverse landscape, sandy beaches, and rocky shores, Santa Monica is the ideal combination of a laid-back beach town and a bustling metropolitan lifestyle. No wonder it is rated Los Angeles' best suburb to live in.
Santa Monica has a dry climate throughout the year. As per the Köppen climate classification, Santa Monica experiences a coastal Mediterranean climate. Summers are warm and rainless, while the winters are rainy. The temperature varies from 9.4°C to 24.4°C, and the annual precipitation of 14 inches. Summers are mostly dry in Santa Monica, with temperatures reaching past 32.2 °C several days a month. The months from September to November have been historically the driest receiving only 3 to 7 mm of rainfall. This is insufficient to make up for the summer dry season and thus helps account for the arid climate. The most rain comes in January and February (1.25 inches). 
History Of Santa Monica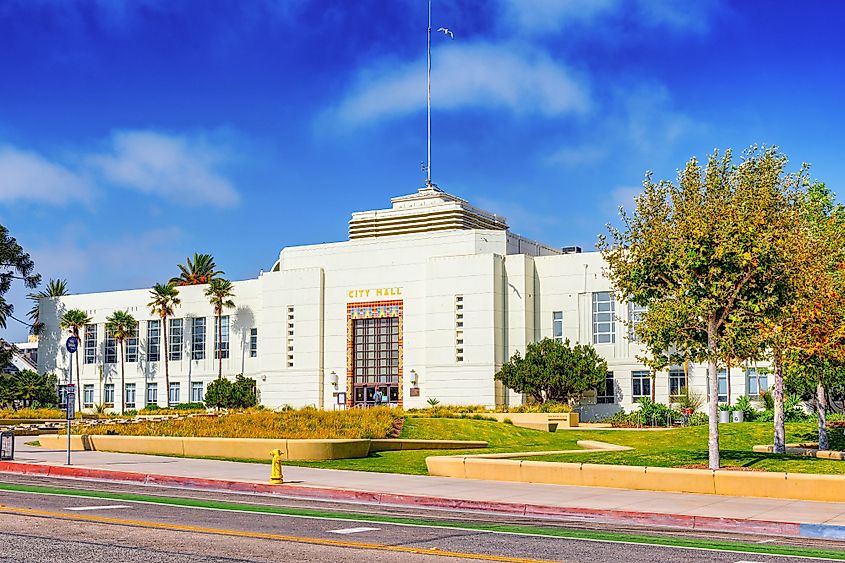 The indigenous Tongva people initially inhabited the area before being invaded by the Spanish. The Spanish explorer Gaspar de Portola camped close to the area in 1769. It is believed that the city has been named after Saint Monica. The City of Santa Monica was officially formed on November 30, 1886, and later adopted a City Charter in 1945. Two years later, a City Council-City Manager system of governance was developed. Despite being only ten miles from downtown Los Angeles and a close drive to Orange County, Santa Monica is often considered a world apart. Relatively unspoiled by Los Angeles's rapid development, Santa Monica is a favorite place to visit, live and relish in the feeling of living on the West Coast.
The Population And Economy Of Santa Monica
Santa Monica has an estimated population of 93,076. Santa Monica is significantly more diverse than other US cities. The latest demographics of Santa Monica show that most of the population is white, leading by 75.94% with 69,539 people. Other races share the remaining 24.06% and are divided as follows: Asian 10.15% at 9,299 people. Black or African Americans follows by 4.48% at 4100 people. Native Hawaiian and other races are the fewest at 10% altogether. Santa Monica's median age is 40.1, with men averaging 38.9 and women at 41.4.
The average income of every resident in Santa Monica is $67,138 a year. The median income of all households is $86,084, and the family median income in Santa Monica is $118,564 a year. The highest paying jobs in Santa Monica are "Senior Vice President of Marketing," with an estimated annual salary of $269,409, and Senior Vice President with $245,776 yearly. The housing cost in Santa Monica is 3.62% higher than the national average, while utility rates are 8% higher. The transportation costs, such as bus fares and petrol prices, are 31% more than the national average. Unsurprisingly, tourism contributes around $2 billion to Santa Monica's economy.
Tourist Attractions In Santa Monica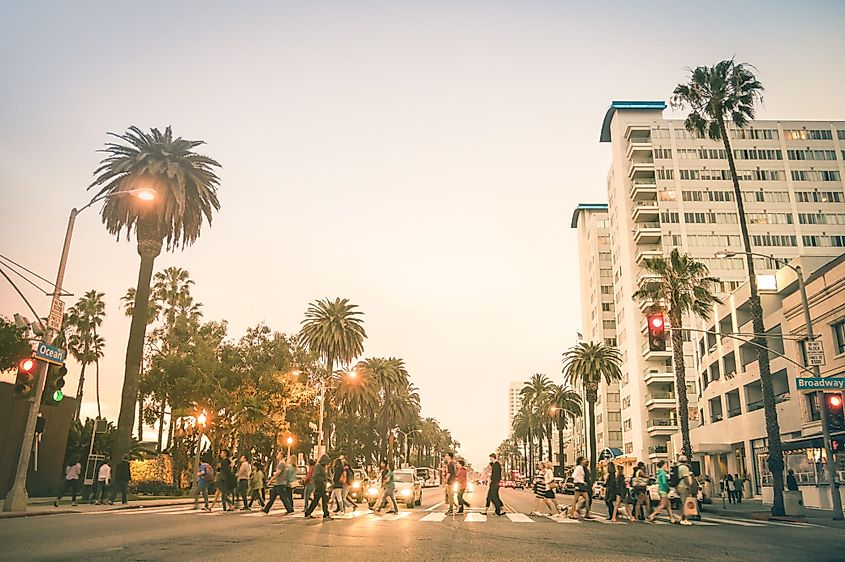 Santa Monica is one of the most visited cities on the west coast of the United States. It is not just a popular tourist destination, but also a place where you can live! The city has various neighborhoods and apartments which offer everything you need to enjoy life. Unsurprisingly, the City of Santa Monica is a full-service city, providing the community with many services. The town provides good policing, a regional transportation network, water, parking, free public WIFI, a high-speed fiber-optic network, parks, affordable housing, and educational services.
Santa Monica Beach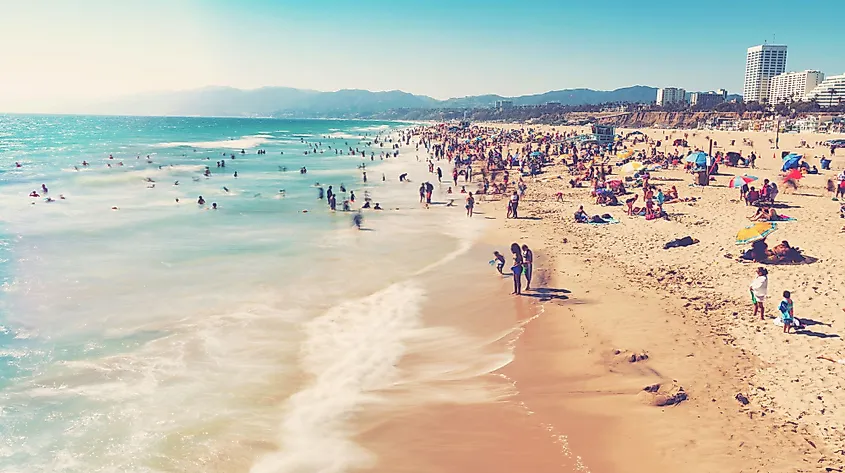 Santa Monica beach is every beach lover's paradise. The wide variety of activities available on Santa Monica Beach distinguishes it from other Southern California shorelines. Clean sand, lovely ocean, a plethora of watersports, and unique adventures. But it is not all. One can also bike along the Marvin Braude Bike Trail or stop to enjoy the outdoor activities available at the Annenberg Community Beach House. After a day of exploring, one must stay for the best Santa Monica draw of all: a blazing seaside sunset. Additionally, the beach is relatively long, allowing for plenty of space for summer crowds. There are plenty of human-staffed lifeguard stations, paved paths, bathrooms, and restaurants. 
Santa Monica Pier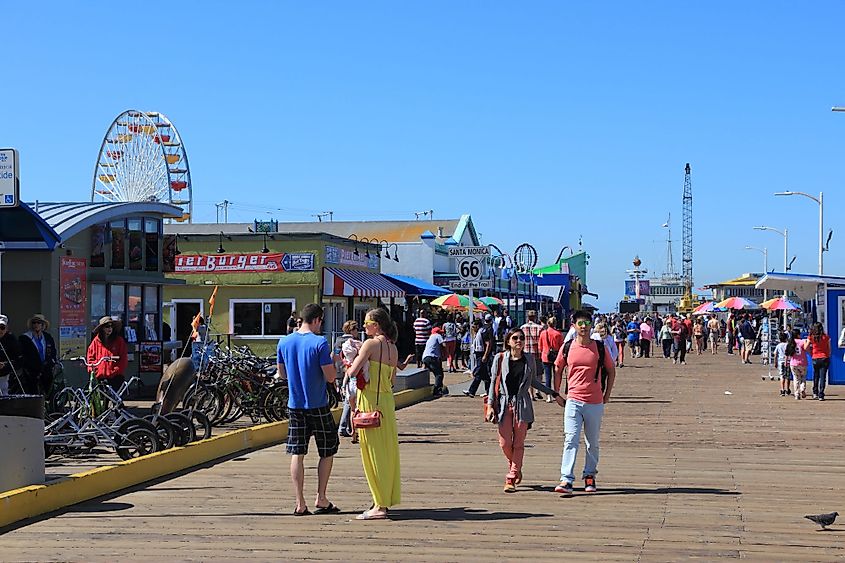 When planning your trip to the City of Santa Monica, Santa Monica Pier is a well-known attraction. The red and yellow Ferris wheel is a unique landmark. You will find a full-service amusement park, many restaurants, bars, souvenir shops, and an entertaining arcade with more than 200 games. Daytime activities include admiring the old Looff Hippodrome Carousel and seeing street entertainers while enjoying delicious cotton candy. If you stay till sunset, you might be able to hear live local music to the sound of the adjacent waves. This is topped by the spectacular views of Malibu and the South Bay, making an ideal evening plan with friends or family. The Pier is one of the main touristic destinations in the city. It distinguishes the city as an attractive location for families and guests of all ages.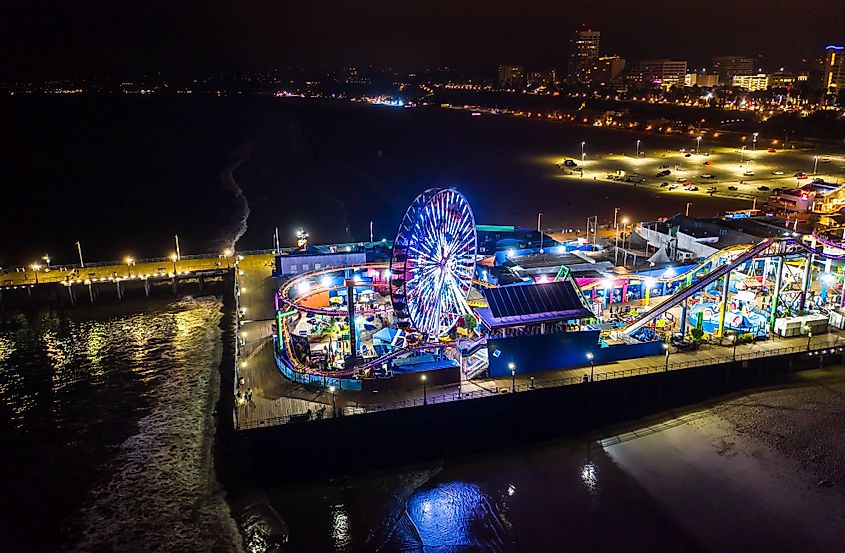 Stay till sundown, and you will notice how the city transforms and changes. Locals from all over the Los Angeles region flock to Santa Monica, where walkability and casualness ensure a wonderful evening regardless of the occasion. Begin the evening with happy hour at a rooftop bar with a view of the Pacific Ocean, and conclude the night dancing at Circle Bar or sidling up to the counter at one of the city's dive bars.