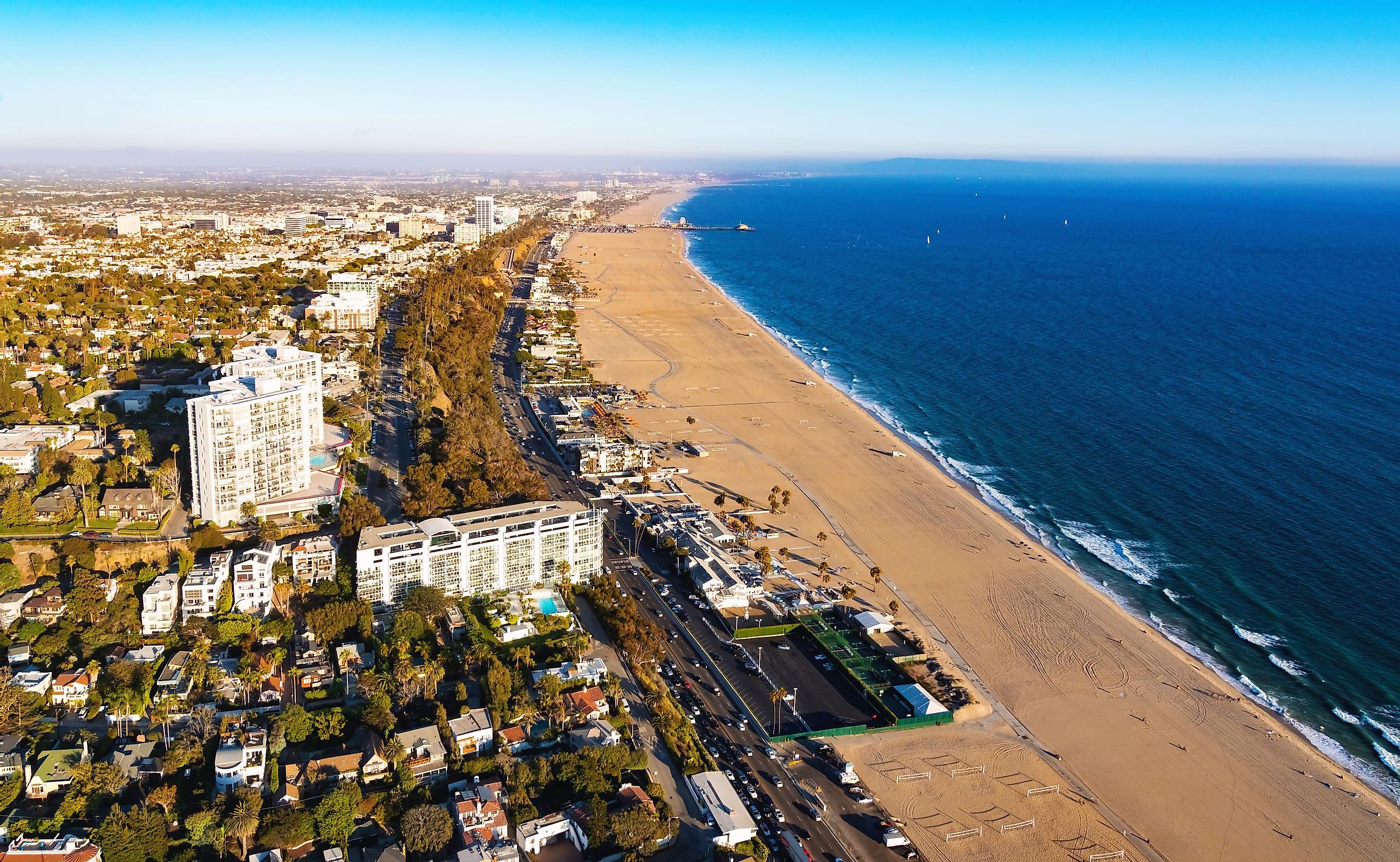 Santa Monica is a well-known resort town located along Santa Monica Bay in Los Angeles County on the southern coast of the US State of California. This beautiful seaside city has developed into a popular tourist destination attracting thousands of visitors owing to its diverse landscape, miles of sandy beaches, a vibrant urban scene with an array of art galleries, restaurants, shopping venues, and a plethora of outdoor recreational activities. Situated close to Los Angeles and other Southern California hotspots, Santa Monica perfectly combines the exquisiteness of an international coastal community with the laid-back ambiance of a California beach town.
Geography And Climate Of Santa Monica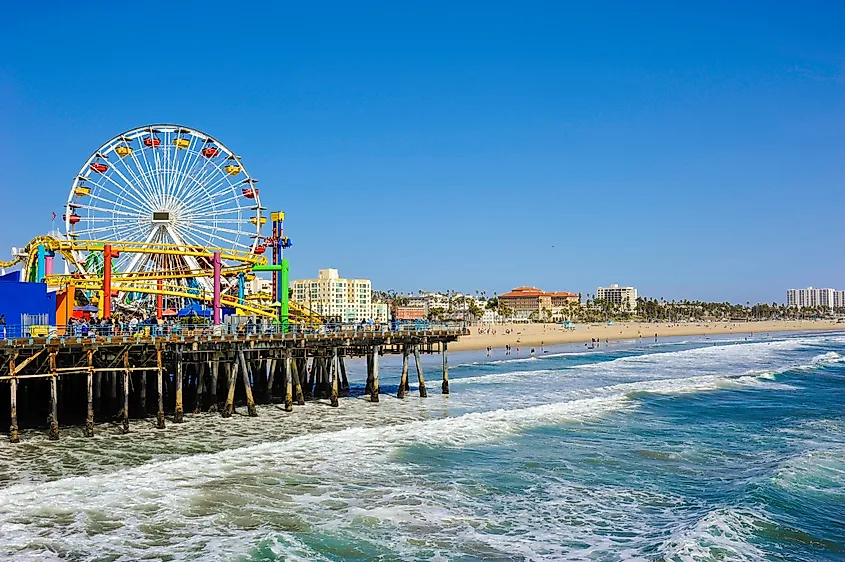 Santa Monica is placed on a flat incline that slopes towards the southern side and Ocean Avenue, the city's westernmost street. The city's northern parts are separated from the beaches by high bluffs. Besides having a 3-mile-long coastline along Santa Monica Bay to the west, Santa Monica is surrounded by different Los Angeles neighborhoods: Pacific Palisades on the north, West Los Angeles on the east, Venice on the south, Brentwood on the northeast, and Mar Vista on the southeast. Santa Monica covers a total area of 16.00 square miles, of which 8.41 square miles are occupied by land, and 7.58 square miles are covered by water. The coastal city is approximately 14 miles from Los Angeles, 24 miles from Long Beach, 35 miles from Anaheim, 69 miles from San Bernardino, and 118 miles from San Diego. 
According to the Köppen Climate Classification, Santa Monica experiences a coastal Mediterranean climate with warm, dry summers and cool, wet winters. The warm season lasts from July 6 to October 12, where August is the year's hottest month, having an average high temperature between 76°F and 64°F. The cold season lasts from December 1 to April 5, where December is the year's coolest month, having an average low temperature between 50°F and 66°F. With 281 sunny days per year, Santa Monica receives an average of 12.79 inches of precipitation annually.
Brief History Of Santa Monica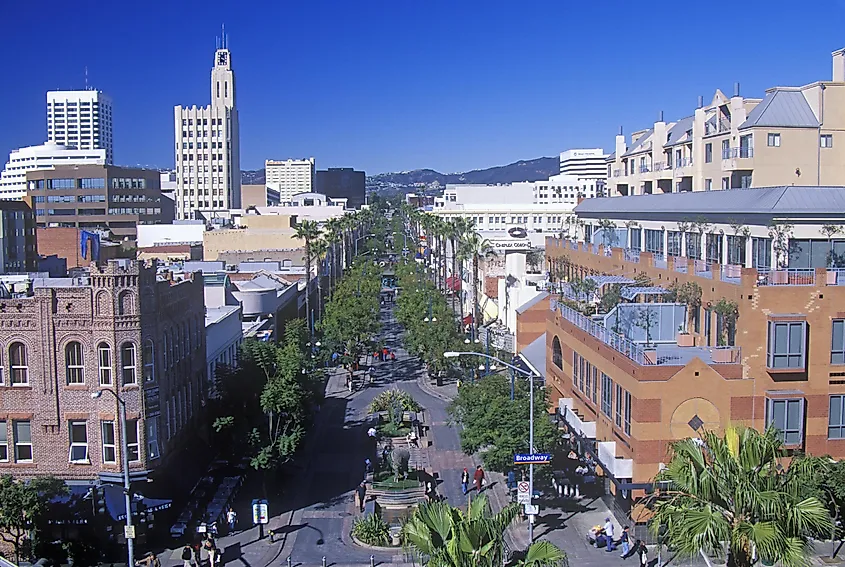 The indigenous Tongva people inhabited the present-day Santa Monica area for several years. An expedition team led by the notable Spanish military officer Gaspar de Portola set foot in the area on August 3, 1769. The expedition team camped close to the present-day meeting point of Ohio and Barrington Avenues. It is believed that the city was named by a Franciscan missionary Juan Crespi in reference to the Tongva Sacred Springs, which resembled the tears of Saint Monica, the mother of Saint Augustine. In 1839, Juan Bautista Alvarado, who served as the Governor of Alta California, granted a 33,000-acre Mexican land grant to Southern California's Sepulveda family. In due course, a small Californio community, mainly comprising livestock herders and their families, started inhabiting the rancho.
The Mexican-American war officially ended on February 2, 1848, and California came under US sovereignty. The Sepulveda family sold their rancho to Colonel Robert S. Baker. In 1874, John P. Jones, a Nevada Senator, bought half of Baker's property. The town of Santa Monica was formally created in 1875 after the subdivision of the joint holdings of Jones and Baker. The Los Angeles and Independence Railroad linked Los Angeles with Santa Monica in October 1875. In later years, the Pacific Electric Railway brought several visitors across the Greater Los Angeles Area to the city's beaches, and amusement piers also became popular. The city was hit hard by the Great Depression, which led to the bankruptcy of the owners of several hotels and office buildings. The Works Project Administration help to construct many important buildings in the city, including the City Hall, Post Office, Barnum Hall, and many more. In 1920, Donald Douglas established an aircraft company in Santa Monica, which grew immensely after the onset of the Second World War.
Population And Economy Of Santa Monica
As per the latest US Census, Santa Monica has a population of 93,076 inhabitants with a median age of 40.5 and a population density of 5,800 per square mile. The top ethnic groups in the city include White (Non-Hispanic) at 63.2%, White (Hispanic) at 9.94%, Asian (Non-Hispanic) at 9.79%, Two and more races (Non-Hispanic) at 5.63%, and African-American (Non-Hispanic) at 4.09%. About 91.4% of Santa Monica's residents are U.S. citizens, and the average car ownership in this resort town is two cars per household.
Santa Monica has a median household income of $98,300 and a median property value of $1.45M. The city's diverse economy employs about 51,000 people. The most prominent industries include Professional, Scientific & Technical Services, Information, and Educational Services. The city is home to the head offices of a number of well-known businesses, such as The Beachbody Company, Otter Media Holdings, Miramax LLC, RAND Corporation, Fatburger North America Inc, and many more. In addition to this, Santa Monica is also home to several startup companies and game development studios. Some of the top universities in the city include Santa Monica College and the Emperor's College of Traditional Oriental Medicine.
Attractions In And Around Santa Monica
Santa Monica Pier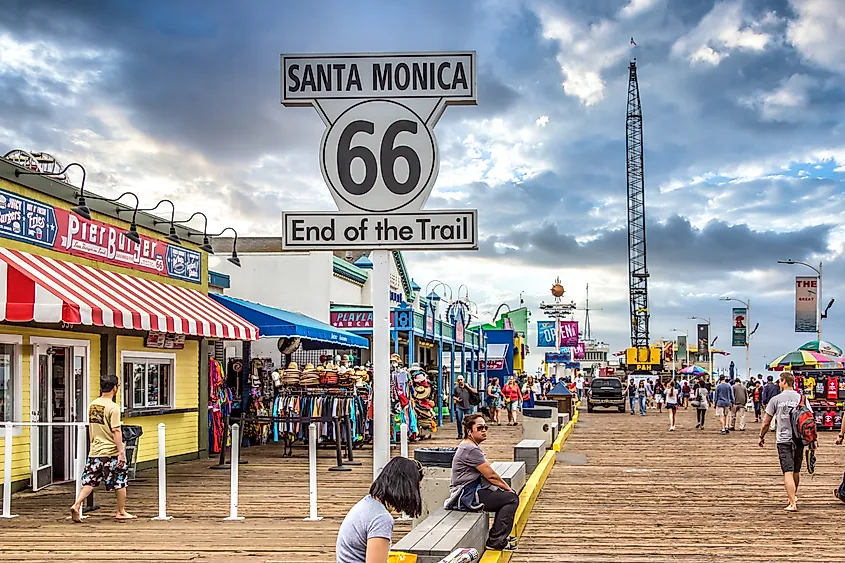 One of Santa Monica's iconic attractions, the large double-jointed pier juts out into the Pacific Ocean at the base of Colorado Avenue. Opened on September 9, 1909, the pier offers a variety of family-friendly recreational activities for its visitors and features concession stands, areas for fishing and viewing, and a small amusement park. The 500 m long pier houses a brightly lit Ferris wheel at the Pacific Park, the Santa Monica Pier Aquarium, restaurants, a video arcade, treat shops, food carts, and a classic carousel. Designated as a National Historic Landmark, the Santa Monica Pier also serves as a perfect venue for movies and outdoor concerts.
Palisades Park
Placed along a 1.6-mile-long section of Ocean Avenue, this 26.4-acre park is an ideal walking area to enjoy the fantastic views of the Pacific Ocean as well as the coastal mountains. Extending from Adelaide Drive in the north to the Santa Monica Pier in the south, this linear park features the historic Santa Monica Camera Obscura, picnic areas, pétanque courts, Native American totem poles, public art (including a restored Civil War cannon and Statue of Santa Monica), gardens, and restrooms.
Third Street Promenade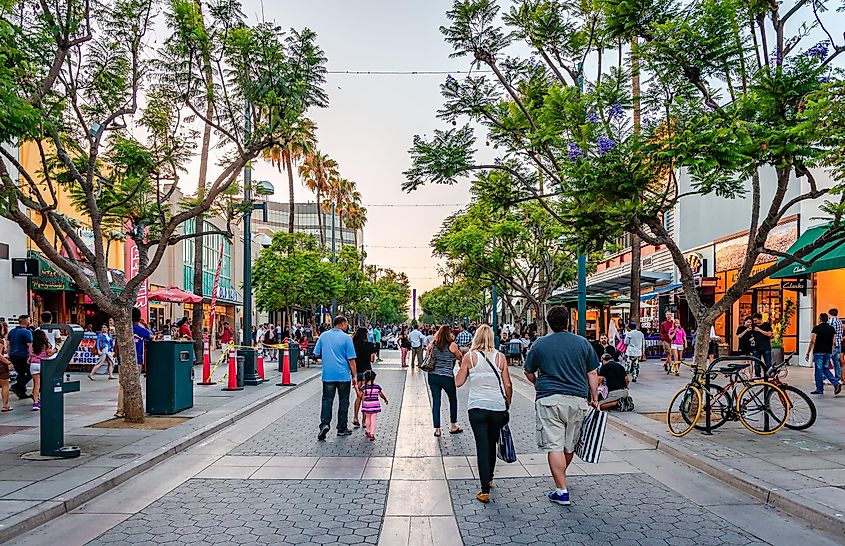 This premier pedestrian-only shopping and dining district, located on the Los Angeles Westside in Santa Monica's downtown, draws hundreds of visitors from all over the Greater Los Angeles area. The Third Street Promenade stretches for three blocks between Wilshire Boulevard and Broadway and has been Santa Monica's business center since its beginning. The promenade also features a variety of public art, including dinosaur topiaries, exterior building-mounted murals, and many multi-level parking structures. Besides shopping and dining, visitors to the Third Street Promenade can also enjoy street performances by classical guitar players, hip-hop dancers, singer-songwriters, magicians, etc.
In addition to the attractions mentioned above, Santa Monica houses an array of art galleries, movie theaters, museums, boutique stores, luxury hotels, and famed restaurants. This laid-back seaside community is a perfect destination for those who wish to take a respite from the hustle and bustle of big metropolises. There is so much to discover here that any trip to Santa Monica would surely be a memorable experience for every tourist who visits this place.