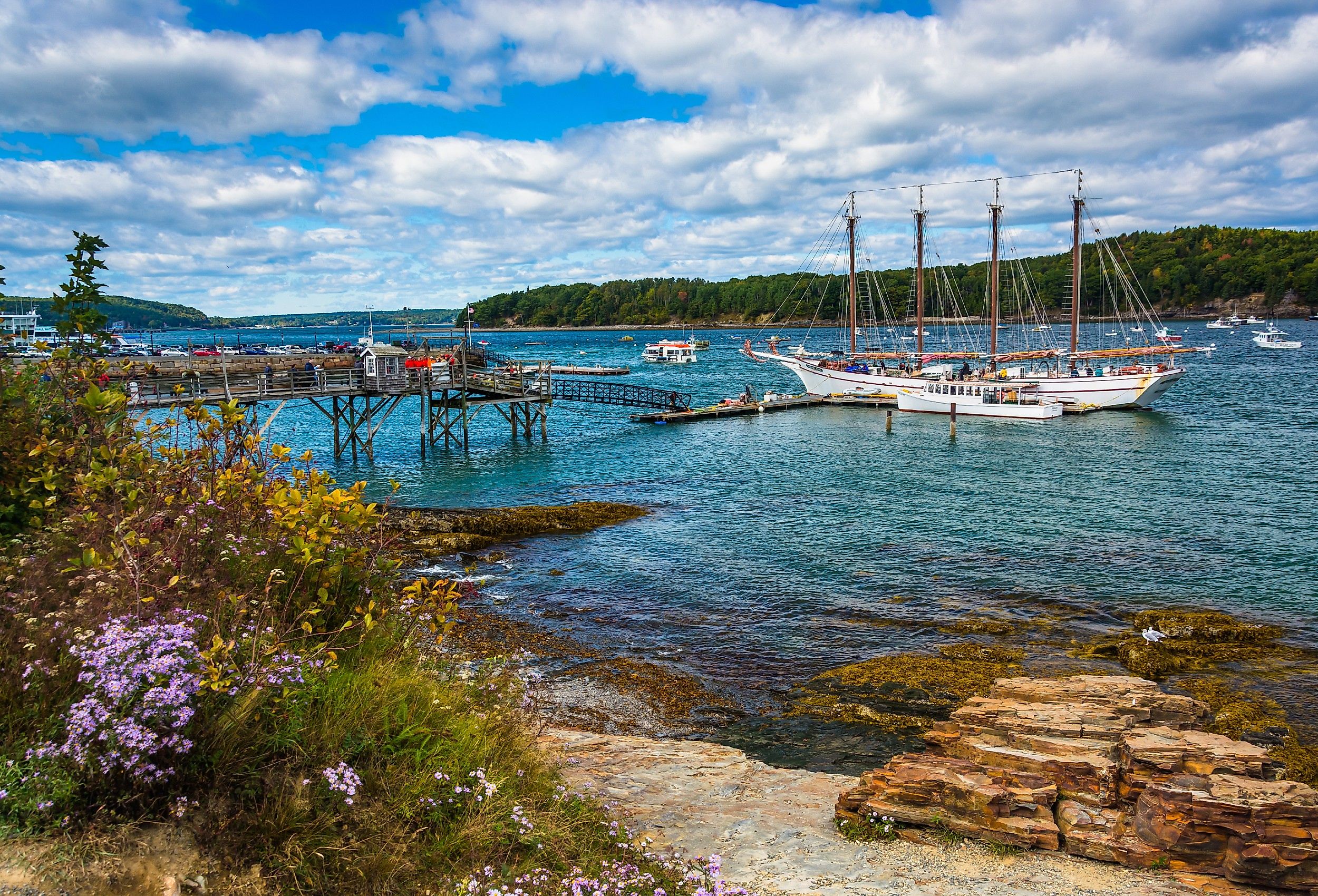 9 Prettiest Towns on the Atlantic Coast
The Atlantic Coast of the United States is known for many things. Maine lobster, deep sea fishing, fine sand beaches, luxury vacation islands, and American history, to name a few. But what makes this region so special is its natural and historical beauty. Collectively, the quaint Atlantic Coast towns from Maine to Florida have an ethereal nature while still maintaining a sophisticated prettiness throughout the region. With so much beauty comes a laundry list of towns to visit and a seemingly impossible choice to make. To give you a leg up on this choice, be sure to check out these favorite pretty Atlantic Coast towns.
Bar Harbor, Maine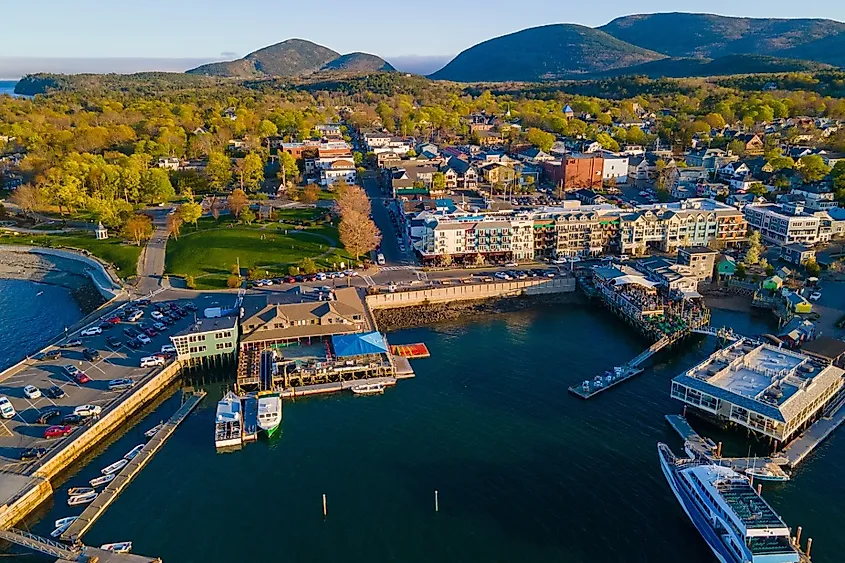 Have you ever heard of the Hudson River School artists? How about the names Thomas Doughty, Asher Durand, and Thomas Cole? If your answer to both is yes, you should plan a visit to Bar Harbor, Maine. It was this town and the surrounding landscapes that served to inspire many Hudson River School artists. Drawn to its natural beauty and pretty simplicity, artists from this school made a regular pilgrimage to Bar Harbor for decades. Painting landscapes and seascapes across the ecosystems of Mount Desert Island, the island on which Bar Harbor sits, many of these works hang today in famous museums worldwide.
For those not so interested in art, the panoramic views of this region recommend themselves as well. Enjoy spending time outdoors while hiking the many local trails, including Beehive Trail and Gorham Mountain Trail, both about 15 minutes south of Bar Harbor, or relax while meandering along Bar Harbor's lovely shoreline.
Folly Beach, South Carolina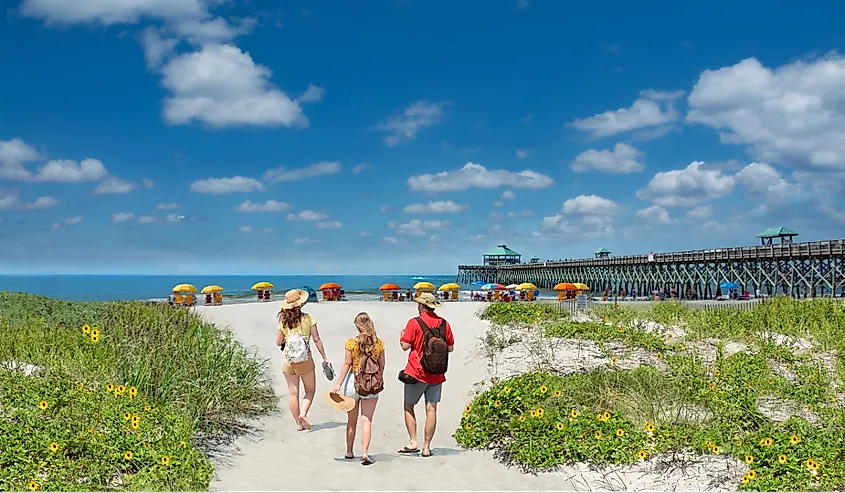 In Folly Beach, South Carolina, you will find a charming small town mixed with all the entertainment of a big city and, above all else, some of the prettiest beaches on the Atlantic Coast. As a popular tourist destination, the downtown district of Folly Beach has fantastic accommodations, some even located in repurposed historic buildings, made once more as stunning as they were in their heyday.
Top-rated options include Water's Edge Inn, Regatta Inn, and Beachside Boutique Inn. For a spectacular view, walk out to the end of Folly Beach Pier at dusk or dawn and marvel as the sun either sets behind this town or rises from the sea. Outside of Folly Beach, there are many opportunities to enjoy the natural landscape of the region, with the Morris Island Lighthouse Trail being 15 minutes from town. Other scenic hikes outside of town include the Wannamaker North Trail, which is 30 miles away; Fox Swamp Trail, which is 45 miles away; and Laurel Hill County Park Hike, which is 25 miles from Folly Beach.
Ocean City, Maryland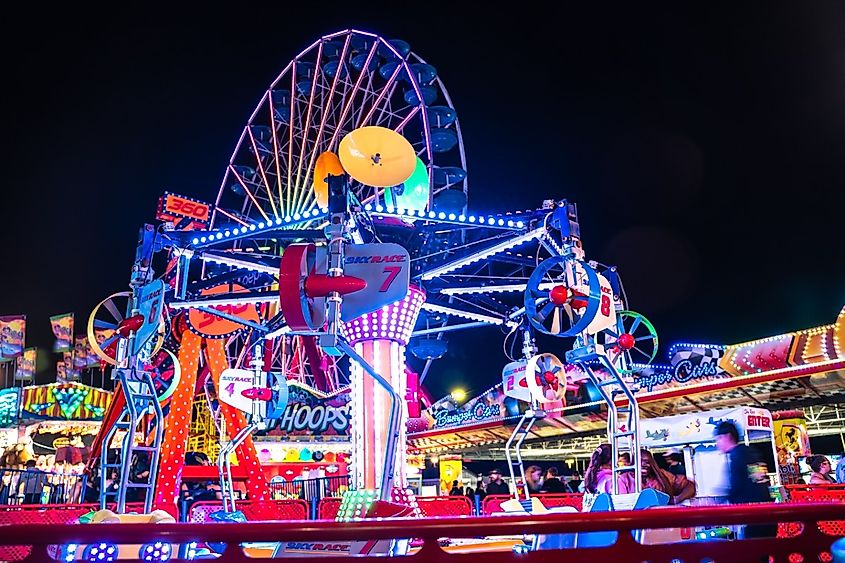 For anyone who has visited Ocean City, you may be questioning how such an amusement park filled destination, with the popular Jolly Roger Amusement Park, could be considered pretty. While yes, the 10 miles of fine sand beaches and perfect ocean seascapes are inarguably gorgeous, Ocean City itself is a work of modernity. But as the sun sets and the colorful lights of the many local amusement parks are turned on, Ocean City's busy daytime aesthetic turns into a stunning display of colorful lights, drenching the skyline with every color shining like as many stars in the night sky. Outside of town, there are also several lovely parks to explore, from Assateague State Park to West Ocean City Nature Park and, a little farther afield, Pocomoke River State Park.
Key West, Florida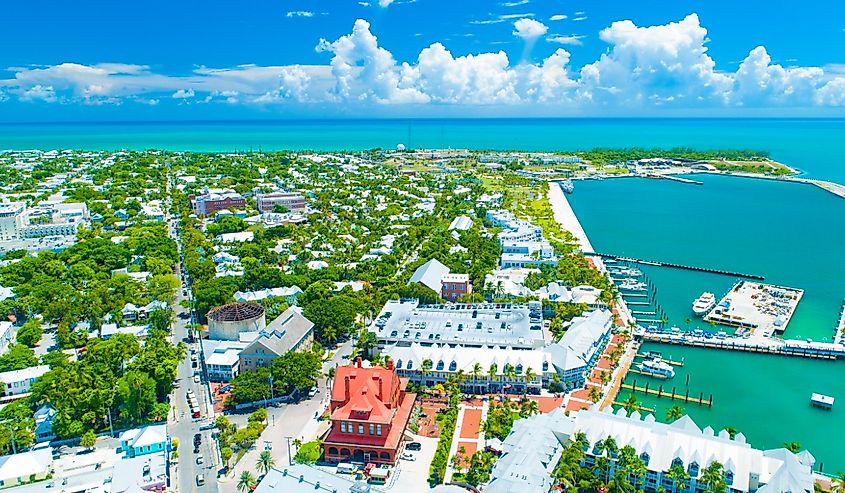 Think sunlight on your shoulders, lush grass all year round, wrought iron fences covered in creeping vines, and the smell of fresh ocean air. If this all sounds good to you, a visit to Key West, Florida, will not disappoint. With an enchanting aesthetic, divine white sand beaches, and some of the most spectacular coral reefs off its shores, the coastal island of Key West is incomparable in all its forms of beauty. For literature aficionados, a visit to Key West offers so much more than perfectly pretty beaches and crisp blue skies.
In Bahama Village, and across from the Key West Lighthouse, you will find one of the best preserved local homes to house the Hemingway Home and Museum. The home was built in 1851, but Hemingway and his wife, Pauline Pfeiffer, only lived there from 1931 to 1939, accompanied by their six-toed cats. Today, you can explore the Hemingway house and visit with the six-toed descendants of Hemingway's own six-toed cats, who now call this property their own. Other activities in the neighborhood include the Key West Butterfly and Nature Conservatory, a fount of natural beauty amongst a town of man-made tranquility.  
St. Augustine, Florida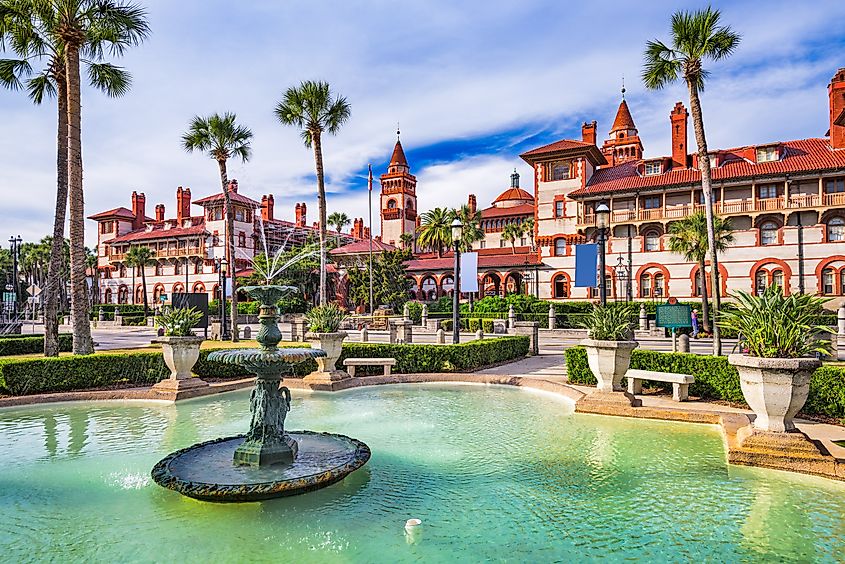 A visit to St. Johns County, Florida, does not feel complete without a day exploring St. Augustine. In St. Augustine, the oldest settlement in the United States, abundant natural and historical beauty is on display, especially in the historic downtown. Absolute must-visit historical sites include Castillo de San Marcos, the St. Augustine Fountain of Youth, found at the Ponce de Leon's Fountain of Youth Archaeological Park, and the St. Augustine Lighthouse and Maritime Museum, each lovingly restored to their height of prettiness.
You can also get to know St. Augustine by taking one of the many tram tours offered, a popular tour being the St. Augustine: Ghosts and Gravestones Old Town Trolley Tour. There are many locals in and around St. Augustine, where you can explore the beautiful nature in this region. These include Anastasia State Park, Fort Mose Historic State Park, and, a bit farther from St. Augustine, Matanzas State Forest, each offering hiking trails at various difficulty levels.
Tybee Island, Georgia
With historic homes, haunting lighthouses, and unique terrain, Tybee Island, Georgia, is a hidden gem of an Atlantic Coast town and one of the prettiest in Georgia. Founded in 1887, the enchanting Tybee Lighthouse dates back to before this community existed. Built around 1773, the Tybee Lighthouse is Georgia's tallest and oldest lighthouse and has been preserved in all its glory.
Today, you can visit the Lightstation and Museum to learn about Tybee's maritime history and climb the 178 steps to the top of the lighthouse for a stunning panoramic view of the region. Under 10 minutes west of the Tybee Lighthouse, you will find Captain Derek's Dolphin Adventure, where you can book a tour and go dolphin and whale watching while also enjoying a scenic view of the lovely Tybee Island.
Wellfleet, Massachusetts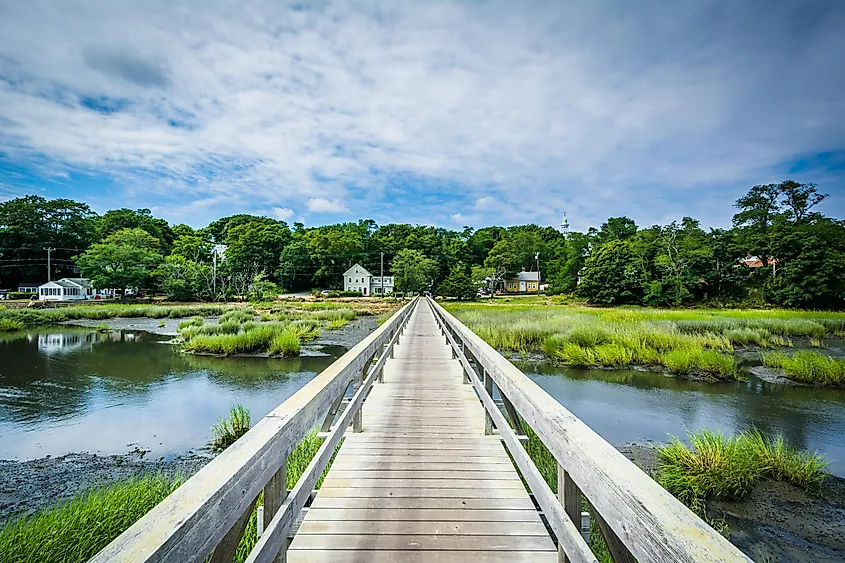 Sharing the same appealing aesthetic as the famed Cape Cod but without the unbearable crush of tourists during high season, Wellfleet, Massachusetts, is a town of history and nature. Many old trees line the streets, especially those in the historic district. Some of the oldest buildings include the Wellfleet Historical Society and Museum building, dating to 1854, the Adams Masonic Lodge, built in 1864, and the South Wellfleet Post Office, built in 1829, each having a distinct aesthetic, but contributing collectively to the charming nature of historic Wellfleet.
In and around Wellfleet, you will also find some of the most beautiful local accommodations in Massachusetts, with Drummer Cove Bed and Breakfast and the Inn at the Oaks being top-rated, with both being just a 15-minute drive south of Wellfleet.
Rehoboth Beach, Delaware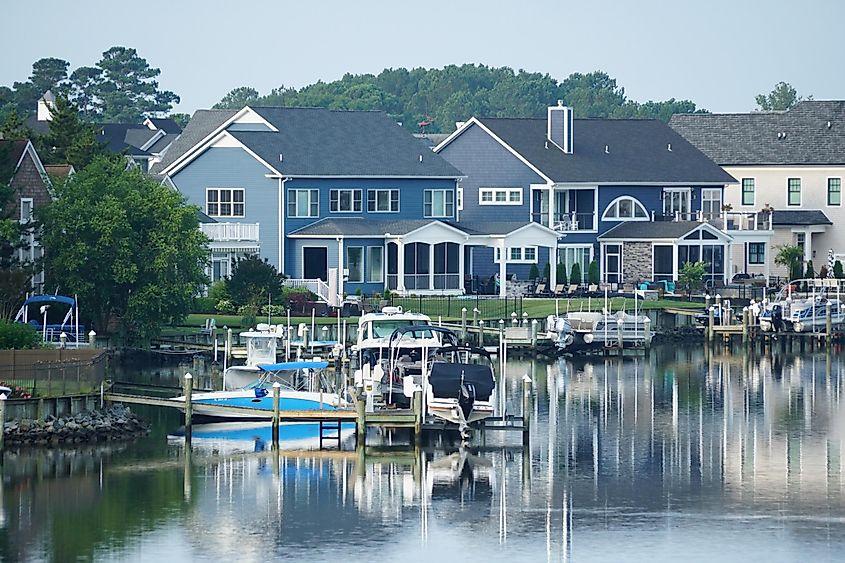 During the busy tourist months of the year, the Atlantic Coast community of Rehoboth Beach, Delaware, sees a massive increase in short-term visitors, while during the rest of the year, it has around 1,200 residents. Some of this can be attributed to tourists wanting to escape the stuffy big cities of the Atlantic Coast. Still, in no small part, it is the local aesthetic of Rehoboth Beach with its iconic Rehoboth Beach Boardwalk that brings tourists from all over the world.
Along the beaches closest to downtown, you will find the Rehoboth Beach Bandstand, which offers free concerts from June to the end of August. These concerts are a popular event, allowing attendees to revel in the local beauty while also revealing in the beautiful music. You will also want to visit the local green spaces, including Cape Henlopen State Park, Great Marsh Preserve, and Prime Hook National Wildlife Refuge.
Provincetown, Massachusetts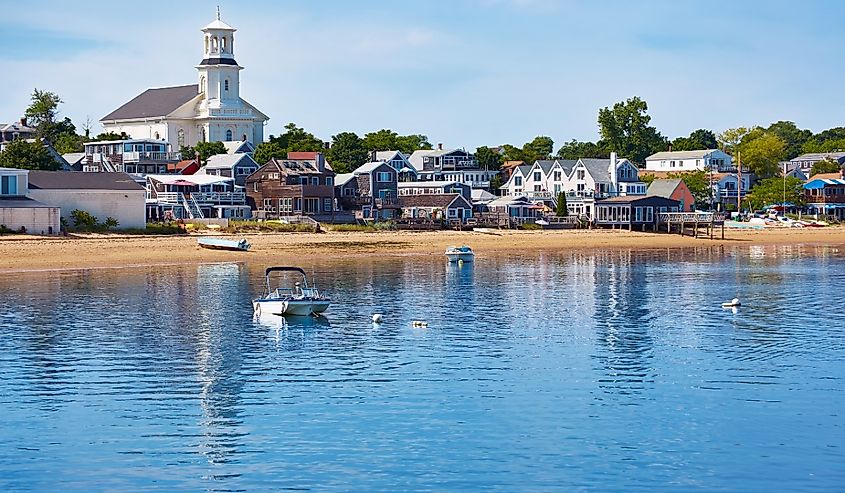 Known by locals as "P-Town," Provincetown, Massachusetts, is a relatively well-known Massachusetts town, offering a balance between maritime history and terrestrial beauty. Local beaches such as Herring Cove Beach and Race Point Beach are exceptional, having soft white sand and clear ocean waters, and are just a short walk from the center of Provincetown.
Make sure to also explore the Cape Cod National Seashore if given the opportunity. Local parks with public access to hiking and biking trails include Provincetown Causeway, Provincetown Waterfront Memorial Park, and Pilgrims' First Landing Park. From town, you can take a helicopter ride and capture the local beauty from a vantage point only so many have seen.
No matter the season of the year or one's interests, what is sure to be found when visiting an Atlantic Coast town is the perfect balance of man-made and natural local beauty. From preserved historical buildings, pretty by anyone's standards, to the surrounding natural ecosystems, there is no shortage of visual appeal when you visit an Atlantic Coast town. From the Florida towns perfect for a winter getaway to the Atlantic Maritime communities filled with fall foliage, you could spend your entire life exploring the towns of this region and never get tired of just how pretty they are.