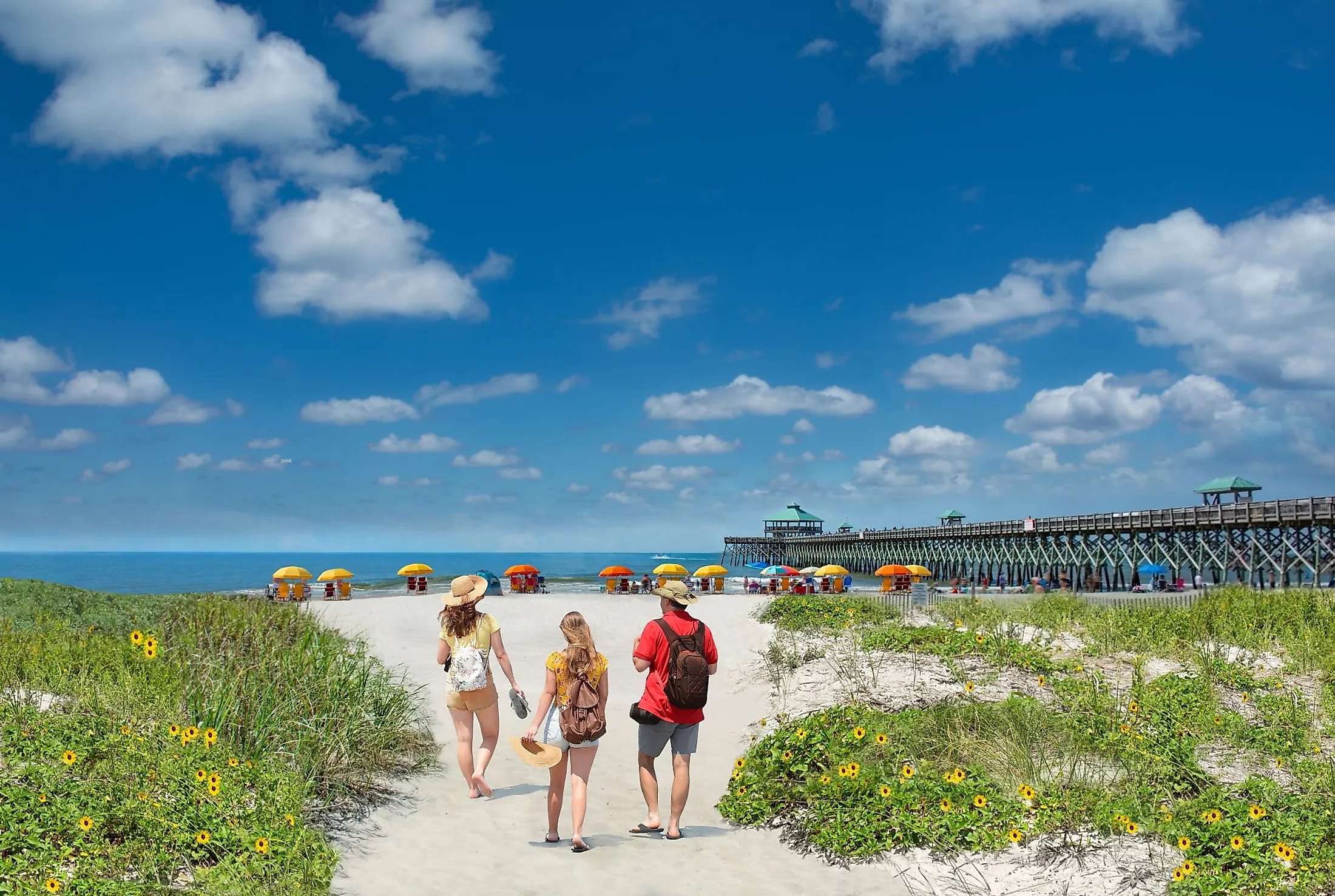 Folly Beach, South Carolina
The largest settlement on Folly Island, a barrier island in South Carolina's Charleston County, the public city of Folly Beach, is a popular surfing and seaside hotspot situated about 18 km south of Charleston. With a total area of 48.9 square km and a modestly small population of just over 2,000, Folly Beach is an exciting beach community with plenty of memories ready to be made.
Climate Of Folly Beach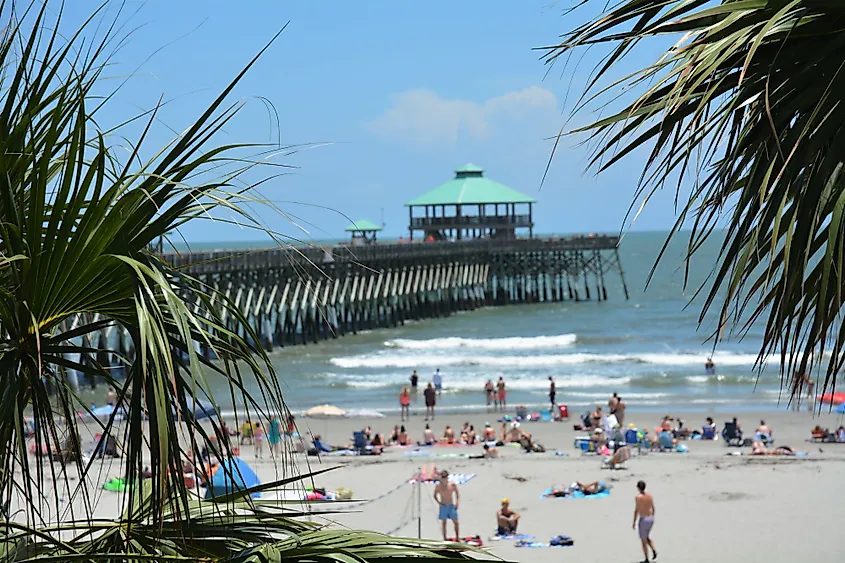 Winters in Folly Beach are short and cool, while summers are often oppressively hot; from May to September, the average daily temperatures reach 29°C, with July as the hottest month and highs of 32°C. Winters typically lasts from December to March, and the temperature climbs no higher than 17°C on average. January is considered the coldest month, with lows of 6°C. The wet season typically lasts from June to September, with a 35% chance of rainfall on any given day. Statistically, August is the wettest month, with an average of 15 days out of 31 with at least 1mm of precipitation, while November is the driest, with only six days on average recording any rain. Due to its coastal location on the Atlantic Ocean, Folly Beach and Island often face the effects of tropical storms and hurricanes; amongst the notable storms to hit the area was Hurricane Hugo in 1989, which destroyed up to 80% of the settlement.
History Of Folly Beach And Island
From the Old English word "Folly," an area with undergrowth and densely packed forestation, the history of Folly Island date back to the 17th century. In 1696, the British Monarch William III endowed the area to a settler named William Rivers. Throughout the years, ownership of the Island and its eventual largest settlement, Folly Beach, passed to several different proprietors. While it was officially a British and later American possession following the Revolutionary War (1775-1783), the indigenous Bohicket Tribe continued to populate the area, often with an uneasy relationship with the European colonizers. Because of its location on South Carolina's Atlantic coast, in the 18th and 19th centuries, numerous shipwreck survivors found themselves temporarily lodged in the town and Island. Among these were passengers of the Amelia in 1832. But Folly Beach and Island began its actual industrialization during the American Civil War when Federal Troops were stationed there. Supply depots, forts, roads, and other strategic posts were constructed during this period, and the beach city and its surrounding foliage served as an essential site in the battle to retake Fort Sumter. Following the Civil War, and as part of the Federal Government's social and economic program of Reconstruction, Folly Beach and Island grew as a seaside retreat area; through the rest of the 19th century and into the 20th century. Several cottages, boardwalks, piers, small businesses, and even amusement park rides began to fill the area. Music-halls and clubs grew rapidly, particularly in the immediate post World War II period, and big bands like Glenn Miller's entertained residents and tourists alike. Folly Beach is furthermore forever tied to a classic of modern American music and composer, George Gershwin. While vacationing on the Island and Beach in the summer of 1934, the composer and pianist completed his famed opera Porgy and Bess, which is set in the South Carolina town of Charleston.
Attractions In Folly Beach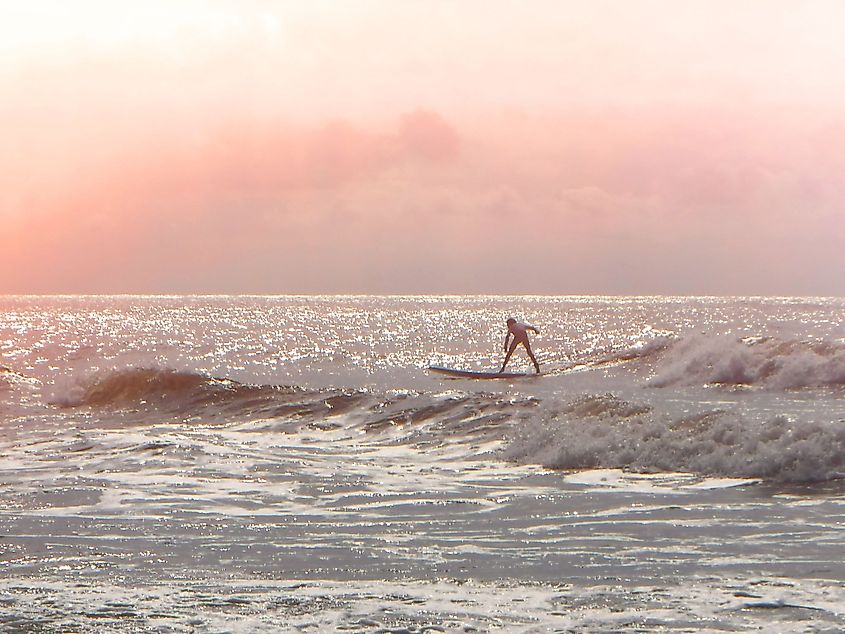 Referred by locals as "The Edge of America," Folly Beach houses numerous surfing spots, which see hundreds of enthusiasts descend into town; amongst the most popular of these spots are Washout, Folly Beach Pier, and 10th Street. Along with these sites, tourists and surfers can find great waves on the water and even better hospitality on land. An eclectic range of restaurants, gift shops, bars, and offices color the town's scenery, while such landmarks as the Atlantic Pavilion and Oceanfront Hotel provide comfortable lodging and entertainment. A glimpse of the North Atlantic right whales can occasionally be seen during their respective migration seasons. These enormous creatures migrate along the coast of Folly Island, often leaving whale watchers with a spectacular exhibition of nature in all its wonder.
Morris Island Lighthouse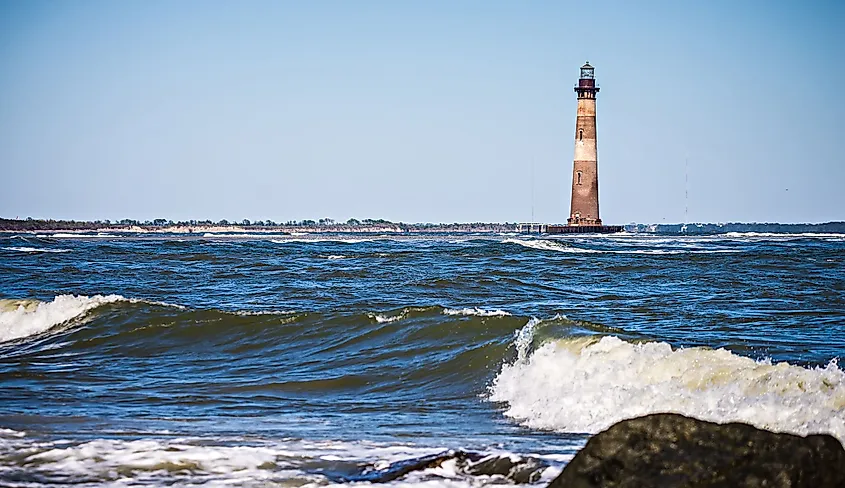 Just off the coast of Folly Beach, visitors can also marvel at a human wonder and the famed Morris Island Lighthouse. First constructed in 1872, the Lighthouse is noted for its slight lean, directly resulting from an earthquake in 1886.
Fort Sumter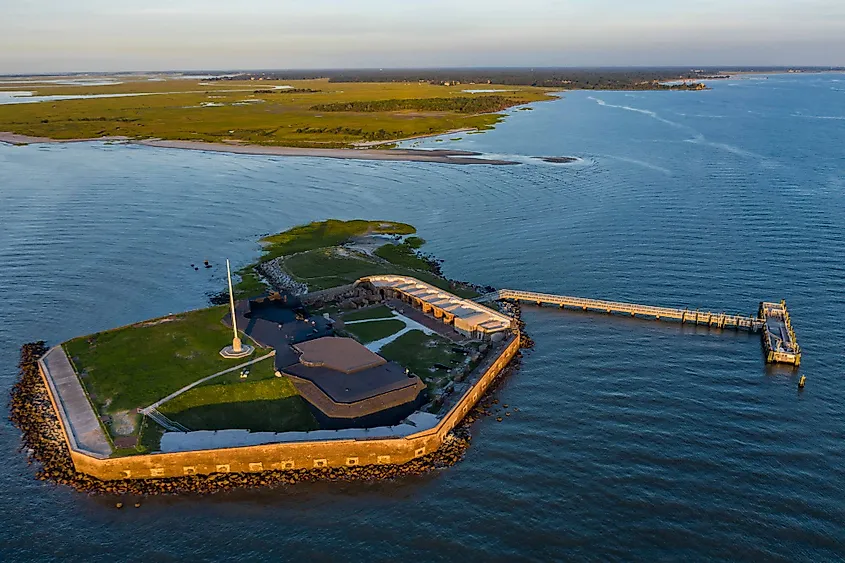 The historically-minded tourist will surely love to take a 30-minute drive and visit Fort Sumter, the site of the attack that began the Civil War in 1861. This living museum is an eternal reminder of the tremendous toll the Civil War took on American society and its enduring presence in political and popular culture.
These and a plethora of other local museums and parks round out any visit to Folly Beach and Island; whether it is to enjoy the beach life and surfing, take in some great live music performances, or step into a bit of American history, any stopover at this unique Island and City will be one to surely write about.