Widely celebrated for its Southern charm and hospitality, South Carolina is a place full of history, warm weather, and exciting adventures to discover. From the beautiful coastal breezes of the Atlantic Ocean to the Blue Ridge Mountains, the unique geography, culture, and cuisine of South Carolina can be most appreciated in some of its quaint small towns. This article looks at the 11 most charming small towns in South Carolina.
Clemson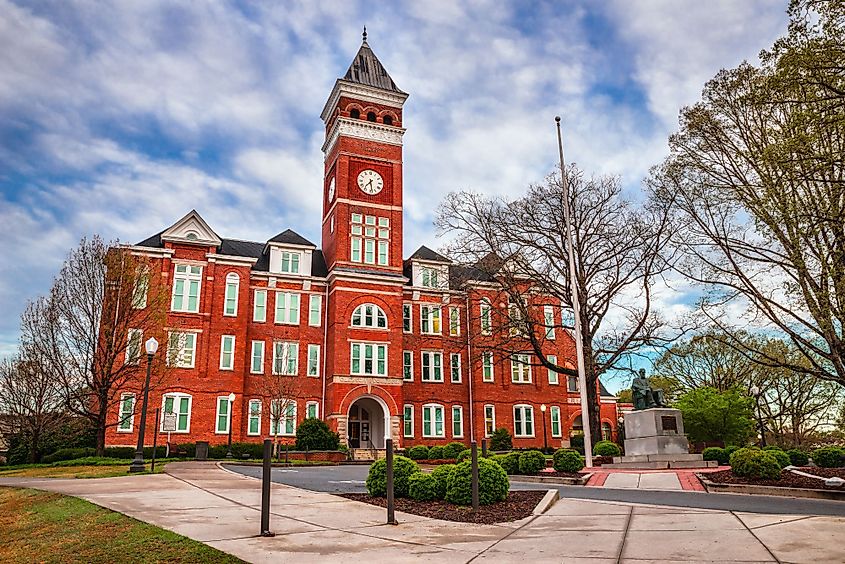 Home of Clemson University (founded in 1889), Clemson and its population of just under 14,000 inhabitants is a beautiful college town nestled right in the foothills of the Blue Ridge Mountains. Full of Southern charm, great local restaurants and shops, and fascinating history, Clemson attracts visitors year-round with its hot summers and mild winters.
The site of seven buildings on the National Register of Historic Places, including the Colonial Hanover House (constructed in 1714) and Fort Hill Plantation, visitors can enjoy a sample of American life through the 18th and 19th centuries. On the campus of Clemson University, be sure not to miss the South Carolina Botanical Garden, which includes a nearly 300-acre sanctuary. Stroll through stunning pathways across bridges, ponds, streams, and alluring gardens for a relaxing outing in a most quaint setting.
Hilton Head Island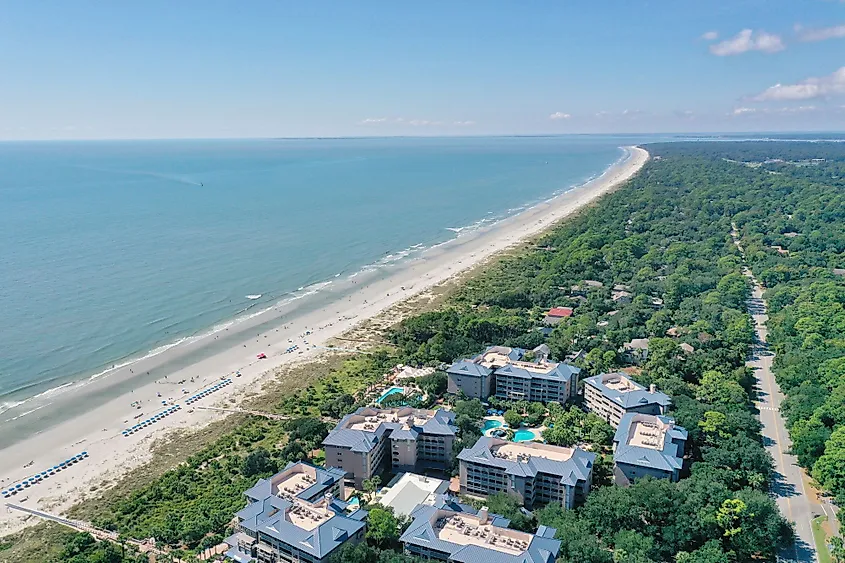 A resort town in Beaufort County and just 32 kilometers from the border with Georgia, Hilton Head Island offers  residents and tourists a beautifully pristine Atlantic beachfront. Indeed with 19 kilometers worth of coastline, those in Hilton Head are never in short supply of stunning views and warm weather.
Enjoy swimming, sailing, sunbathing, and more, or play a round of golf and a game of tennis against a beautiful ocean backdrop. At places like Coligny Beach Park, visitors can get their fill of fine dining and shopping or just enjoy a casual stroll on the boardwalk. And, of course, live music, charming vendors by the sea, and plenty of great local art galleries make Hilton Head Island a truly special place for 12 months of the year.
McClellanville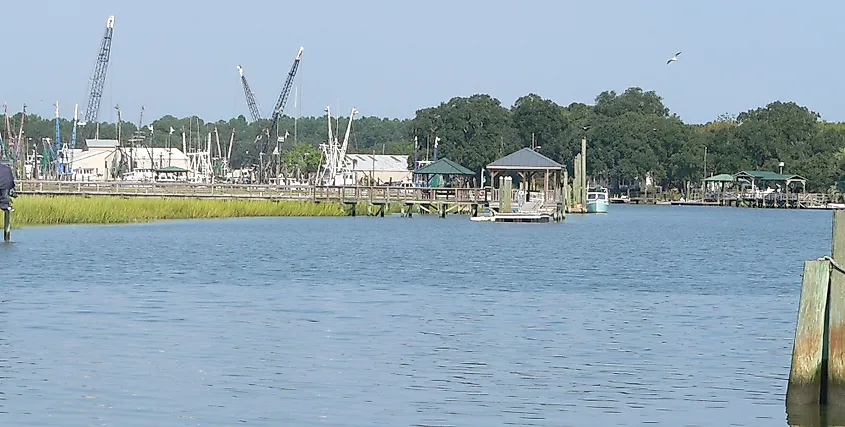 With a population of just over 500 inhabitants, the community of McClellanville sits right on the Atlantic Ocean and is surrounded by the Francis Marion National Forest. An hour's drive north from the city of Charleston, visitors to McClellanville will find a quiet place of tranquility and natural beauty in this fishing hot spot.
Founded as a village in the 1860s, visitors can learn more about the town's history at the Village Museum or stroll through the Historic District, where several buildings are included on the National Register of Historic Places. With an economy driven by fishing, shrimping and even oystering, visitors to McClellanville will surely love dining at any of the great local seafood restaurants. And, of course, with the Francis Marion National Forest adjacent to the town, one can enjoy an assortment of charming biking and hiking trails, where the refreshing sea air permanently resides.
Aiken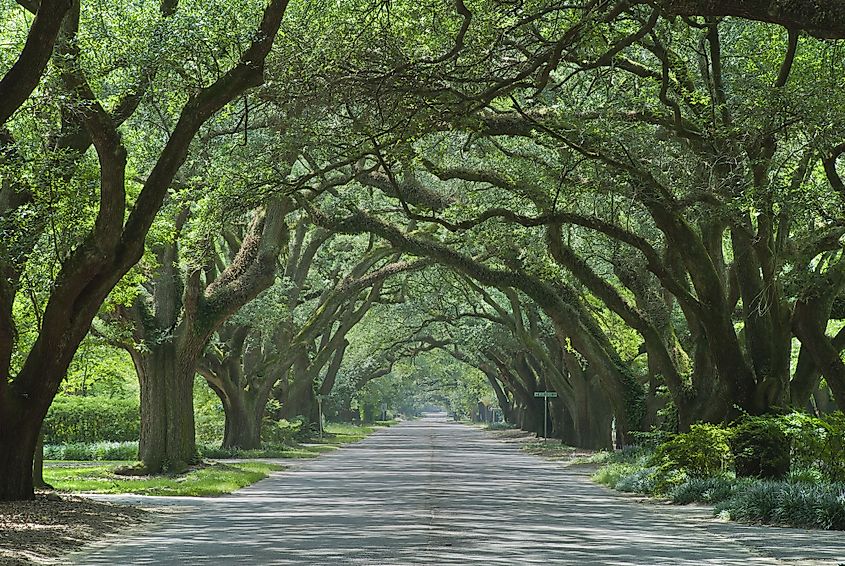 The seat of Aiken County and near the border with Georgia, Aiken is a splendid town where visitors of diverse interests can find something new to discover. Nature lovers can enjoy sites such as Boyd Pond Park, where beautiful hiking trails and close views of local wildlife are always in abundance.
Or perhaps try some horseback riding at Hitchcock Park, a favorite of professional and amateur riders alike. For the history-minded tourist, a visit to the Aiken Train Museum is always a popular destination, where one can learn about the expansion of the Eastern Railroad in a fun and interactive venue. Meanwhile, for tourists and families of any kind, strolling through the charming Hopeland Gardens is a great way to spend an afternoon. Admire the local flowers, enjoy the warm sun, and take in the atmosphere of this Southern town; when in Aiken, there is always a reason to be happy.
Pendleton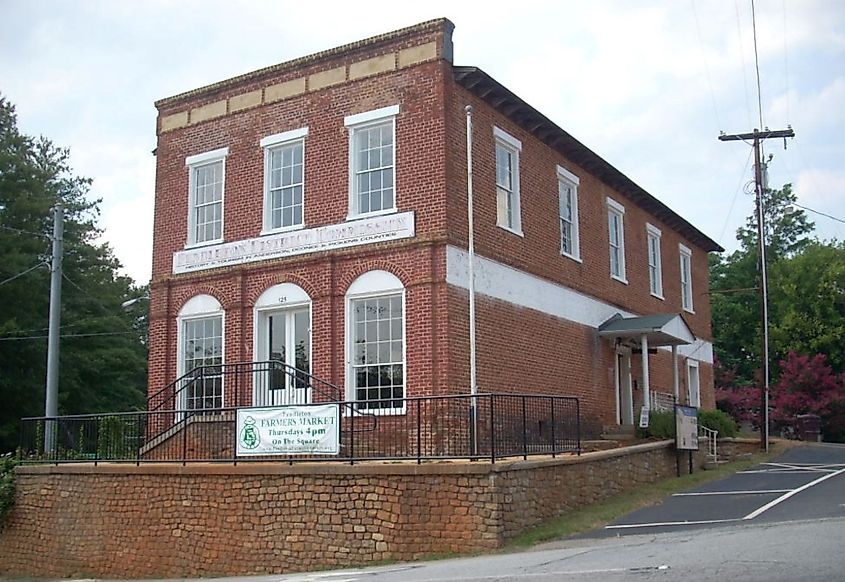 The town of Pendleton is well known for its Historic District, which houses a collection of historical buildings like the Boone-Douthit and Woodburn Plantations. Here, visitors can get a unique glimpse into life in Colonial 18th century America and into a growing farm town before the outbreak of the Civil War.
History aficionados will further appreciate the Bart Garrison Agricultural Museum of South Carolina, which examines the expansion of agriculture and farming in the region. With a population of just over 3,000 residents, Pendleton is indeed a charming small town that captures all the spirit of rural America. Enjoy welcoming hospitality, quaint local restaurants and shops, and an ambiance of unique American history altogether in one of South Carolina's best-kept secrets.
Hartsville
The area now known as Hartsville has long been inhabited by Native American people, while the first colonial settlements began in the 1760s. Having a population of just 7,446 residents, Hartsville has a unique history of both indigenous and white settler growth, and indeed the town is home to a lengthy list of historical sites.
These include the Hartsville Depot Train Station and the Jacob Kelly Mansion, where visitors can get a personal view of several centuries of evolving history. For the nature-oriented tourist, visiting the Kalmia Gardens is a must, where over 30 acres of trails, displays, and local plants wow whoever passes through. And of course, right in Hartsville's downtown, numerous museums, galleries, antique stores, and charming restaurants can all be found, ready to give any visitor a wonderful dose of Southern charm, special to South Carolina.
York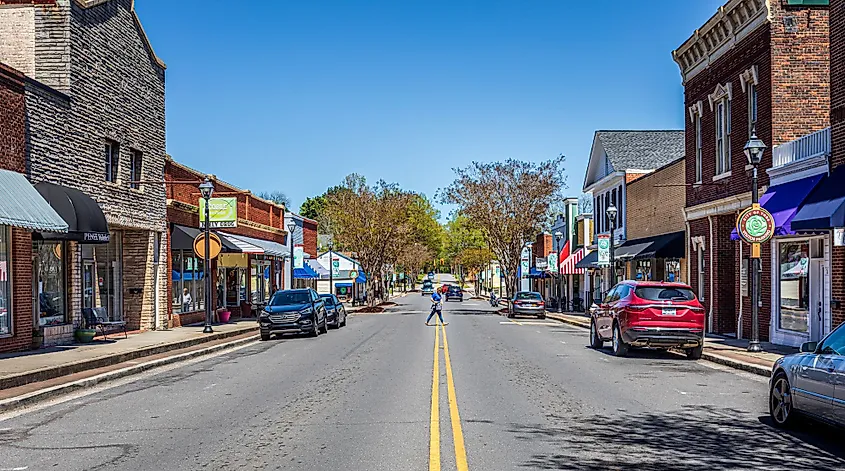 The seat of York County and founded in 1750, the town of York was the site of two major battles during the American Revolutionary War. Today, York and its population of 7,000 inhabitants remains a town steeped in history, and tourists will certainly get a sense of living history when here.
Full of historic buildings selected for preservation, including the York County Courthouse and the Allison Plantation, in the York Historic District, nearly every edifice has been listed on the National Register of Historic Places. Marvel at the old-style architecture and archaic building materials, or pose with the Old Town Clock in a most charming and truly old-fashioned ambiance. Tourists can further enjoy quaint local shops, galleries, and restaurants, as residents beam their pride, always ready to welcome visitors.
Beaufort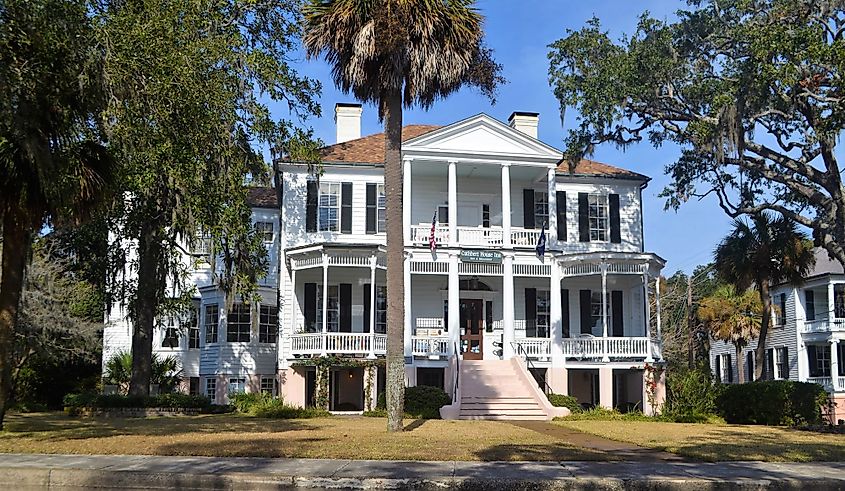 The state's second oldest town, Beaufort, was established in 1711 and is located right on Port Royal Island on the Atlantic Coast. Full of beautiful Southern charm, this town is a definite jewel for those looking for stunning scenic views and preserved colonial history.
Lovers of history will certainly enjoy a stroll through Beaufort's streets, where many buildings from before the Civil War have been lovingly maintained and restored. At the Beaufort Historic District, a journey into America's past has never been easier. For the nature enthusiast, spending time on the water by swimming and sailing is amongst the most beautiful things to do while in town. And, of course, the charming boardwalk at the Sands in Port Royal gives definition to having one's breath taken away.
Travelers Rest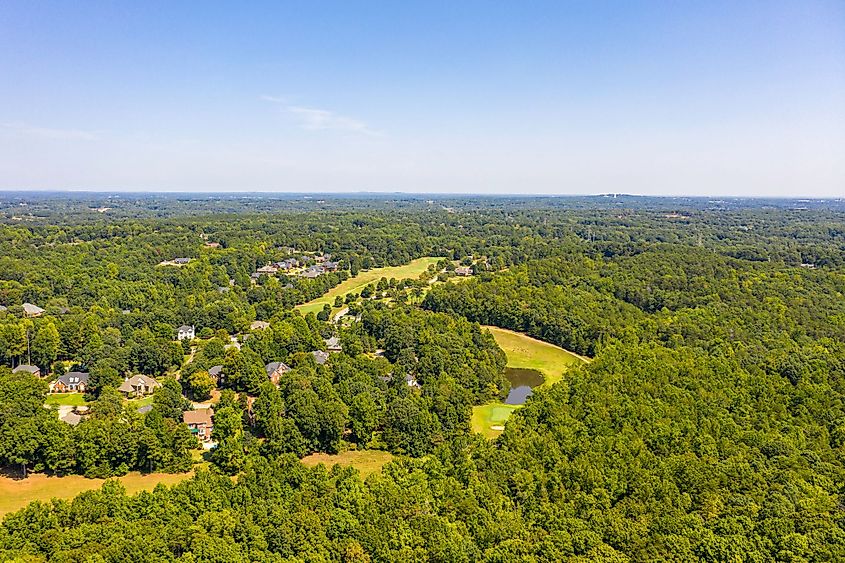 The town of Travelers Rest is indeed a spot where repose is always in abundance. Situated within the Blue Ridge Mountain range, this town of around 5,000 residents is a quaint rest stop that was originally founded as a place of refuge for those traveling in the area, hence its name.
Filled with plenty of small-town charm, visitors can enjoy local restaurants, cute shops, and even a few historic buildings included on the National Register of Historic Places. At the Wildcat Wayside Mountain nature preserve, outdoor lovers can experience great hiking and biking trails and even see some local mountain waterfalls.
Georgetown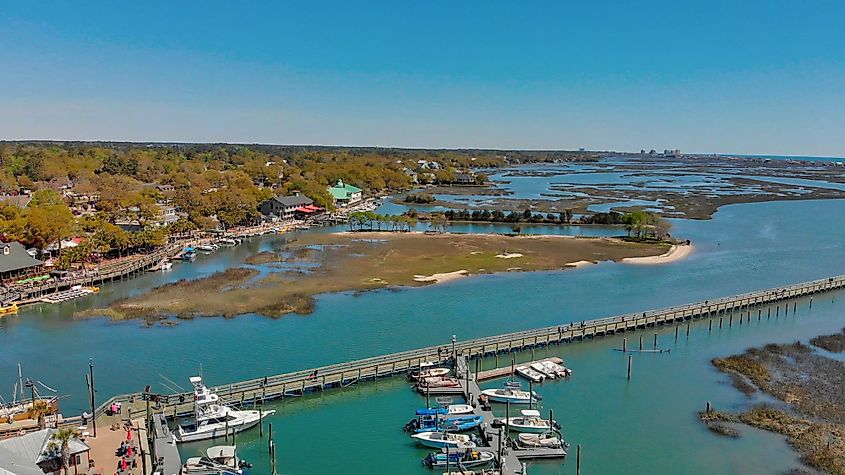 Georgetown is South Carolina's third oldest settlement, behind Beaufort and Charleston, respectively. Founded in 1526 by Spanish colonists, the town eventually became a prominent English settlement and today is the state's second-largest seaport.
Once the center of a rice and indigo production area, visitors to Georgetown will appreciate its special old-world charm, offering a special window into America's colonial past. With historic buildings, homes, and cobblestone streets lining much of the Historic District, this snapshot of the 18th and 19th century United States is indeed a fascinating experience. And naturally, as a seafront town, a trip out on the water is a must when in Georgetown. Tourists can enjoy boat tours of the area that inform and visually delight at the same time, for some of the very best of South Carolina's Atlantic coastline.
Mount Pleasant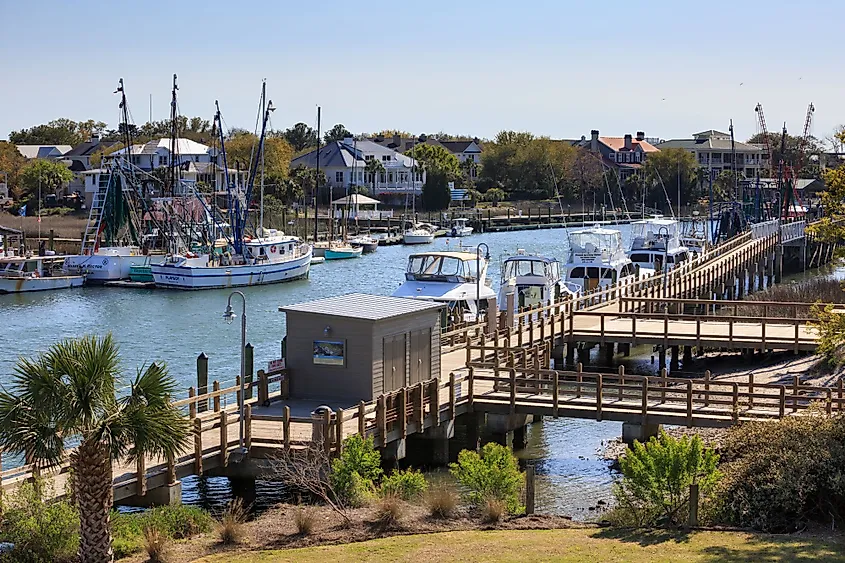 Though it has a large population that would place it closer to city status, Mount Pleasant is a town filled with Southern beauty, history, and small-town charm. Home to some 90,000 residents, visitors can explore centuries worth of historic buildings, parks, and other sites from the colonial period to the Second World War.
Visit the Patriots Point Naval and Maritime Museum, where the aircraft carrier USS Yorktown is on display, illuminating the town's contribution to the 1940s war effort. Meanwhile, as a coastal town, tourists at Mount Pleasant will always have great opportunities to enjoy the Atlantic waves, where swimming and sailing are continuously popular attractions. Home of several sites on the National Register of Historic Places, Mount Pleasant is indeed a pleasant experience for solo travelers and families alike, melding together fascinating history with stunning coastal beauty.
From stunning Atlantic coastal views to mountains, valleys, and plenty of Southern charm, South Carolina exemplifies natural and cultural beauty. Traveling through the State's small towns is a great way to better know the "Palmetto State," as each offers unique history, rustic beauty, and adventures ready to create lasting memories for all.