Maine is a land of lobsters to go with its craft beer scene, which offers scenic hiking through green woodlands and along the grey cliffs with beating cerulean waves below. The Pine Tree State is a magnet for overtaking all your senses through sights, tastes, and smells like pine forests mixed with sea brine. Visit one of these smaller towns and get addicted to the maritime scenery yourself, with fresh culinary creations, amid colonies of artists who descend for inspiration and keep inspiring others with their work. Stroll through the cute town centers laden with arts and events amid historic sights and architecture, soaked through with sea air and memories of everything from pirates to trades and fishing.
Bar Harbor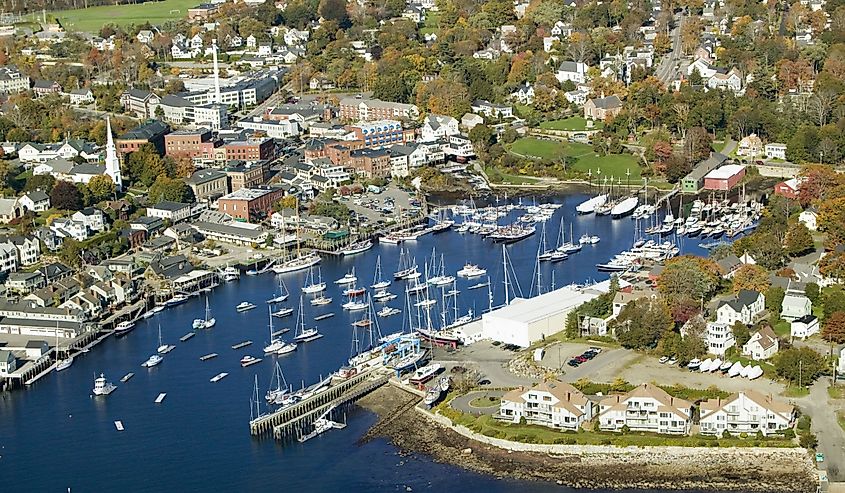 The cute town on Mount Desert Island off the coast of Hancock County is a famous place among regular people for one simple reason: it is beautiful to the point of tears. Once a place only accessible to the rich and powerful on a summer getaway from their demanding and not-so-demanding jobs, Bar Harbor nearly vanished under a 1947 fire that destroyed five grand and historic hotels and 76 palatial residences along "Millionaires' Row."
The town rebuilt itself, changing its character from posh to adorable today and becoming a popular destination for tourists seeking a remote getaway with illustrious past vestiges. Check into the Mira Monte Inn and experience the lifestyle of the heyday amid stunning Victorian "cottages" from the 19th century transformed into pleasant hotels. Enjoy the marine vibe on a sunny stroll along the cute Bar Harbor's Mount Desert Street with more sights hinting at the splendor of the US' Gilded Age amid modern amenities and attractions housed in historic and beautiful buildings.
Camden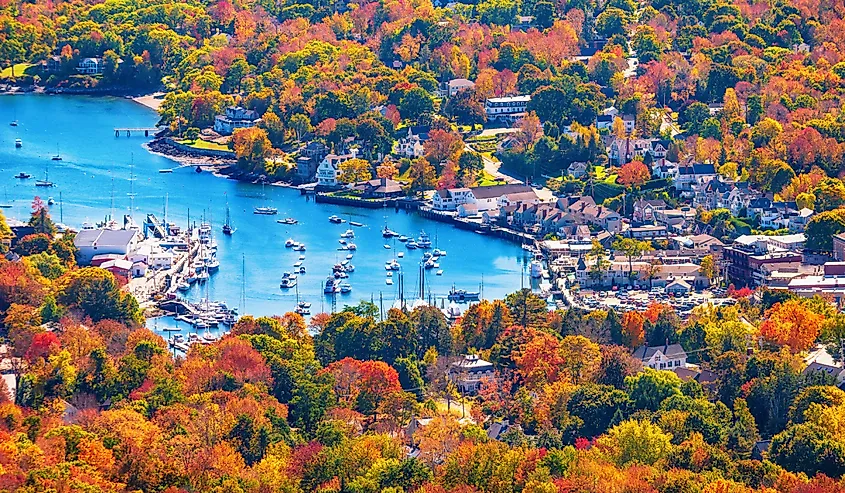 Rightfully the "Jewel of the Coast," as its moniker insists, this town might as well be a setting for Maine as a whole. Camden's appearances in popular TV series and films are worth all the Hollywood attention. Set lovingly embracing the most picturesque coast, Camden is your ultimate postcard-pretty seaport town for any season to explore the cute Main Street via strolls or bike rides along the water's edge. The cute little town maintains a humble character and leaves quite an impression from the first meeting with its harbor full of sailboats. Stop by the amphitheater and the public library in town for a fill on local culture.
Head oceanside to check out the lovely waterfront mansions and sight them from a boat cruise to see how adorable this town is from a distance. Do not forego the offer to take up a photography workshop excursion on board the Moon Dog. From hiking in Camden Hills State Park and climbing Mount Battie to winter sports, the lovely state of Maine's enclave is irresistible with a line-up of enticing events. The downtown is brimming with shops, restaurants, and cafes. Stay at 16 Bay View, right over the harbor and centrally located to dozens of hotspots.
Castine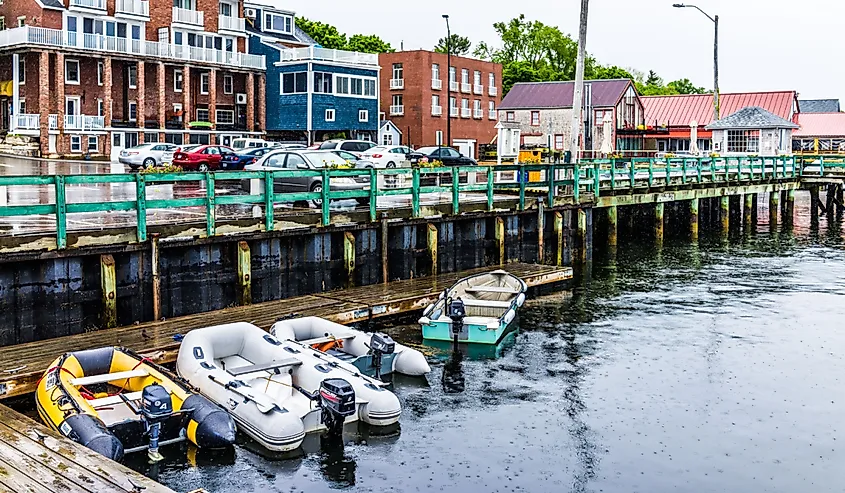 The historic little town off Route 1 on a peninsula in Penobscot Bay at the mouth of the Penobscot River estuary sits steepled under elm trees. Dominatingly large, they define Castine as does the water, with a heartwarming tagline, "Under the Elms and by the Sea." Relish in the refreshing change of scenery from the steel city into the enchanting green and blue atmosphere and slower-paced life in tune with the nature of the thriving art colony at the heart of Castine. The inspiring town has drawn like-minded creatives from mundane sights and soot for over 150 years now. Stroll amid authentic New England architecture like white clapboard houses, American flags in the salty sea breeze, churches, antique shops, and cute inns, and swing by the Castine Historical Society.
Castine bestows that marine culture vibe, unlike any other place in the US. Join a 3-day Plein Air Art Festival on your summer vacation in July and enjoy the waters with Castine Kayak's daily summer tours. Check out the stately, beautiful red building of the Maine Maritime Academy, established in 1941 with a 500-foot naval research ship, the TS State of Main, at the town dock. Take a trip back in time to Castine, a colorful, exciting, and one of New England's oldest towns, founded in 1613. It would not be Maine without its own Dyce Head lighthouse from 1828, with a footpath around for views and pictures. Take the wooden staircase over grassy mounds to the rocky shore with views that can be daunting for the immense seascape, but not with the little brave town behind you overlooking the scenery that pulls at your heartstrings.
Ellsworth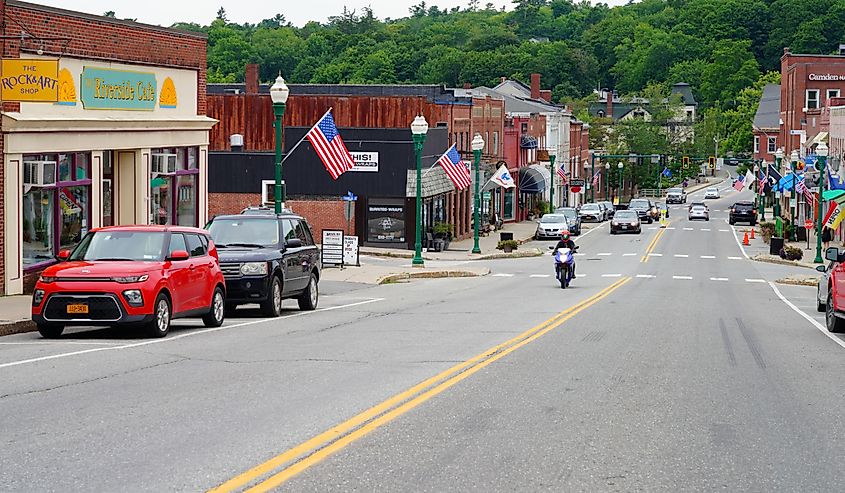 The noteworthy stop en route to Acadia National Park or Mount Desert Island, Ellsworth, is notorious for turning bypassers into lingerers. For starters, the adorable townscape is one of the cutest you will ever lay your eyes on. It includes likable attractions like the best cheesecakes on a unique, honor system from Momo's Cheesecakes' garage setting, recently renovated to keep up with demand.
Stroll along Main Street to the end, until you hit "86 This!" a "classy, punk-rock burrito shop" with a whole range of creative wraps for any taste to complete your perfect picnic basket at the in-town parks or surrounding nature. Take delight at Steamy Buddha's with nutritious bowls that feel healthy but taste oh, so good. Venture just past Ellsworth to Timber Tina's Great Maine Lumberjack Show. It is an experience like no other that you have to see to believe, and it lets you try log-rolling yourself.
Kennebunkport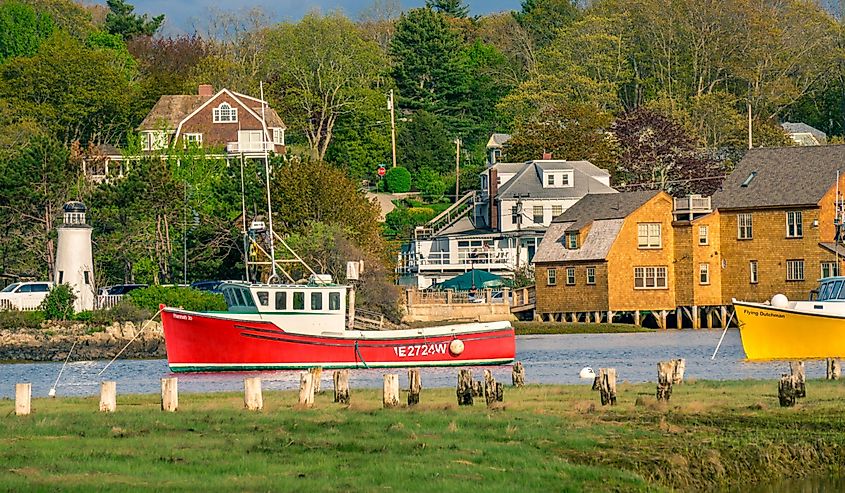 The cute Kennebunkport in York County is a popular summering spot that rose through the fortunes of shipbuilding and gave way to tourism. Much like everything that gets better with time and care, once northeastern urbanites discovered this beautiful slice of coastline, Kennebunkport only became lovelier and is one of Maine's most charming towns today.
Enjoy boating and fishing or sprawl along the beaches under the loving summertime rays. Take a stroll along Dock Square, where you will find many souvenir shops, galleries, and seafood restaurants behind charming and authentically New England facades. The town gets even cuter once you discover its adorable Cape Porpoise tiny village with sparse housing and a serene lighthouse that sets the mood for longing thoughtfulness and a change of pace.
Monhegan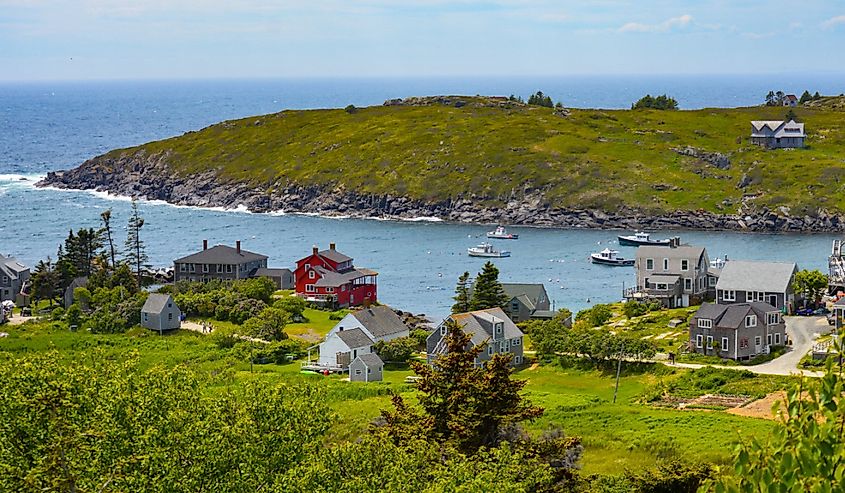 The small town is a whole island of pure cuteness, and it might just be the most scenic speck in the water that you will ever stumble upon. Take the effort to explore around on a small vessel for various sights and every corner of the townscape on a stroll. The haven for all the creatives attracts artists and poets with its pristine sights and lack of a touristy vibe. Sightsee the perfect blend of nature with street art and check out the wonderful open gallery during summertime for fun times and scenic walks under the sun. The tiny settlement is an undiscovered gem, with a name aptly translating as "out-to-sea island" in Algonquian, and is 12 nautical miles from the mainland.
With humble fishing roots before the Plymouth Colony in 1620, Monhegan saw everything from pirates, trade, and wars, while the teeming waters still feed the economy. The town hasn't changed much in sights either as you venture into the stark sea for remote views with a rod to reel in your dinnertime meal. Mohegan is magnetic from the waterside perspective, amid its jagged and green island setting. The thriving artist's colony, well-established by the early 1900s thanks to the dramatic cliffs and pine woods, draws artists and returning tourists for the remote feel and unique sights.
Stonington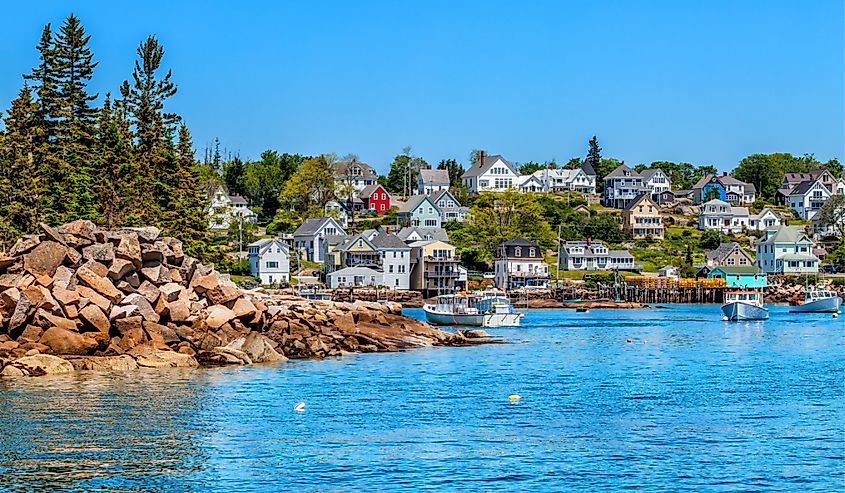 Stonington is an authentic historic fishing village with a working waterfront, sweeping views of the bay, and a bustling scene that hints at the feast you are bound to enjoy in the locale. The town radiates charm from the north end of Deer Isle off the coast of Hancock County. It attracts people solely for its beauty and the number of attractions within the picturesque setting. Stonington is most famous for its lobster dinner, with the town leading the state in pounds and dollars of catch and sales. Nestled into a hillside, the picture-perfect town delights with wooden houses along the glassy water and a collection of serenely bobbing boats next to the piers, amid a refreshing scenery of green trees stark against the jagged rocks.
Check out the vast cultural scene for such a small place at the many art galleries and catch a show at the Stonington Opera House. Nervous Nellie's Jams and Jellies features the most eclectic sculptures and goods handcrafted by Maine artisans and accompanied by treats. Check into Aragosta at Goose Cove's dreamy oceanfront lodging of cottages and suites with a fine-dining restaurant that serves creative culinary delicacies curated by a renowned chef from the freshest local fishermen and farmer sources. Enjoy the outdoors through boating ventures in the calm bay or hiking in the Crockett Cove Woods Preserve. Widen your horizons by rowing amid small islands to the Isle au Haut.
Wiscasset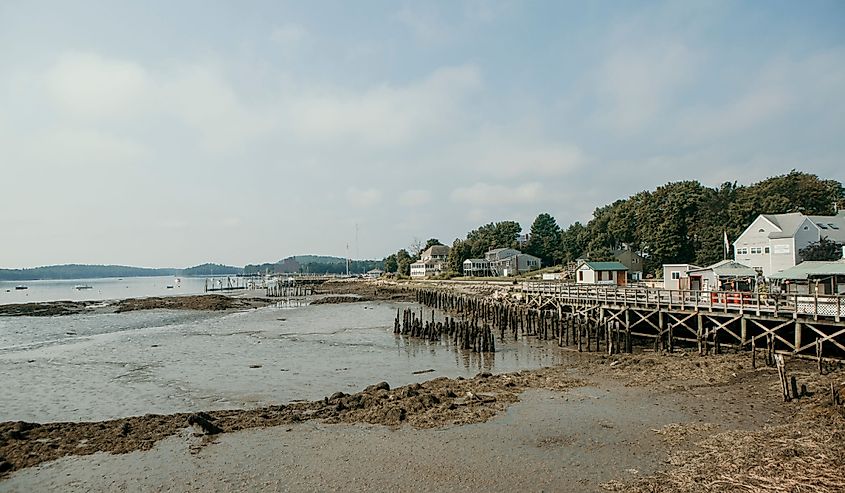 Wiscasset is an authentic Maine town like no other, retaining every bit of charm that is so representative of New England, like steepled old churches and beautiful historic homes, wonderful shops, and antiques. Anticipate all this and more as you walk down the hill overlooking the adorable center that glows with good vibes while the flowing Sheepscot River emanates waves of tranquility for a real feeling of village life. All foodies rejoice when visiting this town, a real heaven for die-hard seafood fans with delicacies served up in every form over any style of dining.
In Wiscasset, every food joint is drool-worthy, particularly after a day of nature hikes and scenic drives that breathe life into you but leave you scenically overwhelmed in the best sense. Red's Eats is a must-hit family-run restaurant that has earned praise even from famous chefs for its award-winning lobster rolls. Try the delicious crab cakes for lunch and head on a self-guided sightseeing excursion around Wiscasset's many historic landmarks. Check out the Federal-style Nickels-Sortwell House and Castle Tucker, a historic hillside mansion over the river. Take a selfie with the world's smallest church and enjoy more great grub at dinner time, like that lobster.
These cute towns sit soaked in maritime culture and fishing roots amid the most breathtaking scenery of your life. Visit one of the island locations for an unrepeatable remote feel as you enjoy all the town's offerings in good company and somber vistas in tranquility. Take a road trip across the Gulf Coast, weaving in and out of peninsulas headed by rugged nature and cute lighthouses. Gorge on the freshest seafood to energize scenic hikes through pine forests to dominating cliffs over the ocean. These shining gems, home to welcoming locals and artists' cultures, will inspire you and leave you with memories worth a lifetime.