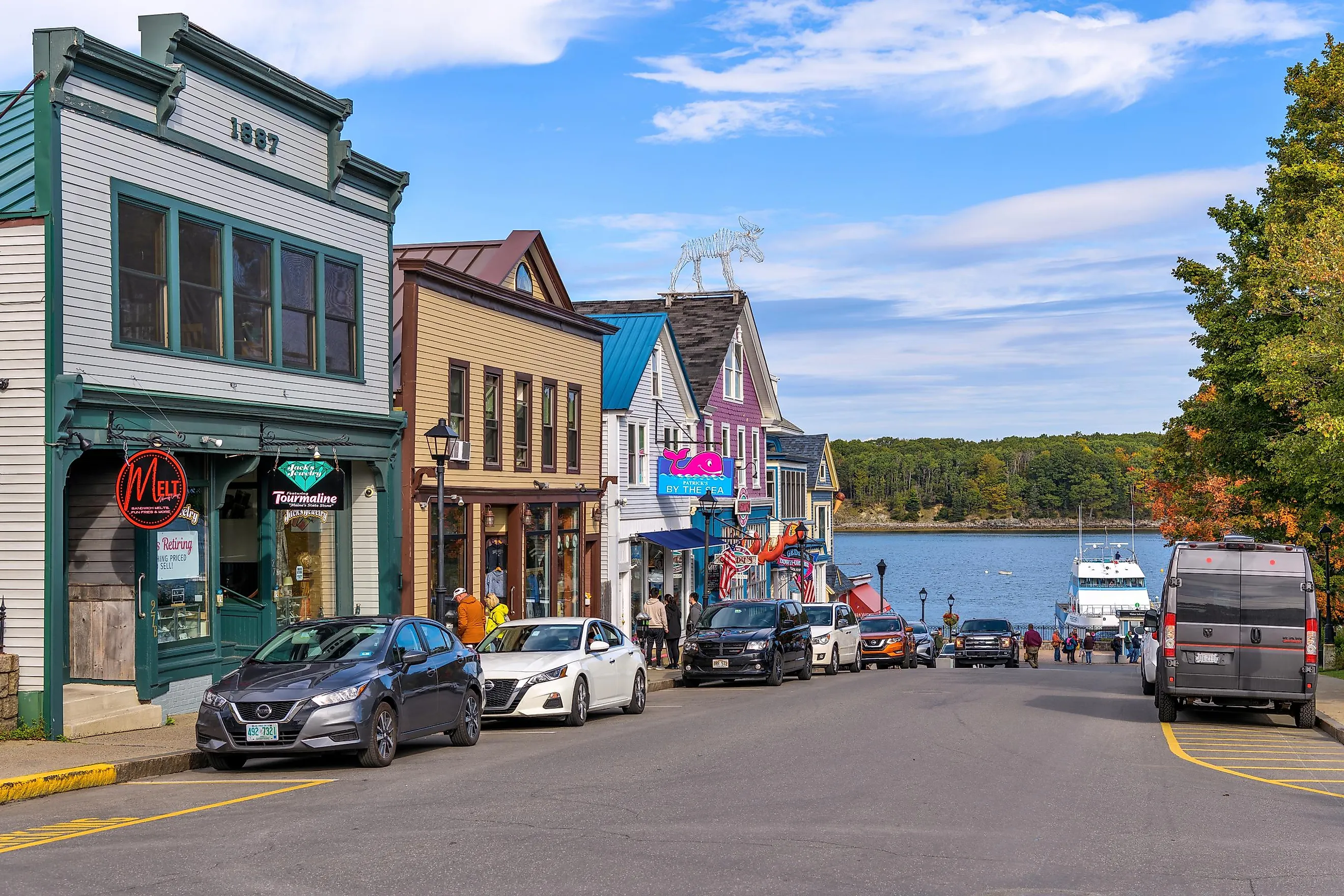 14 Prettiest Towns In Maine
Hidden in the far northeastern corner of the United States, Maine showcases the charm of the rugged eastern coastline and is home to some of the prettiest towns in mainland America. Nicknamed "Vacationland," Maine draws 25 million visitors each year. The slower pace of life here is sure to entice you to relax and reset during your visit. If lighthouses, lobster feasts, rocky walks along the shore, and historic charm ring your bell, then consider Maine for your next fair-weather getaway.
Boothbay Harbor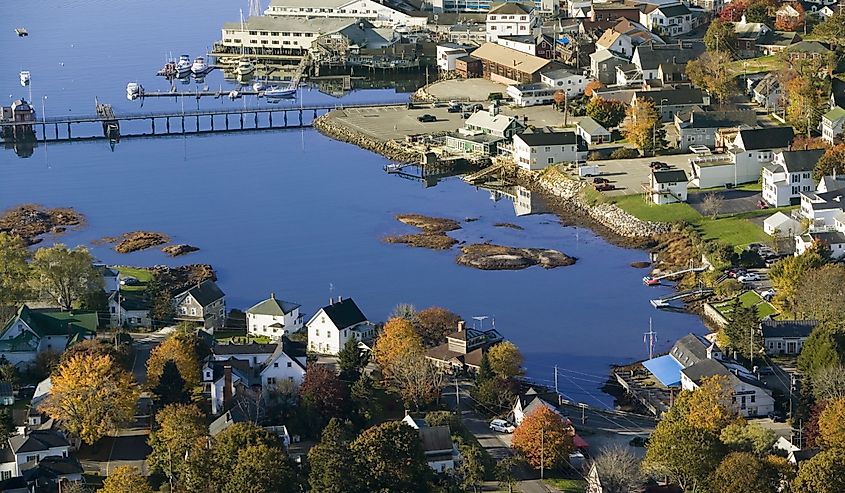 The mid-coast peninsula town of Boothbay Harbor claims "one of the best boating harbors" north of Boston. Attracting sea captains, fishermen, and marine biologists, this fetching seaside town is home to nature lovers and artists who can't get enough of that salty sea air. For a once-in-a-lifetime experience that will give you a new appreciation for coastal Maine, try a two-hour sailing trip aboard a tall ship with Schooner Eastwind or Schooner Applejack. The perspective from the water is second to none.
Known for its lobster fishing, Boothbay Harbor offers multiple options to tuck into this east coast treat. Why not hop over to the Boothbay Lobster Wharf to experience a rustic shack snack fresh from the sea or a deep-fried delight along with steamed corn on the cob. Since history is a large part of New England's charm, take a short 13-mile drive inland to Castle Tucker, built in 1807. Open to the public from June to mid-October, the interior appears to be frozen in Victorian times. Marvel at the nostalgia of this once-upon-a-time historic family home. 
Ogunquit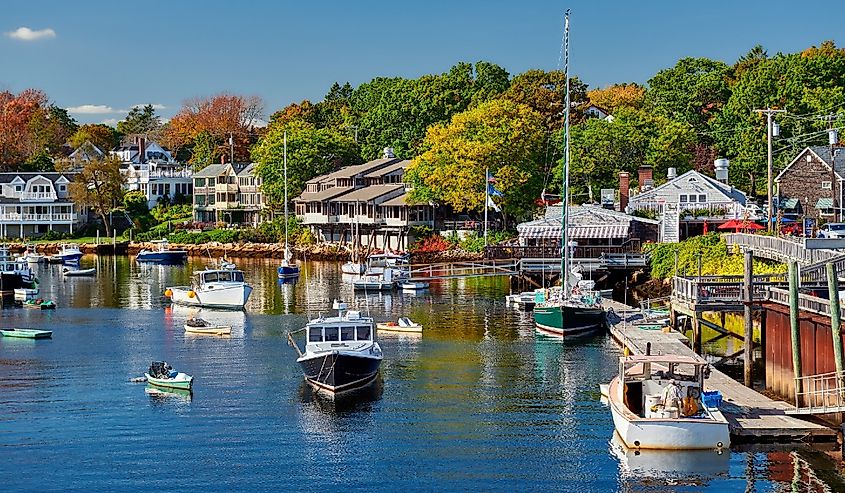 Boasting stunning beaches, Ogunquit lives up to its native name, which means "beautiful place by the sea" in Abenaki, a Native American language. This southern Maine spot is a great place to chill out on long summer days. Park your car and jump on the Marginal Way, a 1.25-mile winding walking trail with gentle slopes, for breathtaking views of the ocean. Ogunquit Beach may be packed with bathers, so if playing by the sea among others doesn't float your boat, meander in the other direction towards the fishing village of Perkins Cove. Here you can grab a bite to eat, take in boutique shops and art galleries or watch fishmen come in with their daily catch. 
York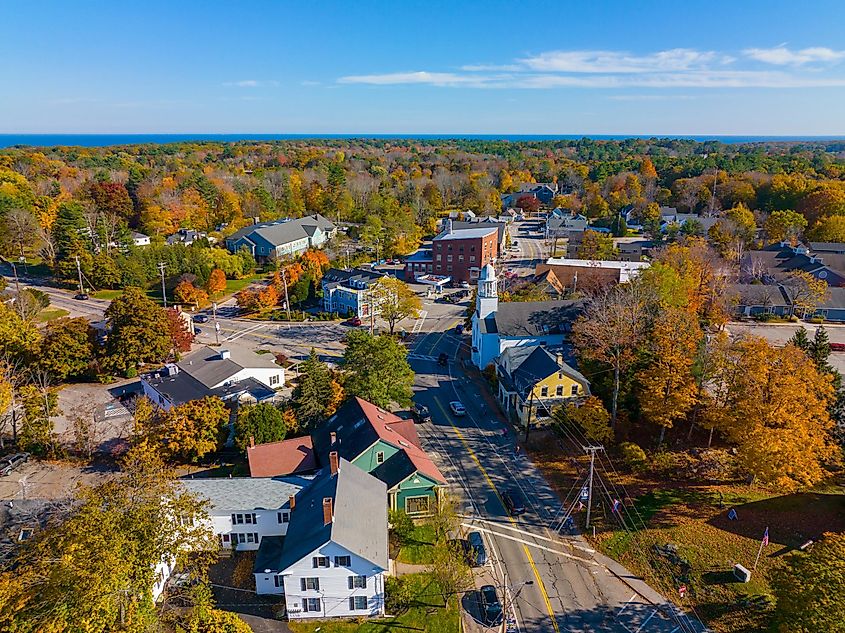 A stone's throw from Ogunquit heading south along the coast, you'll find York. America's first chartered city in 1641, York was named after Yorkshire, England. Chief among its visitor attractions is the historic Cape Neddick Light Station, commonly known as Nubble Lighthouse. Built in 1879, the last lightkeeper and his family moved from the lighthouse in 1987 when modern technology made it fully automated. Today, the town of York is the permanent guardian of the lighthouse, and it is maintained by the Parks Department. York is also home to one of the oldest prison buildings in the United States, Old York Gaol, which dates to 1720. The single, stone cell block's walls are 2.5 feet thick. Travelers can step back in time with a tour of this wood-framed structure between May and October. With your history passion satisfied, it may be time to take in a round or two of golf at one of the area's three beautiful 18-hole golf courses. 
Stonington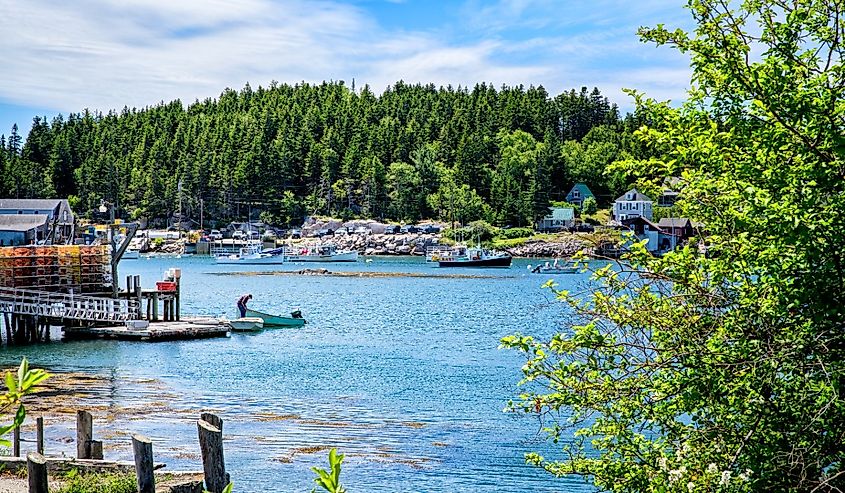 For fishing port vibes, look no further than Stonington, Maine. Like so many of the lovely towns dotting the Atlantic coastline, Stonington offers a vivid portrait of east coast living. Located on the southernmost tip of Deer Isle, there's no mistaking the fact that fishing is its largest industry and a way of life. When you're not facing seaward, you may notice the 19th century architecture that lines the narrow, winding inland roads. But the star of this show is the seashore that keeps drawing visitors back like the siren's song. If you love seafood and fresh salt air, you'll love this gateway to the Merchant's Row archipelago. 
Damariscotta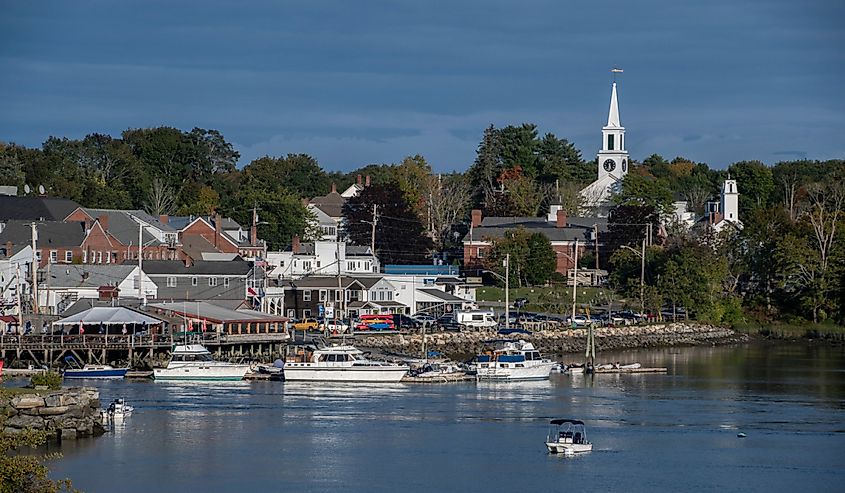 Slightly more inland on the Damariscotta River is the town of Damariscotta. Once inhabited by indigenous Abenaki peoples, the river offers an abundance of edible marine life, including horseshoe crabs, river herring, oysters, and mussels. When the Europeans settled here, Damariscotta grew into a center for shipyards and brickyards that served—and built—the city of Boston. Today, the area is best known by outdoor enthusiasts as a place to river kayak, hike the beautiful trails, jump on a bike, or take a river cruise. For indoorsy types, there's the historic Lincoln Theater, various art galleries, museums, and shops. For eats, enjoy a wide variety of seafood selections as well as other options that rival big-city dining. 
Camden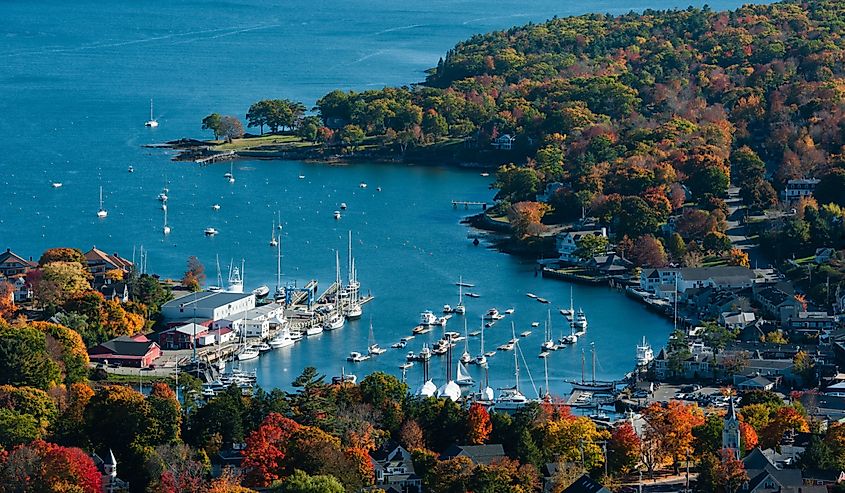 Camden is an absolute stunner located on Penobscot Bay in Maine's mid-coast region. Its coastal New England charm will have you wishing you lived here year-round. The autumn and winter landscape scenes are picture perfect. And the Camden Snow Bowl is the only ski resort on the east coast with a view of the ocean. Aside from its endless outdoor activities, Camden enjoys a rich history. Though the downtown was ravaged by fire in 1892, it came back stronger with beautiful brick architecture that remains a testament to this harbor town's enduring nature. Hollywood location managers love it for a nostalgic backdrop to movies like Casper and TV shows like Peyton Place. 
Greenville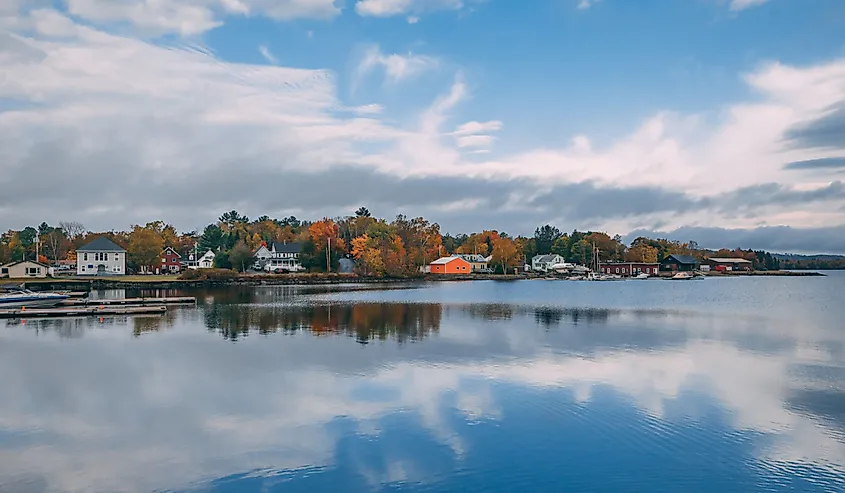 Lake lovers, dust off your canoes! The farthest inland on our list of prettiest towns in Maine, Greenville hugs the shore of Moosehead Lake, the largest body of fresh water in The Pine Tree State. Climb aboard the Katahdin steamboat for a tour of the area or set your sights higher aboard one of Jack's Air Service seaplanes. For those who like to power under their own steam, rental options include kayaks, SUPs, or canoes. If you want to try your hand at fishing, rent a boat or take a fishing charter. Landlubbers can venture up the hiking trails on Big Moose Mountain. If moose-spotting is on your bucket list, be sure to sign up for a guided tour where you might catch a glimpse of a 2,000-lb rubber-nosed swamp donkey in the water or on land. Fun fact: Moose calves can outrun a human by the time they are five days old. 
Rockland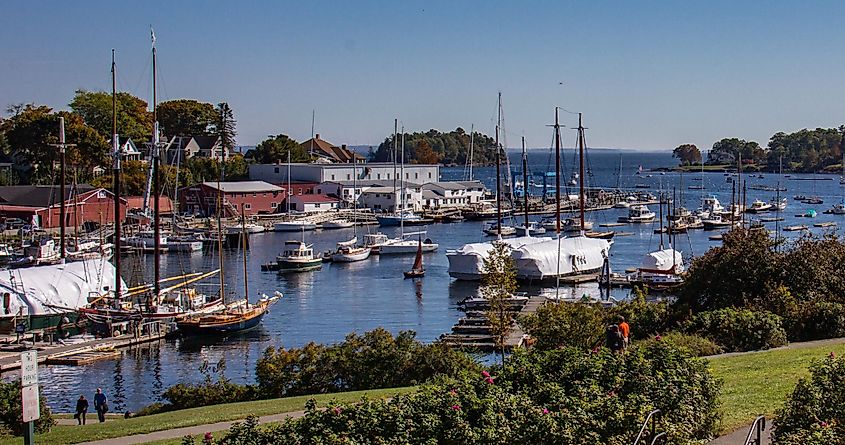 Strap on your lobster bib and join Rockland's annual Lobsterfest! This five-day event draws crustacean-loving visitors from all over the US and beyond. Protected by Rockland Harbor, this pretty little town is marine magic at its finest. Dotted with sailboats, fishing boats, and even tall ships, the harbor's rocky shore is a place to sit and contemplate life. Limestone and granite quarries have provided the building blocks of this town's landmark structures and many others in the state. The breakwater was constructed with 700,000 tons of Rockland granite blocks. Take a daytrip to one of the gorgeous islands in and around Penobscot Bay. 
Castine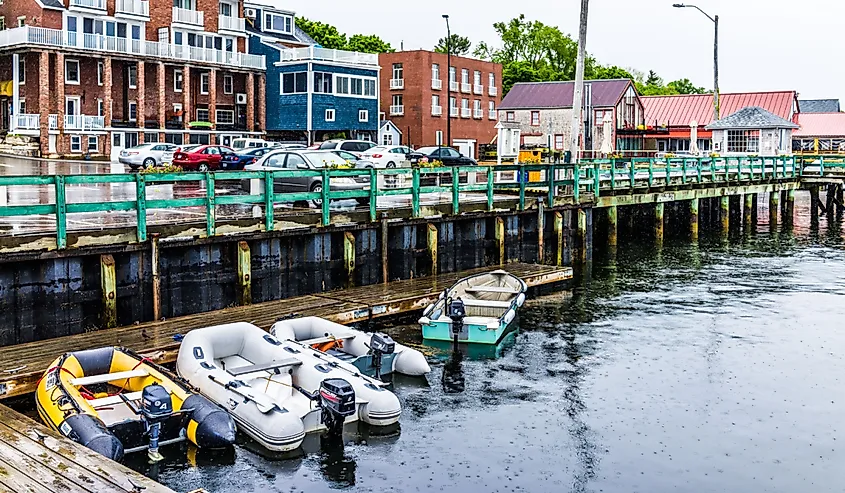 Another pretty town on Penobscot Bay is the one-time trading post of Castine with a population of less than 1,500 folks. Home to the Maine Maritime Academy, graduates become mariners and engineers following their world-class hands-on training. Castine's sloping main street will take you directly into the water but be sure to stop into the boutiques and eateries along the way. If you're ready to take to the water, consider a kayak excursion with Castine Kayak Adventures. The calm waters of the bay let you cruise at your own pace. Aside from the view of the bay, Castine boasts a deep history and classic New England architecture along elm-lined streets. Homes, town buildings, and churches all offer a cozy feeling of yesteryear. 
Old Orchard Beach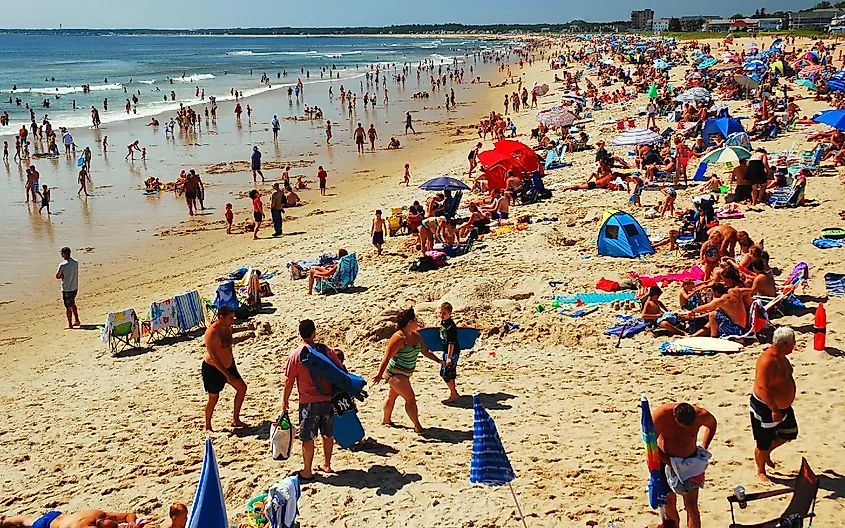 The popular seaside resort town of Old Orchard Beach sits on Saco Bay. In the summer, sunbathers (and their umbrellas) dot the beach in every direction. The oceanside amusement park, Palace Playland, is home to the first carousel in the United States. This seasonal attraction is one of the reasons the beach plays centerstage among travelers. The pier is another. First made of steel in 1898, The Pier was the longest of its kind (1,825 feet) and constructed by the Berlin Iron Bridge Co. at a cost of $38,000. Once iconic, the pier's casino hosted the likes of Guy Lombardo, Louis Armstrong, and Frank Sinatra. But tragedy devastated the structure more than once and today the wooden Pier stretches only 500 feet and offers carnival-style food shacks, souvenir shops, and The Pier Patio Pub that features live entertainment four nights a week. Sunset on the beach is not to be missed. 
Waldoboro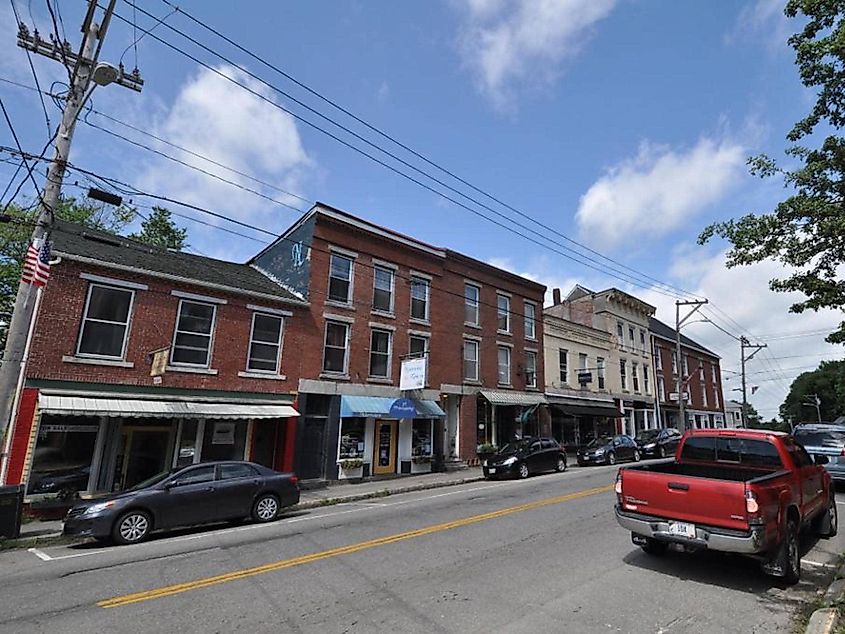 You might be asking yourself "Where's Waldoboro?" Mid-coastal between Rockland and Damariscotta in Lincoln County, you'll find the once German settlement of Waldoboro, named after American merchant Samuel Waldo. On the banks of the Medomak River, this agricultural hub is enjoying a renewed interest in traditional agrarian arts, like cheesemaking, soapmaking, fermentation, and others. A toy collector's haven, check out Fawcett's Antique Toy and Art Museum. The world-class antique displays will take you to a simpler time as your eyes playfully dance through stacks of artifacts. And you can stay in the reverie of old-world charm when you visit Odd Alewives Farm Brewery, a newly renovated 1820s barn that's home to the brewery and tasting room. Locally sourced ingredients for all the drinks and eats give visitors a real down-home taste of rural Maine. 
Kennebunkport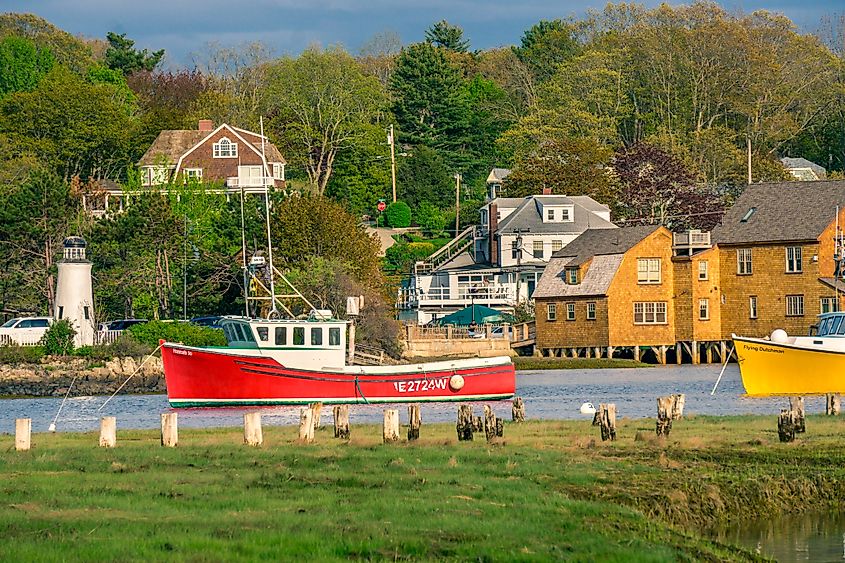 One of the oldest European-settled towns in the US, this popular New England destination is not only fun to say, but also to visit! A famous summer getaway spot for the late President George H. W. Bush and his son President George W. Bush, Kennebunkport, Maine also attracts regular folk and world travelers alike. Though you can't visit the Bush's waterfront Walker's Point estate, you can catch a glimpse of it from a distance at Blowing Cave Park on Ocean Avenue. A better use of your visit might be spent in the historic district of the Lower Village. A peaceful, pretty town with friendly residents, a trip to Kennebunkport is a perfect escape from the hustle and bustle of everyday life. Both the ocean port and Kennebunk River have shaped this town's shipping and fishing history. Beach lovers will definitely want to take in the flat, soft, sandy Goose Rocks Beach for sunbathing, walking, jogging, or just relaxing the afternoon away. Like most coastal towns, Kennebunkport attracts artists who are inspired by the magnetism of the water. For travelers this means artwork abounds in galleries and boutiques that invite you to take a treasure home. 
Bar Harbor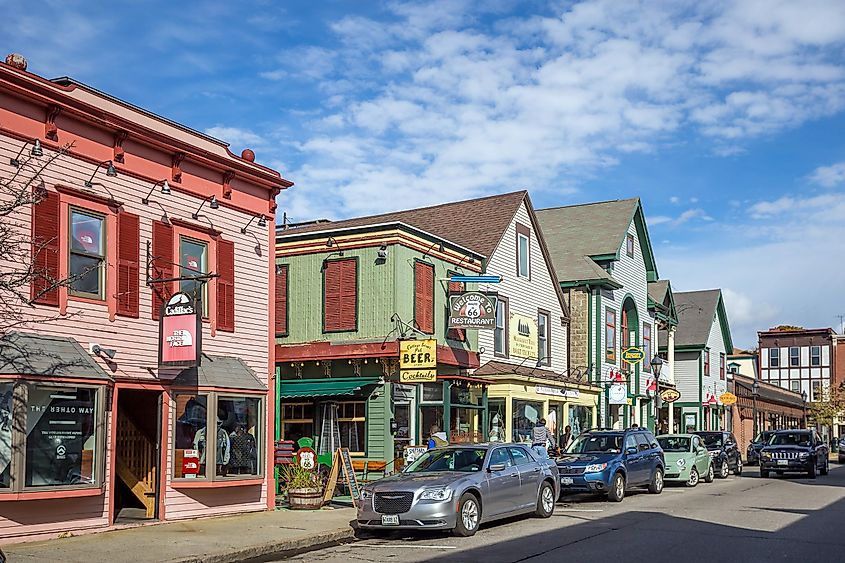 Adjacent to Maine's star attraction, Acadia National Park, on Mt Desert Island is Bar Harbor (pronounced Bah Hahbah by the locals). This cute coastal town is surrounded by rolling mountains, the highest of which is Cadillac Mountain with an elevation of 1,530 ft. Take a drive to the summit and revel in beautiful views of the Atlantic Ocean and the craggy coastal landscape. The Cadillac Summit Loop Trail is a popular destination with tourists, so if you're looking for a secluded reprieve, this isn't it. At sea level in town, you can enjoy Bar Harbor Ghost Walks, Pirate's Cove Adventure Golf, Coastal Kayaking Tours, Bar Harbor Lighthouse Boat Cruises, plus a shopper's dream with unique offerings from artists and artisans, specialty foods, gifts and more. When it comes to mealtime, does seafood get any fresher than directly from the boat? Try Paddy's Irish Pub & Restaurant inside the West Street Hotel or go for a little authentic Italian at Mama DiMatteo's where there's "no such thing as too much garlic." Bar Harbor offers delightful delicacies for every palate. As the day winds down, allow the sunset to take your breath away from various viewpoints along the coast, including the Town Pier and Agamont Park, the Bar Harbor Sand Bar, or from a beautiful sunset cruise.
Swan's Island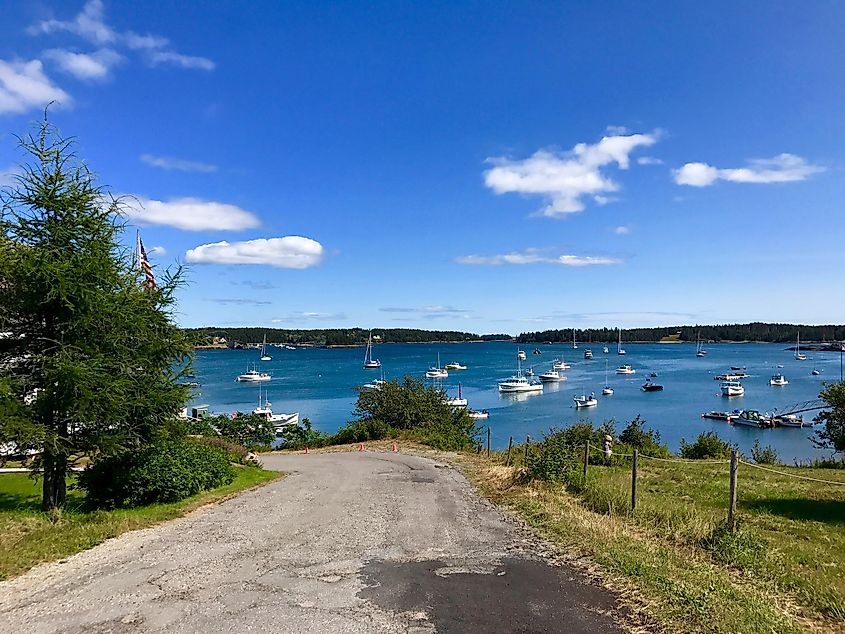 The tiny island town of Swan's Island is a sanctuary of outdoor adventure. Explore fine sandy beaches in search of beach glass and other jewels from the sea or ramble along the rocky outcroppings of the island. Swimmers can take a dip in the quarry pond for a peaceful experience or the sea for a less predictable one.  Be sure to visit the historic Burnt Coat Harbor Light Station. Hiking the island trails is one way to enjoy the stunning scenery of this calm coastal town. Joining a sightseeing charter is another way. The friendly, welcoming islanders will add to your visit of this sweet little town, where spectacular food, relaxation, and stunning sunsets are unforgettable. 
Maine was the 23rd state to join the union in 1820. With its long New England history, it captivates the hearts of visitors and locals alike. Explore this unique state where rugged shorelines embrace the ocean, inviting hiking, exploring, and breathtaking sunrises. Meander through scenic fishing villages, where lobster shacks and historic architecture create an enchanting ambiance. Enjoy warm hospitality as you savor succulent lobster feasts, indulge in artisanal craftsmanship, and sail along pristine waterways. A visit to Maine promises an idyllic escape into a world of timeless beauty and genuine tranquility that keeps calling you back.