Hot Air Balloons are a unique and fascinating mode of transportation that has captivated people across the globe for over two centuries. Wondrous, romantic, magical, and perhaps even frightening, hot air balloons are undoubtedly a special attraction. In the United States, several hot air balloon festivals offer guests a rare chance to take affordable rides and soar the skies in a basket. Meanwhile, those who choose to stay on the ground will have beautiful views of hundreds of colorful balloons rising on the horizon. Whether it is enjoying spectacular sunsets in the air or just marveling at the colors in the sky, hot air balloon festivals are a treat for the whole family. This article looks at the Six Amazing Hot Air Balloon Festivals in the United States.
Colorado Springs Labor Day Lift Off - Colorado Springs, Colorado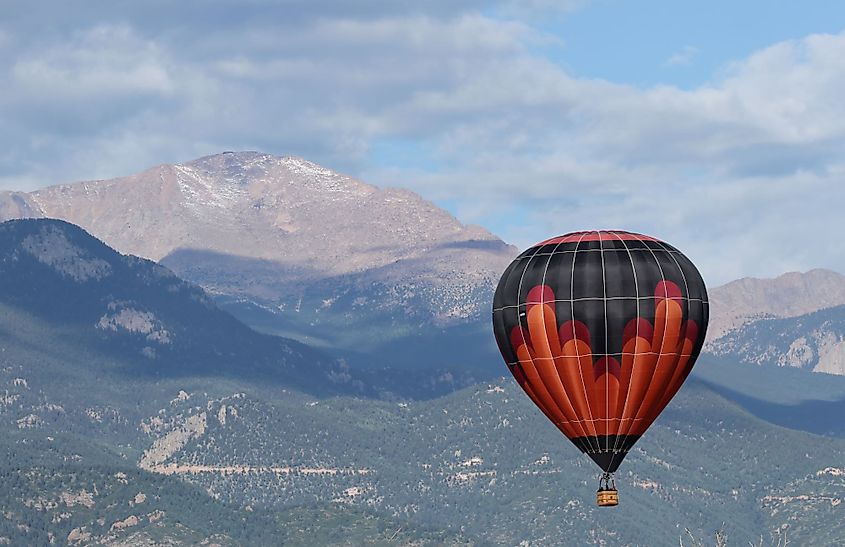 Founded in 1977, this annual Labor Day celebration in Memorial Park sees upwards of 70 hot air balloons fill the sky with a majestic backdrop of the Rocky Mountains ready to inspire. Guests from all over Colorado and across the country can enjoy their turn way up in the sky, as well as several fun activities back on the ground. Live musical entertainment, paddle boarding at nearby Prospect Lake, street performers, and even a donut-eating competition all round out the fun as a steady stream of beautiful balloons soar above.
New Jersey Lottery Festival Of Ballooning - Readington, New Jersey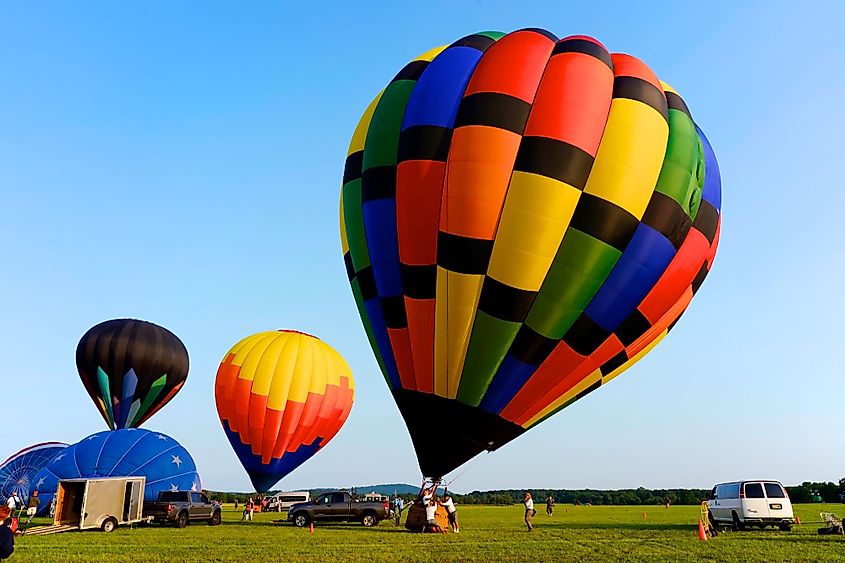 One of North America's biggest hot air balloon festivals, the New Jersey Lottery Festival of Ballooning, was first held in 1983 and has been organized at the end of July ever since. Up to 175,000 guests descend on Solberg Airport for this unique and beautiful three-day event where more than 100 hot air balloons fill the sky, offering visitors opportunities to ride or simply marvel at the skyline. There are even special theme balloons like the Unicorn and Giant Sloth! Meanwhile, those who prefer to stay earthbound can enjoy great live music from award-winning bands like the Jonas Brothers and the Barenaked Ladies have performed in recent years.
The Great Reno Balloon Race - Reno, Nevada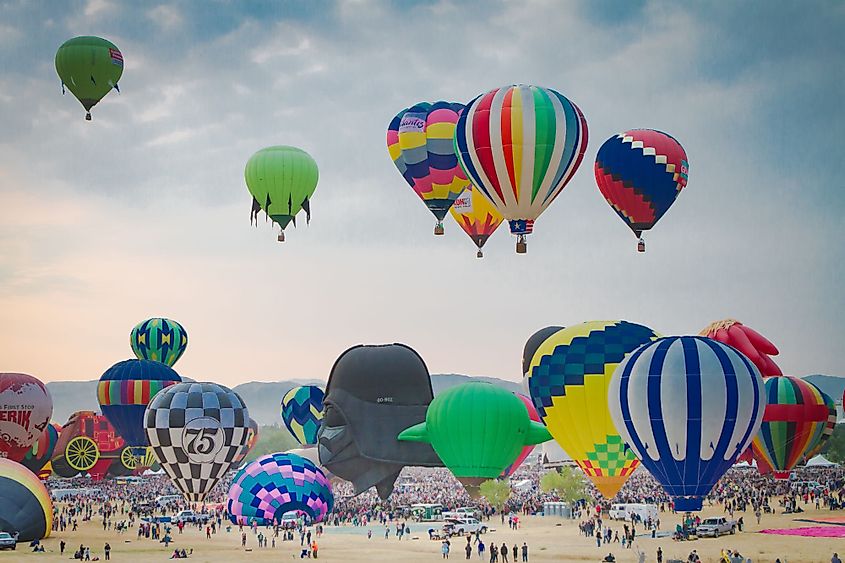 Thrilling the public since its inception in 1982, the four-day Great Reno Balloon Race in early September attracts up to 140,000 visitors annually. The largest free hot air balloon festival in the country, the skies of Reno are quite the sight to see during the festivities, with illuminated balloons at dusk and a wondrous array of colors and shapes during the day. When not riding in a basket or gazing at the skies, the Reno Festival also has entertaining fun and games like the tissue paper balloon launch, balloon blackjack, and a quirky pajama party, with several prizes to be won.
Quechee Hot Air Balloon Festival - Quechee, Vermont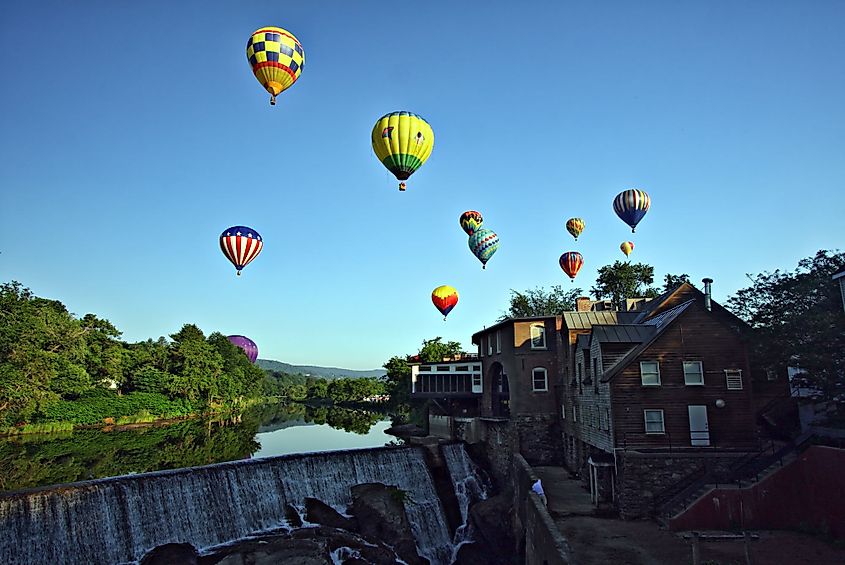 Held on Father's Day weekend since 1979, the Quechee Hot Air Balloon Festival is New England's longest-running outdoor event dedicated to the marvel that is hot air ballooning. More than 20 hot air balloons fill up the Upper Valley of Vermont and nearby New Hampshire skies, providing spectacular views for those up in the air and those still on the ground. Live music, local craft artisans, food trucks, and great children's entertainment round out the party for a perfect way to honor dad and spend some quality time with the whole family.
Temecula Valley Balloon And Wine Festival - Lake Skinner, California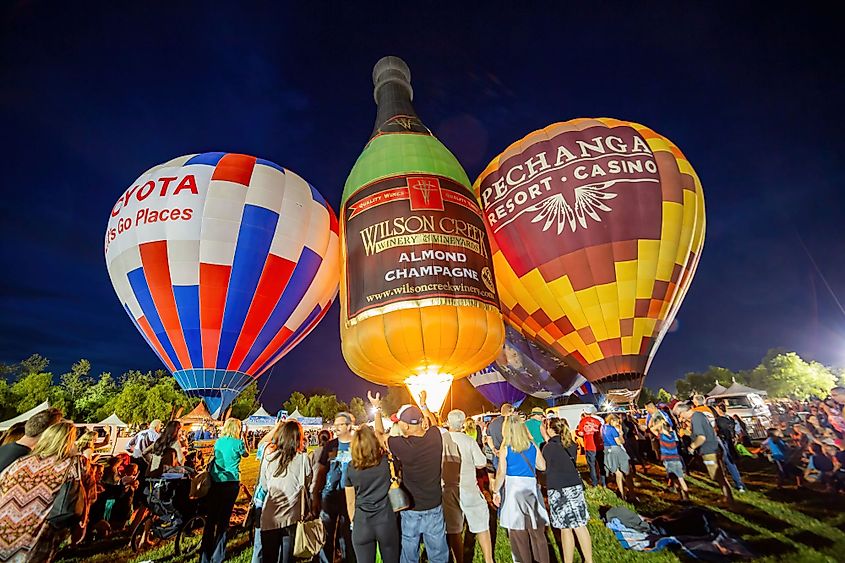 Organized since 1984 in Southern California's Temecula Valley every June, the Balloon And Wine Festival is a great place to spend an enchanting weekend. Besides the balloon launches and rides, visitors can enjoy an assortment of wines from up to 20 different wineries in the region, a wine-making competition, local and international food favorites, and of course, great live musical acts that keep the lively atmosphere rocking. For a beautiful and event-filled three days, this exciting Festival on Lake Skinner will surely be a highlight of any trip to Southern California.
Albuquerque International Balloon Fiesta - Albuquerque, New Mexico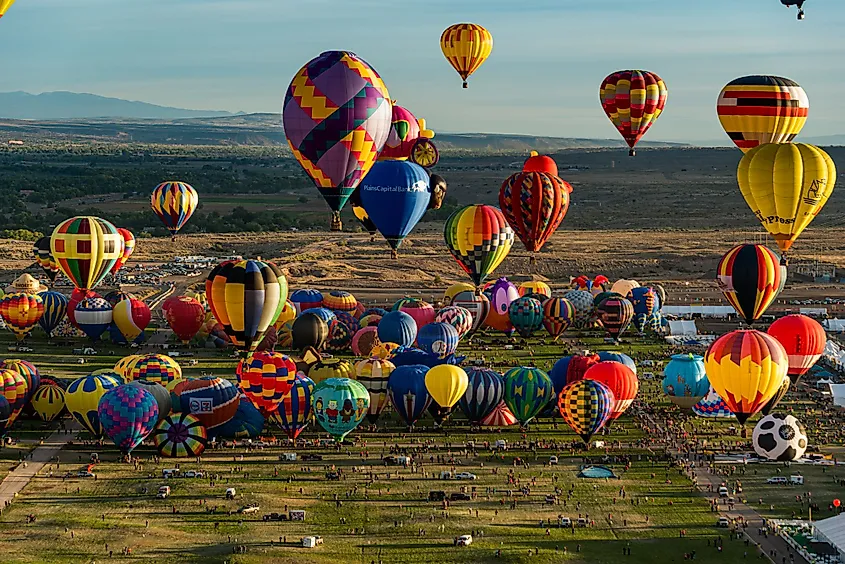 A nine-day extravaganza in early October, the Albuquerque International Balloon Fiesta has seen a colossal growth from its humble origins in 1972. With just 12 balloons at its inception, the Fiesta today hosts over 500 balloons, some 600 pilots, and upwards of 900,000 visitors! The biggest of its kind in the entire United States, visitors at the Fiesta are in for a treat with a great variety of specialty balloons in the shape of animals, cartoon characters, and other popular symbols soaring the skies over the New Mexico desert. With moderate and pleasant fall temperatures, attendees can enjoy the beauty of the outdoors in this unique setting, including food, live entertainment, arts and crafts, and of course, a truly unforgettable ride in the sky in a most spectacular fashion.
 A ride in a hot air balloon is an experience unlike any other, and for millions of Americans and visitors around the globe, the opportunity to view and ride these unique "vehicles" is offered in ample supply. Numerous Hot Air Balloon Festivals populate the United States, from the West to the East Coast, giving tourists plenty of excitement, adventure, and good old-fashioned. Enjoy some music, great food, stunning colorful displays, and of course, a bird's eye view of the world at any of these great and unique festivals.