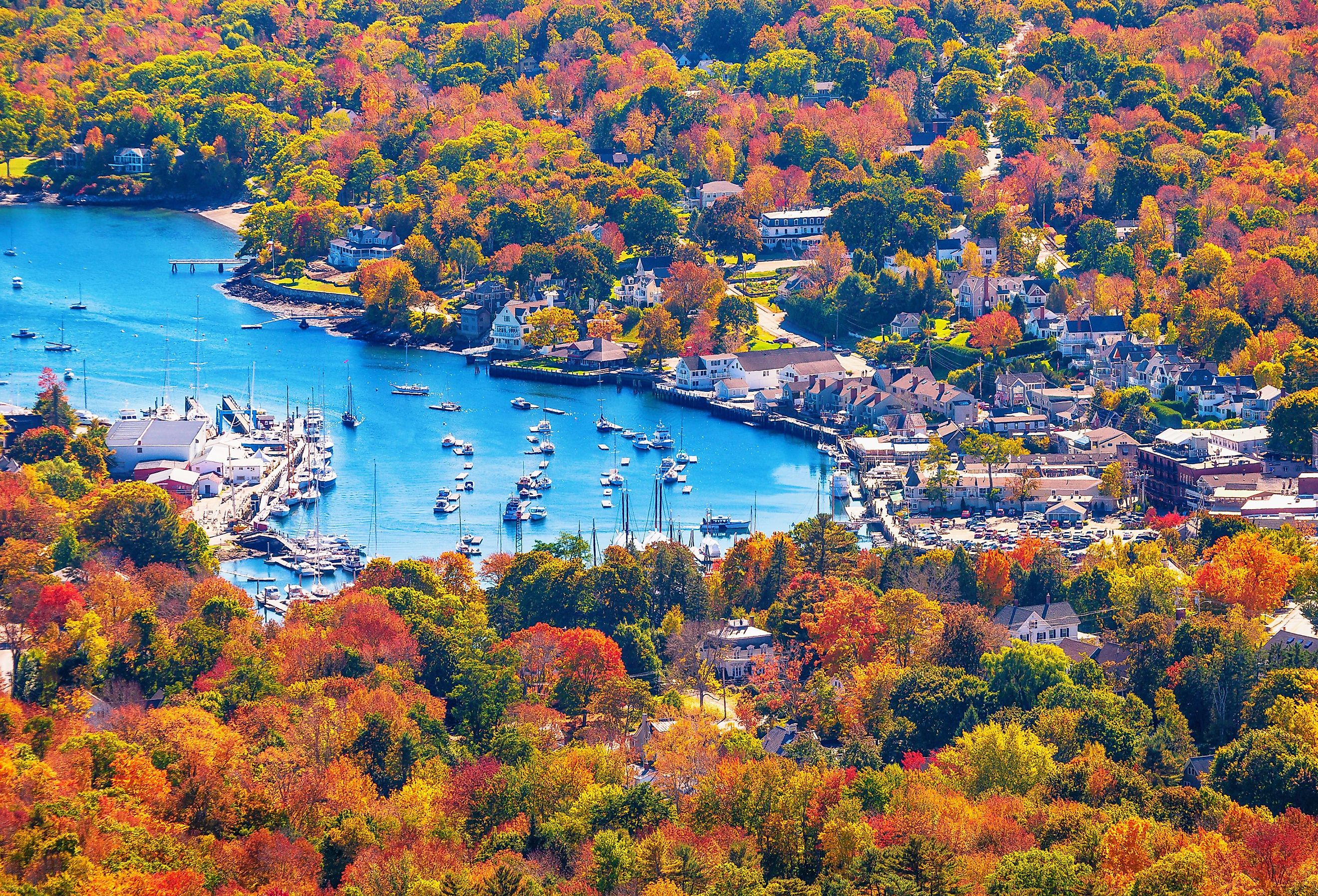 10 Most Underrated Towns in Maine
Located along the eastern coast of the United States and famed for its beautiful waterside views, Maine is a beautiful state full of wonderful experiences. Whether it is the beautiful harbors spread throughout the coast or the delicious Maine lobster, there is something for everyone here. With such an expansive coast and an assortment of natural and historic sights within the state, many people miss out on all the beauty Maine has to offer. So, to help you truly experience Maine culture, here are ten of the most underrated towns in Maine, and a look at what makes them special!
Houlton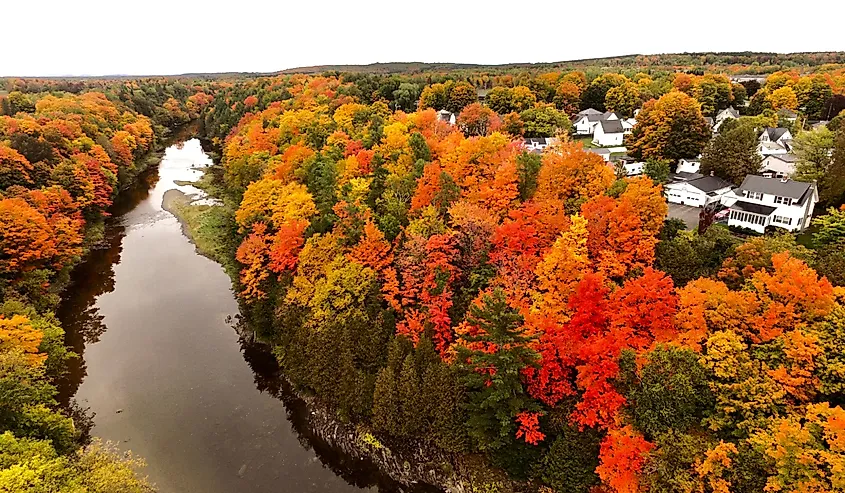 The county seat of Aroostook County and located just west of the Canada-United States border, the town of Houlton is the last stop on the I-95 before you reach Canada. Thanks to its unique location, this town is often used as a rest stop, however many overlook the historical value it has to offer. Houlton played a major role in World War II as it was the site for the Houlton Army Air Base in 1941 which was pivotal in eastern aircraft deployment. Apart from its military significance, the town was also the birthplace of the famous goodwill ambassador, Samantha Smith. For history buffs looking to learn more about the state of Maine, be sure to visit Houlton's historic downtown district for a wonderful time.
While historical value may be a major attraction in Houlton, the town has a lot more to offer. With an area of more than 36 square miles and home to 6,055 people, it offers a peaceful yet active vibe. Spend the day at the local breweries for delicious beer or take a more adrenaline-filled approach by going to the Meduxang River for canoe racing. The town also hosts amazing festivals such as the Houlton Fair BBQ and Music Fest which is full of great food, music, and welcoming people. To fully embrace Maine's culture, this is an underrated town you need to check out.
Newry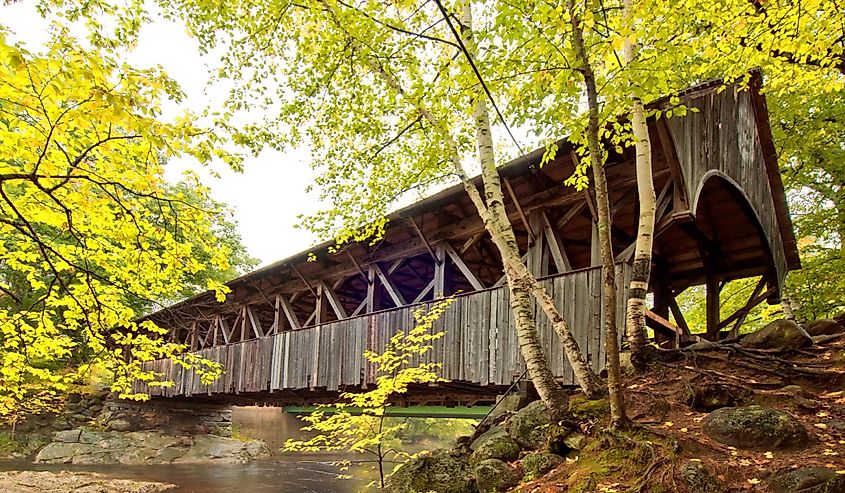 Located in Oxford County, Maine, the resort town of Newry is home to Sunday River Ski Resort, a massive 870-acre ski resort! This resort is the second largest in the state and home to more than 100 trails and 18 lifts for people of all skill levels to enjoy! With a peak elevation of 3,140 feet and a whopping average of 100 inches of annual snowfall in town, it is the perfect place for a weekend getaway!
The town center of Newry also has a relaxing side to it. With an expansive area of 61.5 square miles and a population of just over 400, the town itself is very tranquil and an ideal break from the urban hustle and bustle. Check out the local Sunday River Golf Course for golfing fun or the Good Food Store which offers unique homemade meals to fill your tummy after a long day. Being a resort town, Newry has a unique past going from a town plundered by Indians to a pasture, and finally home to the ski resort. So, with a mixture of fast-paced adrenaline and relaxing town vibes, Newry is an ideal place that most people can appreciate.
Harpswell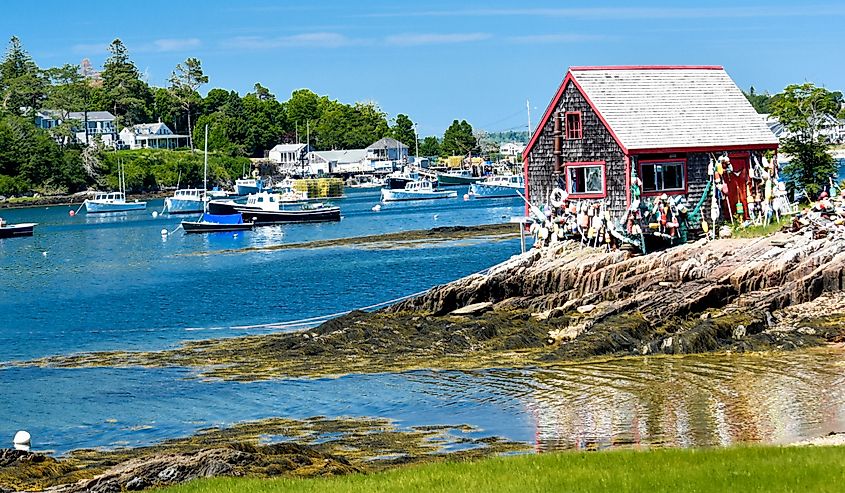 A perfect example of Maine's natural beauty, Harpswell is an underrated town along America's eastern coast. Situated in Cumberland County, this town is in Casco Bay within the Gulf of Maine along an array of elongated islands. Thus, it is almost completely surrounded by water, providing an amazing coastal experience no matter wherever you go. Testament to this, the town has a total area of 128 square miles out of which more than 100 square miles is water. Taking full advantage of this, the town offers an array of beautiful activities intertwined with the coast. For example, you can take a cruise along the Maine coastline or spend the day touring the Halfway Rock Lighthouse. Harpswell also has a plethora of lookout points that offer some of the most scenic coastal views in the state!
Its unique location goes further than just recreation and sightseeing as it also plays a major role in the town's history and economy. Notably, over the past three centuries, the town's economy has evolved around shipbuilding and fishing, with lobstering being a significant part of the local fishing market. Staying true to its roots for hundreds of years, Harpswell still has amazing seafood restaurants such as Cook's Lobster and Ale House where you can try Maine's famous lobster dishes. Be sure to also check out one of the many local hiking paths such as Cliff Trail to burn off those calories while enjoying the view!
New Harbor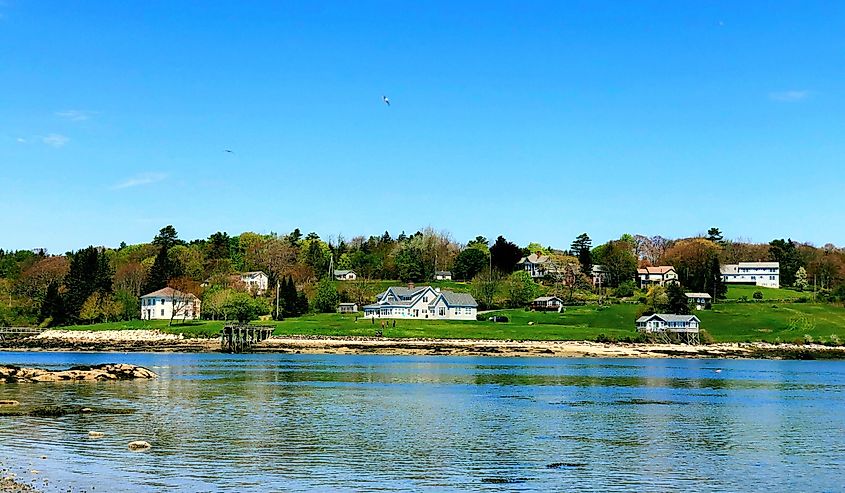 Nestled within a protected area of coastline in southern Maine, New Harbor is a small coastal village. Home to a quaint population of under 900 people, this town is the true embodiment of Maine's coastal beauty. With various nominations for Maine's nicest place, it boasts water attractions for every adventure enthusiast which make it the perfect cover city for the coastal state. Nearby Pemaquid Beach is one of the most famous places to check out and is also home to a unique history. This beach, operated by New Harbor's parent town, Bristol, opened to the public in 1958 after a special town meeting for its purchase. This beach is perfect if you want quiet time to relax in the sun.
Apart from the beach, you can check out the Permaquid Point Lighthouse which is the most famous historical site in the village. This US lighthouse, constructed in 1827 by President John Quincy Adams, has since become an embodiment of the region's history. Added to the National Register of Historic Places in 1985, this is a great place to learn more about New Harbor and Maine's history.
Boothbay Harbor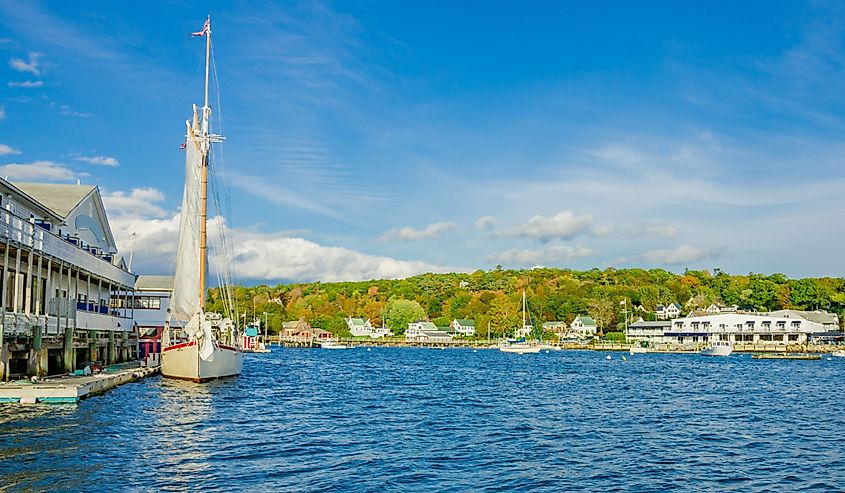 Taking full advantage of Maine's location, Boothbay Harbor is another coastal town in Lincoln County. This town is on a peninsula in southern Maine and is relatively small with an area of just over nine square miles, out of which more than three and a half square miles is water. While it may not be the largest town on this list, Boothbay Harbor houses a population of more than 2,000 people who are lively and welcoming. The entire town revolves around its connection to the sea which is visible in the many boats, trails, and activities located on the coast. The town has a wide range of yachts along the harbor which make it a popular destination to enjoy a yachting experience. On the other hand, if you want to stay on land, Barrett Park, nestled along the coast, has a plethora of lovely hiking trails which run alongside the water.
Boothbay Harbor's downtown area also has a load of lovely things on offer with great eateries with local delicacies such as the famous lobster roll. Moreover, there is a wide range of souvenir stores that provide items such as scented candles, candies, and everything you can want from a picturesque coastal town. So, if you want to delve into the complete coastal experience of Maine and enjoy yachting, Boothbay Harbor has you covered.
Kennebunkport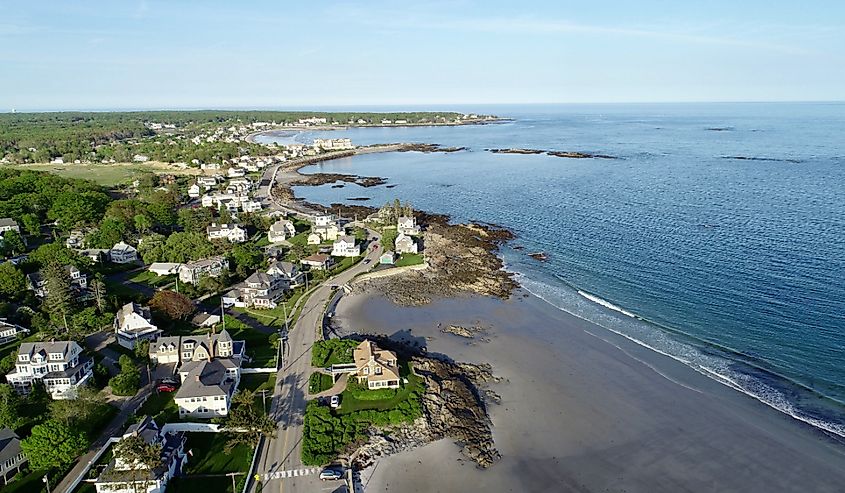 Another town hidden along the southern coast of Maine, Kennebunkport is a resort town located in York County. This town is home to a hearty population of about 3,600 people and boasts amazing beaches, delicious seafood, and rich history. While beaches and seafood are quite common throughout Maine's towns, the local history is something unique to Kennebunkport. This is because the town has a long journey going from a historic fishing village for local Abenaki Indians to a shipbuilding center for European settlers and finally an amazing seaside tourist resort. Kennebunkport also holds the prestige of being the location for US President George H.W. Bush's family's summer home, which is a testament to its lovely waterside beauty. Although, if history is not your thing, you can still enjoy some unique activities such as whale watching just off the coast of Kennebunkport!
Moving further into the town, the hospitable and welcoming community offers a lot for tourists. Located in the center of town, Dock Square is a lovely area with loads of stores, eateries, and more. You can spend the day here enjoying lovely seafood, and desserts, and also collecting some memorabilia from your trip. Be sure to check out Clam Shack and Alisson's and try out their lobster roll and fried clams for a true taste of Maine's lovely seafood. Once you have toured the city and coast, stay at one of the many inns and hotels which provide a historic and cottage-like feel to match the town.
Kingfield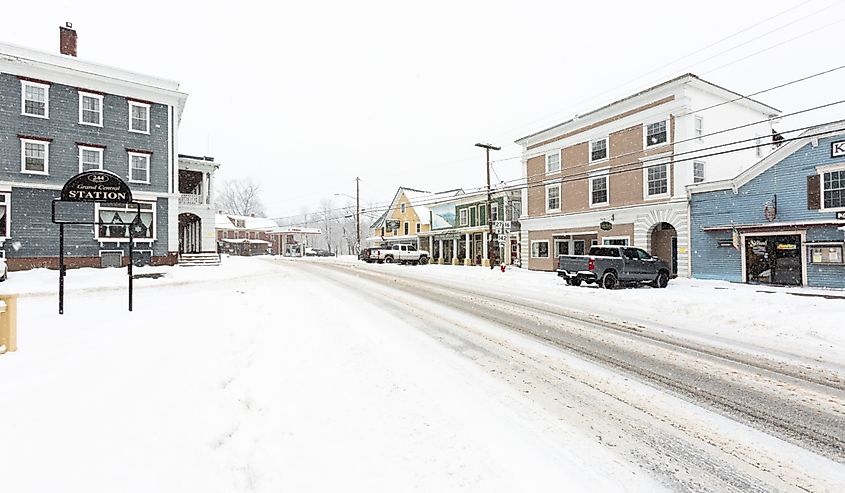 While it may be one of the few towns on this list not located on Maine's coast, Kingfield is just as stunning and scenic. Known for its outstanding mountain views, rivers, and valleys, this town of 960 people is in Franklin County. The 43-square-mile town is home to a wide range of hiking, biking, ATVing, fishing, and other activities that make it a great spot for all adventure enthusiasts in Maine. While there is a range of sports to enjoy, skiing is the prime attraction as Kingfield is one of the closest towns to the major ski resort, Sugarloaf. With a whopping 1,240 acres of skiable area, this is one of the region's largest ski resorts and packs a wide range of trails for all types of skiers.
Thanks to this assortment of tourist activities, Kingfield's economy is also focused on tourism and recreation. Its central location makes access to the town easy, via the Main State Route 27. The town has beautiful souvenir shops and inns, making a stay in the region enjoyable and comfortable.
Camden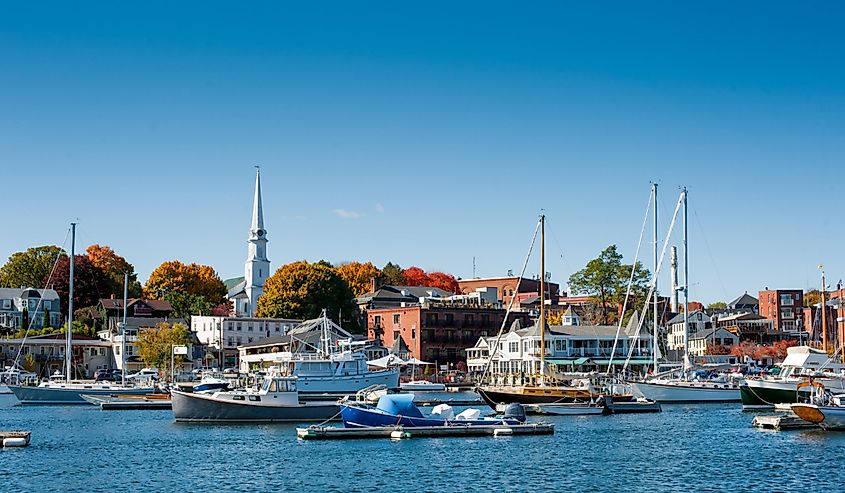 Combining the coastal sights of Maine with its mountainous inland heights, Camden is a lovely resort town in Knox County. With an area of 26.65 square miles split between land and water, this town is the perfect mix of natural sights including beaches like Laite Memorial Beach and mountains such as Mount Megunticook. Thanks to this coalition, tourists in this resort town have access to a limitless array of activities. You can go from hiking on elevated and rocky trails to sipping on a piña colada along the sandy shore in no time. If this alone does not quench your thirst for the outdoors, you are in luck as the beautiful 47,000-acre Acadia National Park is a short drive away.
On the flip side, this town of 5,200 also has an interesting past with an assortment of historical sites. It was initially home to the Penobscot Nation Indigenous People who named the area Megunticook, the name which is now taken by the mountain in Camden. It was not until the late 1700s that the French tried to colonize Camden and it subsequently became a military rendezvous point for the Americans. Keeping the British and other invaders at bay, the town grew rapidly and by the late 800s, included all manner of businesses from shipbuilding to hydropower and even many unique manufacturing industries. This brought in loads of new people and while industrialization slowed down, Camden gradually developed a yacht club, and rich culture, and transformed into a resort town. To see some of this history for yourself, check out the nearby Maine Lighthouse Museum or Curtis Island Lighthouse for a fun day out.
Greenville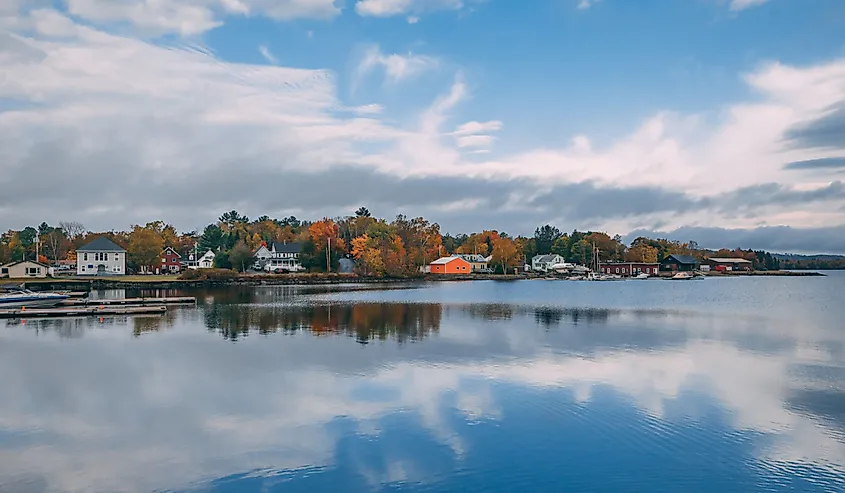 Situated at the southern end of Moosehead Lake, Maine's largest body of freshwater, this town is another underrated option in the state home to a long list of activities. Being one of the few towns on this list in the northern end of the state, Greenville offers a different landscape to the salty beaches found in most of Maine's coastal towns. With river rafting, boating, fishing, and other activities allowed along the freshwater lake, outdoor enthusiasts can have their fill of activities.
Another benefit of this unique location is that Greenville is a gateway to northern Maine. Thus, the town houses a wide range of interesting geographical features such as hilly hiking trails and campsites making it an outdoor wonderland! Once you have had your fair share of outdoor activities, you can slip into town and enjoy the great restaurants and wineries. Along with this, there are plenty of souvenir shops and cozy inns like the Leisure Life Resort & Trailside Restaurant.
Rumford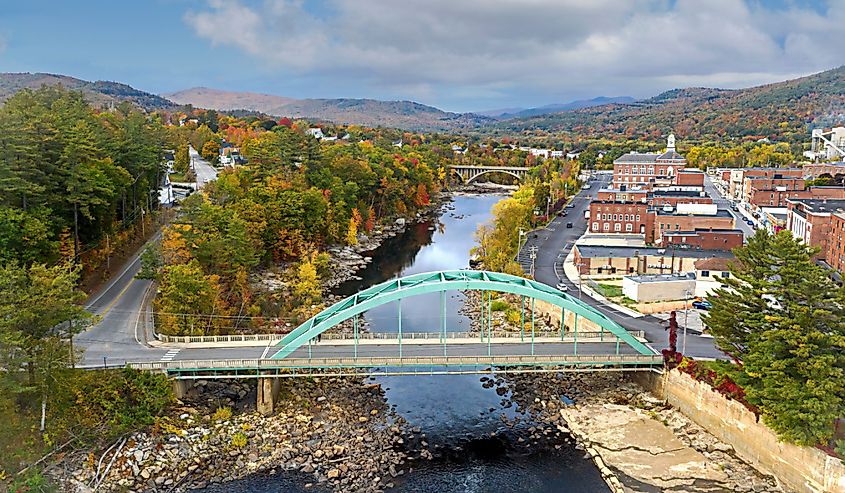 Surrounded by two large mountains; Black Mountain and Rumford Whitecap, Rumford is the place to be for hiking and skiing. The Black Mountain of Maine is a ski resort that is among Maine's best! This resort has a whopping 46 trails serviced by two chairlifts making it ideal for all types of skiing enthusiasts. Along with this, the site often hosts competitions for professionals which are a treat to watch! Apart from skiing, Rumford is one of the only mill towns in Maine that still has an operational paper mill. This mill has been operational since the early 1900s and is a testament to the boom in the industry which brought people into town. Thanks to this, the town boasts a lively population of 5,858 individuals as of 2020!
Rumford also houses a hidden gem which makes it the perfect addition to this list of underrated towns. The Androscoggin River flows through the town with the spectacular series of alluring waterfalls, Rumford Falls, which have a combined drop of 176 feet! This unique site makes Rumford a town worth checking out if you are anywhere near Oxford County in western Maine.
Combining its expansive coastal regions with some amazing inland views and historical sights, Maine truly has everything you can want on a vacation. From historical Houlton to ski-town Rumford, the state has countless underrated towns off the beaten path to explore. Each of these towns has a unique set of attractions so you can find the one that best matches your personality and have a great time in the state!