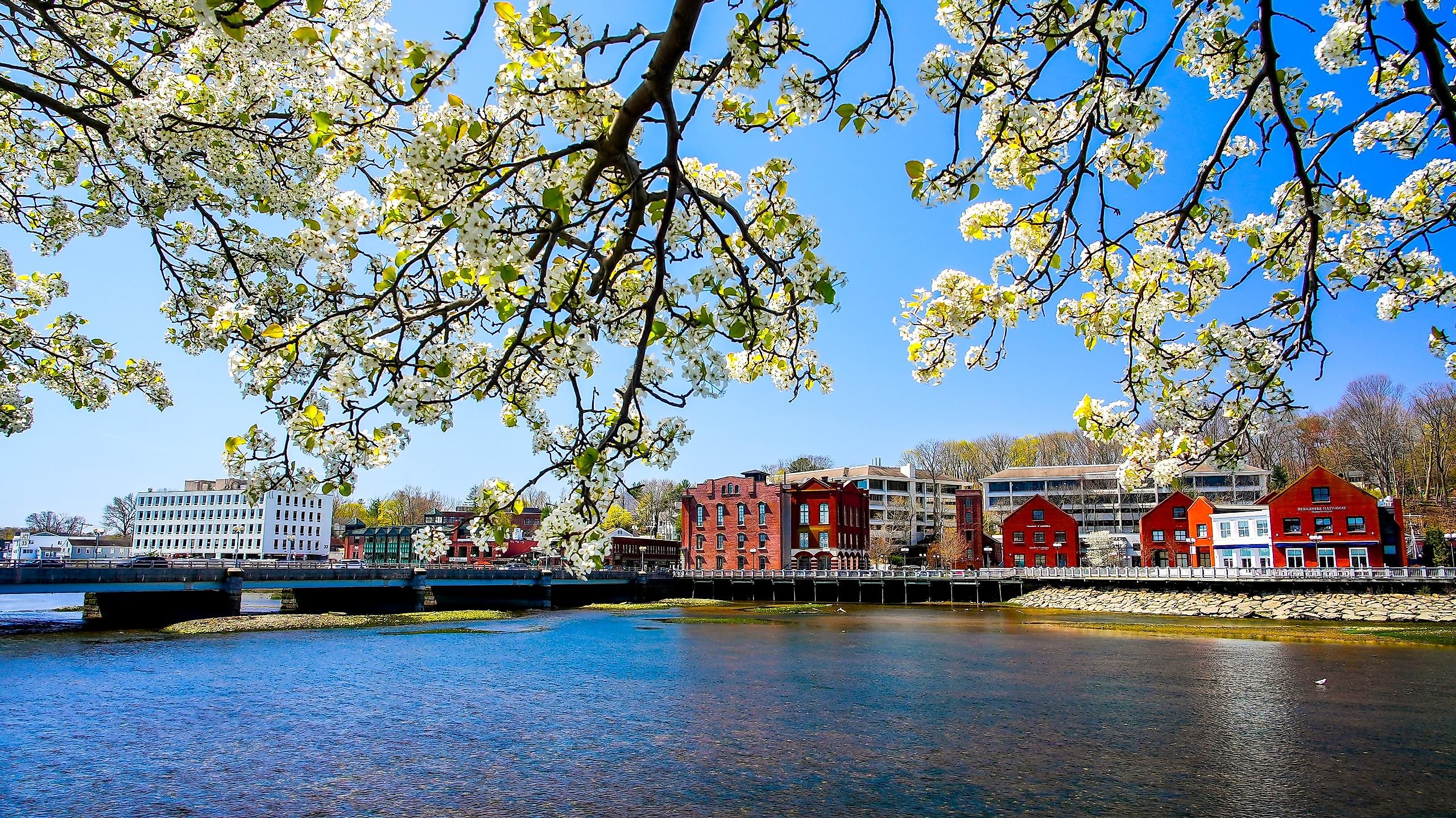 13 Small Towns In Connecticut That Were Ranked Among US Favorites
Do not entertain the idea that Connecticut is merely an inflated highway rest stop for vacationers cruising to other much better destinations. Known as the Constitution State — because of the state's adoption of what historians believe was among the first written constitutions of democratic government — Connecticut plays host to several attractions, including first-class eateries, gorgeous natural scenery, and a coterie of several charming small towns. Frank Pepe Pizzeria, for instance, a delicious Connecticut staple since 1925, is hands-down among the best pizza joints in the world. Brimming with old Colonial houses, there is much to see and do in the fifth state to join the Union. If you love strolling through charming small towns, the following are small towns in the state that have been ranked among U.S. favorites.
Mystic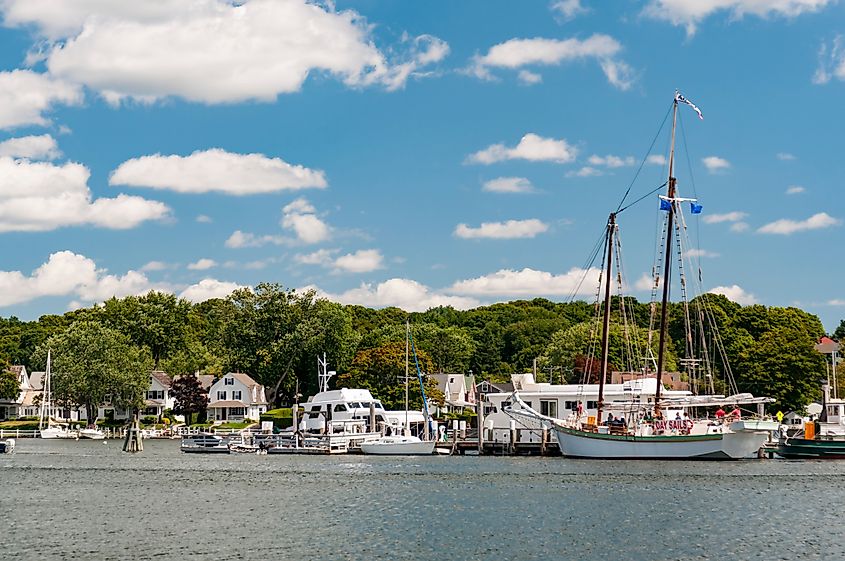 A town called "Mystic" comes with connotations of awe, wonder, and everything supernatural. The town's evocative name, however, is in reference to Mystic River — at whose mouth the town lies — and which lends the town its name. The word "Mystic" comes from the Native word "missi-tuk," which in English, means a huge river that features wind or tide-driven waves. Founded and first settled by Europeans in 1654, Mystic boasts a history that is old, rich, and fascinating. It was once a notable whaling center and witnessed the first launch of Galena, the first regular ironclad vessel. Today, Mystic oozes New England charm and plays host to both the Mystic Seaport and the Mystic Aquarium, two of the most visited attractions in the state.
Bethel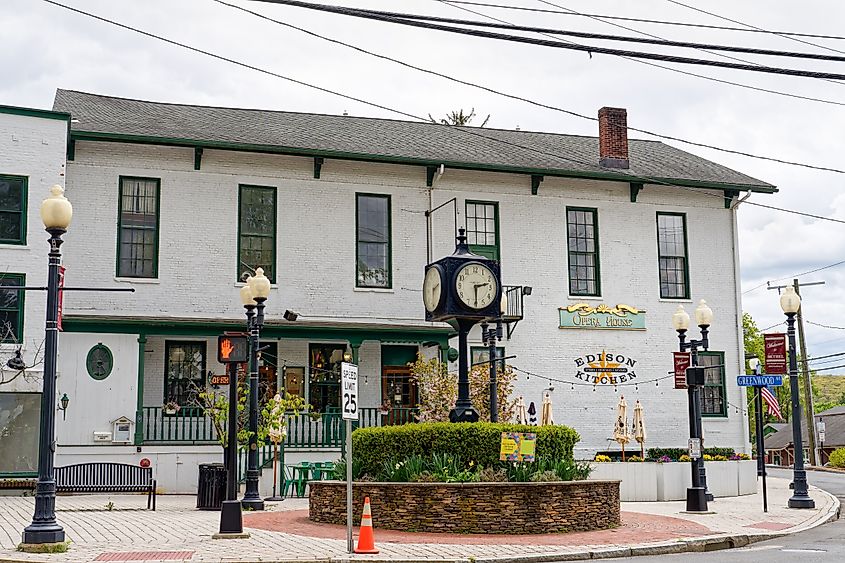 Bethel is about 71 miles north of New York (about 37 from New Haven) and boasts a downtown that is authentic and unpretentious and is anchored by a small square named for P. T. Barnum, the town's most famous resident. Barnum was a celebrated American showman reputed to have inspired the development of popular entertainment in America, such as concerts, public museums, and the three-ring circus. He also had a tinge of unconventional sensationalism. For instance, he reportedly requested the New York Evening Sun to publish his obituary before his death so he could read it beforehand. Once part of Danbury, Bethel is today a gorgeous U.S. favorite that features tree-lined streets and upscale neighborhoods dotted with 18th-century Colonials. A first-time visitor will not want to miss Goodspeed Opera House along the picturesque Connecticut River, reputed to be the birthplace of some of the most famous musicals in the world.
Kent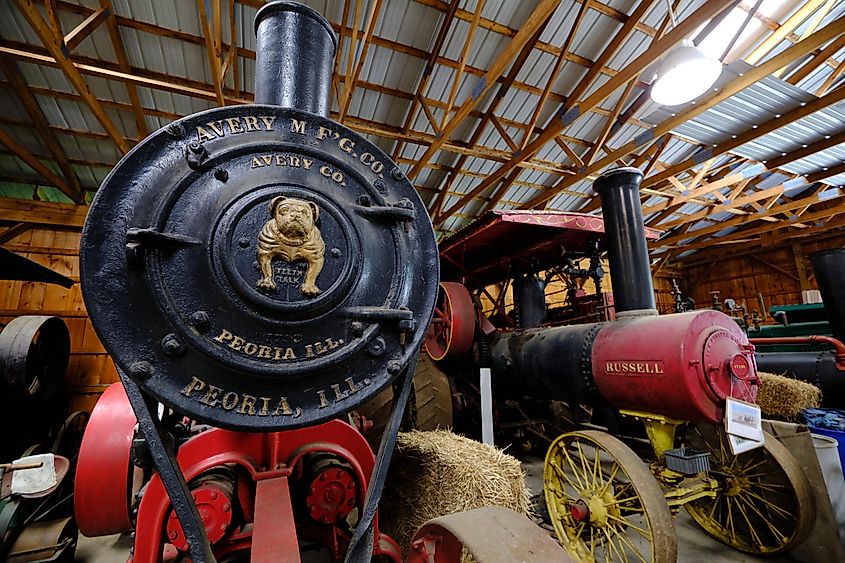 Whether you want to step into the future with glided sophistication — or back in the romanticized past — Kent will meet every need. This Connecticut favorite sits in the beautiful northwest corner of Litchfield County. While, to a large extent, Kent is residential and dotted with farms and small industries, it also boasts a delicious downtown area, complete with a delightful array of eclectic art galleries, locally owned shops, and casual but classy restaurants. Do not miss Kent's Civil War Soldiers Monument, erected by the residents in 1885 and which pays tribute to those who fought for "Liberty and Union" in the American Civil War. Some of Kent's other notable attractions include the Connecticut Antique Machinery, a popular spot that offers fascinating exhibits and displays that celebrate the town's agricultural and mineral heritage.
Chester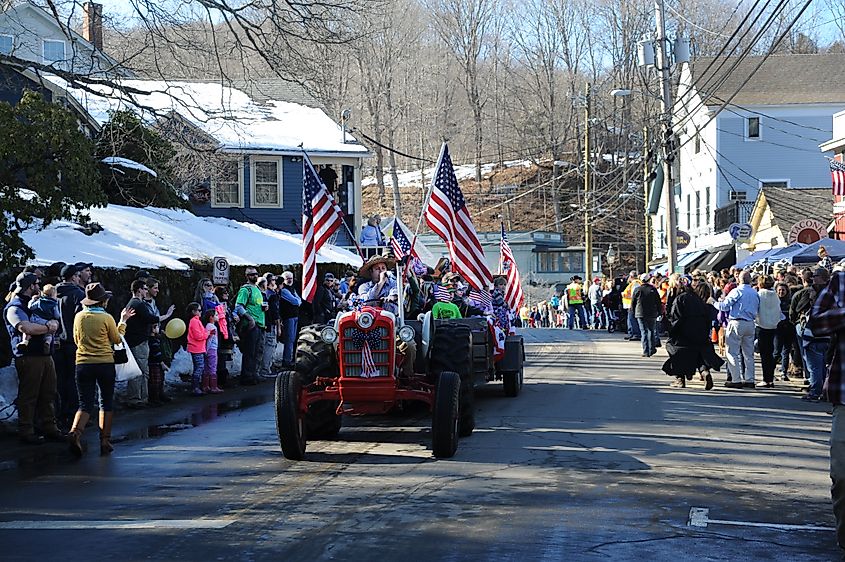 Dog Town - that was the name of Chester before its present-day rebaptism. The name was in reference to the many stray dogs that once roamed the town. Today, however, you will hardly lock eyes with a stray dog in this sweet Connecticut town that evidently has polished its reputation to become a much-sought-after getaway, particularly for artists and art lovers. Chester sits on the Connecticut River and looks like a movie set, complete with a compact downtown area and neighborhoods dotted with riverfront colonial-style homes. Chester's backyard also features a picturesque landscape crisscrossed with sparkling brooks — as well as peaceful ponds and shimmering lakes. Spots such as the Norma Terris Theater and the Chester Meeting House will be of interest to art lovers, while outdoor enthusiasts will be thrilled to learn that the Cockaponset State Forest occupies approximately 40% of the town.
Essex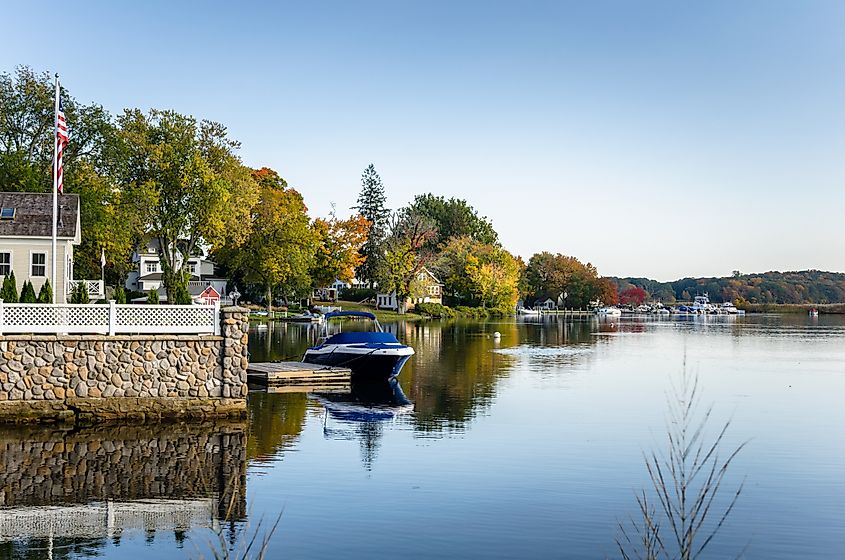 Boasting a setting that will enthuse any Hollywood producer, Essex is another U.S. favorite that will cast a spell on a first-time visitor. The town sits on the Connecticut River as well — and is enticingly bucolic — with a prominent dash of upscale class and elegance. First settled in 1648 and incorporated in 1852, Essex boasts a rich and colorful history that still shines through today in its impressive architectural outline. The town's streets, for instance, are lined with attractive Federal and Victorian-style architecture and are delightful exhibits of the respective epoch's taste and style. If you want to know how it felt like to ride the train in the 1800s, complete with an 1892 railroad station, vintage trains of historic cars, and steam locomotives, check out the Connecticut Valley Railroad State Park, where you will savor a memorable, back-in-time experience.
Cornwall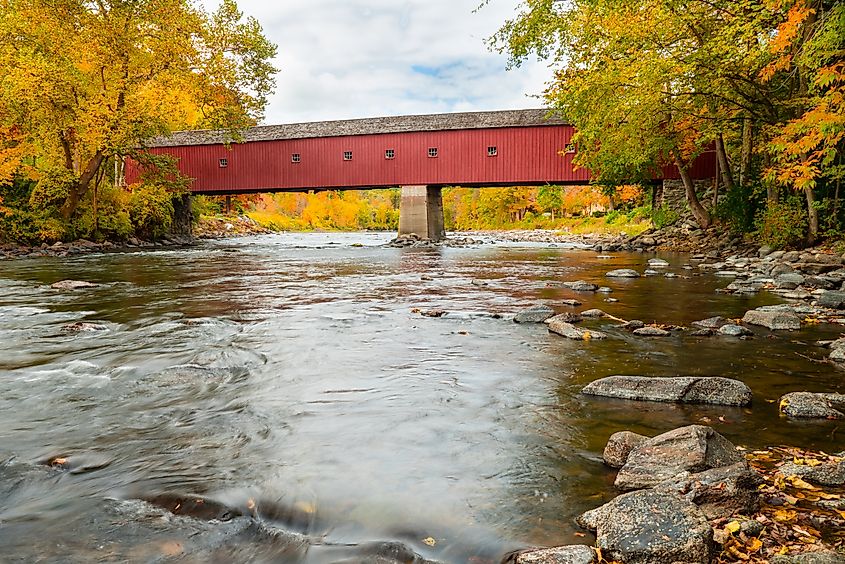 Welcome to arguably the greenest town in Connecticut that also happens to be among the smallest in the state. So if looking for a place to wind down — where the scenery is green and soothing — you have your work cut out. Cornwall beckons. And as if Cornwall's greenery is not enough, the town sits on the picturesque Housatonic River, a setting that gives it a look a painter will love to put on canvas. Then again, Cornwall occupies a portion of the Mohawk State Forest. You can start to imagine the dazzling array of outdoor adventures a nature enthusiast will be exposed to. Aside from boasting the seductive beauties of the countryside, Cornwall is home to the red-painted West Cornwall Covered Bridge, a popular staple of the town since 1864. The bridge is at the intersection of Route 128 and Route 7.
Westport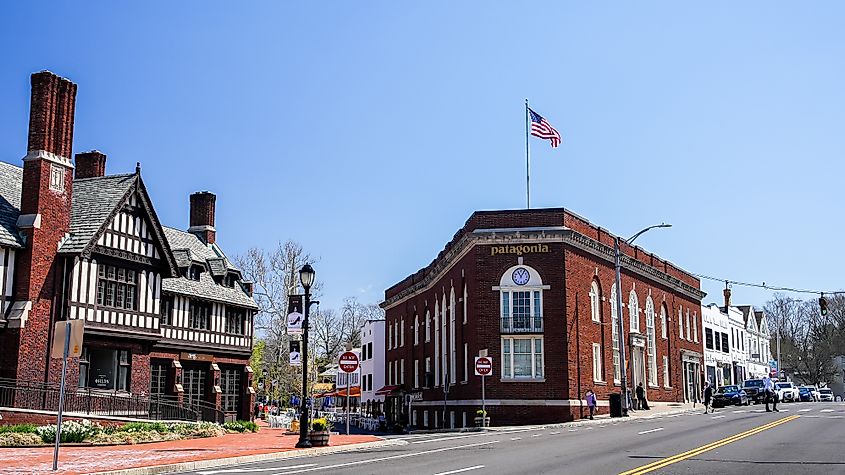 There are many waterfront towns in Connecticut — and then there is Westport. This Connecticut treasure boasts the most ocean waterfront in Connecticut. So if you are looking for a blue-space gem, complete with refreshing breezes and beaches, look no further. And it is not just about the oceanfront area. Westport also boasts the largest riverfront in the state. Aside from the serene waterfront vistas that define Westport and its sand-fringed beaches, Westport, unknown to many, is a bibliophile's dream destination. It plays host to the Westport Library, for instance, the only 5-star library in the state. Aside from this idyllic, one-of-a-kind community gem, you will love to spend an afternoon (or an evening) strolling through Westport's Library Riverwalk and Garden, a stunning walkway that runs along the scenic Saugatuck River.
Madison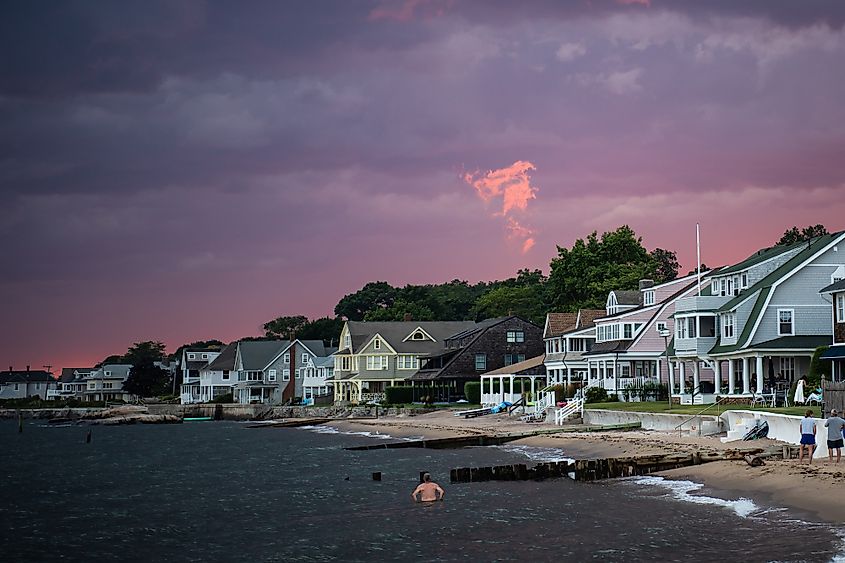 Named for the fourth president of the United States — and the one most associated with the writing of the Constitution — Madison is among the best pictures of Connecticut. The town is a notable eye candy and features a spectacular stretch of Madison coastline where vacationers can lounge, play on the water, or just stroll around while inhaling the spellbinding scenery. Boasting a population of just about 1,700, Madison is small and quaint and perfect for a big-city escapee tired of the hassle and bustle that often define the Chicagos, the New York Citys, and the Bostons of America. While the Hammonasset Beach State Park is one of Madison's star attractions, the award-winning RJ Julia Booksellers is an under-the-radar staple that will tickle the fancy of book lovers. One of the best bookstores in the United States is set in a building that is whimsical and laidback and which houses an impressive selection of books and gifts.
New Canaan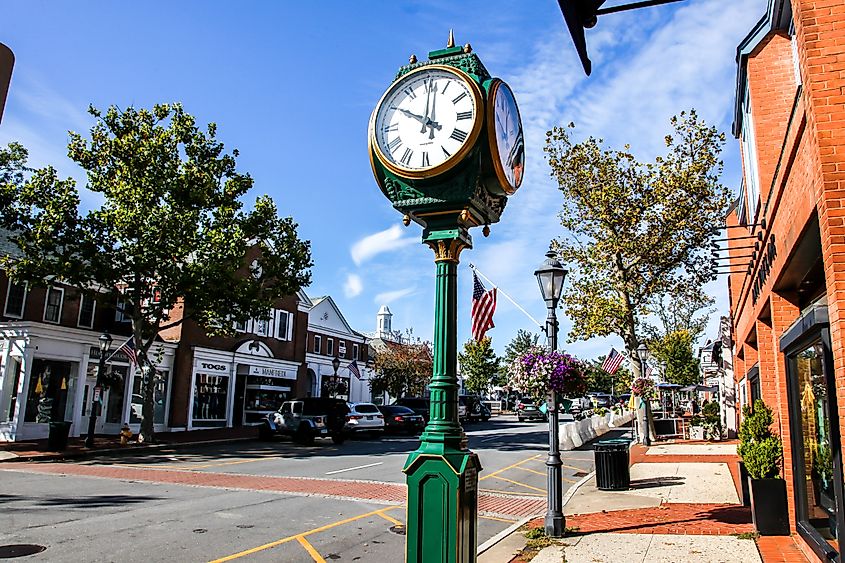 While there are many reasons New Canaan qualifies as a U.S. favorite — including the several mindblowing attractions within its picturesque settings, this wealthy rural enclave is an architectural mecca that should be a rite of passage for house design stylists. The story of New Canaan is the story of 5 rebellious architects, a Havard instructor, and his four students. These five radical individuals, known as the "Havard Five," represent the first generation of architects in the country to learn and advocate the Bauhaus-style architectural style — one of whose features was oversized windows that let the outdoors in. While New Canaan is home to several such architecturally inspired houses, the Philip Johnson Glass House remains its finest representation. Now offering tours, the Philip Johnson Glass House will blow you away. It is reported that legendary American architect Frank Lloyd Wright, on his maiden visit to the Glass House, considered taking his hat off.
Monroe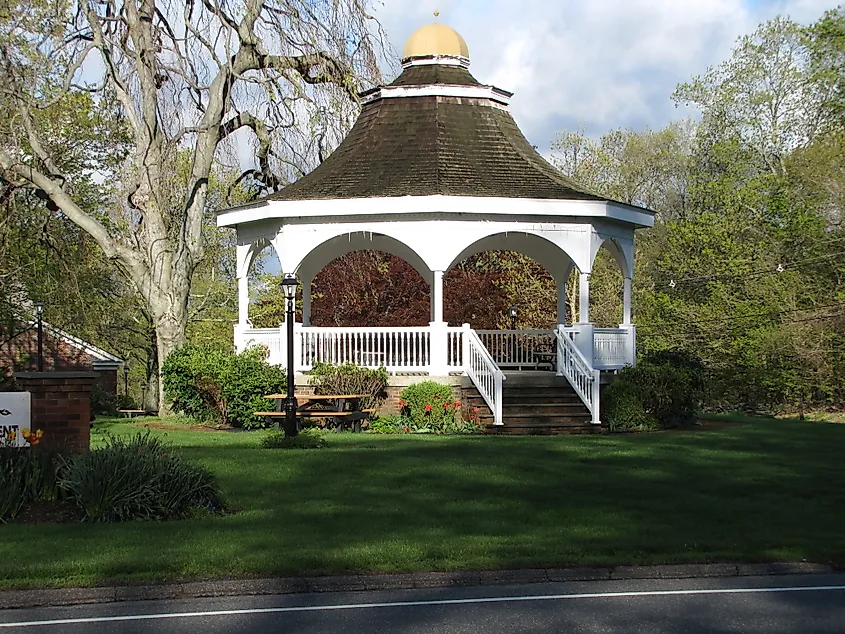 About 18,700 residents call this New England charmer home. Many more, however, rank this Connecticut gem as among the U.S. favorites. Monroe occupies the eastern regions of Connecticut's Fairfield County. The mostly hardwood-forested upland county is known for its excellent, award-winning public schools. Monroe itself is vibrant and vivacious and offers several attractions a first-time visitor will want to sample. Wolfe Park, for instance, is a 379-acre oasis that also features Great Hollow Lake, where one can enjoy non-motorized boating, swimming, sightseeing, and several other outdoor pastimes. There is also a pavilion you can rent, a pool, a cute playground, and of course, soft green grass perfect for walking barefoot. For avid hikers, Webb Mountain Discovery Zone and the adjacent Webb Mountain Park are all delicious options worth exploring.
Old Saybrook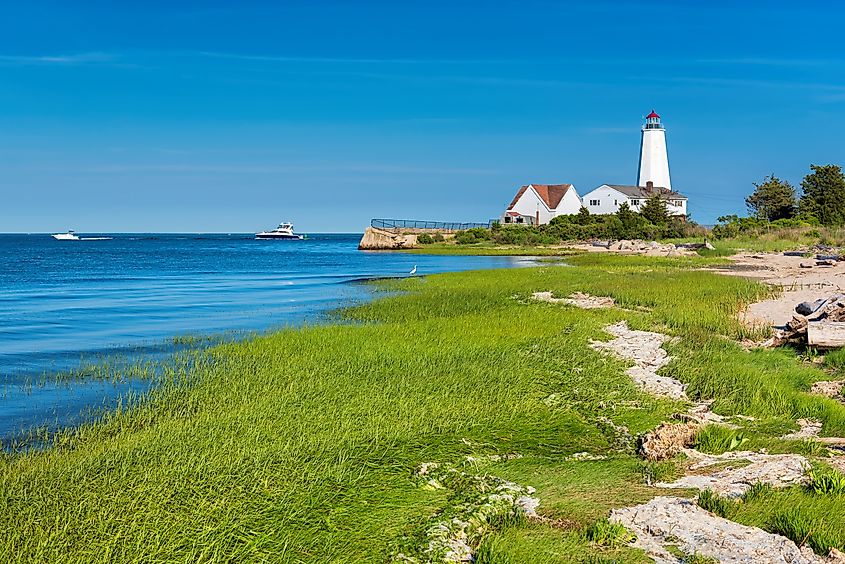 Clothed in natural beauty and chockful of fun attractions, Old Saybrook is a Connecticut jewel known for its heart-ravishing beauty. It plays host to about 10,000 residents and sits where the Connecticut River meets Long Island Sound, a popular water wonder that boasts what is arguably the largest recreational fleet — not in Connecticut — but in North America. Old Saybrook, true to its name, is old and was first settled in 1635, just 15 years after the Pilgrims landed at Plymouth. The town offers an amazing culinary landscape and boasts an impressive array of tongue-tingling eateries. These include the aptly-named Fresh Salt where seafood connoisseurs will savor the flavors of fresh oysters and some kick-ass Clam chowder amid beautiful Connecticut River views.
Greenwich
Greenwich is about an hour's drive away from New York City and often makes for a quick getaway. This heart-melting U.S. favorite is in Fairfield County and on a stretch on Connecticut's Gold Coast — so-called because of the region's evident opulence and wealth. Boasting a population of about 14,000 residents, this upscale beauty, the largest on the Gold Coast, was first settled in 1640. It would be incorporated as a town only 15 years later. Because of this dated history, Greenwich plays host to several attractions that will pique the interest of a history enthusiast. Besides, the Greenwich Audubon Center is a bird lover's dream that also features well-maintained trails, a scenic, large pond, and incredible flora and fauna. You can also opt for Greenwich Point Park, an awesome green space that features seaside trails amid distant but beautiful views of New York City's lights and bridges. 
Glastonbury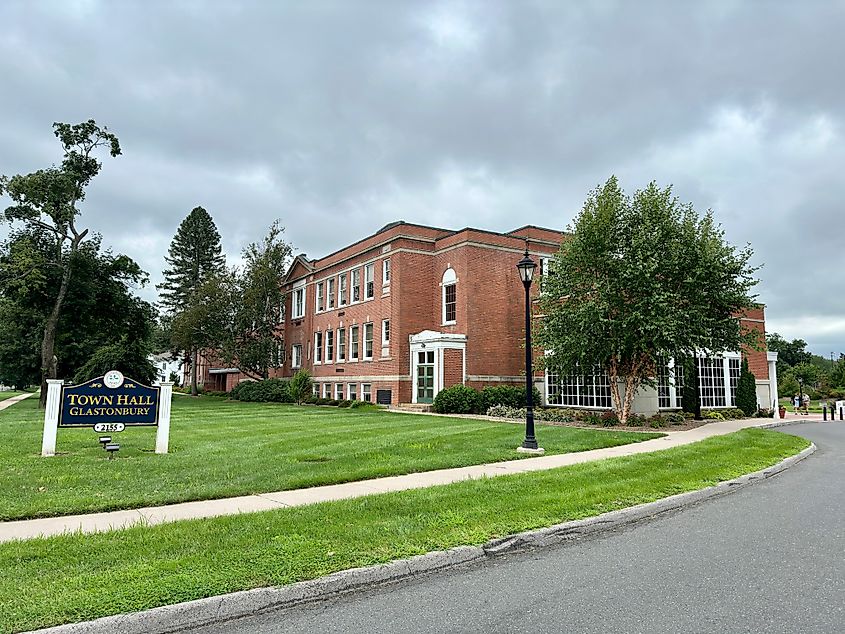 About 35,200 people call Glastonbury home. The town sits on the picturesque banks of the 410-mile Connecticut River, the longest stream in New England, about 7 miles southeast of Hartford. One of Glastonbury's claims to fame is that it plays host to the oldest continually operating ferry in the United States — the Rocky Hill–Glastonbury Ferry. The town's historic district is extensive and beautiful and dotted with a number of gorgeous historic houses, some of which date back to the 1600s. The town is famous for its booming wine industry and features top-quality wineries such as the Crystal Ridge Winery. For outdoor lovers, the 80-acre Cotton Hollow Preserve offers several fun adventures in settings that are heart-ravishing and peaceful.
The Takeaway
Here is the thing. Connecticut is not just a pass-through state without notable attractions or gorgeous landscapes. While they may not be as dramatic as the landscapes of Colorado or California, Connecticut is home to spots that are just as heart-melting. It also boasts an array of beautiful small towns, some of which are ranked as U.S. favorites. These include Mystic, New Canaan, Bethel, Chester, and Cornwall.