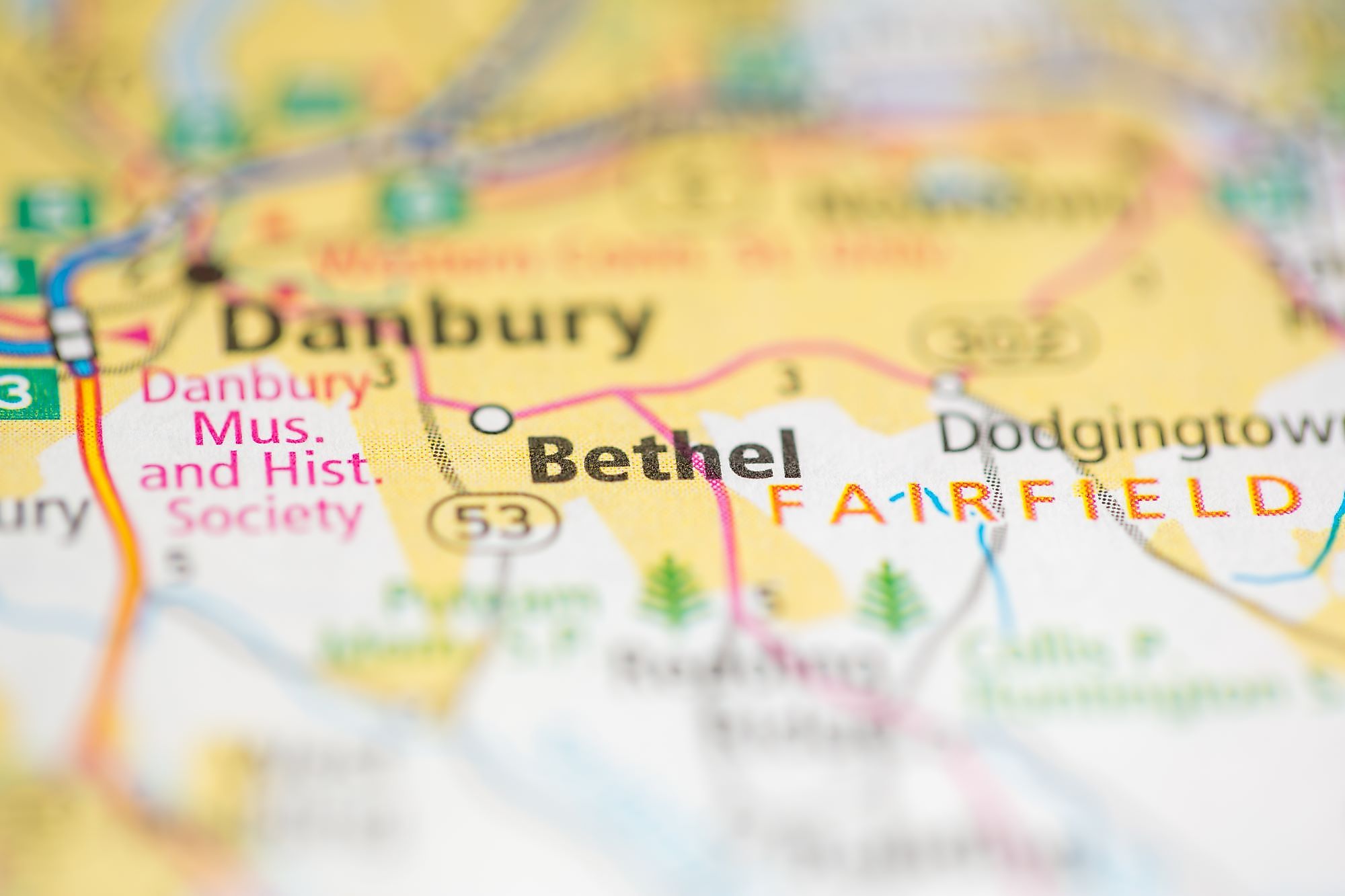 Bethel is a charming town situated in Fairfield County in the US State of Connecticut with a vibrant culture and several historical attractions. It has a historic downtown, fantastic hiking trails for travelers who enjoy physical activities and connection with nature, gorgeous natural treasures, and much more. Bethel is an excellent holiday destination for individuals seeking to escape the noise and pollution of the concrete jungle and unwind in this picturesque town.
Geography And Climate Of Bethel
Bethel covers a total area of 43.8 sq. km, of which 43.5 sq. km is occupied by land, and 0.3 sq. km is covered by water. As per the Köppen Climate Classification, Bethel experiences a humid subtropical climate. Temperatures normally fluctuate between 32 °F and 76 °F throughout the year but seldom dip below 0 °F or reach over 97 °F. The year's hottest months are June, July, and August, with daily mean temperatures ranging from 70 to 76 °F. The coldest months are typically January, February, and December, when daily mean temperatures range from 32 to 37 °F during the day. Bethel has 62 days over 77.0 °F and 67 days below 32.0 °F on average per year.
Brief History Of Bethel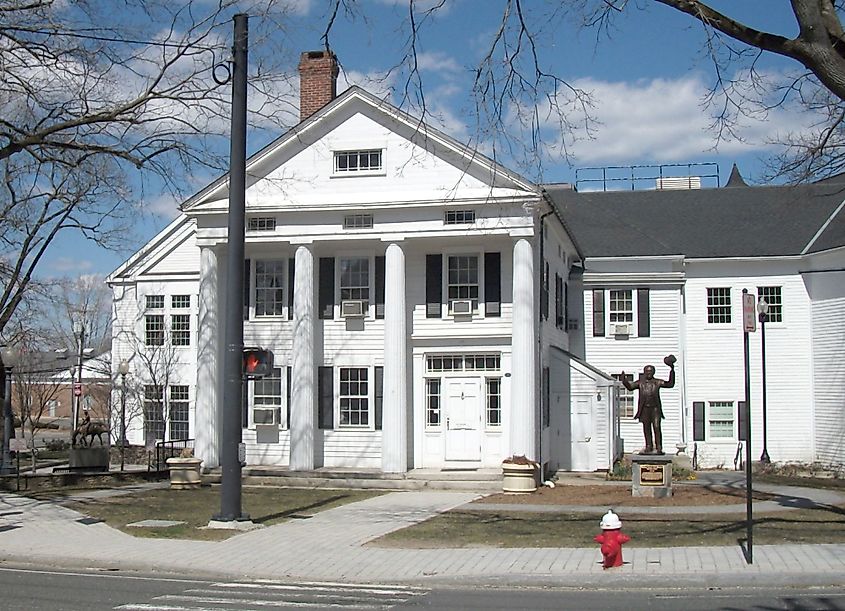 The parish of Bethel, which was established as part of Danbury in 1685 and gained its name in 1759 after the Hebrew phrase meaning "House of God," was incorporated in 1855. As part of Danbury, Bethel had hat manufacturers as early as the late 1800s. Long until the early 1900s, the trade remained crucial to the town's economy. Bethel is now home to companies like Duracell, Inc. and Eaton Corporation, a power management business. The town is also popular for being the birthplace of showman and entrepreneur Phineas Taylor Barnum.
The Population And Economy Of Bethel
As per the latest US Census, Bethel has a population of 10,012 inhabitants. White (72.65%), Black or African American (10.93%), Asian (5.91%), Other race (5.42%), and Two or more races (5.07%) are the most common ethnic groups in Bethel. The town has an average household income of $97,365 and a poverty rate of 5.88%. The town's top industries are Health Care & Social Assistance, Manufacturing, and Retail Trade. It's also worth noting that Bethel is the headquarters of battery manufacturer Duracell.
Attractions In Bethel
Greenwood Avenue Historic District
Greenwood Avenue, which was known as Center Street until far into the twentieth century, is Bethel's main street. The street is lined with buildings that have been in some form for 150 years or more and now house local stores and restaurants to attract tourists.
Blue Jay Orchards
Blue Jay Orchards is approximately 140 acres in size and grows 36 apple types, exactly what you'd want to find in New England in the fall. Pick-your-own apple season begins with the McIntosh, usually in early September, and lasts until late October. A pumpkin patch with little wheelbarrows for youngsters opens at the end of September. The farm stand, which sells honey extracted on the farm as well as excellent apple cider donuts, maple syrup, jellies, and farm vegetables, is a must whenever you visit.
Monster Mini Golf And Laser Tag
This indoor attraction includes mini-golf, laser tag, a laser maze, a ropes course, and a video arcade for spooky family fun. The highlight is the luminous miniature golf course, which is illuminated by black light and filled with ghoulish animated objects and hazards, while the game will be accompanied by a DJ. The monster theme in the laser tag arena is intended for players aged five and above and includes effects such as fog, mines, and additional black light. The arcade contains both classics and new releases, as well as ticket machines, and youngsters may scramble over hanging bridges, cargo nets, and rope ladders at the glow-in-the-dark ropes course.
Bethel Public Library
Bethel Public Library, centrally located on Greenwood Avenue, was created in 1909, but its structure is a little older. The Seelye Homestead, with its Doric portico, was erected in 1842 and donated to the town by the family of Bethel's first selectman, Seth Seelye. The library is a valuable resource, with over two-thirds of Bethels residents having library cards and using them on a regular basis.
Collis P. Huntington State Park
This state park covering more than 1,000 acres of woods south of Bethel was presented to the state by Collis Potter Huntington's heirs in 1973. Towards the end of the nineteenth century, Commodore Walther Luttgen, a banker and industrialist, added numerous park-like characteristics to what was formerly wilderness, including a network of ponds, walking routes, and service roads. A stretch of the Blue-Blazed Aspetuck Valley Trail runs through the park, and it also offers horseback riding, mountain biking, cross-country skiing in the winter, and fishing in five ponds. 
Ives Concert Park
Summer entertainment beneath the stars is available at the Ives Concert Park, which features a vast pond-side bandstand. The park is named after Danbury native Charles Edward Ives, a beloved composer in the United States. Every year, 65,000 people attend classical concerts, chamber music, jazz, events by prominent recording artists, stand-up comedy, and Shakespeare plays at Ives Concert Park. There is also a summer schedule of children's events, as well as a few foreign festivals promoting Latin music and Irish and Ecuadorian culture.
Bethel is a quiet and lovely town with abundant natural marvels, hiking trails, scenic vistas, amazing sites, and delicious food. Bethel serves as a perfect holiday destination for those who are tired of the monotonous lifestyle, as well as the noise and pollution of the big cities.