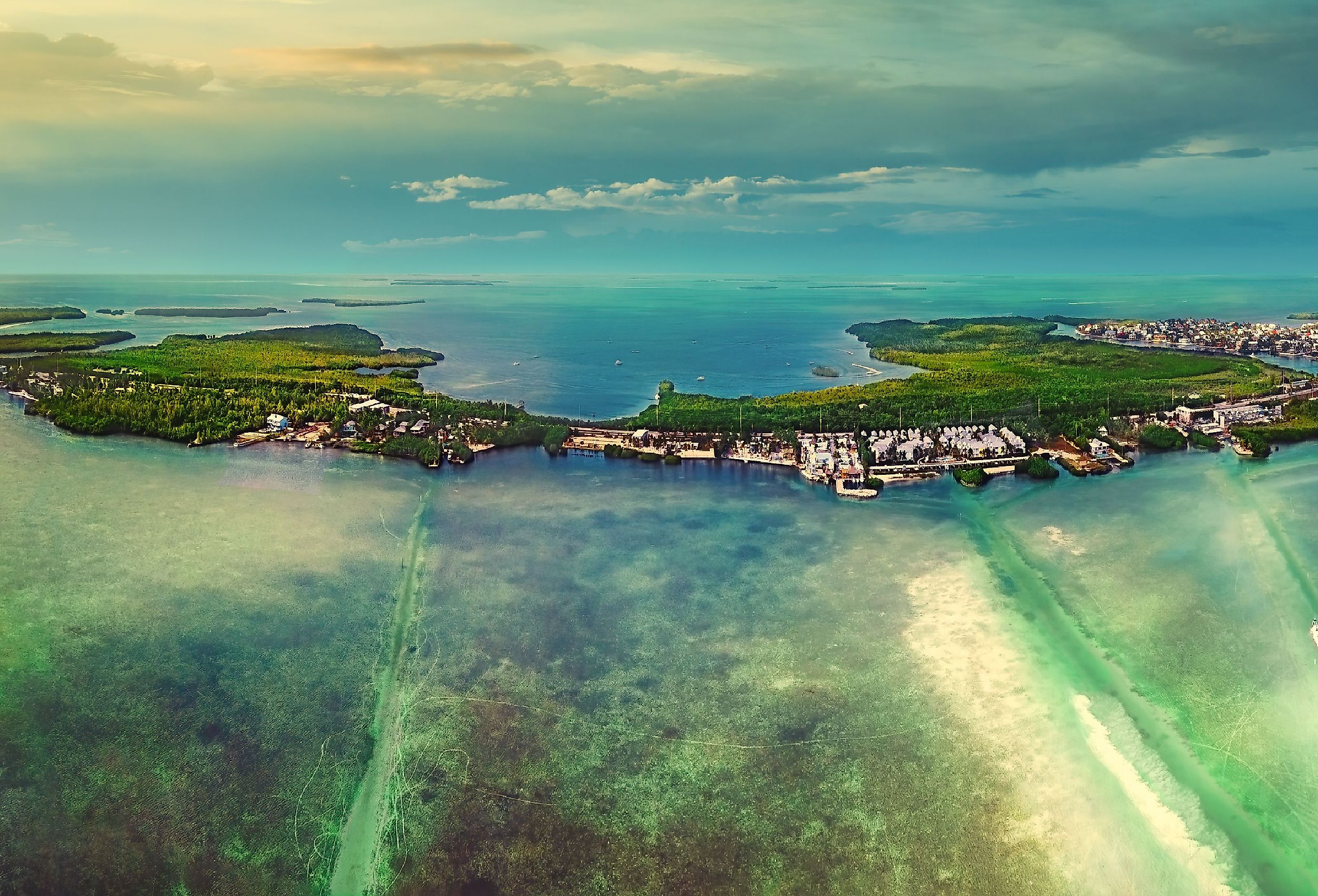 13 Most Scenic Florida Towns
The only US State bordering the Gulf of Mexico and the mighty Atlantic Ocean, Florida, in the American Southeast, is celebrated for its sun-kissed sandy beaches, sparkling waters, beautiful nature preserves, and expansive urban landscapes. Although the major population centers like Jacksonville, Miami, Orlando, Fort Lauderdale, and the state capital, Tallahassee, draw millions of tourists annually, the pretty small towns dotting the Sunshine State also attract a lot of travelers by offering a tranquil escape from the bustling metropolises. So, whether you wish to explore a historical town or any beachside locale, you must check out these scenic Florida towns.
Mount Dora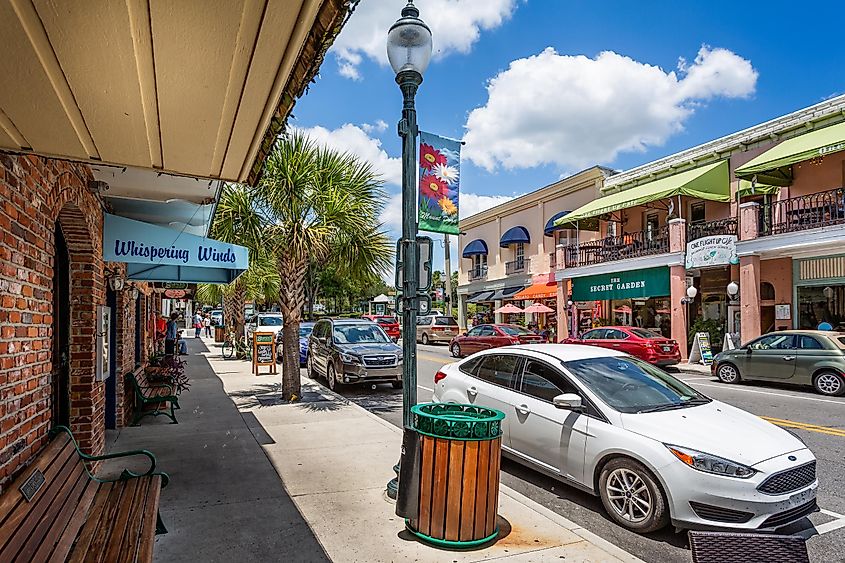 A picturesque town in the eastern portion of Central Florida's Lake County, Mount Dora is placed atop an 184 ft high plateau overlooking lakes Dora, Beauclair, and Gertrude. Initially a popular winter retreat for hunting, fishing, and boating enthusiasts, Mount Dora is renowned for its small-town "southern charm" and welcoming ambiance. Listed on the National Register of Historic Places, Mount Dora Historic District in the downtown features several notable structures, including the John P. Donnelly House, Blandford, Witherspoon Lodge No. 111 Free & Accepted Masons, Lakeside Inn, and Old Mount Dora Atlantic Coast Line Railroad Station.
Besides these historic structures, the downtown is lined by many independently owned antique stores, gift shops, art galleries, and restaurants. Mount Dora History Museum, Mount Dora Museum of Speed, and Mount Dora Modernism Museum are must-visits for history buffs, while the town's various parks and nature preserves like the Grantham Point Park (home to Mount Dora Lighthouse), Annie Donnelly Park, Gilbert Park, Palm Island Park, etc., are a paradise for outdoor enthusiasts. The town's many annual festivals, like the Mount Dora Arts Festival, Mount Dora Spring Festival of Arts and Crafts, Mount Dora Blueberry Festival, Scottish Highland Festival, and several other special events, draw thousands of merrymakers yearly.
Stuart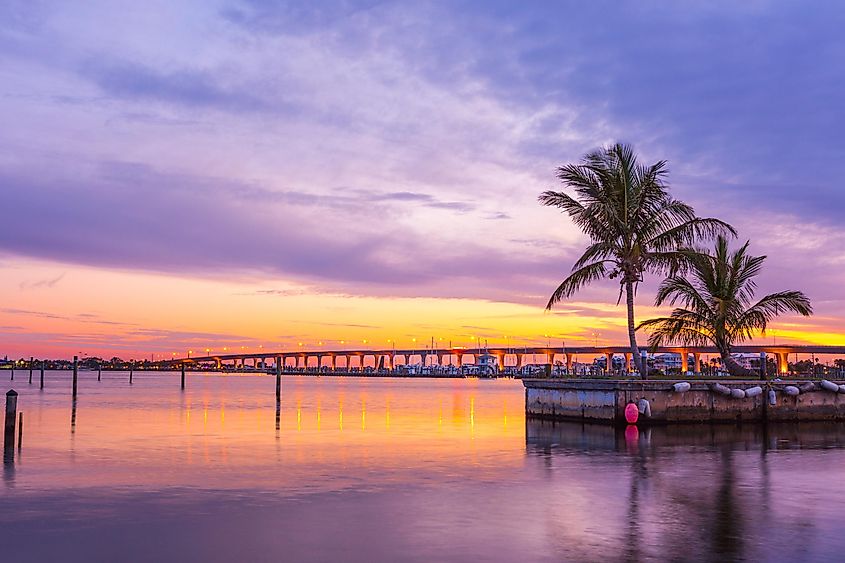 Nicknamed "Sailfish Capital of the World," Stuart, the administrative center of Southeastern Florida's Martin County, is often considered one of the country's finest small towns due to its closeness to the Atlantic Ocean, St. Lucie River, and the Indian River Lagoon. Tucked along Florida's Treasure Coast, Stuart's charming pedestrian-friendly downtown features working studios, antique stores, art galleries, museums, and cozy eateries, in addition to many remarkable historic properties representing a mix of different architectural styles. Outdoorsy types can indulge in various water-based recreational activities or enjoy a leisurely stroll along Stuart's Riverwalk. Some of the town's other interesting attractions include the Stuart Heritage Museum, Road To Victory Military Museum, Krueger House, Lyric Theatre, Elliott Museum, Florida Oceanographic Coastal Center, and Sailfish Splash Waterpark.
Micanopy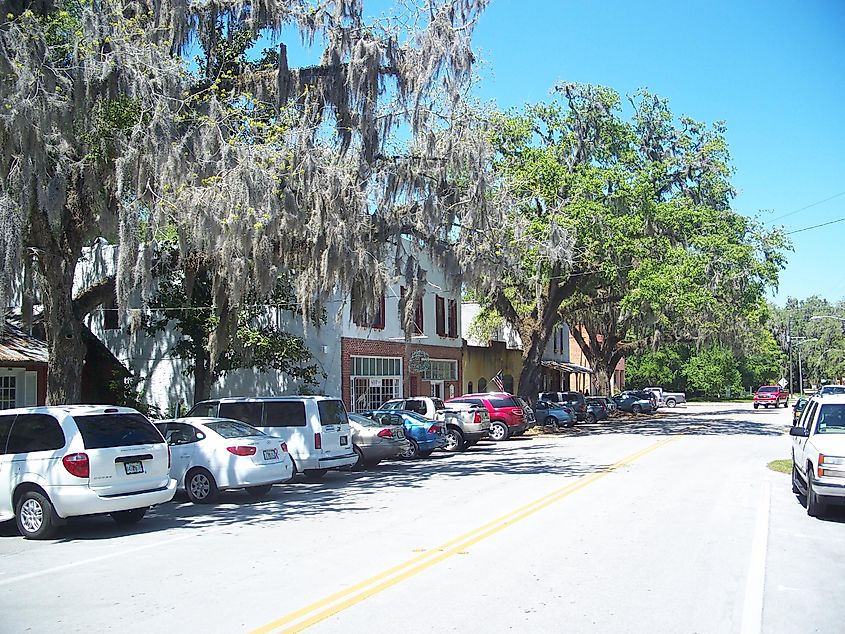 Christened in honor of a Seminole Indian chief, Micanopy, a tiny town in Alachua County, just south of Gainesville, is Florida's oldest continually inhabited inland community. The Micanopy Historic District, of which the town's downtown is a part, features many 19th-century historic buildings in addition to the tree-lined Cholokka Boulevard filled with countless antique shops, retail stores, art galleries, and cozy cafes serving lip-smacking dishes. As a self-proclaimed antique capital of Florida, Micanopy, aptly upholding its slogan "The Town that Time Forgot," serves as an ideal place to search for timeless treasures.
To know more about the town's history, tourists must head to the Micanopy Historical Society Museum located in the historic Thrasher Warehouse. Outdoor lovers can explore the area's various hiking paths and the nearby nature preserves, such as the Paynes Prairie Preserve State Park, Tuscawilla Preserve, Native American Heritage Preserve, and the Barr Hammock Preserve. Nevertheless, the best time to visit Micanopy is during the fall, when the town hosts the annual Micanopy Fall Festival – a two-day arts & crafts festival complete with hand-crafted gifts, handmade jewelry, artworks, different varieties of food, and live music.
Naples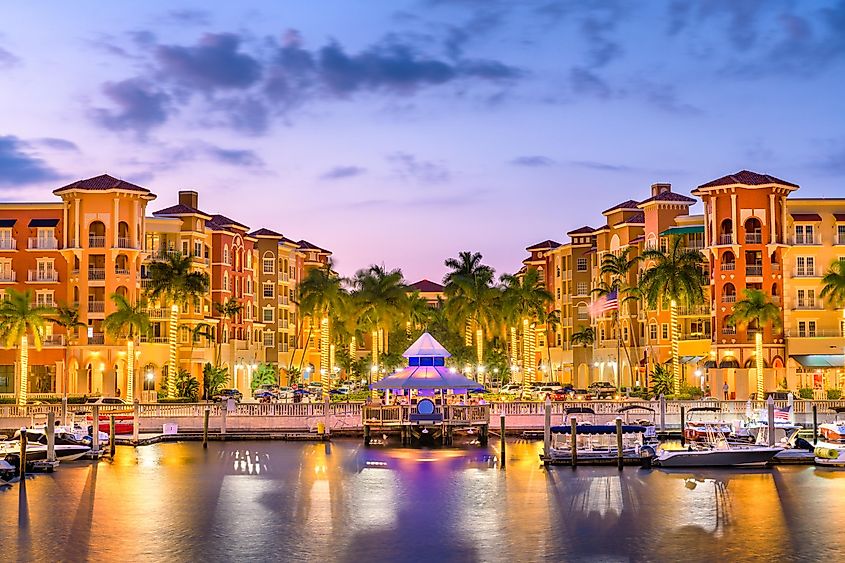 An enchanting resort town on the shores of the Gulf of Mexico, Naples is situated in Southwest Florida's Collier County on U.S. Highway 41 between Fort Myers and Miami. As the principal town of the Naples-Macro Island, Florida Metropolitan Statistical Area, Naples is renowned for its high-priced residential properties, pristine white-sand beaches, pedestrian walks with multiple shopping options, trendy cafes, and an array of outdoor recreations. Some of Naples's interesting attractions include the Naples Botanical Garden, Naples Seaboard Air Line Railway Station, Naples Zoo, The Naples Players at Sugden Community Theatre, Historic Palm Cottage, Venetian Village – an upscale, open-air shopping district, Gulfshore Playhouse, and Golisano Children's Museum of Naples. Nature lovers are especially drawn to the many land reserves in the Naples area, including the Audubon Corkscrew Swamp Sanctuary, Big Cypress National Preserve, Ten Thousand Islands National Wildlife Refuge, Everglades National Park, Florida Panther National Wildlife Refuge, and Picayune Strand State Forest.
St. Augustine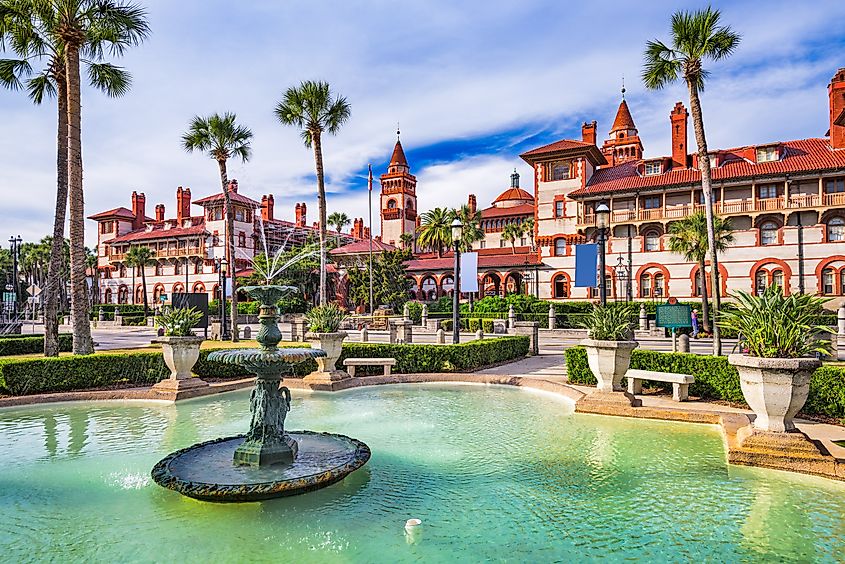 The county seat of St. Johns County, St. Augustine, found in Florida's First Coast region approximately 40 miles south of downtown Jacksonville, is considered the oldest continuously inhabited European settlement in the contiguous United States. A popular tourist destination, St. Augustine is acclaimed for its unique scenery and distinctive historical character. Travelers in St. Augustine can stroll the narrow brick-lined lanes to witness the century-old buildings and historic landmarks, as well as classic hotels, cozy restaurants, world-class galleries, boutiques, theaters, and miles of picturesque Atlantic beaches. Castillo de San Marcos National Monument, Oldest Wooden Schoolhouse, Cathedral Basilica of St. Augustine, Fountain of Youth Archaeological Park, St. Augustine Lighthouse & Maritime Museum, Lightner Museum, St. Augustine Alligator Farm Zoological Park, and Anastasia State Park are some must-visit attractions.
Apalachicola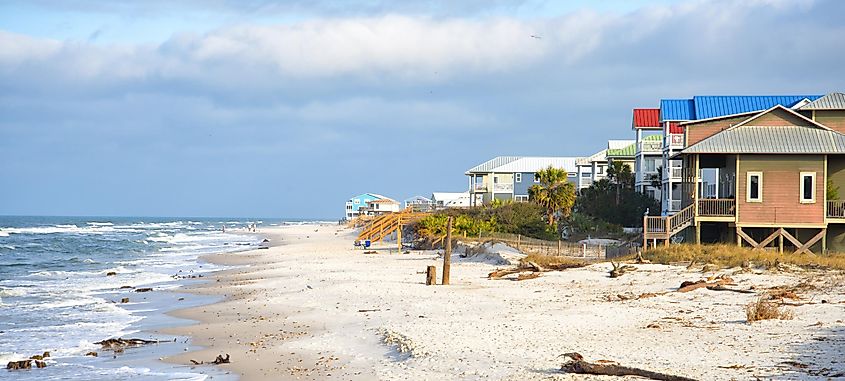 This port town occupies the heart of Florida's Forgotten Coast at the mouth of the Apalachicola River on the Apalachicola Bay. Once the 3rd-busiest port in the Gulf of Mexico, Apalachicola is currently an important seafood-producing center and a homeport for a large number of seafood workers. The attractive seaside homes and extra-wide streets in the town's historic downtown commercial district, besides the numerous stylish boutiques, retail shops, art galleries, craft brewpub, and locally-owned seafood cafes and eateries, provide a welcoming ambiance. Travelers visiting Apalachicola must also tour the historic Trinity Episcopal Church, Dixie Theatre, John Gorrie Museum State Park, Apalachicola Maritime Museum, Apalachicola National Estuarine Research Reserve, and the nearby St. George Island State Park. Thousands of seafood lovers visit Apalachicola during the first weekend of November to participate in the annual Florida Seafood Festival.
Dunedin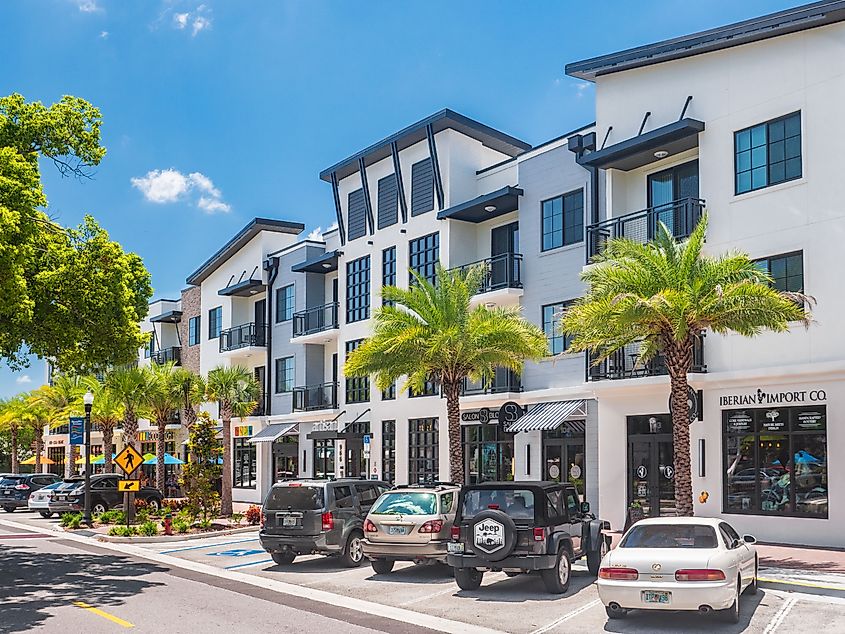 A scenic waterfront community on Florida's Gulf Coast, Dunedin, just 6 miles north of Clearwater, forms a part of the Tampa - St.Petersburg -Clearwater metropolitan area. Initially founded by Scottish immigrants in 1850, Dunedin is one of the oldest settlements on the state's west coast and one of the few waterfront communities where highrises do not entirely obstruct the spectacular views of the Gulf of Mexico and the Intracoastal Waterway. Dunedin's pristine beaches provide relaxing opportunities for vacationers after they complete exploring the 39.15-mile-long Pinellas Trail that stretches from Tarpon Springs to St. Petersburg. Travelers must browse the various exhibits at the Dunedin Fine Art Center, enjoy baseball matches at TD Ballpark, and participate in multiple recreational activities at the Honeymoon Island State Park and Caladesi Island State Park. The town hosts the annual Dunedin Highland Games Festival to celebrate its Scottish heritage, with pipe bands, traditional dances, competitive games, and authentic Scottish cuisines.
Matlacha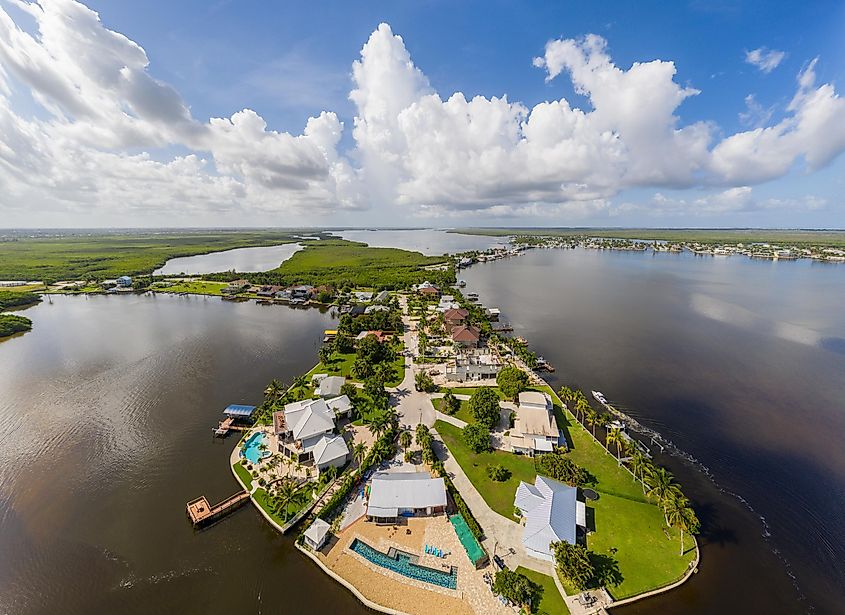 An "Old Florida" fishing village, Matlacha, located in northwestern Lee County on Florida's Gulf Coast, forms a part of the Cape Coral-Fort Myers, Florida Metropolitan Statistical Area. This quaint waterfront community is renowned for its traditional Floridian cottages with fishing boats moored just outside the door, colorful art galleries, eclectic boutiques selling Native American-inspired souvenirs, and plenty of seafood restaurants. Tourists must stop at Leoma Lovegrove's Gallery & Gardens and the WildChild Art Gallery or spend some time fishing at the Matlacha Pass Bridge and in the town's various channels and estuaries. 
Boca Grande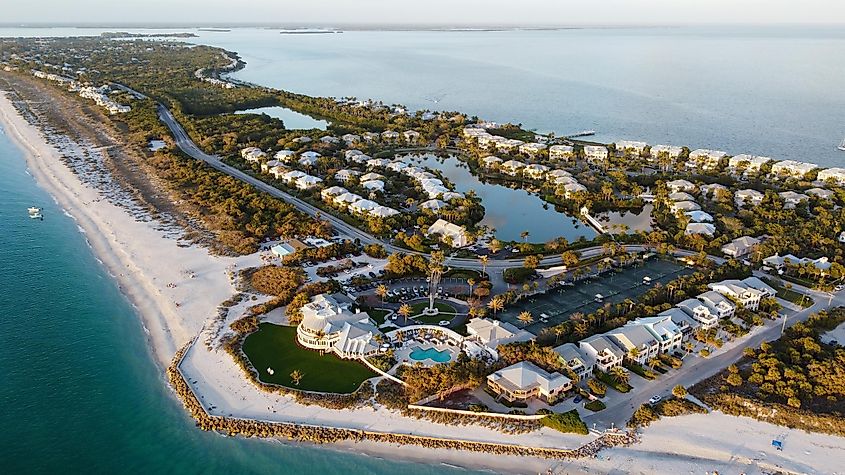 An idyllic small town on Southwestern Florida's Gasparilla Island, Boca Grande forms a part of the Cape Coral-Fort Myers, Florida Metropolitan Statistical Area. This "affluent yet down-to-earth community" is well-known for its stunning sugar-sand beaches, crystal-clear blue waters, historic downtown with multiple shopping and dining options, and world-class tarpon fishing facilities. Not far from Fort Myers and Sanibel, Boca Grande is home to many family-friendly attractions like the Gasparilla Island Lighthouse, Boca Grande Historical Society & Museum, Port Boca Grande Lighthouse Museum, Paradise Island Gallery, Boca Grande Farm & Fish Market, Whidden's Marina, and the 6.5-mile-long Boca Grande Bike Path. The Gasparilla Island State Park and Cayo Costa State Park draw nature lovers with their several miles of gorgeous beaches, acres of pine forests, and surrounding waters teeming with rich marine life.
Williston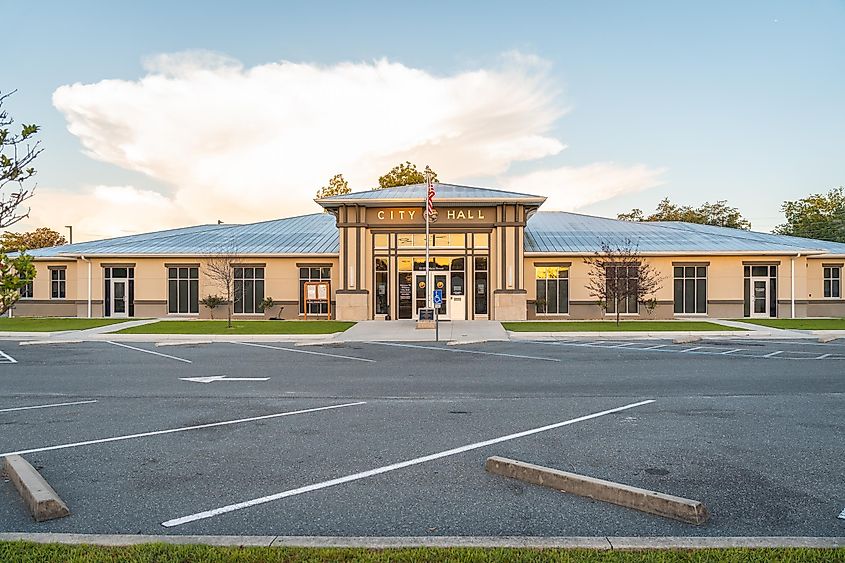 Known as the "Gateway to the Nature Coast," Williston, named after its founder Jesse Mercer Willis, is placed between Ocala and Gainesville in north-central Florida's Levy County. Home to several cattle ranching and horse farms, Williston proudly claims to be the birthplace of Foolish Pleasure, the 1975 Kentucky Derby Winner. Williston's famous attractions include the Ivy House Restaurant, Williston Crossings RV Resort, Two Tails Ranch Elephant Refuge, Cedar Lakes Woods & Gardens, Blue Grotto Springs, Devil's Den Springs, and the Great America Railway at Kirby Family Farm.
Cape Canaveral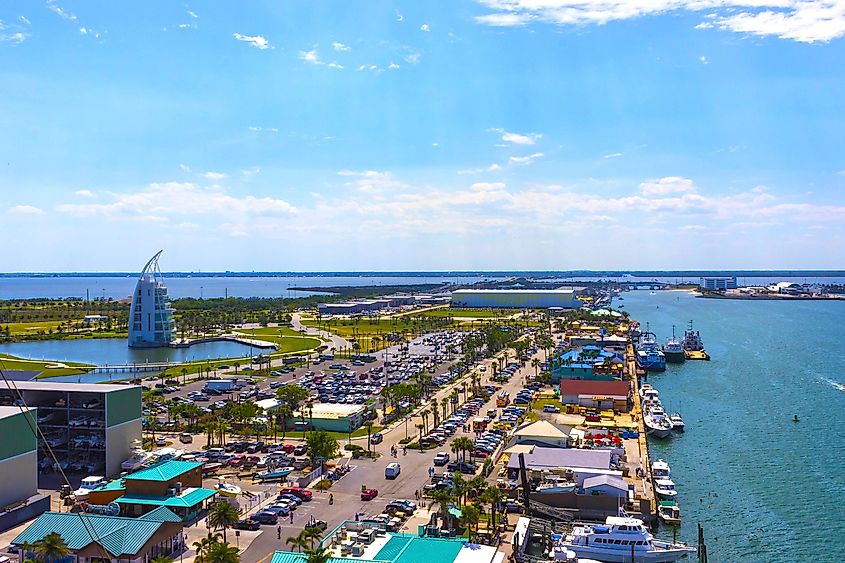 An alluring beach town in Brevard County, Cape Canaveral is situated on a barrier island on Florida's Space Coast. Flanked by the Atlantic Ocean on one side and Banana River on the other, Cape Canaveral offers vacationers specialized kayak tours through the bioluminescent waters and wildlife excursions to view the dolphins and manatees closely. The town's other prominent attractions include Kennedy Space Center, Air Force Space & Missile Museum, Jetty Park Beach & Pier, Port Canaveral, Wizard of Oz Museum, Cape Canaveral Lighthouse, Canaveral National Seashore, Manatee Sanctuary Park, and Merritt Island National Wildlife Refuge.
Islamorada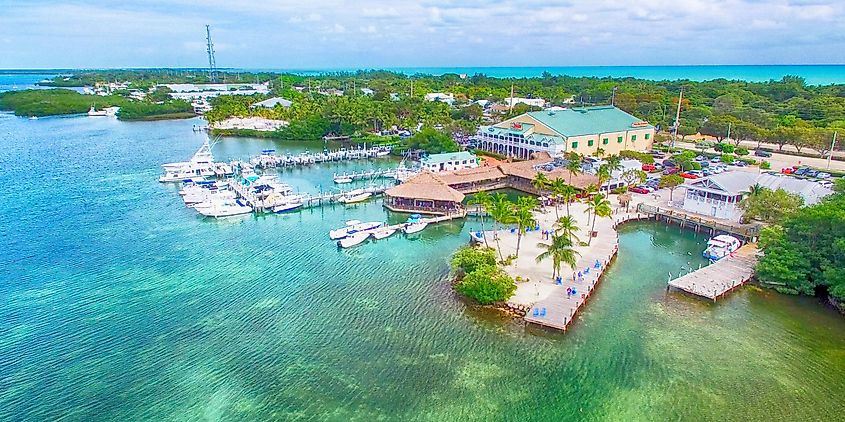 Often called Islas Morada, this incorporated village in Monroe County is scenically set in the Florida Keys between Miami and Key West. Islamorada's location between the Atlantic Ocean and the Gulf of Mexico has made it a prime spot for sport fishing, earning it the moniker "Sportfishing Capital of the World." Tourists visiting this waterfront community can rent a boat or take part in guided tours for fishing, snorkeling, or swimming close to different marine species. Vacationers are sure to spend quality time at the History of Diving Museum, Indian Key State Historic Site, Alligator Reef Light House, Windley Key Fossil Reef Geological State Park, Lignumvitae Key Botanical State Park, and Founders Park.
St. Pete Beach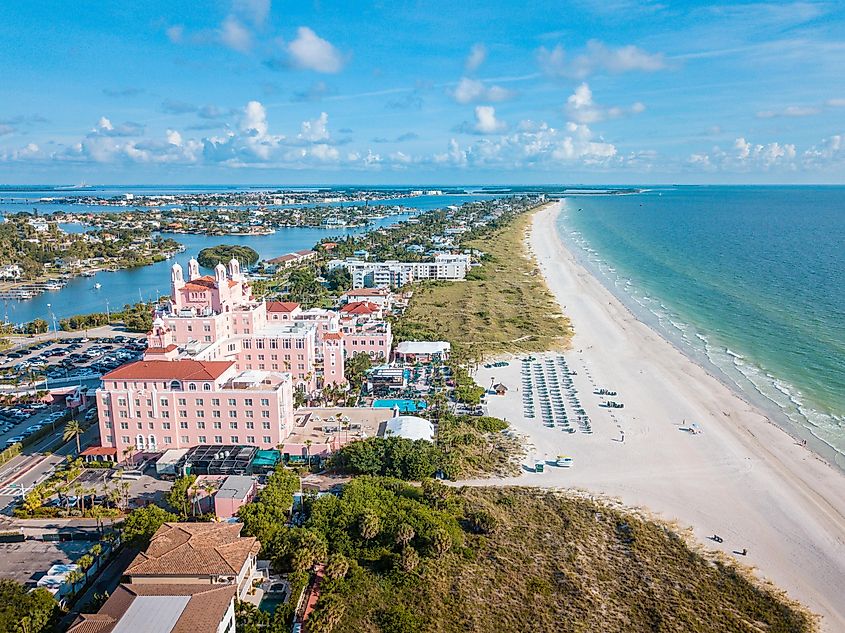 A picture-perfect seaside tourist destination, this small coastal town in Pinellas County occupies a significant portion of Long Key on the Gulf of Mexico's east-central edge. Centered on Corey Avenue, St. Pete Beach's downtown shopping district features retail outlets, boutiques, gift shops, craft galleries, bars, and restaurants. Tourists must also visit the historic Pass-a-Grille district, the grand Don CeSar resort, besides participating in the various fun events like art & craft festivals and parades organized by Corey Avenue Business Association throughout the year.  
Discovering Florida's Most Scenic Towns
From its northern boundary with Alabama to all the way down to the Florida Keys in the south, there is no shortage of breathtaking tourist destinations in the nation's 22nd-largest and 3rd-most populous state. With amazing natural sceneries, vibrant cultures, noteworthy historical landmarks, and a friendly atmosphere, the small towns in Florida are worthy places to visit. So, what are you waiting for? Pack your bags and embark on a journey to these gorgeous destinations in the Sunshine State.