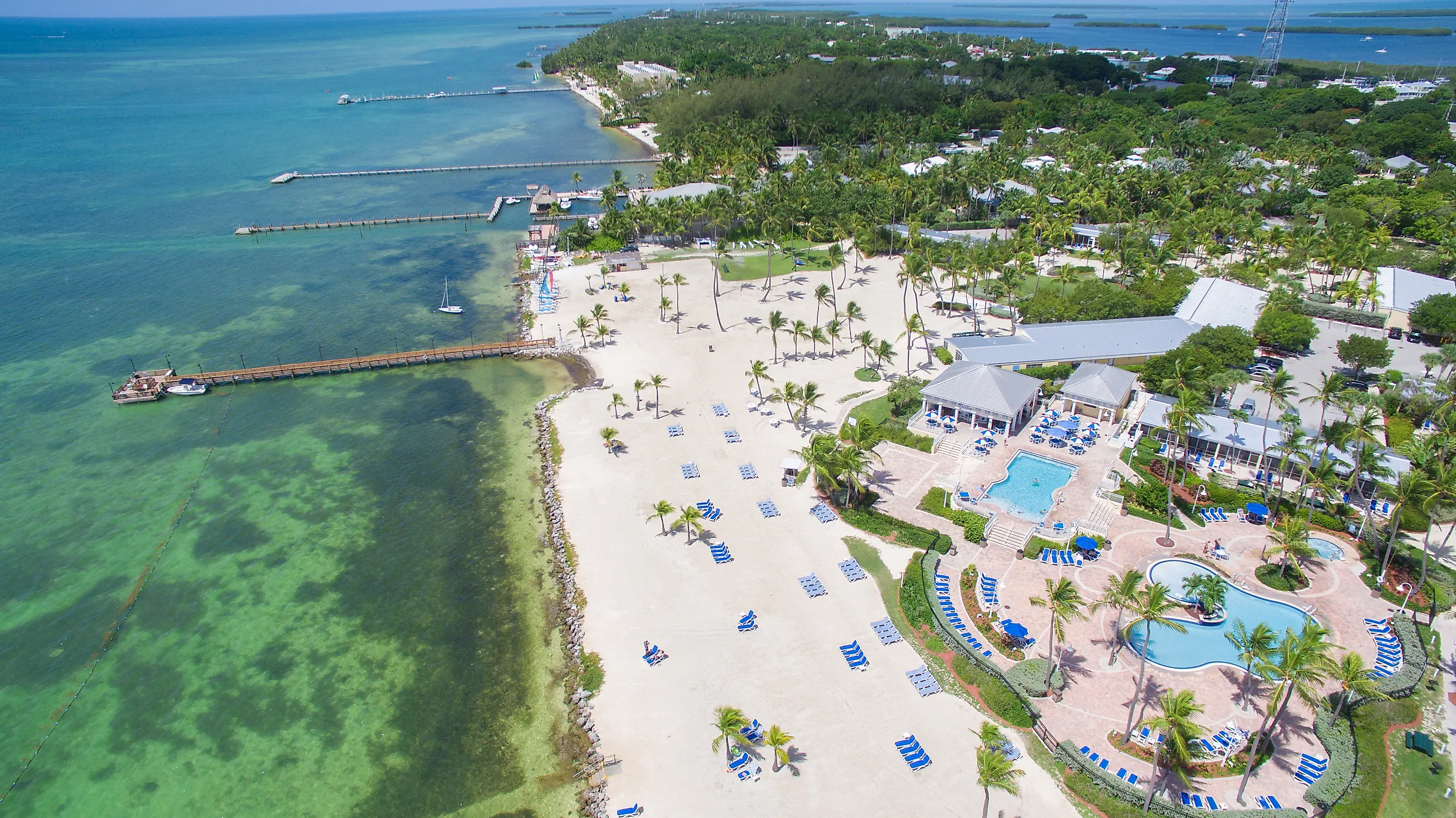 12 Most Underrated Cities In Florida
The Sunshine State boasts many shining stars: Miami, Orlando, and even the smaller Naples. Florida is also strewn with many sparkling gem cities, uncrowded streets, and plenty of attractions to revel in on vacation. Are you looking for the next place in Florida to live? These diverse, underrated cities offer a galore of discoveries in sights and experiences, optimal for living or tourism.
Choose from the state's staple beaches or visit the most historic city in the country. Rejoice in the heartland cities with parks for relaxing and recreation like no other. Sprinkled throughout the Sunshine State, you have access to an awe-inspiring respite any time of the year.
Bradenton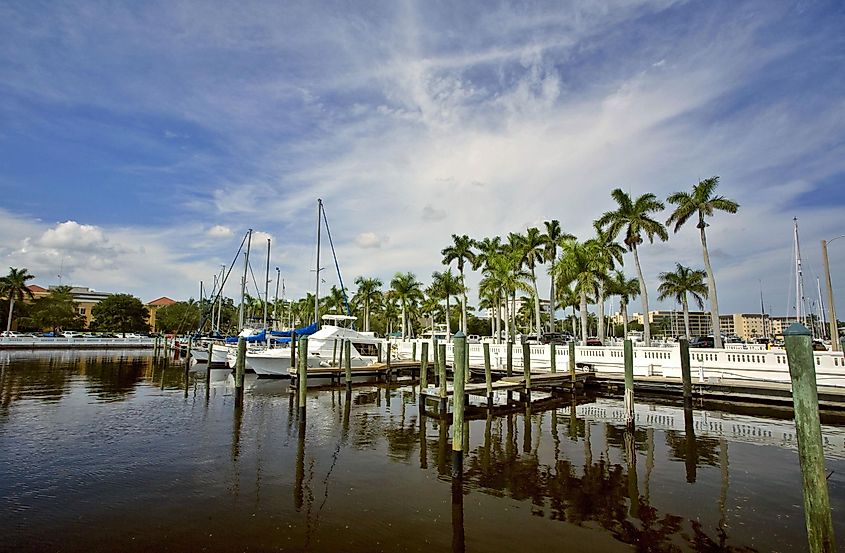 With a reputation as the world's "crab stone capital," this city in Manatee County deserves more recognition than one giant food festival. Bradenton is home to around 54,000 residents who enjoy a vast art scene, like the Village of the Arts. Visit this immense arts district with unique galleries, studios, and restaurants. Relax along the beautiful nearby beaches at Anna Maria Island and Longboat Key, and visit in time for the renowned Stone Crab Eating Festival and the popular Bradenton Area River Regatta.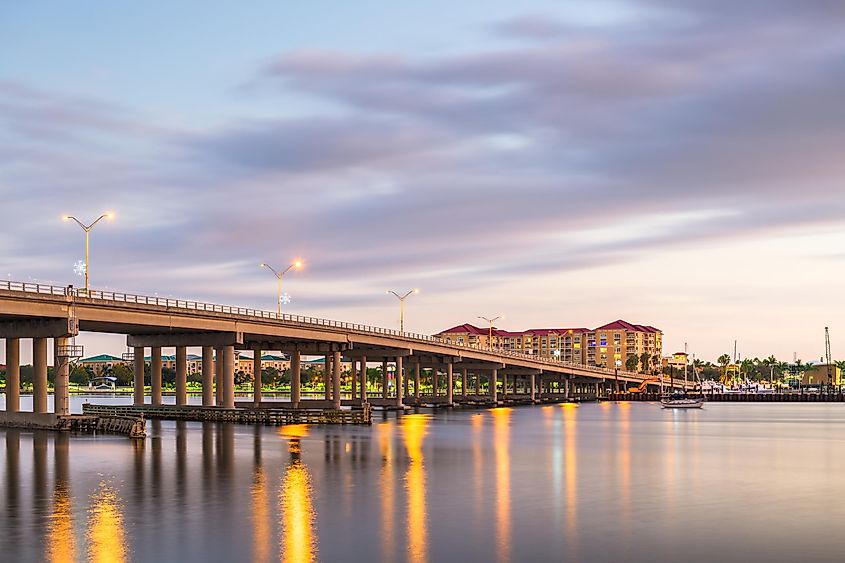 Make the uncrowded city on the Paradise Coast your home and enjoy crowd-free beaches and art strolls every day, with a slightly lower cost of living than the national average. Bradenton is home to the Manatee Memorial Hospital and the Blake Medical Center, as well as the home base for Tropicana Products and Gaggenau. The Port of Manatee, a major hub for import and export, is an atmospheric place for strolls with wistful maritime views.
Destin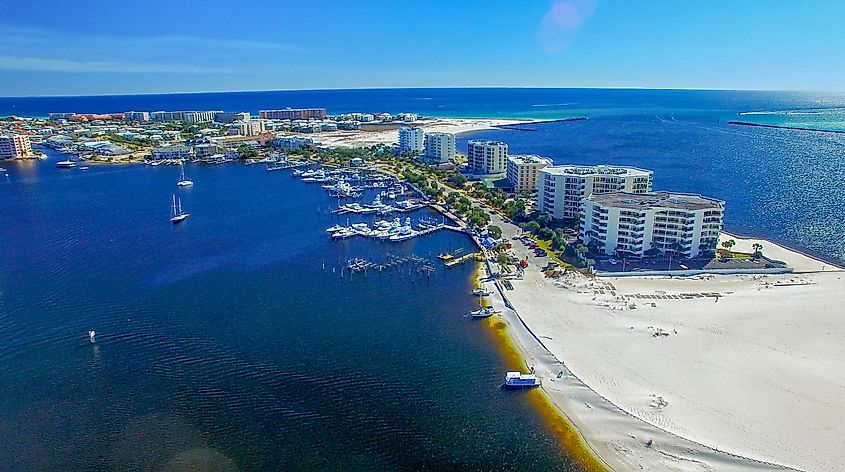 The city of Destin is the destined destination for family vacations, with a wealth of attractions to engage the entire clan together and in separate pursuits. Located along the wonderful Florida Panhandle, it is often overlooked when seeking to get away in the Sunshine State, but is starting to get the recognition it deserves. Visit before Destin becomes populated with its many stunning white sand beaches along the Gulf of Mexico. The emerald green waters beckon for year-round strolls and swims under Florida's sunshine.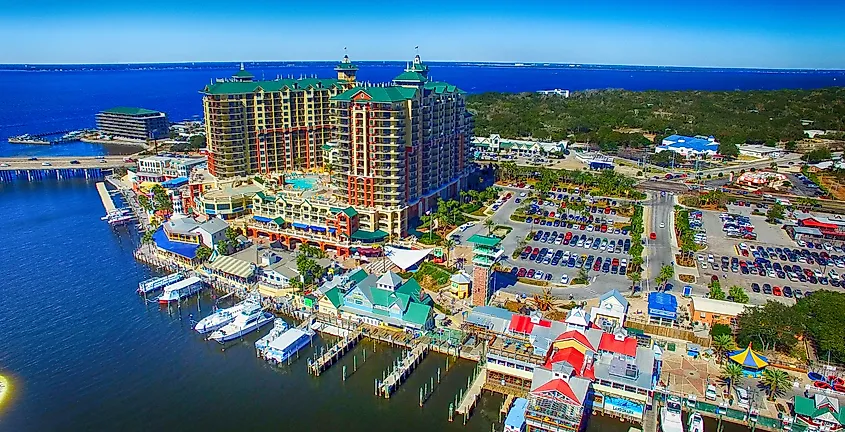 This vibrant fishing community does not mind sharing "the world's luckiest fishing village" with a few others. There are plenty of golf courses, beachfront hotels, and the immensely pristine 200-acre Henderson Beach State Park right along the water. Revel in this ideal antidote to the typical crowded attractions in Orlando and Miami. The relaxed environment will envelop you while the kids have fun in the outdoors. Spend a memorable vacation in Destin on any budget, from an atmospheric B&B to pampering at a luxury resort, or even in your RV and explore the area.
Dunedin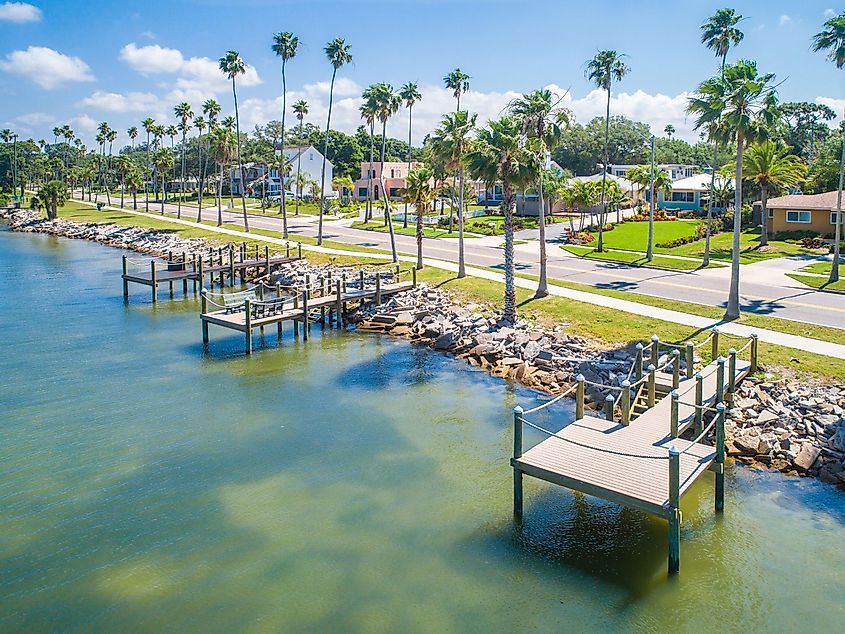 Dunedin is a unique piece of heaven along the Florida Paradise Coast. The city of just over 35,000 beckons with a quaint small-town atmosphere and family attractions. It is a shopping galore and home to a number of recognized local businesses, as well as organizations with a touristic focus. Enjoy the impeccable service and modern amenities in between the many fun sights and activities around Dunedin. There is the beach, fishing, and the scenic Pinellas Trail for hiking. With agriculture as another mainstay, you can mingle while hunting for fresh produce at local markets.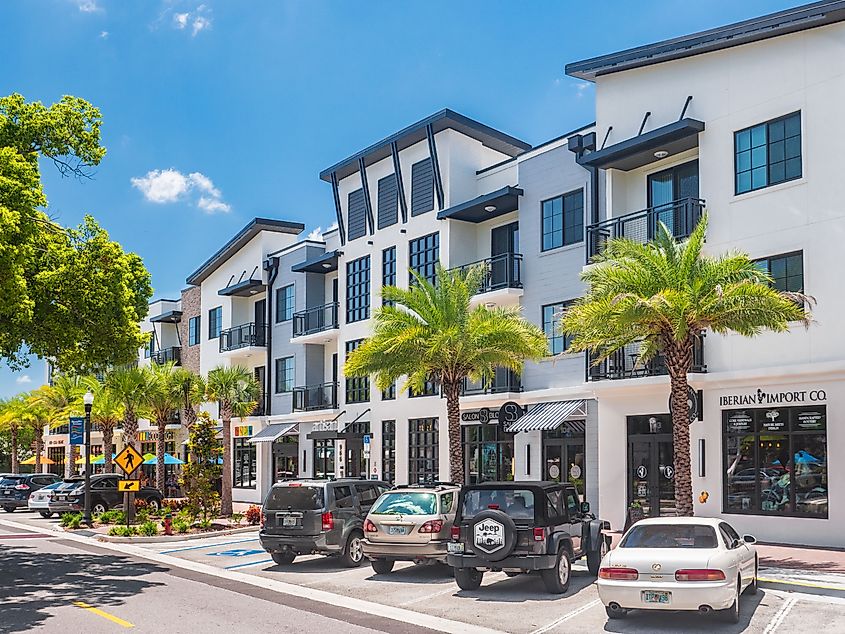 Enjoy recreation or have an outdoor adventure at the beautiful Honeymoon Island State Park and the Caladesi Island State Park, along with a scenic picnic in a remote atmosphere. The Clearwater Marine Aquarium is popular with families, and the dads enjoy relishing in their favorite pastime at the many golf courses under the Florida sun. The small, strollworthy downtown is replete with restaurants and shops, just a hand's reach away from picturesque Florida's Gulf Coast. If you're planning to move in, there is no state income tax, and you will feel like you're living in vacation land, with an average temperature of 72 degrees Fahrenheit.
Gainesville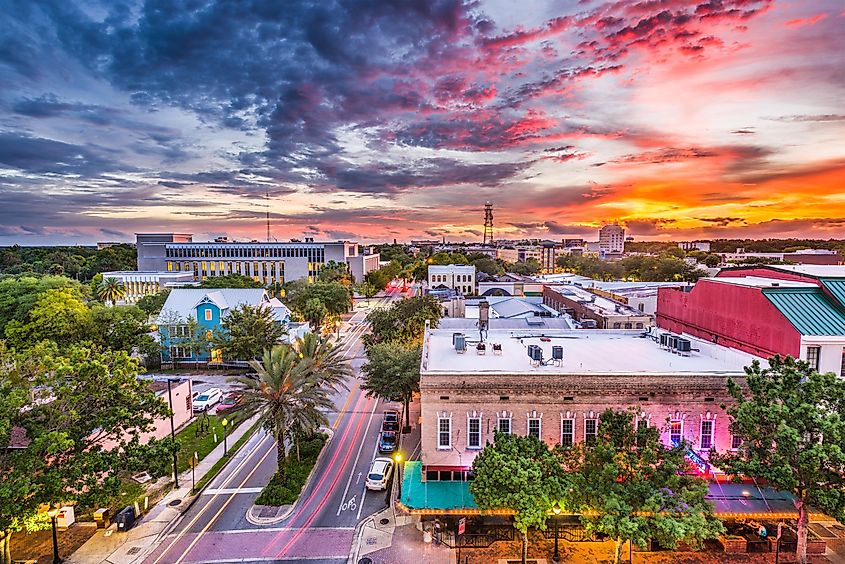 The wonderful inland city of Gainesville is unfairly overlooked for the beaches along Florida's coastline. This leaves plenty of room to roam in this "nature capital" of the state. Set base in Gainesville, just north of Orange Lake and the Grove Park Wildlife Management Area, and enjoy access to the best heartland nature in Florida. The town is replete with businesses to diversify each day and stay entertained into the night.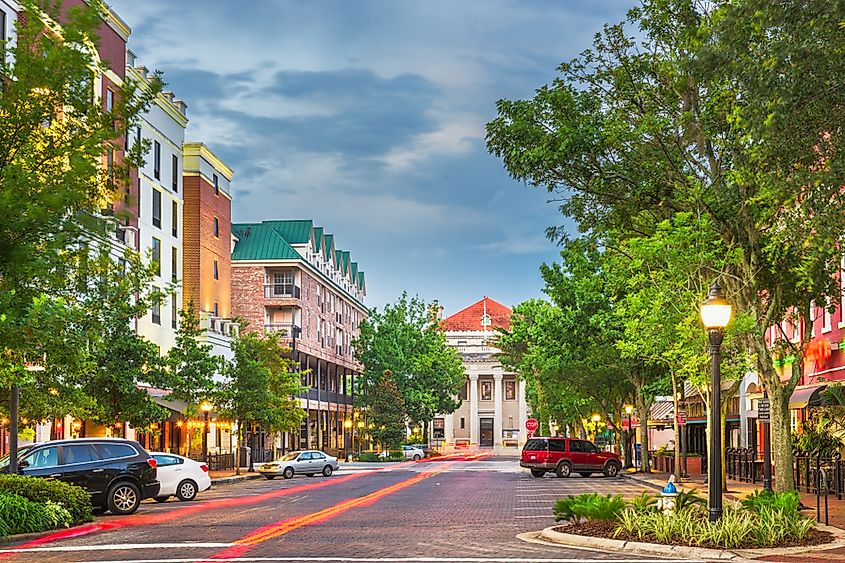 The wealth of restaurants and cafes, as well as accommodations for any budget, makes it easy to get a good night's rest and re-energize for more adventures in the beautiful wilderness around Gainesville. Spend a cultural afternoon at the Florida Museum of Natural History, with its unforgettable and famous Butterfly Rainforest, a destination in itself. Stop by the popular Harn Museum of Art with an impressive collection of awe-inspiring Asian and West African works.
Melbourne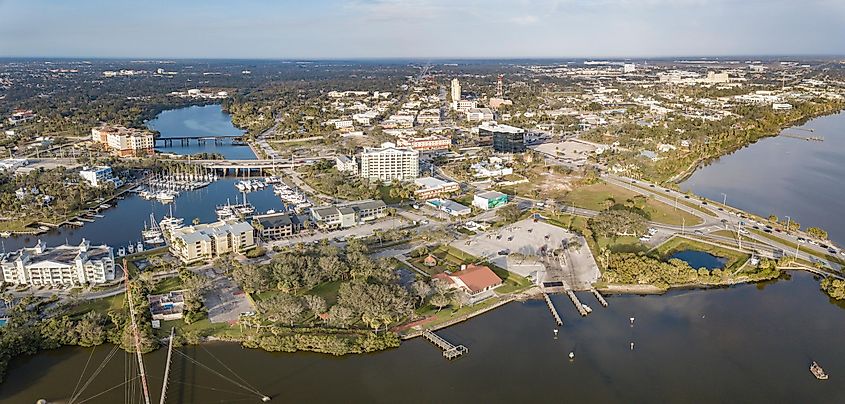 The heartland city in Brevard County is a must-visit destination along the Space Coast of the Sunshine State. With a population of just over 76,000, you can easily navigate around the attractions to try and see everything that Melbourne has to offer. There are a number of different parks for simple family strolls and relaxation in the fresh air, as well as great recreation areas that residents enjoy to stay active and healthy.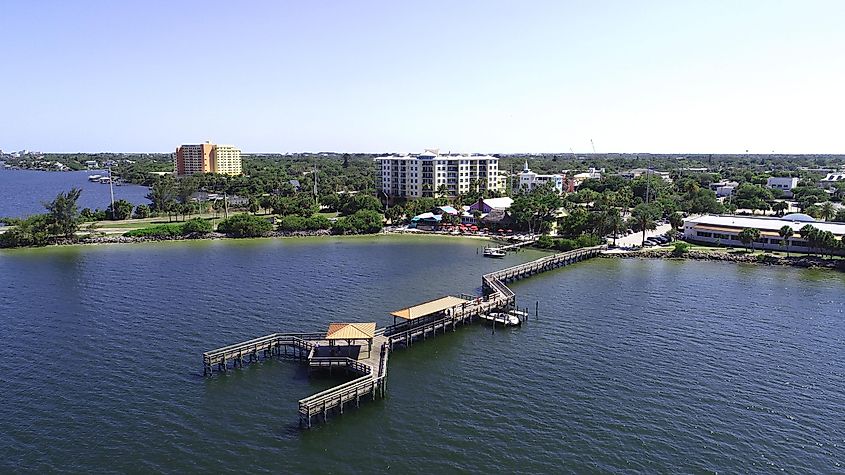 Visit the famous Brevard Zoo and partake in the vibrant events during the Melbourne Art Festival and the Independent Filmmaker's Festival, among others. With tourism, technology, and manufacturing driving the economy, expect modern attractions and top-notch service on vacation, without crowds during the workday, in this underrated city. Enjoy cheaper hospitality and lower-priced hotel stays than most coastal locales.
Navarre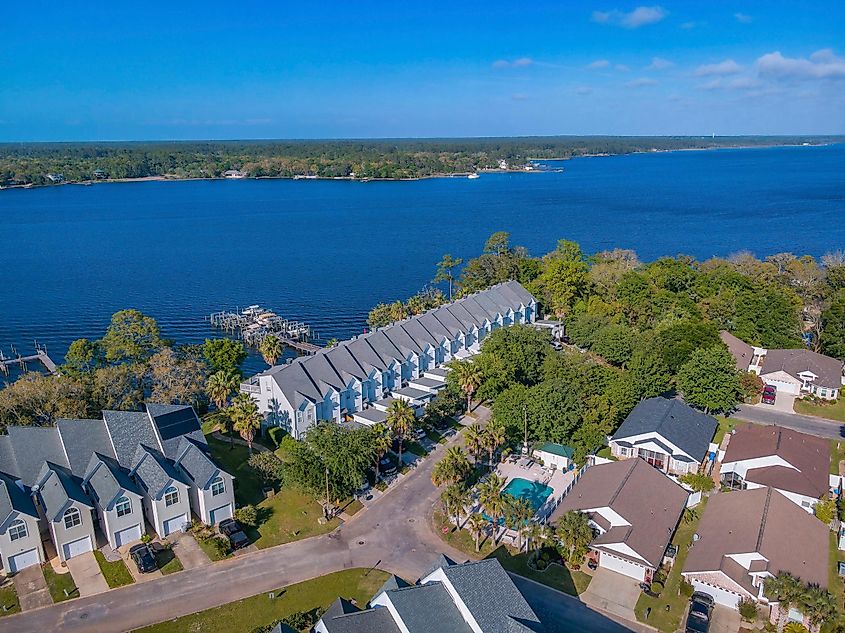 The small city of Navarre, with just over 43,500 residents, is a vibrant beach community just east of Pensacola. Enjoy endless strolls for views along the vast, pristine, and crowdless shoreline of this beautiful coastal city with one of the best beaches in the state. Head into the town's heart to continue soaking in the atmosphere of the glamorous Gulf Islands National Seashore amidst local culture and fun attractions.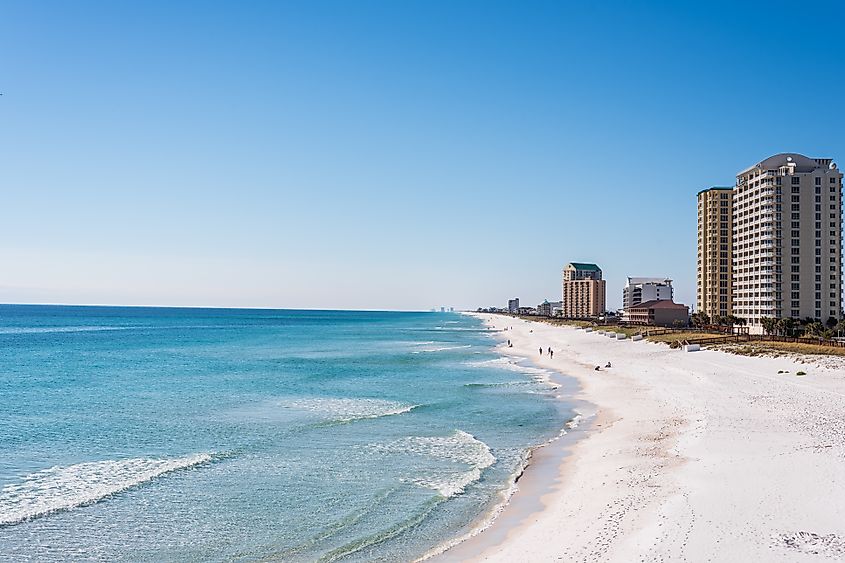 The sunny skies and inviting emerald waters make for delightful days of swimming, followed by a family stroll with a picnic at the park. You can hike or bike along the pathways with picturesque views or enjoy fishing from the coast's longest pier. The "best beach in the state" is great for the kids, with activities like building sand castles and splashing in the warm shallows.
Pompano Beach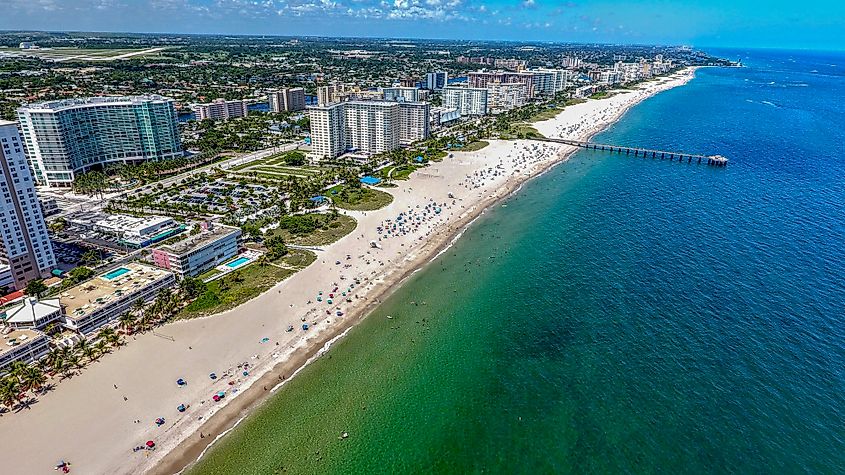 Pompano Beach, the robust city of just over 102,000, with mainstream industries of tourism, agriculture, and manufacturing, is often forgotten as an ideal Florida destination for vacations and living. The city has got it all, including vibrant attractions for any taste, different museums, beautiful beaches, and exciting festivals and events. Visit the Museum of Discovery and Science and the Pompano Beach Arts between exploring the streetscape full of cafes and shops and the city's unique vibe.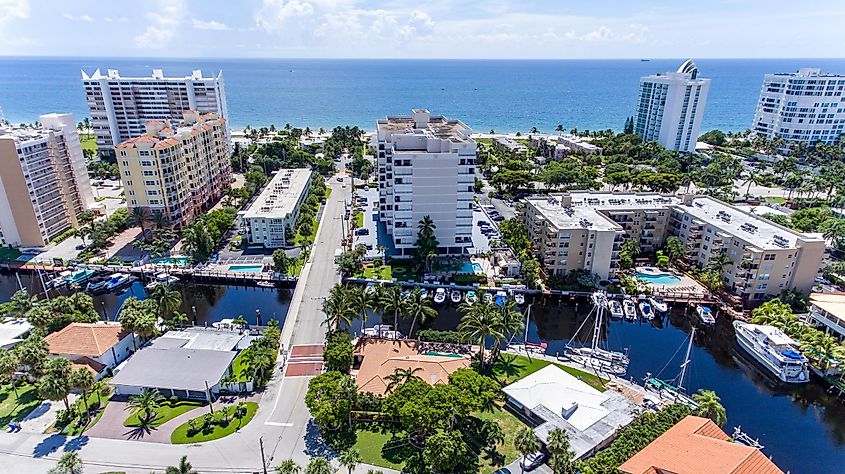 Head to the Atlantic Ocean coastline, lined by often uncrowded beaches, and spend your summer vacation the traditional way. Visit in time for the Pompano Beach Seafood Festival along the shore for a fun, scenic time with other foodies and a bellyful of marine delicacies. The Pompano Pier Summer Jazz Series is especially memorable for its lively atmosphere into the night amidst lovely views.
Sarasota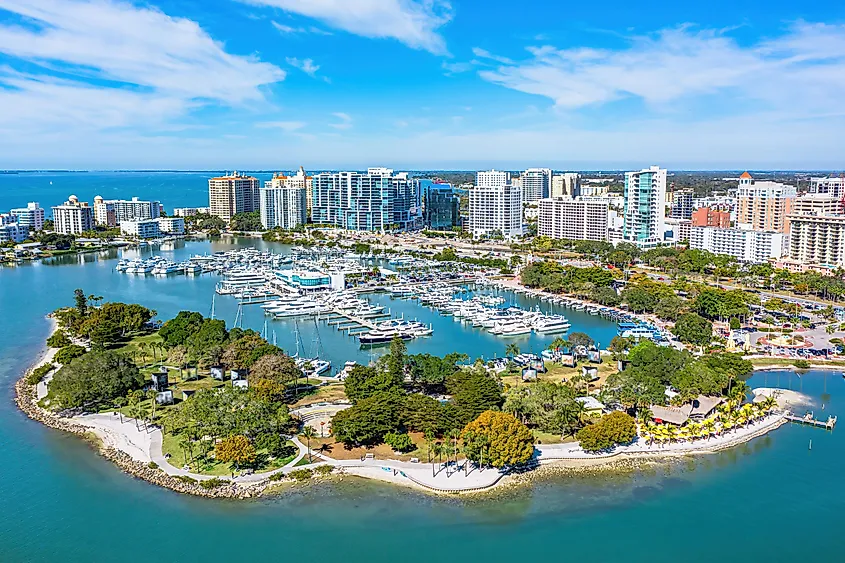 The Gulf-coast city of Sarasota is an ideal crowd-less beach getaway with a renowned waterfront location. Enjoy the artsy community, with just over 52,000 residents, on a stroll through the immense arts and culture scene along its vibrant streets. Check out a number of popular museums and galleries, and head to one of the city's theaters for an evening performance or a play. Sarasota is home to the Ringling College of Art and Design, which has a museum, and is host to many festivals like the Sarasota Film Festival and the Sarasota Opera Festival.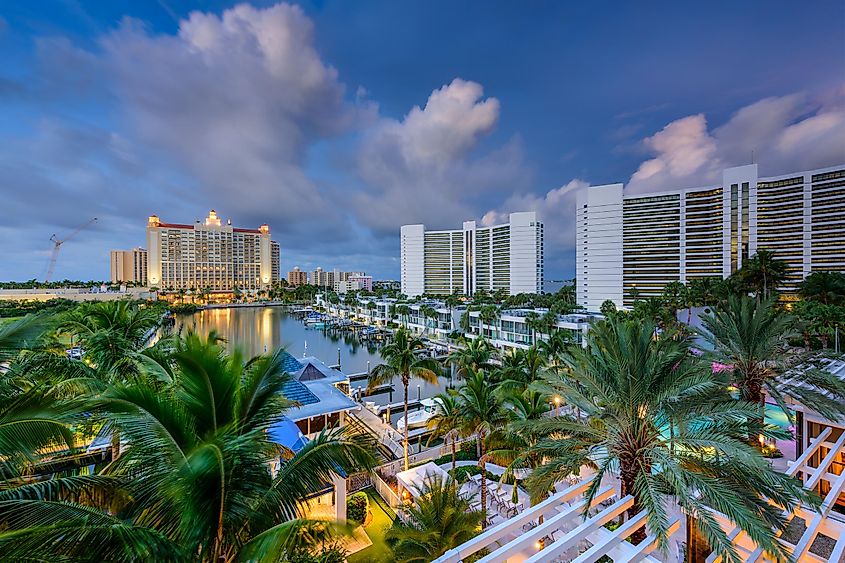 With tourism, agriculture, and manufacturing as mainstays, you can expect modern amenities and warm hospitality. Enjoy a simple morning of perusing the picturesque city and many fresh produce markets with a local vibe. The impeccable service is worth a more expensive nightly stay, while the 2.7% higher cost of living than the nation's is worthy of a lifestyle amidst the immensely picturesque scenery.
St. Augustine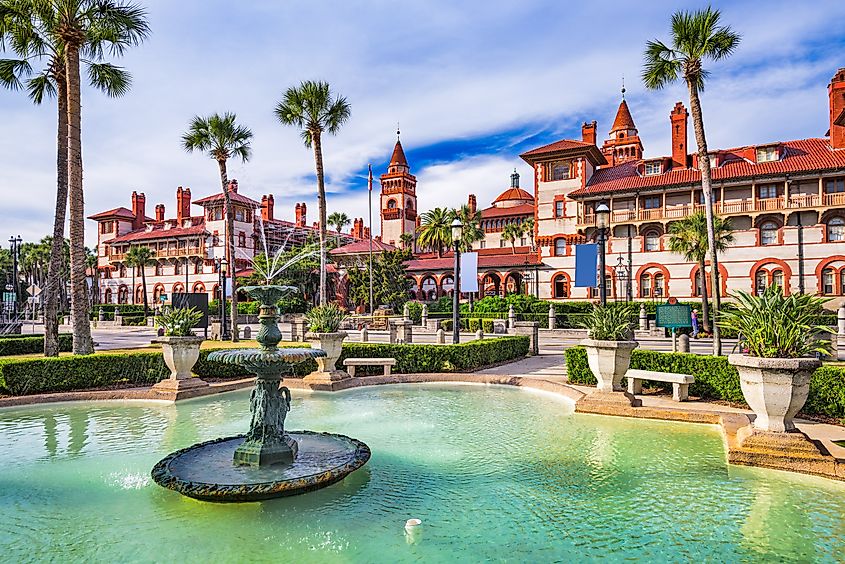 St. Augustine is a deeply historic city, and you will be lucky to meet this extravagant lady on your next vacation in Florida. St. Augustine, an underrated premier destination, captivates visitors with unique sights and experiences unlike anywhere else in the US. You will also find the state's staples of pristine beaches, tropical weather, and swaying palm trees.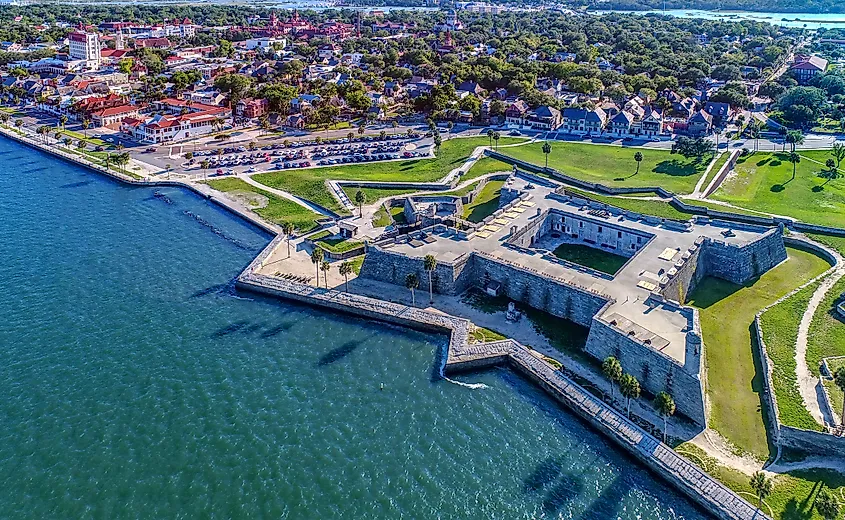 St. Augustine invites you on a stroll of a lifetime through a half-millennium of history in this oldest continuously inhabited city in America. Although the happening city is highly reputable, it is not a tourist trap. On vacation, enjoy crowdless perusing through live history amidst rich culture, the arts, entertainment, and nightlife. You can even own an envied slice of this paradise with quick access to the shores for a median home value of under $260,000.
Winter Garden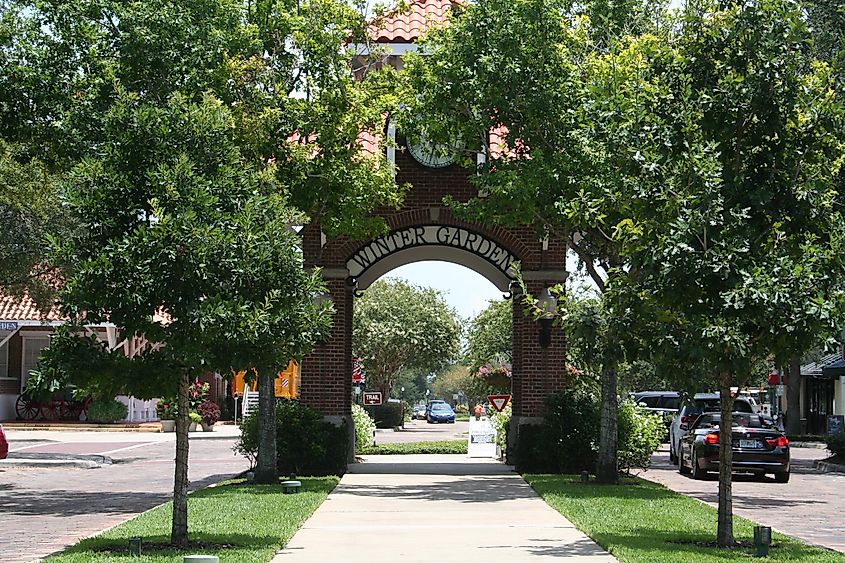 Winter Garden is a year-round destination in the state to shop locally. Find the city strewn with options, from boutiques to thrifting, and keep your shopping vigor high with many cafes and casual, locally owned restaurants. Stop for a morning espresso at Axum Coffee, a local favorite, and revel in the relaxed small-town Florida feel before embarking on a shopping spree.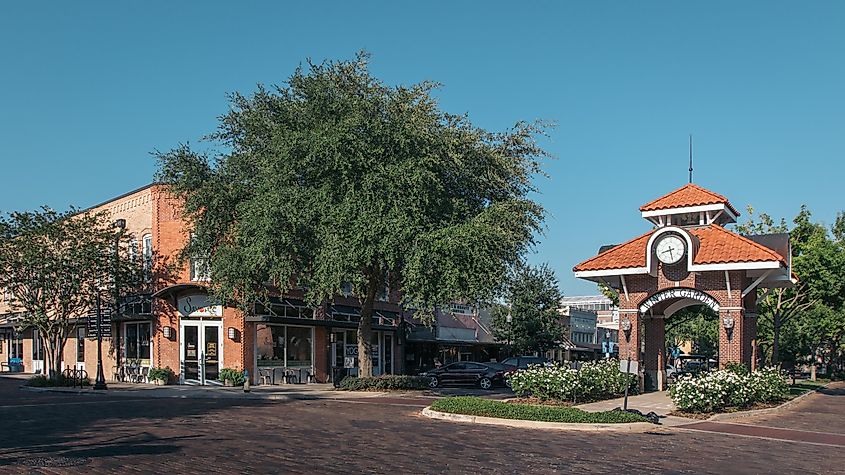 You will find a stark contrast from the Disney World scene less than 20 minutes away in this city, replete with feel-good pursuits. Take on the bike trails along old rail lines or choose the popular West Orange Trail through the Downtown Winter Garden. The cycling trail extends for over 20 miles, amidst nature preserves, towns, and historic rail bridges, leaving the cute and historic Floridian city waiting for your return in the evening.
Winter Haven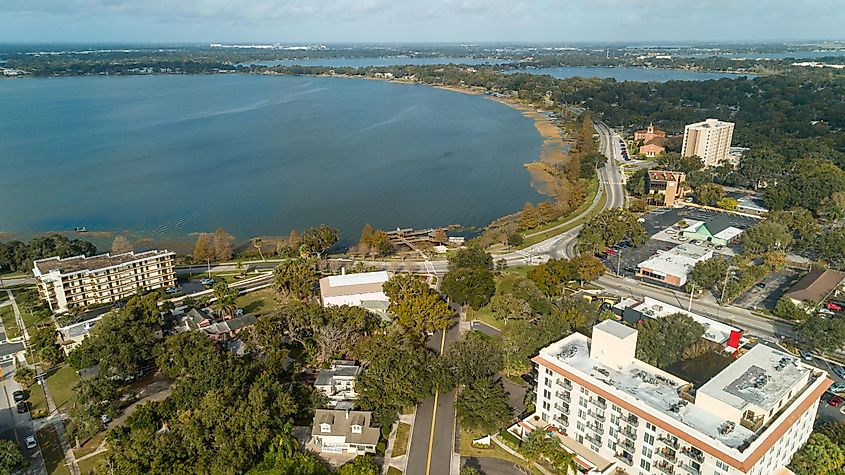 The city in central Florida, just northwest of Orlando, boasts a small-town feel with a number of parks and recreation areas to revel in the Florida sun year round. Enjoy quick access for anytime respite and come in time for the number of annual festivals like the Citrus Festival and the Dickens of a Christmas festival. Winter Haven is a must-visit for families with kids, boasting its own Legoland theme park.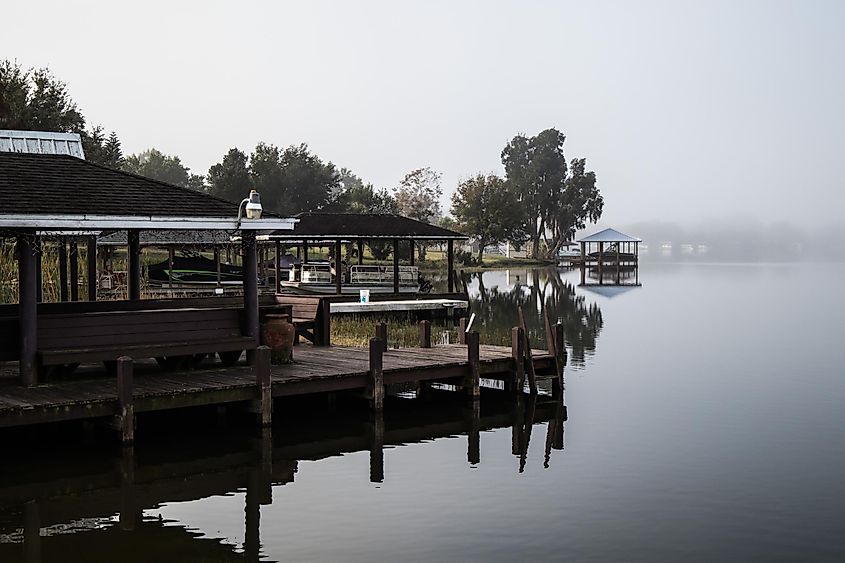 Stray away from the summertime crowded coasts and enjoy a wealth of waterside recreation and pursuits along the Chain of Lakes around Winter Haven. It is also perfect for future students, with a number of different colleges and universities, like the Polk State College and Warner University. Although the cost of living in Winter Haven is somewhat higher than the national average, the major industries of agriculture, manufacturing, and tourism guarantee shiny attractions, great service, and fresh food options at every step.
Winter Park
Another "winter" destination in Florida, situated just north of Orlando, is all in its name. The charming small city of Winter Park is the ideal respite during the cold months, with plenty to do under Central Florida's persistent sunshine. The city is replete with arts and culture along the stroll-worthy downtown area, amidst fun attractions for all tastes and ages.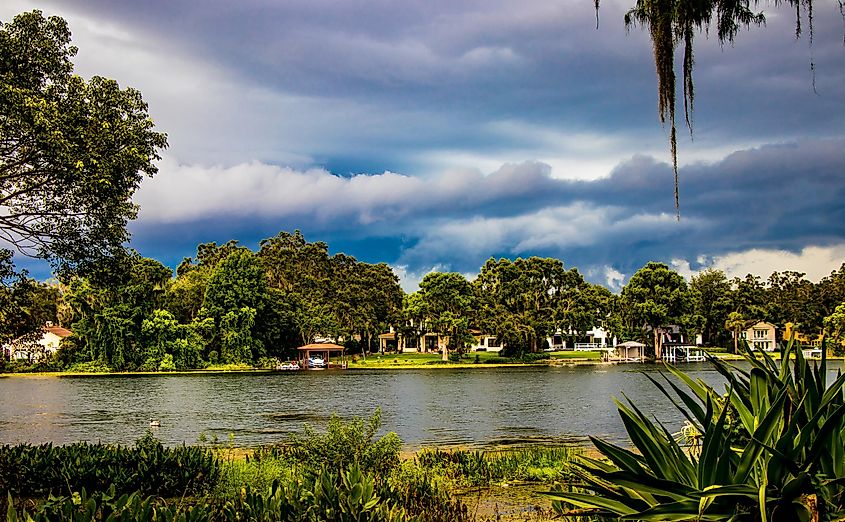 Winter Park is a natural oasis with the most unique heartland sights in its 70 parks. Each park hosts a non-stop line-up of festivals, making it hard not to stumble on an event during a stroll. Peruse the local farmers market for some culture and float past the city for views from a different angle along the waterways on a scenic boat cruise. Central Park and Rollins College grounds beckon for relaxing picnics, while the breathtaking Mead Garden awes with its sights and pleasant vibe.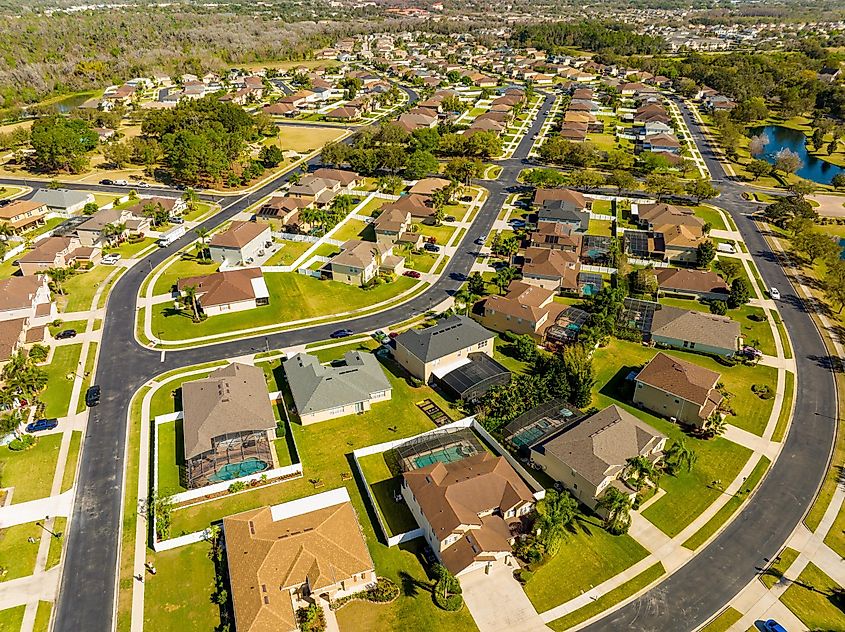 Stray away from the crowds into a whole new world of scenic discoveries when you visit one of these cities "under the radar." The vibrant choices, each equally stroll-worthy and with a unique personality, will engulf you with sights and attractions for diverse memories during every day of vacation. Choose any of these cities to move to, and you will land in a winner. Revel in the impeccable service and immense entertainment scene into the night. You can enjoy living in a city with a small-town atmosphere while being minutes away from Orlando or choose a beach locale for the envied vacation lifestyle under a tropical vibe.