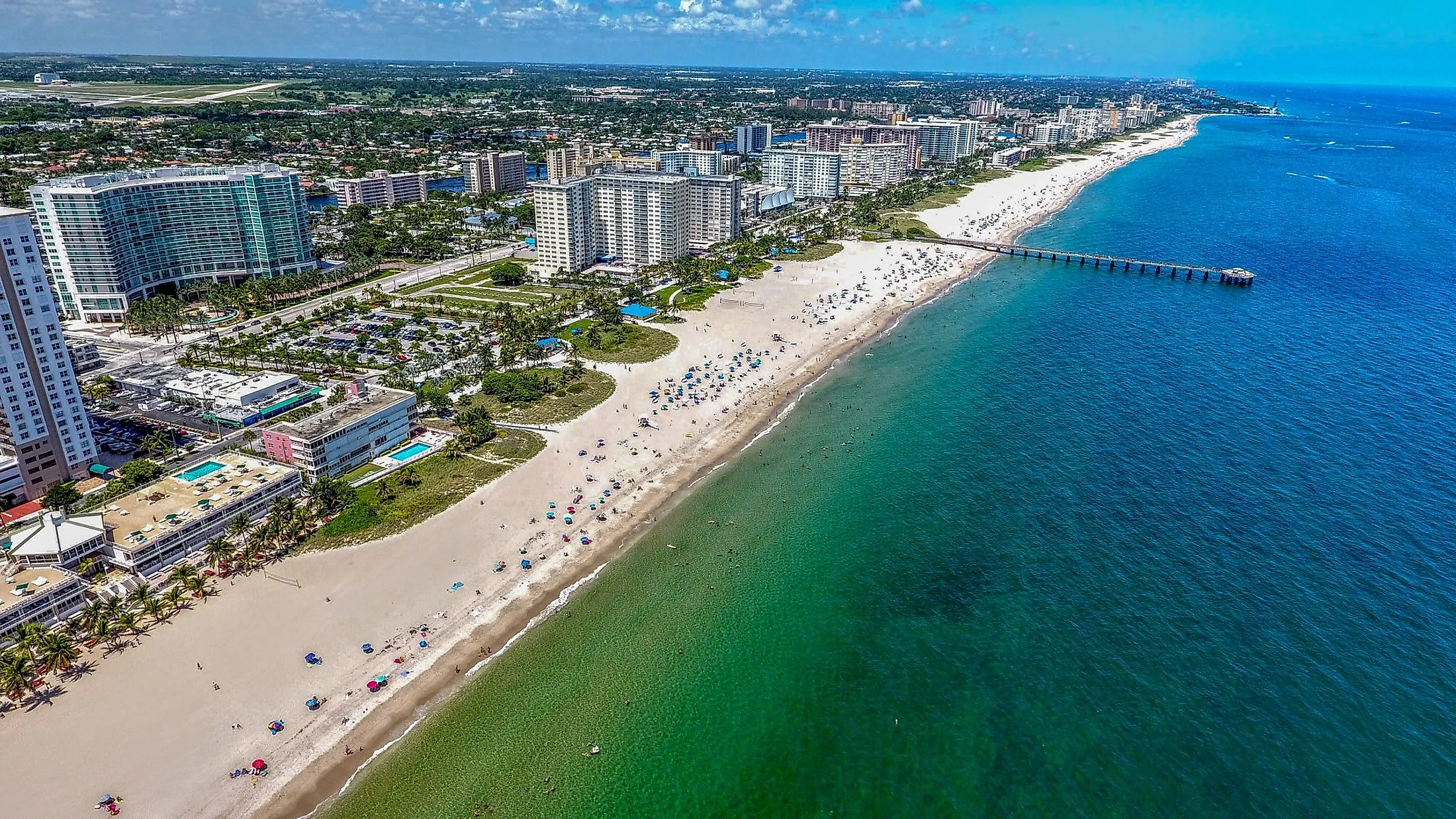 Pompano Beach is a small city situated in Broward County along the Atlantic Coast in the US State of Florida. The city's name refers to a marine fish that lives in the Atlantic Ocean. Pompano Beach is the chief city of the "Miami-Fort Lauderdale-West Palm Beach" Metropolitan Area and is located approximately 56km north of Miami. 
Geography And Climate Of Pompano Beach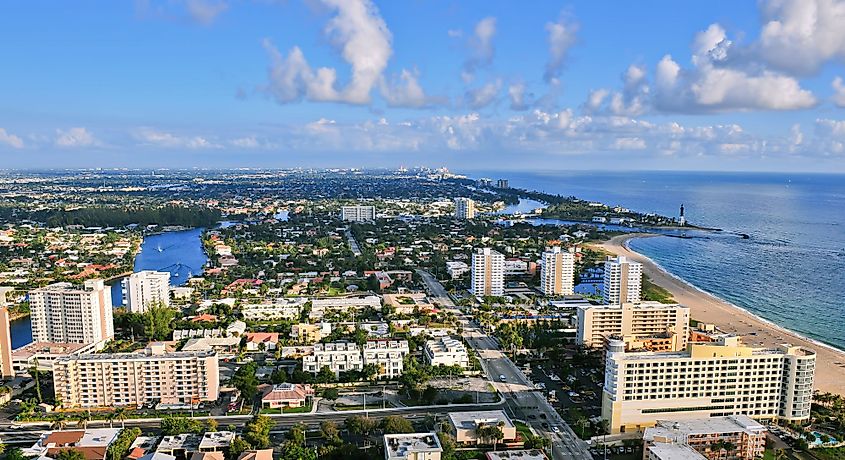 Pompano Beach covers a total area of 65.8 sq. km, of which 3.6 sq. km is covered by water, and 62.2 sq. km is occupied by land. The city includes 5km of beachfront and is bounded by several municipalities. 
Pompano Beach experiences a tropical monsoon climate with record hot temperatures of 102 degrees Fahrenheit in September and a low of 34 degrees Fahrenheit in December. This means that winters, on average, tend to be not so cold while summers are hot and humid, given Pompano Beach's geographic position on the Atlantic Coast. 
Brief History Of Pompano Beach
The town was first settled by railroad workers, with some of the first documented residents being George Butler and Frank Sheen. Locals believe that the name Pompano came after Frank Sheen was eating a Pompano fish, a fish he considered to be delicious. With the railroad expansions happening in that area of Florida at the time, Pompano Beach developed as a commercial district and, eventually, a Board of Trade and a Chamber of Commerce. Pompano Beach is in an area that is hospitable to the growth of tomatoes, beans, and peppers. The feasibility of growing crops in the area contributed to its incorporation as an official town. The town further benefitted from the Florida Land Boom following World War I, which saw several towns in Florida along the Atlantic Coast witness an influx of people, businesses, and land purchases. William L. Kester was one of the business investors that helped in commissioning many housing projects and later aided in the establishment of the Chamber of Commerce. Although Pompano Beach, much like other towns in the area, was affected by the Great Depression, the farming sector kept the city afloat during this challenging time. However, in the aftermath of World War II, Pompano Beach became less reliant on farming for its economic needs and, instead, turned to the housing and recreational sectors. Golf courses and outdoor recreational services came to dominate the economic landscape of Pompano Beach in the mid-1950s. This period of revitalized growth also came with its problems, namely the need to reimagine the infrastructure of the city so that it could respond to the new economic and demographic activity. 
Population And Economy Of Pompano Beach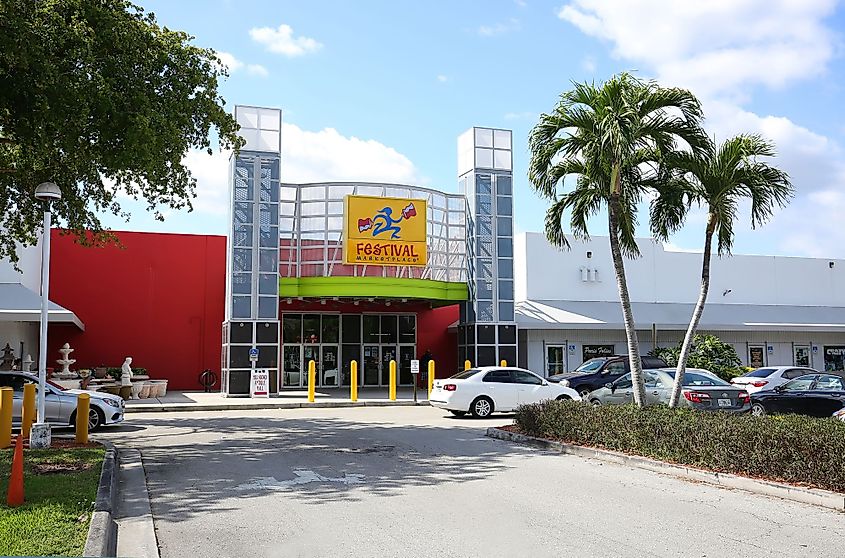 As per the latest US Census, Pompano Beach has a population of 112,046 inhabitants and a population density of 1,800.91 inhabitants per sq. km. The largest ethnic group in Pompano Beach are the White (Non-Hispanic) at 40.96%, African Americans at 28.02%, Native American at 0.11%, Asians at 1.6%, Pacific Islander at 0.02%, Other races at 1.29%, Mixed Races at 4.26% and the Hispanic group at 23.75%. Pompano Beach has almost equal percentages of people above 65 and people under eighteen, about 19% each, making the town a remarkably diverse place in terms of the age of its inhabitants. The city also has a significant amount of foreign-born residents, estimated to be around 30%. The median household income in Pompano Beach is $49,518, and the median property value is $213,700. The city's most prominent industries include Construction, Retail Trade, Accommodation & Food Services, etc. 
Attractions In Pompano Beach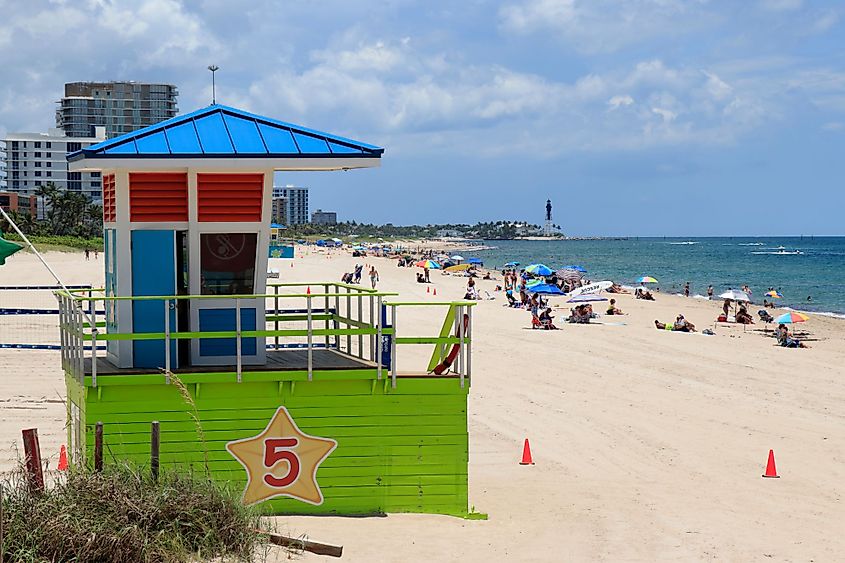 Pompano is known for its many festivals and annual events, namely its Seafood Festival, St. Patrick's Irish Festival, and Juneteenth Festival. The Kester Cottages, initially built by William L. Kester, have also become an important touristic and cultural site. There are also several museums that tourists can visit, including the Pompano Beach Art Gallery, Bailey Contemporary Arts, and the Historic Ali Cultural Arts Center. Additionally, Pompano has several parks open to the public.