Imagine towns that possess the allure of European cities, but offer an additional delight: pristine, sugar-white beaches mere steps away from artistic and quaint streets. You can find just such towns in the Sunshine State, where you can enjoy a refreshing dip in the ocean one moment, and the next find yourself exploring the cobblestone streets of a vibrant downtown area, indulging in unique restaurants and shops. Of course, there are the renowned towns in Florida, such as St. Augustine, that hold their own charm. But equally enchanting are the hidden gems, the secret treasures of Florida that offer an equally captivating experience. Given the wealth of choices, we're here to unveil the 11 most captivating towns in the Sunshine State.
St. Augustine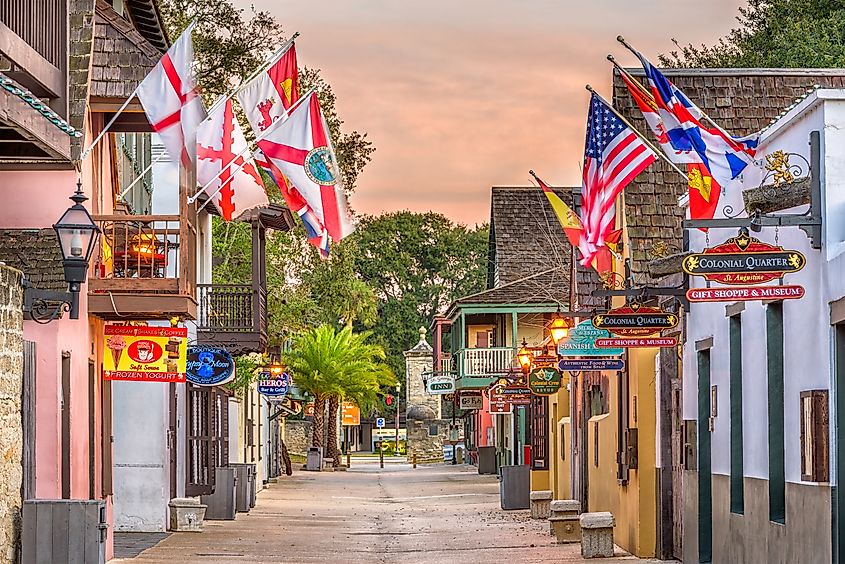 The truth is that no history buff will pass up the chance to set foot in a gem of a town regarded as the oldest continuously occupied settlement of both European and African-American origin — in the United States. That is St. Augustine, a town established in 1565; a good 55 years before the landing at Plymouth. Many things about St. Augustine speak to its Spanish heritage. Those who want a taste of Old Spain right here in the US have their work cut out. This Florida charmer was established in the high noon of Spain's global dominance. This is the period when, as a world superpower, Habsburg Spain boasted an empire that extended west to the Americas — and east to the Philipines. First-time visitors to St. Augustine should brace themselves for some heart-ravishing Spanish-style architecture, up to 42 miles of wide, sandy beaches, and a thrillingly walkable downtown. Don't ever strap up on a return trip without checking out the 328-year-old Castillo de San Marcos National Monument—and touching its seashell walls.
Key West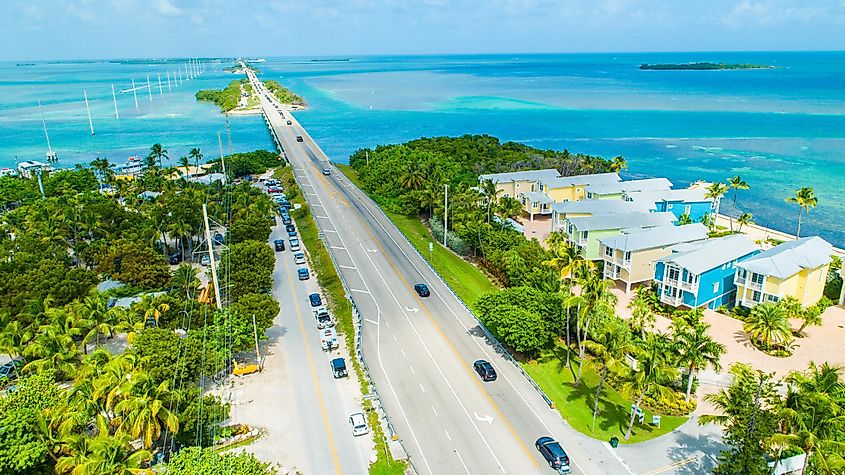 This is what a trip to this Florida charmer should entail. Book a room at a bucolic, oceanfront facility. One can pick Pier House Resort, conveniently located at the end of Duval Street, hence in the heart of practically everything—or The Reach—or the Galleon Resort, located right next to the marina. Get up in the early morning and walk around the seaport area amid the refreshing breeze and the swaying of the palm trees. Soak in the gorgeous views around, including the beautiful, more than hundred-year-old homes that face the ocean. Stroll through the charming historic district. Then sit down to enjoy some shrimp deviled egg or some finely-prepared lobster pizzas at the "Off The Hook" Grill, located a few steps away.
Gainesville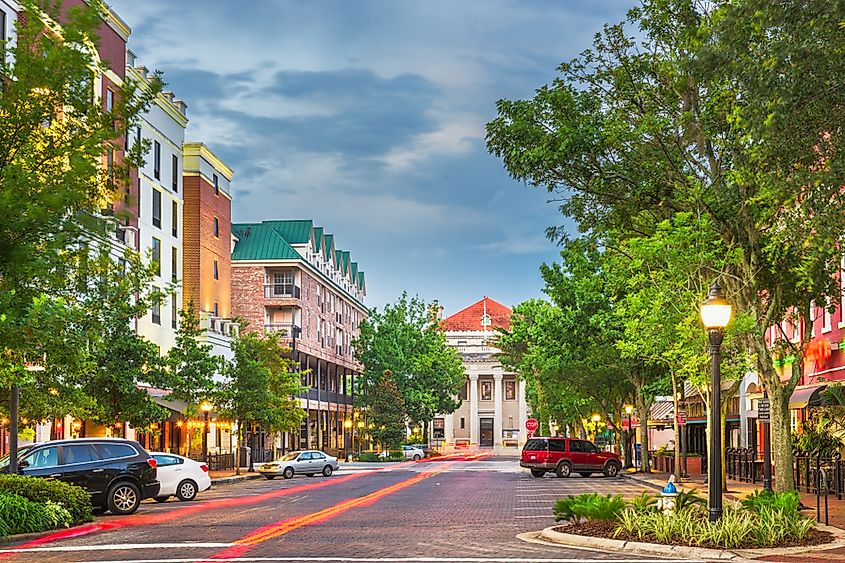 Gainesville could be a little isolated. It could be some distance from the beach; more than an hour's drive. It could also be a college town — and hence — boasts an entertainment landscape that has a touch of a hipster vibe. Yet these three things could just be what gives this Florida secret its unique charm. The fact that it is not a typical Florida town — beach and all — makes this town invitingly unique. Then again, Gainesville downtown, many will agree, is hands-down among the most charming. For nature lovers, however, Gainesville is a mecca. If in doubt, hit up Paynes Prairie or Ginnie Springs. Concerning the former, here is the truth. Nowhere else in Florida can one experience wild-roaming bison and horses. But if looking for something a bit under the radar, buy carrots and look to spend time with horses living their last days on earth at Retirement Home for Horses, located just 20 miles from downtown Gainesville. 
Palm Beach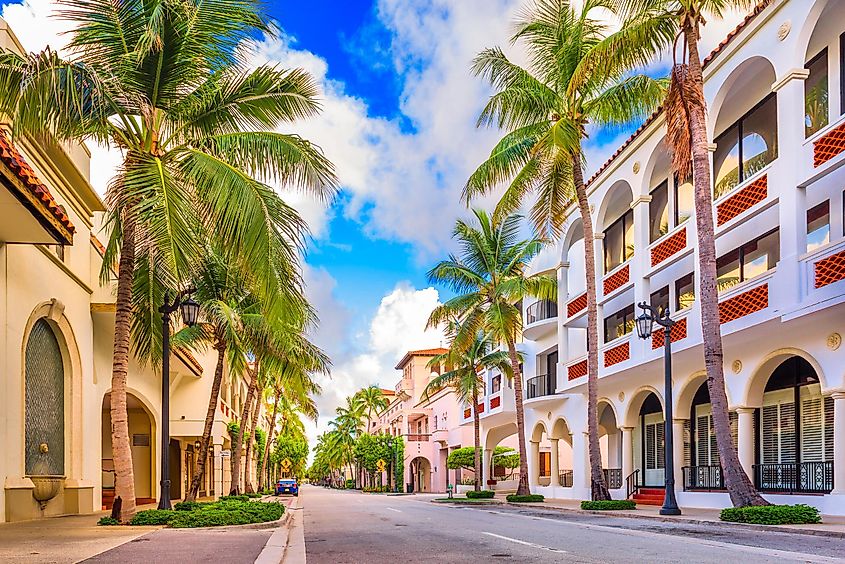 A town that sits between an ocean and a lagoon, many will agree, will radiate a charm that is scarcely rivalled. It turns out Palm Beach is sandwiched between the Atlantic—to the east — and Lake Worth to the west. The latter is a 20-mile-long lagoon connected to the ocean by two man-made inlets. In size, Palm Beach is a far cry from Orlando or Miami. The proper downtown area barely spans 10 square miles. Also, Palm Beach is home to just about 9,100 residents. This Florida charmer, nonetheless, boasts a charming, suburban feel that will leave first-time visitors completely blown away. Yet, unusual for a zip code that is one of the wealthiest in the country, this town is invitingly genuine and approachable. As a testament to its charm and grace, Travel + Leisure ranks Palm Beach as the best small town in Florida.
DeFuniak Springs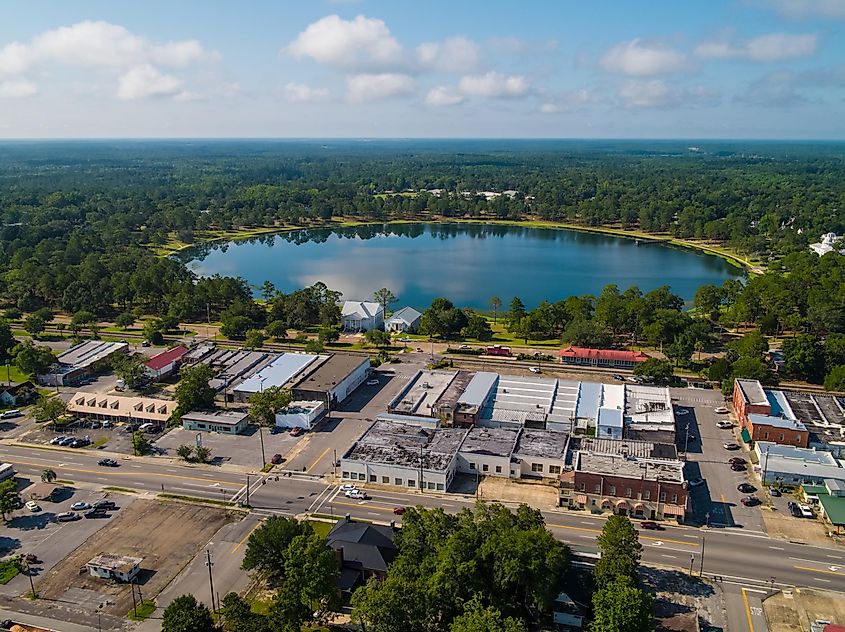 This Florida charmer is named for Frederick DeFuniak, once president of the Pensacola and Atlantic Railroad. Tucked away in the heart of Northwest Florida, about 80 miles northeast of Pensacola, DeFuniak Springs will live long in the mind of any first-time visitor. Home to about 6,900 residents, this stunner boasts a unique gem: a natural lake located right in the heart of town — complete with a beautiful park that encircles it. Also, Lake DeFuniak is one of a few spring-fed lakes on earth whose shape is almost perfectly round. This feature alone imbues the town with post-card beauty and makes it worth lacing up for. If one considers the friendliness of the residents, the fact that people grin and wave at visitors — makes this town an easy sell. For one of the best wine-tasting experiences in the state, check out Chautauqua Vineyards and Winery.
Havana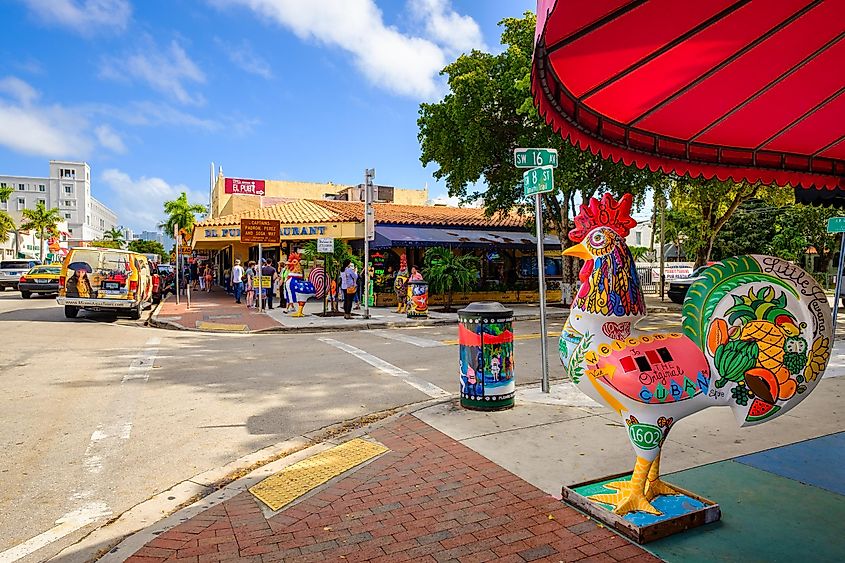 No. There is no mistake made. While many associate Havana with Cuba, Fidel Castro or Che Guevara, a Cuba namesake is located in Florida, about 14 miles northwest of Tallahassee. If friendliness is an attribute of charm, a town considered the friendliest small town in Florida will also be among the most charming. It turns out that Havana holds just such a title. History buffs may know that Cuba is the birthplace of cigars. It turns out that one of the major crops in this corner of Florida was shade tobacco — used as wrappers for fine cigars—hence the name. Today, Havana, Florida is well past its glory days. However, a charming downstreet remains, complete with dated, red-brick buildings and beautiful murals that offer a glimpse into Havana's storied past. Then, of course, check out the Shade Tobacco Museum.
Dunedin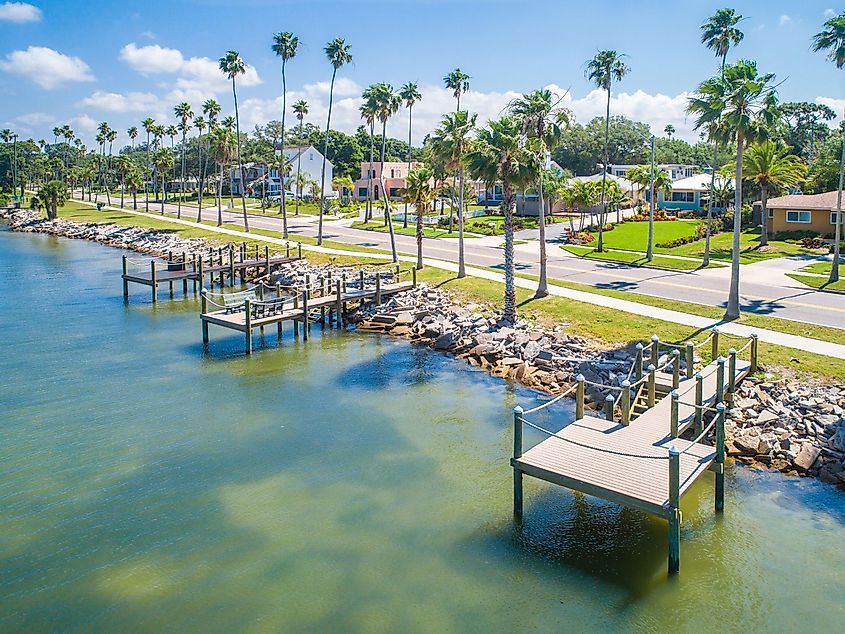 Land in Dunedin, secreted about 25 miles west of Tampa city, and immediately look for directions to Pisces Sushi and Global Bistro, located at 799 Highland Avenue. Sit down to a delicious meal of Dunedin Dream Roll, some excellent Sushi, Spicy Tuna Roll, or, if interested in something of a different kind, the Chicken Street Tacos. After this, get up and stroll through Dunedin's quaint, walkable downstreet, take in the town's architecture, and pick one or two antiques. This done, turn the focus to Caladesi Island State Park which Dr. Beach has ranked the fourth-best beach in America—and the second-best in Florida. Better still, create time to hunt for shells at Honeymoon Island State Park—or snorkel around in its calm and warm waters. By all accounts, Dunedin is hands-down one of Florida's most charming towns.
Tarpon Springs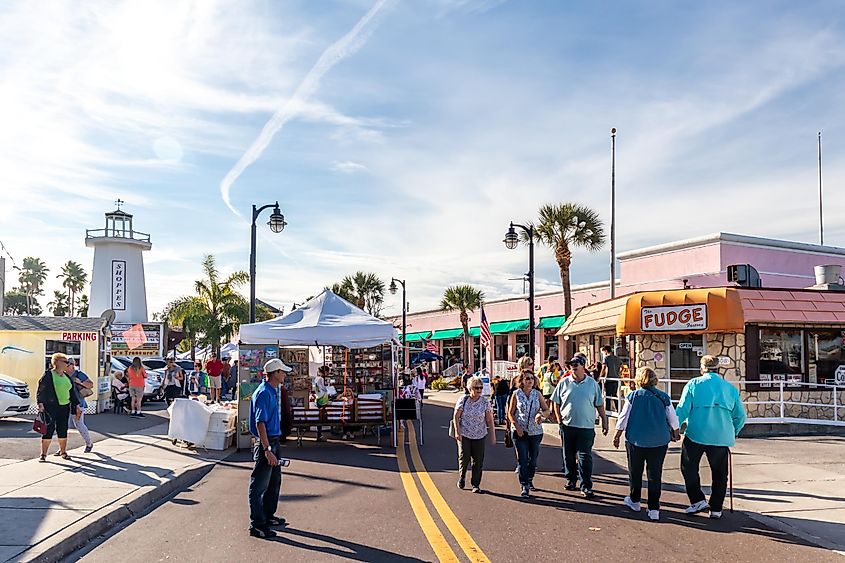 Anyone who is not interested in visiting Greece could be dead to history, dead to culture — and unresponsive to beauty in its most stunning shades. This is because Greece is home to a staggering 18 UNESCO World Heritage Sites, among the highest numbers in the world, miles of spectacular coastline, a rich history, and an impressive collection of islands—including Santorini — whose stunning visuals are the stuff magazine covers are made of. Well, it turns out that Tapon Springs, Florida offers what could be the closest Grecian experience. Secreted about 45 minutes north of Tampa on the Gulf Coast, Tarpon Springs is a Greek fishing community. Enjoy a meal of octopus at Costas Restaurant located along the appropriately-named Athens Street. This done, cross the causeway to Fred Howard Park, a 155-acre paradise that defies superlatives. Also, create time to stroll through the charming downtown and sample the many sponges on display in a town regarded as the Sponge Capital of the World.
Fernandina Beach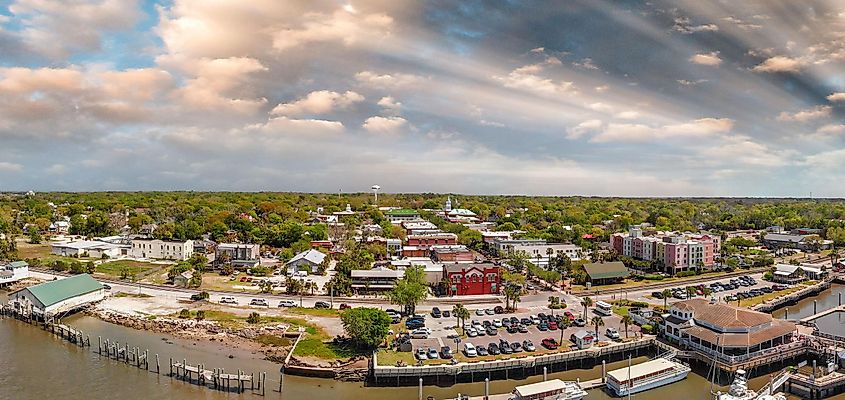 Home to 13,500 residents, Fernandina Beach is the northernmost city on Florida's Atlantic coast. This Florida charmer is curled up on the 13-mile-long Amelia Island, also known as the "Isle of Eight Flags," because of the number of European powers that alternatively claimed dominion over this spectacular piece of earth. Fernandina Beach boasts several historical sites that are centuries old and a history that blended scandal and intrigue in equal measure. Once a playground for pirates, Fernandina Beach is today a top beach destination that evokes images of the Caribbean Islands. For beach bums, Main Beach Park is the place to go. Also, create time to stroll through the walkable Center Street, the main hub of downtown life — and admire the many brick buildings—and the eclectic shops that line the streets.
Ponce Inlet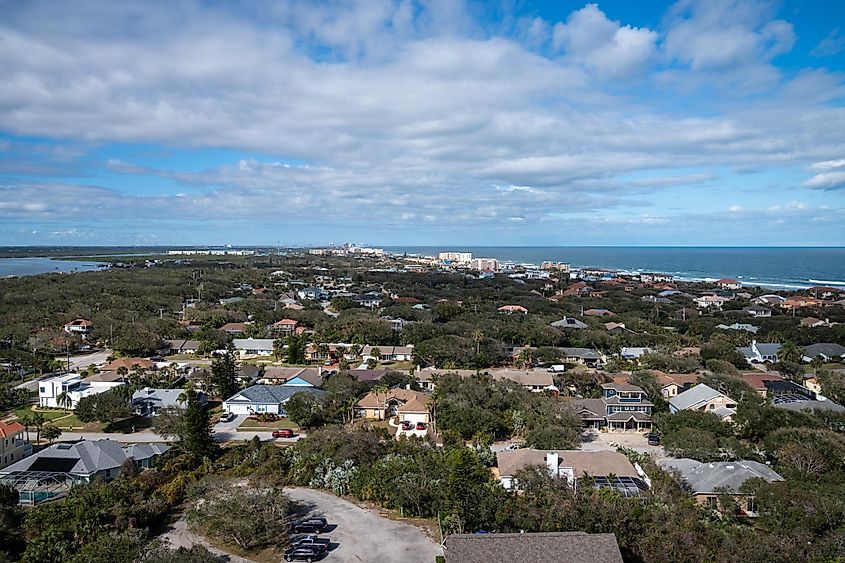 While the chance to look up Florida's tallest lighthouse is enough excuse to arrange a trip to Ponce Inlet, it should not be the sole reason. Of course, at 175 feet and 203 brutal steps, Ponce de Leon Inlet Lighthouse, previously known as the Mosquito Inlet Lighthouse, is invitingly well-preserved and offers gasp-inducing views at the top that no first-time visitor should miss. Aside from the historic lighthouse, Ponce Inlet plays host to several wide, sandy beaches, all of which are panoramic spots to while away time. The beaches are famous for their excellent surf conditions, sparkling sand, and spectacular sunsets. Named for the first European to step on Florida soil, Ponce Inlet is also home to a marine science center that will make for an educational adventure.
Anna Maria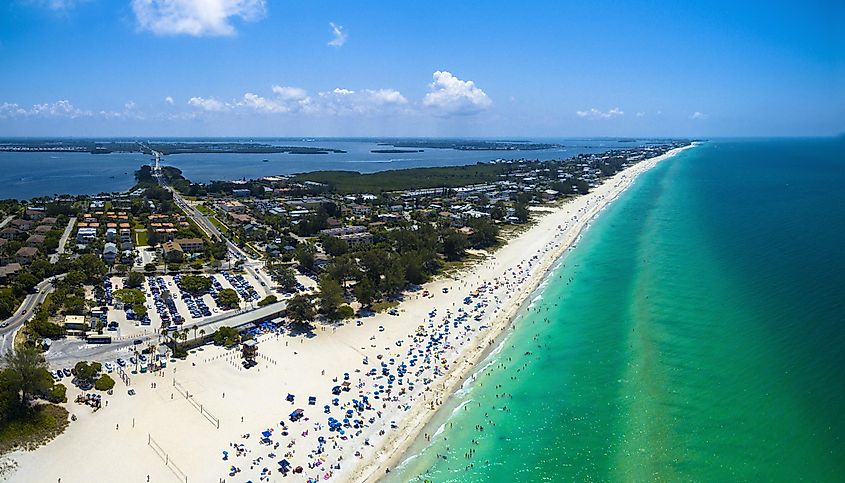 Any person who has visited Anna Maria will wonder why this Florida gem does not get the hype it deserves. Home to about 1,000 residents, Anna Marie is located on a stunningly pristine island that also bears its name. Anna Maria Island is sandwiched between Tampa to the north and Fort Myers to the south. Secreted on the island's northern tip, the city of Anna Maria is one of three towns on the 7-mile island. First-time visitors will savor an Old Florida charm while strolling through Anna Maria's Pine Avenue. Since many buildings that line Pine Avenue feature aspects of environmental conservation, Pine Avenue, with its wooden shops and pastel colors, is sometimes called the Greenest Little Main Street in America.
The Takeaway
Florida is a world-famous vacation destination and among the most sought-after in the country. For its first-class beaches, warm, pleasant weather, and friendly residents, there might be no need to cross over to Mexico, the Caribbean, or even Europe. And that is not to mention that the Sunshine State is home to a cornucopia of towns whose charm and character are among the most heart-ravishing. From Anna Maria to St. Augustine, Ponce Inlet to Key West, the most charming towns in Florida will enchant any first-time visitor.