Situated on a 29km long barrier island between Lake Worth Lagoon and the Atlantic Ocean, Palm Beach is an incorporated town within the US state of Florida. The town is considered one of the country's most luxurious winter destinations and is frequented by famous and wealthy people.
Geography Of Palm Beach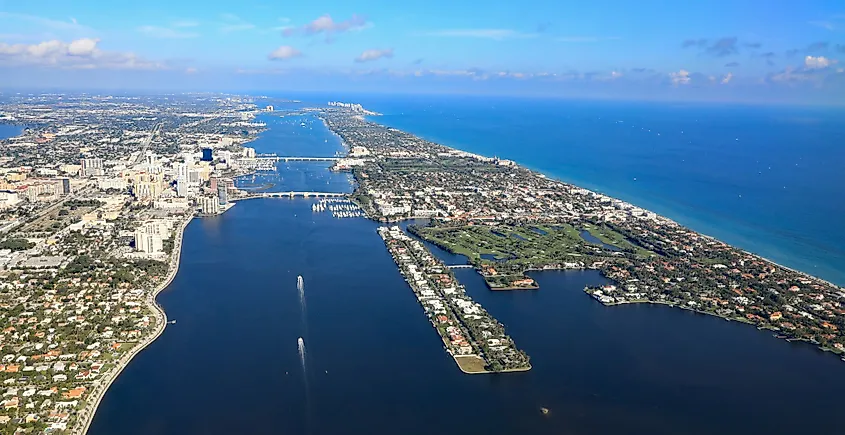 The incorporated town of Palm Beach is located within Palm Beach County in the US state of Florida. Situated on a 29km long barrier island between Lake Worth Lagoon to the west and the Atlantic Ocean to the east, the town is separated from Lake Worth Beach, West Palm Beach, and other cities by the Intracoastal Waterway. Palm Beach is considered to be one of Florida's easternmost towns. Before its settlement, the coquina rock barrier island consisted of a pronounced coastal ridge at the Atlantic Ocean's borders. Palm Beach covers a land area of 20.21 sq. km and is located at an elevation of 2m above sea level.
The Climate Of Palm Beach         
The Köppen Climate Classification classifies Palm Beach as a tropical rainforest climate. The town experiences hot and humid summers, with average highs of 31.6°C and lows of 25°C. Palm Beach receives an average of 63 inches of rain annually, which is almost double the US average. The town receives the most rainfall during the wet season, which lasts from May 22 to October 11. Moreover, this wet season tends to feature heavy downpours and thunderstorms. When it comes to the winter season, which occurs from December 5 to March 6, the weather becomes much drier and sunnier. Average temperatures during this season range from a high of 23.3°C and a low of 15.5°C. Given its location along the Atlantic, the town is exposed to strong hurricanes, the most recent of which was Hurricane Dorian in 2019.
Brief History Of Palm Beach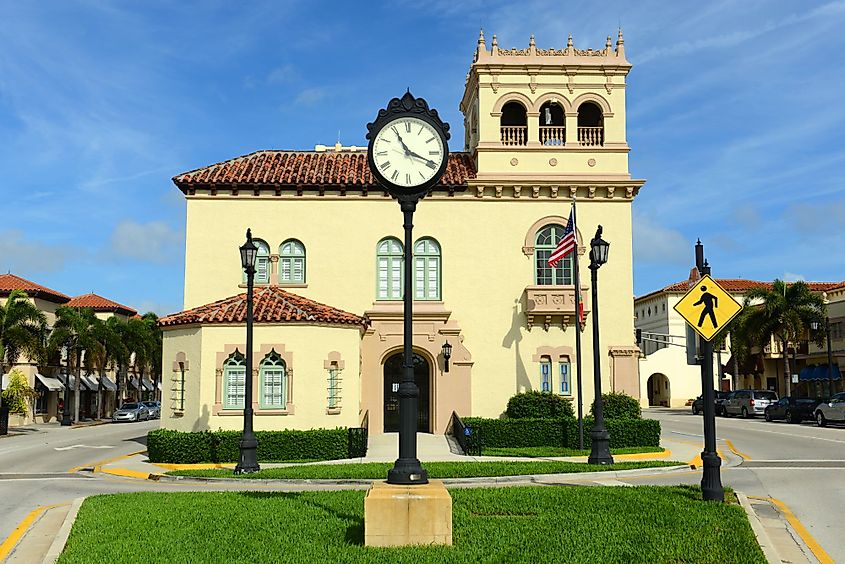 Upon the arrival of the first settlers in the 1800s, the Palm Beach area was first titled "Lake North" after Major General William Jenkins and his contributions to the Second Seminole War. Accounts from early pioneers, who struggled to make room for their crops and build their houses in the island landscape, provide a glimpse of how the town came to be known by its current name of Palm Beach. Therefore, according to such accounts, the island got its name after a shipwreck named "Providencia" washed ashore carrying a load of coconuts in 1878. To quickly establish a commercial coconut industry, these early pioneers salvaged and planted these coconuts that were not endemic to South Florida.
Given the town's one-of-a-kind scenic landscape, Palm Beach has a substantial history as a tourist location. The island's first hotel, the Coconut Grove, was built in 1880. This marked the town's subsequent growth, and by the 1890s, the community consisted of several businesses, hotels, and winter residents. Many of these hotels were built by Henry Morrison Flagler, an American industrialist who co-founded and developed much of Florida's east coast after retiring from Standard Oil. By 1896, the Florida East Coast Railroad, as well as Flagler's Royal Poinciana Hotel, further established this resort town's continuous growth. On April 17, 1911, Palm Beach was incorporated, making it Palm Beach County's second recognized municipality. Another key development was when the Garden Club of Palm Beach sponsored the development of a Town Plan in 1929. As the town gradually became a mainstay of Florida's economy, Palm Beach has witnessed notable growth throughout the years.
The Population And Economy Of Palm Beach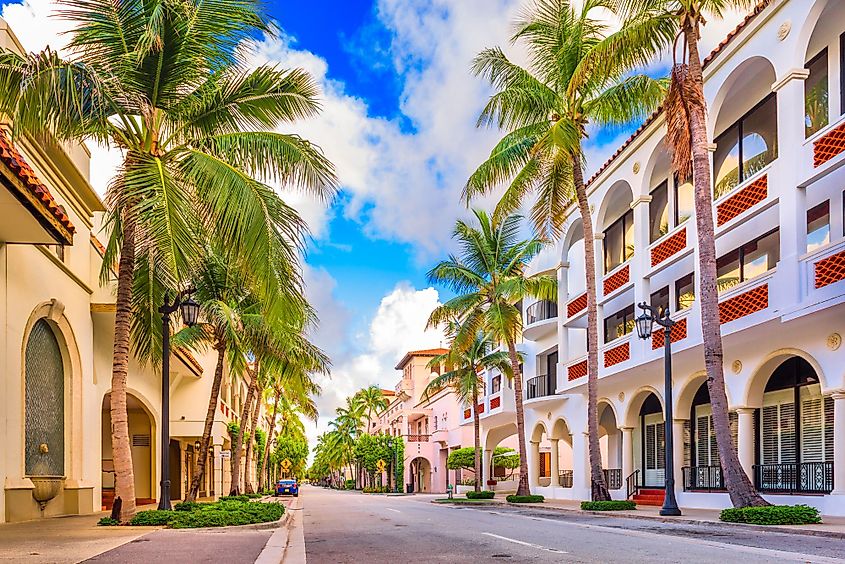 As per the 2020 US Census, Palm Beach had a population of 9,245 individuals. The town has grown by 10% since its 2010 population of 8,348 individuals and is currently witnessing an annual growth rate of 0.39%. Given its location on a barrier island and the limited overall space, Palm Beach has a population density of 939.09 individuals per sq. km. When it comes to the population's demographic categories, over 95.25% of the population is considered White. The remaining population consists of individuals of Asian descent at 1.51%, Black or African Americans at 0.75%, Native Americans at 0.28%, other races at 1.63%, and two or more races at 0.58%. Furthermore, the town has a median age of 70.6 years, whereby the average female age is 69 years, and the average male age is 72.5 years. All households in Palm Beach use English as their primary language of communication.
The town has a median property value of $1.18 million, a homeownership rate of 86.6%, and an average monthly rental cost of $1,744. Moreover, Palm Beach's median household income is $114,348, and the town has a poverty rate of 5.35%. There are approximately 2,680 individuals employed by Palm Beach's economy, with the most prominent industries being professional services, scientific services, technical services, real estate, health care, and social assistance. On the other hand, Palm Beach's highest paying industries are transportation, warehousing, utilities, finance, and insurance.
Tourist Attractions In Palm Beach
Henry Morrison Flagler Museum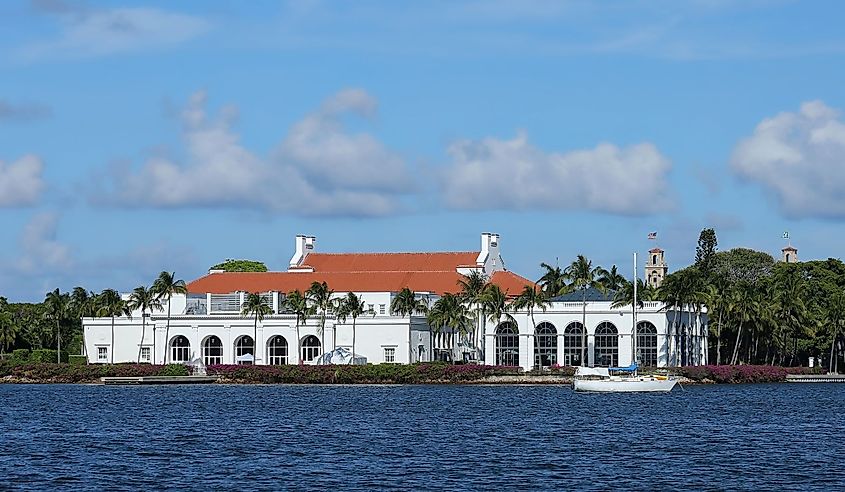 Also known as Whitehall, the Henry Morrison Flagler Museum is one of Palm Beach's most prominent museums. Now a National Historic Landmark, the unique architecture of Henry Flagler's 75-room Mansion and the estate is said to rival those of Italy and Spain. The Mansion is listed on the US National Register of Historic Places and remains open to the public. Flagler was key to the growth of Florida as he built several luxury hotels that solidified tourism as a critical component of Florida's economy. He also established agriculture as another key component of the state's economy, given how he encouraged agricultural development on millions of acres. In addition to this, he built the Over-Seas Railroad, which is to date one of the most ambitious engineering projects a private citizen has ever undertaken.
Phipps Ocean Park
Considered a little gem compared to the town's other crowded beaches, Phipps Ocean Park is one of the island's quieter beaches, given its secluded nature. The Park hosts many endemic wildlife species and features great old trees throughout. The Park also offers barbecue pits and plenty of opportunities to explore the island's signature shoreline along the Atlantic coast.
Palm Beach is a town that is renowned worldwide for its beauty and high quality of life. Currently serving as a luxurious destination for those seeking an escape from the harsh winter months in other states, the town has a key history in establishing Florida as one of the US' premier tourism destinations.