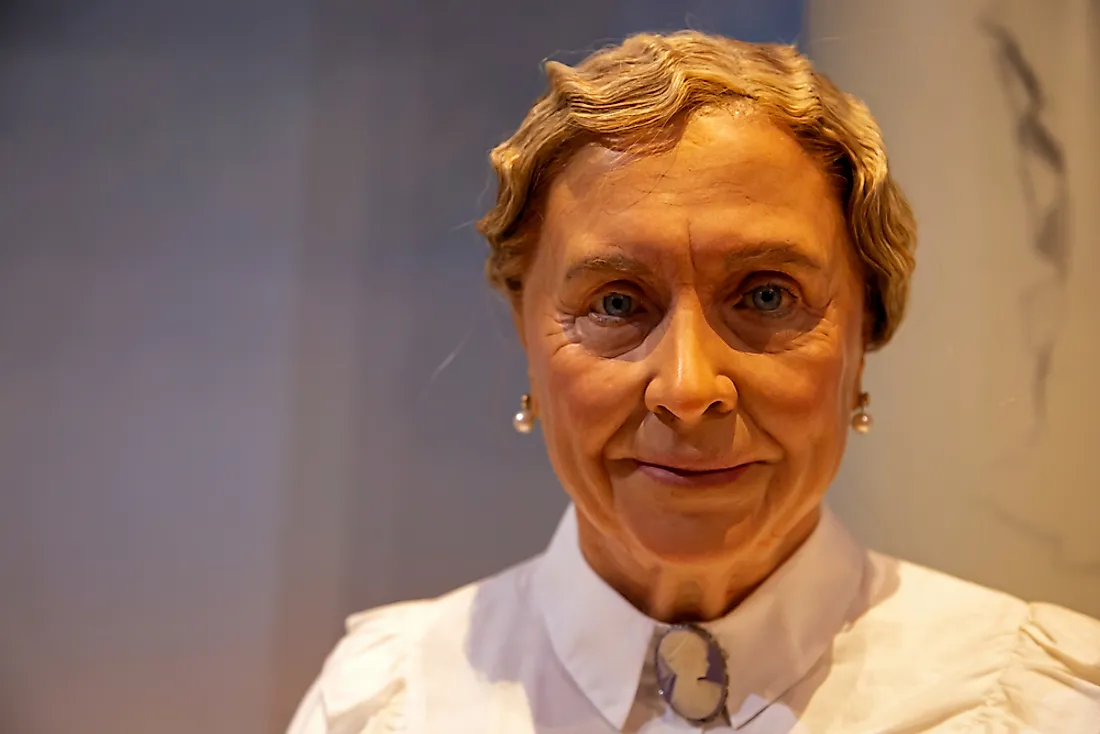 Helen Adams Keller was an America author, lecturer, and political activist born on June 27th, 1880 in Tuscumbia, Alabama, US, who is remembered as the first blind-deaf person to receive a bachelor's degree. Her birthday is commemorated in the US state of Pennsylvania as Hellen Keller Day. She was outspoken and well traveled, and she was also a member of industrial workers of the World and the Socialist Party of America. Keller was an active campaigner for antimilitarism, labor rights, women's suffrage, socialism, and many other similar causes. In 1971 she was inducted into the Alabama Women's Hall of Fame, while in 2015 she was one among the 12 to be inducted into the Alabama Writers Hall of Fame. Keller became a testimony to the world that deaf-blind people are capable of learning to communicate and could do things the hearing people could do. Keller is an idol to many people around the world both deaf and the blind.
Early Life
Keller had two siblings and two half-brothers. Her father Arthur Keller had worked for the Tuscumbia North Alabamian as an editor. One of her paternal ancestors was the first teacher of the deaf in Switzerland. When she was born, Keller could see and hear, but she contracted an illness when she was 19 months old, and it rendered her deaf and blind. At the time the illness was identified as "acute congestion of the stomach and the brain," but if it thought to have been either meningitis or scarlet fever. At the age of seven, she had learned to live with her disabilities since she could communicate with her family using more than sixty home signs. Hellen's family contacted Perkins School for the Blind, and its director asked a visually impaired former student of the school, Anne Sullivan, to be Keller's instructor. In 1887, Sullivan started teaching Hellen how to spell with her hands.
Career
Hellen attended the Cambridge School for Young Ladies in preparation for admittance to the Radcliffe College in 1900. She graduated at the age of 24 from the institution as the first blind and deaf person to acquire a Bachelor of Arts degree. Hellen learned and became an accomplished speaker and could hear by reading the lips of people by her hands. She began her writing career while at Radcliffe. In 1903, she published her autobiography, "The Story of My Life," "The World I Live In," and socialism series "Out Of The Dark" that was published in 1913.
Major Contributions
For people with disabilities, Hellen is termed as their advocate.She was a socialist and also supported birth control. She was a co-founder of the Hellen Keller International an organization which research on nutrition, vision, and health. She also helped in the founding of The American Civil Liberties Union. From 1909 to 1921 she wrote in support and campaigned for the working class since she was a member of the socialist party. She traveled to more than 40 countries giving motivational speeches to the deaf. She met all the US presidents between Grover Cleveland and Lyndon Johnson, and she was close friends with eminent personalities like Charlie Chaplin, Mark Twain, and Alexander Graham Bell among others.
Challenges
Hellen Keller faced many challenges starting with her disabilities to hear or talk which made communication difficult. She had to study in preparation for college where Ann Sullivan was not much of help since she could not translate the examinations and it had to be translated into Braille. Anne also had to translate Hellen's books and interpret her lectures since they were not in Braille.
Death and Legacy
Hellen spent most of her last days at her home after suffering a series of heart attacks in 1961. She died peacefully while sleeping at her home on June 1st, 1968 in Connecticut only a few weeks to her 88th birthday. She is remembered for her courage despite all the odds she faced. Hellen Keller International (HKI), a world's premier non-profit organization which she founded in 1915, is proud to carry on her legacy as someone who cared about the disabled and the challenged in the society. In 1964, Keller received the Presidential Medal of Freedom and therefore becoming one of the two recipients of the highest civilian honors in the country by President Johnson, and she was also elected to The National Women's Hall of Fame in 1965. Keller has been honored posthumously in different countries around the world.